Hammocking is the new way to camp these days.
Hammocking is a popular way to simplify the outdoor experience. This rising travel trend makes sleeping outside a breeze. Hammocks are both lightweight and easy to set up, so you don't have to worry about the stress of setting up camp. If you have never tried to sleep in a hammock, you might be a bit intimidated at the thought of spending a night suspended in midair. Rest assured that you can rest perfectly comfortably in a hammock, with the right set up. This starts with having the best hammock accessories.
Fortunately there are so many great hammock accessories out there that make hammocking that much more enjoyable. If you invest in just a few additions to your hammock, you may be surprised just how nice it is. From sleeping soundly to avoiding those annoying bugs, there is something to manage all potential outdoor problems. We picked out a few of our personal favorite essentials for hammocking. Test them out for yourself when you embark outdoors and see how they improve the hammocking experience.
Try out these hammock accessories when you find yourself outdoors.
ECOTEK Outdoors Hybern8 Ultralight Inflatable Sleeping Pad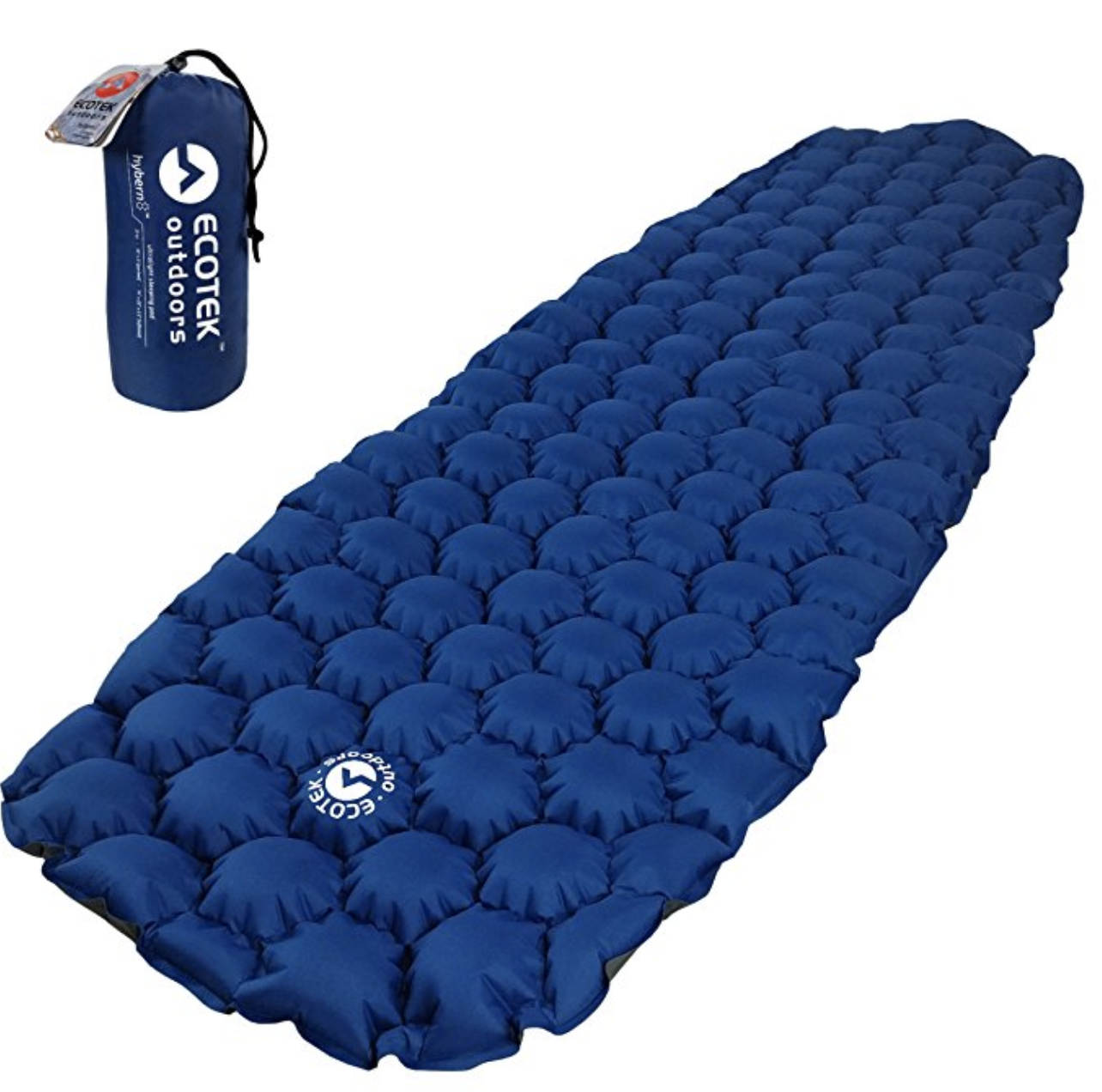 The right hammock should be very comfortable when you sleep at night. It is actually quite soothing to snuggle up in a cocoon-like state as you drift into dreamland. However, some people like a little extra cushion during this process. Of course, this ECOTEK Outdoors Hybern8 Ultralight Inflatable Sleeping Pad is certainly ideal for your list of must have hammock accessories. The extremely durable polyester finish makes it perfect to bring outdoors. It also is slip-proof, so you don't have to worry about it sliding around in the hammock. At only one pound, this inflatable mat takes up minimal space and fits nicely inside a backpack. Blow up this pad in just a few minutes for a cozier overnight hammock experience.
MalloMe XL Hammock Straps
If you plan to hammock camp outdoors often, it is a good idea to invest in some good straps. The longer and more durable the better when it comes to picking out just the ones you need. These MalloMe XL Hammock Straps are my personal favorite. I use them for my own hammock, and have had nothing but a good experience so far. The MalloMe XL straps have plenty of loops, so you can snag that perfectly hung hammock anywhere. Even if the anchor points are 25 feet apart, your hammock is still easy to hang. These straps also come with two locking carabiners so you have backup hooks, just in case. The sturdy material doesn't stretch or tear, and withstands over 2,000lbs collectively. Use the straps for any type of hammock and avoid having to use a rope or tie complicated knots.
Unigear Hammock Rain Fly Waterproof Tent Tarp Camping Backpacking Tarp Shelter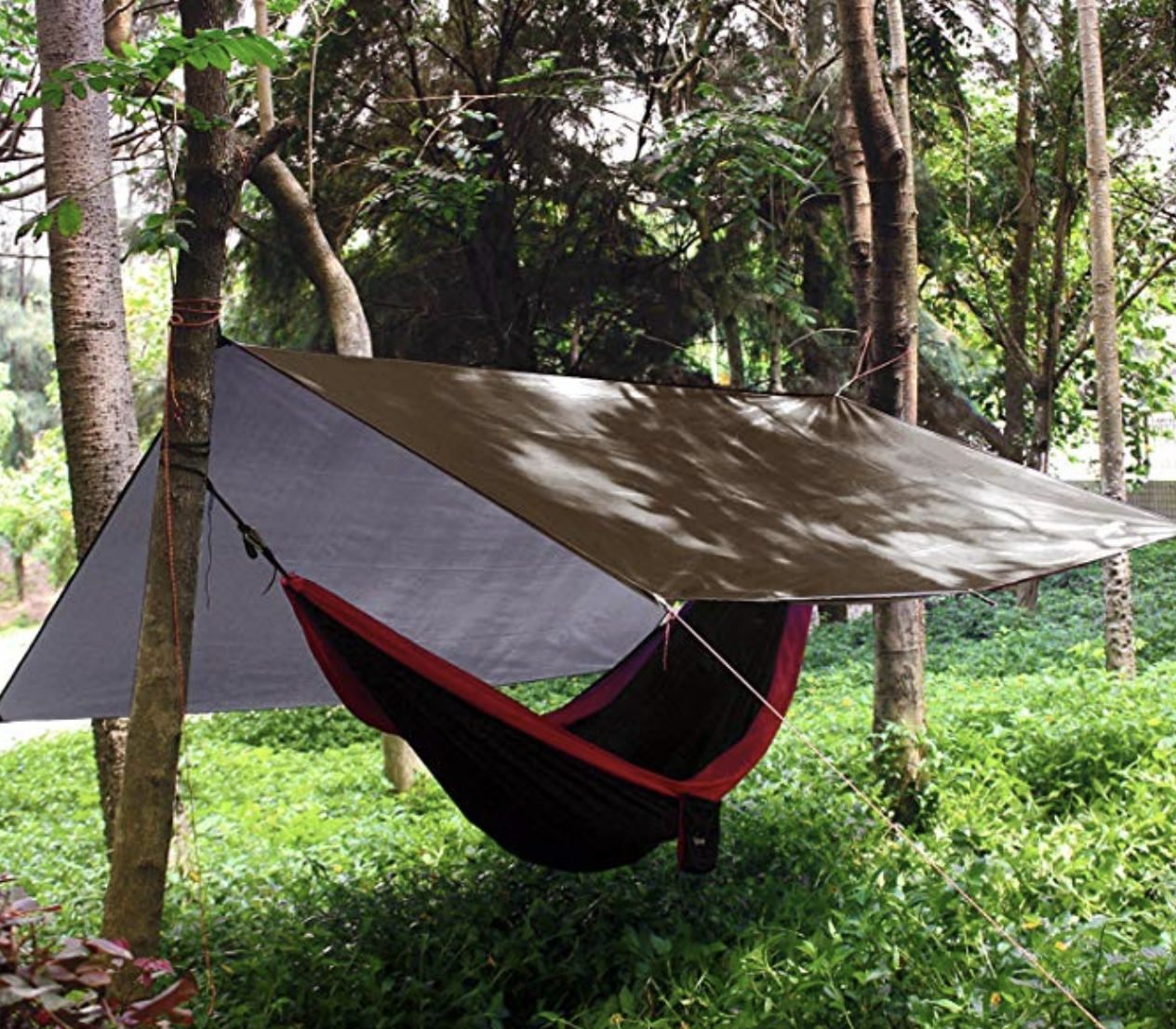 Naturally, one of the downsides to sleeping in a hammock is the increased exposure to the elements. If you hammock camp when there is rain in the forecast, you might wake up to water droplets soaking your blanket and making sleep next to impossible. To avoid potential issues like this, check out the Unigear Hammock Rain Fly Waterproof Tent Tarp. This hammock cover really "covers" all problems associated with exposure. Its easy set up is perfect to install directly over your hammock. Use it to protect against high winds, harsh sunlight, UV rays, and even snow. This also doubles as a quick emergency tent shelter if you need one.
If you need more coverage, another tip is to invest in a double person hammock. The extra fabric from the bigger hammock size is easy to wrap around yourself, so you really do have a cocoon. ENO and other prominent hammock brands have comfortable double nest hammocks at an affordable cost. The larger hammocks are also cozier and of course have room for more people to snuggle up inside.
ENO Eagles Nest Outfitters – ParaPillow
Regular bed sized pillows are not always conducive to the awkward, narrow shape of a hammock. You might find yourself awake at three in the morning, fighting to keep the pillow under your head and questioning why you are doing this voluntarily. Large pillows are also bulky and create a significant amount of extra weight with your backpacking load. If you are trekking a long distance, it is important to minimize everything you take along.
ENO Eagles Nest Outfitters came to the rescue from this conundrum by designing the perfect hammock fitting pillow. The super soft nylon material matches that of your hammock and makes for a cozy place to rest your head. You can choose from an assortment of colors to find one to match your hammock. It also comes in a compressible pillow stuff sack, so you can roll it up and fit it comfortably in your backpack. Snag one of these to bring along on that camping trip and drift away under the stars in style.
pys Hammock Bug Net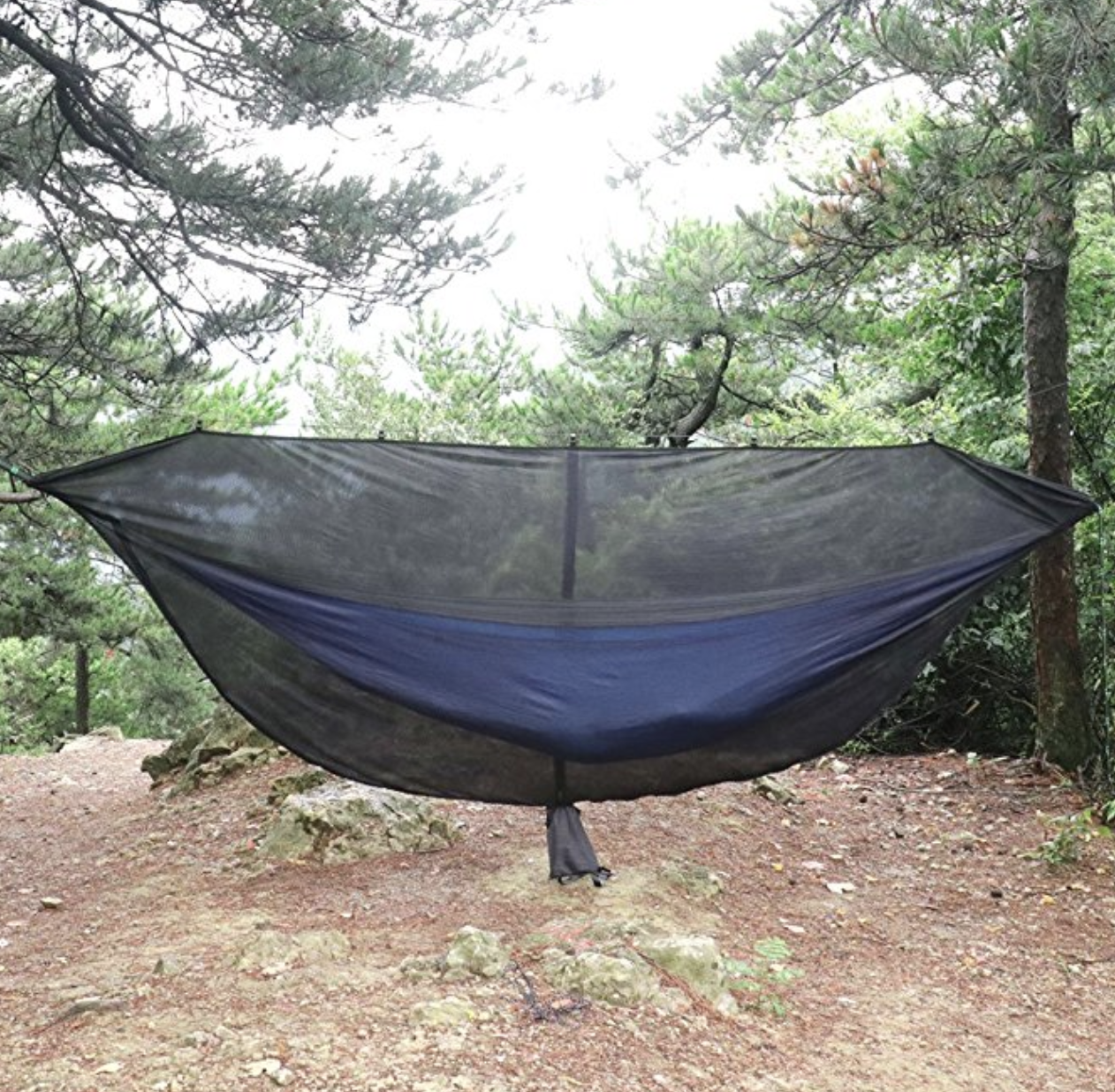 Most people would agree that camping is fun, but bugs are not. Considering that insect activity is significantly worse during the night, exposed hammock camping makes you a prime target. If you have exhausted your bottles of bug spray to no avail, don't lose hope just yet. The pys Hammock Bug Net is here to eliminate the issues insects cause while hammocking. Add this helpful tool to your list of must-have hammock accessories, because it is going to change the game. The spacious bug net shape helps keep your space breathable, while keeping the insects away. Its vertical zipper makes for an easy entrance and a simple way to close up the net. Gone are the mornings where you wake up with an overwhelming number of bug bites when you use the pys Hammock Bug Net.
Use these nifty hammock accessories for the most comfortable night's sleep possible.
Hammock accessories are perfect for stepping up your camping game to that next level. As hammock camping is highly versatile, you can literally try out any combination or method. Really whatever works best for your personal outdoor adventure style is what matters. Try out different adventure ideas for a well-rounded experience with hammocking. Whether it is your own backyard, or in the backcountry of a National Park, your hammocking options really are endless. Anywhere you trek, your hammock serves as that perfect lightweight bed that fits right in your backpack.
If you have new hammock accessories however, it is a good idea to test them out close to home, with plenty of daylight available. Setting up something new takes time to adjust, and you don't want to be stuck in a foreign place without the right know-how or equipment. Plan a fun mini camping adventure right in your own backyard before you venture into the woods. Consider it an opportunity to play with all of your new outdoor toys.
Related Article: 5 Best Tree Tents And Hammocks For Your Next Outdoor Adventure