Live free and power up with the Mogix Universal External Battery Charger 10400 mAh on your side.
This featherweight portable charger is winning hearts of travelers all around the world. So why do we love the Mogix Universal External Battery Charger 10400 mAh? There are so many reasons. Weighing in at just 6.5 ounces, this is one of the lightest portable chargers with this power rating. Thanks to Smart Battery Technology, you can enjoy surge protection, temperature control, and top notch circuitry. It's all enclosed in a shiny, thick case for drop safety.
A Little About Mogix Accessories
As a small, family-run company based in Los Angeles, every member of Mogix Accessories is invested in your happiness. This electronics shop emphasizes travel gadgets you can use every day in a practical way. With five years in the industry, they are making a name for themselves as a brand you can count on for quality, style, and function. We have to say – the Mogix Universal External Battery Charger 10400 mAh checks all of the boxes.
The Mogix Universal External Battery Charger 10400 mAh Features & Benefits
This portable charger offers dual USB ports that allow you to charge two devices while you're on the go. With a sleek black design, it is simple yet stylish.
Design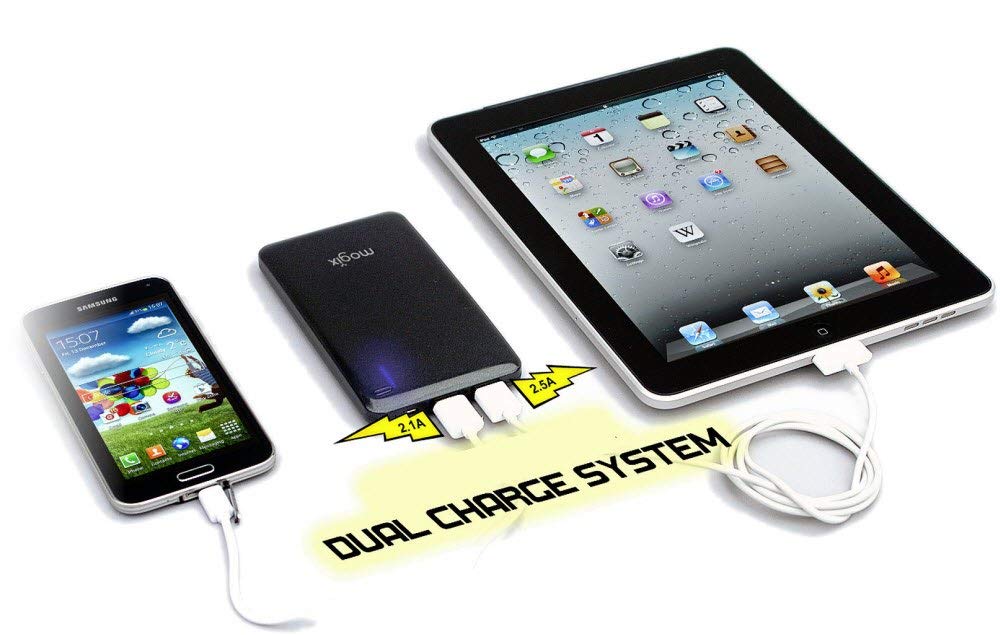 Credit: Amazon
Measuring 5.3 x 3 x .5 inches, the Mogix Universal External Battery Charger 10400 mAh is easily portable. Weighing in at just 6.5 ounces, it isn't much larger than your standard cell phone. In fact, it's quite a bit smaller than most power banks on the market. While it might sound simple, this portability goes a long way. With a charging capacity of 10400 mAh, it is well equipped to handle all of your charging needs. For only $28, this is a fantastic deal.
Power up your device when you need to. Mogix has provided a reliable, durable model that's there for you when you need it. Equipped with 4 LEDs to monitor power supply, it's easy to tell how much charge you have left.
Power Capacity and Charging Speed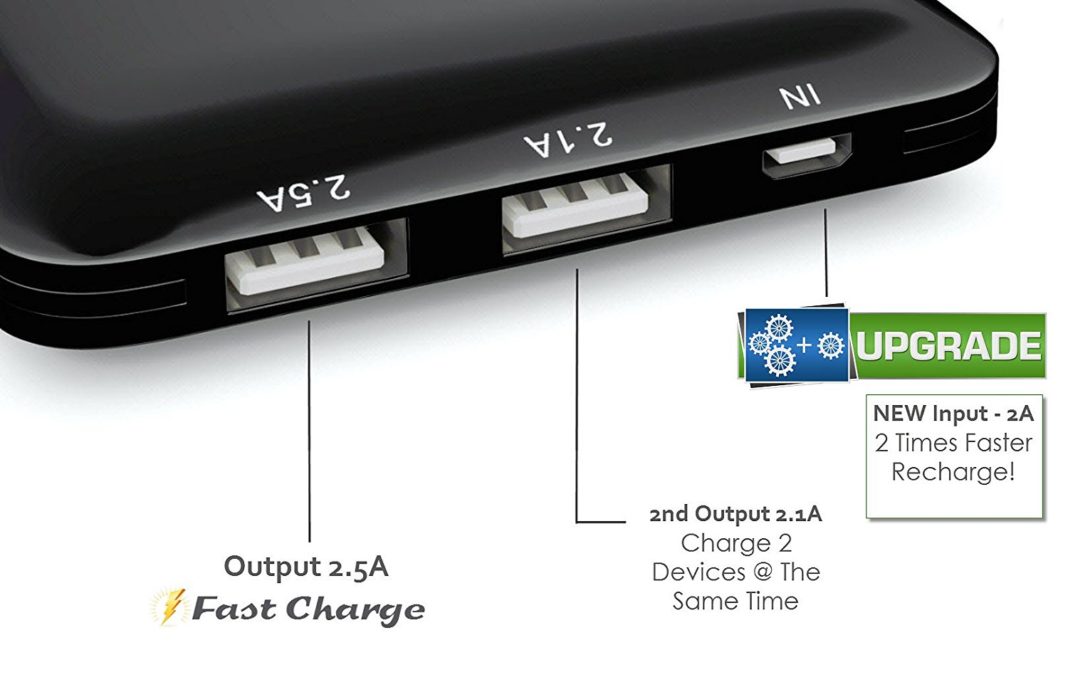 Credit: Amazon
Thanks to the 10400 mAh charging capacity, you'll have enough juice to power up multiple devices. Recharge when you need to. We're sure you know how fast your phone's battery life can dwindle when you're traveling. Between entertaining yourself in the airport, getting directions to your hostel, and taking photos on your adventures, it goes fast.
With the Mogix Universal External Battery Charger 10400 mAh, an iPhone 7 can charge for a total of four times. A Samsung Galaxy S7 would charge two to three times. Mogix demonstrates the kind of quality that travelers seek out in their gear. Having good travel accessories makes a trip go more smoothly.
Look, Feel, and More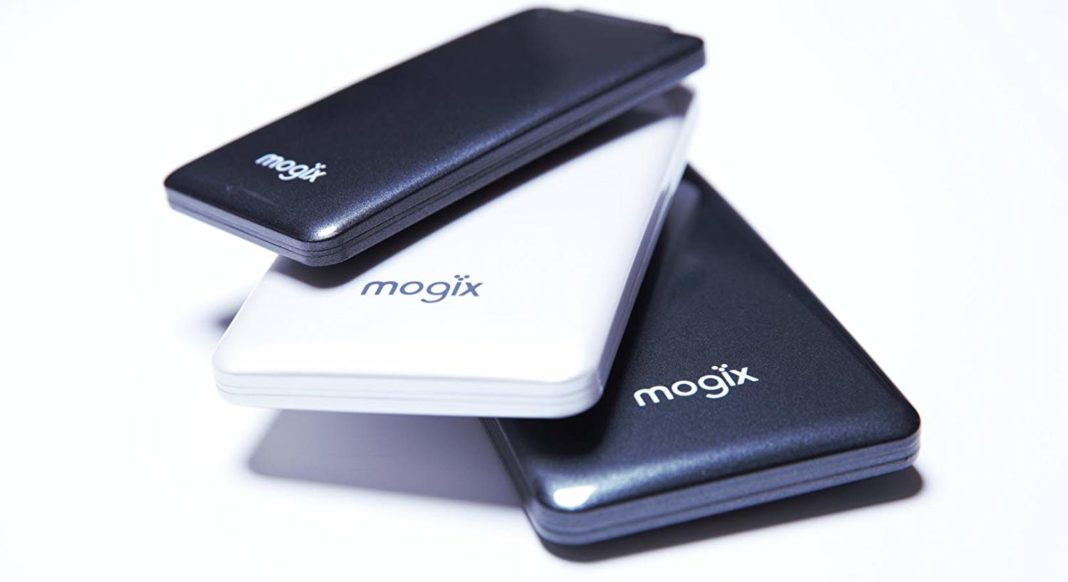 Credit: Amazon
With the Mogix Universal External Battery Charger 10400 mAh, you can enjoy style and function. As small and lightweight as it is, it certainly does pack a punch. Slip it in your coat pocket or in your bag until you need it. It won't weigh you down on your travels. Given its small size and weight, a power bank of this charge capacity is revolutionary.
Durability
Credit: Amazon
This large capacity charger goes a long way. Constructed with a durable outer shell, the Mogix Universal External Battery Charger 10400 mAh is made to withstand the ups and downs of travel. Equipped with surge protection and high performance charging IC, you reap the benefits of fast battery replenishment with safe use.
Tech Specs:
10400 mAh charge capacity

Thin, lightweight design

6.5 ounces

check

Size: 5.3 x 3 x .5 inches

check

Dual USB ports

check

Smart battery technology with LED lights

check

iPhone 7 can get up to four charges and a Samsung S7 can get two to three
What Travelers Are Saying About the Mogix Universal External Battery Charger 10400 mAh
With 4.4 out of 5 stars and over 2,200 reviews, the Mogix Universal External Battery Charger 10400 mAh speaks for itself. Travelers who invested in this power bank raved about it's ability to charge their devices quickly. This device charges reviewer's phones in a very short amount of time and was always reliable when they needed it.
While some portable chargers don't hold as much power as they advertise, this one from Mogix lives up to expectations. While the Mogix charger feels small, the device still holds a lot of charge. Even after charging devices with the Mogix product for extended periods of time, its battery held up well. Reviewers appreciated that the LED lights show the device's battery charge. This makes it easy to know when to recharge the Mogix.
In addition, reviewers recommended this charger for long-term travel. So, whether you're traveling for a week or just taking a day trip, it holds up well. After using the device for months, it holds up well. All in all, it is a reliable travel accessory that is perfect for charging up your device on the go.
Alternative Portable Phone Chargers You May Like
Are you interested in viewing a few additional portable phone chargers? Read on.
RavPower Portable Charger 22000mAh External Battery
Are you looking for a portable charger that packs more of a punch? Well, this style from RavPower could be the one for you. While it admittedly has more bulk, this charger has a stunning 22000 mAh charge capacity. Let's put it this way. It can charge your iPhone 8 up to seven times.
Besides just the charge capacity, this device is one smart piece of tech. With NTC protection, you won't have to worry about your device getting too hot. The RavPower portable charger both monitors and protects your device and itself from overcharge and short circuiting. You can expect it to last for up to 1,000 charging cycles.
You won't have to worry about replacing the RavPower for a long time. Rest easy on your travels knowing that your phone will never run out of juice when you need it most. Surge protection adjusts the input voltage accordingly and provides circuit protection.
In addition, the device retains 70-80% of its full capacity even after going through more than 500 charging cycles. A fire-resistant shell is composed of the same alloy used in a Mercedes-Benz and other luxury vehicles. You can count on this quality. It comes with the same battery and controls as your iPhone.
Tech Specs:
Used in over 60 countries

Triple device charging

220000 mAh capacity

check

Li-Polymer battery retains 70-80% of charging capacity after 500 + uses

check

Lifetime warranty
Uni-Yeap 11000 mAh External Battery Charger Power Bank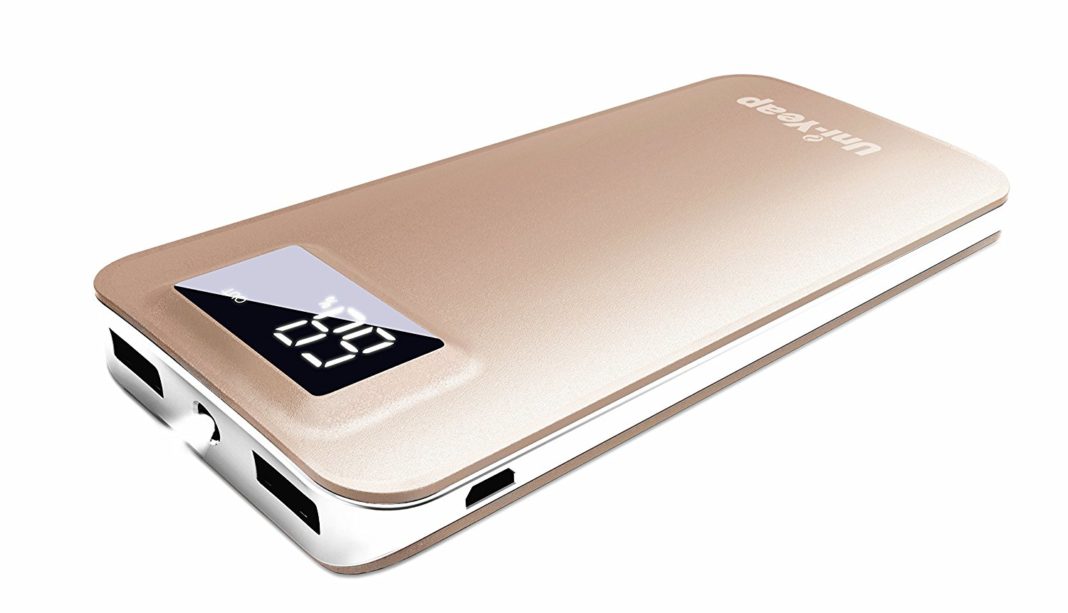 No one likes using things that are complicated and it's easy to use design makes this device a top contender for the best portable phone charger. Uni-Yeap knows what you want and have got what you need. With excellent construction and a solid quality hifi battery, your phone will stay charged all the time.
Did you know that this smart charger automatically identifies the type of device you are using and delivers the type of electronic current suitable for it. Built with two USB ports, you and a friend can juice up simultaneously when you need to. A MultiProtect Safety System ensures that short circuiting won't happen. Last but certainly not least, it is outfitted with an LED indicator screen. This means that you can see the remaining power and status of your device while it's being charged.
Tech Specs:
High-capacity charging; it's powerful; enough to charge your iPhone 7 about five times

Built-in LCD screen display

Universal compatibility

check

Extremely light and thin

check

Comes with a Micro USB cable and instruction manual

check

12 months warranty
Travel Smarter with the Mogix Universal External Battery Charger 10400 mAh
When you're on the move, there isn't always time to stop and charge your phone. This can lead to stress and frustration during travel. Thankfully, accessories like the Mogix Universal External Battery Charger 10400 mAh make your life easier. This handy little device will keep your phone powered up no matter where you decide to go. Invest in the Mogix charger before you head off on your next big adventure.
Related Article: Best Portable Phone Charger: A Travel Accessory For Your On The Go Lifestyle