Upgrade your camping adventures with the Kamp-Rite Oversize Tent Cot.
If you're a traveler who loves going camping, you need an amazing tent cot. Many tent cots available don't offer you the space you want or maintain high-quality designs. Additionally, sleeping outdoors can be extremely uncomfortable and make camping trips less enjoyable. Thankfully, products like tent cots allow travelers to rest in comfort while being protected from the elements. Any traveling campers interested in a top-notch tent product should consider the Kamp-Rite Oversize Tent Cot. The cozy Kamp-Rite Tent Cot allows campers to sleep comfortably without feeling claustrophobic. Weather-resistant materials and a durable structure even make the product ideal for all kinds of outdoors use. Before you plan your next camping expedition, read on to find out more about this tent cot.
A Little About Kamp-Rite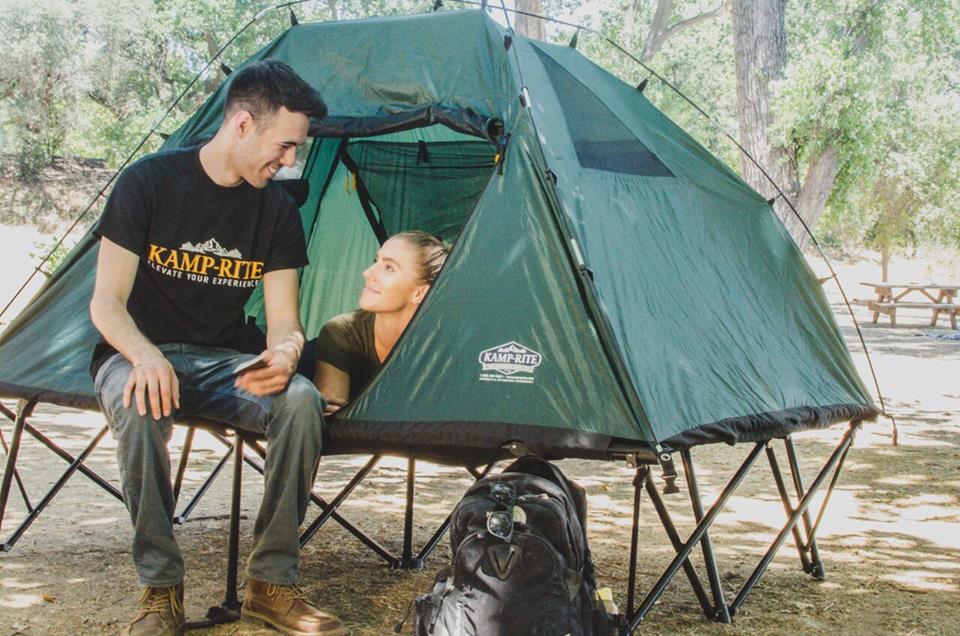 Credit: Kamp-Rite / Facebook
Kamp-Rite has been producing innovative camping gear for almost two decades. After finding many problems with typical camping gear, Kamp-Rite set out to solve the issues they discovered. This led them to first create their "Original Tent Cot," which combined protection from the elements with a comfortable design. The aboveground tent cot became a top product amongst camping enthusiasts, and thus the company has continued creating gear. Now, they offer more than 35 products to all kinds of customers who have to spend time outdoors.
This company remains committed to creating outdoors products that satisfy the needs of every camper. Their mission entails improving the lives of every person who uses their products. Each of the items crafted by Kamp-Rite remain comfortable and functional, so travelers get the best for their money. Convenience also represents an important factor for all of the products, as campers require simplicity in their gear. With the simple setups and easy-to-use features found in their items, Kamp-Rite appeals to campers of all skill levels. Amateur outdoors explorers as well as well-trained campers both find Kamp-Rite products to be useful and suitable for their purposes. As Kamp-Rite continues to craft amazing outdoors products, they also hope to inspire others to adventure outdoors.
Kamp-Rite Oversize Tent Cot Features & Benefits
Elevated Platform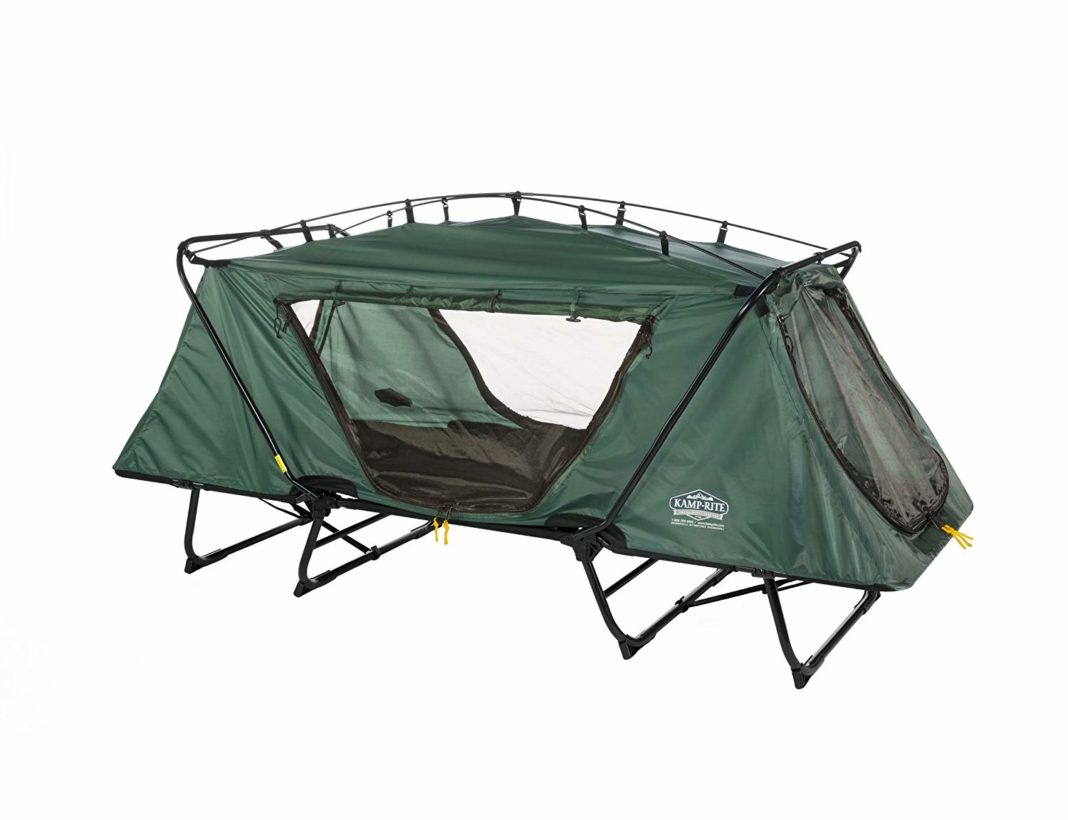 When you decide to go camping, often times you'll have to deal with sleeping on the ground. However, resting inside sleeping bags on rocky or muddy terrains doesn't feel too comfortable for your body. While many cozy sleeping bags that have been designed for maximum comfort feel nice, they don't provide ultimate softness. At the same time, even though sleeping bags zip up, you still may have to deal with bugs creeping inside. Many campers probably know the horrible feeling of waking up and finding insects crawling within your sleeping bag. That's why purchasing an elevated tent cot might be the solution for getting better rest while camping.
With the Kamp-Rite Oversize Tent Cot, travelers will get to sleep high above the ground. The elevated design of the tent cot means you won't have to worry about bugs crawling up on you. Your body will remain above the bumpy ground, ensuring your back feels comfier as you rest. Additionally, the elevated cot design will ensure you remain dry even when it rains. While sleeping bags won't prevent wet ground from dampening you as you rest, an elevated cot will keep you dry. As you lay on this cot, you won't feel like you're sleeping outdoors, but on a comfy bed.
Versatile Design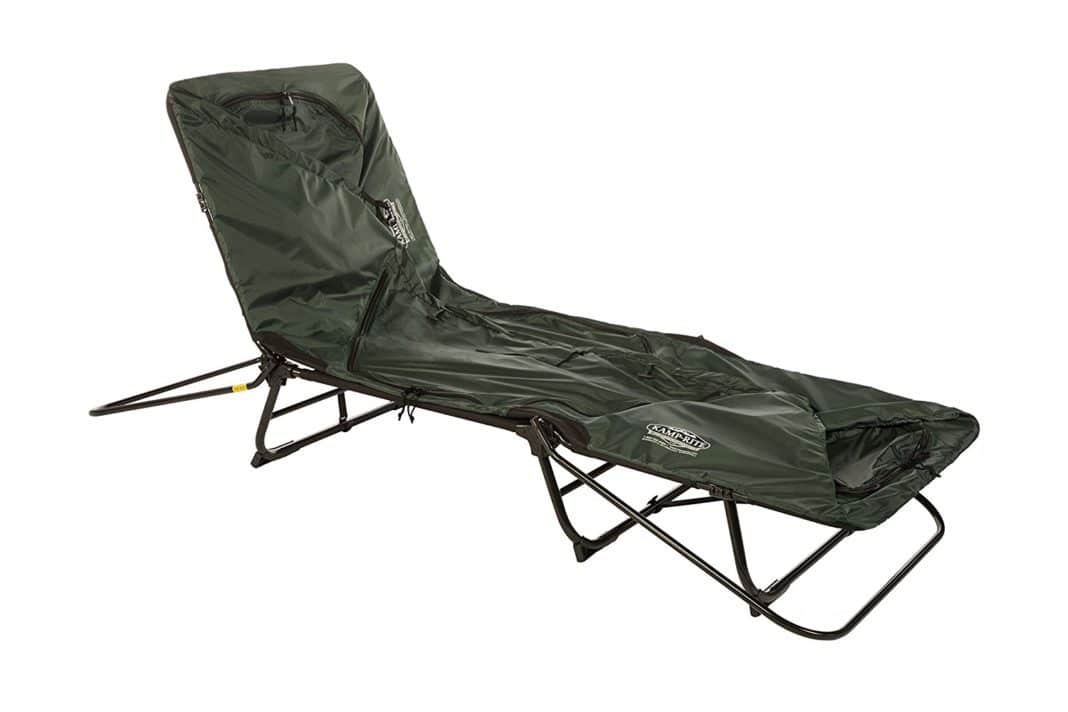 Many tents offer travelers a variety of uses. Large tents enable many people to sleep inside, while waterproof features help keep belongings dry. Other things like interior tent pockets offer storage for keeping important items from getting lost. Yet, most tents can only be used in one way. You simply set up your tent on the ground, and the tent will remain the same throughout your trip. However, camping products like tent cots can be much more versatile. These awesome items don't have just one single way of being used. Instead, you may utilize tent cots in a variety of manners.
The Kamp-Rite Oversize Tent Cot maintains an extremely versatile design, allowing it to be used in various ways. You can use the tent cot as a bed by folding it out and laying atop it. Simply add a sleeping bag or mat along the cot and you'll have an extremely comfy sleep. Or, make the tent completely flat by collapsing the legs, and you can tan on a sunny day. If you want to sit and read a book, you could also tilt one end of the cot up. This would turn the tent cot into a convenient chair for relaxing and doing projects, like writing or eating.
Weather-Resistant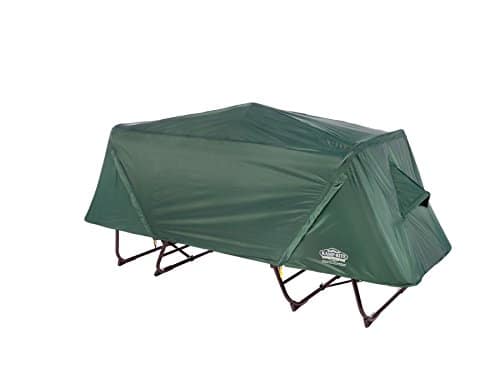 If you're going to spend a lot of time outdoors, your tent gear should be weather-resistant. Despite checking the weather before leaving your house, you'll inevitably face changing weather. The climate can't always be predictable, so camping belongings need to protect you from the elements. Lots of tents claim to be completely waterproof yet fail to keep you dry when it rains. Other tents might seem to be constructed of sturdy materials but tear easily when used multiple times. Finally, tents should also offer features like wind-resistant structures and tent poles to ensure they don't fall over.
When you sleep inside the Kamp-Rite Oversize Tent Cot, you won't have to worry about crazy weather patterns. This tent cot allows travelers to completely enclose themselves while they rest inside it. As such, campers will remain dry even when the rain pours outside. The added rain-fly prevents water from seeping into the tent cot and drenching you as you sleep. Together, the tent top and taped sealed rainfly will ensure campers remain cozy and warm and unbothered by rain. You can listen to the soothing rain from within the cot and never feel the cold water on your skin.
Comfortable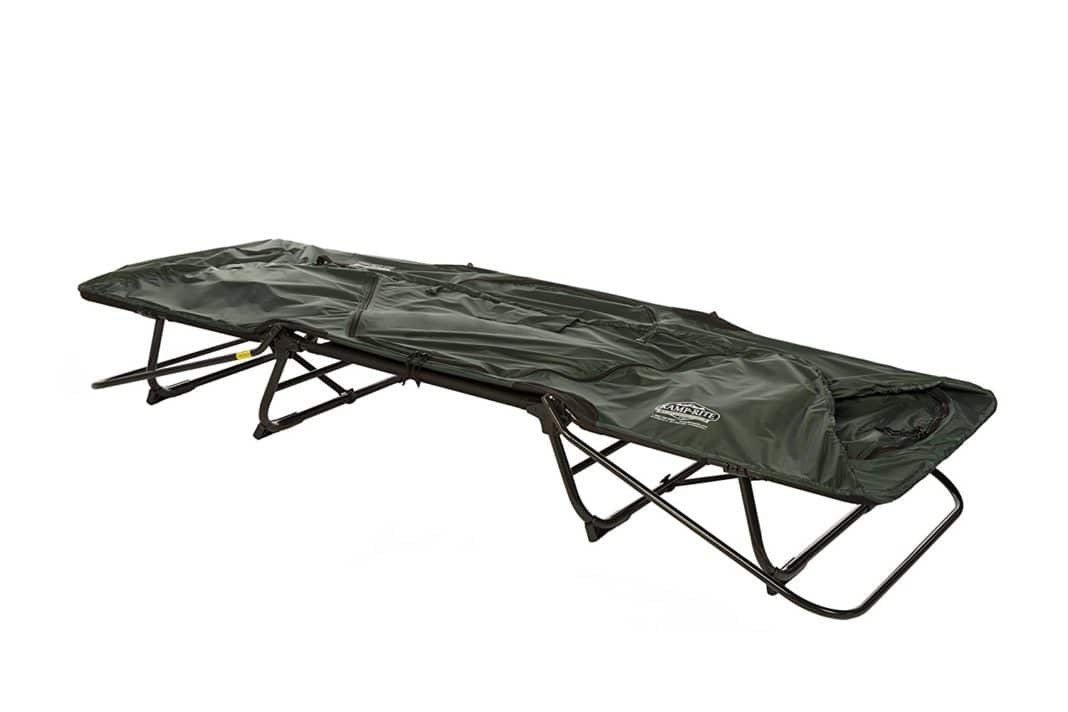 Camping gear doesn't always offer lots of comfort for travelers when they sleep outdoors. Frequently, tents fail to offer any support while campers sleep atop the ground. Sleeping bags can feel extremely thick and padded, yet still remain uncomfortable to rest on outside. Despite using mats and thick sleeping bags, you might struggle to fall asleep atop the hard ground. Similarly, products like tent cots may appear cozy, but feel stiff and provide zero comfort. Though these cots might promise extreme comfort, they might actually feel the same as resting on a sleeping bag.
Thankfully, the Kamp-Rite Oversize Tent Cot offers tons of comfort for travelers. The tent cot maintains an extremely cozy design, enabling you to get great rest outdoors. Each of the Kamp-Rite Tent Cots come with a 3/8-inch foam insulating pad, providing added cushioning while you sleep. This means you don't have to worry about bringing along extra sleeping pads or bags just to get decent rest. Additionally, the Kamp-Rite Oversize Tent Cot utilizes a slick nylon fabric, so you can lay in comfort. The firm and level surface provides the perfect support you need when trying to catch some sleep. Travelers won't have to deal with bumps or uneven surfaces when they sprawl across the tent cot.
Spacious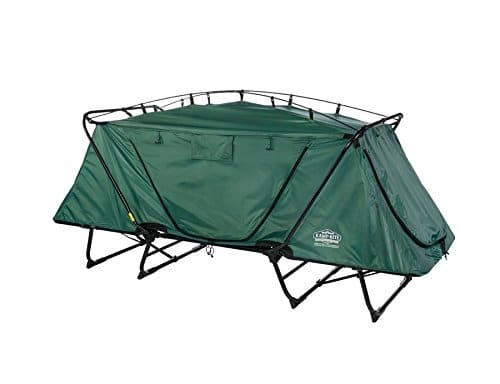 Sometimes, the most annoying part about sleeping outdoors can be the constrained spaces created by tents. Many tents offer little room to spread out while you rest, making it feel claustrophobic to sleep in them. Even though the tent may have been purchased for a single traveler to use, it should still feel somewhat roomy. You don't want to buy a massive tent for one or two people, simply because other tents remain too cramped. If you can stretch out while you sleep, your camping experience will probably be much more enjoyable.
While the Kamp-Rite Oversize Tent Cot might not seem very big, the product provides room to spread out. Single travelers resting inside the tent cot won't feel closed in and unable to move. Instead, the tent cot offers space for stretching legs and arms and adjusting your body with ease. The oversize design of the tent cot makes it spacious enough for one camper to feel comfortable. Over twelve inches of headroom mean you can lift your head and not hit it against the ceiling. Campers may sit up inside the tent cot without having to bend their head down.
Easy Setup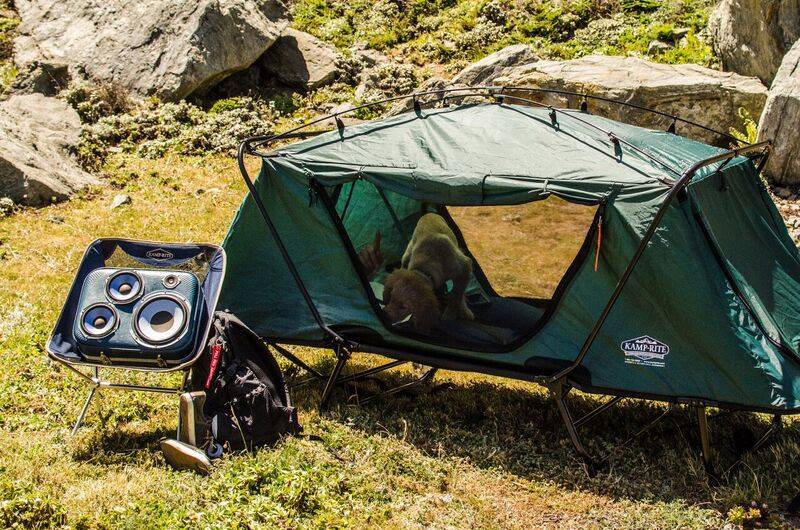 Camping adventures can be extremely fun, but setting up tents remains an annoying chore. Lots of tents have complicated setup instructions, causing frustrations and wasted time. Travelers shouldn't have to take an hour out of their trip to simply build a tent. This can be a problem for less-experienced campers who don't know how to build tents quickly. Or, some campers may want to build their tent rapidly to avoid getting rained or snowed on. In these instances, tents with complex setups can be a letdown while you're trying to enjoy the outdoors.
The Kamp-Rite Oversize Tent Cot doesn't have an extremely complicated setup. Rather, this tent cot has been constructed for campers who hate complicated camping gear. According to Kamp-Rite, the tent cot can be built in mere seconds. This leaves campers with plenty of time to explore the outdoors, instead of wasting time building the cot. You can simply unfold the tent cot and set it atop the ground. The legs will stand around a foot above the ground, keeping you from having to deal with stakes. A heavy-duty carrying bag also makes the tent easy to bring from place to place after folding it down.
What Travelers Are Saying About the Kamp-Rite Oversize Tent Cot
Travelers who purchased the Kamp-Rite Oversize Tent Cot raved about the product's comfortable design. Solo travelers felt extremely cozy while they laid down on the tent cot outdoors. Reviewers also appreciated that the tent cot was fully framed and enclosed. This meant that they could sleep in greater comfort, as bugs and inclement weather didn't bother them. The spacious interior also allowed for travelers to stretch out while inside the cot. Additionally, reviewers found the Kamp-Rite Oversite Tent Cot to be completely weather-resistant with the added rain-fly. When travelers were outside in torrential rain, the tent cot did not allow water to seep in and drench them. Similarly, windy days didn't result in the product flipping over or tearing while the campers slept inside.
A few reviewers wished that the Kamp-Rite Oversize Tent Cot had included more ventilation features. For some, the tent produced a lot of condensation when the tent cot was completely closed. At the same time, the tent cot became somewhat damp when utilized during rainy days. This caused the campers to feel a little less dry than they normally would have in dryer climates. However, overall, travelers considered the Kamp-Rite Tent Cot to be an awesome product for producing comfier camping adventures.
Alternative Camping Tents You May Like
1. Smittybilt Overlander Tent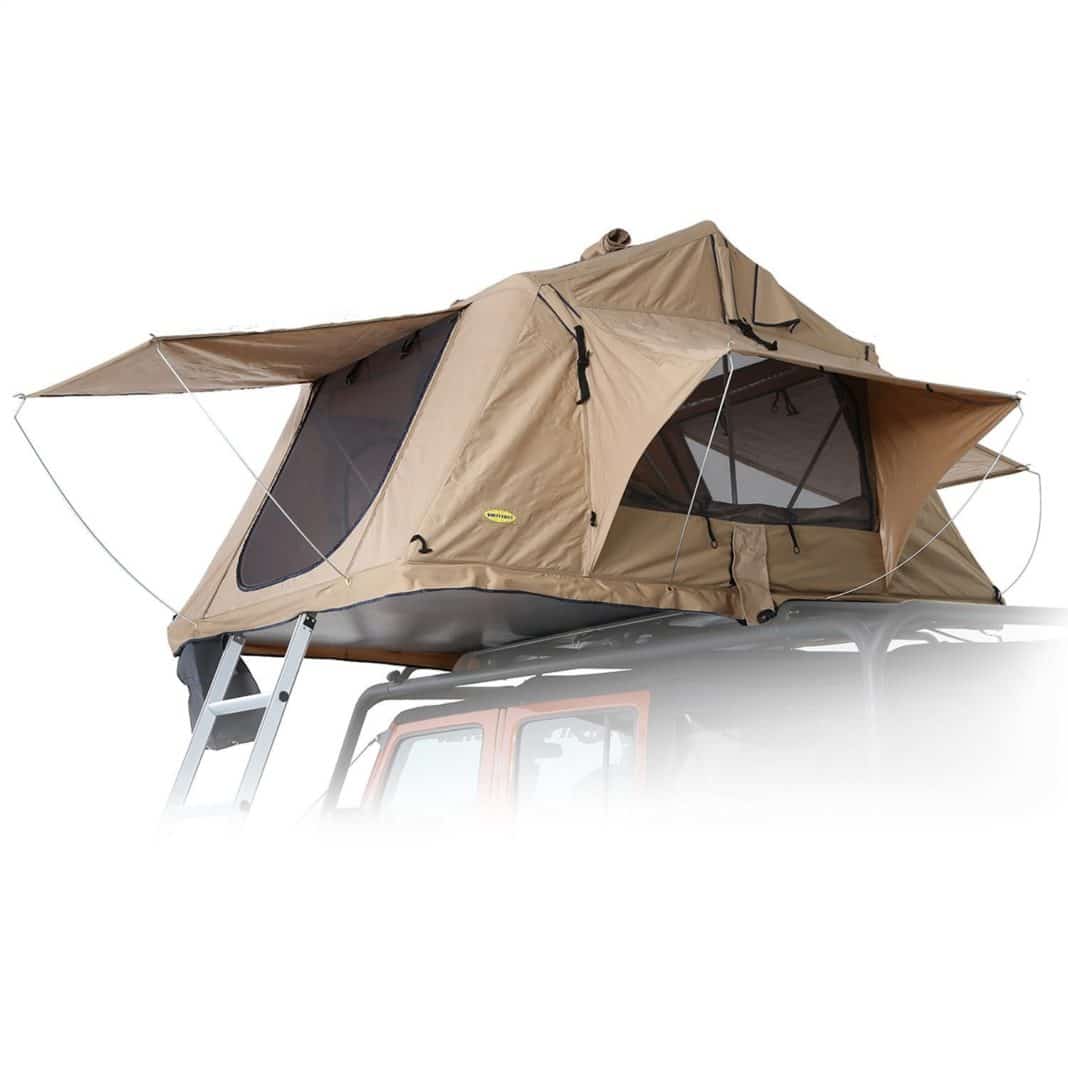 For travelers who weren't completely satisfied by the Kamp-Rite Oversite Tent Cot, the Smittybilt Overlander Tent might be ideal. This tent maintains similar features to the Kamp-Rite Tent Cot, like its ability to be placed atop a car. However, the Smittybilt product has been designed to fit more than just a single traveler. The tent sleeps up to three people inside its spacious interior and can even hold a double or full mattress. With a comfortable foam mat to sleep on, this tent lets travelers rest well while outdoors. Additionally, the Smittybilt Overlander Tent contains a heavy-duty, waterproof top that makes it perfect for all kinds of weather. You won't have to worry about rain seeping inside while you sleep even if you're outside during a storm. Similarly, the side windows on the tent have mosquito netting, providing protection from insects. At the same time, the mesh features enable greater ventilation, so you can feel the cool breezes. Other features like an LED light strip and a telescopic ladder make this tent an awesome product for campers.
2. AmazonBasics Tent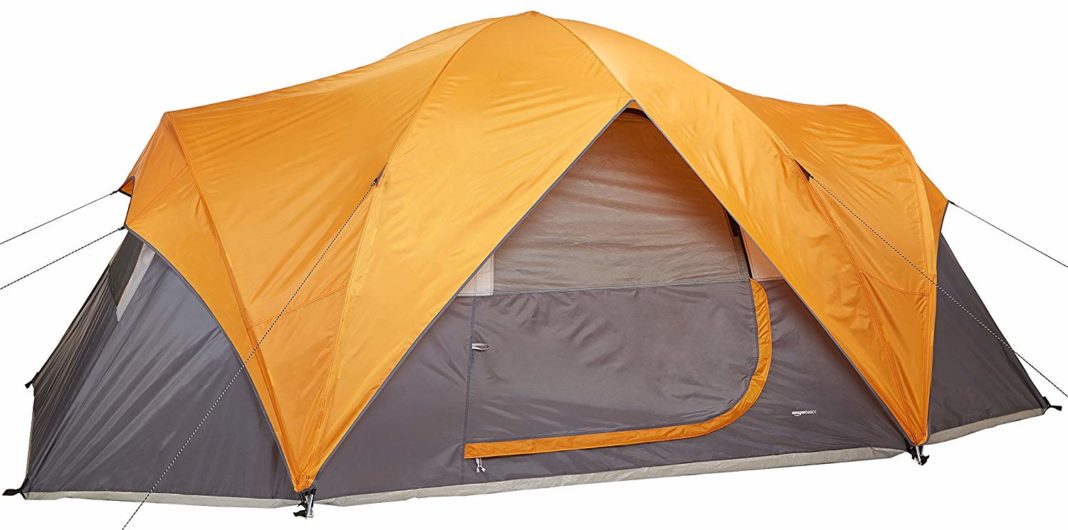 With the AmazonBasics Tent, travelers can camp outdoors amongst groups of family or friends. While the Kamp-Rite Oversize Tent Cot only fits one traveler comfortably, this tent provides room for up to eight people. This means that you can sleep alongside your loved ones without worrying about feeling claustrophobic or cramped. A rainfly offers protection from the rain and sun, so you won't have to deal with soaked belongings. Water won't seep inside this tent, thanks to the protective features and a weatherproof construction. On a similar note, the AmazonBasics Tent utilizes welding technology and polyester fabric to keep water from entering the interior. Sturdy stakes also prevent the tent from rising off the ground when the wind picks up. A cool air port and adjustable ventilation system allow air to circulate through the tent. This means that travelers camping in muggier conditions won't feel suffocated or damp while sleeping. An interior storage pocket and ceiling gear net provide the perfect locations for storing items like phones, keys, and wallets.
3. Full-Size Rightline Truck Tent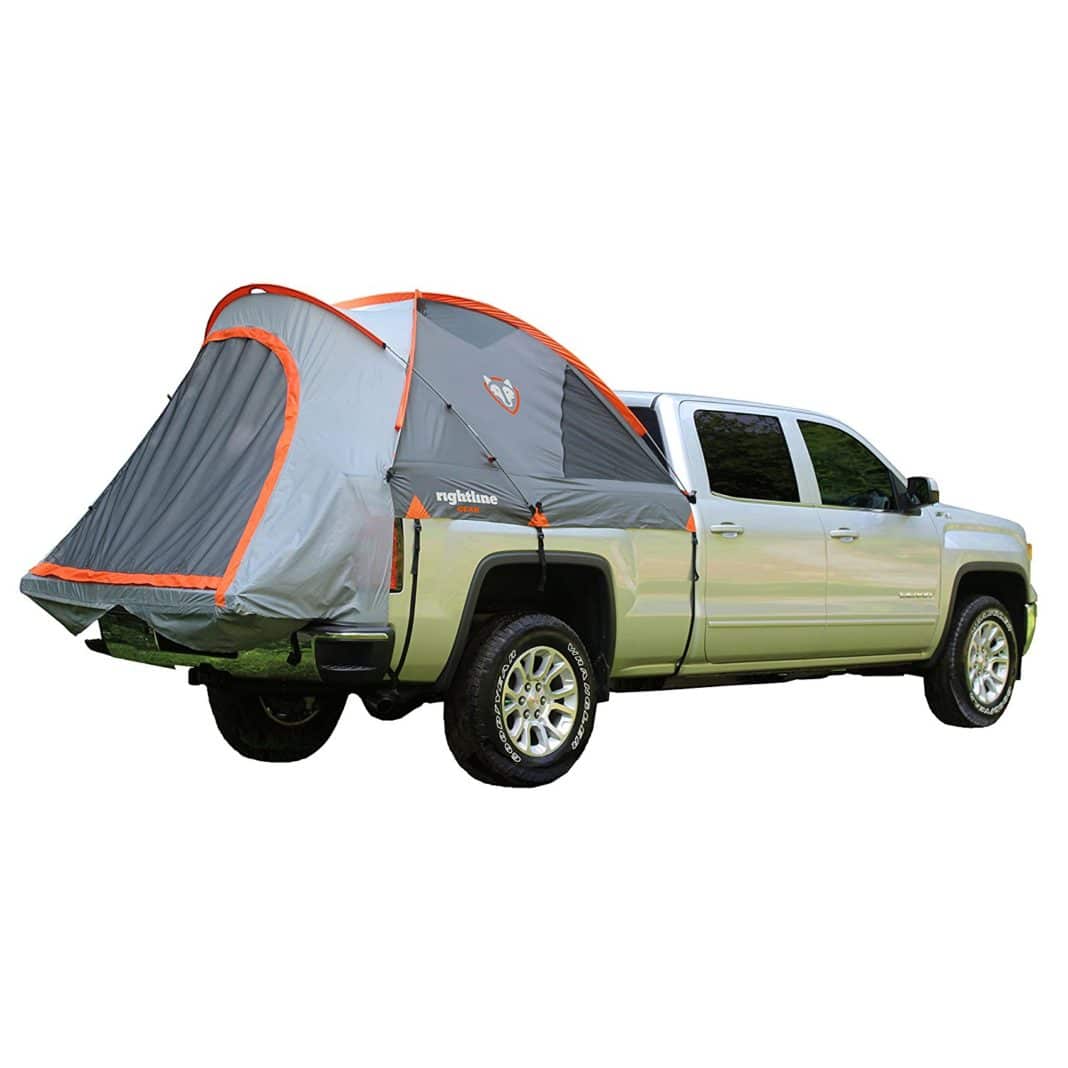 The Full-Size Rightline Truck Tent remains a great tent option for travelers who prefer sleeping aboveground. Like the Kamp-Rite Oversite Tent Cot, this tent product allows campers to sleep atop their cars while outside. This truck bed tent enables up to two travelers to rest in comfort when they camp inside it. The floorless design of this tent means you can set it up without removing any gear from your truck bed. Thus, building or breaking down the tent when you want to leave will be super simple and hassle-free. A rainfly protects campers from rainy weather days or from damper afternoons. Similarly, the water-resistant fabric and taped seams prevent water from leaking into the tent. You won't have to worry about your belongings growing damp due to the rain. This tent also contains a bunch of cool features, like a hook for hanging a lantern and a sky-view vent. You can lay down and read underneath the stars if you so choose. Glow-in-the-dark zipper pulls even make it easier to open and close the tent at night.
Experience the outdoors from inside your Kamp-Rite Oversite Tent Cot.
Those who love adventuring through the outdoors probably know the importance of having an awesome tent. These protective structures offer you a place to rest while you sleep outside in the wilderness. However, since not all tents remain alike, it can be hard to find the right one for you. If you have a big family or travel in large groups, you'll appreciate the Kamp-Rite Oversize Tent Cot. This product offers tons of space for many people to sleep side by side in comfort. Additionally, the tent won't fall over with every gust of wind or succumb to flooding on a rainy afternoon. Make sure to consider purchasing the Kamp-Rite Oversize Tent Cot before embarking on a new outdoors expedition.
Related Article: The Best Car Camping Tent You Need for Your Next Adventure