When it comes to car camping at its finest, you really can't beat the solid luxury of a Springbar tent.
When you're camping in the great outdoors, you usually want to get your campsite set up quickly and not worry about it for the rest of the week. The hassle of a low-quality tent or a difficult set up can quickly put a damper on your stay. On top of that, there can be a haze hanging over you if you get wet when you're trying to sleep. This all being said, a high-quality tent will make your base camp the best springboard for your adventures. It will give you a good night's sleep, as well as the safety and security of a dry place to hang out. So, if you're willing to invest in one of the best car camping tents made today, check out the Springbar tent, specifically the Springbar Highline 6 Tent.
A Little About Kirkham's Outdoor Products
The spectacular Springbar tent is made by Kirkham Outdoor Products in Salt Lake City, Utah. The company has been around since Arthur Jack Kirkham purchased the AAA Tent and Awning company in 1944. He began innovating, researching, and testing outdoor items to get the best possible product. In the 1960s, the design for the Springbar Tent was settled on. Since then, this simple tent structure has been a staple in the high-quality tent circles. Among outdoor enthusiasts who care about good gear, Kirkham Outdoor Products, and specifically their Springbar Highline 6 Tent have been unmatched in quality, durability, and overall construction.
Springbar Highline 6 Tent Features & Benefits
Speedy One Person Set-Up
Credit: Springbar
When it comes to a six-man tent, you might be a little nervous about the impending setup. Often tent of this size take multiple people to maneuver poles, stakes, and fabric around. However, this Springbar tent has been designed specifically to be able to be set up by just one person. It truly embodies simplicity and you will quickly fall in love with this feature. This is also a draw for families with young kids. If you need one of you to watch the children, the other can still be setting up camp.
High-Quality Materials & Construction
Credit: Springbar
If you're shelling out your hard earned money for a high-quality tent, you want it to last. Kirkham Outdoor Products understands that. That's why they have only put the best materials into the Springbar Highline 6 Tent. The Premium Quality HardyDuck™ Canvas is made specifically for their Springbar tent. It is a tightly woven, 100% cotton army canvas that is finished for both water resistance as well as mold and mildew prevention. Their signature sewing construction tops it all off. They use lap-felled seams which prevent leaking and don't leave a raw edge that would fray over time. When the HardyDuck Canvas is paired with this sewing, you have a spectacularly sturdy and durable Springbar Tent.
But, there is more to any tent then it's fabric materials. The stakes, loops, and poles are just as essential to a solid tent build. Wire that is wrapped around a rope and then sewn into the floor is how these stake loops are made to last. This distributes the pressure of the stakes, which prevents them from tearing. In turn, the life of your tent is extended that much more. Speaking of the floor, it is a heavy-duty waterproof vinyl. This burly material will resist tough punctures and hold up under years of wear. All of this combines to make a waterproof, windproof, and incredibly sturdy tent. So, from thunderstorms to toddlers, the Springbar Highline 6 Tent has been made to last whatever you throw at it.
Roomy Inside & Ample Awning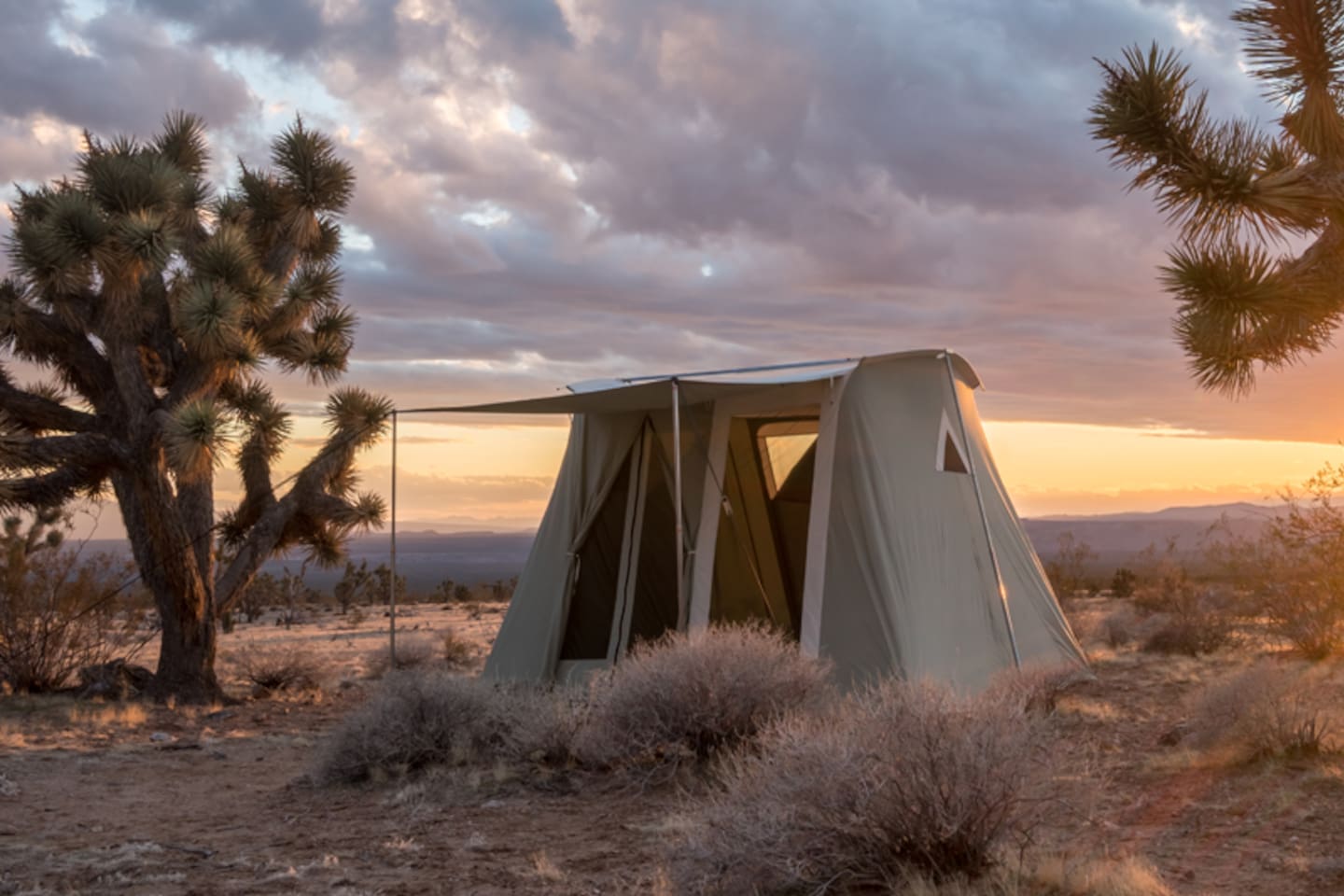 Credit: Springbar
For car camping or extended base camping, it's so much nicer to invest in a tent that has a few extra amenities. While there is something great about a lightweight backpacking tent, it's worth it to splurge on a little extra room. This Springbar Tent has one hundred square feet of living space, which is nearly unheard of. On top of that, there is an ample 6.5-foot standing height. So, most everyone can stand up straight inside and not think twice about it. When is the last time you were able to do that in a tent? The ten by ten-foot size sleeps up to six people, but any party smaller than that could consider it their outdoor palace. There are large windows with no-see-um mesh on the front and the sides of your viewing pleasure as well as circulation.
In addition to the roomy inside, the Springbar Highline 6 Tent has a large awning off the front. Held up by two poles, you'll be able to eat dinner in the shade or enjoy a drink on your porch. This awning is a light but well-loved addition to this Springbar Tent.
Lifetime Warranty
Credit: Springbar
We've worked through how every inch of this Springbar tent has been designed to provide you with the best possible car camping or base camping tent you can find. But, in case you do find the one in a million tent that has a manufacturing defect, don't fret. The Springbar Highline 6 Tent is backed with a lifetime warranty. There are also replacement parts and repair kits available for it things do get a little choppy. While they are not replacement parts, there are many additional accessories you can get for your Springbar tent. From a doormat and ground tarp to screening in your awning, there are plenty of ways to personalize the Springbar Highline 6 Tent.
What Travelers Are Saying About This Springbar Tent
There are very few shortcomings to the Springbar Highline 6 Tent, and the reviews easily reflect that. The 4.6 out of 5 star reviews on Amazon reflect that this tent has been refined and perfected since 1961. The most adored features of this Springbar Tent are its ease of set up and durability. One traveler commented that it withstood multiple days of camping with a toddler, which involves a tiny human often throwing themselves into the walls for fun. On top of that, the parents were able to easily set up the tent while watching their little one. If a family can keep this tent in pristine condition for years, then you know this tent was meant to take a beating.
Make sure you read a bit about tent materials before getting upset about the waterproofing of this tent. A canvas tent may leak slightly the first time it gets wet,. But, after the first rain, it will be fine. On top of that, a few reviewers commented on the weight of the tent. At over seventy pounds, this is quite the hefty piece of gear. But, the standard of quality of this tent it woven into every single pound. So, as long as you know this going into purchasing the Springbar Highline 6 Tent, you should be incredibly happy with your purchase. Overall, there is a reason that Kirkham's Outdoor Products and the Springbar Tent have risen to the top of the list as far as the best tents go.
Alternative Car Camping Tents You May Like
Kodiak Canvas Flex Bow Deluxe Tent
For a similar tent build and construction, check out Kodiak Canvas Flex Bow Deluxe Tent. Made with 100% cotton canvas with Hydra-shield, this tent is also durable, watertight, and breathable. It has four windows with no-see-um mesh while two funnel-flow vents add additional airflow and temperature regulation. The 6-foot, 6-inch ceilings won't make you scrunch over in here either. The two large doors with sturdy YKK zippers complement all of this quite nicely. This, just like the Springbar Tent, is a well-loved tent that holds up to just about anything. So, read more into the Kodiak Flex-Bow Deluxe 8-Person Tent if you're hoping for something a little larger or are not dead set on Kirkham's Outdoor Products.
Coleman Instant Cabin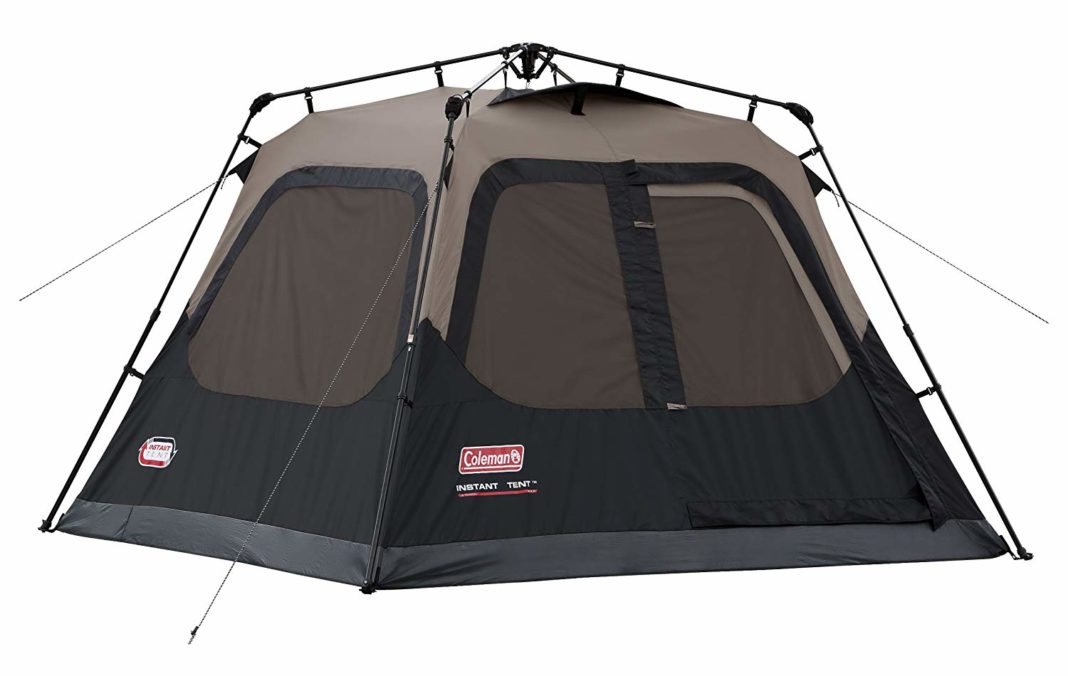 Alright, you might not be ready to shell out multiple hundreds of dollars on the top of the line tent. Maybe you're just getting into car camping and want a lower price investment that will still last you a good long while. Well, the Coleman Instant Cabin is an excellent alternative. Made of 150D Polyester with taped seams, you'll have a much lighter tent that is still waterproof when the rainfly is all set up. The tent sets up in less than a minute, which is similar to the Springbar tent.
The spacious interior measures ten by nine feet, allowing for up to two queen air mattresses inside. The tallest point in the center is six feet high, although it tapers towards the side. All of this is on top of a WeatherTec system with welded floors to keep you dry and rugged poly guard double-thick fabric for long-lasting use. Overall, this is a great entry level tent to get you outside. That's what matters anyway, right?
Smittybilt Overlander Tent
So, you might have seen these sweet tents around. These rooftop tents are the new craze, and we can understand why. They might just make a list of essential things you need to keep in your car. But, the Smittybilt Overlander tent sleeps two to three people and has a high-density full mattress inside. Yes, that's built in. With a 600D waterproof top and rain fly, you'll be kept warm and dry. Although, the sunroof and windows let you see your surroundings and the night sky as you drift off to sleep.
For getting up to this tent, you're provided with a telescopic ladder and interior LED strips to light the way. When you're not using it, the heavy-duty PVC cover will keep it dry and covered, away from the harmful UV rays. So, if you have a car with a flat roof that you're just dying to put to good use, check out this rooftop tent as an alternative to the Springbar Highline 6 Tent.
This Springbar Tent truly sets the bar for the best car camping tent made today.
From the heavy duty canvas to the ample space, there is so much to love about this tent. You won't want to be caught sleeping in your car when you have this little mansion awaiting you. It can be set up with just one person, so there's no excuse not to use it! Throw together everything you need for the perfect car camping trip and hit the road. We can't wait to see where you go camping this fall. With the Springbar Highline 6 Tent, you could venture just about anywhere and be kept warm, dry, and happy.
Related Article: The Best Car Camping Tent You Need for Your Next Adventure