So you're taking a big trip out of the country and want to invest in some prime gear. You won't find any better than the Canon EOS 5D Mark IV. If you want it, you'll be paying a premium price though. Stunning image clarity is promised from this camera and for those familiar with the older Mark III model, navigation is a breeze.
So what's different about the Canon EOS 5D Mark IV? Well, for one thing, it features an entirely new sensor with 30.4 megapixels. The 5D models are where Canon's range shines the most and we've got to say it -we're impressed by the Dual Pixel Raw.
Canon EOS 5D Mark IV Design and Handling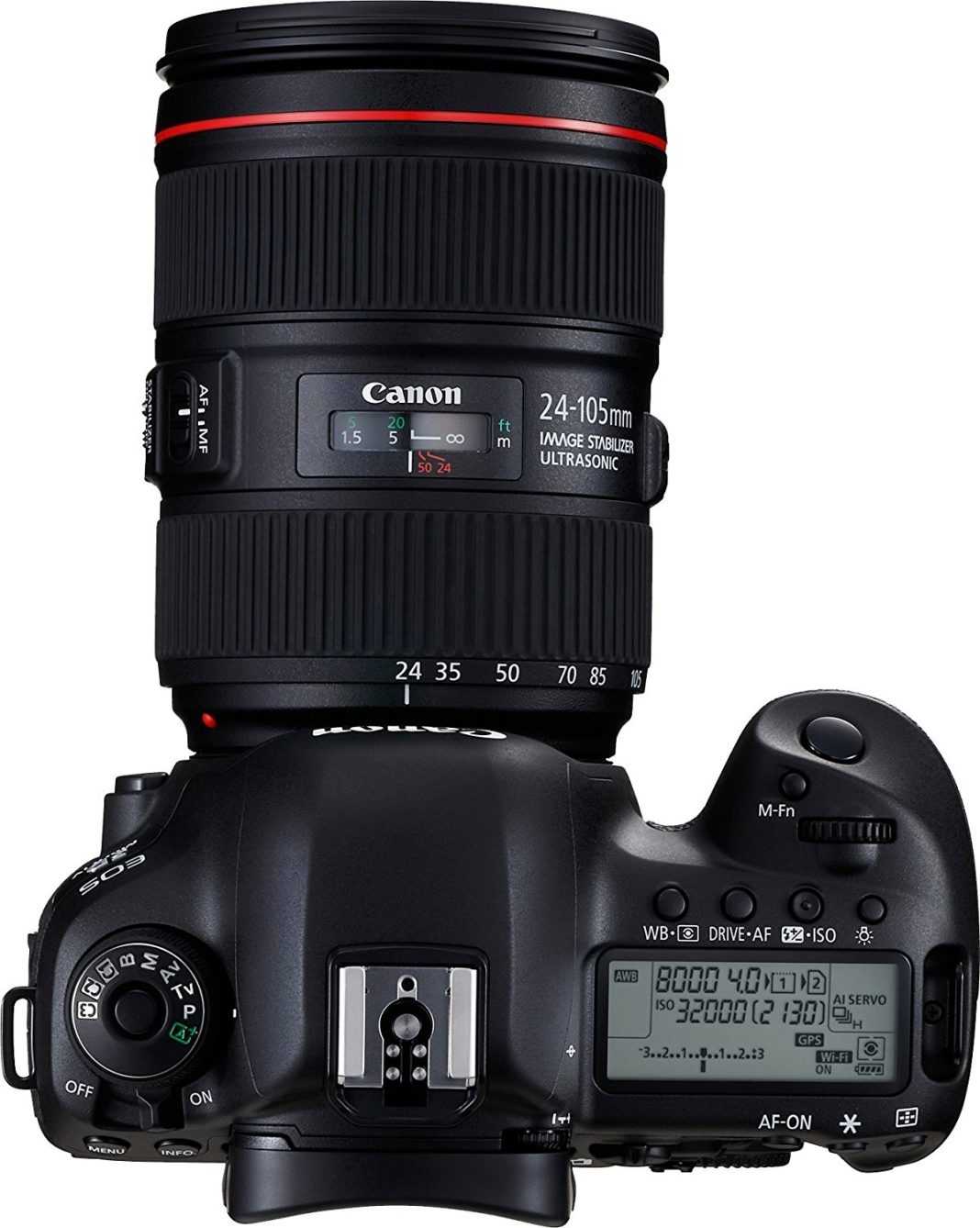 Credit: Amazon
One thing we love about Canon is they don't make their users learn from square one with each new model. With this said, the Mark IV keeps the design and dimensions of its predecessor, the Mark III. However, there are a few small exceptions. The WiFi and GPS unit is now located next to the optical viewfinder. The grip is a bit more secure in-hand.
The layout of the buttons is almost identical with the exception of one new addition – a handy new switch to scroll and change a setting. In fact, there's pretty much a button for every setting you would need to change frequently. You can also press the Q button to see the information highlighted on display. While you won't likely make as many changes on the main menu, you can still find whatever you're looking for with relative ease.
One feature we find particularly useful is the rating button. You can use this to provide an image rating in playback. This is great when you're quickly scrolling through hundreds of shots looking for that certain one. Overall, there hasn't been much changed to the body and we're okay with that. The real changes deal with the tech specs inside.
Canon EOS 5D Mark IV Screen and Viewfinder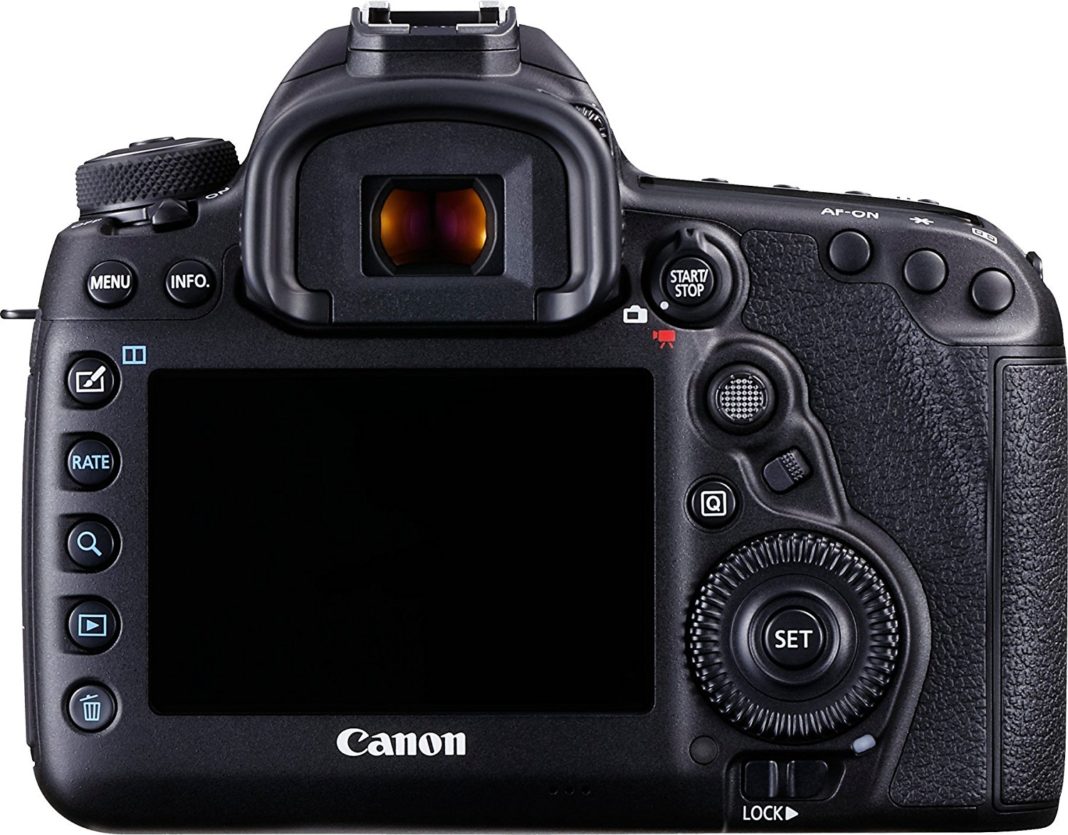 Okay, here's the biggest boost for usability. The screen is touch-sensitive (*insert praise hands emoji here*). While other cameras in the Canon lineup have this feature, this is the first time it felt intentionally useful. You can set it to autofocus point and do so much more. If you use it in conjunction with the camera's buttons, it's great for an easy workflow (e.g. press the Q button and then tap the screen to make your change). Our only complaint is that the screen was articulating (or tilted with movement). But hey, you can't have it all.
Canon EOS 5D Mark IV Performance and Image Quality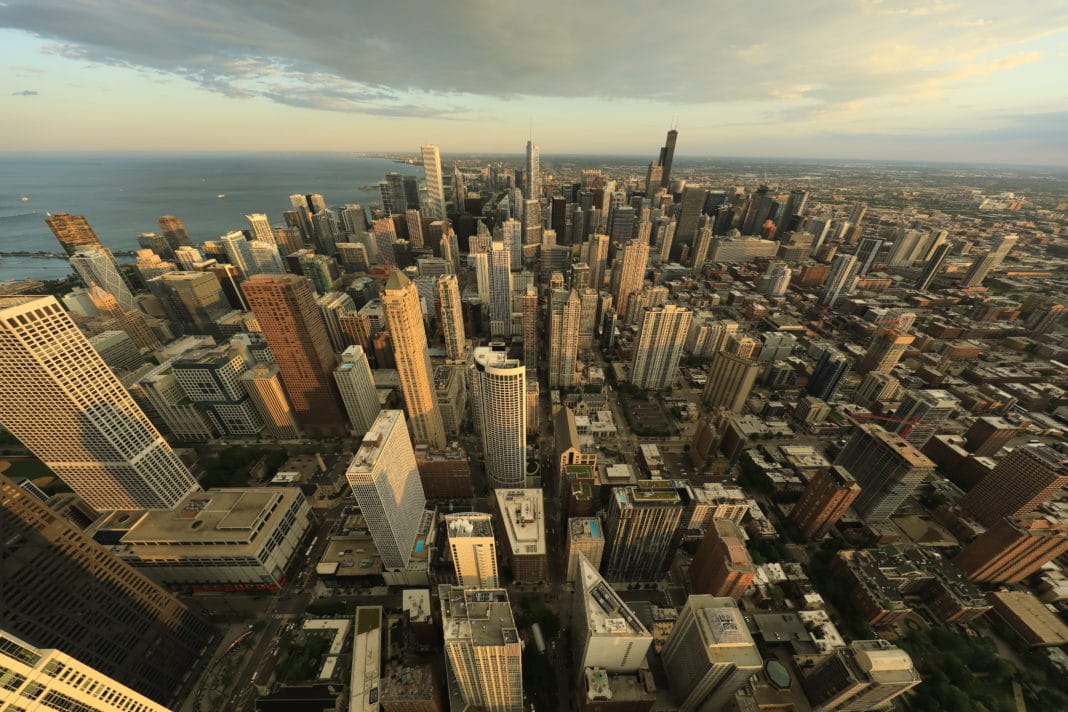 It's amazing how much autofocus has improved in live view. If you're using the camera to shoot macro and still life subjects, you can quickly use the screen to focus in, without having to wait for the camera's autofocus to kick in. While you probably won't use it for most other subjects, it's nice just to know it's there.
When shooting through the viewfinder, you'll find some more improvements. For one, wider AF coverage spans the camera frame. The tracking focus is amazing too. Wildlife photographers will particularly love this feature. You can easily follow a moving subject without worrying about ending up with a blurred photo. While the camera only shoots at 7fps, it's still a solid choice for more active subjects. Let's take a look at the image quality of the Canon EOS 5D Mark IV next.
Image Quality
Did you know that the Canon EOS 5D Mark IV is the travel influencer's camera of choice? Some of our favorite globetrotters including Gypsea Lust, Do You Travel, and Ockey Dockey all use this model. If that doesn't sell you, we don't know what will. Images are delightfully sharp, colors well saturated, and the video quality is pretty good too.
You can also achieve noise-free images up to a decent ISO level, though we generally don't recommend pushing it past 3200. We're not a fan of getting all that digital grain in our images. Alright, moving on.
Remember that Dual Pixel RAW feature we mentioned? Well, you can adjust these photos both in Canon's Digital Photo Professional and in Adobe Camera RAW. While this Canon software isn't the easiest thing in the world to use, it's certainly worth experimenting with.
Dynamic Range
Let's talk about the dynamic range. This is the main reason most people upgrade. It is certainly better than that of the Mark III. Shadows are much cleaner. At base ISO, the IV has less than half the read noise of the III. The complete absence of banding or pattern noise makes this an even bigger advantage, and this is easily seen and much appreciated when you work on RAW files. The camera does appear, for the most part, to be ISOless.
What we mean by this is that once you know your aperture and shutter speed, you are better off shooting (in RAW) at low ISO and then boosting in post. I've taken shots at ISO 400 and boosted by 3.2 stops in Lightroom (the equivalent of ISO 3675) and get very clean images.
The benefit of this is that you preserve the greater dynamic range available at low ISO versus throwing away the highlights during in-camera amplification. One application we've found this useful for is when shooting in challenging and changing light conditions such as stage events.
We've taken to setting aperture and shutter speed for DOF and movement and simply shooting at low ISO, with confidence that we will not overexpose highlights, and can easily recover a 3+ stop under-amplification of darker regions in a post with no noise penalty. This makes you less reliant on metering accuracy and gives you more time to focus on composition and timing.
ISO and Grain​​​​​
At high ISOs, it is the upstream read noise of the sensor, as opposed to the noise from A/D conversion that dominates. Scaled for pixel size, the 5D IV has lower upstream read noise than the III. This lower upstream read noise of the 5D IV over the 5D Mark III does seem to translate into better high ISO performance. Overall, for the same viewing sizes, we find using less noise reduction at high ISO than before. Color and detail are well retained even at ISOs like 12,800.
What Does This Suggest About the Canon EOS 5D Mark IV?
Travelers and night sky photographers, listen up. This performance suggests that the Canon EOS 5D Mark IV is a good camera for astrophotography. A lower read noise should translate to better signal to noise ratio across the board, but especially important for the low photon flux from deep sky objects.
We were pleasantly surprised at the level of color and detail captured in single, unstacked exposures of M31 which speaks to the low read noise inherent in the sensor. The lack of banding noise in the dark areas made it possible to amplify the detail captured and clean up the images much better than would have been possible in the 5D Mark III.
The low read noise also enables better stacking of short exposures to yield color and detail than may have been possible with the 5D Mark III. Another benefit is the increased dynamic range when shooting from sky fog limited sites; a lower ISO can be used thus doubling or quadrupling the possible sub exposure time. See the image notes for more detail.
Canon EOS 5D Mark IV Video Quality
When it comes to video, Canon has a reputation for being revolutionary. The Mark II was the very first of its kind to feature Full HD recording. Now, we're on to bigger and better things – aka 4K. In one word, the video produced by the Canon EOS 5D Mark IV is excellent. You can definitely count on this camera to produce clean, crisp video. Focusing while shooting is also smooth and accurate.
What Travelers Are Saying About the Canon 5D Mark IV
The Canon 5D Mark IV is definitely geared towards advanced photographers who occasionally dabble in video.
Familiar Style to Previous Mark III Model
A 5DIII user or a 7DII user will find the controls very familiar. For the most part, you should be able to start using it without referring to the manual. As a practical matter, having the controls and even most of the customizations be similar between different Canon bodies is a great convenience if you happen to be using two different cameras during a shoot.
The shutter feels softer and quieter, a design carried over from the 5DS/R to reduce vibration. The viewfinder phase detect AF is everything you expect from a camera like this – we had no problems with 24-70 II, 70-200 II, 135 or 85 f/1.8 lenses at maximum apertures.
After using this camera for seven months, I can say that tracking is improved over the III. The new metering sensor enables face detection and tracking through viewfinder AF. Combined with Zone AF and using a fast prime like the 135L or a zoom like the 70-200 II, it is excellent for candids and for tracking action. The 135L, in particular, is an absolute joy to use for candids.
It's Light and Precise
Light, fast, and precise, the effect is one of the camera virtually disappearing, leaving your eye and the unconscious reflex of your finger to capture one precious moment after another. Perhaps the biggest surprise is the touchscreen. You'll find myself using it more and more in preference to the joystick when navigating the menu. Dual Pixel Autofocus is as fast as advertised – certainly as fast as viewfinder AF. What we found pleasantly surprising was that you seem to be able to get sharp shots at exposure times well over 1/focal length seconds using this method.
You do have to get past the ergonomic considerations of shooting with a heavy camera held at arm's length though, and it is probably better used with smaller lenses versus something like a 70-200.
What Travelers Think About the Canon EOS 5D Mark IV Image Quality
Okay, first things first. Let's talk about the image quality. You will certainly notice the extra resolution. For the times you don't need it or are not able to use it effectively, the camera helpfully offers lower resolution RAW modes.
We find the 17 MPix MRAW mode is very useful for run of the mill shooting needs giving something reasonably close to the resolution of a 6D or 5D III, generally preferring to use the full resolution mode only for landscape shots using a tripod or portraits in good lighting. The camera's JPG engine is clearly improved over the 5D III. The fine detail mode is a nice addition. On the IV, you can probably shoot JPG in a fairly broad range of conditions.
What Travelers Have to Say About the Canon EOS 5D Mark IV Video Quality
The video of the 5D Mark IV is vastly superior to that of the Mark III. You will be able to take better 1080p videos with far less effort using the 5D IV than my old 5D Mark III. Comparing videos taken in similar lighting conditions and the same lens, the IV's videos seem to show better color rendition and highlight detail.
Don't get us wrong. We do not mean to suggest that the III is incapable of making excellent videos. There are plenty of travel influencers who have taken great videos taken using that camera. But let's get back to the Mark IV.
We've found the autofocus and face tracking in movie mode to work very well; What this means is that you can use your fast lenses, particularly those having IS, for grab and go shooting and come away with great videos; you will have no trouble using them wide open. One of the complaints some travelers had was the absence of C-LOG. As of last summer, this will no longer be the case, since C-LOG will be available as a paid firmware update and is implemented for both 4K and 1080p video.
Firmware Updates
This means that much more of the dynamic range of the sensor will be available for those who don't mind spending time grading and processing their videos. Yes, ideally the firmware update would have been free, but the cost does not seem exorbitant, and quite simply, I would far rather have it than not. Based on the actual experience with using the camera for video, and the recent announcement of C-LOG implementation, there simply is not a reason for us to dock any points here.
Some travelers admit to being initially underwhelmed by the 5D Mark IV, initially rating it 4 stars, but that impression has undergone a radical change as they spent more time using it. The 5D Mark III's improvements over its predecessor in the form of autofocus were almost immediately evident upon use.
However, the 5D IV's improvements in the form of tracking, high ISO capability, dynamic range, and video features take time with the camera to manifest themselves. That does not make them any less real and meaningful. On the contrary, they make it easier to get better images in tougher conditions than is possible with the 5D Mark III.
The More You Push Yourself and the Camera, the More You Progress
Quite simply, the more you push this camera, the more it delivers and impresses. Even features such as WiFi and the intervalometer have proven themselves very useful. And while we can debate whether this is an evolutionary or revolutionary upgrade, that debate does not take away from the fact that this is a great camera.
Additional information
Of course, the decision to buy or not is entirely yours to make. We just want to give you enough information so you can make an informed decision if this is the right camera for you. Nothing we've written changes the fact that the 5D IV remains a top-notch DSLR camera, and an excellent value for your money.
Alternative Travel Cameras
While the Canon EOS 5D Mark IV is certainly one of the best DSLR cameras on the market, we understand if you need to shop around a little more. Investing a few thousand dollars is a big commitment. You need to make sure your travel camera has all (or at least most) of the bells and whistles you're looking for. Here are a few other great cameras on the market. Some are a bit cheaper than the Mark IV.
Sony A7R II
The Sony A7R II is one of the best mirrorless cameras on the market. Why is it getting all the buzz? It's the world's first full-frame back-illuminated Exmor R CMOS Sensor with 42.4 MP. It hits the mark. It's as simple as that. While Sony usually plays it safe with their new releases, This time, Sony has managed to make a camera that will make even the most staunch DSLR lovers reconsider their preferences. This alone is a huge accomplishment.
Lately, there has been a new type of competition among camera manufacturers. It's all about resolution. Like we said, the Sony A7R II brings a whopping 42 megapixels to the table. Its top competitors are the 50-megapixel Canon 5DS R and the 36-megapixel Nikon D810. But this camera doesn't really need the highest resolution to stand out in the crowd though. The excellent image quality, superb 4K video, and compact, sleek design speak for themselves.
While this camera certainly isn't cheap, it's definitely worth the price tag. It's quite a bit cheaper than the Canon EOS 5D Mark IV. We think it's a very worthy purchase. After all, you can't really put a price on capturing amazing travel photos and videos. Those are the memories that will last forever.
Leica Q
This could be the best portable travel camera ever designed. The Leica Q offers a full-frame 24.2-megapixel sensor within an exceptionally portable and beautiful exterior. Leveraging the power of the Maestro II series image processor, incredibly high resolution, low noise imaging at ISO levels up to 50000, and a continuous rate of 10fps, this camera is nothing short of incredible. The camera also utilizes a Summilux 28mm f/1.7 ASPH lens. This allows users to dramatically separate the subject from their background, even in low light conditions.
A simple design complements the Leica Q's aesthetic. The body presents easy-to-read engraved lettering, numbers, and dials. Designers certainly opted for durability when they chose a matched aluminum plate and magnesium alloy body. On the back, it has a large thumb rest. At the front, a diamond grid pattern allows for a firm, comfortable grip on the camera. Furthermore, the Leica Q has a built-in 3.68-megapixel LCOS electronic viewfinder which provides the user with a live through the lens image. The handling is similar to that of a rangefinder.
What Sets It Apart
Just pick up the Leica Q and you'll get just a small sense of just how much high tech is crammed into one compact, beautiful camera. While the body isn't as compact as say a Sony Cybershot, it's still relatively small, like a shrunken version of the Leica Q flagship series. Despite its size, the body and controls are wonderfully uncomplicated. In fact, compared to most cameras of its nature, it looks practically barren.
Along the left side of the LCD, you will find the buttons for accessing the full menu, ISO speed, playback options, and a customizable function button. Like any other camera in the Leica M-series, the control scheme is laid out in such a way to give you everything you need and nothing that you don't. It's a beautiful thing. Just worry about the basics: compose, focus, and shoot. Worth noting, the camera also brings together autofocus and exposure, just like a point and shoot. While past Leica cameras offered autofocus, this usually came at the expense of the manual control that users desire. This isn't the case with the Leica Q.
Fujifilm XT-2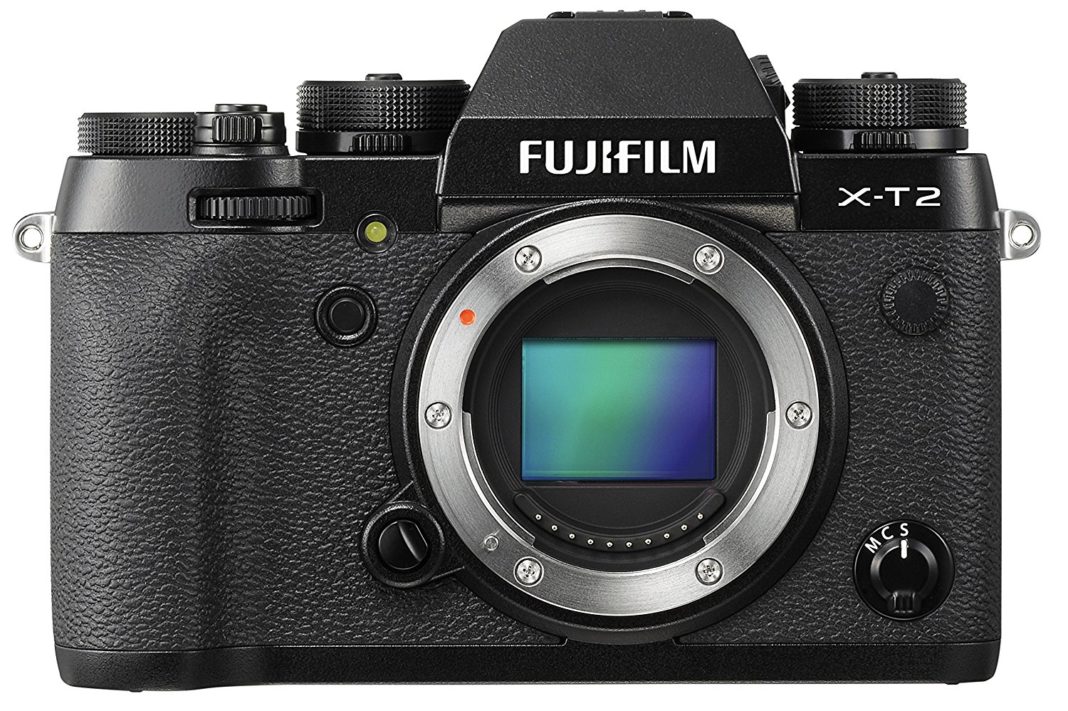 Have you ever considered investing in a Fujifilm camera? If so, this is a solid choice. We're sure you've heard a lot of talk among photographers about the X-Pro2. Well, there's a reason for it. So, what sets it apart from all the other cameras out on the market? It all has to do with your personal preference for cameras.
When looking at its predecessor, one of the most obvious differences is the hybrid optical/electronic viewfinder featured on the X-Pro2 and the 4k video on the X-T2. While the LCD screen on the X-Pro2 offers a higher resolution, it doesn't articulate the way the X-T2 does. The X-Pro2 still relies on an older USB connection but buyers can work their way around this with a card reader.
This is a great camera for a street photographer. It offers a minimalist design and optical viewfinder for those who enjoy slower forms of photography. Which camera is right for you depends more on you than it does on the camera.
Olympus E-M1 Mark II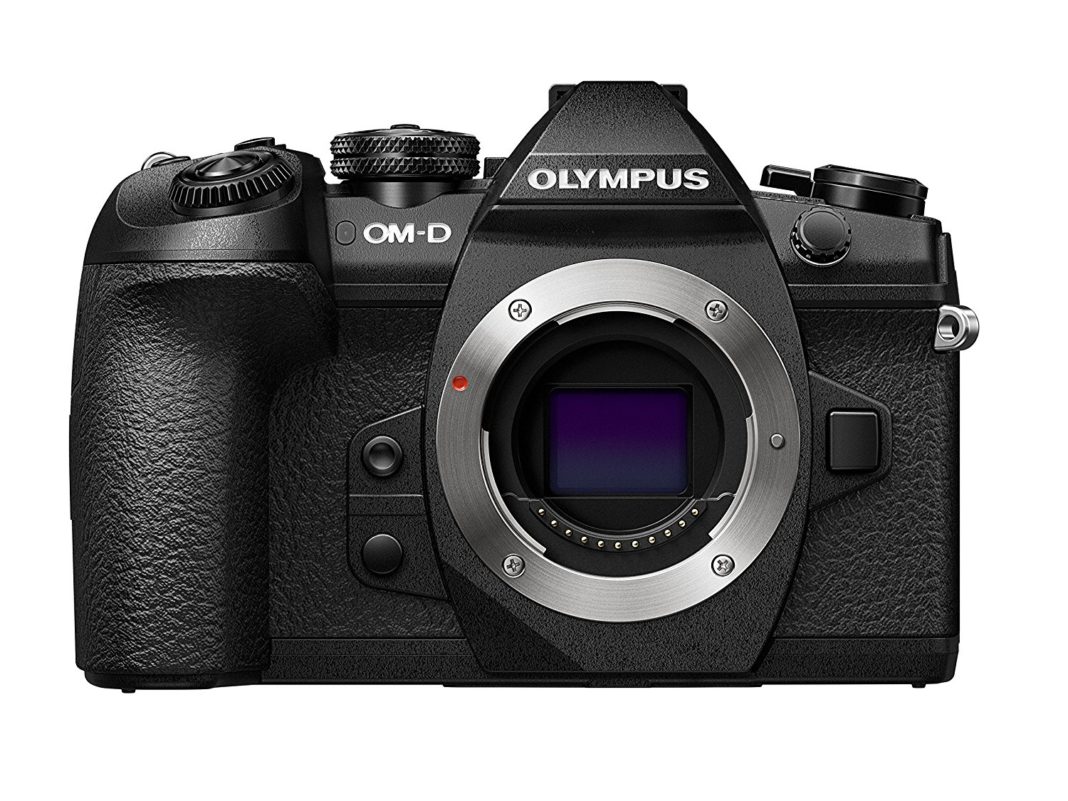 Are you looking for a great durable adventure camera? If so, consider the Olympus E-M1 Mark II. The makers of this model definitely geared it more towards action photographers than for still photographers.
This stunning camera can capture frames up to 60 frames per second (fps). Thanks to the durable camera body, you can pretty much bring it anywhere. Just make sure you invest in a solid, waterproof camera case or backpack to carry it around in. When you're ready to go out and shoot, the 20 MP Live MOS Sensor offers accelerated processing and your images will be sharp and crisp.
But wait… It gets even better. If you want, you can be out and about roaming the streets all day. The lithium-ion battery can last for more than 440 shots without the need to stop and re-charge. So head on out there and capture shots for the gram. You won't need to miss a single moment.
Our Take on the Canon EOS 5D Mark IV
We've said it before and we'll say it again. If you're looking for a camera with amazing 4K video quality, the Canon EOS 5D Mark IV offers it. It is definitely geared towards more advanced photographers who occasionally dabble with videography. So if you're looking to expand your skill set, maybe it's time to expand your toolset too. If you're a beginner shooting for the stars, take a photography class and editing class before you dabble with this camera. You don't want to get frustrated and burnt out.
Like we said before, if you've ever owned the Canon 5D Mark III, you will find the controls very similar. If you're familiar with the older Mark series models, you will find you are able to use it easily without having to reference the control model. You will save yourself a lot of time and energy from having to read through and understand a new camera model or brand.
When looking at image quality, you can't beat the extra resolution. For those times you don't need it, the camera offers lower resolution RAW modes. Another reason to consider purchasing this camera is the dynamic range. Shadows are so much cleaner than before and at base ISO, the noise level read half of that of the Mark III.
One useful thing to do is set your camera's aperture and shutter speed to DOF. If you do this and shoot at a lower ISO, you will not overexpose highlights and can easily recover a 3+ stop under amplification of darker regions without a noise penalty. Now, enough technical talk. Let's get to the good stuff.
Should You Buy the Canon EOS 5D Mark IV?
If you can afford it, yes. You get what you pay for when it comes to travel cameras – and basically any other kind of travel gadget. If you already own a Mark III or even a Mark II, making the switch will be very easy. And you can sell your old camera to make up for some of the cash leak. The best news of all is that this isn't some minor upgrade. There are plenty of amazing features you can dive right into.
With this said, the Canon 5D Mark IV is a bit more expensive than the Mark III. Granted, it has come down in price about $600 since its launch. If you can wait for the price to drop even more, you'll save yourself a pretty penny. But if you're going on the South American trip of a lifetime and you just can't wait – well, what can we say?
Canon has produced yet another swoon-worthy camera capable of wowing photography novices and professionals alike. While it's a shame the price is a bit steep, it's characteristic of the market and top-brand trends. All in all, beautiful images, a durable camera body, and clear 4K video make the Canon EOS 5D Mark IV an excellent camera.
Do you have any questions or comments for us? If so, we'd love to hear from you. Feel free to leave us a message below. We will get back with your shortly.
All In All Here's the Verdict
Canon has produced yet another swoon-worthy camera capable of wowing photography novices and professionals alike. While it's a shame the price is a bit steep, it's characteristic of the market and top-brand trends. All in all, beautiful images, a durable camera body, and clear 4K video make the Canon EOS 5D Mark IV an excellent camera.
Do you have any questions or comments for us? If so, we'd love to hear from you. Feel free to leave us a message below. We will get back with your shortly.
Related Article: Travelers, Are You Looking For The Best Camera For Vlogging?