We've all needed that go to bag that can hold all we need for the weekend without compromising on style or comfort.
Your gym bag is a little bit smelly for this task, and frankly, that old suitcase shouldn't be allowed out of the house anymore. When searching for a great weekend bag, you want something that can handle a few pairs of shoes, multiple outfit changes, and a toiletries bag. You want it to be perfect for that romantic getaway, so don't forget that it needs to fit all the gadgets for getting ready for a night out on the town. All of this and you want it to look good even after a hundred uses. Lastly, you don't want to break the bank or your back to have this bag. Thanks to Madewell, there is a brilliant option that will only get better with age. The Madewell Transport Weekender bag is the perfect solution, so let's dive into why we love it so much.
A Little Bit About Madewell
Madewell stands for the woman who looks effortlessly sexy every day. Founded by the people that bring you the style and quality of J. Crew, Madewell hit the market in 2006. They've been devoted to keeping the art and style alive in the fashion world. That will take shape through little touches to their products that elevate the quality and statement to a new level. Their products focus on being both cool and sexy. Allowing you to be the best you through clothes and accessories you feel effortlessly gorgeous it is their calling. They often incorporate a tomboyish feel to them, allowing everyone from the fashionista to the everyday jeans woman a place at the table. So, enjoy the beauty of Madewell products because they're designed to keep you looking good for quite some time.
The Madewell Transport Weekender in Canvas Features & Benefits
A Durable Waxed Canvas Exterior
Credit: Shop It To Me
Spilled coffee, or more likely wine, can stain a bag and ruin it for good. Thankfully, Madewell has designed a thick, durable exterior that can withstand the test of time. While you won't notice the waxed part, it helps repel slight stains from a spilled drink or two. We would still recommend washing it out right away, though. The thick canvas will put up to being thrown in a trunk or shoved under the seat in front of you on a plane. All the trim is done in Madewell premium leather, which means it is both gorgeous and durable. Additionally, there is a chic leather luggage tag which snaps perfectly to keep your identity covered but ready to call to you if you leave your luggage for a minute. So, for the chic look to accompany your stellar weekend getaway, keep the Transport Weekender durable waxed canvas in mind.
Three Thick & Sturdy Handles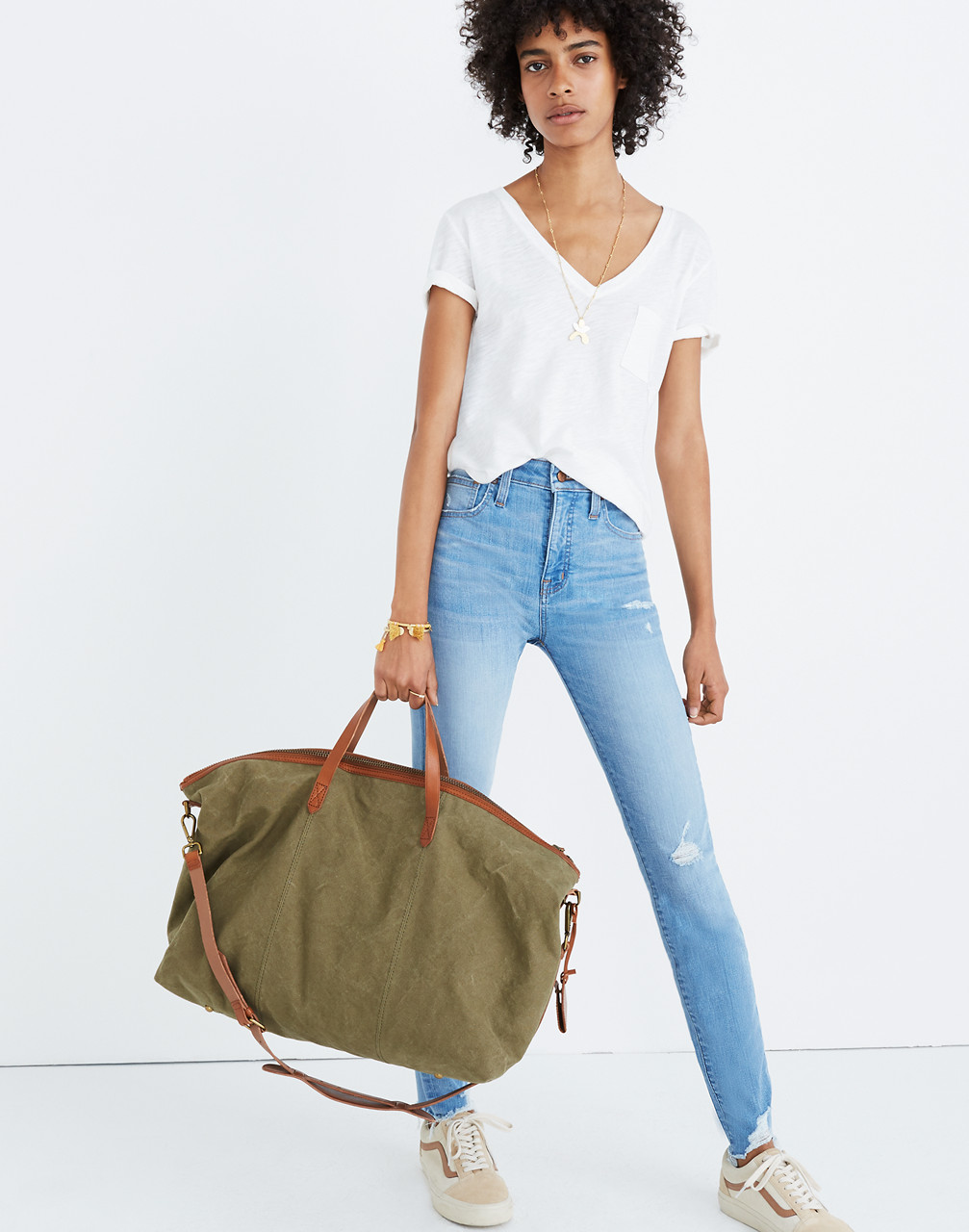 Credit: Madewell
Whether you like to throw it over your shoulder like a continental shoulder or use a crossbody strap, the Madewell Transport Weekender bag is versatile. With all three straps being crafted from premium Madewell leather, they are sure to withstand many, many uses. The eighteen-inch removable duffel strap clips on to either end of the bag with a brass fastener. With multiple hole options for adjustment, you'll be able to make sure it sits just right. In addition, there is a moveable padded leather support to give that extra bit of comfort as you glide through the airport. The two sturdy top handles accent that bag well. Carry it with these in the crook of your arm or by your side if you're needing to keep a wrinkle-free outfit. So, carry your Madewell Transport Weekender bag however you like because they've provided ample ways to do so.
Three Interior Pockets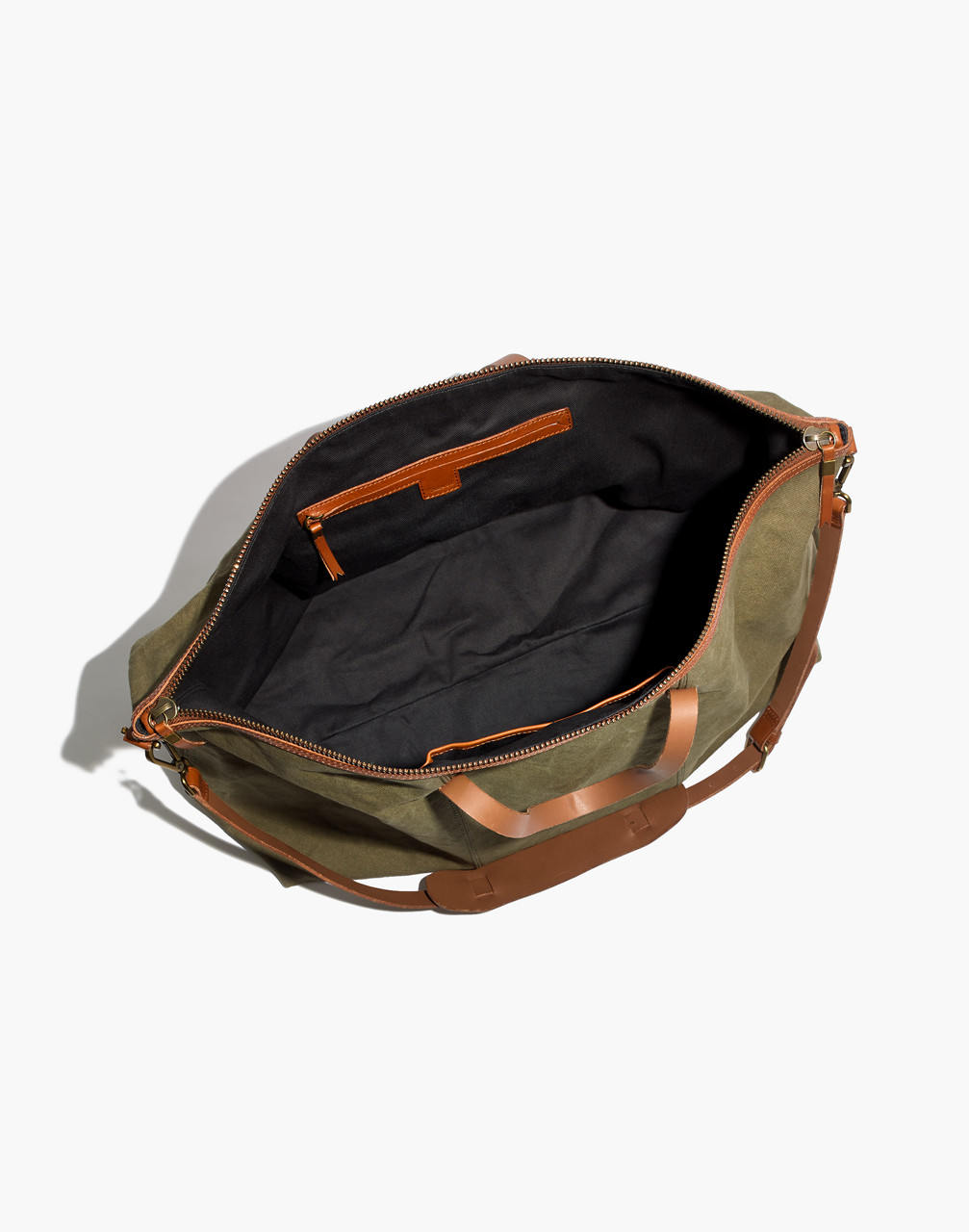 Credit: Madewell
A little bit of organization never hurt anyone, right? With two open pockets on one side, you can keep your receipts and pens separated from all of your clothes. The other side has a zippered pocket to keep your cell phone or wallet secure as well. With cute leather accent pulls on the zipper and leather trim, these pockets are made well. Get it? They're Madewell! The interior of this bag is also made to stay clean. The sleek back interior lining is easily brushed out to keep your clothes clean trip after trip, even if you put those sneakers in after your run. So, the interior of the Madewell Transport Weekender Bag is just as good as the outside. If you don't believe me, check it out for yourself!
Extra Roomy Interior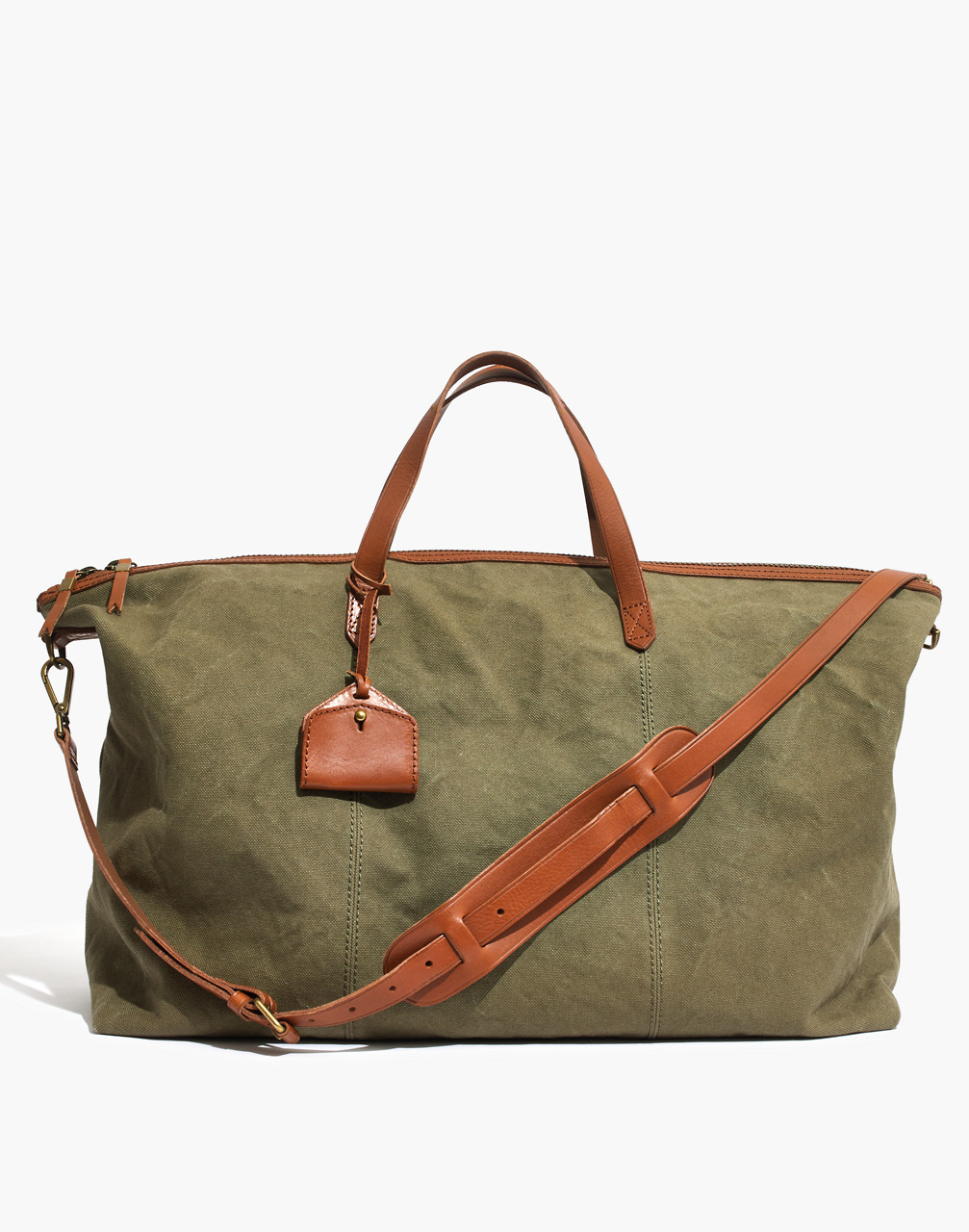 Credit: Madewell
Some bags never seem to hold as much as you think they should. Others have inherited a Mary Poppins gene and just keep the goods coming. Lucky for you, the Madewell Transport Weekender in Canvas is roomier than ever. Having an opening just over two feet wide at the top allows this bag to consume anything you throw at it. Whether its a multitude of outfits or those extra cute boots you didn't want to wear on the plane, it will all fit nicely in here. So, don't fret if this is big enough for even your weekend wardrobe, because it is.
What Travelers Are Saying About The Transport Weekender in Canvas from Madewell
The reviews for the Madewell Transport Weekender bag are nothing but praise. It receives the highest marks for roominess and quality. So many travelers comment on the durability and craftsmanship of the bag. Additionally, it is applauded as one of the most timeless and effortless bags. This means it can be a lifetime investment. It won't go out of style, and you'll always seem as if you were always this effortlessly cool.
Other Weekender Bags You May Like
Herschel Supply Co. Novel Duffel Bag
For half the cost of the Madewell Transport Weekend Bag, you can get a cute bag with a few extra features. The Herschel Supply Co. Novel Duffel Bag includes a waterproof zipper, a shoe compartment, and three comfy handles for your carrying needs. It is a bit smaller option than our Madewell bag, but it does hold a solid 42.5 liters. The cheaper price does have a few users skeptical of the quality of the Herschel Supply Co. Novel Duffel Bag. However, it does have a limited lifetime warranty that covers common and everyday use that wears on the material.
This bag also comes in a myriad of colors. Whether you're a merlot red kinda gal or a sleek beige, Herschel has a design for you. If you need some patterned spunk added it, they can make that happen as well. So, if you're not ready to splurge for the Madewell Transport Weekend, then try out this one for a great weekend bag alternative. It's also a great choice to bring on any over your cheap weekend getaways coming up.
Under Armour Women's On The Run Tote
For the sleek and sporty of us, check out the Under Armour Women's On The Run Tote as a great alternative to the Madewell Transport Weekender. The bag exterior is made with UA Storm technology, repelling water. This will keep your clothes dry no matter what storm you get caught in. The main pocket is accessed through the zipper up top and provides a large media pocket inside for your tablet. The removable shoulder strap and comfortable handles allow you to carry this bag multiple ways, just like the Madewell Transport Weekender.
This weekend bag alternative comes in under fifty dollars, so we see it as quite a bargain. It also comes in three different colors to give you a little style choice. Additionally, users of this bag absolutely love its durability and stability. It can go from work to the weekend with ease. So, if you're hoping to save a few dollars and keep a sleek look about you, check out the Under Armour Women's On The Run Tote.
Everlane Twill Weekender
Credit: Everlane
For an equally timeless alternative to the Madewell Transport Weekender, look to the Everlane Twill Weekender. With a color block design, you will enjoy the chic style of this bag as well. It is important to note that this bag does not have a full body strap, rather just the two side carrying straps. Don't let that hold you back, though. With one pocket outside and one inside, it allows just the perfect bit of organization without being over the top. The bag is made of water-resistant cotton twill with a leather strap. The bottom of the bag has been treated to withstand whatever you set it on, whether that is wet grass or a dirty floor. So, for a fresh bag that is just a little different design than the Madewell Transport Weekender, check out the selection at Everlane.
You've put in the time and effort to plan the perfect weekend, so add the cherry on top by packing all you need in the Madewell Transport Weekender.
From a trip to see your grandma for the weekend to a stellar getaway you've been planning for a while, the Madewell Transport Weekender is waiting for you. Wherever you end up, this bag will fit in perfectly without trying too hard. You'll be able to fit all you need for the weekend in here without having to get creative or leave anything behind. The comfort, quality, and durability of Madewell products withstand anything you throw at it. So, think about the future. Invest in this stunning piece of practical art and start jet-setting today.
Related Article: Best Weekender Bags for Travel in 2018