Are You From the East Coast? Are Your Traveling on a Budget This Winter? Check Out These Cheap Weekend Getaways Sprinkled Across the East Coast
Affordable travel. We love when these two words are stacked together, We find that it is our favorite combination of words. Many times, when people think about travel they picture their bank account quickly depleting. However, travel doesn't have to wipe out your savings and cost an arm or a leg. With a cup of research, a dash of creativity, and a pinch of patience, you can whip up an affordable trip. During the winter months, wanderlust is known to spike. For that reason, you may be itching to go on a trip right about now. Lucky for you, we have gathered all the research, creativity, and patience for you and blended it together to give you the best affordable destinations for this winter. Take a seat as we serve you the top 6 cheap weekend getaways for this winter. We hope you like your trips with a heavy dose of adventure.
If you live on the East Coast of the United States, then stay tuned. We have gone up and down the coast surveying the top cheap weekend getaways for this winter. See which destinations are close to you and consider spending a long weekend at one of these places.
1. Orlando, Florida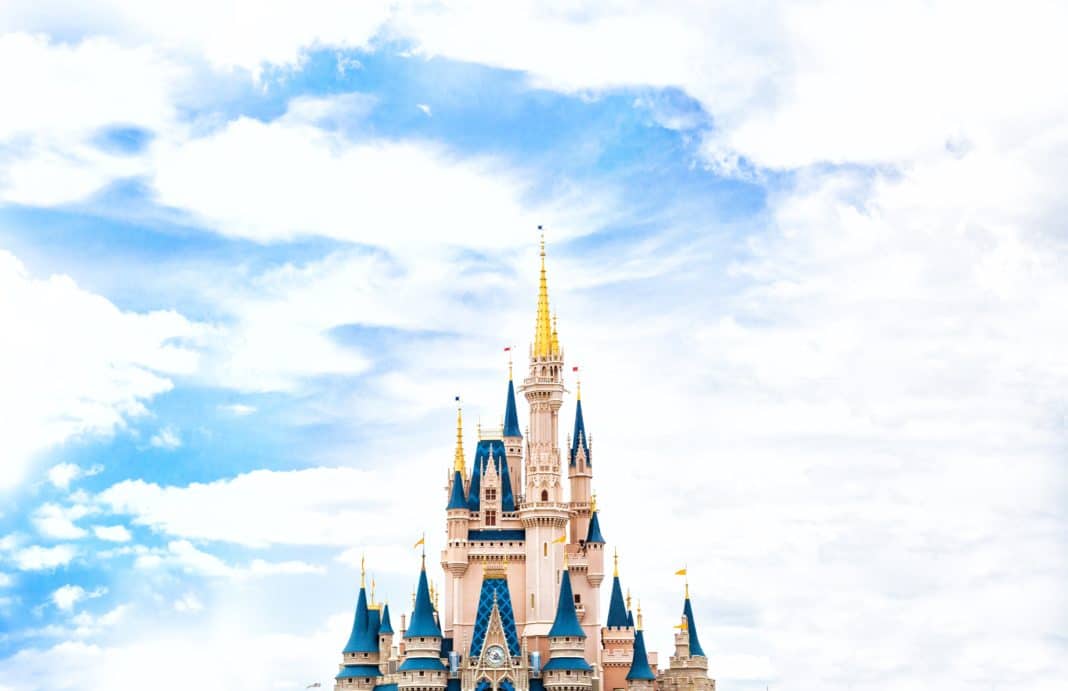 Walt Disney World, anyone? During the months of January and February, the cost of day passes to Disney World drop. Plus, during the winter months at Disney there are smaller crowds and therefore shorter lines to all of your favorite ride, games, and activities. To enjoy Disney World at this discounted rate is to also enjoy mild Florida temperatures. In Orlando, January and February provide some of the most pleasant temperatures of the year. Families with kids will find that Orlando makes one of the best winter weekend getaways.
We know we are talking about cheap weekend getaways in this article, but if you can manage to go to the park on a weekday, prices will be even lower. If you live in Florida, consider spending time in Orlando this winter. Also, depending on where you live in Georgia, Walt Disney World may be close enough for you to visit for a weekend this winter. However, we advise that you don't wait until spring break to visit Orlando. The area gets very crowded over school breaks. Plus, ticket prices at Disney World skyrocket during school breaks, holidays, and, of course, summer break.
2. Atlanta, Georgia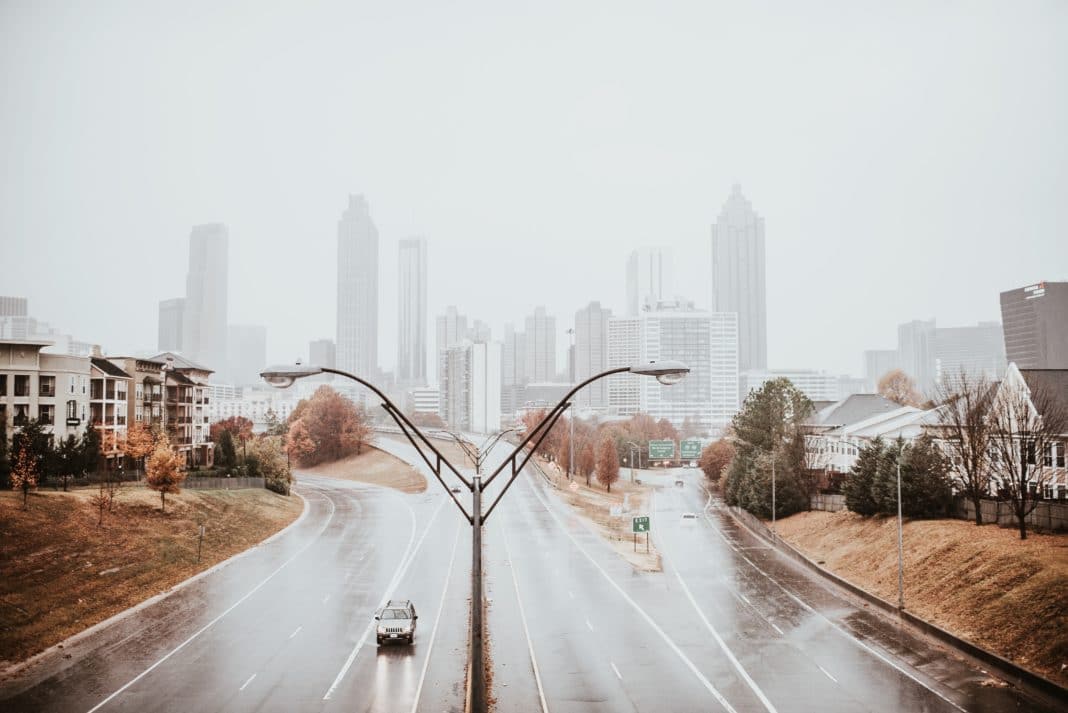 Credit: Flickr
When in Atlanta, you can go ice-skating downtown, hike up Stone Mountain, visit the Martin Luther King Jr. Historical Site, and taste the flavor of Atlanta food trucks. In Atlanta, you will find restaurants that whip up the finest southern cooking, as well as restaurants that serve globally inspired cuisine. If you are passionate about food, then Atlanta will be among the best cheap weekend getaways for you. That is, if you live a convenient distance from this Georgia city.
While there are plenty of food options and many activities to partake in, there are also fun events to attend in Atlanta. If you plan your trip in late January/early February, then you can sign up to run the annual Hot Chocolate 5K/15K. After completing this race, runners receive a steaming hot cup of delicious chocolate! If you are a runner, then make Atlanta the place for your winter weekend getaway. And even if you aren't a runner, the annual Hot Chocolate 5K/15K is a fun race to watch during your weekend getaway to Atlanta, Georgia.
3. Savannah, Georgia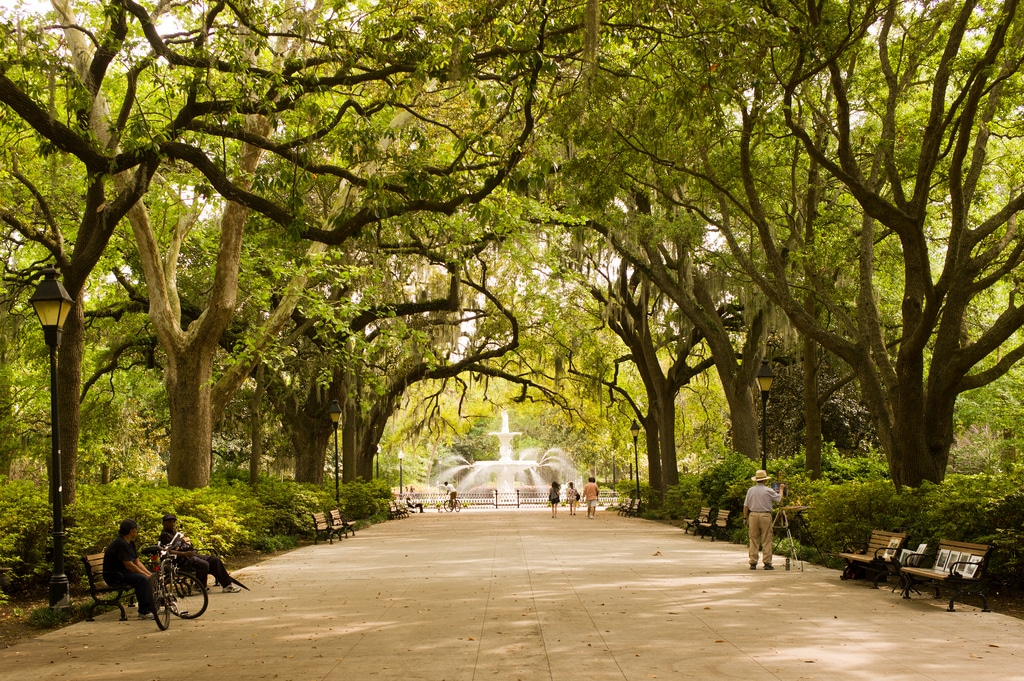 Credit: Flickr
Another Georgia gem is Savannah. Savannah is a scenic southern city that is filled with history and quaint architecture. In the winter months, Savannah is a still and quiet place to retreat. On your weekend getaway, you can check out the art museums, historical museums, the Coastal Georgia Botanical Gardens, and the delightful Forsyth Park. When you walk through Forsyth Park, be sure to have your camera out. With trees looming overhead, the park provides a beautiful area to take a leisurely stroll or have a picnic. Open every day, free of charge, travelers can visit Forsyth Park anytime during their weekend in Savannah.
River Street is another top attraction in this city. The cobblestones of River Street are lined with restaurants, bars, galleries, and boutique shops. During the evenings, River Street comes alive. In terms of cheap weekend getaways, you should highly consider Savannah. With affordable Airbnb's and small crowds in the winter, travelers will be able to plan a weekend trip to Savannah without paying a significant amount of money.
4. Charleston, South Carolina
Credit: Flickr
Charleston, South Carolina is steeped in history, charm, and wonderful architecture. The beautiful blend of old city and beach is something special to experience. As for accommodations, travelers can stay in an Airbnb or a bed & breakfast at a relatively affordable rate. During your winter weekend getaway, you can ride a horse-drawn carriage and walk down the infamous Museum mile. Charleston's Museum Mile is a one-mile-long stretch where you will find 6 museums, 5 historic houses, 4 scenic parks, and so much more.
Though you may not spend much time in your bathing suit tanning on the beach, we highly recommend that you still walk down to the shore and enjoy the tranquility of the coast. If you are a foodie, then you will want to visit Charleston during the Charleston Wine + Food Festival. This 5 day event typically falls at the end of February until the beginning of March. Farmers, chefs, artists, and more attend this festival to share food, wine, flavor, and art with attendees.
5. Baltimore, Maryland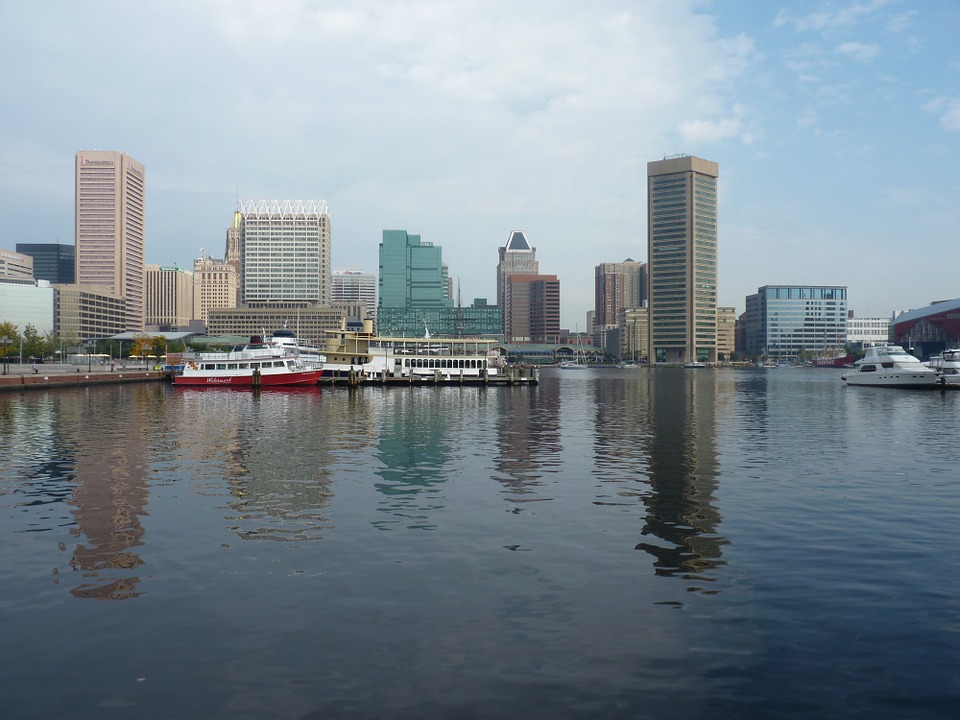 If you live in the Washington, DC area, one of the best weekend getaway destinations is Baltimore, Maryland. Plan a go for a day trip or plan to stay the entire weekend and explore the city. Baltimore hosts countless events and festivals throughout the year. The winter months are no different. Before you leave for your weekend getaway, consider what events and festivals are occurring this winter.
A visit to the Inner Harbor will have to be on your list of things to do in Baltimore. To walk around the Harbor, travelers won't have to spend a dime if they don't want to. Travelers can simply enjoy the views and the people watching. Plus, you can swing by the Fudgery where you can watch fudge being made before your eyes (and snag a few free samples!). The Inner Harbor holds many shops and restaurants to venture into as well.
6. New York City
No matter what time of year, New York City is the shining city that never sleeps. In the winter, though the temperature may drop, the number of possibilities that NYC holds never does. There is ice-skating at Rockefeller Center, shopping down Fifth Avenue, and eating at a host of authentic restaurants and bars. To make your trip to New York City affordable, we recommend staying in a hostel. This is by far the cheapest accommodation in the city. On average, NYC hostels cost around $30 a night compared to the $150+ a night for a hotel room.
If you are curious about other things to do in New York City, consider browsing through the Top 10 Things to Do in NYC. Also, if you are interested in the NYC nightlife, check out the 40 Best Bars in NYC. And for all you burrito lovers, Trekbible has found the 10 Best NYC Mexican Restaurants for Burrito Lovers. Don't go on your trip to New York City without first looking at these articles. They will inform you about the best places to visit and best places to eat during your winter weekend in NYC.
Where to This Winter…?
If you live on the East Coast, then these 6 destinations are places you should consider for cheap weekend getaways. From Orlando to Atlanta, Savannah to Charleston, and Baltimore to New York City, we hope one of these destinations is close enough for you to enjoy during a winter weekend. When it comes to travel, remember that there are tons of ways to travel in a cost-effective manner. Hostels and Airbnb's are some of the best accommodations to say in while on the road. With some research, travelers can find cheap eats and free things to do in each of these cities.
Which of these destinations do you want to visit this winter? If you live on the East Coast and know of other cheap weekend getaways, then share them with us in the comments section below! We look forward to hearing from you. Also, if you want to travel for longer than a weekend this winter (and pay a tad more), then check out the 6 Best Places to Travel in January. These destinations certainly are not on the East Coast of the U.S., but are wonderful global destinations to explore this January.
Related Article: ​10 Best Winter Vacations: Inspiration For Your Next Getaway​​​