IT Luggage Review
It can be hard to find luggage that suits both your individual style and meets all your needs. Some suitcases are easy on the eye yet limited in function. Others are packed with helpful features but are slightly shameful to lug around. IT Luggage is a brand that has their attention set on both goals—and they make it affordable, too. With that, here's our review of IT Luggage—a new option for you to consider for your next adventure.
Why IT Luggage?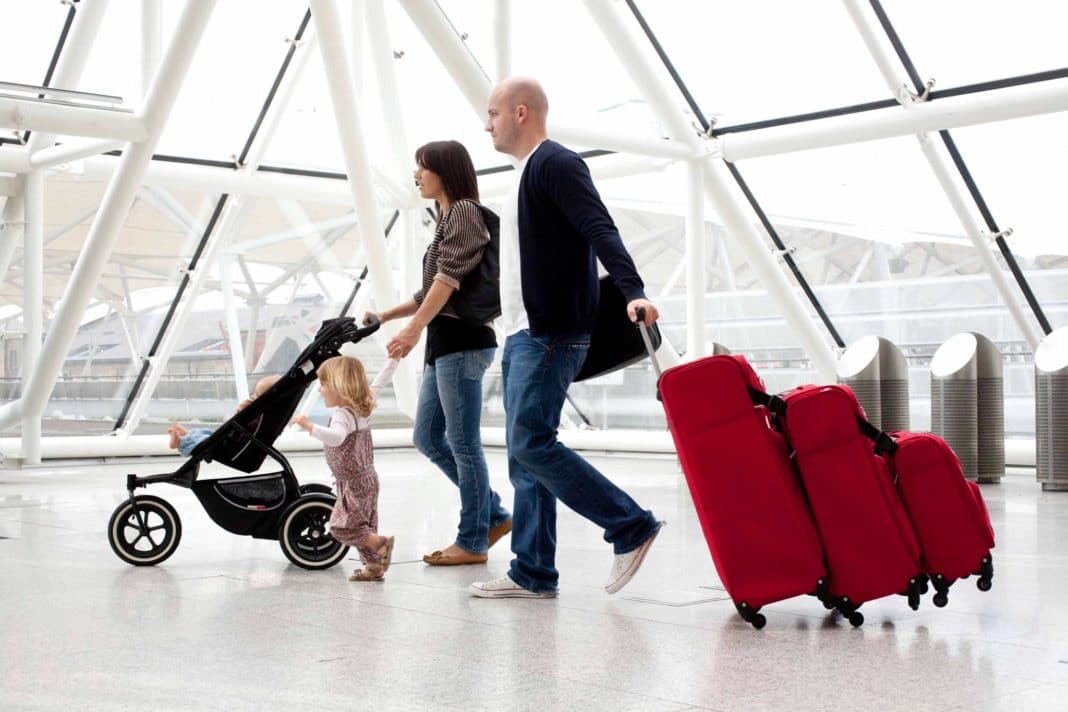 Credit: IT
IT Luggage—which stands for International Traveler Luggage, is a family-owned company that's based out of London. They provide some of the best luggage sets at a reasonable cost. Sure—people say that about a lot of luggage brands, but this one has something to show for it!
Each IT suitcase is built with the traveler's needs in mind. With unique features that make maneuverability easy, packing a breeze, and damage impossible, these cases do what they're supposed to—and more. But the company doesn't stop there. They actively seek out the newest trends and strive to set the bar even higher. Hello, Twitter Instagram communities!
Another thing that sets IT Luggage apart from other luggage brands is their priority on individual style for every suitcase. Many other brands are limited in their style range, offering bags that only fit into one or two fashion categories. Whether you're into neutrals, goth designs, neon palettes, or simple patterns, these suitcases are designed with every personality considered.
Because of its vast diversity of bags and ultra-functionality, we're pretty comfortable recommending these bags to just about anyone. They come in a variety of materials and innovative elements that offer unprecedented durability and security. Plus, you're bound to find a bag that suits your unique style—no matter how plain or bold. Interested? Stay tuned for the a more detailed rundown of what IT Luggage has to offer.
IT Luggage Features & Benefits
Hard Shell Suitcases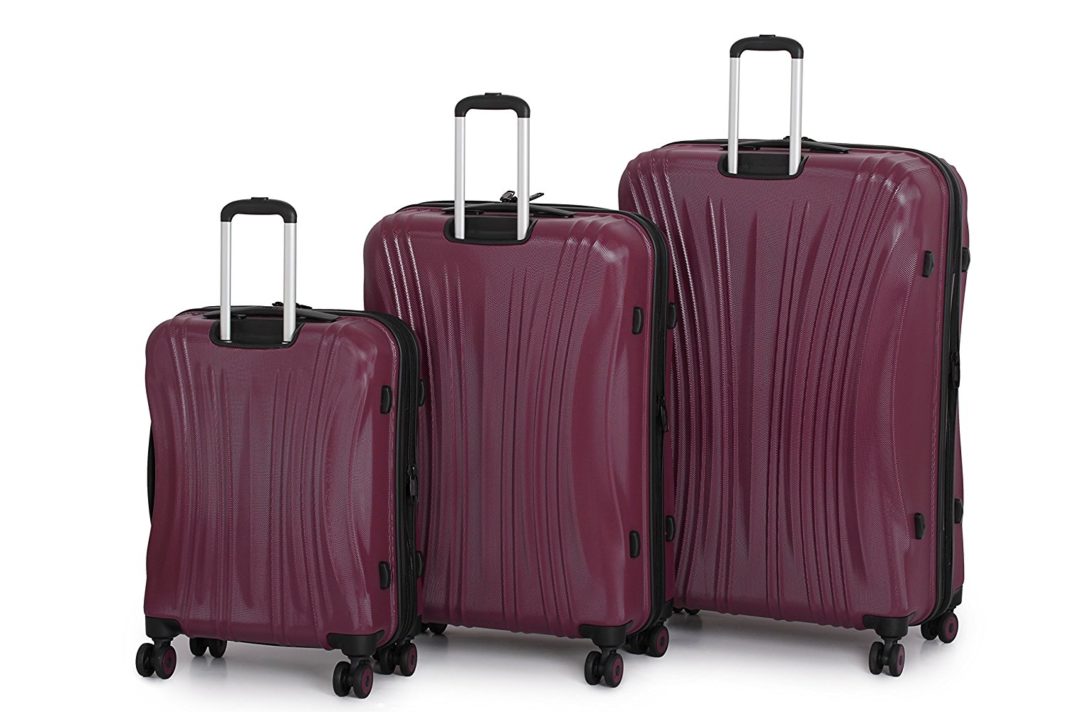 Some hard shell suitcases are flat out clunky and difficult to handle, and many don't offer the protection they promise. But that's not so with those from IT Luggage spinner luggage set. Their passion for innovation spills over into their material-choosing process so that every hardside spinner luggage is extremely durable. Additionally, they're unbelievably lightweight, making them easy to carry around no matter how much stuff you've cram inside.
This goes for all their hard shell products, and even more so for those made with Duraliton™. IT Luggage developed this twin layer polycarbonate material to make their luggage even stronger and more lightweight—and they succeeded. Most people can lift the largest of these IT suitcases off the ground with their pinky finger. And in case you suspect they're bluffing about their strength, each Duraliton™ bag comes with a 10-year warranty. In addition, these hard shell suitcases are also scratch resistant, so worrying about scuffing up its pretty exterior is unnecessary.
So if you're looking for something that's nearly indestructible, a Duraliton™ suitcase from IT Luggage would be a smart move.
World's Lightest® Suitcases
IT Luggage isn't messing around when they call this collection the World's Lightest®. The suitcases in this line have been built specifically to be as light as possible. These IT Luggage bags have a unique design, starting from their very frame. Made from flexible fiberglass, the frame is extremely strong and barely adds any weight to the whole. The handle—dubbed the Wide Handle Design—is built into the frame, making it a piece of cake to wheel. Since it's a retractable trolley handle, it also makes for more packing space. It slides down the side of the suitcase, which means no handle bars are jutting out of the bag's base. Even the wheels are built into the frame of these bags, adding to its swift maneuverability.
Seriously, they've done just about everything imaginable to make these bags some of the lightest luggage of all time. Next time you're on the hunt for the lightest suitcase for your travels, check out IT's World's Lightest® options.
Frameless™ Suitcases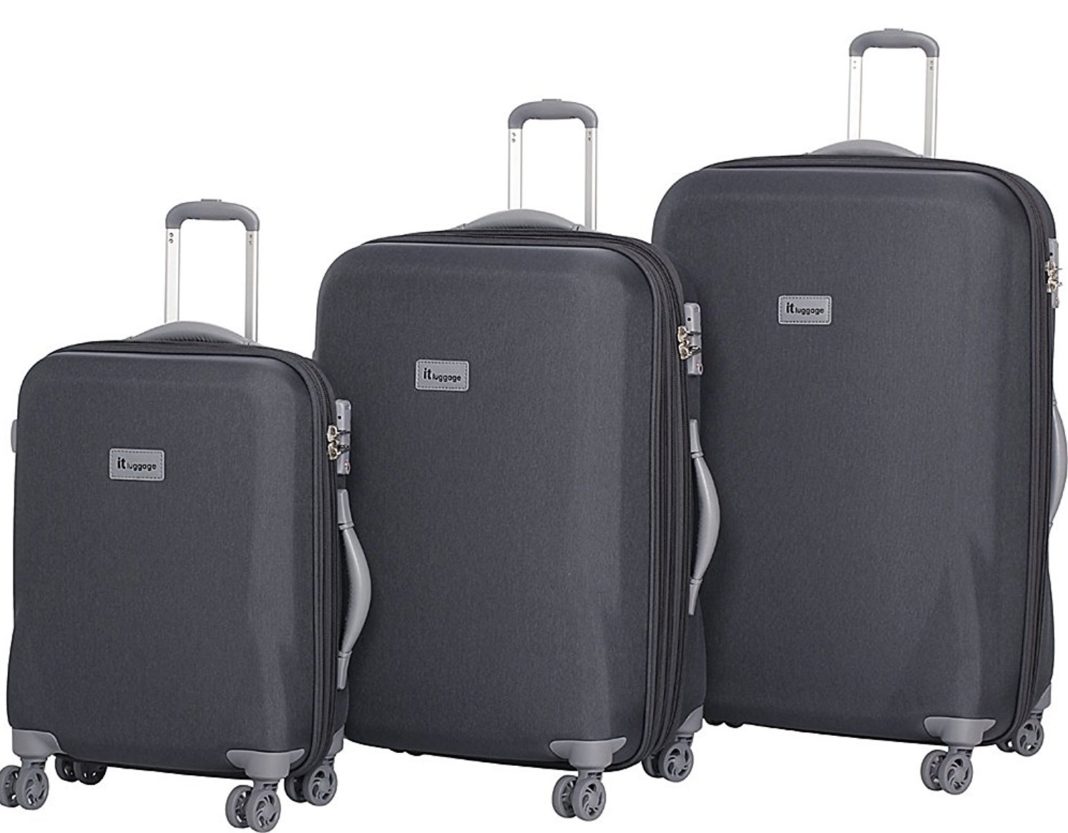 As you can see, IT Luggage isn't joking when they say they're committed to innovative suitcases. This is even more evident with their Frameless™ technology. Bags made with this technology are soft-side cases that boast the strength and lightness of a hard shall case. Built from highly-compressed foam, they're incredibly durable, with shock-absorbent material that allows them to return to their original shape when hit. Talk about a heavy-duty suitcase! But don't be fooled. Frameless™ bags are just as lightweight as they are durable. In fact, these suitcases tend to be 25% lighter than most luggage due to their foam structure.
These bags have no internal frame, which makes for a glorious amount of packing space within. Sure, it's the most self-explanatory feature of the Frameless™ collection, but no less awesome! But just in case the roomy interior isn't roomy enough, IT Luggage offers expanders that are compatible with these bags.
Expanders are the option for those who always end up having a few more things they just can't leave without. You've got two options: the single expander and the double expander—both of which IT Luggage were the first to produce. You'll also have the tie-down straps to hold everything together. Just have a few last things you want to stuff in your carry-on bag? You'll want to go with the single expander which increases your packing space by 25%. If that's not enough, the hard-side double expander will do the trick, increasing packing space by a whopping 50%.
So if you're wanting the strength and light weight of a hard shell but the look and feel of a soft shell, check out IT Luggage's Frameless™ suitcases.
What People Are Saying About IT Luggage
According to their many reviews, IT Luggage seems to be living up to their travel bag claims. Travelers are ecstatic about the lofty interior of their suitcases that allow them to fit everything needed within. In fact, many are surprised at how much they can stuff into their carry-on luggage suitcases despite what IT Luggage advertises. IT became the Traveler's choice quickly with how lightweight their cases are, and how smooth rolling the wheels are as well.
That being said, IT Luggage users do seem to have some trouble attaching bags together on the World's Lightest® collection. However, those who've had this issue note that it's easily solved by pairing a checked bag with a backpack as your carry-on. Laptop backpacks may have trouble with this, but one can discern when latching onto carry-on baggage.
Alternative Luggage Brands
RIMOWA Luggage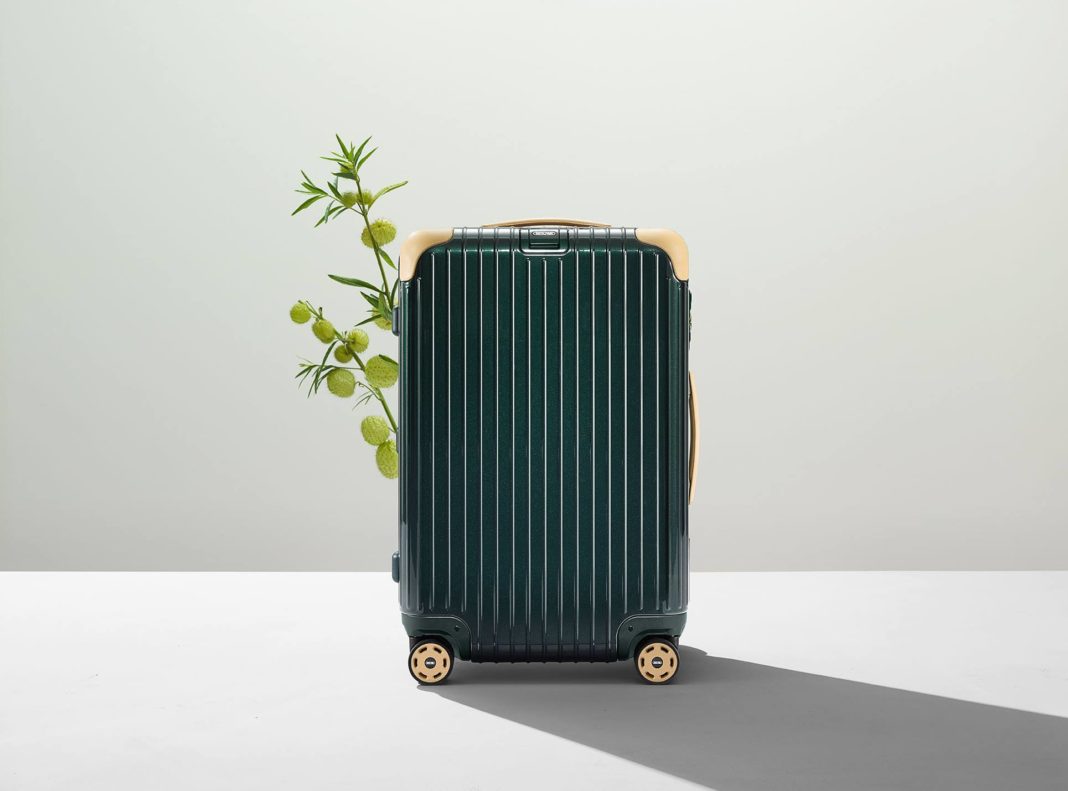 Credit: RIMOWA Luggage
If you're a big fan of the hard shell suitcase, you will love the creative options from RIMOWA. This luggage brand was the first to create both polycarbonate and aluminum suitcases. Like IT Luggage, they too boast insanely durable bags with innovative features galore- including spinner wheels and other travel bags. They're also incredibly lightweight—the SALSA AIR being the lightest of them all. The biggest difference between these brands (other than material, of course) is that RIMOWA is the more luxurious option. This spinner suitcase is always adorned in opulent sophistication, and it comes at a much higher price. If you have a higher luggage budget and a taste for luxury, check out RIMOWA's options.
Samsonite Luggage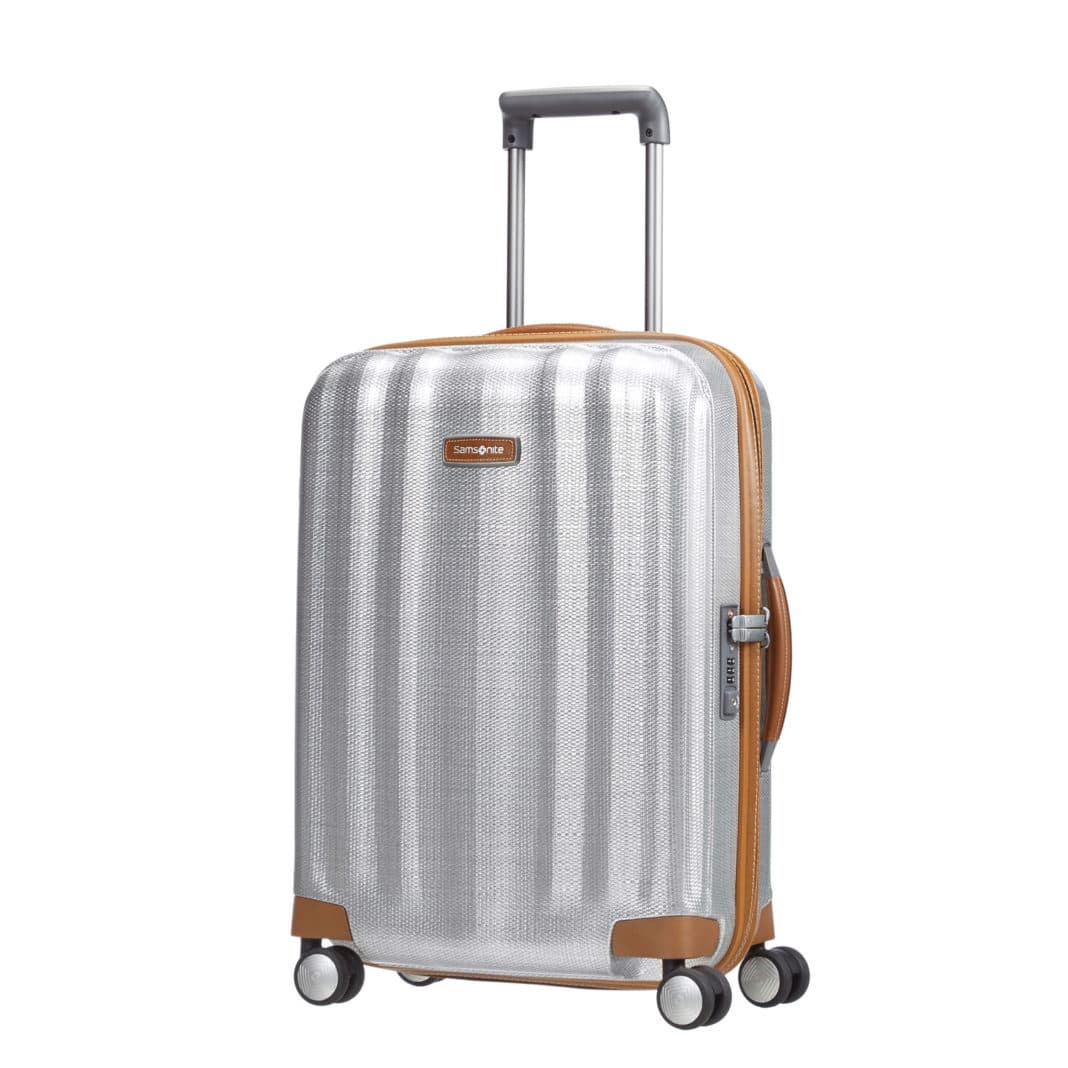 Credit: Samsonite
Business professionals, we've got bad news for you: IT Luggage doesn't have briefcases. But the good news is that Samsonite is a great alternative where you can take your pick from many a briefcase, duffel bags, and garment bags. This is a luggage brand with a clean and crisp, minimalistic design—similar to some of the bags found in IT Luggage. However, while IT Luggage is versatile in style, Samsonite is more versatile in bag type. So, if you're a businessperson in need of a stylish and simple briefcase, check out Samsonite for some affordable (and durable) travel bag.
DELSEY Luggage​​​​​
As we said before, IT Luggage has bags that fit just about every style. However, those who prefer neutral colors with lower key patterns may need to sift through many vibrant and bold designs. We don't mind that ourselves, but in case you do, DELSEY luggage is another great option. These suitcases are just as reliable, but they're mostly cloaked in softer palettes with a classy flair. Check out DELSEY travel luggage if you'd rather search for your bag from a brand that already matches your style.
A Recap on IT Luggage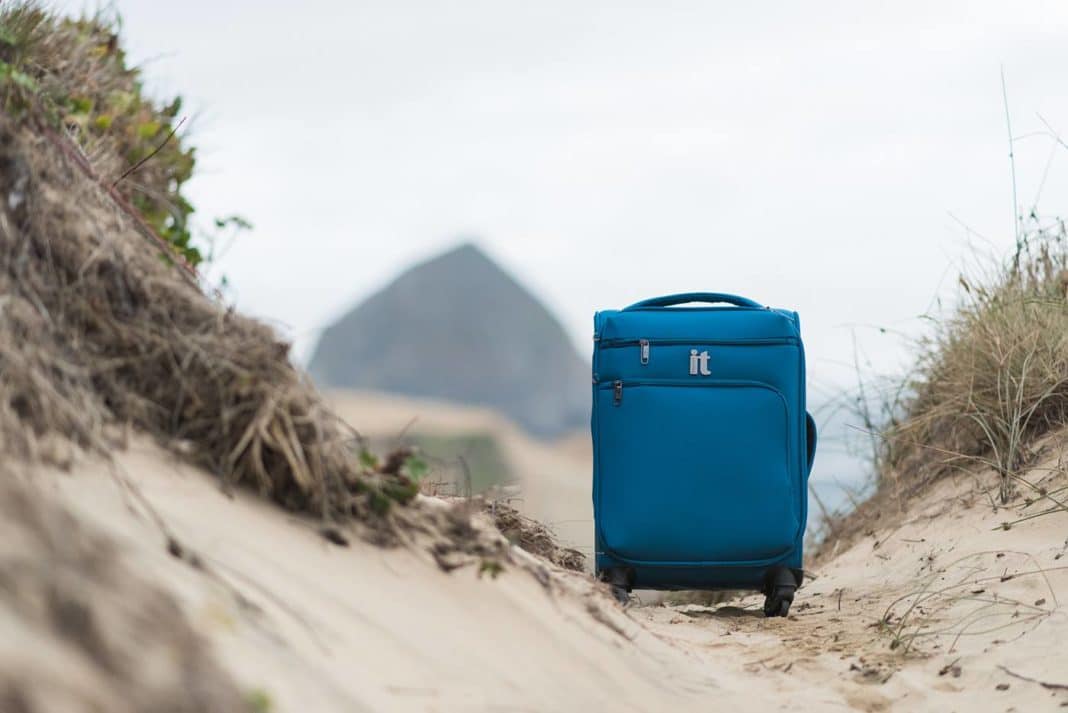 Credit: IT
Let's be real: we all want luggage that does all we need it to do but doesn't cramp our style. That's a combination that can be hard to find. We think it's safe to say that IT Luggage solves that problem. With some of the best lightweight luggage in the world, various innovative features, and design diversity, what's not to love? You can buy IT Luggage online or from one of the many IT Luggage retailers around the world. So, what'll it be after reading up on luggage reviews? Will your next bag be an IT bag?
Related Article: ​​​Best Lightweight Luggage Reviewed (Plus How to Choose Yours)​​​