Welcome to the sunshine state. As the third-largest state in the U.S., there are plenty of awesome places to explore. You could literally spend weeks on the road and you still wouldn't see it all. With so many options to choose from, we thought we'd pitch in and add our two cents. From a local's perspective, we've compiled a list of the best places to visit for an epic California road trip.
Ready to go on an epic California road trip? We thought so. Each mile is soaked with amazing scenery to make your winding detour worthwhile. Are you ready? It's time to hit the road. Throw your stuff in the car and let's head out for our epic California road trip. We hope you brought snacks.
The Best Places to Go for an Epic California Road Trip
From Yosemite to Sequoia National Park, Big Sur, Malibu, and Hollywood, California is the place to be. Like we say, the west coast is the best coast. It's so beautiful in fact that no matter how many hikes you take and beaches you visit, you'll never get tired of the green hills and shady palms trees. It's going to take you a long time to scratch the surface of this paradise Instagrammable place.
California is the only state where you could go to the desert, beach, and build a snowman all in one day. Granted, you'd have to do about seven hours of driving but it's totally worth it. Where should you start? In a word, anywhere. Without further ado, here's our list of must-see places for an epic California road trip.
1. Drive Pretty Much Anywhere Down Pacific Coast Highway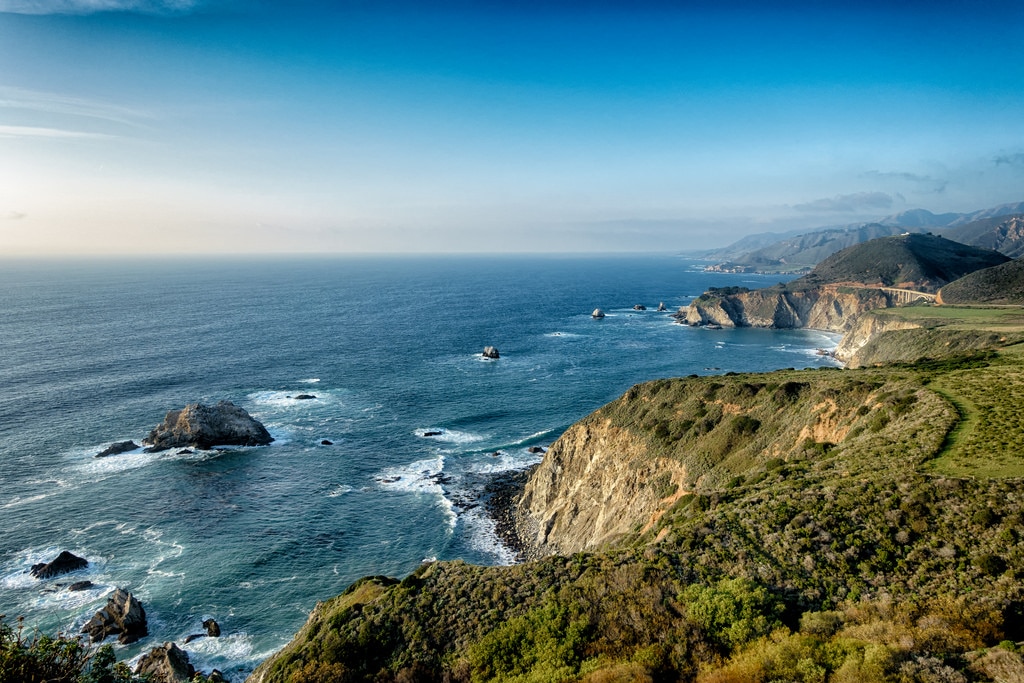 Affectionately known as PCH by the locals, this stretch of paradise runs all the way from Orange County north into LA and past Malibu. You won't be able to stop raving about the ocean views.
2. Walk Through The Cypress Tree Tunnel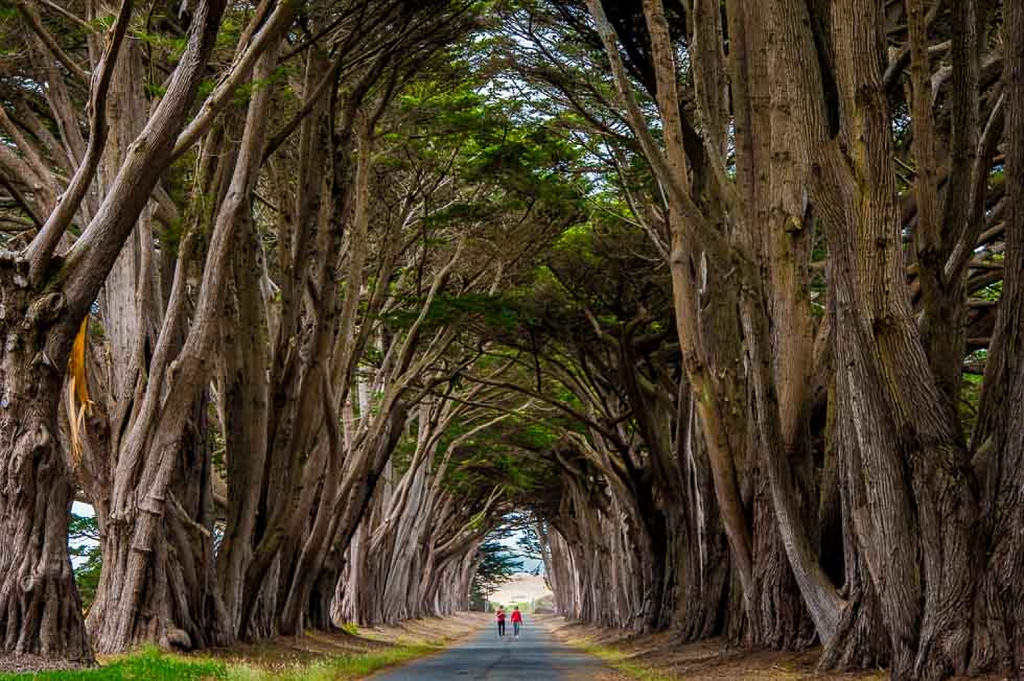 Photographers will eat up the opportunity to get this perfect depth of field shot. Nestled between the Pacific Ocean and Tomales Bay (inside of the Point Reyes National Seashore), you'll find this lovely tree tunnel. Another plus? The tunnel leads to an old abandoned telephone station from the 1920s. The view is spectacular.
3. Stare In Awe At the Beauty of Alamere Falls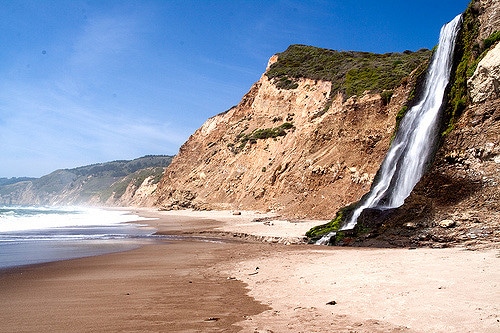 This place seriously looks like something off a postcard or the Jurassic Park movie. If it's not on your bucket list of places to see, add it now. Where else have you seen a waterfall that flows directly into the ocean? This rare tidefall can be found by following the Coast Trail beginning from the Palomarin Trailhead all the way down. The entire hike is 8.5 miles round trip – but don't let that discourage you. We can't overemphasize how worth it this trip is. Here's another little secret * cough cough*. Stop along Bass Lake along the way if you love rope swings.
4. Have Fun At Bowling Ball Beach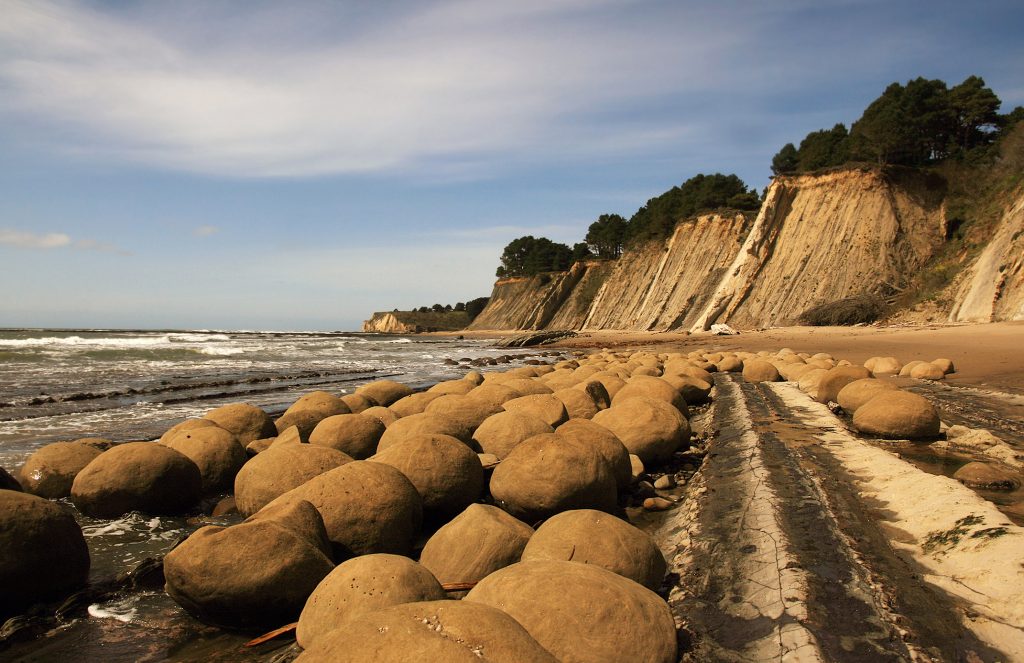 Yes, this place is every bit as fun as it sounds. Named for its spherical sandstone formations, this beach really does look like it contains the ruins of an abandoned bowling alley. You can find this beach by driving all the way up Highway 1. Make sure you check the local weather apps and time the tide just right. You'll get the most spectacular view. Thank us later.
5. Soak Up the Sun and Eat All the Gelato In Laguna Beach
Okay, so there are a bunch of spots you need to visit here but we'll give you the lowdown on the best spots to check out. If you don't already have Laguna Beach on your list of must-see places for a California road trip, add it. While you're there, walk the main street, grab some gelato and just explore. There is some pretty great local shopping as well as a wonderful gastropub, Brussels Bistro. The food is authentic, the staff is amazing, and we can't sing its praises enough.
After you've gotten your shopping fix in and eaten your fill, fight for parking and head to some of the local beaches. Avoid sunbathing at the Main Beach if you can. It's way too crowded and touristy. Victoria Beach has an old lighthouse on the sand (how cool is that?) and Thousand Steps Beach has a man-made pool carved out of stone where you can sit and let the soothing sea wash over you. There are also a bunch of cool tide pools to check out. When conditions are right, you can see crabs, small fish, and sea anemone.
Related Article: ​10 Best Hotels in Laguna Beach Reviewed | 2018​​​
6. Hike Through Palm Springs's Painted Canyons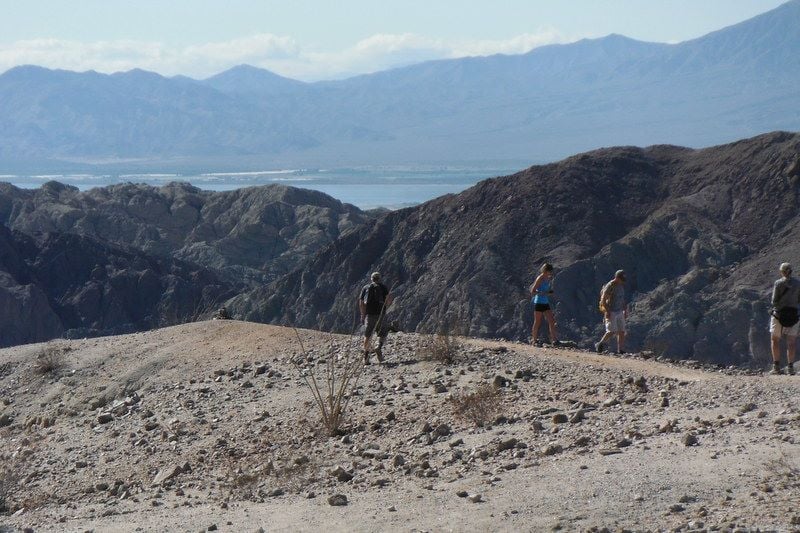 Head out to the desert for an experience you won't forget. No, we're not going to Coachella. You're going to hike the epic Painted Canyons. Drive about an hour southeast of Palm Springs for some of the most unique hikes you could ever imagine. Due to the presence of minerals in the region, the rocks are a bright red like you'd see in Sedona. Want to know another reason it's the best hike you could go on? Let's just say there are climbing and ladders involved. Wind your way through a narrow gorge formed years ago by the San Andreas Fault. The name "Painted Canyons" can be attributed to the walls, which are covered in a myriad of pinks, reds, greens, and browns.
Related Article: ​11 Best Beaches in California for Your Next Beachcation​​​
7. Float Your Way Down the Seven Teacups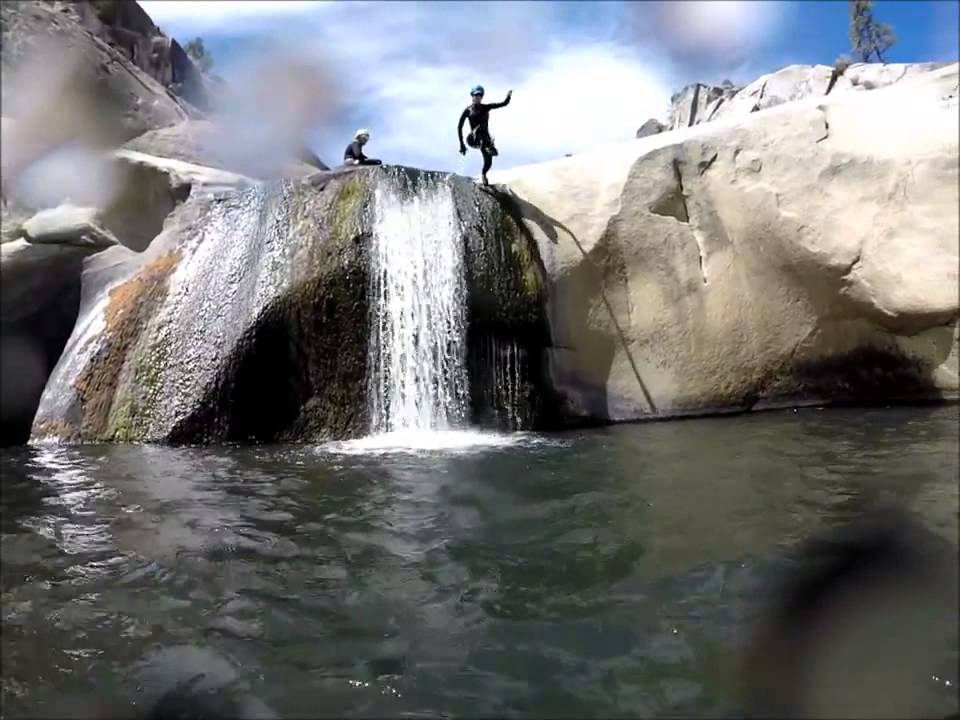 This is one of the coolest places to see in the Sierras. It's one of the most spectacular canyoneering challenges. If you like ropes, climbing, and adventure this is the place for you. While the way up is certainly challenging, you'll definitely be rewarding on the way down. Just make sure to keep a floatie in your backpack and blow it up on the way down. It's nothing but smooth sailing after that. It's no lazy river ride though. You'll be falling down some pretty decent sized waterfalls. Make sure you know what you're getting yourself into. But for adventurers, we can't think of a more epic place to spend a little fun in the sun.
8. Explore the Wonder That Is Mossbrae Falls
No, this isn't in Kauai. It's one of the best places to take a California road trip. As one of the most scenic waterfalls in the Golden State, Mossbrae Falls is a moss-covered jungle-like paradise. You'll have to see it for yourself. Just make sure you look up the access points before you go. Depending on the season, some parts of the trail can be closed.
9. Hike the Gorgeous Trails Surrounding Burney Falls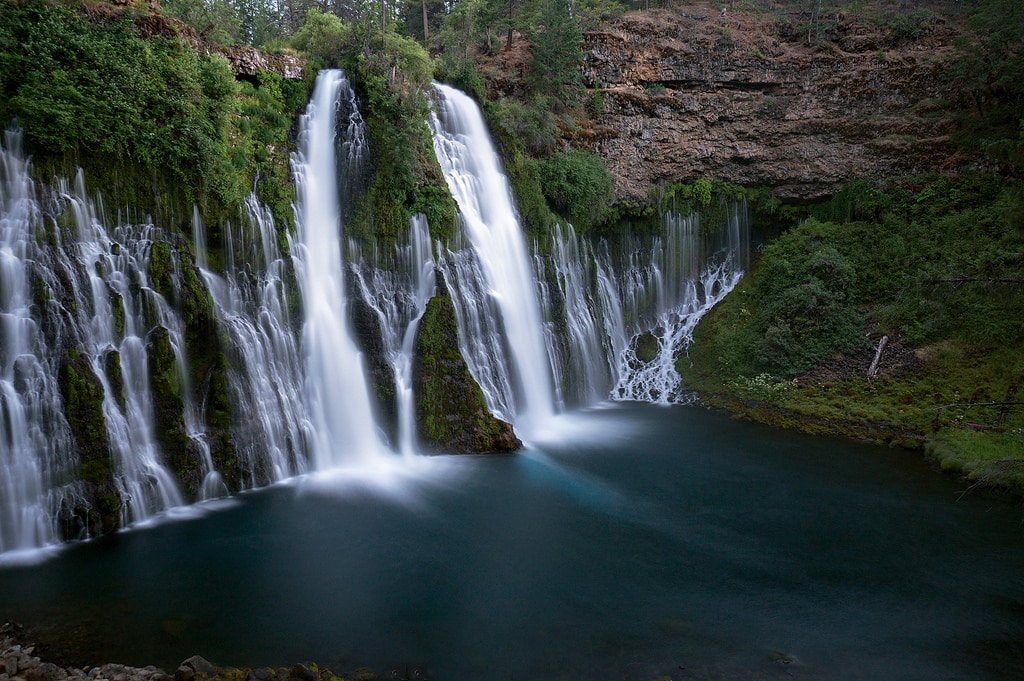 Here's another waterfall for your viewing pleasure. Want to know the best part? You won't have to worry about catching them before the California drought hits or get there on a good day. Due to the underground springs in the region, they pretty much never stop flowing. At 129 feet high and 250 feet wide, this thing is undeniably massive. That's better for the pics though right? Come and visit this pine-covered paradise on your California road trip. It's a perfect spot for swimming, hiking, fishing, and camping. Make some time for the great outdoors.
10. Spend the Afternoon Exploring Santa Monica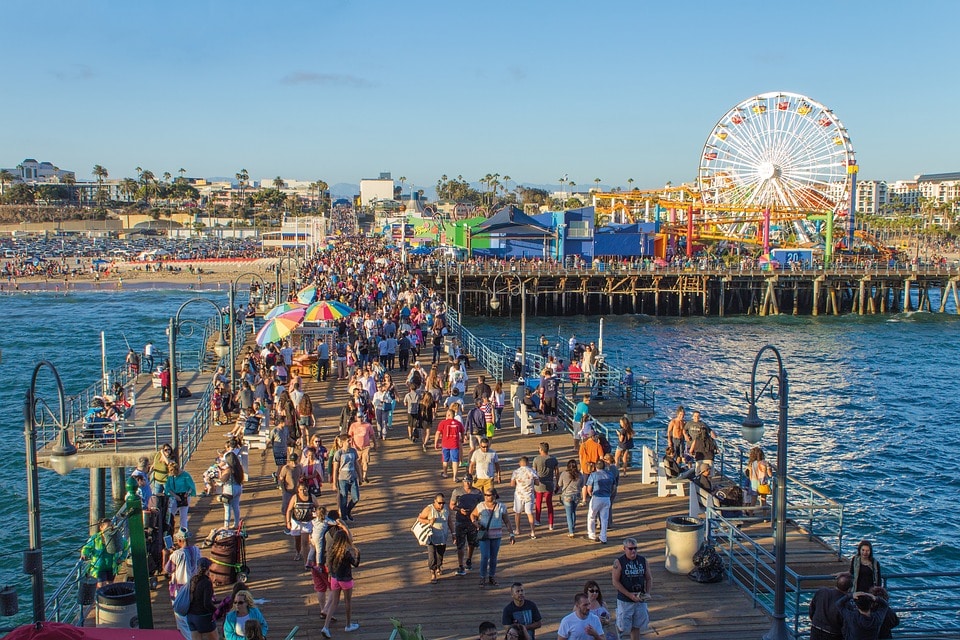 Avoid the hustle bustle and crowds of Hollywood. It's honestly a little overrated anyway. Go to Santa Monica instead. This charming city offers all the buzz of LA with the culture you wouldn't get in the touristy spots. Better yet, it promises endless sunshine, a pristine beach, and a fun boardwalk complete with a mini roller coaster and ferris wheel.
11. Go Hiking, Camping, or Both In Palm Springs and Joshua Tree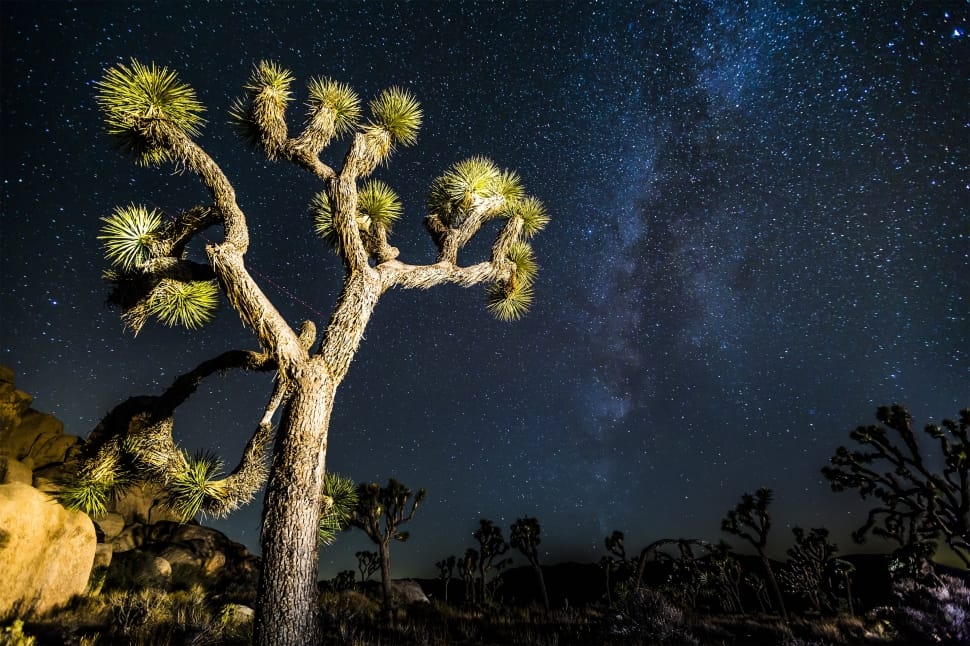 After its beaches, California is also known for its vast and diverse deserts. Here, you'll find diverse fauna and flora as well as some of the best spots in all of America for stargazing.  On the way there, don't miss the Cabazon Dinosaurs. What should you see while you're there? Take the Palm Springs Aerial Tramway up to the top of a snow-covered wilderness. Yes, this is just above the desert.
Later, drive an hour or so east to Joshua Tree National Park. It's something out of this world. At every turn, you'll see tiny spiky Joshua trees, 100-million-year-old boulders, and awesome hiking trails, Spend a day bouldering or call the national park's office to rent a campsite. Either way, you'll be in heaven.
12. Drive Down the Coast and Explore the Beauty of Big Sur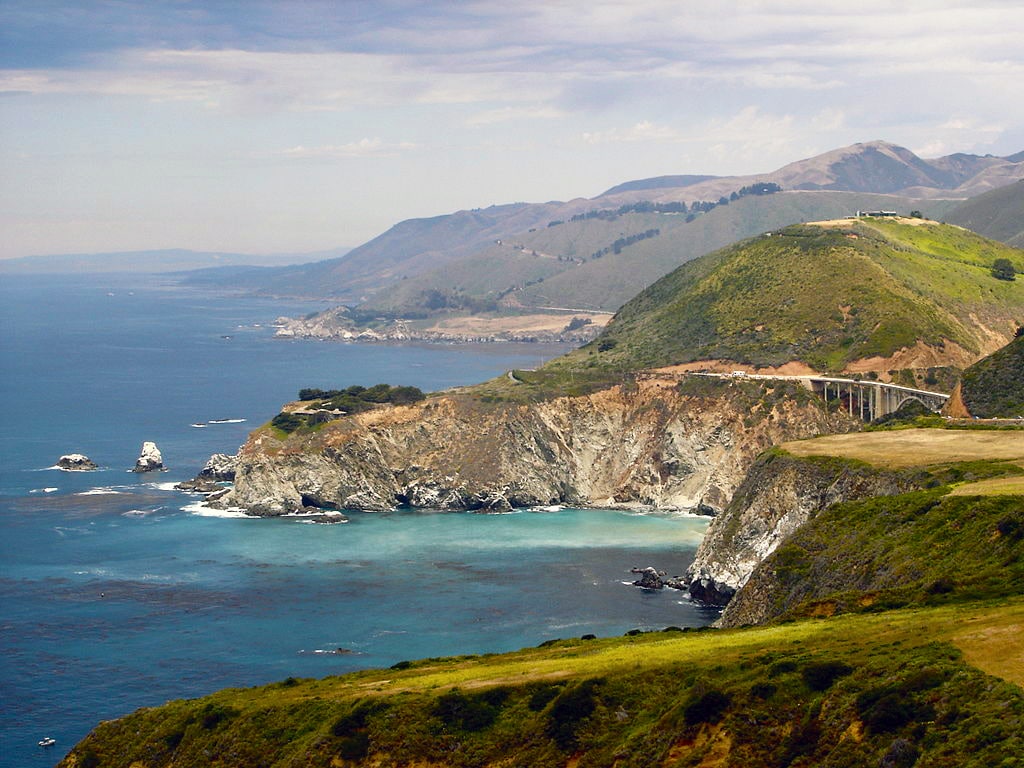 Did you hear that the Pfeiffer Canyon Bridge is back open again? As of this year, you can drive the scenic Highway 1 to Big Sur again! This is the most extraordinary stretch of PCH yet. For those seeking colossal waves, vivid blue water, and lush green nature, this is the place to be. It is hands down one of the best places to take a California road trip. We're just going to let the photo speak for itself.
13. Hike Till You Arrive At the Emerald Pools In Yosemite National Park
Have you ever been to Yosemite National Park? If not, you should really go. If you explore and take a little bit of a hike, beautiful sights await you. One of these are the Emerald Pools. Once you wind your way through the easy hike that is Mist Trail, you'll find these beautiful hidden pools. It has green algae rocks, making for a perfect place to float along the river. Be careful because the current can be a little strong, especially in wetter seasons.
Pack a picnic, post up, and spend hours goofing off in the sun. Emerald Pool and the edge of the waterfall are separated by a metal barricade and multiple signs warning travelers to use caution in the area. Well, someone had the grand idea of scaling over it and it has been an Instagram photo hotspot ever since.
What Are You Waiting For? Let's Head Out On An Epic California Road Trip
With a whole state full of options to choose from, we hope we helped to narrow down your choices just a little. While there are plenty of places to go on a California road trip, you really can't top the ones on this list. So pack your gear up in the car, gas up, and get out. It's time to hit the open road.
Do you have any questions for us? Or maybe you have some suggestions that we should visit on our next California road trip. Or maybe you just want to tell us what you had for lunch today. Let us know all about what's on your mind in the comment section below.
Related Article: East Coast Road Trips: Pick the Best One for You