Dive into some fresh powder in the Green Mountain state. When it comes to outdoor sports, you won't find any better than those at Vermont ski resorts.
Due to its naturally diverse terrain and higher than average snowfall, it tops the list of places to ski in the Northeast. As an ultimate winter destination for skiers, snowboards, and snow-loving vacationers, Vermont is hard to beat. Fresh white powder contrast strong mountain peaks and picturesque green hills. Below the slopes, quaint villages and towns scatter the landscape, home to some of the best maple syrup you'll ever find. While there are plenty of Vermont ski resorts to choose from, the following ski resorts are a great place for you to start.
When to Go Skiing in Vermont
Believe it or not, March is the best time to go skiing in Vermont. Why? March means more fresh snow, longer runs, and warmer days. It's a magical combination that makes for the perfect ski experience. If that's not enough to convince you, the spring deals and amazing events at Vermont ski resorts just might do the trick.
1. More Snow
Did we mention there's more snow? New England in March brings more snow showers than the winter months. For the past three seasons, Killington has kept its slopes open to ride all the way through Memorial Day weekend. Even when there's not fresh powder, there is plenty of man-made snow lining the hills all the way through spring. The only thing missing are the swarms of crowds and the long line to get on the lifts.
2. More Pleasant Weather
Temperatures are also much more pleasant. The springtime ski trails are well covered and sunny. Even the equipment rental prices hit rock bottom as retailers and lenders alike make way for the next season's gear. You'll find amazing discounts.
How to Choose the Perfect Vermont Ski Resort for You
No matter what you're looking for in a ski resort, Vermont has it all. From family friendly bunny slopes to double black diamonds, this state is famous for its diverse terrain and fresh powder. Home to the Green Mountains, it is an iconic New England state for skiers, snowboarders, and adventurers. By some, it is even known as the Ski Capital of the United States.
So, what are you looking for in a ski resort? Do you want perfect slopes, luxurious amenities, and family-friendly activities? Read on to find out how to choose the perfect Vermont ski resort for you.
1. Stowe Mountain Resort
Credit: Booking.com
This list of perfect Vermont ski resorts wouldn't be complete without Stowe. Located in one of the most unique towns in the state, it is a great place to spend a few days in the powder. Its home to two different mountains, Spruce Peak and Mount Mansfield. These terrains feature a stunning 2,360 foot vertical drop, more than 485 acres of spanning terrain for skiers, and 314 inches of fresh snowfall annually. A lift connects the two mountains, making for an easy way to cross over and ski both slopes in a day.
If you want diversity, look no further. Stowe has thirteen different lifts that can take avid skiers to 116 different runs on the mountains. More than half of these runs are intermediate. But there is still a little something for everyone. If it's your first time on the slopes or you brought the kids, don't worry. There are also several slopes ranging from green circles to bunny slopes. Here, a day pass will put you back around $92 (cheaper than a lot of West Coast slopes).
All of these factors contribute to Stowe's placement as Vail's first East Coast resort to top their roster. For families traveling and looking for some good old-fashioned fun, Stowe offers it all and more. If you have some extra time, you could go ice skating, on a guided snowshoe tour, and experience world-class dining and shopping.
After spending a day shredding the slopes and exploring Stowe's other activities, or take a lovely walk by Doc Pond to sample local brews. We recommend the hearty house burger and a thick chocolate milkshake. When you're ready to wind down for the night, relax with mountain views at Stoweflake Mountain Resort & Spa.
2. Jay Peak Resort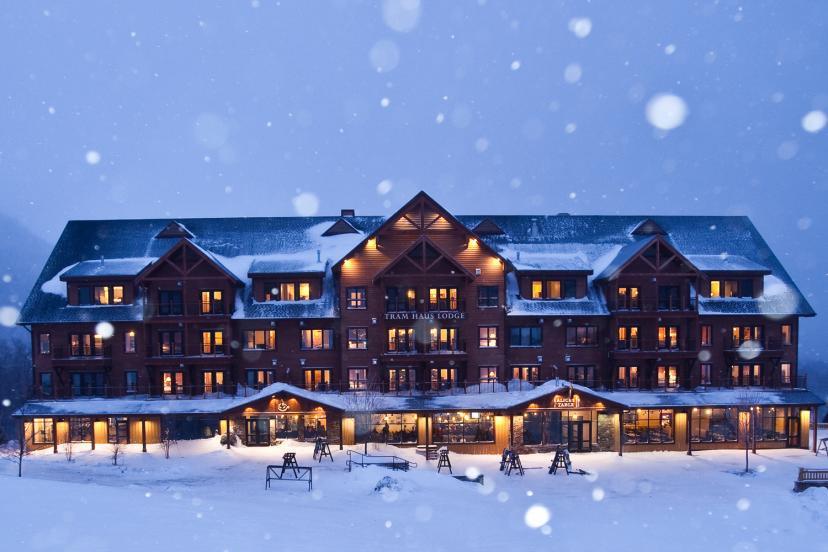 Credit: Booking.com
If you've found yourself wondering how Jay Peak Resort could get such amazing powder, it's because it's basically on the Canadian border. Just four miles south of the maple leaf country, its annual snowfall is a heavy contender with famous resorts out west. Jay Peak should top every skiing and snowboarding enthusiast's list. With over 385 acres of grounds and slopes that sport a 2,153-foot vertical drop, Jay Peak is teeming with some of the best riding and gnarliest terrains in the east. Every pocket of forest has an amazing trail.
Families should know that its location makes it more exclusive to the thrill-seeking crowd. While you might sacrifice some amenities, you'll fall in love with – and into waist-deep powder. So, if rugged terrains and exploring off-the-grid forests is your passion, you'll be stoked on Jay Peak. Just don't forget to trek over to Big Jay for the big powder.
3. Killington Resort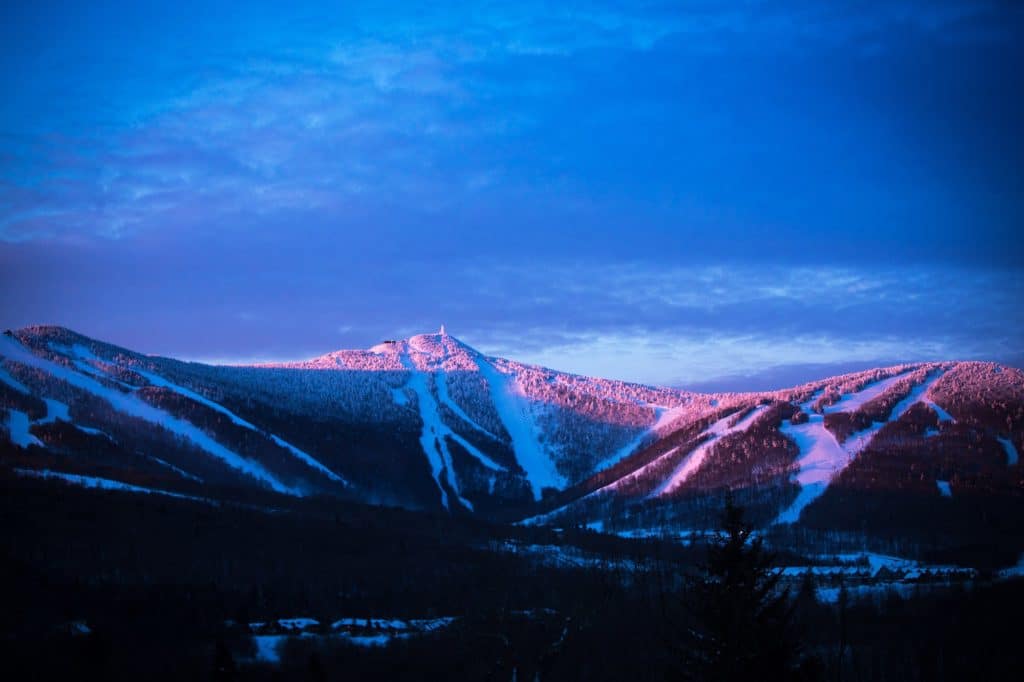 Credit: Booking.com
The first introduction you get on Killington's website is "Welcome to the beast." If that didn't intimidate you, maybe the slopes will. As one of the most popular Vermont ski resorts, it is frequently the first to open and last to close. Some come early or come late and get your skiing fix.
With a span of 1,509 acres available to hit the slopes, skiers and snowboarders needn't worry about having enough space on the snow. Adrenaline junkies will get their hearts pumping on the slope's massive 3,050 feet vertical drop, the second largest in all of New England. Combine this with 250 inches of fresh snowfall annually, and you've found your perfect winter wonderland. Better yet, if you want to take a trip to the city after you've finished on the slopes, you're only an easy bus or train ride away from the Big Apple. Killington offers plenty of hidden treasures for those ready and eager to look.
4. Mount Snow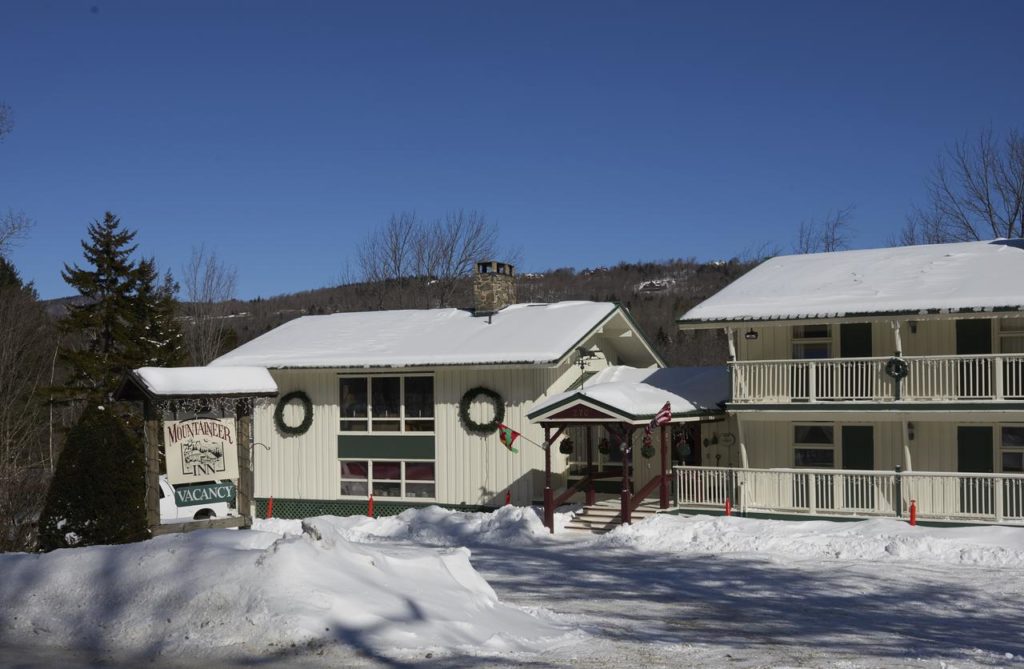 Credit: Booking.com
While Mount Snow might be more quaint and doesn't offer the most expansive terrain, its 10 terrain parks and superpipe more than make up for it. As one of the east coast's only pipe snow resorts, snowbirds flock to it among all Vermont ski resorts. Its terrain is less steep than that of Jay Peak and Killington, offering a more manageable 1,700 foot vertical drop down the mountain. With 588 acres to ski, there is still plenty of space for skiers, especially in the spring months of March and April. Those looking for a minimal, quaint and cozy stay will love its nearby Mount Snow Mountaineer Inn.
It is also in close proximity to New York City, for those looking to further their vacation without spending a whole day on a road trip in the car.
5. Smugglers' Notch Resort
Credit: Booking.com
At Smuggler's Notch Resort, winter lasts until April 8th. For those looking to hit the slopes for a late spring break, here's your chance! Known as America's family friendly resort, there are plenty of options for adults and kids alike. Gather the family and pass around cups of delicious hot chocolate by a roaring bonfire. Share an exhilarating ride down the mountain, go sledding, and marvel together at the night's torchlight parade and fireworks.
Last winter, Smugglers was awarded the number one resort by the readers of SKI Magazine. This goes to show that getting the little things right for the family – from quality childcare, to kid's ski and snowboard school, and oodles of family entertainment – matters. Add skiing and snowboarding to this list and riding courses for every level and you've got the perfect resort. From the ArborTrek Zip Line Canopy Tour to snowshoe nature treks, there's plenty of adventure and exploring to be had. Here, everyone from beginners to experts on the slopes can fill their days with thrill, fun, and a little bit of rest and relaxation.
6. Bromley Mountain
Credit: Booking.com
If you're looking for a great family friendly vacation, Bromley Mountain has you covered. The kids will be in awe of the size of the slopes and love the different terrain parks. For parents, it's just the right size. Everyone seems to love the warm sunshine, varying slopes, friendly staff, and hearty food.
With award-winning kid programs, it's easy to see why parents have often lauded it as on of the best Vermont ski resorts. Kids will have a blast on Kidsrule Mountain in their day camps while parents are free to hit the slopes on their own or brush up with lessons from specially trained staff. The whole family wins at Bromley!
Book Your Stay at One of These Perfect Vermont Ski Resorts
There's still plenty of time to get out their and hit the powder. Whether you're a seasoned action sports enthusiast or just looking for a mellow vacation with the kids, Vermont ski resorts offer it all. Pull on your snow boots, book that ticket, and experience a piece of winter wonderland.
Related Article: Best Winter Jackets for Men Who Travel