Explore the top New Orleans beaches during your summer vacation.
The beach remains one of the most popular places to visit as the weather gets warmer. Who wouldn't want to spend an afternoon lying in the sun, listening to the ocean waves? Though many people visit places like Daytona Beach or Myrtle Beach, these southern sites can be crowded and boring. While stunning beaches can be found all over the world, New Orleans contains some of the best sandy locations. Lesser known than other areas of the country, the beaches located near this city are hidden gems. You'll find beautiful environments along the Gulf shores at these New Orleans, Louisiana locations. Check out our article below to discover the most beautiful New Orleans beaches before beginning your next travel adventure.
1. Biloxi Beach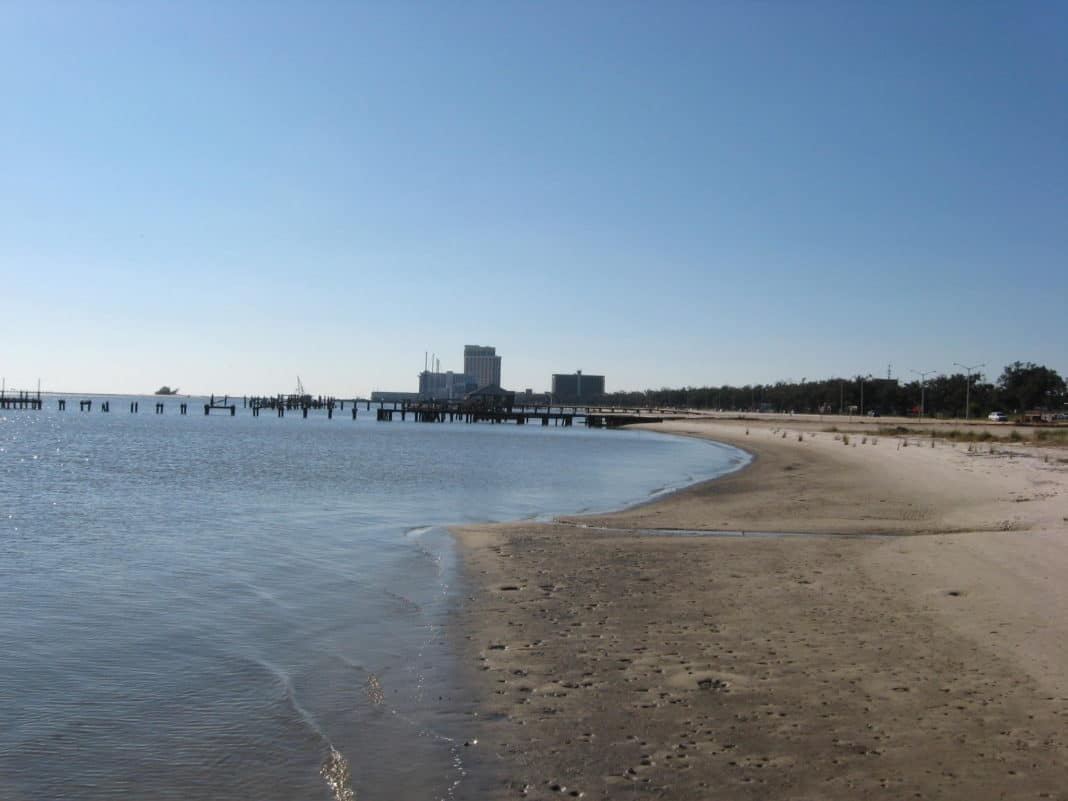 Credit: Aaron Manning
Located along the Mississippi Gulf Coast, Biloxi Beach offers the perfect environment for relaxing beside the sea. The area's white sands provide an ideal place to go for a stroll or to rest your head. Comfy chairs and umbrellas can be easily rented anywhere throughout the beach. If you're more of an active traveler, consider picking up a kayak, so you can row along the gulf.
Beyond just the main public beach, the surrounding area of Biloxi also has other barrier islands to explore. Tourists have the ability to take a boat to these islands and discover the sights at their pleasure. Additionally, multiple wildlife sanctuaries can be explored, with beautiful animals and plants acting as the sites' main attractions. As one of the best New Orleans beaches, Biloxi boasts a gorgeous setting for vacationing in the sun. You'll have an amazing beach vacation when you decide to drop a towel on this sandy site.
2. Dauphin Island
This unique island has a lot to offer for beach-lovers. Found along the southern tip of Alabama, Dauphin Island maintains a fascinating history and natural environment. In order to get to the island, visitors can take a ferry or ride the 3-mile-long bridge. While on Dauphin island, you'll feel as if you've stepped away from the stresses of urban locations. Flights from your location to Mobile, Alabama will bring you closer to this island. If you choose room at one of the hotels in the city, you'll have a short ride to beaches. From there, you can take a boat to Dauphin Island and enjoy the stunning environment of the area. As a side note, if you're already on Orange Beach, you can easily take a ferry over to the island.
Both the east and west sides of this island have exciting venues for vacationers. The western region contains a gorgeous white sand beach, along with stunning oak trees and golf courses. On the other side of the island, you'll find places like Fort Gaines and the Audobon Bird Sanctuary. The whole island actually acts as a bird sanctuary, which means tourists will see a variety of the stunning animals. You won't want to miss out on visiting Dauphin Island, one of the top New Orleans beaches. Just a two and a half hour ride from New Orleans, you'll also be close to the city. This means you can step down Bourbon Street in the French Quarter or eat dinner at Emeril's New Orleans.
3. Holly Beach
Credit: jc.winkler
Also known as Cajun Riviera, Holly Beach remains only a four-hour drive from New Orleans. The community of Holly Beach maintains a friendly and hospitable character, making it an ideal tourist spot. Spend an afternoon strolling the beaches and viewing the blue waters of the Gulf of Mexico. You could also take a dive in the warm sea, searching for colorful fish as they swim alongside you. Those who enjoy searching for unique shells will love walking along the sands and adding new pieces to their collection. Found in a Louisiana coastal community, this location has the ideal spots to lay down a beach towel.
After working up an appetite, visitors can grab a bite at a local bar or restaurant. Foodies should try some authentic Cajun cuisine, which usually involves fresh seafood. If you're a great fisherman, you could even catch your own dinner before going home to eat. Be sure to try a few cocktails to refresh your palate. The closest beach will be there for you to walk on the sands after a filling meal. Make Holly Beach a top site on your list of must-see New Orleans beaches.
4. Lake Pontchartrain Beach
Credit: Infrogmation
If you're searching for one of the best New Orleans beaches, look no further than Lake Pontchartrain Beach. The gorgeous white sands along the coast make the beach a perfect site for sunbathing and listening to music. This beach differs from others on the list, as its situated around a lake, rather than the Gulf of Mexico. However, you'll still be able to get amazing views of the water while staying here. The remnants of Lincoln Beach amusement park can even be seen by driving a few miles away from this area. Another unique site to visit would be the Milneburg lighthouse, a fascinating historical attraction built in the 1800's.
Travelers intrigued by fun activities should consider renting a canoe to row along the lake. You could also walk down the pier and bring some fishing gear if you enjoy the sport. Additionally, those with young children will appreciate the lake's shallow waters. Travelers with furry friends should can find pet-friendly hotels in the area, so they can explore the environment alongside pets. When you go to this spot, you can purchase a Lake Pontchartrain beach poster at a nearby shop. If you're searching for more beaches in New Orleans to go fishing, Cypermort Point State Park would also be ideal.

5. Grand Isle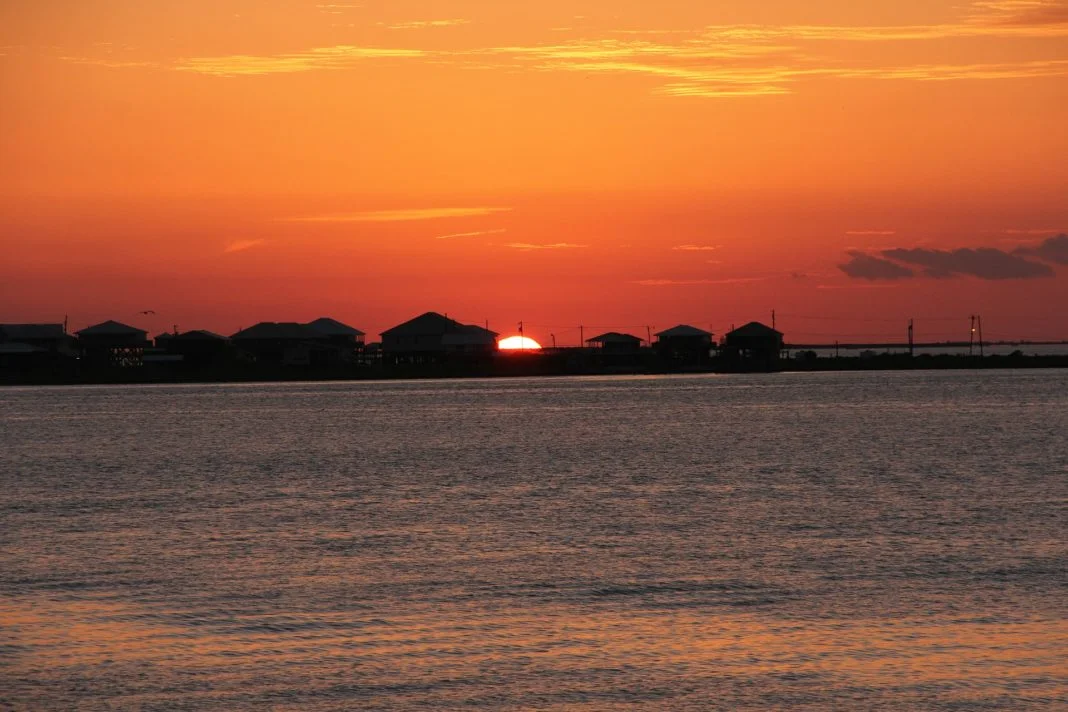 Found along Louisiana's shores, Grand Isle represents one of the top New Orleans beaches. Popular for its sophisticated fishing venues, many aficionados of the sport visit this location to practice their skills. As the sole inhabited barrier island in the state, Grand Isle offers the perfect site for vacationing in seclusion. When you stay here, you'll have unparalleled views of the Gulf of Mexico. As a plus, you can find very cheap flights to this location, from around $100.
Though the beaches here may not be as lengthy as other sites, the sands still remain white and sparkling. Since the site contains an impressive bird habitat, be prepared to glimpse tons of the animals as they fly above. Make sure to check out the Butterfly Dome, which has a variety of local plants and butterflies.
6. Panama City Beach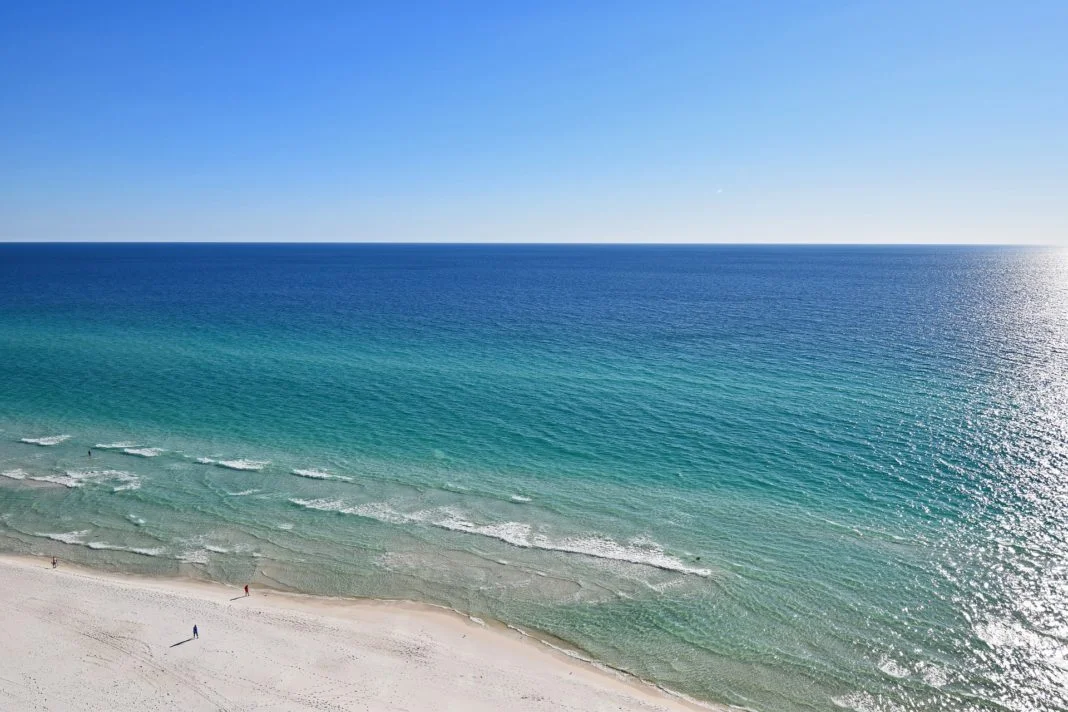 This location, found along the northwestern section of Florida, has a host of exciting attractions for visitors. Besides the almost endless stretch of sands, the nearby areas have many nature reserves to explore. Additionally, hiking trails and piers for fishing can be found in proximity to Panama City Beach. Thus, if you get tired of sunbathing, you'll be able to partake in an alternative, yet still fun outdoors activity. A short flight from Hartsfield-Jackson Atlanta Airport in Georgia to New Orleans will lead you to this beach location.
A little beyond the beach, tourists can take diving lessons or discover the sea on their own. The surrounding area has a ton of artificial reefs, which play host to many sea creatures. Divers will be able to witness colorful ocean life up close as they swim in the deep. As one of the most stunning New Orleans beaches, Panama City Beach won't disappoint any sand-loving traveler.
7. Ship Island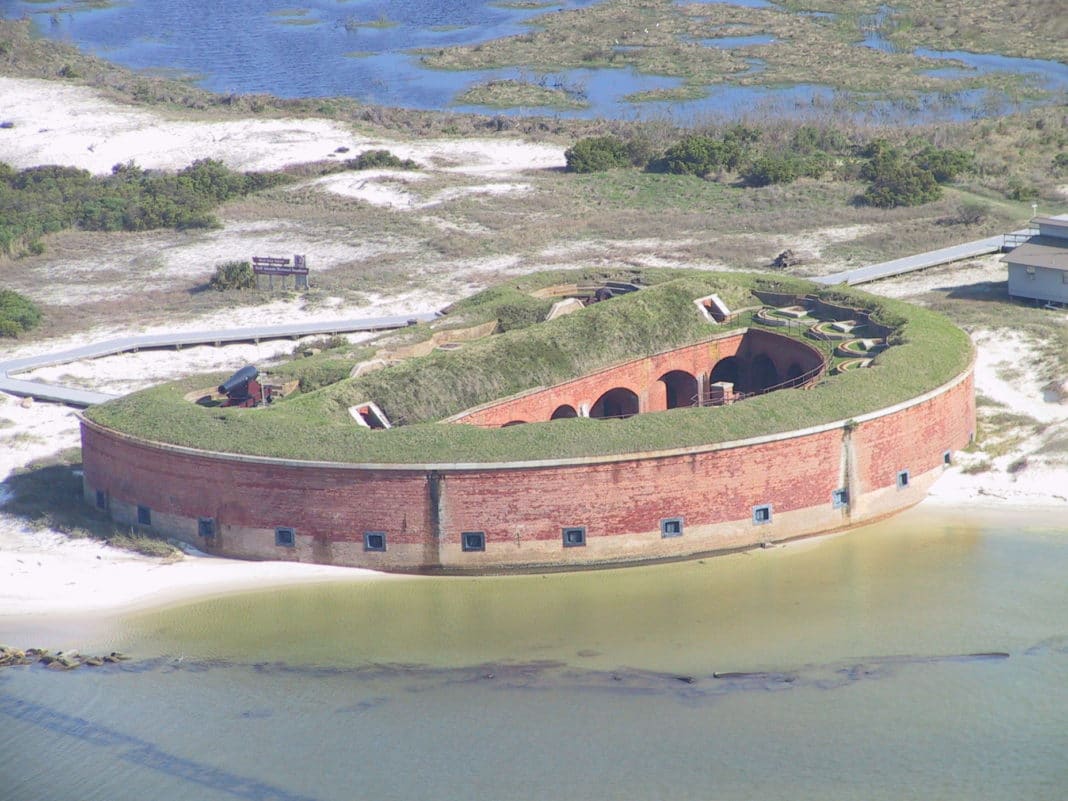 Credit: Edibobb
Ship Island represents one of the most popular New Orleans beaches for tourists everywhere. White sand beaches present the perfect location for walking or taking a quick nap. Visitors will have a stunning view of the sea surrounding the region on all sides. While taking a ferry over to the island, watch out for dolphins, as they just might stop to say hello. When you go to this island, you'll be at peace knowing you've escaped the city for a period of time.
Tours of the island can be easily arranged, with guides happy to help you discover the sights. Fort Massachusetts, a 19th century structure, would be a fun site to visit for both children and history fanatics. The boardwalk runs all along the beach, containing cute restaurants and places to buy items like sunscreen and bathing suits.
8. Navarre Beach
Credit: Taminar
Despite being known as the site where the movie Jaws was filmed, Navarre Beach maintains a calm and relaxing atmosphere. Situated on Santa Rosa island nearby Florida, this beach heralds stunning white sands and near-constant sunny weather. You'll be able to walk for miles along the soft sands, as the beach remains protected by Navarre Beach county. Since the beach stretches endlessly, you won't feel like you can't get any privacy surrounded by other visitors. Having a romantic afternoon along the beach with your partner would be easy when visiting Navarre Beach.
The longest pier in the Gulf of Mexico can also be found on Navarre Beach. Visitors and residents alike may spend hours fishing off the sides of the pier. Dolphin-spotting also represents another popular activity for tourists on the pier, as the animals periodically swim in the sea below. Don't forget to look out for sea turtles as well.
9. Bogue Chitto State Park
Credit: Michael miceli
Bogue Chitto State Park hosts a number of stunning outdoors environments. Home to many habitats, such as streams, forests, and swamps, visitors can experience nature at its best. A natural gorge, named Fricke's Cave, remains a popular site for tourists. The cave contains countless sandstone spires, formed by many years of water erosion. These spires have grown to become over two feet tall. This gorge will fascinate any geology lovers or youngsters interested in the powers of nature.
With over 14 miles of horseback trails, visitors can ride horses for hours if they desire. If you'd like to explore the river, consider renting a kayak or canoe. You could row down the water and watch the sunset from the middle of the river. Families or big groups might want to consider spending a night or two here. Campgrounds and cabins offer spaces to enjoy the park from dusk until dawn.
10. Coconut Beach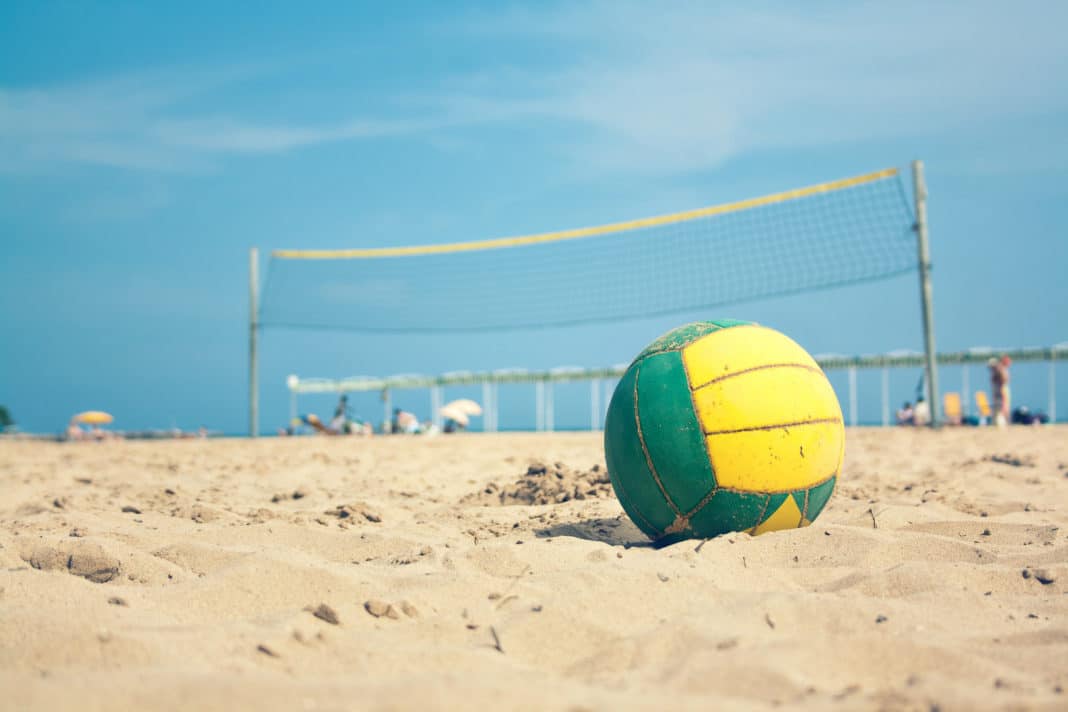 Credit: Juanedc
This beach will satisfy the most active beach-goers. As a place specifically made for outdoors sports, Coconut Beach remains a perfect location for sporty tourists. Volleyball nets all over the site make it easy to play a few games in between sunbathing. Many athletic events take place on this massive space throughout the year, making it a popular location for sports fans.
Since New Orleans remains only a 15-minute drive away, Coconut Beach would be ideal for those staying in the city. After staying on the beach for a few hours, visitors can easily take a ride to the downtown area. Once there, they'll be able to eat delicious foods and experience the city's vibrant culture. Book a room at the famous Ritz-Carlton New Orleans hotel in the French Quarter and upgrade your beach vacation experience. The hotel provides vacation packages that will allow you and your family to enjoy countless amenities beyond the beaches. Those who prefer luxury accommodations may also like the Nopsi Hotel, located in the city's Business District.
Spend your days in the sun by vacationing along one of New Orleans' beaches.
While you might think Caribbean or Mediterranean locations contain the best beaches, New Orleans has their own gorgeous coastal sites. Places such as Long Beach near Los Angeles or Destin-fort Walton Beach in Florida don't compare to New Orleans' coasts. When you decide to travel to New Orleans for a summer getaway, you won't think about any other beach destinations. Instead of booking a trip to Jamaica or Hawaii, consider planning an adventure to the beautiful New Orleans beaches.
Related Article: Best Hotels in New Orleans: Your Luxury Guide