Set atop one of the highest points in Bermuda, the Fairmont Southampton overlooks miles of shimmering pink sand beaches and contrasting turquoise waters.
Covering nearly 100 acres of lush grounds speckled with coconut palms, the resort is by far the largest on the island. Just below, the sand is home to Horseshoe Bay Beach, a crescent-shaped strand connecting to private southern coves. Believe it or not, while the beaches are beautiful, you won't want to spend all of your time on the sand. Check into the Fairmont Southampton and enjoy a little luxury.
Let's Talk Accommodations
Guest Rooms
The Fairmont Southampton boasts some of the most spacious guest rooms in Bermuda with over 593 accommodations. Among these include 11 signature suites, 23 one-and-two-bedroom suites, 2 duplex suites, and 2 exclusive penthouse style suites. Step out on your private balcony to enjoy one of the many sweeping ocean views from your room.
The guest rooms are light, cheerful, and open, true to the spirit of the island. There are four styles of guest rooms to choose from: The Fairmont Room, Deluxe Lighthouse View Room, Deluxe Sea View Room, and the Moderate Room. Each guest room measures 450 square feet and have the same amenities. The most noteworthy difference between the room choices is the visibility of the ocean and other scenic surroundings.
The following amenities are included in all of the guest rooms:
check

Air Conditioning

check

Clock

check

LCD flat-screen TV

check

DVD player

check

Multi-media connection

check

Cofee/Tea maker

check

Hair dryer

check

Iron and ironing board

check

Complimentary robes

check

Mini bar

check

Safe (in-room)

check

Business amenities

check

Spacious work desk

check

Cordless telephone with voicemail

check

Wi-Fi & high-speed internet access available at $13.95 per 24 hours (complementary for Fairmont President's Club members).
The Fairmont Room
The Fairmont provides partial views of the sea, the property's lush Turtle Hill Golf Course, and the popular Gibb's Hill Lighthouse. The room offers one to two queen beds based on your needs.
​Deluxe Lighthouse View Room
The Deluxe Lighthouse View Room offers the same accommodations as the Fairmont but with unobstructed views of the Gibb's Hill Lighthouse and Turtle Hill Golf Club. Watch the sunset over the tower as golfers drive shots down the green. You will find these rooms located on the fourth and fifth floors of the Fairmont Southampton.
​Deluxe Sea View Room
There's nothing better than waking up to the sound of the tide and the breeze picking up offshore. If you want a fantastic view of the Atlantic Ocean, book this room. Sit on your patio, drink your morning cup of coffee, and watch the waves roll in.
​Moderate Room
If you want comfort and are seeking a more economical choice, reserve the moderate room. While you won't have an ocean view, you'll still enjoy the same standard amenities at a lower cost.
Suites and Speciality Rooms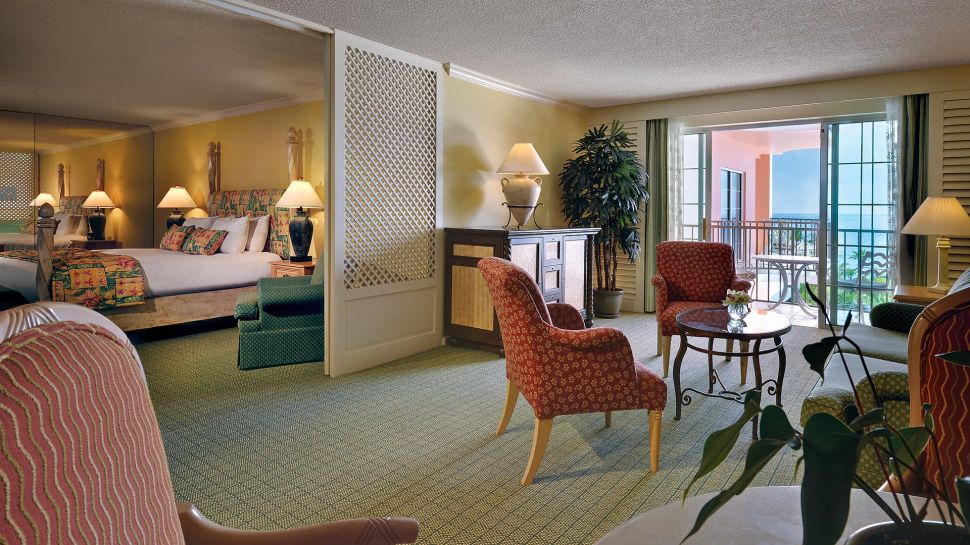 A step up in size and grandeur from the guest rooms, the hotel's suites and specialty rooms are also available for reservation. The options are vast, ranging from a spacious 600 square feet to an expansive 2,900 square foot penthouse suite.
Signature Suite
In an open concept floor plan, the bedroom and living room connect, giving way to partial views of the sea. Relax on your king bed with some room service.
​Signature Sea View Suite
Similar to the signature suite, this room provides a clearer view of the Atlantic for those people-watchers who enjoy catching a view of the beach below.
One and Two Bedroom Suites
If you're traveling with family or guests, there are also one-and-two-bedroom suites available with a separated living room space. The Two Bedroom Suite has two queen beds, a private bathroom, bay view balcony, and a mini-bar in the parlor. Finally, sofa beds are also available upon request.
Fairmont Gold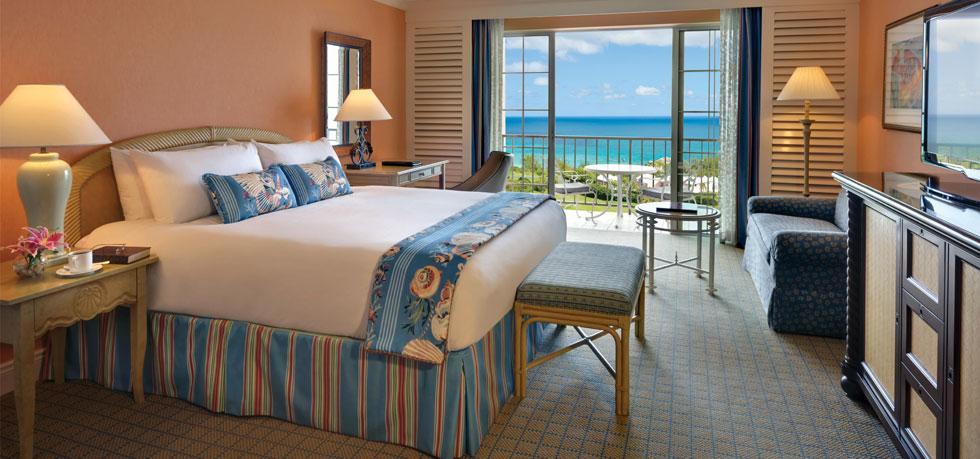 Fairmont Gold Duplex Suites
The Gold Duplex Suites are closer to a beach condo than a hotel room. With over 1,600 feet of space in a split-level unit, you'll be living in luxury. Upon entering the room, you'll immediately notice the natural light pouring in from floor-to-ceiling French windows. The walls are a cheerful pastel, painted with tropical-inspired designs taken from the local culture.
Step out onto your balcony where panoramic views greet you from the beautiful south shore. If you'd rather catch the views from inside, the bedroom loft offers full ocean views, a plush king-size bed and walk-in closet. The marble bathroom has its own jacuzzi, glass-enclosed shower, and two separate granite vanities.
Downstairs, you'll find a beautifully-decorated living room colored with mellow greens and pops of red. Sit down on a comfy chair and watch a film on the flat-screen TV equipped with surround sound. If you'd rather dine in, there is a fully-equipped kitchen conveniently located on your floor.
​Fairmont Gold Penthouse Suites
For the finest the Fairmont Southampton has to offer, look no further than their two Gold Penthouse Suites. Their size is perhaps most noteworthy. Located on the far wings of the gold sixth floor, they comprise 2,900 square feet. Push open the Bermuda cedar doors, step onto the marble floor and take it all in. From your secluded balcony, you'll enjoy the picturesque Atlantic, Great Sound Harbor, Gibbs Hill Lighthouse, and the surrounding islands.
For outside entertainment, pull up a chair and invite your friends to take a seat on the patios many balcony and lounge chairs. Across the main salon, there is an entertainment center, perfect for movie nights and entertaining the kids. This room has floor-to-ceiling doors, which can be closed off for privacy. For dinner, the formal dining room can accommodate up to eight guests, perfect for hosting a small party. A full kitchen and wet bar are nearby. Lastly, the third room is available for meetings, offering a quiet space without being removed from the main salon.
Moving on to the bedrooms, the master bedroom offers full ocean views, a personal wet bar, entertainment center, and spacious walk-in closet with full-length mirrors and large dressers. Grab a glass of champagne and soak in the oversized bathtub adjacent to the full shower and vanity.
The second bedroom offers a queen-sized bed, ocean views, and an entertainment center of its own, along with a walk-in closet. A fourth bathroom is located directly across the hallway.
Let's Talk Dining
The Fairmont Southampton offers one of the widest dining selections among Bermuda resort hotels. With over ten restaurants and multiple lounges to choose from, there is truly a cuisine suited for all tastes.
Boundary Sports Bar & Grille
Grab some drinks and enjoy an incredible meal. As the only sports bar on the West End, you'll find eager fans bonding over NFL games and sipping a cold one. Wherever you sit, you'll feel like you have the best seat in the house.
Waterlot Inn
This historic eatery boasts over 350 years of residency, making it Bermuda's oldest and best steakhouse. Perched on the dock at Jew's Bay, diners can enjoy gorgeous sunsets and shimmering waters with signature specialties and delicious cocktails. Did we mention the Waterlot has won the AAA Four Diamond and prestigious Wine Spectator Awards? Because tables fill up fast, make sure you make reservations in advance of your stay.
Mediterra
Experience the flavor of the region with fine Mediterranean dining. From homemade pasta recipes to flavorful seafood medleys, you'll have plenty of mouth-watering meals to choose from. Grab a table between 6:00 PM – 9:30 PM and experience masterful cuisines fresh off Bermuda's shores.
Jasmine Cocktail Bar & Lounge
Flavors come to life at Jasmine, a wonderful Americana culinary cuisine. This comfortable lounge is the perfect casual dining for a night of drinks, culture, and relaxation.
Windows on the Sound
Order an omelet and grab a platter of fresh tropical fruit from the buffet overlooking the ocean. Belgian waffles and hot gourmet pastries are just a step away from the main lobby. If you want to dive into the local culture, sample some fresh codfish and traditional dishes of Johnny Bread and cassava pie. Breakfast is served up daily from 7:00 AM – 11:00 AM. Sunday Bermuda brunch is offered from 10:30 AM to 2:00 PM. Wickets Coffee Bar is also nearby should you need an extra morning pick-me-up.
Ocean Club
You can't beat fresh seafood served by the seaside. Order the catch of the day and take in the fresh ocean air. Come straight from the beach for dinner, enjoy a glass of red wine or a frosty cup of cold beer. Reservations are suggested because of the club's popularity.
Cabana Bar & Grill
Soak up the sun at the Fairmont Southampton's private beach club. Every week, the cabana hosts live island entertainment and serve up the best tropical cocktails under the setting sun. Take a seat by the fire pit and grab some classic comfort food: wahoo wrapped in sweet banana leaves, savory BBQ pork ribs, mac and cheese, and some hearty corn on the cob.
The Burger Bar at Wickets
After a refreshing dip in the pool, satisfy your appetite with gourmet burgers and fries. This popular lunch spot offers classic options including: salads, sandwiches, milkshakes, and more.
The Rum Cellar Pop-Up Bar
Fairmont Southampton's pop-up is a collaboration with Bermuda's family-owned Gosling Rum. Enjoy a late night in the tropics, bright island life, and fresh local drinks. This venue is available for private functions by request only.
Bermuda Moon Dance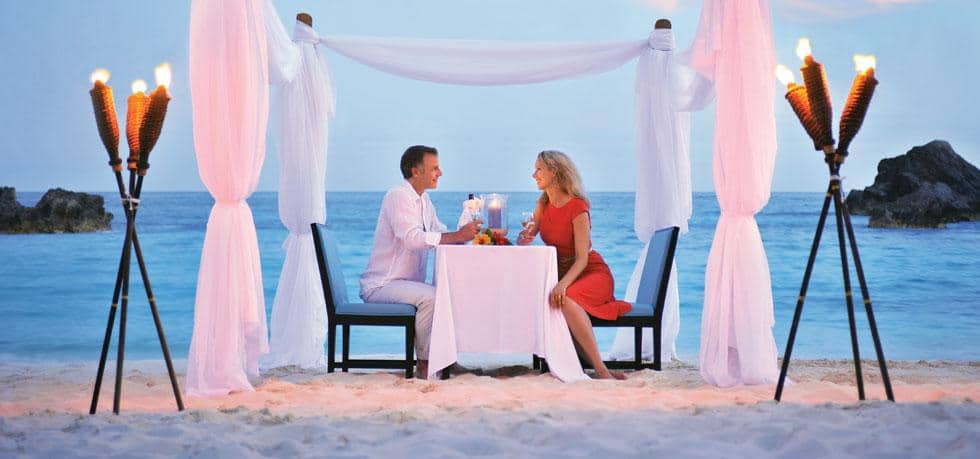 Available by reservation only, happy couples can sneak away from the crowds to enjoy a private dinner on the sand. Sip champagne under a silk canopy and stars accompanied by flickering candles and the soft rhythm of rolling waves. Dinner is an exquisite five-course meal for two, prepared by the resort's Executive Chef and served by a personal butler.
You can also arrange for a horse and carriage ride, violin serenade, and last but not least, a soothing bubble bath to await you in your suite. The Bermuda Moon Dance is available from April to September due to weather conditions.
The Dock at the Waterlot Inn
Walk past the boats to a chic lounge on the shimmering Jews Bay. Perfect for couples and stargazing, the Dock offers a chic, casual vibe and a carefully curated selection of locally-sourced cocktails.
Let's Talk Amenities and Activities
Amenities abound at the Fairmont, with choices ranging from a relaxing spa day, a few hours on the golf course, a game of tennis, and diving and exploring some of the island's shipwrecks.
Willow Stream Spa at Fairmont Southampton
Pamper yourself at Willow Stream, a spa that combines natural elements with local island tradition. Here, you can choose from a variety of local relaxation treatments including: custom massages, cleansing facials, body wraps, manicures, and pedicures. At 31,000 square feet, the spa includes fifteen different treatment rooms and lounges all with prime ocean views.
Turtle Hill Golf Club at Fairmont Southampton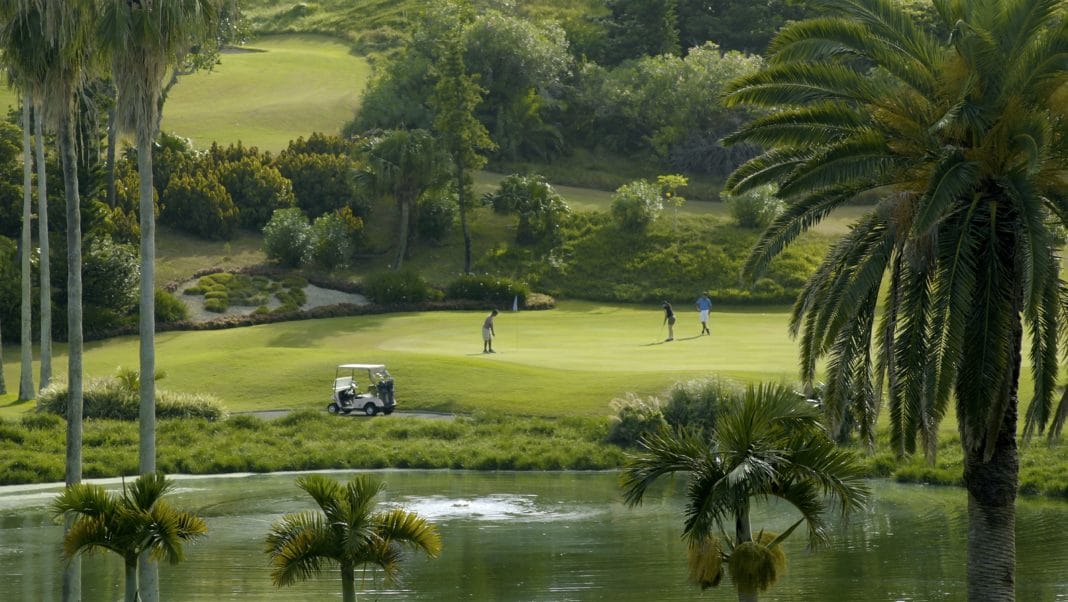 Rent your clubs and take to the greens on a lush course overlooking the sea. This 2,684-yard course is the prestigious holder of Golf Digest's "Best Places to Play Golf" and sports over 18 challenging par 3 holes. The course is designed to improve your game through its elevation changes and proximity to strong offshore winds.
Fairmont Southampton Tennis Club by MTM
Whether you're looking to brush up on your game, play some doubles, or take a class, the Fairmont has all you need. Hit up the fully-stocked tennis shop for a new pair of Nikes and gear. Then, choose from one of six hard-court beach front tennis courts, three of which are lit to play in the evenings.
Scuba Diving
Credit: Flickr
Take the plunge at Dive Bermuda, the only diving instructor development center on the island. Because it is the "wreck capital of the Atlantic," Bermuda hosts over 300 exciting dive sites to choose from. This has earned it a number 2 world ranking for Atlantic wreck diving by Scuba Diving Magazine in 2011.
The Dive Bermuda team is a five star development center, with over 30 years of experience navigating and exploring off the coast. It's time to grab your wetsuit and do a little exploring of your own.
Meetings and Weddings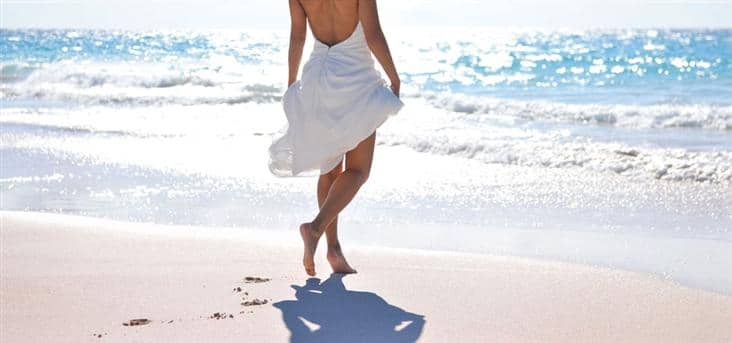 The Fairmont Southampton boasts over a dozen meeting rooms from the main boardroom to an impeccable multimedia Mid-Ocean Amphitheater. With over 1,500 staff on hand, the hotel ensures your meetings to run smoothly.
Over 100 acres of picturesque landscape awaits lovestruck couples looking to book their dream destination wedding. From selecting the perfect site to hold the ceremony to custom honeymoon packages, the Bermuda wedding team works to handle your day with precision and charm.
What Travelers Are Saying About the Fairmont Southampton
With a 4.5 star rating, it seems like the Fairmont Southampton's reviews speak for themselves. Guests rave about the exceptional and friendly service, exquisite spa, and dreamy views. The resort does a wonderful job of blending old town charm with new world luxury.
Let's Go! Book Your Stay at the Southampton Princess.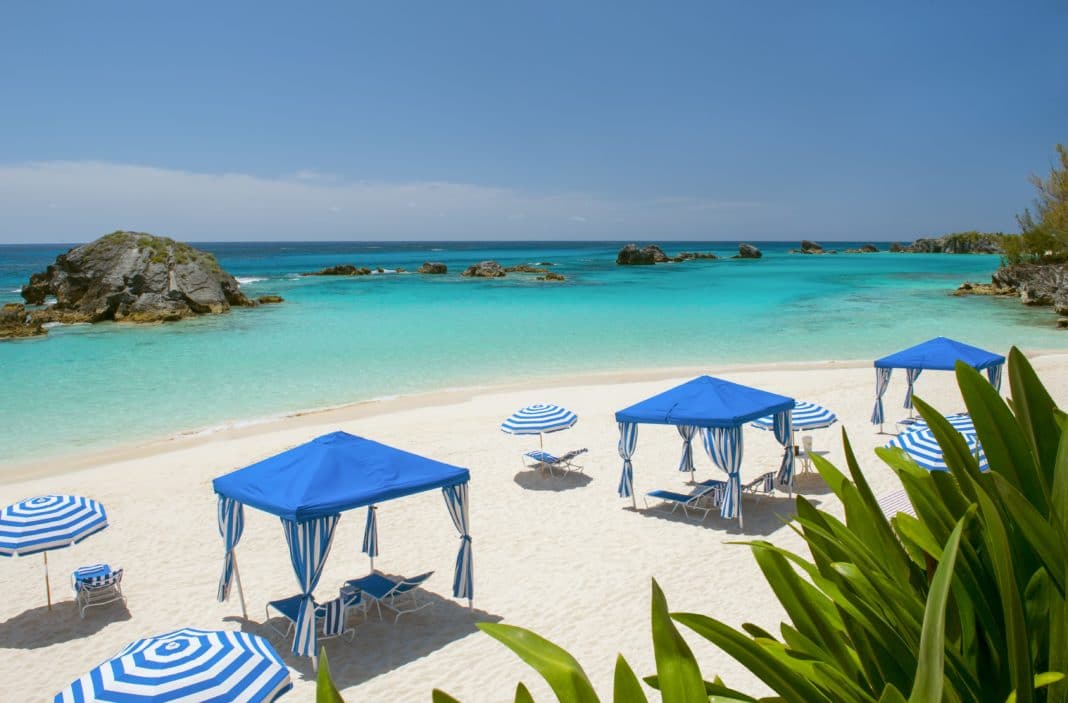 Bermuda is an ideal location for couples, families, and those who are seeking some R&R. If you're looking to experience local culture, cuisines, and catch a spa day, the Fairmont Southampton offers it all. Whether you plan on touring the island or simply staying in Southampton, we highly recommend booking a stay at this resort.
Related Article: ​​​​10 Best Bermuda Hotels for 2018​​​