Skip the rainy day blues and seek out the best hot springs in Oregon.
Whether you're a traveler or a local, the PNW's gray skies can get you down at one point or another. With January in full swing, you're bound to come across some winter gloom and showers too. We've found the perfect rainy day remedy. Who says you can't go out and have a little adventure in the storm? If there is a better thing to do than take a dip in the magic of the best hot springs in Oregon, we have yet to experience it.
Geothermal activity creates relaxing pools to soak in, particularly welcome as the rain makes its way down the mountains. The Beaver State is home to some of the most beautiful thermal springs which vary considerably. Some are clothing optional backcountry gems whereas others have been absorbed into luxurious private resorts. To keep these places clean and enjoyable, let's leave nature better than we found it. Come only to enjoy them, pick up after yourself, and respect the area. And if you see a piece of trash on the ground, pick it up and help nature as it was intended to be.
Whether you're relaxing on a cool summer's night or braving the cold in the dead of winter, the best hot springs in Oregon are such an adventure to find. They are so much more than simply an outdoor tub to relax in. Quite to the contrary, there are plenty of therapeutic health benefits to this relaxing activity. They not only increase your blood flow but also boost your metabolism, give you better circulation, help you to absorb essential minerals, help fight chronic diseases, relieve constipation, aid diabetes, and alleviate liver-related complaints.
The dissolved minerals in the water are absorbed by your skin. This type of absorption puts less stress on your digestive tract than taking oral mineral supplements would. Thus, this method is more beneficial in the long run. Why not go a little off the grid and explore some of Oregon's most scenic natural wonders? Some of the hot springs on our list are commercial but most of them are as they should be – left out in nature for the world to enjoy. Since a few of them are located in national and state parks, make sure to bring a little cash on hand for the entrance fees. Let's go explore the best hot spring in Oregon.
Here Are Our Picks for the Best Hot Springs in Oregon
1. Cougar Hot Springs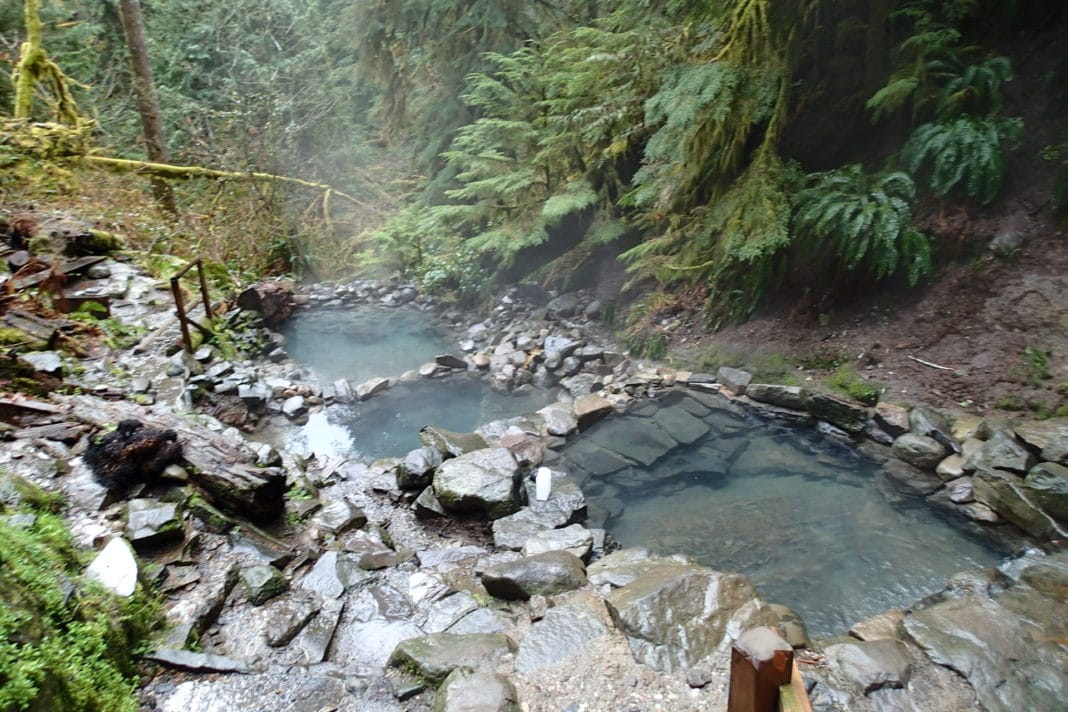 Credit: Wikimedia Commons
Also known as Terwilliger, this spot is a local favorite. Cougar Springs is about an hour away from Eugene. Five cascading pools connect, each linked together by smooth stone slabs. Pick your perfect spot. You will find that each succeeding pool is cooler than the last. The first pool begins at 112 degrees Fahrenheit, winding its way down to 90 degrees Fahrenheit at the last.
While some of the most beautiful thermal pools are a long trek away, you'll be happy to know that these are easily accessible. These beautiful, natural formations are only about a quarter mile's hike into the Willamette Forest and open all year-round. You can opt to pay $6 a day or $60 a year should you desire to purchase a season pass. Clothing is optional. These are definitely some of the best hot springs in Oregon. If we were locals, you bet we would get our hands on that year long pass.
2. Belknap Hot Springs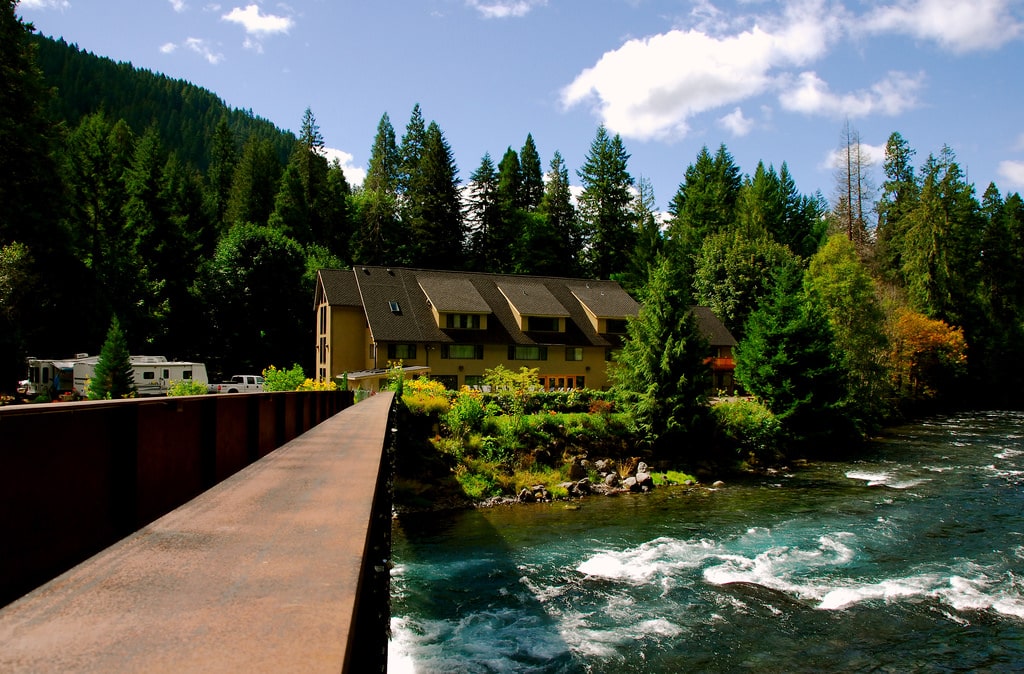 Credit: Flickr
Looking for the best hot springs in Oregon? For those of you who aren't comfortable in a clothing optional scene in the great outdoors, we have got you covered (all pun intended). At Belknap Hot Springs, you still get all the benefits of soaking in a mineral-rich tub. This Oregon resort offers two pools for guests as well as access to their lovely on-site gardens, home rentals, RV sites, lodge rooms, cabins, and plenty of camping options. Its close proximity to the McKenzie River also makes it a big draw for travelers.
3. Umpqua Hot Springs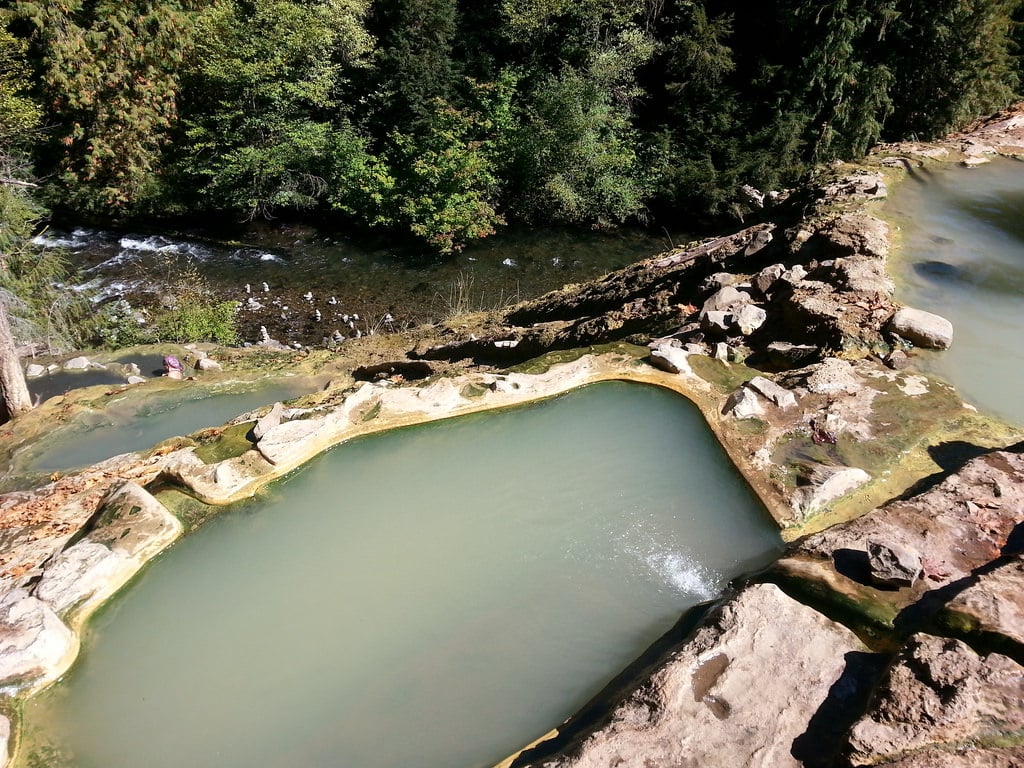 Credit: Flickr
When you're searching for the best hot springs in Oregon, you can't top these ones that overlook the North Umpqua River. Lying in the middle of the central Cascades, three pools descend the mountain. The top one is by far the largest, covered by a cool hand-crafted wooden roof and adorned with artwork. But no matter the pool you decide to take a dip in, the views are sure to be great. For these springs, you will pay $5 per vehicle per day. They are open from 7 am to 7 pm daily in Idelyd Park.
4. Summer Lake Hot Springs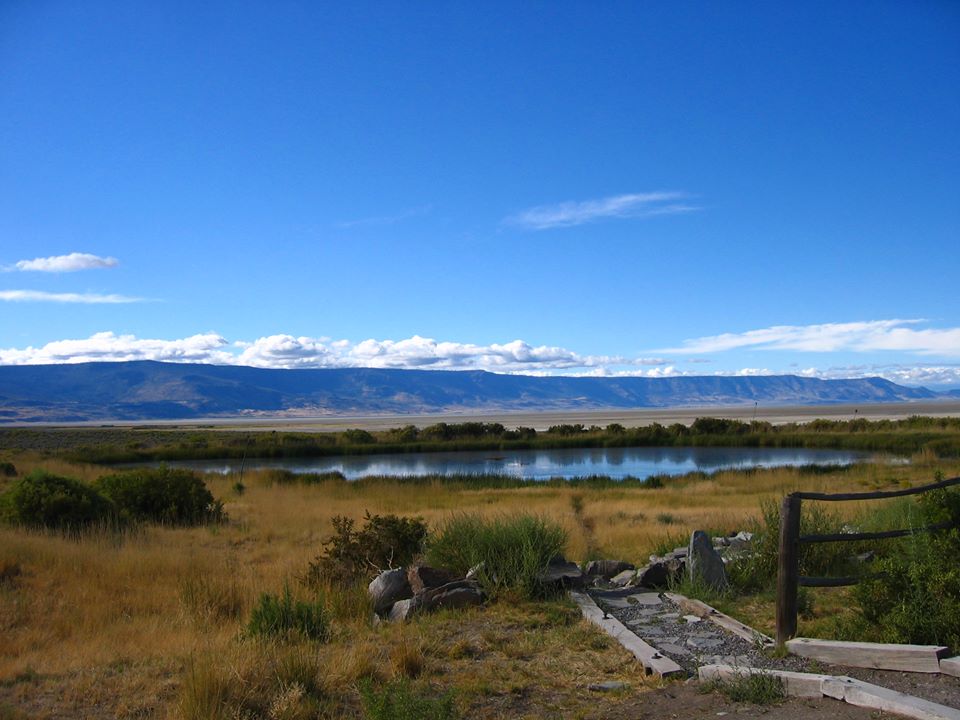 Credit: Summer Lake Hot Springs
Here is another one of our favorite hot springs for those seeking a resort-style soaking experience. Summer Lake Hot Springs is located in the Great Basin region two hours south of Bend. Spanning 125 acres, this lot offers plenty of space to explore; it's perfect if you need an escape from city life. In addition to the indoor pools, you will also find geothermally-heated cabins, charming guest houses, and campground facilities (including RV hookups) for overnight guests.
If you would prefer to just take a day trip, the fee is $10. One of the most curious things about Summer Lake Hot Springs is it's not located in the dense forest. It's wide out in the open plains, setting it apart from other geothermal pools on our list. It is also one of Oregon's more quiet places to soak. Summer Lake is home to some of the best hot springs in Oregon.
5. Bagby Hot Springs
Credit: Flickr
These are arguably the best hot springs in Oregon. Nestled away in the Mount Hood National Forest, their proximity to Portland makes them a must-see destination. With this said, they might also be some of the most difficult ones to get to on our list. If you want to soak here, be prepared to take a bit of a trek.
They are only accessible via a 1.5-mile walk through the trees that is often muddy and slushy come winter and for adults only. But once you've braved the cold and arrived, it is so worthwhile. You're awarded your choice of tubs, carved out logs, a large whiskey barrel, or the upper deck which can house up to eight people. The fee for visiting is $5 and they are not clothing optional.
6. Breitenbush Hot Springs
Credit: Wikimedia Commons
Also located in Mount Hood National Forest, the Breitenbush Hot Springs are just a few hours east of Portland. For those looking to escape city life for a bit, they make a pretty good day trip. This relaxed resort retreat is open daily for visitors and guests alike, offering the best hot springs in Oregon. If you're looking to stay overnight, call ahead and check on the availability of their cabins. In addition to their rejuvenating thermal pools, Breitenbush also offers spa treatments and wellness programs, plenty of amenities, and is a clothing-optional retreat.
7. McCredie Hot Springs
Credit: Flickr
Travel fifty miles southeast of Eugene and you'll find McCredie Hot Springs. These natural wonders are scattered on either side of Salt Creek, ranging in temperature from 98 degrees Fahrenheit to one hundred and fourteen degrees. While it's a twenty-minute or so hike to get to from the parking lot, it's an easy trail and well worth your time. The park is open from dawn to dusk. Visit completely free or charge and clothing is optional.
8. Bigelow Hot Springs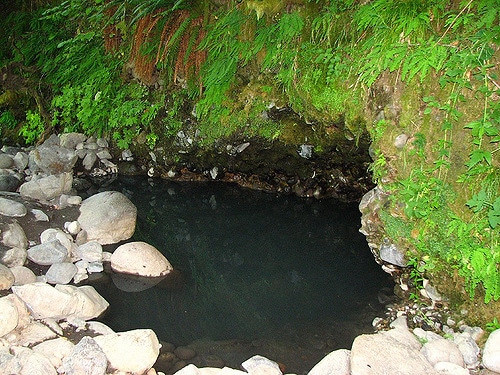 Credit: Flickr
Also known as Deer Hot Springs, this hidden gem is located just outside of sixty miles outside the city of Eugene. Want to know the coolest part about them? Part of Bigelow Hot Springs is located inside of a cave, adjacent to the McKenzie River. This natural wonder gets up to just over 100 degrees Fahrenheit in the summer and fall. Make sure to arrive as early as you can. This scenic space is pretty intimate, comfortably accommodating up to six travelers at a time. Since it is an undeveloped hot spring, there is no fee for visiting and like most of the best hot springs in Oregon, clothing is one hundred percent optional.
Plan Your Trip to Visit the Best Hot Springs in Oregon
We hope you enjoyed reading our feature on the best hot springs in Oregon. From resort style thermal pools to geothermal wonders off the beaten track, this state never ceases to amaze us with what it has to offer. Mother Nature in the Pacific Northwest is nothing if not spectacular.
The best part about these spots is that while you will feel a world away from the hustle and bustle of city life, they are not far away from a good place to post up and call home on your travels. Most of the picks on our list are an easy drive away from either Portland or Eugene, Oregon. While we love each and every one of these spots Umpqua Hot Springs has to be our all time favorite pick.
How can you possibly beat soaking in jacuzzi-warm waters overlooking a river winding through the woods. Add in the picturesque art shack behind you and you have yourself an Instagram shot made in heaven. While travel is about the experience first and foremost, walking away from a trip with some epic picks is definitely the cherry on top of a perfect day.
Have you been to any of the spots on our list before? Perhaps you have some recommendations for the best hot springs in Oregon that are not on our list. Whatever is on your mind, feel free to let us know in the comment section below.