What if instead of daydreaming about the Aruba beaches on your calendar, you went to go see them?
There's a reason why the Beach Boys sang about Aruba. This romantic island paradise is everything you could dream of. Pristine white sand shores meet a vibrant turquoise sea. Private coves are shaded by towering limestone cliffs, and tall, thin palm trees sway in the balmy breeze. It's not too late to plan your winter getaway. Put your toes in the powdery white sand of these Aruba beaches and put your mind at ease.
Here Are Our Picks for the Best Aruba Beaches to Visit
1. Boca Grandi
Kick off your tour of the beautiful Aruba beaches at Boca Grandi. Adventurers, this is the place for you. Travelers come from around the world to try their chops at kite surfing. The strong tradewinds, challenging waves, and ever-sunny skies make this a prime place to sail the Caribbean paradise. We're here to warn you that the current is no joke though. If you're looking to take a dip, this isn't the place to be.
For those of you who'd rather stick to the shore, the sands of Boca Grandi are a great place to find little treasures. Bits of driftwood, coral, and curiosa are always washing up on shore. In addition, a cute new beach bar was added to the area. So treat yourself to a slushy margarita and try your best to beat the heat. This is the perfect place to stop on the way to Baby Beach too. You're only five minutes or so up the road from downtown Saint Nicolas.
2. Eagle Beach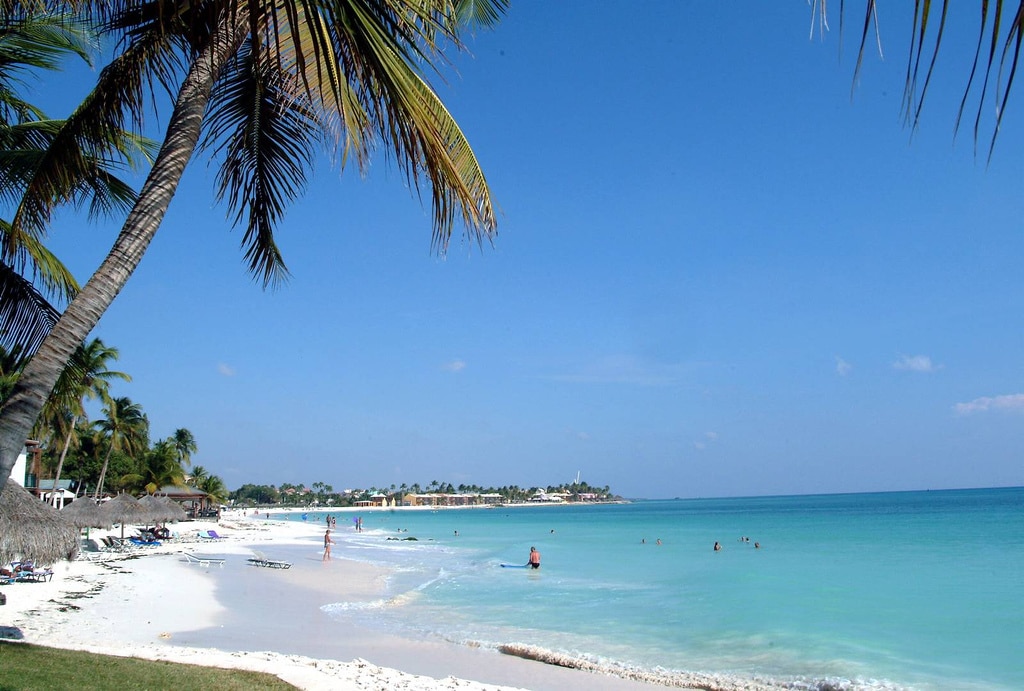 Credit: Wikipedia
Powder soft white sands greet you from Eagle Beach. As the widest of all the Aruba Beaches, this family-friendly stretch of coast is the great place to take the kids. Besides clear water and sunny skies, you'll find plenty of parking, shaded areas to escape the heat, and plenty of water sports to participate in.
It's also home to some of the most popular trees in Aruba, with its silhouette pointing in the direction of the Caribbean. You've probably seen these trees in various tourism ads and Sandals Resorts commercials promoting a luxury lifestyle on the island. On the weekenders, Eagle Beach is a great place to come and play beach tennis. If you haven't played it this way yet, there's a first time for everything. Why not come and try it out?
3. Dos Playa
Experience pure beach bliss at Dos Playa. Accessible by foot, these coves offer both a go-to spot for surfers and a broad, white sand beach for beachgoers looking to perfect their tan. For those looking for an unspoiled experience of Aruba beaches, this is the place to be. Don't expect to find fancy facilities and services here. If you come, expect natural beauty at its best.
You'll find Dos Playa located within Arikok National Park. While you're there, make sure to pay a visit to the sweeping dunes of Boca Prins. If you find yourself getting a bit hungry, the Boca Prins Restaurant & Bar is only a few minutes away. While the ocean is great for kitesurfing like Boca Grandi, these waters are not suitable for swimming.
4. Andicuri Beach
Credit: Wikimedia Commons
Escape the crowds and chase a little adventure at Andicuri Beach. Located on the island's windward coast, dramatic bluffs frame the sandy coves, creating a serene space for you to call your own. You know you've found a good spot when the locals are here. The scenery is nothing short of breathtaking. Bodyboarders flock here for the strong surf. While swimmers can enter the water, don't venture out too far.
Here's the catch. It can be a little challenging to find Andicuri, to say the least. But then again, some of the best Aruba beaches are a little off the grid. Coming from the north, you'll need a 4wd car or hike it out one mile to the sand. If you're coming from Ayo, you can get closer.
5. Arashi Beach
A favorite among the locals, Arashi Beach offers gentle currents and abundant marine life. Needless to say, it's a haven for snorkelers and lovers of all things nature. Ths white sand beach is located just north of Malmok near the California Lighthouse. Compared to some of the busier stretches of sand up north, this spot is relatively calm and uncrowded.
Arrive at the beach early and stake out your spot. You'll find that the beach is lined with plenty of thatched palapa huts that provide plenty of shade. Understandably so, these spots fill up fast, especially on busier days when cruise ships dock at the ports. While the beach is mostly sandy, you'll find a few spots with clusters of rocks near the shoreline. We don't know about you but it sounds like a prime bonfire location to us.
When the sun starts to bear down, take a dip in the cool waters. Arashi's gentle current makes a great spot for less confident swimmers. Look out to sea and you'll spot plenty of snorkelers and divers off in the distance. At both ends of the beach, you'll find prime snorkeling spots. Shallow coral reefs give way to a myriad of tropical fish and diverse marine life. Beginning snorkelers should stick around the southern end of the beach near Catalina Cove. The further north you go, the stronger the current.
6. Baby Beach
Drive about forty-five minutes from the main tourist area of Palm Beach and you'll find Baby Beach. Located at the southern tip of Aruba, this scenic crescent-shaped stretch of sand perfectly frames a bright turquoise lagoon. With its calm, shallow waters, it's a great place for families to take small children. Snorkelers will also find a unique habitat where small fish swim beside the breakwaters.
During peak season, bright yellow tents and thatched palapas line the sand. Make sure to bring a good waterproof camera. You're going to want to snap plenty of pictures. Locals tend to come here on the weekends. So, if you're looking for something a little less crowded, you can head further down to Rodger's Beach.
7. Savaneta Beach
While it's only a half hour away from the high rise strip, Savaneta seems a world apart. As one of the most beautiful Aruba beaches, this serene arch of sand is framed by Divi-Divi trees and sea grapes. You'll often see hopeful fisherman off these shores, line cast over waiting for a catch. This means that for travelers like yourself, there are plenty of local restaurants with fresh seafood options.
8. Malmok Beach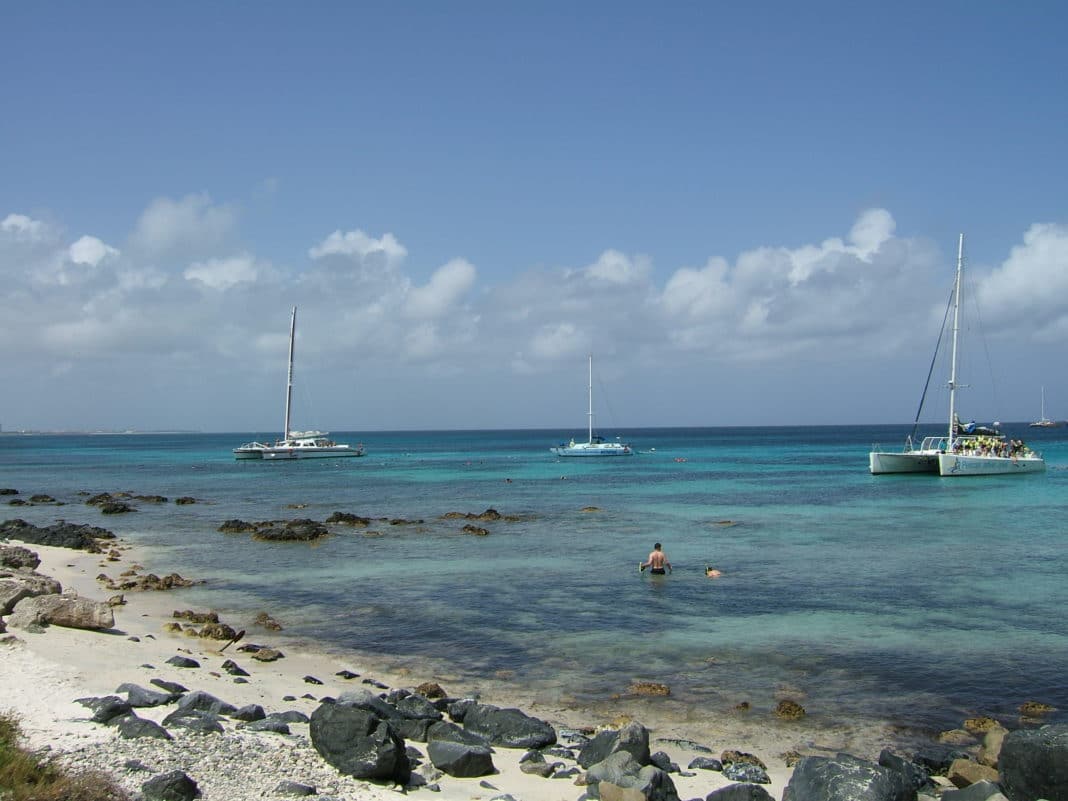 Credit: Flickr
A small inlet, Malmok Beach runs between the limestone and rocky terrace along Malmok's coast. You'll find this spot just north of the high rises along Palm Beach. Perhaps you'll recognize it from its most prominent feature, the hulk of the Baboo shipwreck poking out from the waters. This ship was once located further off the shore as a dive site but in 1999, a storm picked it up and carried it closer to shore.
Now, it's one of the island's most popular snorkeling spots, offering crystal clear water and plenty of life to explore. While there are no restaurants or hotels on the sand, the luxurious OCEAN Z Boutique Hotel Aruba is only a few minutes away.
9. Manchebo Beach
Just a short ways away from Eagle Beach, Manchebo offers a little more privacy than some of its neighboring beaches. Lined by low-rise resorts, it's one of the widest beaches on the island. Due to the ban on motorized water sports, you'll also find it a little bit quieter than Palm Beach and Eagle Beach. When you're ready for some food and drinks, head on over to Manchebo Beach Resort & Spa. There's nothing quite like eating from an oceanfront terrace with a view like this.
10. Boca Catalina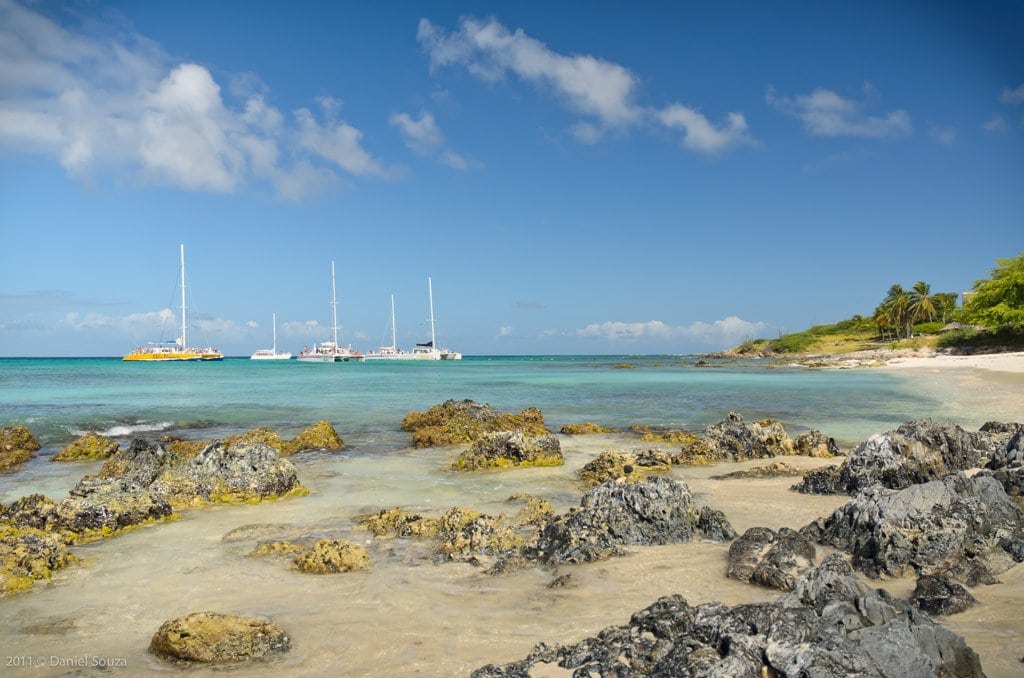 Credit: Flickr
A small, secluded bay in the Malmok area, this white sand beach offers a great place for swimming and snorkeling. If you're already by Arashi Beach and the California Lighthouse, it's just a stone's throw away. Even from the shore, it's easy to see hosts of tropical schools and starfish in the shallow water. Anchored just offshore, are tourists hoping to snap some epic underwater pics on their snorkeling adventures. If you plan on making a trip to Boca Catalina, plan ahead. The beach does not have facilities and there are only a handful of palapas available. Make sure you bring plenty of food, water, and sunblock with you.
Embark On Your Adventure to Explore the Most Beautiful Aruba Beaches
Yes, Aruba beaches are every bit as beautiful as they appear on postcards. It's time to book your vacation. Pristine white sand beaches and crystalline waters await you. Regardless of what kind of traveler you are, this island has something for everyone. Are you looking to rest and soak up the sun? There are plenty of secluded coves to do just that. Seeking a little bit of adventure? Try your hand at kitesurfing or explore marine life on a snorkel or dive tour.
Avoid the touristy spots and seek out the more hidden gems. While most of these beaches aren't exactly off the grid, some are a bit more secluded than others. Besides, where else are you going to take great travel photos without a line of tourists armed with selfie sticks? Leave them all behind and head to some of Aruba's most serene seascapes.
Here, locals still string up their lazy hammocks under the shade of the palms and visitors stroll empty beaches to the sound of gently rolling waves.Things move at just the pace you want them. These Aruba beaches provide all the relaxation you need while adventures are waiting just off the shore. Make the kind of vacation you want as you discover all that the island has to offer.
Aruba isn't a place you'll want to visit only once. There is so much to see and do. Believe us. This country will keep you coming back for more. Have you traveled to Aruba before? What keeps you coming back to this budget-friendly destination? Share in the comments section your list of the best places to visit and things to do in Aruba!
We have so many favorite spots, it's hard to choose just one.Perhaps this is your first time planning a trip to Aruba. If you have any questions, please feel free to message us below. We really love hearing from you and will make sure to answer your inquiries shortly.
Related Article: Top 8: The Best All Inclusive Resorts In Aruba