Explore a Spanish archipelago (the Balearic Islands) with this ultimate guide for sightseeing, beach-partying, and sunset-view dining.
First, if you haven't heard of the Balearic Islands, do some research and we bet you'll promptly begin trip planning. The Balearic Islands are comprised of a cluster of four islands: Minorca, Formentera, Ibiza, and Majorca, sometimes called Mallorca. (Mike Posner's top song "I Took A Pill in Ibiza" brought some attention to Ibiza.) Majorca and Ibiza are the largest of the islands, but the grouping of four makes for an exciting, "island-hopping" adventure. This archipelago lies in the Balearic Sea, out in the waters between Barcelona and Valencia.
The Balearic Islands are technically a province of Spain, but here in the Mediterranean area, the cultures of Algiers, Spain, France, Italy and Mediterranean islands blend together. The islands are characterized by beautiful beaches, mountaintop views, lush vegetation, rocky cliffs and Mediterranean architecture. Whatever your ideal vacation, you'll likely find in on the Balearic Islands. Ibiza offers a whole party island of clubs bumping all day and night. There's an entire mini-island that's a whole preserved park. There are party beaches, and quiet coves, new places to explore, and places that have been settled by ancient royal families.
Balearic Islands: the Basics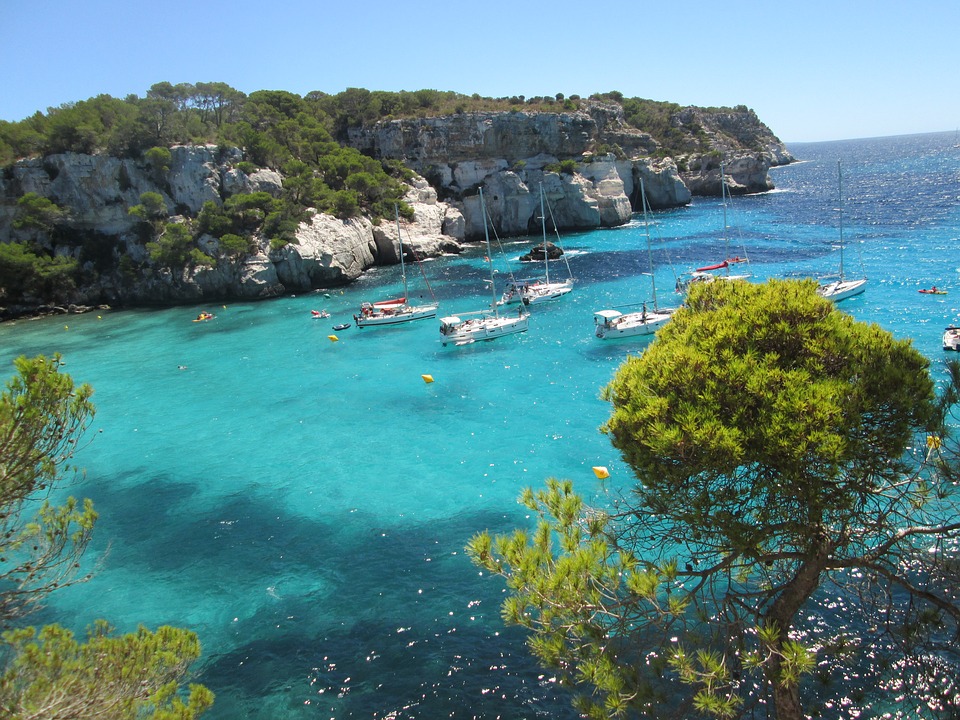 Currency: EUro 

Climate: Mild winters (Around 40) and warm Summers (75 or hotter)
Primary Languages: Catalan and Spanish
How to Get Around the Balearic Islands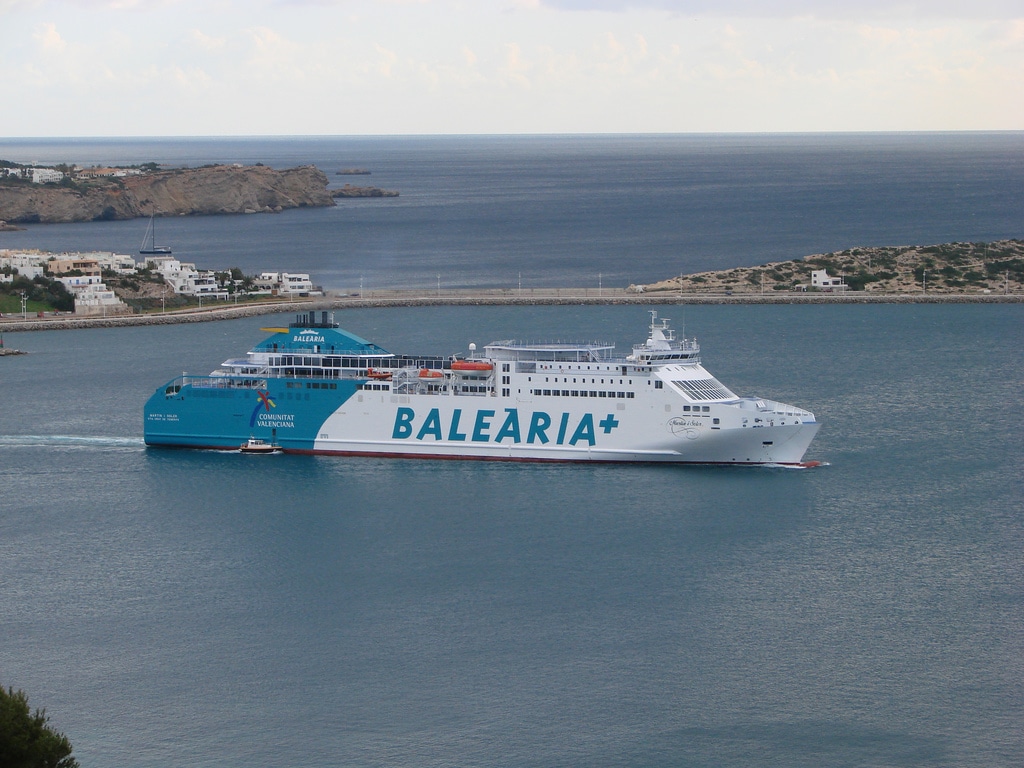 Credit: joseanmomo
Plane
It's likely that the cheapest, most reasonable option is to get a flight from your home base to Barcelona. From Barcelona, you'll find daily flight options to get to three of the four islands. Since Palma de Mallorca is the largest airport on the Balearic Islands, we'd suggest searching for flights here and using this island as your starting point. Additionally, you can snag a pretty inexpensive flight from Palma de Mallorca to Ibiza. The duration of this trip is under an hour.
Ferry
If your goal is to get to see all the islands, you have the choice of traveling by ferry or plane. The ferry can be a fun event in itself; for instance, you'll get to cruise along the deep blue waters on a crisp white ferry ship. If the weather's nice, enjoy your ride outside on the top deck or along the railings.
Next, once you've arrived at the Balearic Islands (most likely through the Palma de Mallorca Airport), we suggest traveling to Menorca next. That means you'll take a ferry east from Mallorca to arrive at Menorca. You can choose two route options: leave from Alcudia, at the northeast end of Mallorca and arrive on the western shores of Menorca at Ciutadella. This is the shorter ferry ride; it's less than two hours. Of course, if you'd rather leave right from Palma, you can take a ferry right out of there. You'll loop around the bottom of Majorca for some great views. This Palma to Mahon option does take about six hours, but hey, you're on vacation time and what's more relaxing than a nice boat ride?
After a trip to Menorca, you'll want to get back to the largest island of Majorca. From here, you can catch a ferry from Mallorca to Ibiza. Balearia offers ferry trips for this route. Find more information about the ferry from Mallorca to Ibiza. The duration of the trip from Mallorca to Ibiza is less than or close to four hours, depending on the day.
Once you're in Ibiza, head to Formentera next and you'll be able to check off all the Balearic Islands! This smaller island is only accessible by ferry. Find more information about the ferry from Ibiza to Formentera.
Car
It's possible to rent a car on three of the four Balearic Islands (Formentera is the exception). You could rent a car for the duration of your stay on the islands (and take that car on the ferry), or just rent a different car on each island. However, we suggest saving costs by renting a car only while you're on Mallorca. That way, you can explore this larger island via car, and even get to see the east coast, and mountains on the northern part. A ferry to Mahon, Menorca will deliver to close to the sites that you may want to see on that island. Additionally, the ferry into Ibiza will bring you to a town that offers bus lines, taxis or walking distance to places you might want to go.
Where to Stay in the Balearic Islands
Can Cera Boutique Hotel in Palma de Mallorca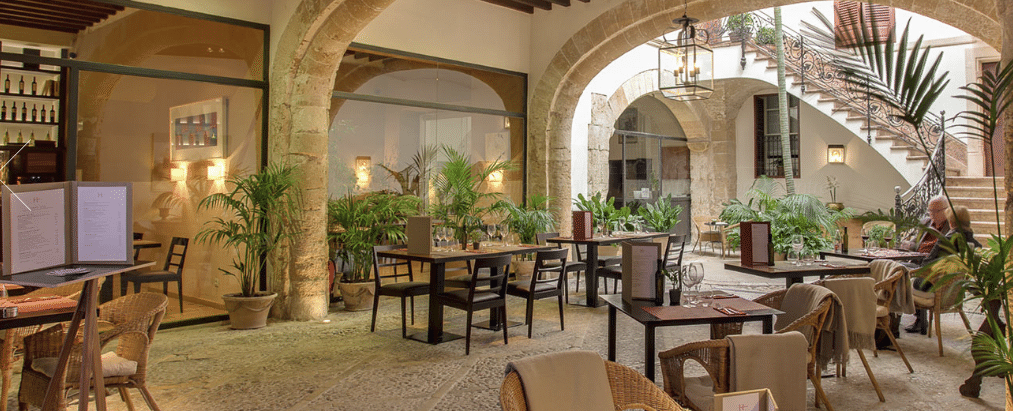 Credit: Can Cera
Here's a lovely boutique hotel that wins in many categories for us! The location is in the heart of Palma de Mallorca, the decor and architecture seem to embrace the rich history and lively culture, and the service is fantastic. The arched doorways and dark wood accents welcome you in off the streets. The building actually dates back to around 1232. Furthermore, its location in the heart of the city means that you're close to museums and important sightseeing destinations. This hotel features a splendid restaurant with Mediterranean-Majorcan cuisine and the atmosphere is lovely and unique. Additionally, you'll get a free breakfast when you choose to stay in any of the room options: deluxe or suites. Enjoy the Mallorcan decor (think arches, balconies, chandeliers and butterfly staircase) and rich history while you stay in this exquisite hotel!
Gran Hotel Montesol in Ibiza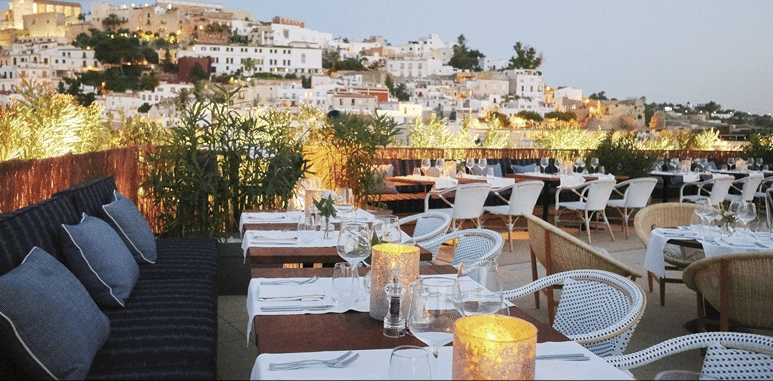 Credit: Gran Hotel Montesol
This is the spot to stay in Ibiza. Not only is the location great, but the hotel itself also creates an experience for you on this party island. To begin, the Gran Hotel Montesol lies within one of the most popular destinations in the Balearic Islands. Ibiza, known for its super fun party scene, draws vacationers looking to relax during the day, and party all night. The Gran Hotel Montesol sets you up just for that. It's located in the historic district of Ibiza (this area is a UNESCO declared world heritage site). It's also close to where the ferry arrives, so you won't necessarily need a car (especially since everything you need is right here).
Additionally, your stay at the Gran Hotel Montesol means that you get exclusive access to some beach clubs in Ibiza and Formentera. You'll have lounge chairs reserved just for you, as a guest. Enjoy some local cuisine at Cafe Montesol, open for dinner, and choose from options for other experiences that the hotel will help you with. Choose from premiere, suite or classic room options and you'll enjoy the rich hardwood floors and bold designs in the rooms.
Hotel Rural Sant Ignasi near Ciutadella, Menorca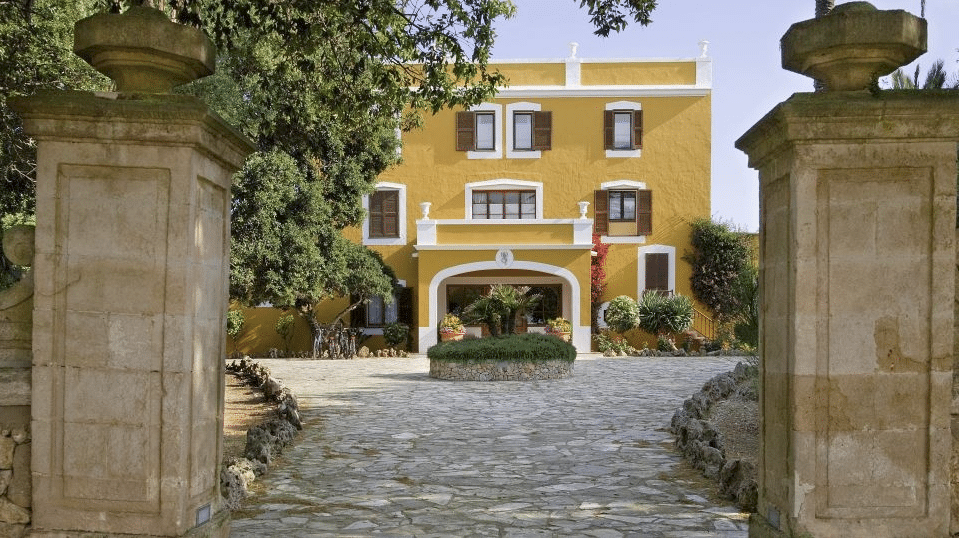 Credit: Hotel Rural Sant Ignasi
This beautiful building, once a home of a family of Menorcan aristocracy, now welcomes vacationers looking to relax and take in the beauty of Menorca. The property is almost paradise, and that's exactly the informal title of the surrounding gardens and forested area. It's incredibly manicured, with lush landscaping and walking paths. You can take the ferry to Mahon, rent a car and head to the other side of the island where Ciutadella lies. This hotel offers seclusion and relaxation on the property. However, there are still plenty of options for restaurants and bars just under two miles away. Since the building is old, you'll find yourself in a unique room with extra charm. Additionally, some rooms have private gardens or terraces, and you'll likely have a view of the countryside. If you would like an enchanting retreat, and a chance to explore the west side of Menorca, then this is the hotel for you!
What to See and Do on the Balearic Islands
Soak up the Sun on These Beaches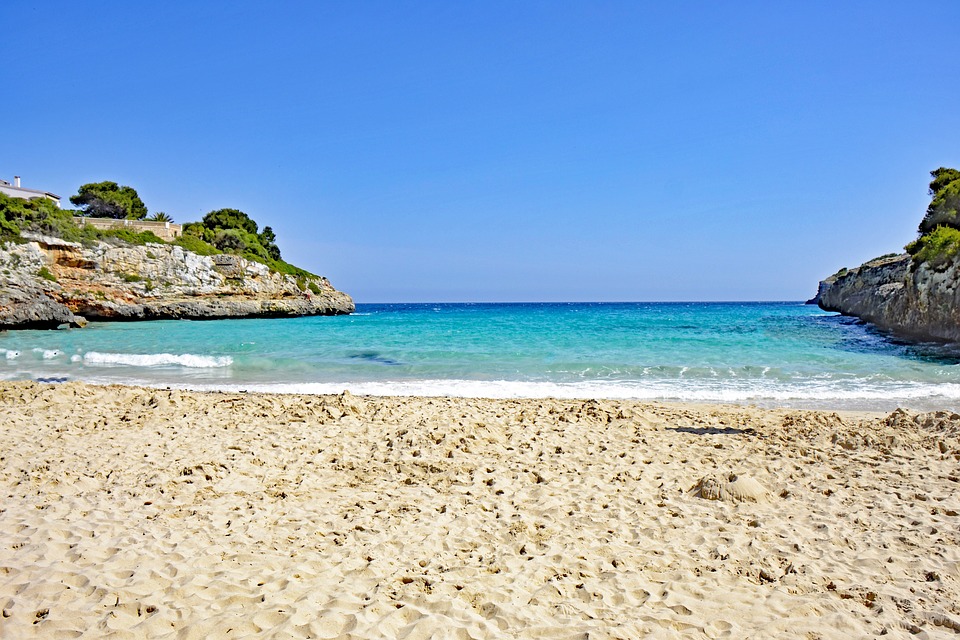 Platja de Ses Illets, Formentera
Many consider this the number one beach on the Balearic Islands. If you're searching for some ultimate relaxation on a soft, sandy white shore, then you'll agree. Here, you'll find truly turquoise waters and the hombre of blues as the water deepens. Those turquoise waters in photos aren't photoshopped at all. Additionally, Platja de Ses Illets is a skinny strip of sand, so you can set up camp with water on either side of you! Along the shorelines, you'll find a few little beach spots for island-style dining. This beach is on the northern tip of Formentera. It stretches up towards Ibiza, where you likely just arrived from!
Cala Turqueta, Menorca
Many have discovered the beauty of the beaches of the Balearic Islands and flock to them. However, this little gem on the island of Menorca is generally not super crowded. This off the beaten track beach in the Balearic Islands is located near Ciutadella (and also near the Hotel Rural Sant Ignasi listed above!). You'll find coves, turquoise waters, and island vegetation surrounding the natural, white sand beach. Since it's a non-touristy beach, you won't have certain amenities. However, for you adventurers, that's simply part of the fun; pack a lunch and make this an excursion!
Illetas Beach, Mallorca
Many beaches on Mallorca offer the turquoise waters of the Balearic Sea, but also offer stony pebbles or rocks. On the other hand, Illetas Beach, one of the best beaches, features turquoise waters AND soft sand under your toes. The area is a small beach with the coast creating a horseshoe shape. Illetas Beach can become pretty crowded, so stake your ground early. Additionally, the area has hotels and beach clubs nearby.
Party in Ibiza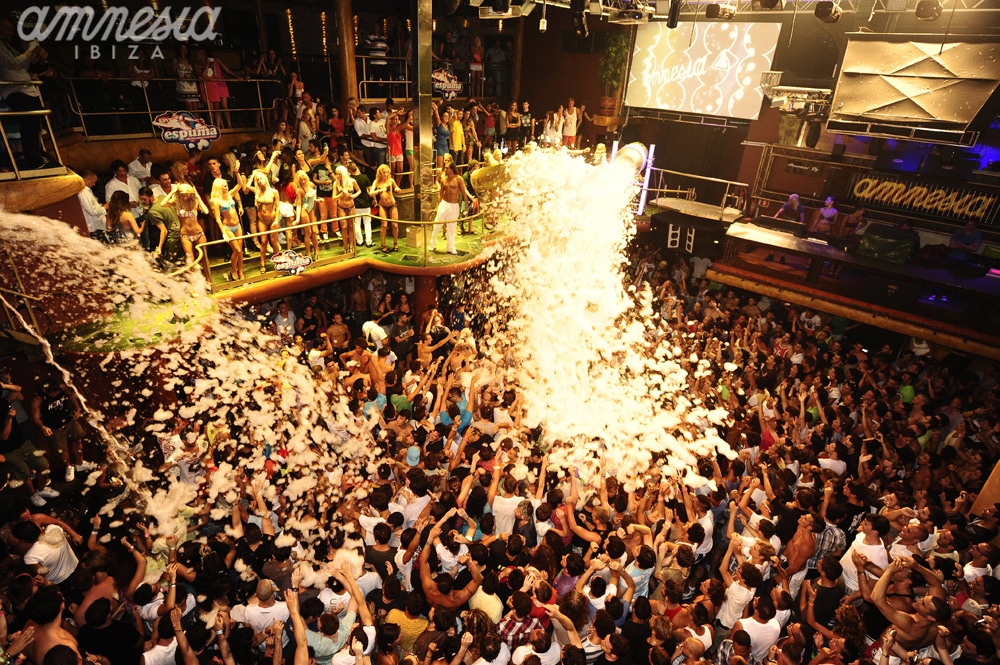 Credit: Amnesia
Amnesia
Head to the great party scene at this old Spanish estate. Dance the night away in a really fun atmosphere, complete with ice cannons and great sound and lights. Amnesia hosts many different events, in both the main room and terrace. No matter the theme of the event, Amnesia is sure to be a fun time for you. The VIP area is especially extravagant. Different nights of the week feature different parties, and Thursday night's "Cream" tends to be a crowd favorite. The dancing, music and other entertainment continue late into the night here at one of the best party places in Ibiza.
Ushuaïa, Ibiza
Playa d'en Bossa is a two-mile radius packed with all types of clubs and virtually non-stop partying. It's a dream come true for many! Ushuaïa is an open-air venue and clubbers' hotel located in Playa d'en Bossa on the island of Ibiza. It's earned its top spot as the go-to party place because of the top-name DJs, elaborate stage productions, and water features. You'll want to check out the parties they have going on during the day, all the way up until midnight. Next door, Ushuaïa now has the Ushuaïa Ibiza Tower with luxurious rooms, a nice pool area, and a rooftop lounge terrace. Check out the calendar of events at this popular Ibiza resort for partying.
Do some sightseeing in the Balearic Islands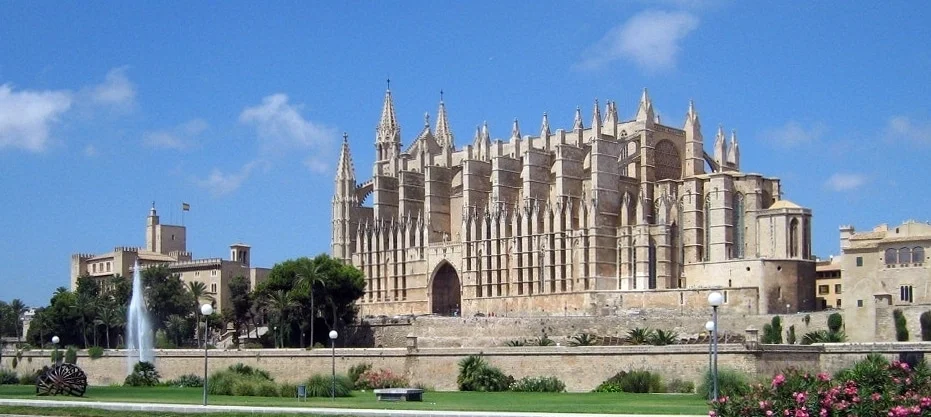 Mallorca Cathedral
This cathedral is truly amazing. Don't treat this place as a default visit for a history lesson on a rainy day. Rather, this is a sight that you want to make sure you get to see. The old church rises majestically from its high point and can be seen from many points in the surrounding town of Palma de Mallorca. It's a Gothic-style cathedral, complete with gargoyles, pointed tops, and stained-glass windows. The nave, or largest room is truly massive, with a high ceiling. The smaller sections, chapels and the terrace, feature ornate moldings and doorways. As you stroll around, you'll find interesting relics, tombs, old paintings and furniture. They've done a nice job making the museum and cathedral visitor-friendly. The Mallorca Cathedral is simply breathtaking; therefore, it's one of the top things to do in the Balearic Islands!
Alcudia Old Town
Alcudia is a town on the opposite side of Mallorca from Palma de Mallorca. You can access this by bus and explore the old city. Additionally, we suggest taking some time to explore the Alcudia Old Town and then catching the ferry over to the island of Menorca, since it's a shorter ferry ride from this end of the island. Old Town Alcudia is a concentrated part of town offering shops and dining within its old walls. This medieval town lights up at night, creating a romantic atmosphere to stroll around in. You'll get to see remains of Roman houses and an amphitheater, but this ancient settlement is nicely restored. It's simply charming and feels authentic, with the boutiques and local cuisine offered as a gastronomic experience. Additionally, many vacationers enjoy a visit the big outdoor market for an authentic experience.
What to Eat in Ibiza and Mallorca
Fresh Seafood from Ola del Mar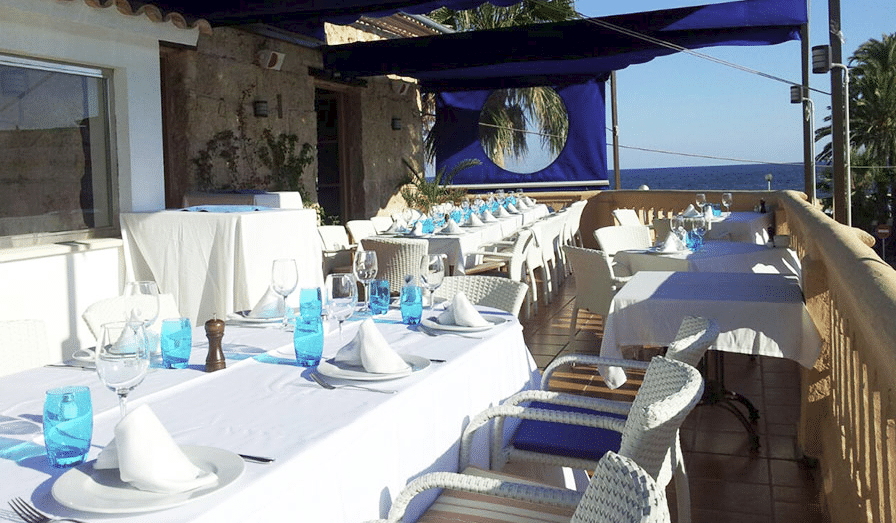 Credit: Ola del Mar
The Ola del Mar is one of the best restaurants in Palma de Mallorca. It impresses us with two things: its beautiful atmosphere (both indoors and out) and its scrumptious seafood options. The restaurant prides itself on serving local ingredients: including both the fish and salt from the surrounding seas. You can sit on the terrace and enjoy the spectacular views. You'll be close to the palm trees and the blue seas. Ola del Mar is located just a bit south-east of Palma, in an old fishing village around Portixol. Like most of the restaurants on the Balearic Islands, the restaurant is closed during the winter.
Ensaimada and Gelato at Ca'n Joan De s'Aigo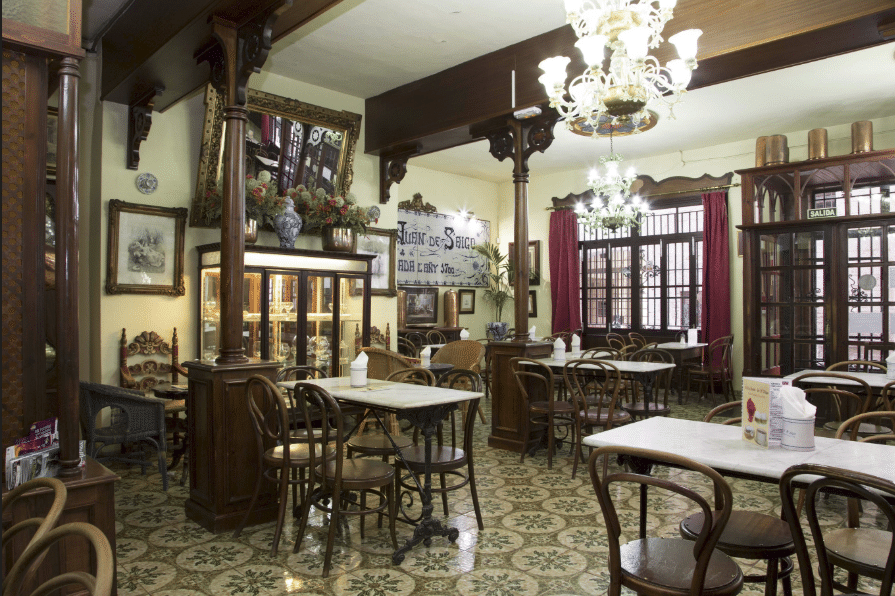 Credit: Ca'n Joan De s'Aigo
The ensaimada is a local favorite of Mallorcans. It's a spiral-shaped pastry with a light layer of sugar icing on top. You'll find it as an option for breakfast time or as an accompaniment for tea. At Ca'n Joan De s'Aigo, you can enjoy an ensaimada with coffee, tea or other pastries. It's a cute, old shop that's definitely worth a stop in. You'll feel a bit as if you're in the fancy estate of Spanish royalty with the red velvet and dark wood. It's located in Palma de Mallorca, basically in the city center.
Tapas at Bai Bai Ibiza
Credit: Bai Bai / Facebook
Of course, you'll want to indulge in the various options of tapas while on this Spanish archipelago. Bai Bai offers a break from the overpriced show scene that much of the dining experiences are in the party town of Ibiza. To enjoy some truly good food, head to Bai Bai in between your parties. It's located very close to the port where the ferries come in to Ibiza. You may have to wait for a spot, but you'll get to enjoy some good wine. The tapas are a great way to get to try many things on the menu! Choose from cold tapas such as Iberian ham, Russian salad, Cantabrian anchovies, or hot tapas such as baby squid with sauteed onions, crispy king prawns, or Burgos sausage rolls. Additionally, branch out and try the "broken eggs" with cod, Iberian ham, or Txistorra sausage.
It's hard to imagine a better vacation destination than the Balearic Islands
The Balearic Islands offer your choice of ideal vacation: relax in the quiet, beautiful wonderland of Menorca. Spend your entire time in Ibiza and soak up the sun and the nightlife. Or, island hop to all four of the Balearic Islands and you can have it all!
Related Article: ​The Ultimate Guide to the Amalfi Coast, Italy​​​