Head to any of these best beaches in North Carolina for a lovely summer vacation.
The beaches of North Carolina have become the summer family gathering destination for generations. The Outer Banks, appropriately titled because it's a thin slice of land situated in the Atlantic Ocean, often garners the most attention. In these Outer Banks, you'll find some of the best beaches in North Carolina. However, it'd be wrong to ignore the many, many great beaches further south in this state.
This collection of best beaches in North Carolina captures some of our favorites all up and down the expansive shorelines of North Carolina. You'll find the beautiful sand dunes, expansive beaches with soft white sand, and waves perfect for body surfing. Those are typical of most North Carolina beaches, so it's hard to pick favorites. Here, we'll show you the best beaches in North Carolina. They have the typical qualities that are so enjoyable of the North Carolina coast, as well as some features that make these top beaches unique.
1. Bald Head Island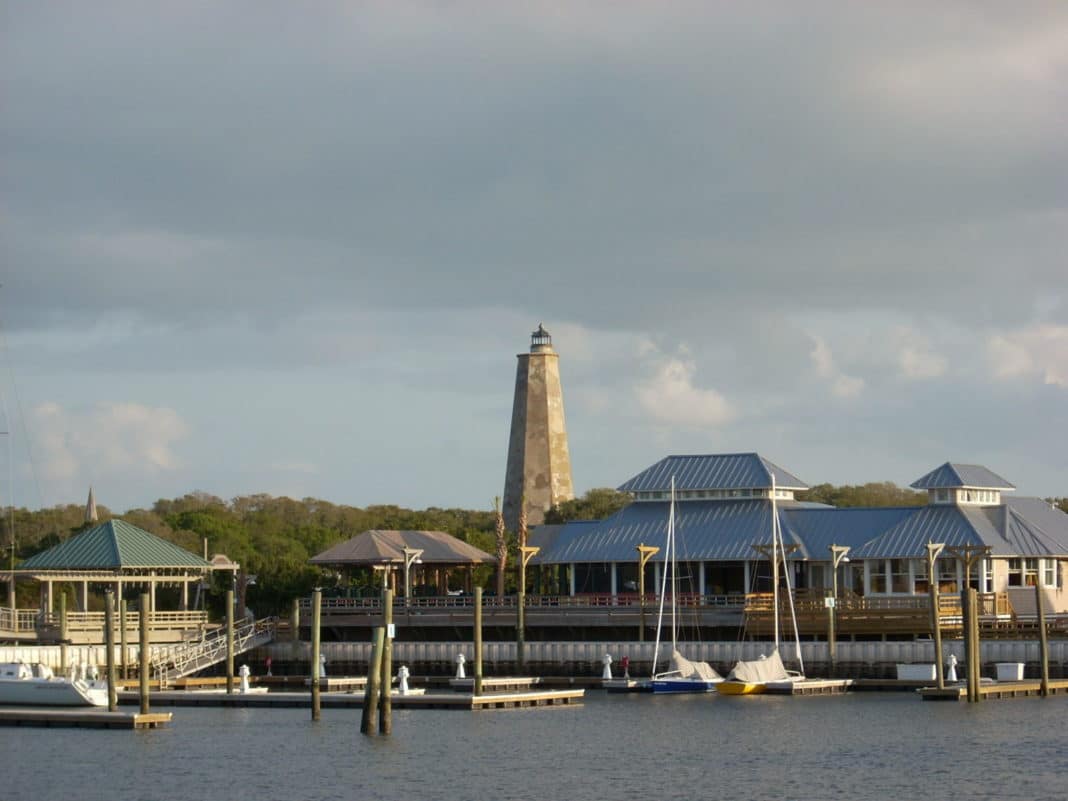 While this article isn't ranked in any particular order, we will say that Bald Head Island stands out as our personal favorite on the North Carolina coast. The greatest part about this best beach in North Carolina? It's a whole island without cars! You'll take the ferry to reach the island. The adorable island is accessible throughout by golf cart, and you'll treat the golf cart as you would a vehicle. Park golf cart among others at the local grocery store, or outside the ice cream shop. Follow the mini paths and cruise down to the beach in relaxed, island time.
This is the ultimate beach vacation, whether you're headed here for a romantic getaway or with the entire family. You'll find plenty of beach access on the island (fourteen miles to be exact) with beautiful dunes and sunsets. Play some golf or lawn games, or just enjoy the lush island. You can tour the Old Baldy Lighthouse, or check out the local museum. The beach offers plenty of room to get away from your neighbors and spend the day playing games or lounging.
2. Cape Hatteras
Cape Hatteras offers a few unique features which earn its spot on our list. It's part of the National Park Service and is considered a National Seashore. This means the natural beauty of the area is impeccable and wild. The Cape Hatteras National Seashore is comprised of barrier islands from Nags Head to Ocracoke You'll likely get to see the sea turtles in the summertime. The area does lots of conservation and protection of these turtles, and you can learn more about this process and see it all in action. The area around the beaches is left in its natural beauty; you won't find restaurants or shops along a boardwalk close by. You can, however, drive your vehicle to get out to the tip of the beach here. You'll also find the nation's tallest lighthouse here; it's worth the climb.
3. Emerald Isle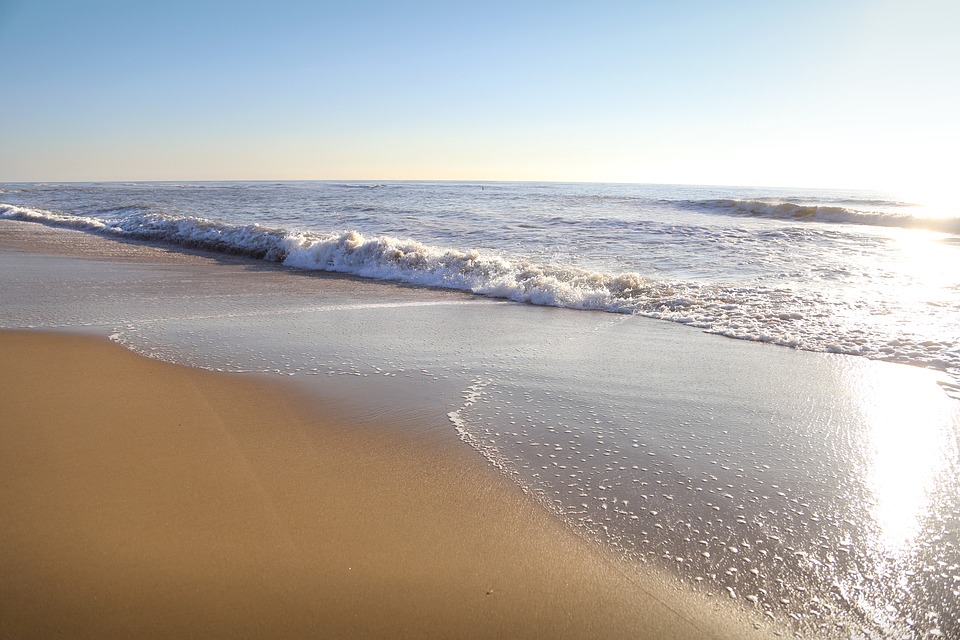 ​
Emerald Isle rests quietly tucked away south of North Carolina's Outer Banks. This "Crystal Coast" of North Carolina offers some splendid natural beauty. There aren't high rise hotels or restaurants overflowing into the beaches, but you'll get to relax with expansive views of the ocean or Bogue Sound. This sound offers some placid waters for paddle boarding, while the Atlantic Ocean offers plenty of room for other watersports. You'll access Emerald Isle through the town of Bogue, which is also located near the Croatan Game Land. On the island itself is Emerald Isle Woods Park. There you'll find some forest trails, a disc golf course, birding sights and shoreline trails.
Close to Emerald Isle, you'll find family friendly options for things to do when you're not at the beach: mini golf, ice cream shops, a waterpark. While you relax on one of the best beaches in North Carolina,, you might even get to spot a bottlenose dolphin. Find more information about the whole Crystal Coast region of North Carolina beaches here.
4. Corolla
Another of the best beaches in North Carolina, Corolla boasts white sand shores, expansive dunes and waves perfect for some gentle bodysurfing. We appreciate that the area around Corolla offers plenty of family fun. Climb to the top of the Currituck Lighthouse, or check out some of the historic destinations. Additionally, you can learn about the local wildlife at the Currituck National Wildlife Refuge. Despite the plentiful non-beach options, the area is still left natural and beautiful. The beach is wide and lined with private houses or rental houses, but of course has public accessways for wherever you're staying. You'll still find options for fun watersports such as boating tours, water skiing, jet skis or kayak rentals.
After playing games on the beach, relaxing in the sand, and boarding in the waves, you'll be ready for some of the best ice cream in Corolla: Corolla Scoops and Sweets. If you're looking for North Carolina beaches with some naturally beautiful, relatively uncrowded beaches and great options for restaurants, ice cream shops and activities, this is it. Corolla is one of the best North Carolina beaches for you!
5. Nags Head
Located on North Carolina's Outer Banks, Nags Head makes a great destination for your family beach trip. Here, you'll find the beautiful, wild beaches that are typical of North Carolina's coasts. However, Nags Head has something extra to boast about: the size of the dunes in Jockey's Ridge State Park. You can try out sand boarding or hang gliding here. Or, you can simply enjoy the soft sand on the dunes while you have a picnic and watch the sunset. The Nags Head area offers some options for off-the-beach fun such as mini golf. We'd suggest taking some time to check out the interesting collections in the Glenn Eure Ghost Fleet Gallery. It's a nice, local alternative to some of the franchises that are often found in these touristy destinations. More information on that here.
6. Carolina Beach
Carolina Beach makes our list of best beaches in North Carolina because of its boardwalk. While the Outer Banks is a popular summer destination, this beach is located further south, close to Wilmington. You'll still find wide beaches with dunes and good waves. Carolina Beach is the name of the town here, not just a reference to the beach in the area. You'll find restaurant options and activities for when you're not on the beach. The boardwalk is especially a favorite, and a reason to visit this favorite of the North Carolina beaches. Here, you'll find shops, restaurants and amusement park rides. It's a classic, or vintage even, boardwalk that will make you feel like you're delightfully stepping back in time.
Beyond the beach and the boardwalk, you'll want to explore Carolina Beach State Park for its great fishing opportunities. Additionally, there are camping spots, trails for hiking or walking, and coastlines along the bay. The Carolina Beach Fishing Pier makes a great spot for watching sunsets!
7. Carova Beach
Carova is a super cool destination, and one of the best beaches in North Carolina. Here's what makes it extra special: this area is only accessible by driving on the beach! It's the most northern part of North Carolina's Outer Banks. There's not quite a town here, and you'll need a four-wheel-drive vehicle in order to drive on the sand to get here.
However, that's exactly the magic of the area. The eleven miles of coastline is secluded. There aren't any hotels, but private homes are available for renting. This area is one of the best beaches in North Carolina for those who are looking for a quiet getaway. There's not a whole lot else besides the houses and beach, but for some, that's precisely the vacation you could want. For you horse-lovers, (and even those who just want to see some cool wildlife), you'll have a pretty high chance of spotting some of the wild horses. Here's a beach vacation that's a relaxing adventure. Pack up your essentials, and head off the grid for your trip!
8. Topsail Beach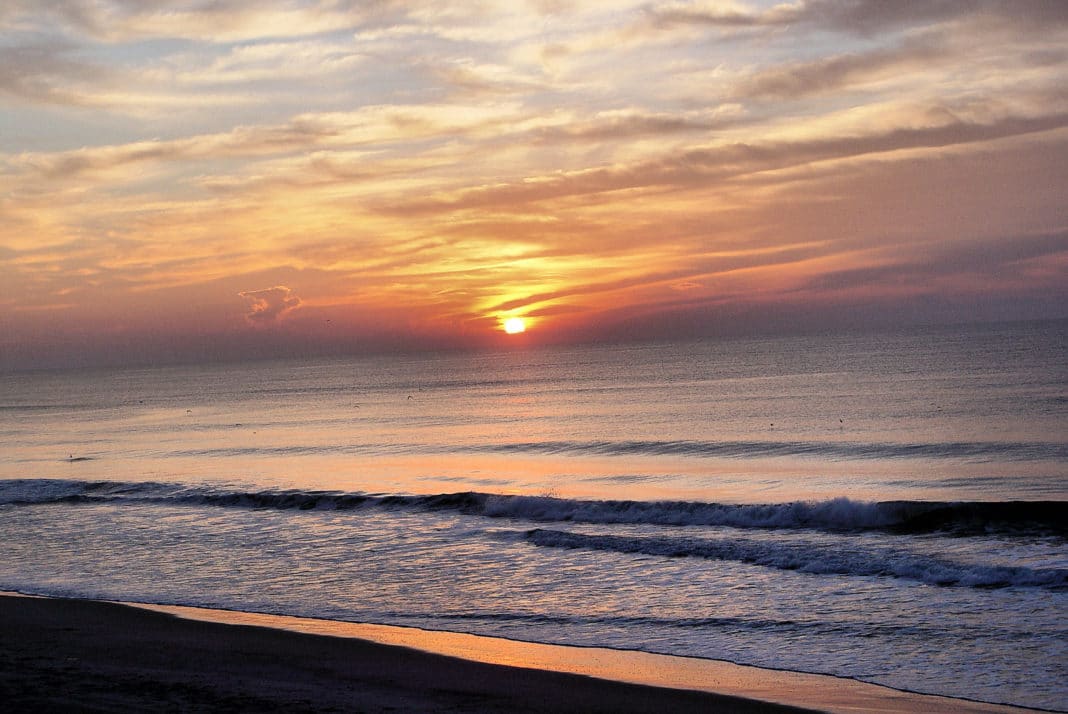 Topsail Beach is a town on Topsail Island, a skinny, 26-mile long stretch of shoreline in southern North Carolina. It's one of the best beaches in North Carolina because of its beautiful sunsets, wide beaches, and natural beauty. Here at Topsail beach, you can take a stroll on the pier, or take a boat ride out into the open seas. Set up camp for the day on the beach, and then take the family to dinner at the favorite Beach Shop and Grill. Topsail Beach has local nature conservation efforts for the wildlife that you can get to be part of, too!
Start Planning Your Family Vacation at These Top Beaches in North Carolina!
North Carolina's beaches make a great destination for summer trips. Traveling to these beaches in North Carolina is relatively easy, and the surrounding area makes for a hassle-free, relaxing vacation. Step away from the chaos and crowds and find your sliver of sand to bask in the warm sun.
Related Article: ​Top 7 Santorini Beaches to Add to Your Greece Bucket List​​​