While the smallest state in the U.S. only takes 45 minutes to traverse, there are still so many things to do. Over 40 miles of pristine coastline are found here home to the finest white sand in the Northeast. Private coves, rugged seaside cliffs, and quaint lighthouses await you. Let's take a look at some Rhode Island Beaches you just can't miss. Are you ready?
We get it. The name is very misleading. However, some of the best beaches in the state can be found on an actual island (Block Island) just a half an hour off the coast. We're here to give you the inside scoop on where to soak up the sun alongside locals or find a private cove all of your own among Rhode Island beaches.
Sure the ocean seems smaller here but don't underestimate Rhode Island beaches. The beauty of the state is that no matter where you roam, you aren't far from the sea. Each stretch of sand we've listed below have a distinct scene and character of their own. Take a look through our picks of the best beaches in Rhode Island catered to specific interests.
1. Block Island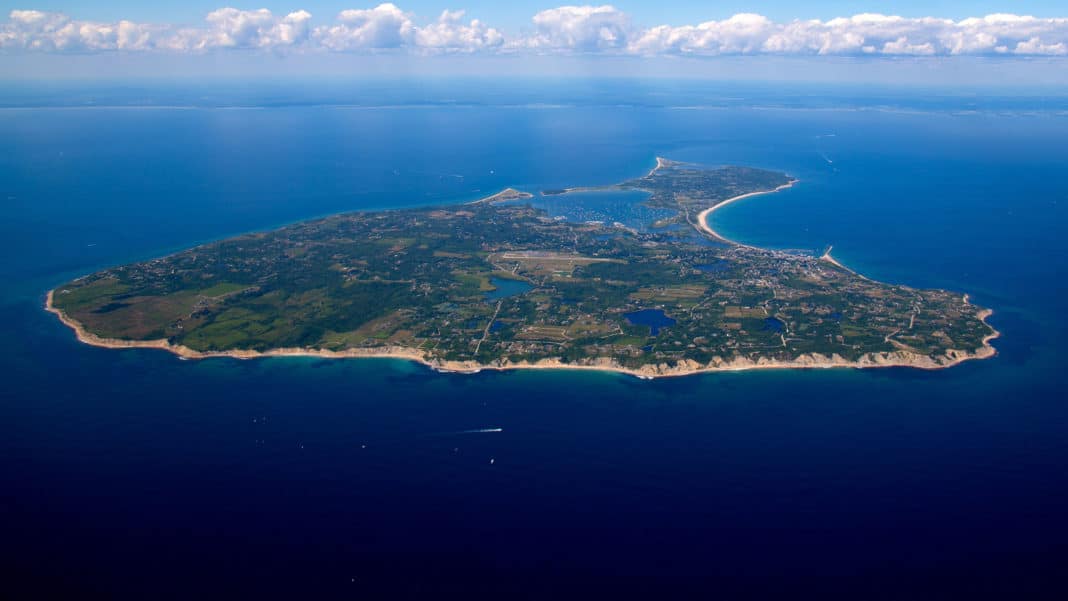 Okay, this is one of our favorite spots to date. Half of the island is consumed by nature preserves leaving plenty of stretches of sand isolated and natural. There's another added plus. It's one of the top surfing spots in the state. The waves off Mansion Beach rarely draw crowds and are fun for even new surfers. If you want to explore it the best way, rent a bike. There are plenty of adorable bed and breakfasts and cafes to explore. Block Island is definitely one of the Rhode Island beaches you need to visit.
Ballard's Beach is a bit cheesy. Tourists love it but that's part of the charm. You've got to be a little touristy once in a while, right? This private beach is just a stone's throw away from the ferry docks. Here, seasoned boatsman and millennials flock to take pictures and grab some hand-crafted cocktails. It's basically the east coast's version of a Caribbean escape. That's why it's one of the Rhode Island beaches you need to visit.
2. Mohegan Bluffs Beach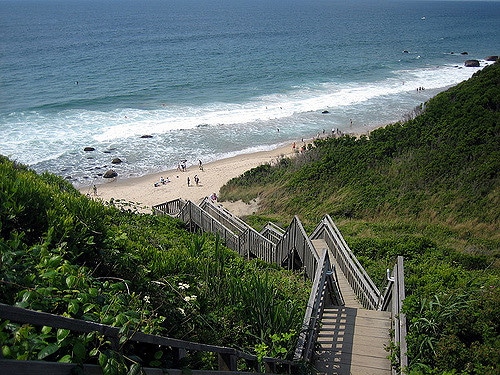 So we mentioned Block Island but how about its Mohegan Bluffs Beach? If you're looking for a quiet spot to get away, try out these 17 miles of wonderfully uncrowded sand. Just below the namesake bluffs, the sand offers up incredible views. On a clear day, Mohegan is one of the best places to catch a view of Montauk on neighboring Long Island.
3. Rough Point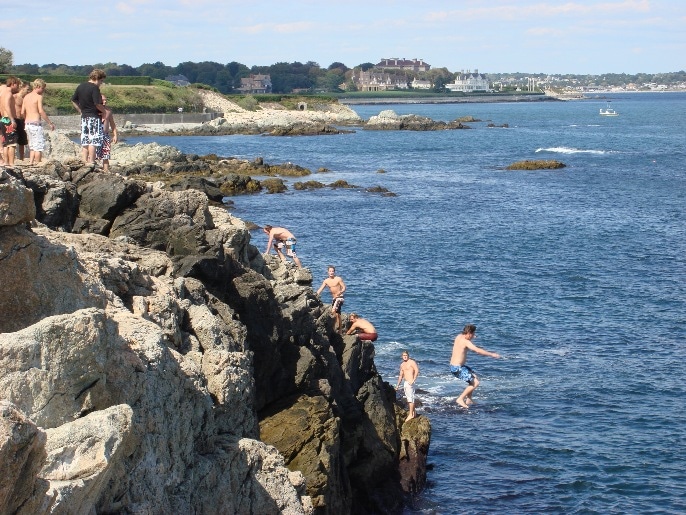 A trip to Newport wouldn't be complete without visiting Rough Point. Come in the early morning if you can before the crowds start to trickle in. There are plenty of spots to set up shop and enjoy a brunch picnic.
When you're ready for some sand and surf, temperatures tend to cool down in the later afternoon and early evening. There's nothing worse than cooking in the blazing summer sun while in a wetsuit. Besides beating the heat, you'll also avoid crowds as they tend to stay for midday. The parking lots over on First, Second, and Third typically stop charging by 4 PM. Free parking for the win! P.S. Third Beach is a popular spot for families with young kids. Rough Point is one of the most popular Rhode Island beaches.
4. Basically Any Beach In South County
Take Matunuck Beach road for two miles onto Route 1. Stretches of open road take you past scenic cliffside views, ice cream stands dot the way, and the cool ocean mist sails through your open windows. You're leaving vegetable and cornfields in your rearview mirror. White picket fences ahead stand overgrown with fuschia roses. These are the colors of summer.
For New Yorkers and Bostonians, Rhode Island beaches offer the perfect summer escape. Like them, we recommend leaving the big city behind you for a bit. There's much to be discovered among private coves and the gentle foaming waves. These are just a few reasons why South County is the underrated hero of the east coast.
Here, the Rhode Island beaches are wonderfully simple and unpretentious. South County is home to 100 miles of sand and twenty different public beaches. Some of our favorites include Narragansett Town Beach (aka the local surfing haven) and East Matunuck State Beach (aka the kids and family fun zone). While the waters from Block Island aren't exactly the caliber of Fiji, the rocky strands, sun, and sand certainly have their own unique appeal.
Last but not least, you'll find plenty of hidden treasures in the local hotel scene. Interiors are heavily influenced by 1960s surf culture, offer simple but lovely views, offering all the accommodations you need for a beach home away from home.
5. Goosewing Beach, Little Compton
Among all the Rhode Island beaches, Goosewing is one of the most untouched strands of paradise. Come here for early scenic morning runs and to watch the sunrise. This pristine crescent alcove is covered in grassy dunes, shallow tide pools, and a host of protected fauna. The mellow scene lasts well until the sunset until the sand is covered with marshmallow roasting and the warmth of campfires.
6. Misquamicut State Beach, Westerly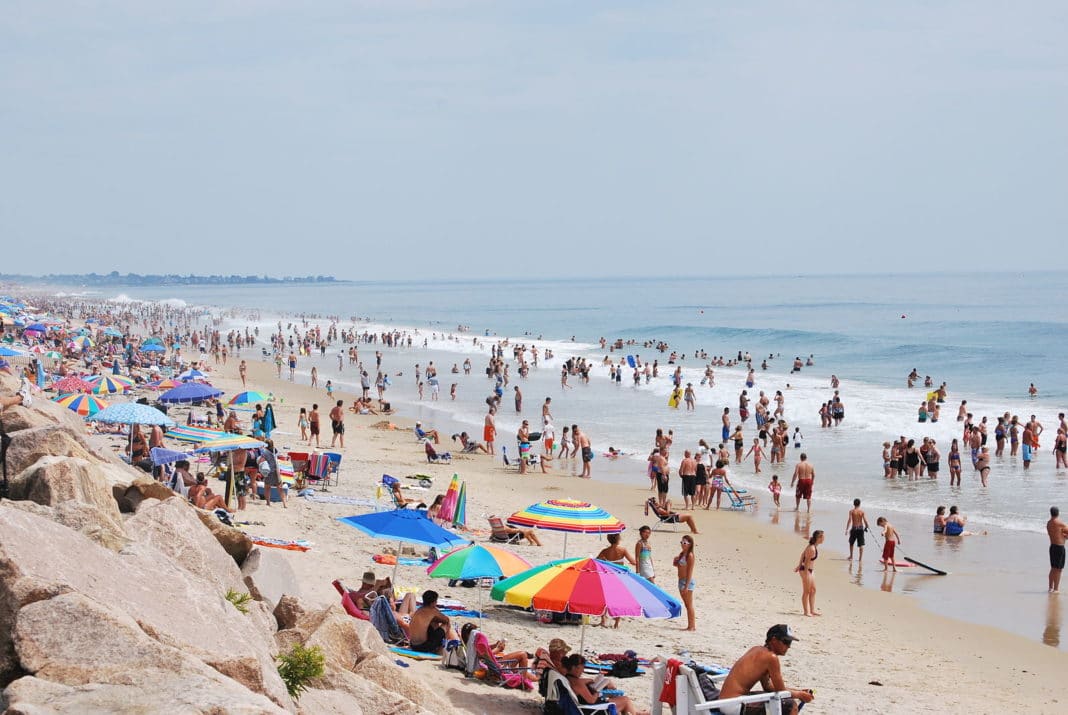 At seven miles, this is the state's longest and most crowded beach. This is *the* place to be for summer. Misquamicut is all about action sports. Choose from paddle boards, jet skis to rent, surf lessons, bumper boats, water slides, and more. By night, the scene changes into a giant karaoke concert. Want to know our recipe for fun? Buy a tacky tee and be the unashamed ultimate tourist.
7. East Beach, Watch Hill
Word on the street is that Taylor Swift's summer house is here. Now that we've got your attention, we can tell you the rumors are true. While East Beach certainly isn't the ritziest beach on the east coast, we can see why she made it one of her many summer escapes. For one thing, this old-money hangout offers up a great place to catch some waves and clear skies covered in stars every night.
8. Easton's Beach (aka First Beach), Newport
This beach is ideal for families, offering a playground and an educational on-site Save the Bay Exploration Center. Add in cabanas, chairs, and boards to rent and you've found yourself a vacation paradise. Here's a pro tip: Leave your packed lunch and save yourself from a cooler sand mess. The twin lobster rolls at Easton Beach Snack Shop are more than worthy of dropping the dough on.
9. East Matunuck Beach, South Kingstown
Come indulge in oyster appetizers and wash it all down with a glass of rose. East Matunuck offers 102 acres of saltwater strands to park your beach chairs at. Just a heads up, there's limited parking. But limited parking means limited crowds. The bliss doesn't end there though. Low waves, warm water, and an abundance of seashells are just the cherry on top. As one of the best beaches in Rhode Island, options abound.
10. Sachuest Beach
Known by the locals as Second Beach, this little stretch of sand spans 1.25 miles near Newport. It's angled just perfectly to offer epic views of the setting sun adjacent to Rhode Island's famous coastal city. Waves glitter in the dim light of the purple sky as the last rays of warmth tuck behind the clouds, leaving a slight glow on the wet sand. Nearby, Sachuest Point National Wildlife Refuge offers an ideal escape for a peaceful sunset stroll.
11. Clay Head Preserve
Photographers, this one's for you. A Nature Conservancy Property, this 190-acre preserve offers a prime place for views of the sea. Located at the far tip of the Northeast of Block Island, you'll find an otherworldly scene of stark cliffs, pastel blue water, and strands of seaweed debris. Here's a pro tip: Wildlife photographers, visit in the fall. This is the best time to catch some shots of migratory songbirds. Wind your way to the top of the cliffs for some unmarked trails to explore.
Find Your Happy Place
While Rhode Island isn't the place most travelers would think of for a beach escape, that's what makes it so perfect. Even in the summertime, there are plenty of empty beaches to find for a serene escape from the bustle of the big city. There's something special about this state. While most beach land has been bought up as prime real estate, Rhode Island beaches manage to retain an atmosphere of old-world charm and exclusivity. Book your trip to the Ocean State and find your happy place.
Do you have any questions or comments for us? Perhaps, you've been to Rhode Island beaches before and have some hidden gems to share with us. Feel free to leave us a message in the comment section below. We will be sure to get back with you soon.
Related Article: 18 Best Black Sand Beaches in the World