Enjoy your trip to the Midwest by exploring the top 5 things to do in Omaha Nebraska!
Ah, Omaha. This city doesn't get enough credit, especially since we're convinced it's one of the best Midwest cities to live in. With a city so full of history and culture, there is no shortage of fun things to do in Omaha Nebraska. In fact, Omaha's history dates back to its Native American roots from which it got its name, and the city does a fine job at honoring its culture and heritage. This makes Omaha even more fascinating to explore!
If history doesn't excite you, then maybe Omaha's lively arts and music scene will. Or the fact that the economy is consistently thriving thanks to a solid selection of Fortune 500 companies and a growing startup tech scene that are based there. Maybe you'll fall in love with Omaha Nebraska because honestly, the people are just too darn nice not to. I mean, if there are enough things to do in Omaha Nebraska to keep billionaire Warren Buffet entertained, then it has to be good enough for the rest of us.
The best thing about Omaha Nebraska is that it's a big city with a small town feel. It doesn't take more than 20 minutes to get to your next destination, which means your trip to this fantastic Midwest city is going to be full of sightseeing and activities. Read on to get a taste for why this city is such a great place to be and ideas for fun things to do in Omaha Nebraska.
1. Take in the lively arts and music scene!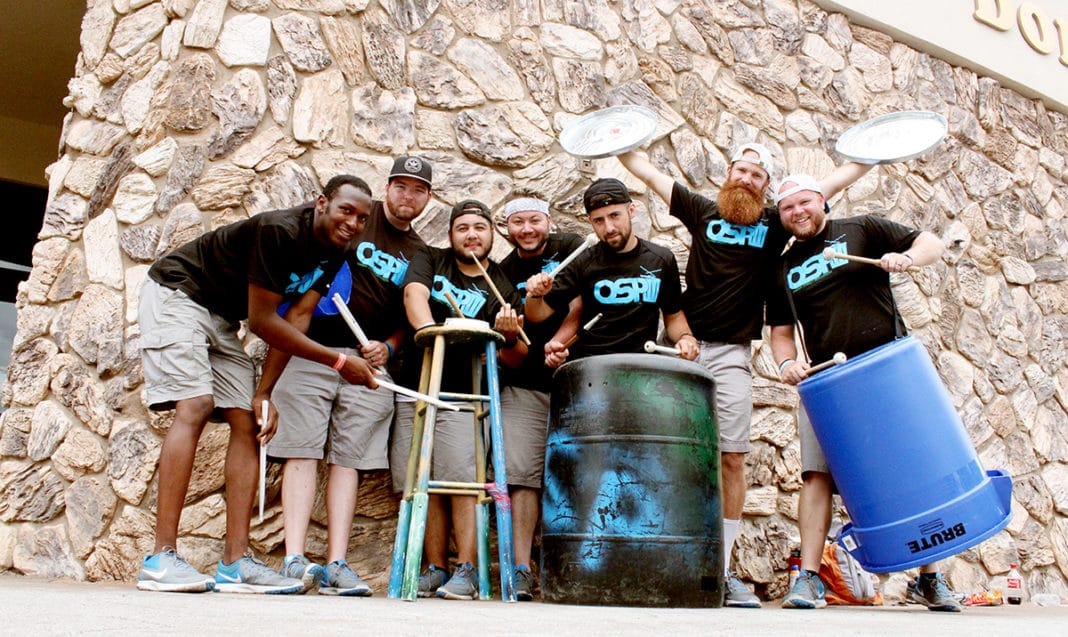 Credit: Omaha Conservatory of Music
Don't let nicknames like "The Cornhusker State" fool you – Omaha Nebraska has an arts and music scene that can compete with that of any big American city! There are music events going on all throughout the year, including the 402 Music & Arts Festival that goes on every summer. This two day camping and music event features some of the best local and regional bands in the state. It's easily one of the funnest things to do in Omaha Nebraska every year. The intimate venue sets up three stages and space for guests to pitch their tents. During the day you can relax and listen to music, or take part in outdoor activities like hiking and tubing that the festival provides!
Omaha Nebraska is also home to the Omaha Performing Arts! This facility offers the best Broadway, jazz, blues, dance, comedy, family-friendly, and other popular entertainment year round. This is one of the best things to do in Omaha Nebraska for tourists looking for a good show and good laughs. To get ideas for fun things to do in Omaha Nebraska at night, check out the full events calendar here.
Omaha Nebraska is also home to Saddle Creek Records which has founded dozens of local artists and bands that you can find playing around the city year round. You can catch many of these bands at the annual Maha Music Festival, which we highly recommend paying a visit to! For a more relaxed tour of the arts and music scene in Omaha Nebraska, consider stopping by one of its many arts museums, like the Joslyn Art Museum, Durham Museum, or Loves' Jazz & Arts Center. If you're looking for activities for kids to do in Omaha, Omaha's Children's Museum makes for a fun afternoon for the whole family!
For an even easier view of the city's music and arts scene, simply spend an evening in Downtown Omaha. The area is home to mom-and-pop style restaurants, friendly local bars, and casual live music performances. A trip downtown is a great option for anyone looking for things to do in Omaha Nebraska at night!
2. Visit Malcolm X's birthplace and other historical sites!
Credit: Nelo Hotsuma
Omaha Nebraska is proud of its history and makes an effort to showcase it for both tourists and its locals. One of the most popular things to do in Omaha Nebraska is visiting the birth site of American minister, Malcolm X. Though the house itself no longer exists, a large monument has been put up in its place in honor of the civil rights leader's birthplace in northern Omaha. The grassy 12-acre property is open to the public and free of charge. Visiting this historical site is definitely among the top ten things to do in Omaha Nebraska for tourists.
While you're on your historical tour, there are a few more places to consider! One of the top Omaha area attractions is The Lewis and Clark landing.  This 23-acre landing commemorates the famous exploring duo's journey through Nebraska. Just off of the Missouri River, The Lewis and Clark landing offers a handful of interactive and interpretive exhibits for guests to help them get a feel for what it was like to trek across Nebraska all those years ago. Other sites within walking distance of the landing is The Martin Luther King Jr. Pedestrian Bridge (which also features many interpretive exhibits) and the Bob Kerrey Pedestrian Bridge which connect Omaha Nebraska to Council Bluffs Iowa. Didn't we say all of the fun things to do in Omaha Nebraska are within 20 minutes of one another?
One final historical site we recommend seeing during your stay in Omaha is Boys Town. This village, which is technically located in the suburbs of Omaha in Douglas County, was founded in 1917 as the headquarters of the Boys Town organization founded by Father Flanagan, an American priest who was known for his work with at-risk youth. In 1917 Boys Town was dedicated to the care, treatment, and education of underprivileged children, and the facility still stands today for the public to view.
There's also Florence Mill, Freedom Park Navy Museum, Fort Atkinson State Historical Park – the opportunities to take in Omaha's past are endless!
3. Visit the Old Market and other spots downtown!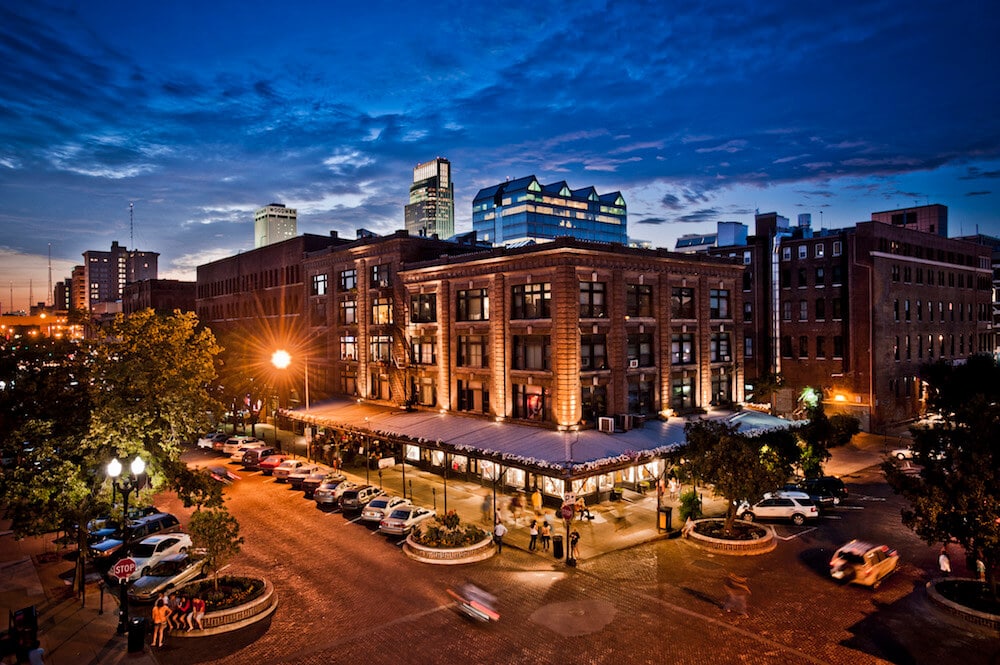 Credit: Group Tour
Those interested in finding fun things to do in Omaha Nebraska at night and on the weekends may want to pay extra close attention to this section. Omaha's Old Market Entertainment District is full of unique boutiques, one-of-a-kind antique shops, local restaurants and bars. The district's cobblestone streets enhance its historical and inviting ambience and is a go-to spot for many locals, therefore you know it's a safe bet to spend your evening there! Street musicians and artists and spread throughout the area year round which makes for another great opportunity to take in the music and arts scene in Omaha Nebraska.
We highly recommend that while you're in and around the Old Market you treat yourself to a delicious meal. The Twisted Fork Grill & Bar is a fan-favorite that will not disappoint. This go-to spot for locals is smack-dab in the middle of Old Market, making it a perfect place to stop at in between shopping and bar hopping. The menu offers American food with a "Cowboy Twist" to blend "midwestern hospitality with cowboy bravado." We recommend starting with Chicken Fried Bacon or Cowboy Meatballs, followed by the Bacon Gouda Pork Chop and Apple Pear Crisp for dessert. Heck, throw in the Molten Chocolate Lava Cake while you're at it! You're in Omaha Nebraska – this is no time for counting calories!
After dinner take a gander over to Backline Comedy, home of the best improv and standup comedians in Omaha, for some late night entertainment! If you're looking for a post meal beverage (and trying to get into the local groove) a great bar to check out is Billy Frogg's. The bar and grille has been a part of Omaha's Old Market for nearly 30 years and attracts some of the best people in Nebraska. On tap you'll find everything from your favorite stouts to local Omaha brews. Be wary, though: Billy Froggs's has been voted time and time again as the best college bar in Omaha Nebraska, so if you're trying to avoid the millennial crowd, this may not be the spot for you! If you're already a part of the millennial crowd, however, get yourself over to Billy Frogg's ASAP!
The best part of all is that the Old Market area is within walking distance of some of the best hotels in Omaha, including the Embassy Suites Omaha Downtown Market, the Hilton Garden Inn Omaha, and Magnolia Hotel Omaha. These are great hotel options for those looking to maximize their time downtown during their stay in Omaha Nebraska!
4. Stay active and get outside!
If you're an outdoor enthusiast, then consider Omaha Nebraska one giant playground for your to climb on. To ease in to your day in the great outdoors, take advantage of one of the many beautiful, tree-line parks Omaha has to offer. We suggest starting at Heartland of America Park! Home to the Lewis & Clark Landing we mentioned earlier, this pet-friendly park is just across the street from the historic Old Market area in the center of downtown Omaha. The park has so much to offer, including waterfalls, gardens lots of open spaces, and, to top it all off, the tallest shooting fountain in Norther America! If you come by the park at night, you can see the fountain lit up in all its glory. The footpath that circles the lake is perfect for couples to walk around after their coffee date at Howlin' Hounds Coffee in the Old Market. If you go there, sidestep your usual black coffee or skim latte. The baristas there are so knowledgable of their craft that it's fun to just tell them the kind of drinks you like and let them whip something up for you!
In continuation with our park theme, your next stop should be to Memorial Park. This is easily one of the most iconic parks in Omaha Nebraska and is a great spot to go to get in some fresh air. The park has plenty of biking trails for the more active outdoorsmen as well as walking trails for those who prefer a leisurely afternoon with nature. For even more Omaha fun, check out the Henry Doorly Zoo and Aquarium! According to CNN, Henry Doorly is the Best Zoo in the U.S. In 2014, TripAdvisor went as far to name it the best zoo in the world. The zoo holds more than 1,300 species of animals! The zoo's highlight, however, is the Desert Dome, the world's largest indoor desert. Animal lovers will find themselves never wanting to leave Omaha Nebraska.
Many of you might not know that the Missouri River valley, which Omaha is located right near, is along a main migratory path. This makes Omaha Nebraska a real hotspot for birdwatching! This activity takes a bit of patience, but it can leave you with some great photos and memories to bring home. If you want to go birding in Omaha, consider visiting during peak seasons in the spring or fall. Not only will you be able to see bird species you've likely never come across, you'll get a better understanding for the diverse landscape that encompasses Nebraska. There are lakes, prairies, woodlands, and riverbanks all around Omaha. Like we said – Omaha Nebraska is a city with a small town feel and gives city lovers and outdoor enthusiasts the best of both worlds.
5. Sit back and relax at one of Omaha's many breweries!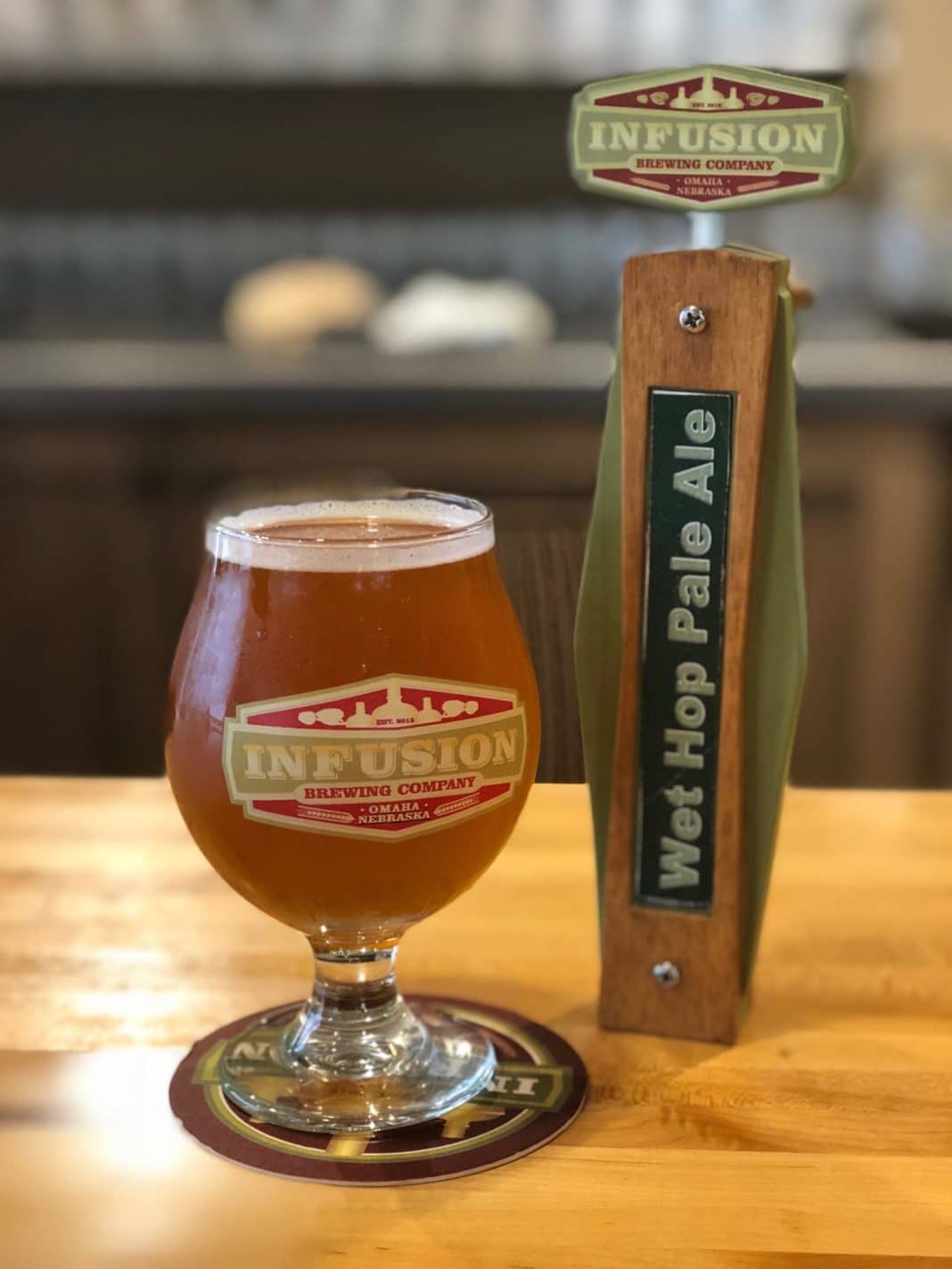 Credit: Infusion Brewing Company / Facebook
We get it, you love your beer – Omaha Nebraska does too. Diverse craft breweries are sprinkled all throughout the city and make for a great spot to unwind after a long day of sightseeing. In fact, Thrillist ranked Omaha as one of the top up-and-coming beer cities in the United States. A fan-favorite in Omaha's craft beer scene is Infusion Brewing Company. Located in the heart of the historic Benson neighborhood in Omaha, Infusion is continuously rotating out ten different beers on tap while keeping some ol' faithful brews, like the Vanilla Bean Blonde, in the taproom year round. The brewery's location has a small town, main street vibe. Inside there are a bunch of communal tables set up that creates a cozy and intimate feel for guests. Be sure to try out their Grahamber Ale, which basically tastes like a Graham Cracker was dunked into your glass. The taste is unique and flavorful and perfect for fall weather. You're going to like it so much you'll probably end up bringing a growler full of the brew home with you!
Another brewery that locals adore is Thunderhead Brewing Taproom. Stout lovers will enjoy their nitro Russian Imperial Stout, "Your Argument is Invalid" while wheat beer fans will find solace in "Prairie Peach Wheat" and "Cornstalker Dark Wheat" (Get it? Because Nebraska is called The Cornhusker State?) While this brewery doesn't have a food menu, they encourage you to bring your own! Talk about a friendly, small town, authentically Omaha Nebraska vibe.
Get ready to fall in love with Omaha Nebraska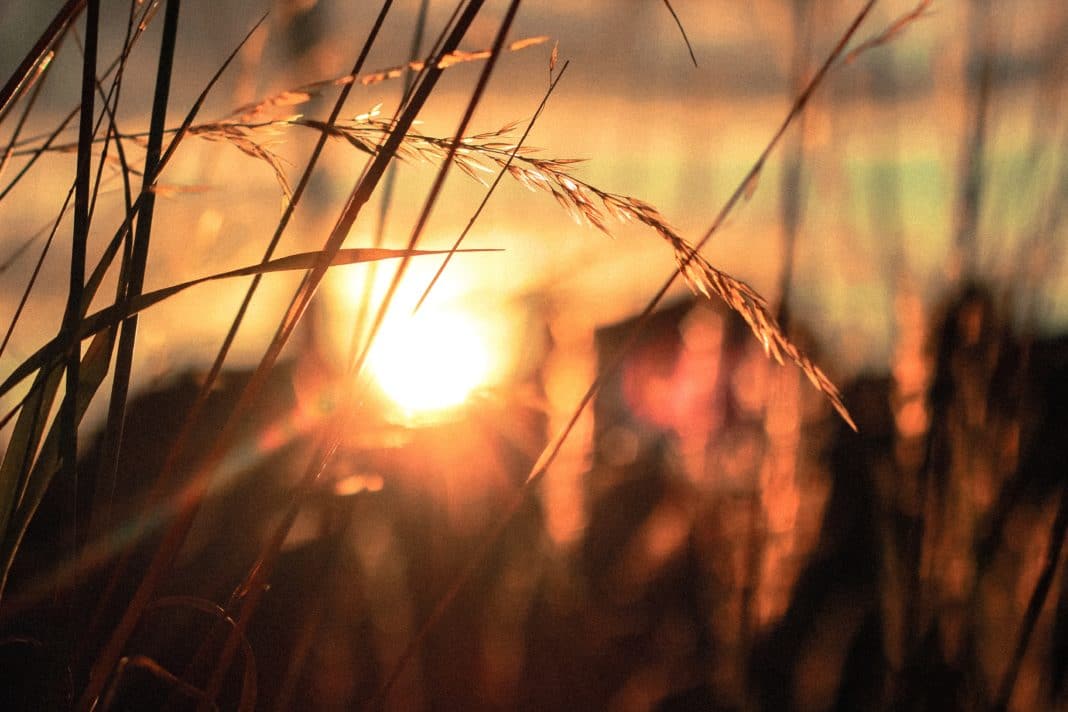 Once you come to Omaha you're going to have a hard time convincing yourself to go back home. This city has something for everyone, from outdoor adventures to adorable shopping districts to friendly entertainment events. Whether you're here for a long stay or just passing through, everyone in Omaha Nebraska will welcome you with open arms and engross you in genuine conversations. Sure, big cities like New York and Boston are fun. But you'll never get that homey, small town feel you can get in Omaha.
What are you waiting for?! Pack your bags and go – Omaha Nebraska is waiting for you!
​Related Article: Top 9 Things To Do In Iowa