If there's a chance our travel can go smoothly, we'll take it. These smart travel accessories are the ultimate life hack.
Check your problems at the gate. Whether you're traveling for business or pleasure, having smart travel accessories makes all the difference. When you come prepared, you can reduce the risk of running an inconvenience on your trip. All you need is the right equipment for the job. Luckily for you, you have us – and the world wide web on your side. Is there a screaming baby behind you on the plane? Noise-canceling headphones. Phone battery dying while you're lost in an unknown city? Portable power bank.
You get the idea. But the list goes on – literally. There are smart travel accessories out there that make life so much easier. And if you can get by with minimal stress and get some more sleep, why not do it? Follow our tips and you'll be organized, comfortable, and ready to enjoy your vacation when you arrive. Check out our list of must-have items and get rid of that pesky pet peeve.
Here Are Our Picks for the Best Smart Travel Accessories
1. TEMPUR-Lumbarcushion
Just because you're on the go doesn't mean you have to sacrifice comfort. One of the worst things we can think of is having a tired back and improper support. Whether you are getting ready to sit for a long-haul flight or a road trip, rest easy knowing comfort awaits. The TEMPUR-Lumbarcushion is designed to support your middle and lower back during long trips. It comes with a removable, washable, and allergen-resistant cover so you'll feel fresh after every use.
Tech Specs:
80% polyester, 20% propylene

Ergonomic shape

Removable, washable, allergen resistant case

check

Tempur material that adjusts to your shape

check

Travel size measures 10" by 11" by 2"
2. World's Best Cozy-Soft Microfleece Travel Blanket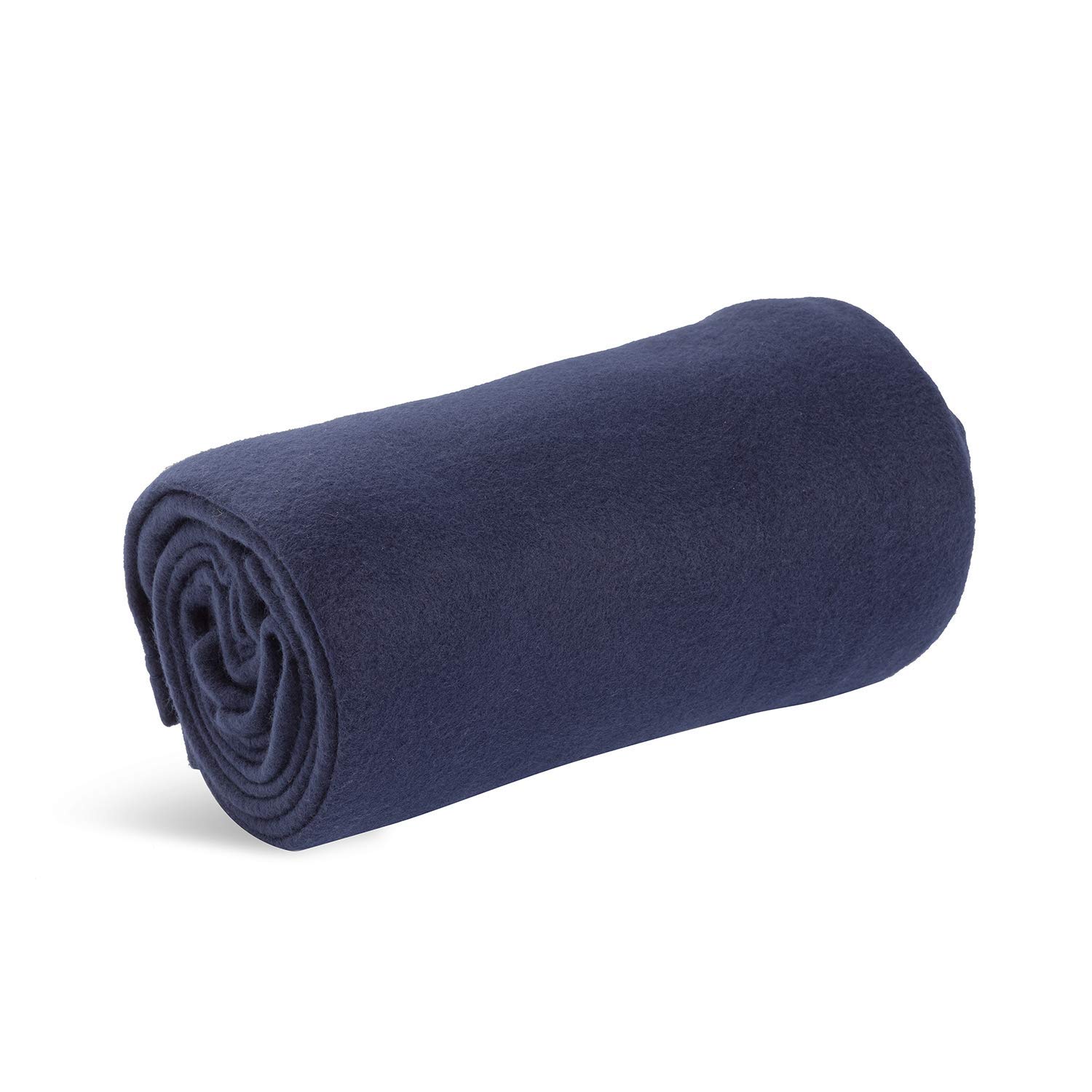 Enjoy a first-class experience from economy seating. If you can do that, you know you're doing life right. This super cozy micro-fleece blanket is made to keep you warm wherever you go. We all know how frigid it can get on the plane. The good news is that you can bring this little bundle just about anywhere you go. It packs away into a small space and is wonderfully lightweight.
Compact and machine washable, it spreads out to 50 by 60 inches. Wolf Manufacturing Company offers nothing but the best when it comes to travel accessories. Their line of neck pillows, travel blankets, fleece throws, and more make living life on the go pleasant.
Tech Specs:
Micro-fleece fabric

Measures 50 by 60 inches

Machine washable

check

Lightweight

check

Easily packable and portable
3. GO2 Compression Socks for Women & Men
Have you ever experienced tired, aching legs on a long-haul flight? The GO2 compression socks offer so many benefits. First off, they help provide relief to tired legs, reduce ankle, calf, feet, and leg swelling. But that's not all. They also help work to improve your blood's circulation, enhancing your physical well-being during daily activities. They are used by people in all stages of life and from all walks of life.
For anyone who is on their feet all day or struggles with restless leg syndrome, these compression socks offer a great relief. The extra cushioned sole helps reduce the negative impact and stressed on your feet. Only the best materials are used in its construction. With ultra stretchy fibers, these socks are so comfortable to wear. All socks from GO2 come with a 100% satisfaction guarantee.
Tech Specs:
Helps to improve circulation

Reduces calf, ankle, and foot swelling

Compression

check

Helps aid faster post-workout recovery

check

Anti-odor and anti-bacterial

check

Machine washable

check

Materials: Nylon, lycra, spandex

check

100% money back guarantee
4. Kindle Paperwhite E-Reader 6"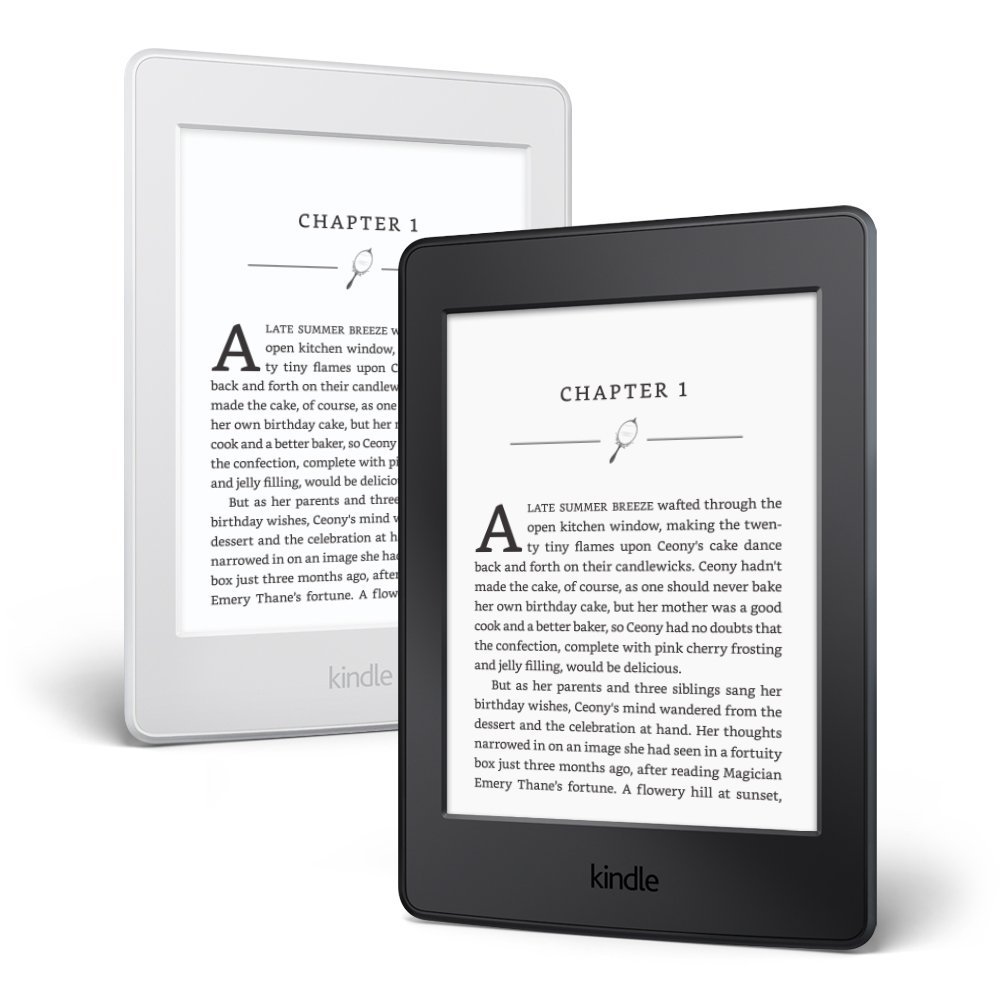 Lose yourself in a good book. Or lose yourself in hundreds. Reading on the go has never been easier with the Kindle Paperwhite E-Reader. This is one of those smart travel accessories you've just gotta have for the plane. Pull out your travel blanket, set your tea on your pull-down tray table, and get cozy.
By its very design, the Paperwhite creates the perfect reading sanctuary. Unlike your phone or a tablet, Kindle knows not to distract you with social media, text messages from your Aunt Becky, and emails. With a high-resolution display, you can read whatever you want whenever you want to. A single charge can last for up to six weeks at a time.
Remember when you were a kid and you used to read under the covers at night? While that's probably why you needed glasses in the seventh grade, you won't have to worry about straining your eyes here. The Kindle Paperwhite offers a high-resolution display screen and is made for optimal reading. Get this…The light is made to shine towards the surface of the display. Unlike backlit screens, you can read comfortably without the strain.
And for those times when you don't want to put the book down, it's light enough to be held comfortably with one hand. Welcome to the next generation style of reading. While we love a good hard copy book as much as the next person, it's not always practical to carry on vacation. This warm and contemporary style is crafted for readability. Enjoy larger font size for easier reading, a clean layout, and over half a million books to choose from, including best sellers. Thousands more are being added each and every week.
Tech Specs:
Available in black or white

High-resolution display (330 ppi)

Built-in adjustable light

check

No screen glare

check

A single battery charge can last for weeks

check

Over half a million books to choose from

check

Amazon Prime members can enjoy books for free
5. ZWolf Noise Cancelling Earplugs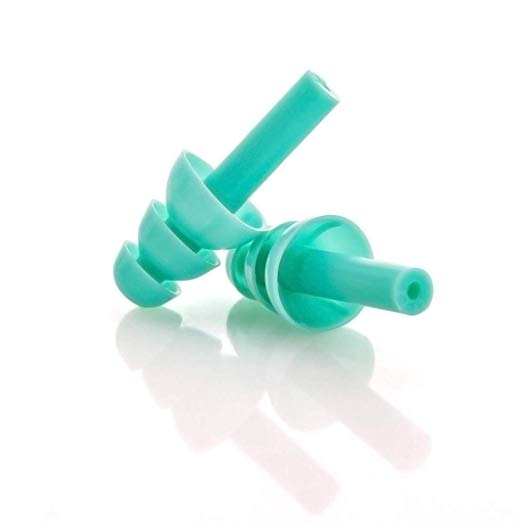 Protect your peace of mind. Frequent fliers know that screaming babies will be a common theme in their lives. But you don't have to sweat it. You can sleep easy with smart travel accessories like these noise-canceling earplugs from ZWolf. Thanks to this reusable silicone design, you will wake up feeling rested and ready to seize the day.
Made with a hypoallergenic medical-grade silicone, these plugs are 100% safe for your ears. They are also waterproof, super lightweight, and easy to wear. You won't have to worry about them falling out of your ears. Even if you wear them all night, you won't feel sore in the morning. They also come with a practical storage case so they will always be within easy reach. You never know when a pair might come in handy.
Tech Specs:
Comfortable and easy to wear

Hypoallergenic

Noise cancelling

check

Safe to wear

check

Reusable silicone design
6. Sleepy Ride Airplane Footrest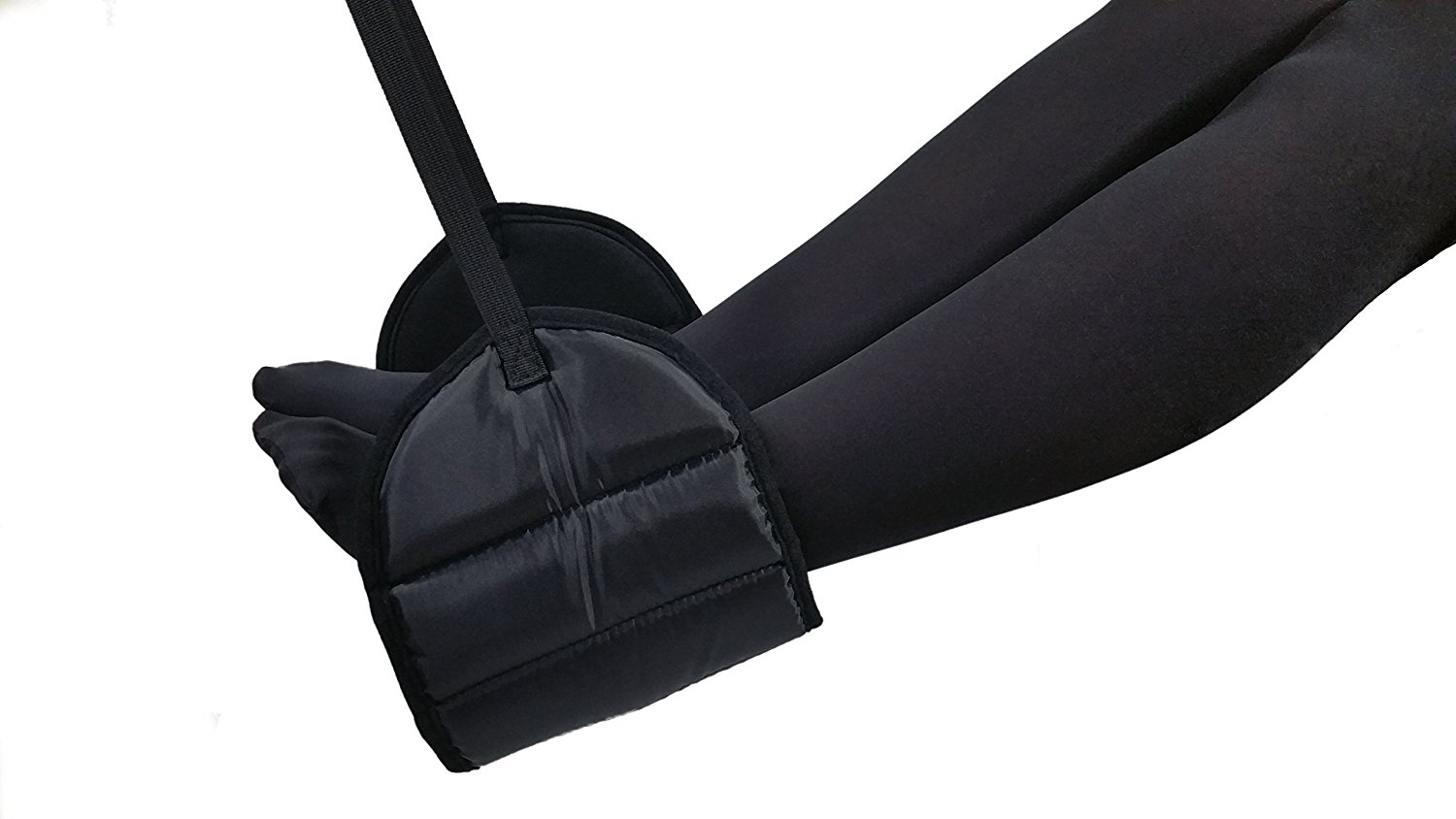 Here's another one of those smart travel accessories that makes economy feel like first class. Have you ever wished you could just kick your feet up on the plane? Well, now you can (Disclaimer: this doesn't work well for tall people. If you're 5'8" or under, you're in luck.). This airplane footrest from Sleepy Ride is ingenious. Crafted with a high-quality, thick memory foam, it feels like you're sitting in your recliner at home.
To set it up, simply pull down your tray table in front of you and wrap the sling around the back. The footrest will hang down underneath. When you put your seat back, you'll have plenty of space. You can also clip it around the tray table and then fold the table back if you want more room. Not only does it reduce discomfort in your feet and legs but it also helps to prevent lower back pain.
Since it is so lightweight and compact, you can easily slide it into your backpack and travel tote. It comes with a handy drawstring bag for safe keeping. When you arrive at your destination, you will feel refreshed and ready to go. Treat yourself to the comfort you deserve. This travel accessory also makes a wonderful gift.
Tech Specs:
High-quality, thick memory foam

Helps to prevent lower back pain

Easy to use

check

Lightweight and compact
7. eBags Ultralight Packing Cubes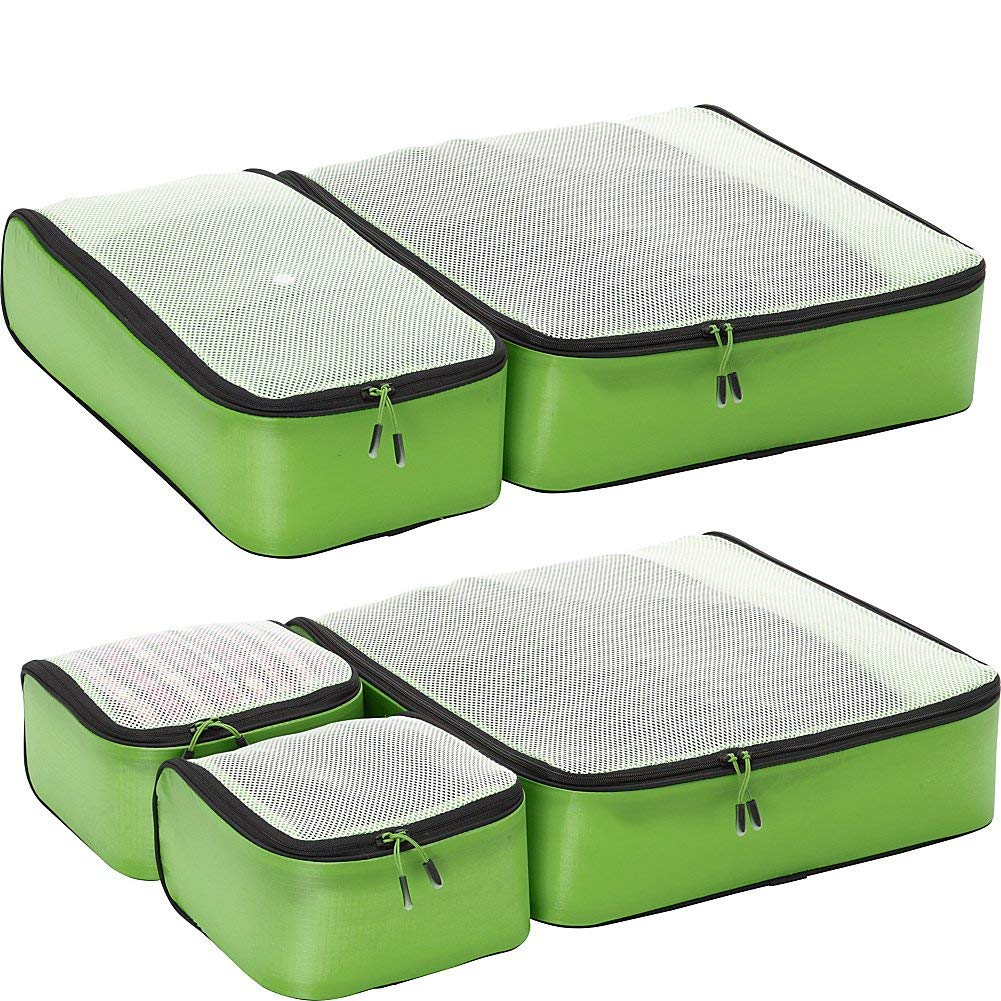 Have you ever tried using packing cubes from ebags? This is one of the best ways to stay organized on the go. Made from a strong and durable Cordura nylon, these packs are made to last. Instead of digging through your bag trying to find that one favorite shirt, organize them by style.
Grab corded zipper pulls make the packs easy to open and a full mesh panel provides both visibility and ventilation. Lastly, the spring-loaded frame design holds its shape while you fill them up with the essentials. The difference is in the details. Of all the smart travel accessories on our list, this one is a definite must-have.
Tech Specs:
Contains 5 cubes in one set

Measurements are as follows:

1 Slim (13×6.5×3.5in), 2 Small (6.5×6.5×3.5in) and 2 Large (13x13x3.5in)

Spring-loaded frame design keeps upright while you pack the cubes

check

Cordura brand nylon fabric

check

Interior silicone coating

check

Exterior polyurethane coating
8. Wise Owl Outfitters Hammock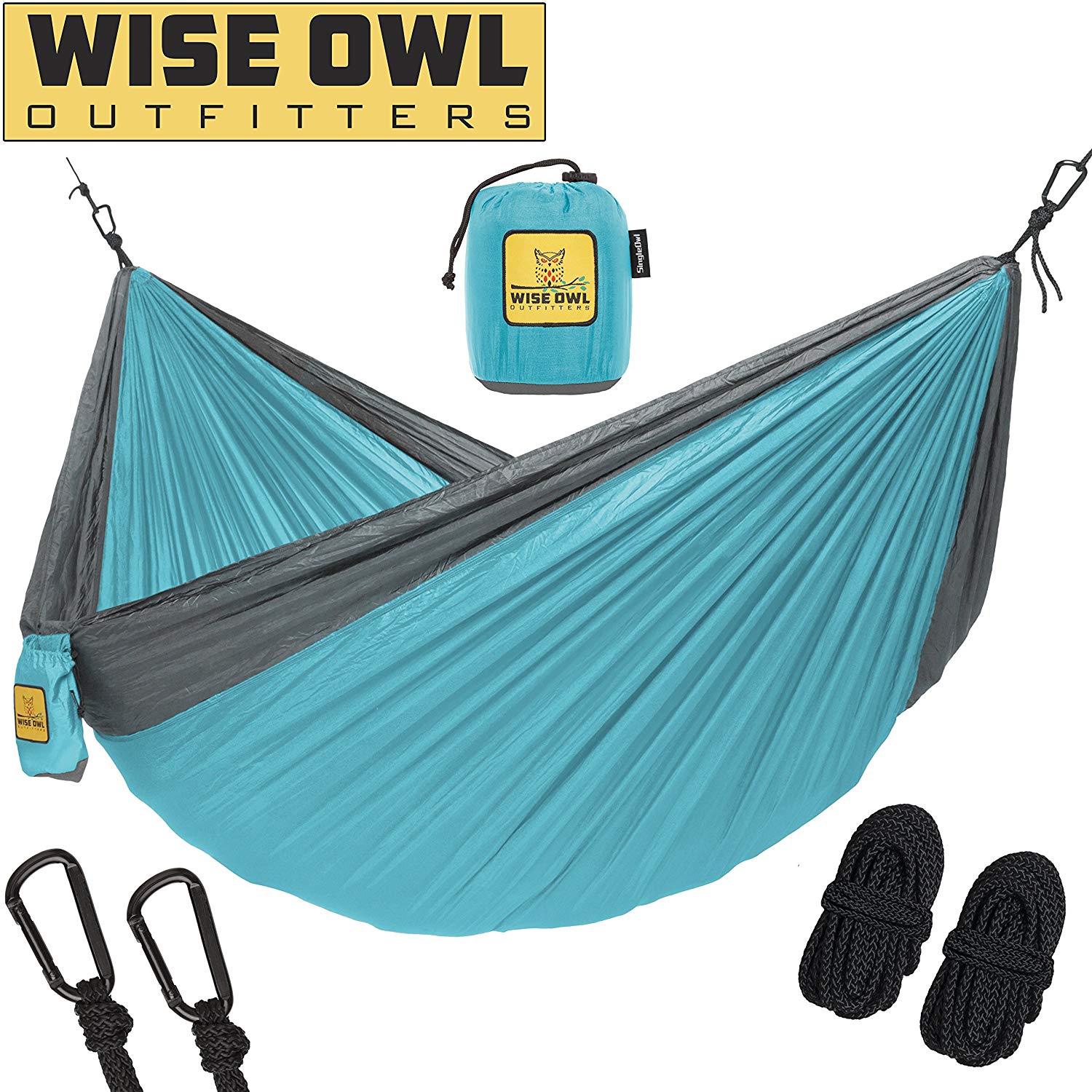 Get outside and enjoy nature with the ultimate comfort. If you don't have a ready-to-use hammock in the back of your car, you're missing out on life. This hammock from Wise Owl can fit one to two people. Made from a 210T nylon parachute, it is not only super strong but lightweight. Kick back and relax, knowing you've got everything you need to adventure. The fun part is deciding just where to set it up.
Tech Specs:
Made from 210T nylon parachute fabric

Super strong and lightweight

9 feet long by 4.5 feet wide

check

Weighs 26 oz.

check

Fits up to 2 people and holds up to 400 pounds
9. Anvil TSA Luggage Locks
Protect your luggage and personal items with these smart travel accessories from Anvil. TSA approved, the luggage locks help to discourage and prevent petty theft. With a zinc alloy body, they are some of the most durable styles on the market. Furthermore, a special window design makes it easier for you to enter your combination and protects the lock dials from damage.
This steel shackle won't warp and is resistant to cutting. For only $20, you're getting an excellent value. These locks can be used in so many ways. They are not only great for traveling but also for the gym, home, or school. With a price that's hard to match, the Anvil TSA Luggage Locks provide a great solution to your travel safety needs.
Tech Specs:
Set your own combination and change it whenever you would like

4 digit security code

Pack of 4 TSA approved luggage locks

check

Durable zinc alloy body

check

Lifetime warranty
10. Zoppen Multi-purpose Rfid Blocking Travel Passport Wallet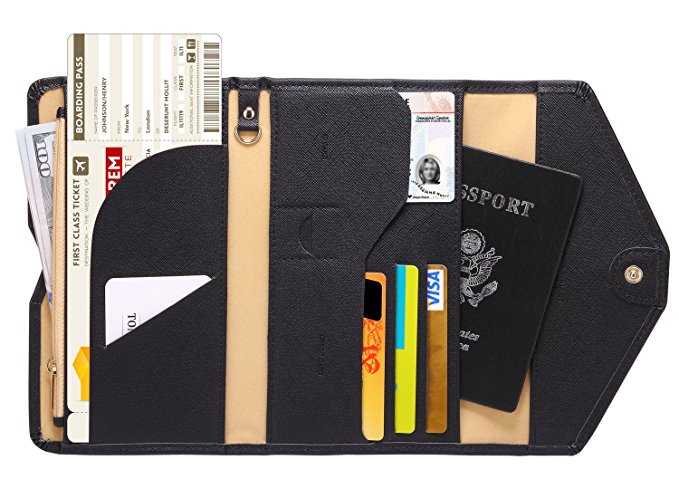 One of our favorite smart travel accessories is this cute wallet by Zoppen. Made from high-quality, eco-friendly PU leather, it passed the Euro Reach quality standard. Better yet, it offers the ultimate travel protection. Keep identification theft at bay and protect your personal information with inside RFID blocking shield material.
This roomy and collected space offers plenty of space for all your valuables and information. Inside, you will find one passport pocket, one boarding pass compartment, three credit card slots, one ID slot, one sim card pouch, one coupon ticket slot, a cell phone pouch, and even holders for your spare change. Travel smart. Store your carry-on essentials and travel documents in one slim lightweight bag and never miss or lose them again.
But that's not all. The Zoppen Multi-purpose Rfid Blocking Travel Passport Wallet offers a chic style in addition to its multi-functional design. It comes in a soft, vintage design in various colors to match your taste.
Tech Specs:
Imported

Eco-friendly PU leather

1 passport pocket, 1 boarding pass compartment, 3 credit cards slots, 1 id slot, 1 sim card pouch, 1 coupon ticket slot, 1 cell phone pouch (max 5.8 inches), 1 money & coins zippered pocket (fit U.S. money), 1 key holder and 1 pen holder, 1 slim pocket

check

RFID pocket
Invest in Smart Travel Accessories for Your Next Trip
When you're traveling, you should take every measure you can to feel comfortable and well-rested. These smart travel accessories offer everything you need for an easy, breezy trip. Even if you're traveling in economy, you can make it feel like first class. When you arrive at your destination feeling energized and refreshed, you'll know it's well worth the investment.
Common Questions
Are you interested in finding more smart travel accessories and tips to enjoy yourself on the go? Check out these articles for additional information:
Questions and Comments
Do you have any questions or comments for us? If so, feel free to leave us a message below. We will be sure to get back with you soon.
Related Article: Smart Backpacks For Every Smart Traveler | Review