Keep your clothes wrinkle-free (and avoid a frumpy looking vacation, business trip or out-of-town wedding) with these best garment bags.
Why purchase one of these best garment bags in addition to the carry-on you already have? Well, gone are the days when you could pack your whole week's worth of T-shirts into your little Mickey Mouse backpack. Now, packing becomes a bit more complex. There are business meetings to attend or fancy dinners with people to impress. That's where great luggage makes the difference. You'll want to avoid looking frumpy in your vacation pictures or showing up late to dinner in a suit you half-tried to iron the wrinkles out.
That's where a great garment bag comes in. These best garment bags make travel easier because they protect your formal clothes (or any outfits, really) and keep them free of wrinkles, crumples, rolls and lines. These best travel garment bags will help "smooth" out your trip, as well as your suits or dresses. Lastly, no need for expensive garment bags! These garment bags' prices make it easy to grab one before your upcoming trip.
Rolling Garment Bags
Rolling garment bags are great because they're super easy to wheel through the airport. They're generally shorter in stature than a full carry-on, though not all rolling garment bags are fit for carry-on sizes on some airlines. The best garment bags for you will depend on your needs; rolling garment bags are generally not as compact as other types, but the benefit is that you can wheel them behind you. Some have two wheels, and some are full-on spinners, with four wheels. The wheeled garment bags have panels that help keep the suit or dress gently folded, and often feature other pockets to tuck in other items besides your formal wear. Most of the rolling garment bags unzip and open fully, like a book.
1. Travelpro Maxlite 5 Carry-on Rolling Garment Bag
Credit: Amazon
We're already big fans of the Travelpro Maxlite 5 collection: this group of luggage is incredibly light and sturdy with great little features to make travel that much easier. This is one of the best rolling garment bags because it's not too pricey, features a sturdy handle and smooth-rolling wheels. Lay the garments flat inside and use the various panels and straps to keep everything secure. Additionally, there are more pockets for extra clothing items, so you could get away with this best garment bag as your entire weekend bag if you wanted. Lastly, there's an additional strap for over your shoulder in case you prefer to carry it that way, rather than wheeling it.
2. Samsonite Aspire Xlite Wheeled Garment Bag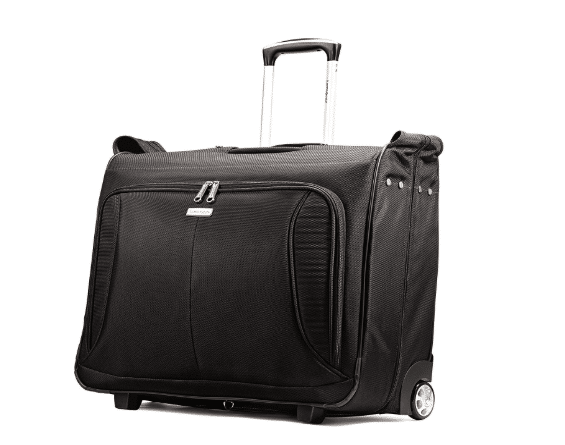 Credit: Amazon
We really like that this best rolling garment bag features a hanger hook so you can keep your suit on its hanger, then easily transfer it to your hotel's closet. Additionally, we also like that there are plenty of extra pockets within this garment bag for you to pack shoes and other accessories and items. The zippers work well, to smoothly unzip the whole bag until it lies flat. Additionally, the wheels are sturdy and roll smoothly. This garment bag is a larger one, at 21 by 24 by 9 and therefore wouldn't necessarily make a best rolling garment bag carry-on. However, it keeps your clothes from wrinkling, and won't break the bank. This rolling garment bag would be best for car travel, or as checked luggage.
3. London Fog Kensington Ultra-Lightweight Collection 44-inch Garment Bag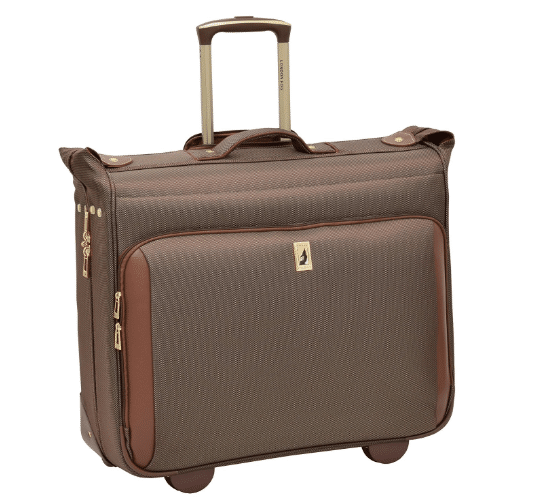 Credit: Amazon
We love the bronze London Fog Garment bag's look! The Bronze (though really a brown) is a nice change from the many black garment bags. Plus, the stylish trim and corners contribute to this garment bag's fashionable appearance. The style is one of the reasons it's one of the best garment bags. Furthermore, we like this rolling suit bag's dimensions. It's only four inches deep, but it's 44 inches high. Therefore, depending on the airline, it doesn't meet the height maximum as a carry-on, though the bag is definitely not as big as a full-on carry-on. The interior fold-down flap and open-book design help your clothes stay wrinkle-free. Inside organizational pockets include shoe pockets, two corner mesh pockets, one zip wet pocket, and three mesh zip pockets plus a tie-down strap. Lastly, the outside features one large pocket for easier access to items.
4. Delsey Luggage Cruise Lite Softside Spinner Trolley Garment Bag
Credit: Amazon
This rolling garment bag is durable. It features reinforced corners, ballistic nylon material, and an injected kick plate. We think this is one of the best garment bags because it is a full spinner. The four wheels glide with you in any direction, making it really easy to wheel through the airport. Inside, there's an extender panel with a folding bar for your suits or dresses. Additionally, there are two zippered compartments, a shoe pocket, corner pockets and two hooks for hanging in a closet. Two top flaps fold down over the zipper, adding extra durability and protection for your contents. You can even fit two to three suits inside. And of course, the design of this rolling garment bag means that your suits and dresses get to travel with you, wrinkle-free.
Over-the-Shoulder Garment Bags (Bi-Fold)
These type of garment bags (without wheels) means that they're often a little simpler, cheaper, and slimmer. There's no handle or wheels, so the whole luggage is often lighter. There's likely less room overall, depending on the folding garment bag. However, these are some of the best garment bags if you don't want to spend a whole lot, and you don't mind carrying this garment bag over your shoulder. These garment bags still perform their job well; you'll arrive at your destination without having to iron your suits, dresses, shirts, etc.
5. Zegur Suit Carry On Garment Bag
Credit: Amazon
This garment bag is a crowd pleaser! It's one of our favorites, and the garment bag reviews on this one are really positive. First, it's a really fair price. Because it's relatively inexpensive garment bag, it's great if you're not sure how often you'll be traveling with suits or dresses. Additionally, its durability means that even if you take business trips many times a month, it's still a good choice for you! This one is not a rolling garment bag, but that means it's a little more compact. The shoulder strap and top handles that couple together makes it easy to grab or sling over your shoulder. It's a great garment bag for suits since it can hold up to three. Additionally, it's a great garment bag for long dresses, too. This bag features a simple design, with one outside pocket for easy access to extra belongings. Even better, there are additional interior pockets to help keep your packing organized. This garment bag is soft and lightweight, but will protect your formal wear and keep it wrinkle-free!
6. Travelpro Maxlite 4 Bifold Hanging Garment Sleeve
Credit: Amazon
We're already big fans of Travelpro luggage, and they continue to provide a really good deal on one of the best garment bags. This garment bag has a shoulder strap and a nice, thickly padded handle on top. It zippers all the way open and has a long fold-out flap for securing your formalwear. This also helps to keep it all free from wrinkles. Two straps secure garments against the back. Additionally, there are two corner pockets and two interior zip pockets. The design is simple and it works well. Pack up your suits, or dresses, along with a few other belongings, and carry this with you to your destination. The strap along the back gives you some additional options for storing and hanging. Additionally, you can hang this garment bag up in a closet.
7. Amazon Basics Premium Garment Bag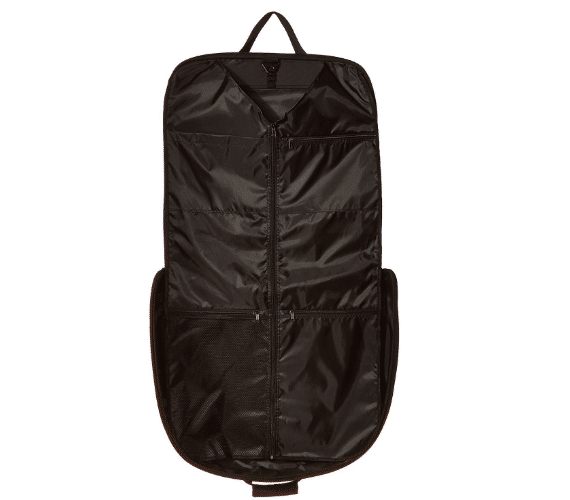 Credit: Amazon
Here's an excellent option for a really inexpensive garment bag. It's pretty simple in design and will transport your suits or dresses and help prevent wrinkles. There are a few extra perks with this bag, though, to earn its spot on our list of best garment bags. There's a spot within the bag to keep your suits on hooks and clip them to the top interior of the bag. Additionally, the placement of the outside carry also means that you could loop this somewhere to keep the whole bag upright. The shoulder strap is adjustable and detachable. This garment bag holds up to three suits or dresses. Additionally, this garment bag has some good internal pockets for storing other items. You could even get away with using this as your sole bag for a weekend event. A zipper runs up the middle. Pull away two flaps to reveal contents underneath.
Invest in one of these best garment bags (plus, they're inexpensive) to keep your clothes looking fresh!
I'll be honest. I used to think garment bags were silly. Just tuck a dress under the straps of a carry-on and hope there's an iron in the hotel room. However, with these inexpensive garment bags, it's silly NOT to purchase one. They're so convenient, they actually store more than just a suit or dress, and are great for the plane or car travel. Any of these best garment bags will spare you wasted time and worry; two things that aren't welcome on a trip away.
Related Article: ​A Travel Makeup Bag for Every Traveler​​​