Choosing a travel makeup bag is no small task. We are here to help.
How many times have you reached your destination to find your makeup products rolling around lose in your cosmetic travel bags? Or we reach our destination, start to get ready with friends and find ourselves eyeing their gorgeous I-have-to-have-it makeup bag? If you are one of the above (or even both) then you've come to the right place.
We understand the struggle of losing half of a cosmetic product to travel. Also, we understand the pride you feel when you have the most adorable travel makeup bag in the room. So go ahead and browse our list of some of the most functional and striking cosmetic cases for travel. You may just find exactly what you've been searching for (and we hope you do!).
Things to Consider When Choosing A Travel Makeup Bag
Choosing a multi-functional makeup bag is key during your travels. Nothing is worse than finding out your expensive Nars foundation leaked all over the interior or having to dig around for your eyeshadow brush every time you want to touch up.
A good travel makeup is durable, well-made, and of course, stylish. It should also be easy to clean and keep items inside from breaking. While this sounds like a lot to ask from a simple bag, it's easier to find than you would think. We're here to help you find just what you need without breaking the bank. Listed below are some things to consider when shopping for the perfect travel makeup bag.
Figure Out What Size Bag Works Best for Your Makeup Routine
Whether you're looking at daily makeup bags or travel ones, they both vary in size and quality. The best choice depends on your makeup routine. For example, if you only wear a light bronzer, chapstick, and mascara, you'll have plenty of space. But if you like to wear eyeshadow, eyeliner, and contour, you're going to need a bigger bag.
When it comes to choosing the right travel makeup bag, consider how long your trip is going to be and what your favorite makeup staples are. You don't have to bring everything. Generally speaking, you can find your favorite major makeup brands and styles abroad too.
If you usually take weekend trips, you won't need a large bag. However, if you're taking a trip that is a week or longer, you might want to go ahead and invest in a larger more durable travel makeup bag.
Determine How Sturdy Your Bag Needs to Be
How sturdy does your travel makeup bag have to be? A daily makeup bag doesn't have to be top-notch quality. For a travel bag though, it's best to choose one with a hard shell exterior. This will prevent your makeup from getting broken inside the case. Makeup bags with a hard shell are usually called a train case.
Believe it or not, you can find larger travel makeup bags with hard shell exteriors that roll-aboard just like suitcases. This might be a bit extreme though. These type of bags are usually used by professional makeup artists.
How to Choose the Right Materials and Design
There are also a few things to consider when looking at a travel makeup bag's materials and design. Choosing the right materials and design is not only needed for fashion coordination but practicality too.
For example, did you know that some materials are naturally more resistant to stains or more waterproof than others?
1. Consider A Waterproof Travel Makeup Bag
Have you ever had bottles and containers in your bag break? You sure don't want the contents leaking out on your clothes. To prevent this dilemma, choose a travel makeup bag made from nylon, polyester, vinyl, or any other type of waterproof fabric.
2. Choose A Bag With Dividers
Nothing will help to keep you more organized. This allows you to separate facial products from eye makeup, so it's easier to throw it on in the morning when you're in a rush.
If you're only getting a daily makeup bag, dividers probably aren't necessary. However, you might want to keep cotton swabs, makeup remover wipes, and Q-tips compartmentalized.
3. Choose A Bag With Lining That's Easy to Clean
Nothing's more gross than having a stained brown interior of a once white makeup bag. Whether it's from cream, grubby makeup hands, or concealer, stains are the worst. Prevent this hassle by investing in a travel makeup bag that's easy to clean. Plastic interior lining or vinyl prevent solid options. You can easily wash these out with warm water and soap.
Organizing Your Travel Makeup Bag
Even if the travel makeup bag comes with dividers, you can still organize it more. Here are some pro tips for organizing your beauty essentials. Not only will these tips save you a ton of extra space but it will be much easier to find that one product you need the most in the morning without having to rummage through your bag.
1. Use Plastic Bags Within Your Bag
Another great way to organize your travel makeup bag is by keeping items separated into ziplock bags. This is a foolproof method for preventing leaking and spillage, even in the event of a bottle breaking. These bags are ideal for foundation, face cream, you name it.
You can also use these ziplock bags to organize lip products and one for eye products. Labeling them is a great way to find what you need when you need it the most.
2. Pack Multipurpose Items
It's never a good idea to pack your bag so full it's bursting at the seams. One way to limit the number of items in your bag is to look for multipurpose beauty products (e.g. an SPF foundation). Another example is a makeup compact that includes a blush, bronzer, and highlighter.
We can't overemphasize this enough. You can find some great multipurpose beauty items at stores like Target and Sephora. Target carries brands like CoverGirl and Maybelline that often come in duo and trio packs.
3. Buy Some Mini Makeup Brushes for Your Makeup Travel Bag
You're always better off using mini makeup brushes instead of your fingers to apply – especially when traveling. Instead of trying to cram your full-size brushes into your travel makeup bag, opt for mini makeup brushes instead. Since they have shorter handles, they'll take up less space in your bag. You can also buy retractable makeup brushes with a lid (our personal favorite style).
4. Know That the Best Travel Makeup Bag Is Completely Subjective
Know that the best travel makeup bag is out there – but it's also completely subjective. The best bag for you all depends on what you need. Do you need a durable, hard case bag for long trips or a softer day bag with more compartments for organization? Waterproof or regular? The list goes on. Think about where you'll be going during your trip, how long you'll be on vacation, and what kind of cosmetic products you'll be bringing with you.
A Travel Makeup Bag for Every Sort of Traveler
Below, we've curated a list of travel makeup bags for every type of traveler. Honestly, some look more like a duffle bag. Hey, if you've got ten pounds of Sephora products, no judgement here – we feel you. Others are small like a tote bag. Last but certainly not least, come the more compact travel makeup bags.
Mother's Day is coming up soon and travel makeup bag makes for a great gift. Just saying. Give her something she would actually like and use.
Travel Makeup Bags For the Designer Enthusiast
Alright designer enthusiasts, this one's for you. We curated a list of the most stylish (and practical) travel makeup bags you can take anywhere. The best part? They're minimal, sleek, and look like something straight off the runway. Are you ready to see our picks? Let's go take a look.
Kate Spade Classic Minna Nylon Travel Cosmetics Case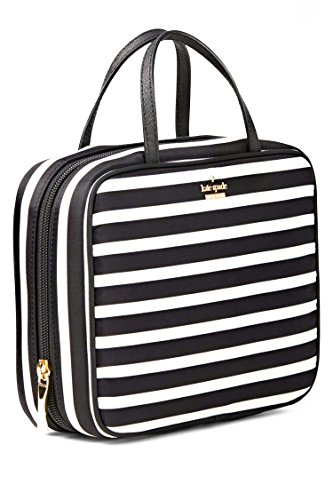 This sassy travel cosmetic case is a Kate Spade classic. The striped design is an identifiable characteristic of the designer brand. Crafted with durable woven nylon with leather trim, the nylon is wipeable and easy to clean. 14-karat gold plated features add flair to this travel makeup bag.
The iconic Kate Spade New York monogrammed signature can be found on the front, so authenticity is guaranteed! The bag itself features a zip around closure, 1 interior mesh pocket, slots for makeup brushes, and two handles ideal for hanging. This makeup bag holds all your necessities while keeping it classy. It's perfect for carry-on luggage and can also be used as a travel toiletry bag.
Heck, you might even be able to slip an extra pair of women's shoes in here. Who knows? Collapsible travel flats are the perfect shoes for a long-haul flight.
Marc Jacobs Extra Large Mallorca Cosmetic Bag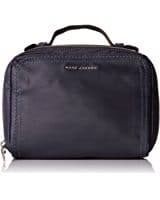 Credit: Amazon
We told you some look more like a tote bag. For trendy travel moms, it could also double as a chic diaper bag if needed.
This black travel makeup bag from Marc Jacobs is the new…. Black? Why change a good thing? The bold design of this roomy, nylon cosmetic case is perfect for those that plan to keep this designer beauty for a while.
We think black goes with everything, so good thing you can bring everything along with you in this extra large makeup bag. The bag is complete with a top handle, zip around closure, interior pocket, and plenty of space for all your makeup goodies.
Tory Burch Gemini Link Cosmetic Case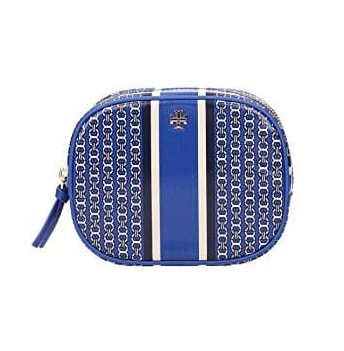 Water-resistant coated canvas makes this travel makeup bag ideal for the on-the-go designer enthusiast. Whether you throw it in a purse or in your luggage, this cosmetic pouch will store your makeup wherever you go. It features the iconic Tory Burch logo and a jewel blue graphic print. This travel makeup bag is on the smaller side, but will work perfectly for carrying makeup essentials.
For the Budget-Minded
HaloVa Multifunction Hanging Cosmetic Bag
Do not let the price fool you, because you get a lot for a little (price) in this travel makeup bag! High-quality nylon fabric makes the bag waterproof, durable, and one of our favorite cosmetic bags. The hanging toiletry bag has multiple compartments for storing a variety of different items.
A durable hook in the interior ensures easy placement wherever you are. The depth of the large zippered pouch is our favorite feature. The pouch allows you to store products upright, preventing sliding and spillage!
Additionally, you can choose between delightful floral and dark blue prints, which are just a bonus. So if you're looking for travel makeup bag that's as durable as it is stylish, this one's for you. We really like the personalized monogram. Have you seen a cuter little carry-on bag?
CalorMixs Travel Cosmetic Bag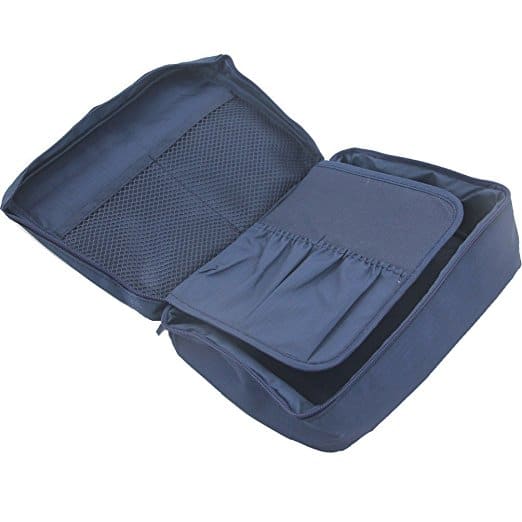 This is a great toiletry kit bag. Similar in style to the Marc Jacobs travel makeup bag, the CalorMixs offers room for all your makeup necessities at an affordable price. The makeup case features mesh compartments on the interior for storing brushes or small items. A removable pocket for long makeup tools sits in the middle. The interior is deep, allowing for storage of all toiletry items. Additionally, water-resistant nylon shields unnecessary damage, keeping your makeup and toiletries safe and ready for use on any trip.
Tancendes Bucket Travel Cosmetic Bag
Of all the travel cosmetic bags, this one may just take the award for most adorable (not to mention least expensive)! This toiletry bag is multifunctional and easily portable, a clear win-win if you ask us.
The lightweight polyester fiber surrounding your cosmetics protects items from rolling around. On the interior, elastic bands keep bottles in place and two mesh pockets allow items to breathe.
This travel cosmetic bag is foldable and easily stored when not in use. For travelers looking to keep their personal items upright, the Tancendes Cosmetic Bag must-add to their cosmetic luggage. It could also double as a wash bag which is super handy for laundry day on the go.
Travel Makeup Bags For the Cosmetic Queen
Travelmall Makeup Organizer Case
Traveling with all your makeup goodies? Any makeup magician knows that organization and preservation are key when traveling with your favorite products. This is the ultimate organizer. There are designated sections for makeup brushes, over-the-counter prescription medicine, foundation, and more. What more could you ask for?
This black travel makeup bag is focused on utility. Oxford fabric and nylon protect makeup tools and products from damage. There is adequate storage space with adjustable compartments to fit the varying products you may bring along. The side flap hosts small pockets for makeup brushes and tools.
If you're a cosmetic enthusiast, then we highly suggest you add this travel makeup case to your makeup luggage!
Hiker Hk3603 Soft Sided Professional Travel Makeup Case
While it's not your everyday cosmetic travel case, it's one that'll last. The Hiker Hk3603 is crafted with the makeup artist in mind. This makeup travel bag is made of high-quality nylon with heavy-duty handles and aluminum trimming. This is a super durable makeup travel bag.
Look inside the makeup bag and you will find two clear makeup bags for extra storage. The internal compartment has a large cavity ideal for larger products. In addition, the main compartment has a side pocket and elastic band for holding products in place. Zippered pockets line the outside of the case.
Most noteworthy, on the back of the travel makeup case, there is a pass-through strap that allows you to slip the makeup bag right on the top of your suitcase. It might not be the most glamorous of them all, but it's a high-quality option that'll get the job done. Every makeup professional can find utility in the Hiker Hk3603.
Sephora's The Excursionist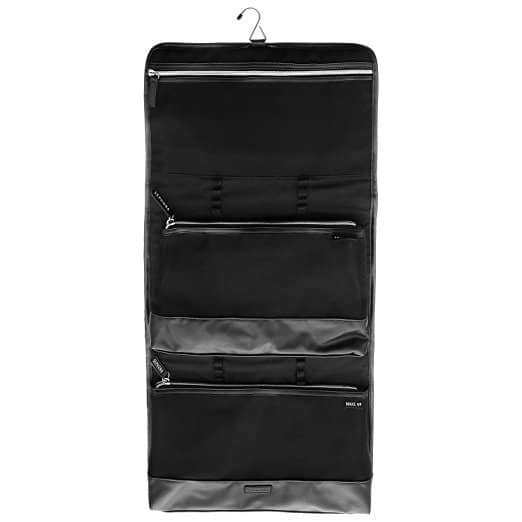 When it comes to finding the best travel cosmetic bag, Sephora knows their stuff. Every traveling beauty queen needs a Sephora piece amongst her travel cosmetic bags. This Sephora makeup bag holds all your cosmetic products and tools in an adorable foldable tote.
For greater ease when traveling, there is a durable hook for hanging and pleather, waterproof exterior. Each zippered compartment has an individual label for all your cosmetic needs. Small elastic bands sit between compartments so that your hair essentials can be held in place. The sleek, black design makes this travel makeup bag a classic that will never go out of style.
For the Careful Traveler
Genda 2Archer Diamond Hardshell Vanity Case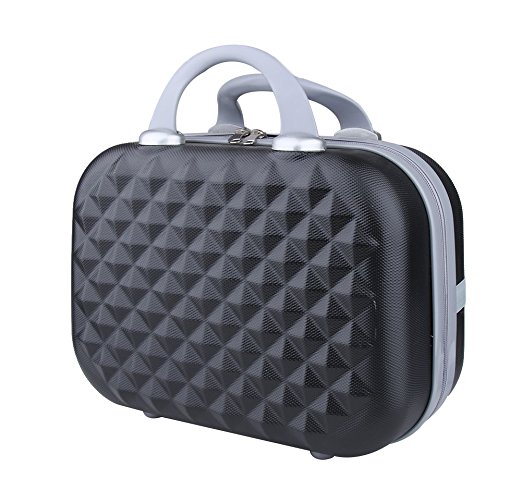 Made of a durable plastic polymer, this travel makeup bag can withstand any travel accident. For those seasoned travelers that know the perils of travel, add this hard vanity case luggage to your travel essentials. Comparable to softshell makeup cases, this bag is incredibly spacious, so it can hold all of your makeup products and tools. On one side of the interior, you will find a zippered enclosure protecting all toiletries inside. Finally, the back of the case has an elastic belt strap that can hang onto your suitcase while traveling.
Genda 2Archer Mini Cosmetic Hardshell Vanity Case
This is the best of the best among travel makeup bags. It's fashionable too, sporting the size and appearance of most women's wallets. Also, similar to the Genda 2Archer Diamond Hardshell Vanity Case, a durable, waterproof case protects cosmetic products and tools inside. The case provides the same about of protection but in a smaller packable. This travel makeup bag can slip easily in a purse, luggage pocket, or worn on the wrist with an attachable handle.
Which Travel Makeup Bag Will It Be?
So what will it be? Organizational and spacious? Trendy and stylish? Protective and durable? No matter which travel makeup bag you identify with on our list (and perhaps maybe it is more than one), you have picked a winner. Product spillage, tools haywire, we've all been there. Wishing we had a cute cosmetic case to call our own, we've been there too. But if you choose one of these travel makeup bags, we know you will be pleased!
Which of these travel makeup bags is your favorite? Do you have any questions or comments for us? If so, please feel free to leave us a message below. We love hearing from you.
Related Article: ​​Best Carry-On Luggage: We Have a Bag to Meet Each Travelers' Needs​​​