Leave your worries behind and bask in the beauty of the best all inclusive resorts in Mexico.
Like the Caribbean, travelers often come to Mexico for the all inclusive experience. When you have activities and all the meals you could want at the property, it takes a lot of stress and guesswork out of the planning. However, some hotels can serve up less than great food or lack the kind of amenities you want. Luckily for you, we have visited plenty of places to sample the culinary scene, indulge in the amenities, and take part in the activities. Take a look at our top choices for the best all inclusive resorts in Mexico.
Here Are Our Picks for the Best All Inclusive Resorts in Mexico
We don't know about you. But we're looking to escape the tourist crawls and booming night scene. Rest, relaxation, and a little adventure are on our agenda. Before you choose from the best all inclusive resorts in Mexico, ask yourself what kind of vacation you are looking for. For some, family getaways are the priority on the agenda. Others are seeking a couple's getaway at an adults-only resort.
Whatever kind of getaway you're seeking, we've got you covered. Our picks for the best all inclusive resorts in Mexico cover the full spectrum. We'll be taking you for a trip around the country to you the inside scoop on the ultimate travel destinations. Where should you go? Buckle up and we'll show you.
1. Grand Park Royal Cozumel
Credit: Grand Park Royal Cozumel
If visiting Cozumel isn't on your bucket list, it should be. An underdeveloped island in the Caribbean Sea, it's famous for its epic dive and snorkel spots. One of the most famous spots is Arrecifes de Cozumel National Park, there are diving spots around a section of the Mesoamerican Reef. Along with the Museo Subacuático de Arte, you can explore diverse marine life, historical artifacts, and submerged sculptures.
Our favorite place to call home base is the Grand Park Royal Cozumel. As one of the best all inclusive resorts in Mexico, it features stunning accommodations, five-star service, and seemingly endless amenities. This vacation package includes all of your meals and imported drinks from the hotel's top-rated bars and lounges.
As if that wasn't enough, every corner of the hotel is beautiful. There is a massive main pool, two seaside infinity pool, gardens, and sweeping terraces. Needless to say, there are plenty of places to kick your feet up and have a siesta. Did we mention there's a private beach club too? With on-site dining options, fitness center, spa, sports, and a kids' club, there's no end to your opportunities here.
2. El Dorado Royale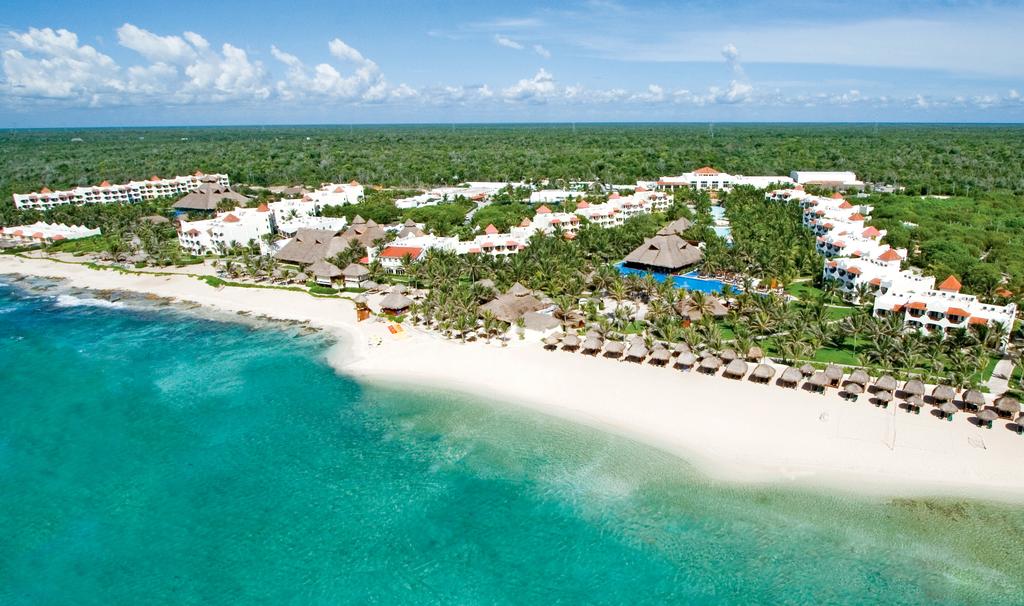 Credit: El Dorado Royale
When you're ready to experience true luxury, there's no place quite like the El Dorado Royale. A warm ambiance welcomes you into experience true luxury. Set along the Riviera Maya, this adults-only location offers a tranquil setting where you can catch up on your R&R. Every detail of the resort is made for you to enjoy yourself and unwind. Here, you'll receive an unparalleled level of service, activities, amenities, and cuisine.
Long stretches of romantic beaches and beautiful oceanside cabanas offer the perfect place to get back to romance. Enjoy a massage in their world class spa, have a picnic on the beach, and spend a night under the stars. As if that wasn't enough, there are so many adventures right outside your door. This is truly one of the best all inclusive resorts in Mexico.
3. The Explorean Cozumel All Inclusive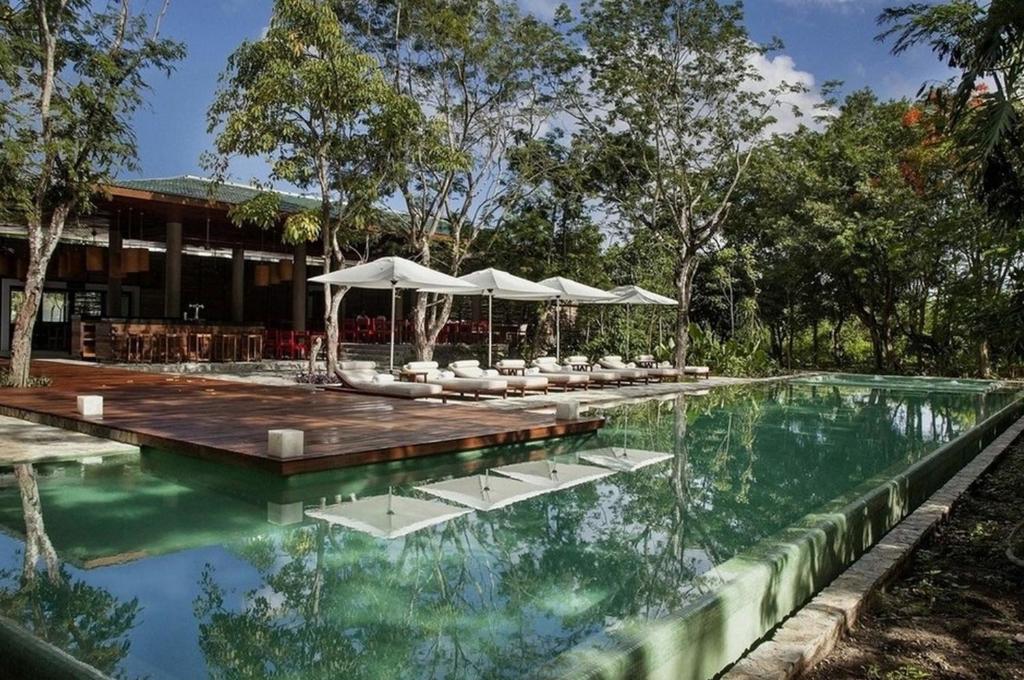 Credit: Explorean Cozumel
Adventure enthusiasts, we've found your paradise. Tucked between the ocean and lush jungle, the Explorean Cozumel is set on Uvas beach. This means you are only a mile from both Chankanaab National Park and some of the most epic sites Mayan ruins. While you might feel like you're far removed from civilization, you're also next to some of the best shopping and nightlife in the region. Why can't you have the best of both worlds?
But with this said, we hope you spend more time exploring than lounging. That's the difference between being a traveler and a tourist. Get to know the culture. Luckily for you, the Explorean Cozumel offers opportunities for that. You can go cycling, snorkeling, horseback riding, and even dune buggy riding. And get this – it's all included in the sticker tag.
For the smallest resort on the island, it offers so much. Since there are only 56 rooms on-site, that means two things. First, you'll need to book your rooms far in advance – they can go quickly. Second, you will receive a much more personal experience with attentive staff members. Other highlights of your stay include jungle swimming, a private beach club, chef-prepared meals, a workout room, swimming pool with a swim-up bar, and more.
The suites are magical. Your luxury stay comes in the form of a two-story bungalow with a private balcony overlooking the Mayan jungle. Get ready in the oversized rain showers, lounge in your spacious sitting area, enjoy fresh breakfast, coffee, and juice delivered to your room every morning. Come and experience the charm of the best all inclusive resorts in Mexico.
4. Le Blanc Spa Resort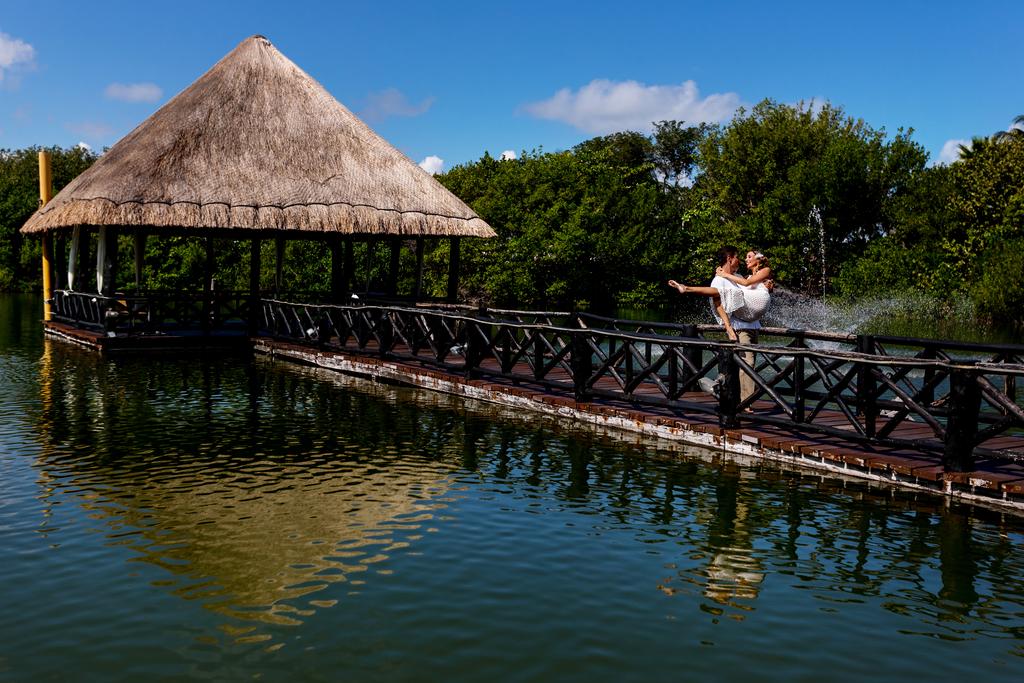 Credit: Le Blanc Spa Resort
The magic never stops at Le Blanc Spa Resort. A stay here means luxury accommodations, 24-hour room service, world class dining, a hydrotherapy spa, and much more. Here, you can never have too much of a good thing. Indulge in everything they have to offer and make memories you will never forget.
Beautiful locations meet mesmerizing views. Bright, spacious rooms offer quality linens and stylish decorations. Taking a look at the guestrooms, you'll find double whirlpool rubs, designer-brand products, all the conveniences of home and a few extra. Brand-name labels of whiskey, vodka, tequila, and rum offer the perfect bases for an end of day wind-down drink.
Whether you're seeking a vacation filled with relaxation or one about adventure, you'll find it here. Choose what you want and when you want it. The soothing Caribbean waves and balmy breeze are calling your name. This adults-only getaway is one of the best all inclusive resorts in Mexico. Here, your vacation package includes everything from unlimited golf to spa services, spinning classes, fitness centers, and some of the most exciting activities in Cancun.
Learn about the region's history at Mayan monuments, swim with the dolphins in warm turquoise waters, or turn it up a little bit with the Jungle Tour & Aquatwister Package. Whatever you choose to do, we know one thing. You're going to make an unforgettable vacation with once in a lifetime experiences.
5. Iberostar Grand Hotel Paraiso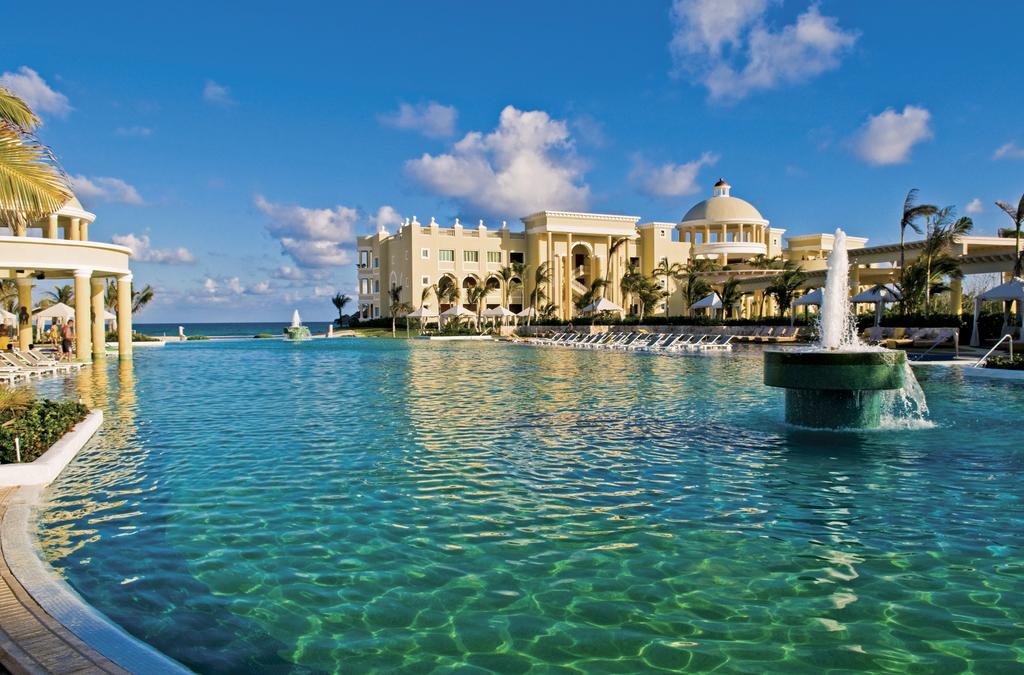 Credit: Iberostar Grand Hotel Paraiso
Wake up to the warm blue waters of the Caribbean and cool green gardens on the ground. From your secluded suite or villa, you have all the privacy you need. The rooms at the Iberostar Grand Hotel Paraiso have all you need for a perfect stay. Walk into your room and look around. Marble bathrooms, whirlpool baths, European linens, and a customized mini bar greet you. For guests seeking a place of elegance and comfort, this is one of the best all inclusive resorts in Mexico.
Get back to nature on a guided snorkeling trip, go swim with the dolphins, or see spider monkeys in their natural habitat in a sanctuary. If you're looking for a little bit more adventure, you can climb the Mayan temple at Coba, take a zip line through the jungle, and splash in the cenotes. Discover all the wonders of Playa Del Carmen from the place that offers it all.
6. Royal Playa Del Carmen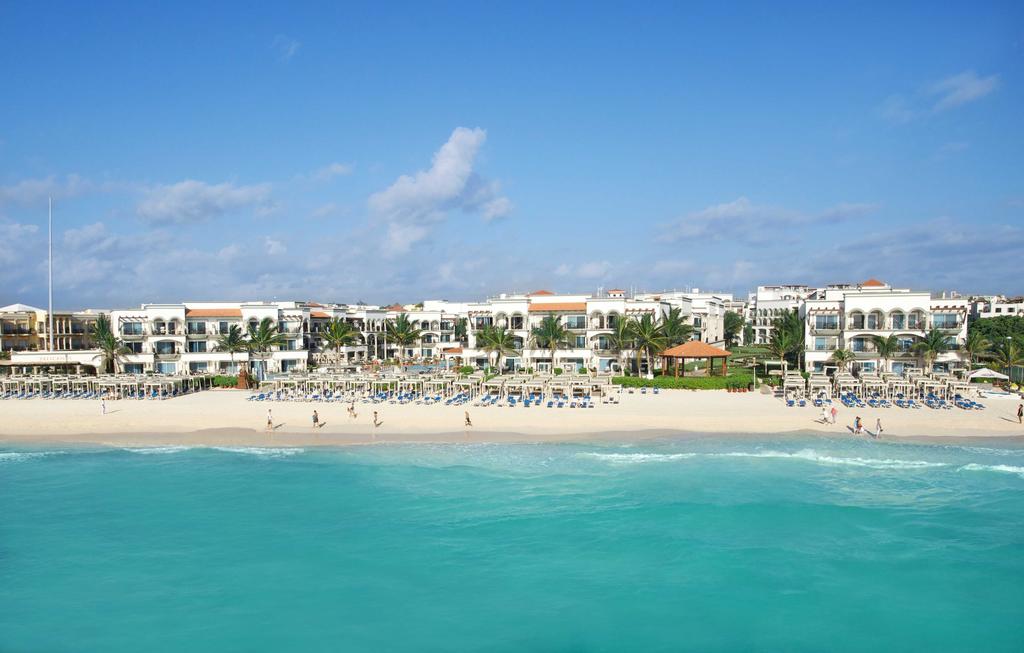 Credit: Royal Playa Del Carmen
When you're looking for the best all inclusive resorts in Mexico, check out Royal Playa Del Carmen. While you're conveniently located next to the heart of the city, you still have all the comforts of a secluded paradise. Step out on your private balcony and enjoy sweeping views below. This is the perfect place to enjoy your morning cup of coffee.
But the luxury doesn't end there. You'll also enjoy steam showers, a pillow menu (yes, you read that right), your own private beach cabana, Nespresso gourmet coffee machine, and more. In your room, whirlpool tubs and swim-up suites offer the perfect amount of luxury. When you are craving a day of fun in the sun, you have all the options. Play volleyball in an oceanfront pool, get a great view of marine life or play a friendly game of tennis. The Royal Playa Del Carmen is known for its endless options and ultimate luxury. Did we mention that this resort is adults only?
Whether you're in the mood to sample authentic Mexican dishes or indulge in exotic Asian or Mediterranean cuisine, you'll have your pick. At the gourmet on-site restaurants, the house cooks whip up mouth-watering eats and mixologists craft delectable libations. Enjoy your food poolside, take in the views, and revel in the fact that it's all included. This is no doubt one of the best Playa Del Carmen all inclusive resorts.
Book Your Stay at One of the Best All Inclusive Resorts in Mexico
We hope you enjoyed reading our article on the best all inclusive resorts in Mexico. As you can see, this vibrant country offers so many opportunities for those seeking a trip of both relaxation and adventure. Some of the best beaches in Mexico are right here. The cultural history pervades throughout – from natural scenery to Mayan ruins and exquisite culinary cuisine.
Mexico is teeming with beauty, adventure, and plenty of places waiting to be explored. Our choices for the top accommodations offer the best of both worlds – both rest and time for exploration. Whatever type of vacation you are seeking, you will find it here. From adults-only resorts all about romance to family fun options, we've helped you narrow down your choices to only the highest caliber places of accommodation.
These hotels are right in the middle of it all, offering not only a unique place to experience the local wonders but also a home away from home. Which one of the hotels on our list did you like the most? Let us know in the comment section below.
Related Article: 14 Best Hotels in Tulum You Need to See