The 13-Inch MacBook Air outshines its predecessor in every possible way.
While this style isn't exactly mini, a 13-inch laptop is still smaller than most standard sizes. MacBook offers some of the highest quality tech pieces on the market, so you can rest easy knowing you will get a good buy. Be prepared to spend a bit more. After all, the 13-Inch MacBook Air is one of the best mini laptops.
However, it does come in a new, thinner design which is always helpful when you pack for a trip. Since we're trying to save space, this is an update that we really love. More importantly, it is equipped with Apple's stunning Retina display and powered up by the latest eighth-generation Intel processors. As soon as you look at the screen, you will notice how clear and crisp the visuals are. This is great when you are watching and editing videos and photos. Photographers and videographers will appreciate this feature immensely. 
While it is small in size, this laptop is certainly big in performance. Don't we all want to cut down on bulk when we travel and increase efficiency? Minimalist travel is the way of 2019. The best mini laptops offer a great way to take the technology you need with you without overloading your luggage. The 13-Inch MacBook Air is one of the best travel companions for getting work done on the go. A small screen, portability, and a lightweight body are just a few desirable qualities of the mini laptop. But that is not all. This pick offers an excellent battery life, strong build, and fast processors. Without further adieu, here are the features and benefits.
13-Inch MacBook Air Features and Benefits
As you would expect from a MacBook, the build quality is nothing short of excellent. Composed of 100% aluminum, it is much more durable than the previous style as well. While it can handle a good degree of processing power, if you're looking to upload or edit 4K videos, you may want to opt for the MacBook Pro instead.
If you're not looking to do this type of editing and just do a lot of web browsing, this laptop will work out great. It can handle fifteen or more tabs open on your browser at a time. In addition, it comes equipped with good speakers, Touch ID, ten hours of battery life, and two USB ports. You don't get this kind of battery life on a mini laptop just anywhere. This is such an impressive feature.
Design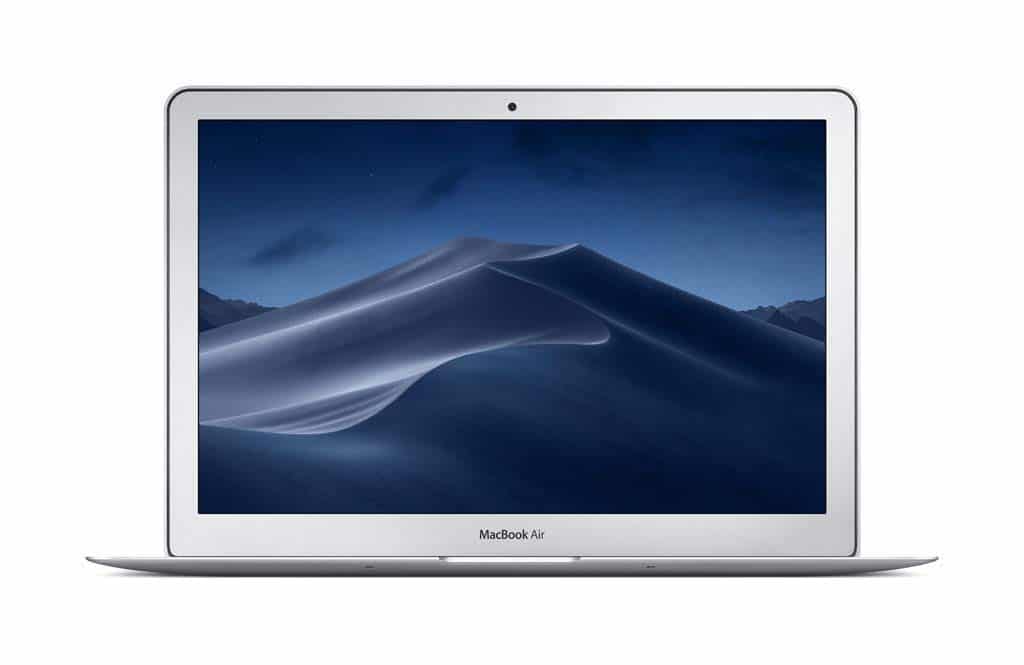 Credit: Amazon
When it comes to technology, there is nothing more iconic than the MacBooks' aluminum chassis. It dates back to the early 2000s and is one of the most durable designs for a laptop body that we know. It's no wonder that the 13-Inch MacBook Air kept it in its design. We appreciate that even though they have stuck with the classic design, Apple has still revolutionized its portability. This model is only 0.7 inches thick and weighs in at just a little over three pounds.
The 13-Inch MacBook Air split up the dual USB ports on either side of the laptop. The MagSafe 2 charging connector is on the left side along with the headphone jack. On the right side, you will find the SDXC memory reader along with the Thunderbolt 2.0 port.
Display
When it comes to display, the 13-Inch MacBook Air has 1440 x 900-pixel screen. While it lacks the full HD you would want for high-quality video display, if you are just seeking out a reliable laptop for work, this will do just fine. In our option, the quality of the display screen is good but not excellent. But then again, Apple doesn't really offer the clearest quality display for its laptops.
Keyboard and TrackPad
Taking a look at the keyboard and track pass, we are so happy with how it performed. Typing is super easy on the 13-Inch MacBook Air. The keys actually feel like they are moving as you type. It wouldn't be difficult for a good typist to average 80 words per minute with it on average. For those who are bringing their work with them on their travels, this is such a handy feature to have. In addition, the tracking pad is solid to feel and easy to click. It's much easier to use than Apple's 12-Inch MacBook and MacBook Pros.
Audio and Performance
The audio from Apple's 13-Inch MacBook Air is always good quality. We're happy with the sweet sound it gives off. In fact, the volume on this little laptop can get so loud that it fills a medium-sized conference room. When it comes to performance, the Intel Core i5-5350U CPU and 8GB of RAM deliver a smooth, speedy performance. We didn't see any reduction in processing speed between playing a 1080p YouTube video and keeping several tabs open in Safari.
Battery Life and Webcam
Most high-quality small laptops have a battery life of around eight hours. With the 13-Inch MacBook Air, you will have an average of ten hours and twenty-six minutes of screen time on a single charge. The battery life exceeds our expectations. If you are using this laptop for conference calls like Skype and other video chats, it will work so well. The 0.7-megapixel camera offers a crisp, clear quality.
What Travelers Are Saying About the 13-Inch MacBook Air
Even if you're not a techie person, you have to admit that Apple makes superb quality items. The 13-Inch MacBook Air is no different. Travelers appreciate its portability, ease of use, durable design, and processing performance. While the sticker price might be a bit more than you would like to spend, you can rest easy knowing you will have gear that will last you for years to come. Personally, we love its long battery life, solid performance, and safety-oriented power ports.
Alternative Mini Laptops You May Like Better
ASUS 10.1-Inch Transformer Mini Laptop
At $357, this laptop is such a steal. Despite the low sticker price, it still feels much more premium than other standard styles. With an aluminum and glass body, it is a bit more fragile than some of the other styles we chose but it is portable and lightweight. Just make sure you get a shock-proof laptop carrying case and you should be fine. Remember to always bring your tech with you on the plane and never keep it in a checked bag. This will help you to avoid airline mishaps with damaged goods.
The 10.1-Inch Transformer Mini Laptop from ASUS is the perfect style for working on the go. Whether you're a college student or professional, this is a good choice. Not only is it affordable but it is also a worthwhile long-term investment. Since it has a detachable keyboard, it can double as a tablet besides a laptop.
The back has a pull-out adjustable kickstand which makes it a great choice for watching videos or drawing with the handy stylus. Last but certainly not least, it comes equipped with an Intel Atom Quad Core x5-Z8350 Processor, 4 GB of RAM, and up to 128 GB of storage. Eleven hours of battery life will get you a long way.
New Microsoft Surface Go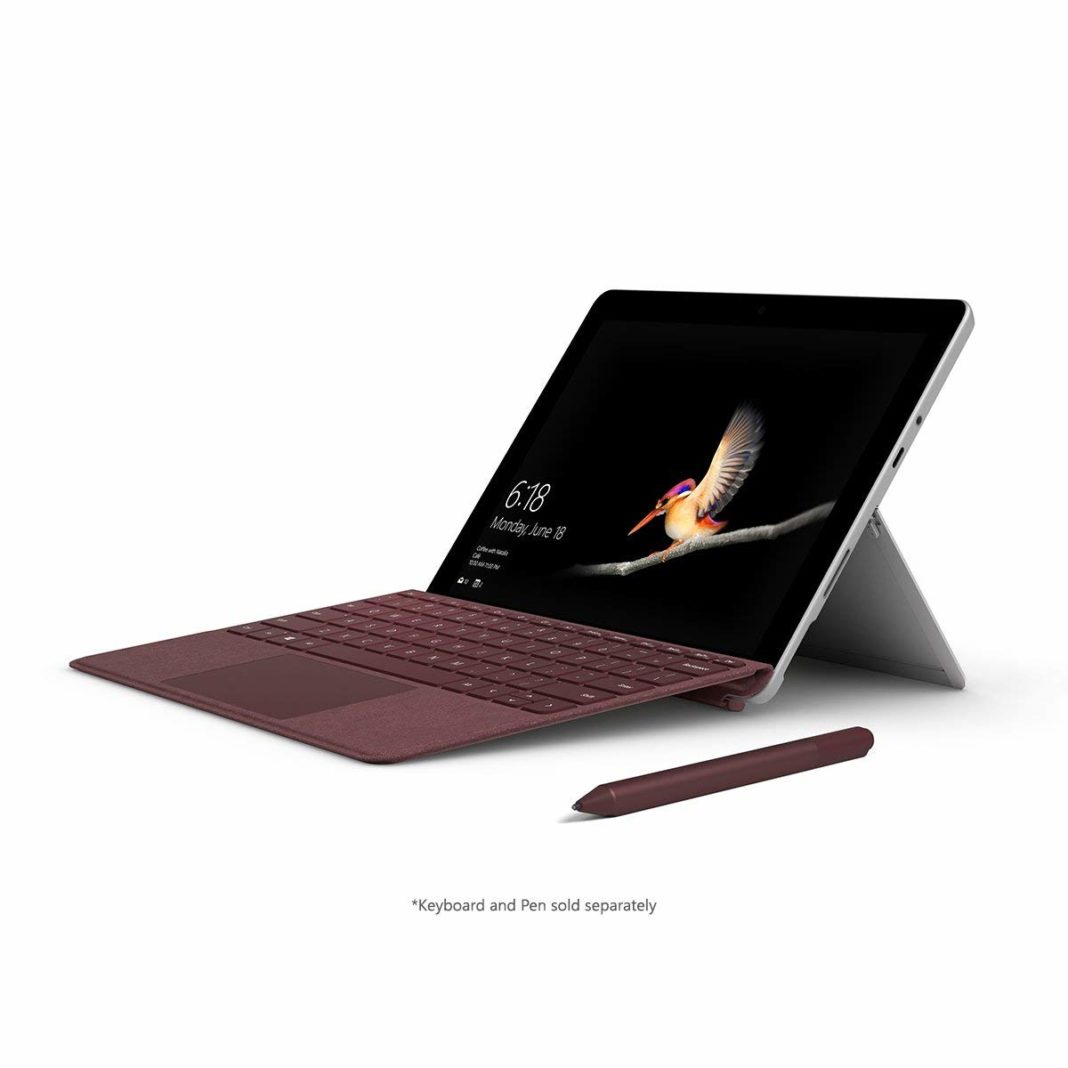 As one of the latest and greatest Microsoft Surface products, this ultra-compact 10-inch laptop is a Windows 10 capable PC. At just $529, you will get the entry-level Surface Go along with 64 GB of storage and 4 GB of RAM. Here's the best part. While the storage capacity isn't huge, it is capable of running multiple apps simultaneously without slowing down your speeds.
According to Microsoft, this Surface Go is capable of playing 9 hours of continuous videos before needing a recharge. We averaged about six to seven hours of screen time before needing another boost. All in all, this style is versatile, compact, and a great buy for the sticker price. If you're looking for the best mini laptops, you have certainly found one here. We guarantee you will not be disappointed in your purchase.
ASUS Transformer Book Mini Laptop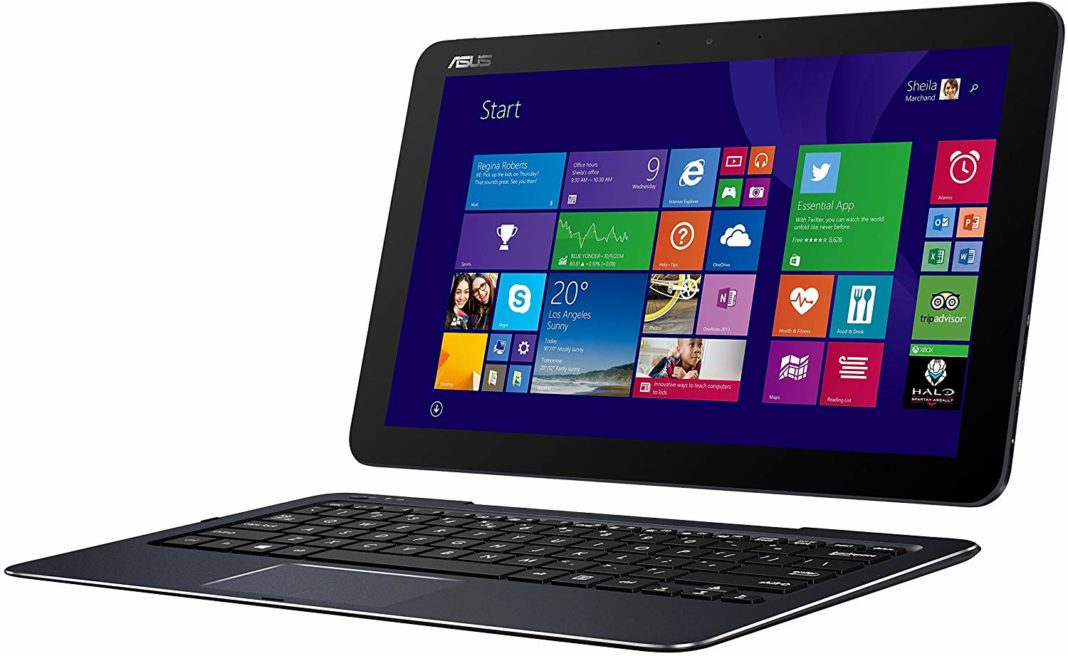 Can you believe this style is under $300? Affordable and practical, the ASUS Transformer Book Mini Laptop could be your best bet yet. A Windows 10-hybrid, it features a 10-inch high-resolution display screen along with a detachable keyboard and trackpad. These are features you would normally see on a laptop for double the price.
An Intel quad-core processor powers it up and it is well-equipped with 4 GB of RAM, an eleven-hour battery life, and 64 GB of eMMC storage. All in all, it measures less than a half an inch thick and weighs less than two pounds. Talk about portability. The long battery life, vivid touchscreen, and its compact size make it a solid purchase.
Lenovo ThinkPad X280 Mini Laptop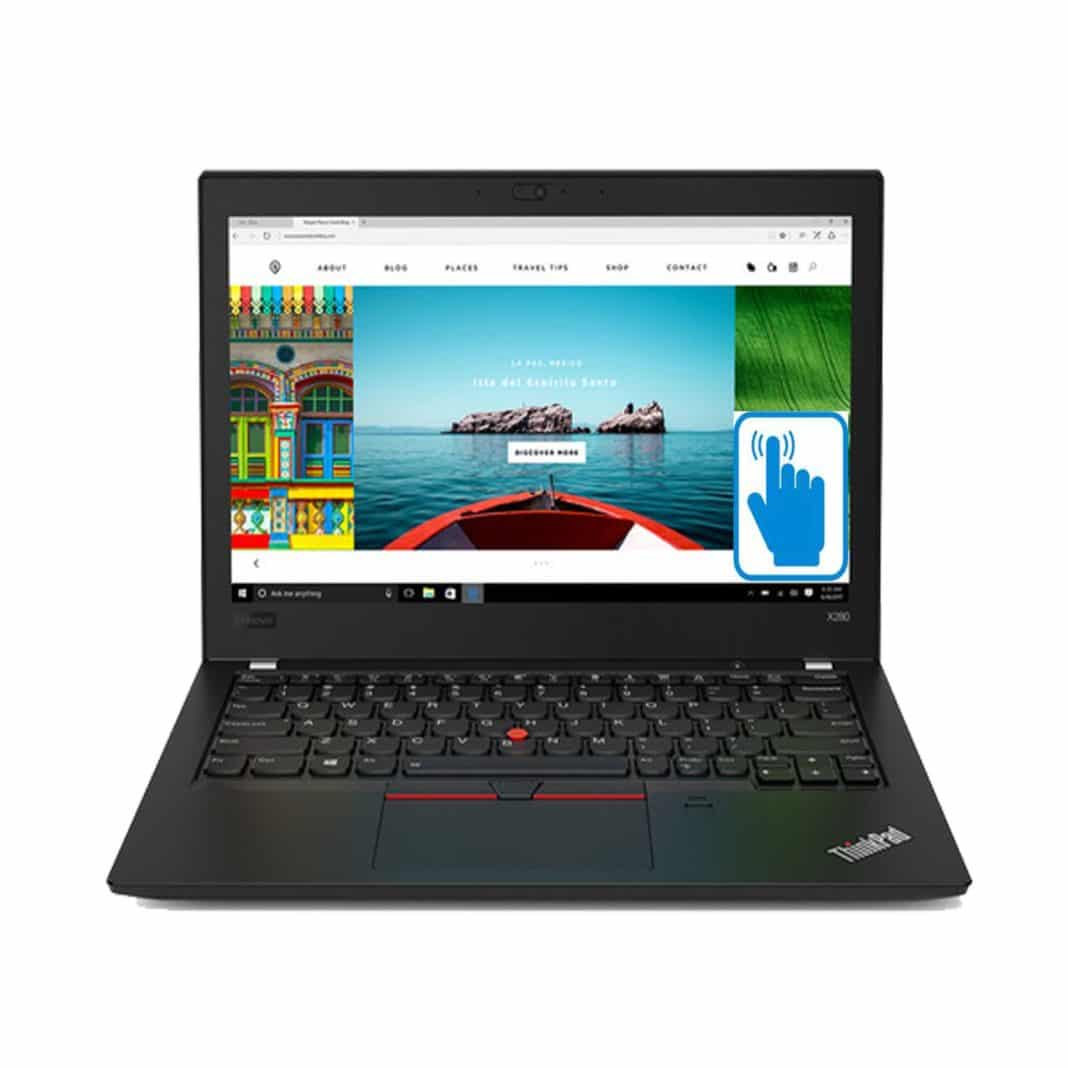 For those unfamiliar with Lenovo and this ThinkPad style, it is one of the best mini laptops on the market. Designed with professionals in mind, the X280 comes with dual Thunderbolt 3 ports, dual USB ports, an ethernet jack, and an HDMI-port. With a 12.5-inch retina display, you will have plenty of space to work on your assignments, browse the web, and watch movies. You can opt for a model with or without a touchscreen.
When it comes to storage, you have 16 GB of RAM with a lightning-fast Intel processor. Photographers and other creatives will be happy to know that it is capable of most tasks, including processing large video files. Whether you are looking to edit some 4K footage or watch HD videos, you'll have over twelve hours of battery life to do just that.
Dell XPS 13 Mini Laptop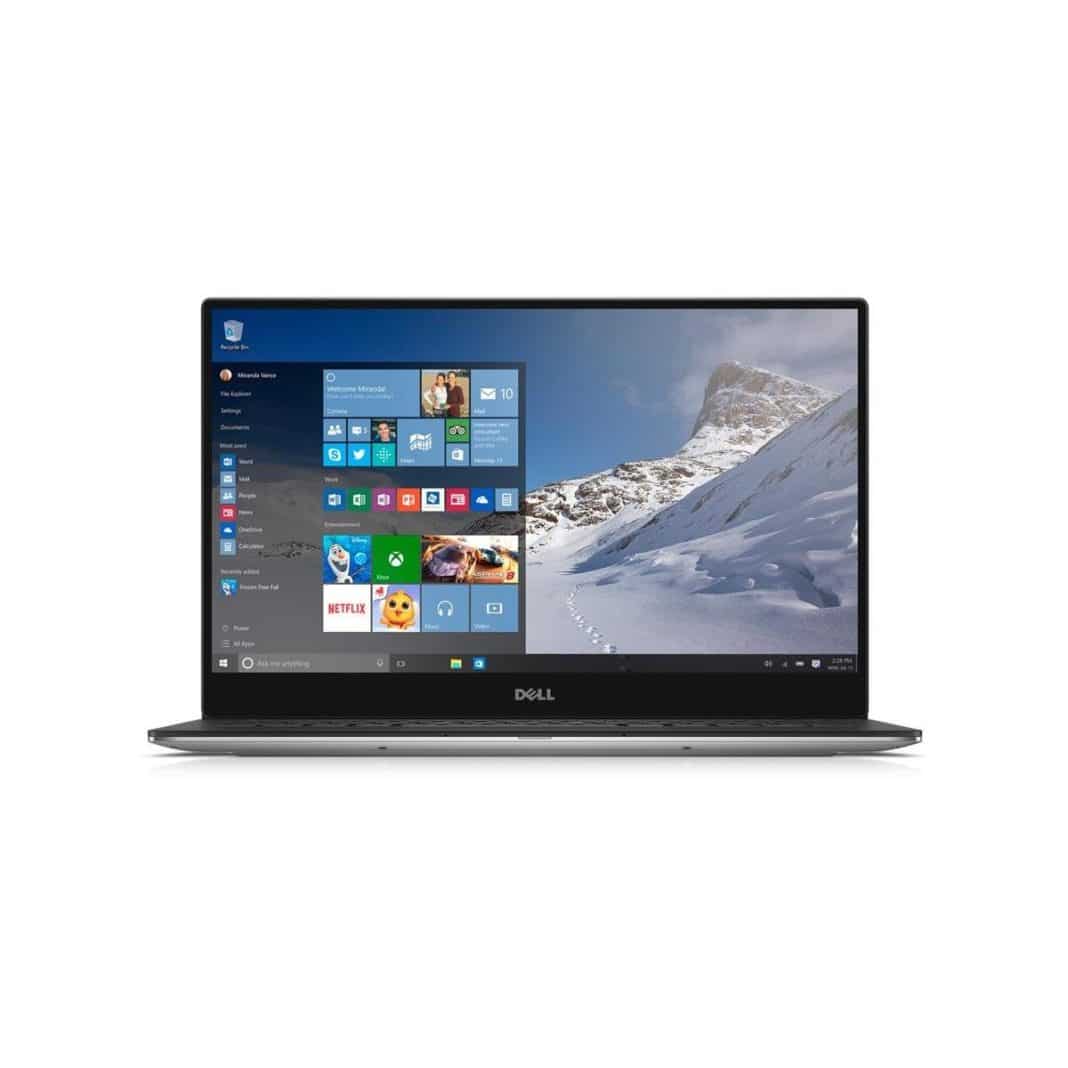 A high-end laptop, the XPS 13 Mini from Dell features Windows 10, a captivating 13.3-inch 4K display, sleek aluminum build, and a battery life that lasts for up to ten hours on one charge. The small bezels in the display screen make the laptop look much smaller than the screen would suggest. With 4GB of RAM and 128 GB SSD, you have a decent amount of storage too. Like the MacBook Air, this one is going to cost you a bit more. On Amazon, the sticker price runs around $1,099. This is definitely one of the best mini laptops in our book.
Apple MacBook 12"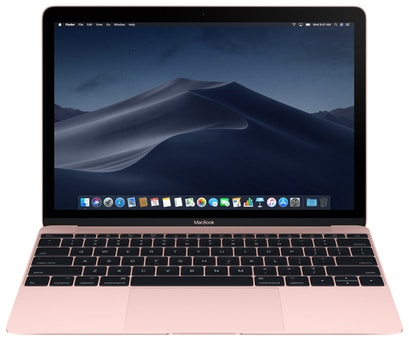 Love it or hate it, Apple is here to stay. There is an eternal debate of whether PC or Apple computers are better. But for MacBook lovers, this 12-inch laptop is a dream. At a slightly higher price tag than the 13-Inch MacBook Air, you get more in terms of portability. For the price and the name brand, you get what you pay for. All in all, you can't beat the quality of this ultrabook. 
So what does the Apple MacBook 12" have to offer travelers? First, the processing speed is great for its size. You will get a 1.2GHz dual-core Intel Core M3 Processor with Turbo boost up to 3.0GHz. Add in the 8GB 1866Mhz LPDDR3 Memory and the 256GB SSD storage and you have a fantastic speed. The Apple operating system is solid too.
When it comes to the operating system, it is set to last you for a lifetime. The Intel HD Graphics 615 offers nothing less than a crystal clear display. The keyboard has a second-generation butterfly mechanism. While it is one of the heavier laptops on our list, it is worth it when you take a look at the features and benefits. We'd rank it up with our top favorite styles.
Invest in the 13-Inch MacBook Air for Your Next Trip
When you are traveling, you need gear that won't weigh you down. Thankfully, Apple has got you covered. Whether you are working remotely, a student, or trying to edit photos on the go, the 13-Inch MacBook Air is the way to go. Why? It's smart, agile, and doesn't sacrifice on important features like battery life and processing speed. This makes it the perfect choice to work on your adventure vlog.
As you read through our picks for the best portable laptops, keep in mind which features you are looking for. What are the most important features for you? Is it price, storage capacity, or processing speed? Perhaps it is a combination of the three. Some travelers are willing to add in a few extra ounces to their carrying weight in order to get longer battery life. Some of the laptops on our list will work better for photographers and videographers whereas others are better for research, writing, and working as you travel. We appreciate the 13-Inch MacBook Air because it is strong in all of the above qualities.
Related Article: Best Mini Laptops Travelers Will Love And Need