Travelers thirst for more. Invest in gear that can keep up with your adventures – the Hydrapak Shape-Shift 3L Reservoir.
Thanks to HydraPak, travelers can enjoy 3 liters of fresh water on the go. The Hydrapak Shape-Shift 3L Reservoir is extremely durable, fully reversible, easy to clean, and helps you to perform at your highest possible levels. So, no matter whether you decide to trek on foot, bike, or ski, you've got a pack that will work for you. Keep yourself hydrated as you explore the backcountry.
What Is A Hydration Pack?
Before we dive into the specs of the Hydrapak Shape-Shift 3L, we will briefly describe what a hydration pack is and what features the best ones have. Gear like this is designed to provide outdoor adventurers and athletes with a hands-free, hassle-free way to drink water on the go. It's a very convenient travel accessory used primarily by bike riders. Choose a pack that fits well and offers the storage capacity for the amount of water you think you will need.
Packs like the Hydrapak Shape-Shift 3L come in handy for a variety of reasons. You can drink water on the go without halting or pausing. In essence, this accessory is a backpack with a plastic bladder, tube and mouthpiece. A tube runs through a special opening in the backpack and a fixed shoulder strap, so you can drink water whenever you need it.
Hydration bladders fit into packs. These packs are specifically designed for more intense activities like downhill biking and running often come with belts to stay securely in place. For the purpose of this review, we will go over the most important features of hydration bladders that you need to consider.
About the Company
HydraPak equips you with the gear you need to go above and beyond in your travels. And we can't thank them enough for that. To these folks, details matter. The product designers spend thousands of hours considering every minute detail that goes into what they make. Needless to say, the company has earned a great reputation for its products durability on dusty mountain trails, backcountry roads, and everything in between.
They don't supply their brand partners. Instead, they collaborate with them through every part of the testing and design phase. This comes with the belief that the finished product should always be more than just the sum of its parts. From their, they engineer their gear to be a reliable platform you can use to push yourself farther. The Hydrapak Shape-Shift 3L is exactly one of those devices. So go ahead and set that goal. When you achieve it, know that HydraPak will be there to help you achieve another. And another.
Hydrapak Shape-Shift 3L Reservoir Features & Benefits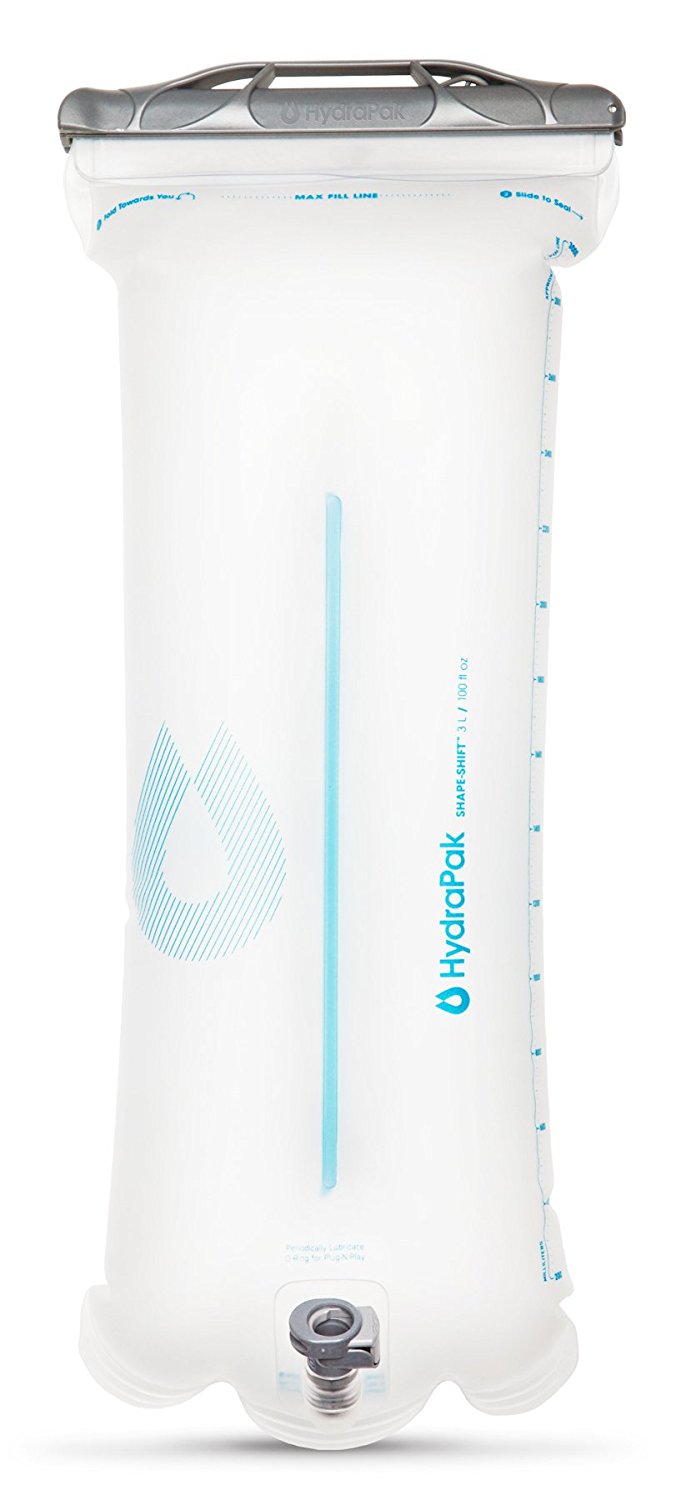 One of our favorite features about the Hydrapak Shape-Shift 3L is its shape-shift lock and slim profile. The slide-seal opening offers easy filling and closing. A leak proof seal ensures that the bite valve self seals after each and every sip. So, you never have to worry about it leaking out all over your stuff. Plus, there is also a twist on and off bar to prevent leaks when the pack is not in use.
The plug-n-play system allows you to easily disconnect the drinking tube and take the reservoir off from your pack. This makes for super convenient refilling. And we know we said this already but it's worth another mention – the Hydrapak Shape-Shift 3L is fully reversible! Cleaning your hydration pack has never been easier. Last but certainly not least, it is top-shelf dishwasher safe and 100% BPA PVC free.
3L Reservoir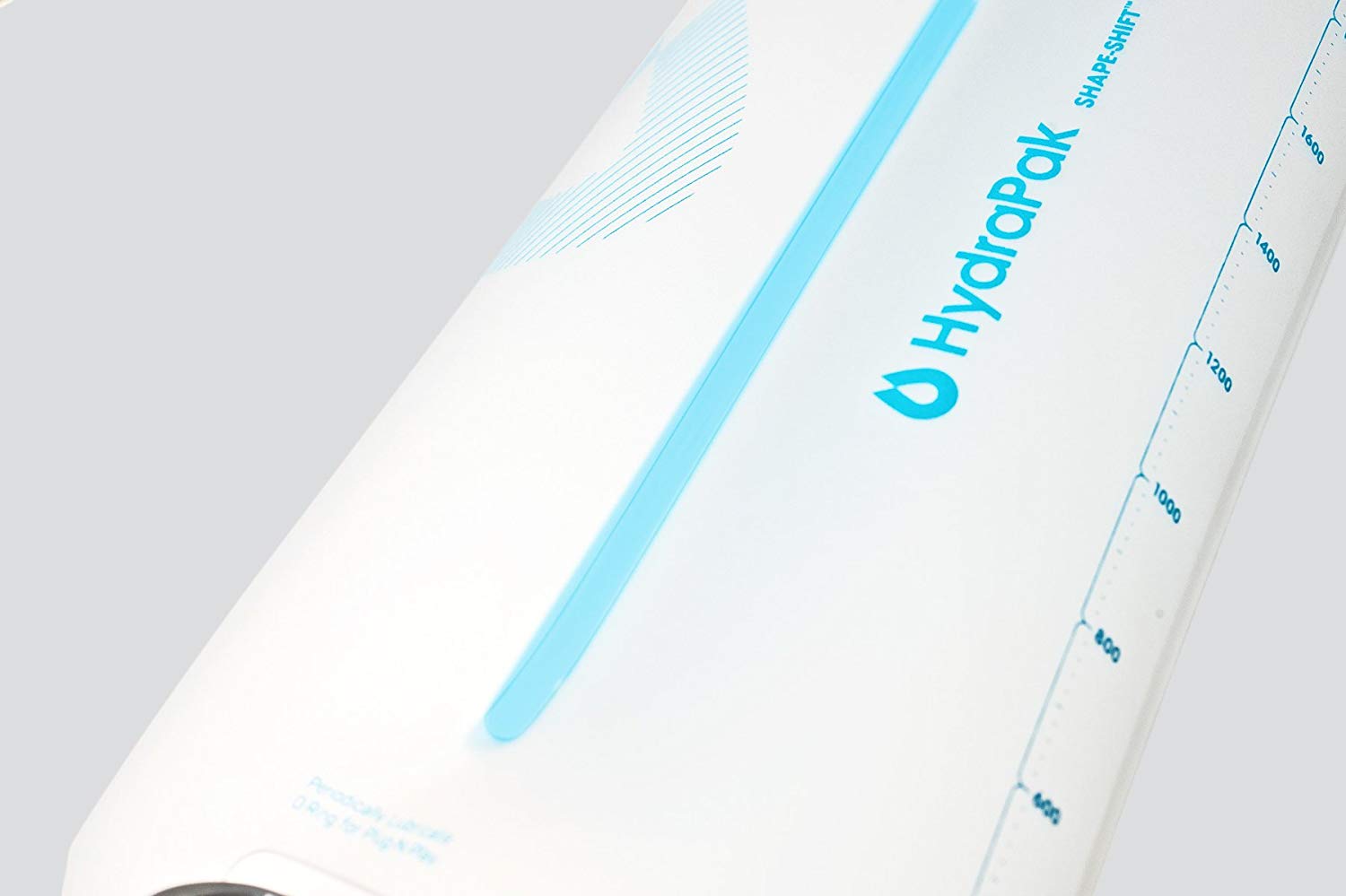 Premium, taste-free reservoir features a low-profile shape, a wide-mouth opening that locks securely, and a quick-disconnect hose. This makes it super convenient to stop and take a quick sip of water while you're on the go. It's clear this pack is designed for lovers of the outdoors. The hooks hold the reservoir securely in place while you ride, walk or run. A dedicated hydration pocket makes it easy to access, clean and refill reservoir. Cool down and refresh anytime and anywhere. It really is that easy. This is such a handy feature to have wherever your travels may take you.
Tech Specs:
Outdoor tech + gear

3 liter water reservoir

Shape-shift battle

check

Slide-seal open top

check

Twist on/off bar

check

Plug-n-play connect system

check

Fully reversible for easy cleaning

check

Top-shelf dishwasher safe

check

Can be frozen or filled with hot water

check

100% BPA PVC free
What Travelers Are Saying About the Hydrapak Shape-Shift 3L Reservoir
Overall, the Hydrapak Shape-Shift 3L is a great travel accessory. We are so impressed with how durable and comfortable it is. Best of all, it fits like it should. We really like how the bladder detaches and how well the fill cap works.
Ratings
Rated 4 out of 5 stars, it's clear that travelers love their Hydrapak Shape-Shift 3L . Most travelers who wrote their reviews rated the product after several months of use. Many used it for adventure racing (mountain biking and kayaking), while others used it for hiking. Most were really glad they decided to replace the generic hydropack they've been using the past two years with this style. Besides being durable, it is so affordable.
Alternative Hydration Packs and Bladders to Try
CamelBak MULE Hydration
This style from CamelBak is one of our favorite hydration packs. The M.U.L.E. has a narrow-gauge design that keeps it light and maneuverable—so even when it's fully loaded for a day of mountain biking, it won't get in your way.
It's all built around the brand new Crux reservoir, which is even easier to load and refill, and delivers more water with every sip. Ever since M.U.L.E. launched in 1996, mountain bikers have been telling them that it hits the sweet spot of size vs. storage: it's lightweight, but big enough to carry three liters of water and a day's worth of snacks and gear.
They've also added air channels to keep your back cool, universal helmet hooks, and clever compartments for stashing tools, keys and electronics. The latest version also features a magnetic tube trap that snaps easily into place, so you can hydrate without taking your eyes off the trail. The new Crux reservoirs deliver 20% more water with every sip in a package loaded with the latest in hydration technology. The easy-open leak proof cap is redesigned for easier refilling and seals shut in just a few twists.
Tech Specs:
20% more water per sip with the crux

Ergonomic handle

Easy refilling

check

Leak proof

check

Magnetic tube trap

check

Breathable back panel

check

External hooks

check

Stretch overflow storage compartment
Geigerrig Pressurized Hydration Engine and Reservoir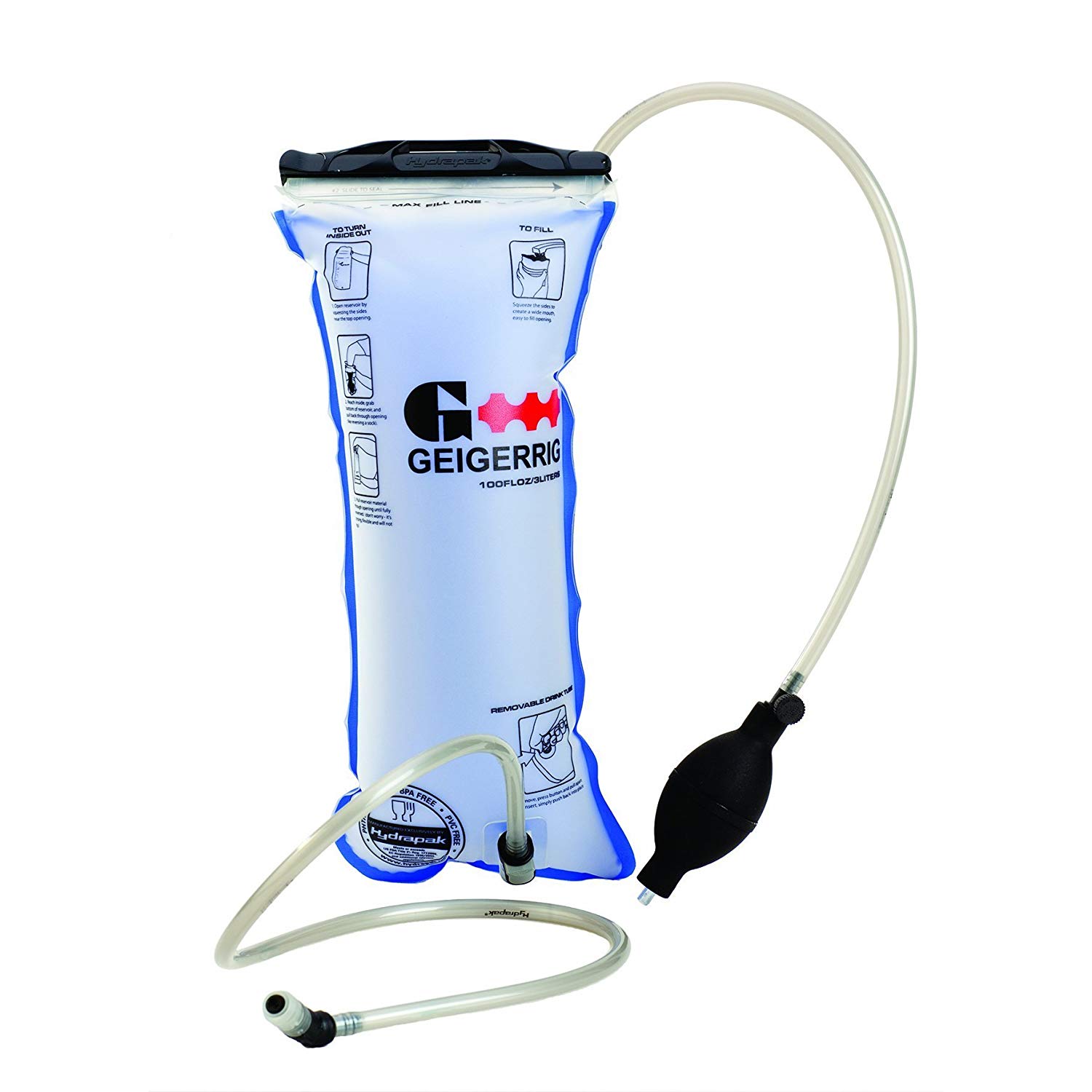 Take a pass on the traditional hydration bladders and opt for quality. The Geigerrig Pressurized Hydration Engine and Reservoir offers ease of use and a build that will hold up. So, how do you use it? Well, all you need to do is add pressure to your reservoir using the power bulb and have on-demand water that sprays. A reversible, dishwasher safe design makes cleaning it extremely simple. All Geigerrig engines are covered by a lifetime warranty against leaks for years and years of use.
Slide the top off and you can easily refill from any river, stream, lake, or pond. Protect your thirst by plugging an Aquamira Frontier Filter inline via the built in quick connects and have a complete hydration and filtration system anywhere you go. The 3 Liter engine fits all larger hydration packs. Just bring a portable water filter and you're good to go.
Tech Specs:
3 Liter (100 oz.) capacity to spray to drink, cool, clean, and share

Slide top and wide open mouth for fast refill

Reversible, dishwasher safe reservoir

check

Lifetime warranty

check

Filter ready for use with

check

Spray to drink

check

Spray to cool
MSR Dromedary Bag Water Reservoir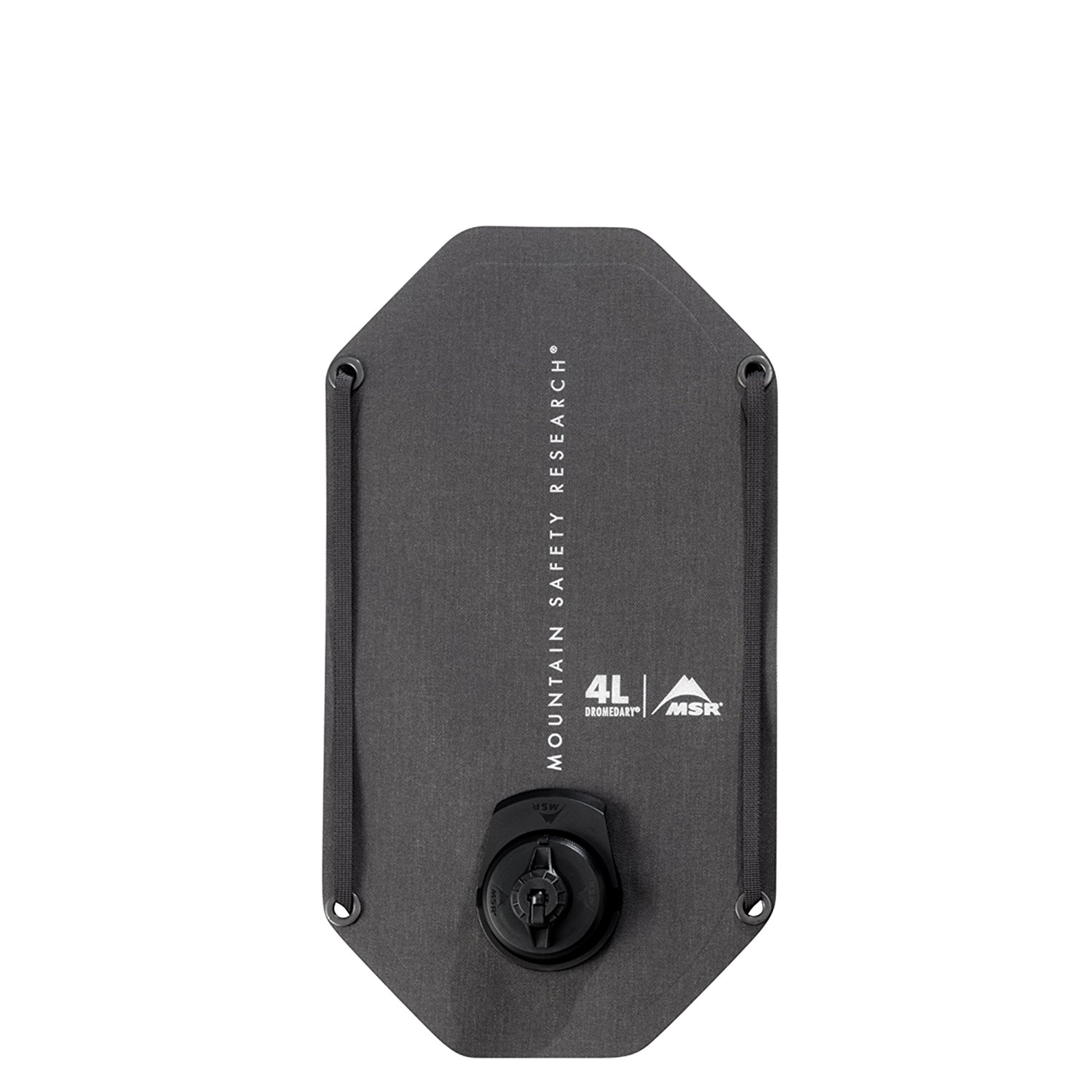 The MSR Dromedary Bag Water Reservoir has quickly become one of our favorite travel accessories. Perhaps the best feature is that it is collapsible for superior packing. Take it anywhere; it will get the job done for everything from alpine to offroad conditions.
It is equipped with a laminated exterior, as well as a newly-improved BPA-free food-grade lining. The result is better-tasting water. This hydration bladder can handle freezing and the abuse inflicted by expedition crews and hardcore adventurers. Features streamlined webbing and strategic grommets for pack attachment and hanging.
Tech Specs:
Collapsible water storage for all kinds of expeditions

Laminated: BPA-free food-grade; better-tasting water

Made in the USA

check

Equipped with durable 1,000-Denier exteriors can handle freezing
Invest In the Best Hydration Bladder for Your Travel Needs – aka the Hydrapak Shape-Shift 3L
We hope you enjoyed reading out article about the Hydrapak Shape-Shift 3L and the alternate products we chose to review. Offering a 3L hydration storage reservoir, this travel piece from HydraPak is just what you need to feel good on the go. No matter where you are going – whether it's a day trip, hike, or off road, it will get the job done.
As you can see from our selection, we chose nothing but the top-quality products on the market. A couple of our other favorite products and gear include portable water filters and a few hydration apps too. Have you used any of these products before? What are your favorite travel accessories when you are on the road? Let us know in the comment section below.
Related Article: Choose The Best Hydration Bladder For Your Next Adventure