When you're looking for a scenic getaway, these resorts in Michigan have all you need.
Welcome to the Midwest state that's full of surprises. From the Great Lakes to sprawling cities and dense wilderness, there's no denying this is a prime vacation destination. Half of the state is covered by forest. Breaks in groves of maple trees give way to pristine shoreline, historic villages, and a flourishing craft drink scene. While locales like Mackinac Island are a big draw in the summer, there's something to be said for visiting resorts in Michigan in the fall and winter too.
Autumn offers a scene plucked straight off a postcard, a kaleidoscope of colors you'd swear is unreal. Go apple picking on a farm, make your own cider, and revel in the magic of the season. Come winter, the landscape is covered in a thick white blanket of snow. Locals and travelers alike gather together to warm up their hands with a cup of hot chocolate and hit the slopes at nearby ski spots. As you can see, the best resorts in Michigan offer something for every type of traveler.
Here Are Our Picks for the Best Resorts in Michigan
1. Crystal Mountain
Credit: Crystal Mountain Resort & Spa
Welcome to Thompsonville. Nestled in the heart of Benzie County, Crystal Mountain is the perfect year-round resort featuring some of the finest accommodations and best activities for miles and miles around. Are you traveling with the whole family? The resort offers several different options for you. Choose from renting out a condo, multi-bedroom cottage, or bungalow. Luxury awaits you in the form of sweeping balconies, private pools, and spacious kitchens.
On-site, the options for entertainment are endless. Take the kids to the Park at Water's Edge, an epic combination of a large swimming pool and the ultimate aquatic playground. Did someone say water basketball? Step outside and you'll find a climbing wall and adventure course. If you're looking for a little more of an adrenaline rush, they've also got mountain biking, paintball, and an epic alpine slide. Crystal Mountain is surely one of the best resorts in Michigan.
2. Grand Traverse Resort and Spa
Credit: Grand Traverse Resort and Spa
Adventure awaits at the Grand Traverse Resort & Spa. This getaway has stella reviews and it's easy to see why. The central location provides guests with close proximity to the gorgeous Lake Michigan beaches, picturesque wine country, and some of the country's finest golfing destinations. Does it really get any better than that? Well, yes. You don't even need to leave the resort. Luxurious accommodations, fine dining, and entertainment come together to offer a full-service escape. On-site, you will find three restaurants, two bars, and options to dine with views of either the golf course or the bay.
Outside, you'll find plenty of wooded hiking trails to explore. Bring your blanket and a book to the beach. What's better than cozying up on the sand with a big sweater and a cup of hot tea? Book yourself a day of relaxation at the world-class spa. If you're feeling a little more adventurous, rent out some paddle boards and jet skis, or try your hand at blackjack at the nearby Turtle Creek Casino. There's no doubt about it – Grand Traverse is one of our favorite resorts in Michigan.
3. The Inn at Bay Harbor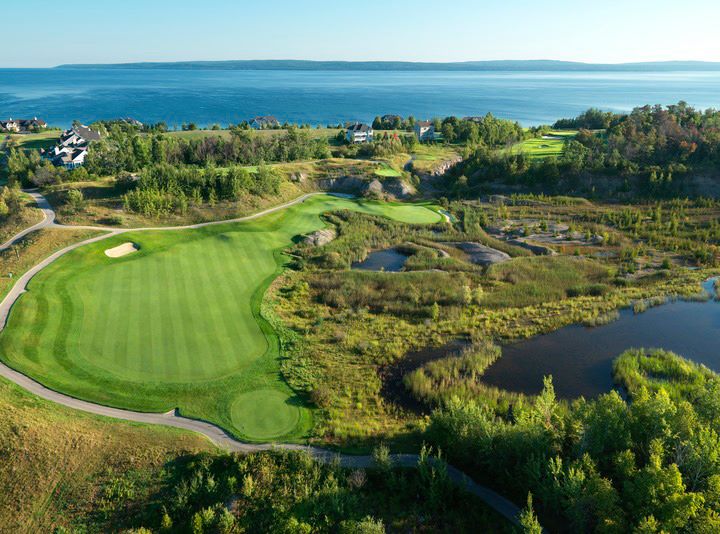 Credit: The Inn at Bay Harbor / Facebook
Welcome to a little slice of paradise. Framed by the natural beauty of Bay Harbour, the property offers a secluded escape that feels all your own. The Inn is redefining what it means to be one of the best resorts in Michigan. Here, uncompromising levels of elegance, detail, and service come together. The result is an unforgettable experience for you and the ones you love the most.
Here, luxury is in every detail. Fine dining, lake views, and rustic wineries come together to offer a one of a kind experience. You will also enjoy a 45-hole championship golf course, full-service spa, close proximity to boutique shopping, and a beautiful marina center. This is the place to pursue all of your passions. When it comes to accommodations, the options range from spacious suites to entire cottages. If you'd like to have a room with a fireplace, kitchenette, or private covered porch, all you've got to do is ask.
4. Evergreen Resort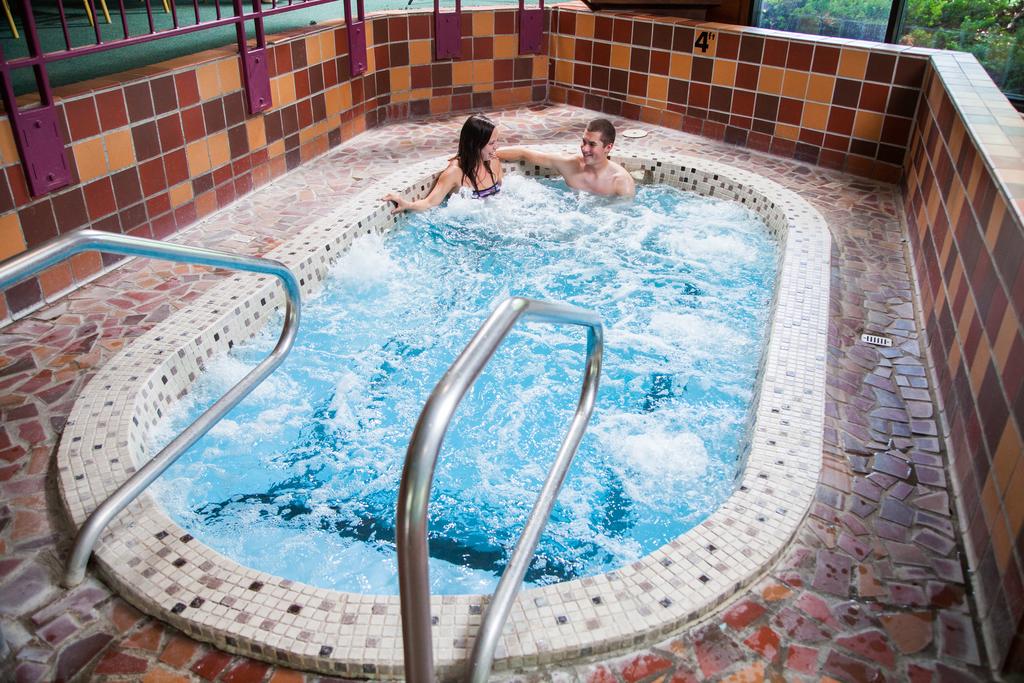 Credit: Evergreen Resort
You'll find this lovely stay located on 327 sprawling acres just outside the city of Cadillac. Evergreen Resort is home to award-winning golf courses, beautiful nature trails, and 117 cozy guest rooms. What we love most about this stay, is that there is always something to do. Mile of trails offer plenty of hiking and biking adventures, snowmobiling, and cross-country skiing. There is always a reason to get out and explore the great outdoors.
When you're not out soaking up your fair share of sun, there is plenty to do within the hotel itself. Check out the two on-site restaurants, soak in the whirlpool, sit in the sauna, or play a game of tennis on one of the many courts. Whether you're coming here to celebrate a special event or just because, you can rest easy knowing the folks at Evergreen are here to make the most of your up north experience.
5. Boyne Mountain Resort
Credit: Boyne Mountain
The fun never ends at this premiere north Michigan resort. Take the family on the adventure of a lifetime here at Boyne Mountain. From splashing around in Michigan's largest indoor water park to cruising along a zip line, or horseback riding across the lush grounds, there are so many things to do. But it doesn't end there. They also offer fly fishing lessons, wakeboarding camps, and more out of the box activities like paintball and daily hayride tours. You imagine it, they have it.
Two luxury golf courses, Alpine and The Monument offer plenty of opportunities for all day play. After you work up an appetite on the greens, choose where to grab a bite. Eight on-site restaurants offer you plenty of options. So, even if you're kid "isn't hungry for that," you can work something out. Whether you're in the mood for a cold one at the beer garden, a deli pick-me-up, or something sweet from the ice cream shop, you're in luck. When it comes to lodging, you can stay in their Europea lodge, larger condos, villa, or cabin.
6. Bavarian Inn Lodge
Credit: Bavarian Inn Lodge
It's all in the name. Take one look at this place and you'll feel like you've been transported back in time to a quaint Bavarian village. Seriously, this place is something out of a fairytale. Riverfront scenery gives way to horse drawn carriages, boutique guest rooms, and over 40 restaurants and shops on this property. Traditional architecture can be found in the Glockenspiel and charming covered bridge.
The resort is also home to plenty of festivals, so chances are, while you're there, you will run into something special to take part in. But even in the off chance that you don't, there is plenty of nightly entertainment including family karaoke events on Fridays and Saturdays. And just like you'd expect, there is a plethora of delicious German food waiting to be consumed. Think schnitzel, golden chicken, bratwurst, beer, and plenty of sauerbraten.
It's all served up in a very traveler friendly way. It's all you can eat, family-style. Don't sweat it though. After you've eaten your fill and slept through that food coma (because it will come), you can work off the meal at one of their many tennis courts or in the on-site sauna.
7. Bayshore Resort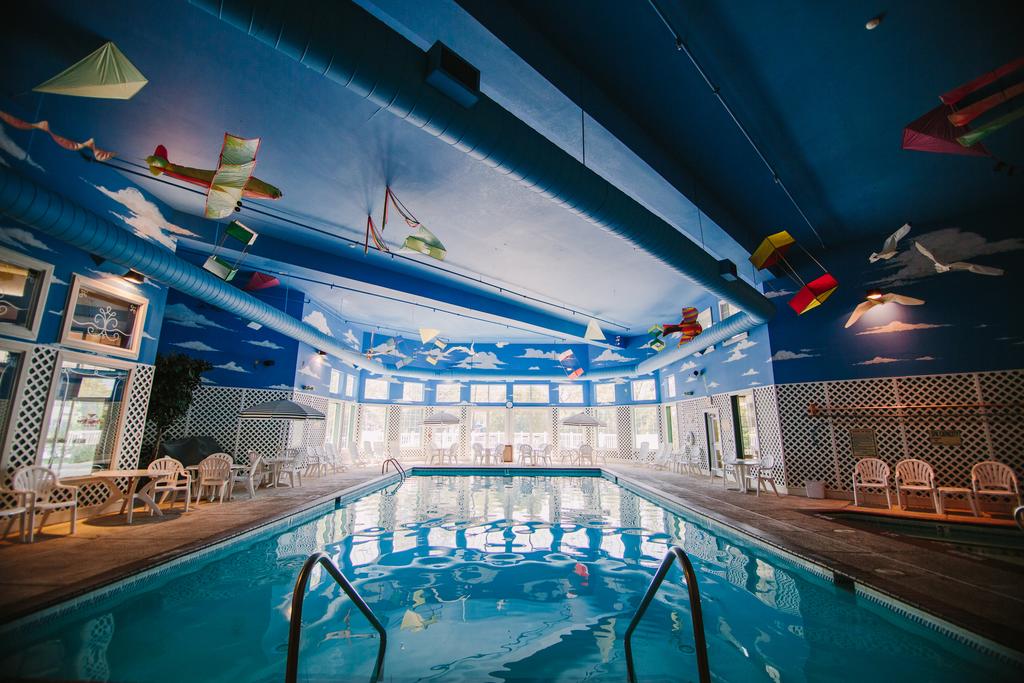 Credit: Bayshore Resort
When it comes to resorts in Michigan, you won't find any better than Bayshore. Just a short walk from downtown, you'll find this lovely stay located on the shores of West Grand Traverse Bay. From here, you have close proximity to many of the great local wineries and casinos. But since you're on vacation, we definitely get it if you just want to stay on the resort grounds for your share of fun, rest, and relaxation. What type of vacation are you planning?
If you're seeking out something budget friendly, we recommend opting for one of their standard rooms. However, if you're trying to upgrade to something a little bit more spacious, the spa rooms and suites with bay views won't disappoint. Plus, each room comes with WiFi. When it comes to activities, you have your fair share of options. Spend the afternoon splashing around in the indoor pool or head out to the lake and rent out some jet skis. Bayshore offers several types of vacation packages, so you can tailor your experience exactly how you want it.
Book Your Stay at One of the Best Resorts in Michigan
Come and escape the hustle and bustle of life at one of the best resorts in Michigan. The amount of variety these hotels offer in terms of activities and accommodation is a huge draw. Furthermore, the rates are great. Imagine how much you could save by booking an inclusive vacation package and dining on-site? If you want our advice, make the most of your stay and try out a little of everything. Why not treat yourself?
Related Article: ​​The 7 Coolest Hotels Around the World​​​