The Standard Miami Sets the Bar High for the Ultimate Relaxation Experience
Treat your body, soul and mind to the luxuries at The Standard Miami. This paradise means that you'll get to partake in a variety of totally rejuvenating experiences, and you'll leave vacation feeling better. Your options for treating yourself are seemingly endless at the Standard Spa. To begin, there's an aroma steam room, Roman waterfall hot tub, Finnish sauna, arctic plunge, treatment baths, mud lounge, Turkish-style hamam, and an infinity pool. But that's not all! Wake up with morning yoga, brought you to by world-class instructors. Participate in meditation, or check out the classes offered for your mind's rejuvenation. Perhaps, even, you'll come for one of their many retreats, which emphasize an exploration of renewal techniques, practices and traditions.
About The Standard, Miami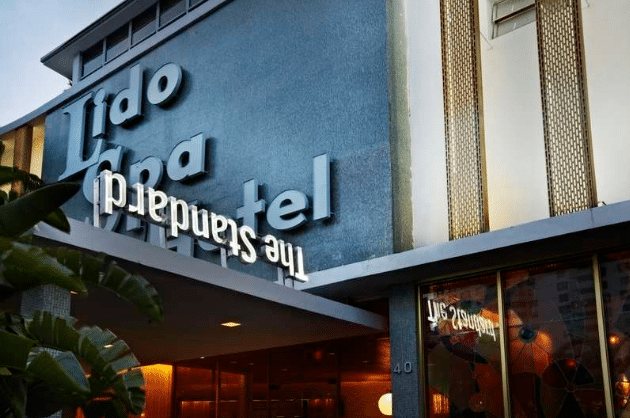 Credit: The Standard Miami
This is not the kind of place where you begrudgingly pay for an overpriced massage on a rainy beach day. Instead, guests head to the Standard Miami in search of an entire spa vacation, and leave feeling totally rejuvenated after trying it all! You won't find families dragging their kids' beach toys down to the shore to build sandcastles. Rather, this whole spa experience is about relaxation, and rejuvenation of your body and mind. The emphasis is on the spa experience, rather than a beachfront hotel vacation. Now, that being said, the Standard Miami Spa and Hotel happens to have a sweet location, on an island between Miami and Miami Beach. Therefore, you'll still get to experience the sun and turquoise waters of Miami's beaches. Standard Spa's location does offer easy access to the South Beach area of Miami, just a ten-minute drive away. Also, the famous shopping of Lincoln Road is even less than a ten minute drive away. The Standard, Miami rests upon an island in Biscayne Bay. This means you'll have spectacular bay views. The island is accessed by a main road that delivers to Miami Beach.
Let's Talk Accommodations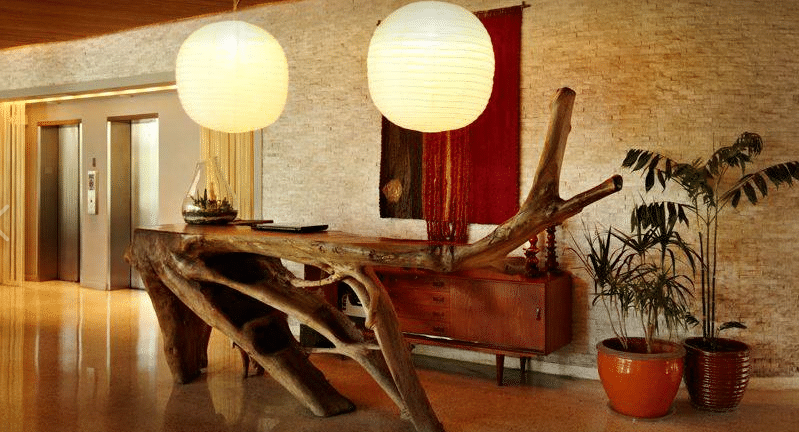 Credit: The Standard Miami / Facebook
The rooms reflect The Standard Hotel's understanding that you're here to relax. Each room offers basics that are luxurious: Egyptian cotton sheets, comfy beds and plentiful pillows. Then come the extra bonuses: hooded robes, daybeds, spa rain showers, custom organic bath amenities, and flatscreen TVs. Rooms are stocked with a mini bar and assortment of organic treats for you. Decor enhances the rejuvenation that you seek here; it's tasteful and serene with shades of white and navy blue accents for a crisp, clean look. Additionally, when you book a room, you'll receive complimentary access to the "hydrotherapy playground," hamam (Turkish bath), mud lounge, aroma steam room, and cedar sauna, salt water sound pool, and waterfall hot tub.
Lastly, as the cherry on top of this perfectly relaxing vacation, The Standard, Miami doesn't kick you out for a 10 am check-out. YOU get to be the one to decide the times for check-in and check-out. This does come with a small extra fee, but it's a great option for early or late flights, or even to maintain a truly relaxing, unrushed vacation. When you book your room ahead of time, you can select this option with some rooms online.
Standard, Medium, and Large Rooms
Credit: The Standard Miami / Facebook
Choose between these options for room sizes: standard, medium and large (or even extra-large for the Bath Terrace!). Then, select your idea location for your room: Garden, Bath Terrace, or Bay View. Garden rooms look out into the lush, interior gardens (in which there's no "out-of-season.") The Bath Terrace rooms mean that you'll get your own terrace with a soaking bath outside! Garden View and Bath Terrace large rooms are typically about 415 square feet. All rooms allow you free access to the relaxing waters and sauna. Additionally, some of these rooms even feature their own soaking baths, indoors or outdoors.
Extra-Large Rooms and Suites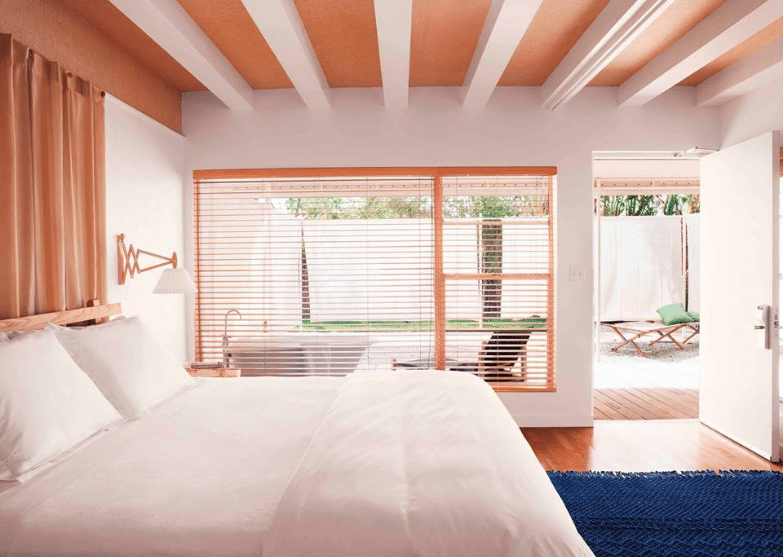 Credit: The Standard Miami / Facebook
The extra-large Bath Terrace room sets you and your friends up for a perfect vacation, with a four-person jacuzzi, and wrap-around terrace with garden views. The Bay View Suite is another ultimate option for spaciousness and luxury. This second-story suite offers views of the bay, of course, from the room. Additionally, you can take in these views on the large wrap-around terrace right outside. You'll also get to enjoy the spaciousness of a bedroom, bathroom and living area. These suites feature Egyptian cotton sheets, plush bathrobes, fancy bathing amenities and access to the hydrotherapy playground.
Let's Talk Amenities
The Standard Spa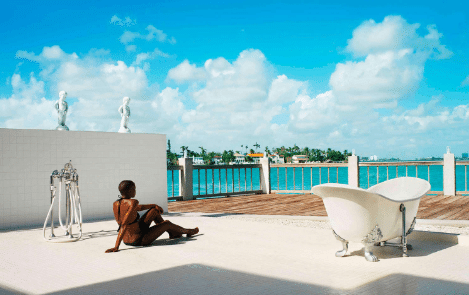 Credit: The Standard Spa Miami
The Spa is the ultimate amenity here at the Standard Miami, and the reason that many guests consistently return. As a guest, you will receive complimentary access to the "hydrotherapy playground," hamam, mud lounge, aroma steam room, and cedar sauna, salt water sound pool, and waterfall hot tub. Additionally, you can book the extra spa treatments easily online. The spa seeks to combine old traditions with new research, to bring your body and mind to a place of renewal. Since the Standard Spa is the primary reason that guests book a room, this spa is totally top-of-the-line. Find more information about the Standard Spa's menu here, which includes various facials, massages, manicures/pedicures, acupuncture, and more.
Infinity Pool and Gardens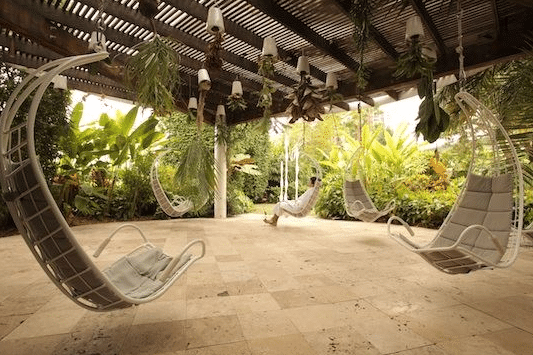 Credit: Standard Miami / Facebook
Relax around the large pool. Pull up a chair so your feet are in the shallow waters, or read a book under the shade of the umbrellas. From the pool, you can also look out over the bay, and watch the ships go by. Palm trees line the pool, offering a calming rustle with the breeze, and providing some shade. The gardens also offer some beauty and tranquility, and no matter what the season, you'll get to enjoy the lush varieties of plants here at the Standard Miami.
Classes
Credit: The Standard Miami / Facebook
Begin your day every morning, if you so desire, with the morning yoga class. Choose other options throughout the day such as Flow-intuit yoga, gentle yoga, Hatha Flow, and Hatha Yoga. Additionally, you can join the stand-up paddleboarding, or pilates. All classes are offered plenty of times, at idea times throughout the day. Classes happen in beautiful atmospheres, whether outside or in bright, open spaces. Access the online scheduling for classes at the Standard Spa here.
Let's Talk Dining
Lido Bayside Grill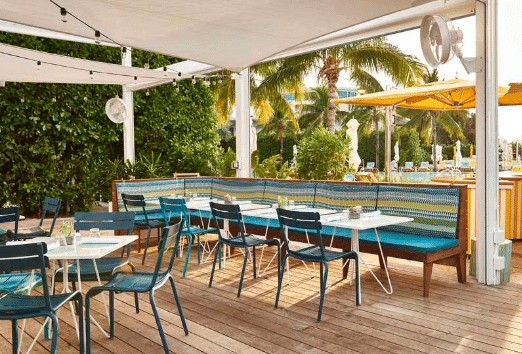 Credit: The Standard Miami / Facebook
Open between 7 am and 11 pm every day, Lido makes sure that you won't have to interrupt your lounging. They're located with views of the bay, and offer a truly refreshing menu. You'll find Mediterranean-inspired options with organic meats and fishes, and fresh herbs. They host "High Tides Happy Hour" from 4-7 on weekdays, and a splendid menu of cocktail options. Enjoy breakfast, lunch and dinner here at Lido, as well as all the in-between times, with fresh juices, smoothies, wines and beers.
Miami Juice Cafe and Terrace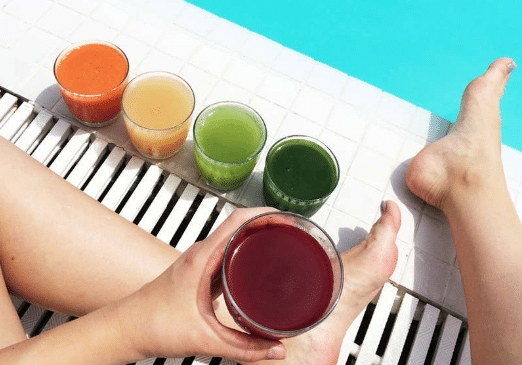 Credit: The Standard Miami / Facebook
You'll find this terrace cafe located off the lobby, with a beautiful courtyard garden. Enjoy a casual meal here, with grab-and-go sandwiches, snacks, coffee and tea. And of course, there are cold-pressed juices.
What Other Travelers Are Saying About The Standard, Miami
Many guests return to this best Miami Spa because they love their experiences. In fact, the Standard Spa offers the chance to become a member. This means you can return often to relax, rejuvenate, then head back out into the world. It's most definitely a destination worth returning to, since the spa offers top-notch treatment, and you'll crave the revitalization that you feel after a trip here.
Many other travelers find the staff to be incredibly friendly and professional. Guests leave on a first-name basis with the hotel's employees, from the parking valet who holds the door open, to the waiter at the Lido Grille. These travelers have found the staff to be helpful, and willing to go the extra step to please their guests. Travelers also appreciate the total relaxation opportunities presented here at The Standard Miami. Class offerings are plentiful, and booking spa services is simple. Guests also appreciate that the whole space is well-designed. There are plenty of nooks for lounging or hammocking, calming decor, as well as open space.
Additionally, travelers are pleased with the fresh options at the Lido Bayside Grill. The food is delicious, though perhaps pricey, and dining here is convenient. And lastly, many find the pool to be a lovely relaxing spot, in between spa treatments and bathing or warming up in the sauna.
The Standard Miami offers a spa paradise and the ultimate vacation of relaxation.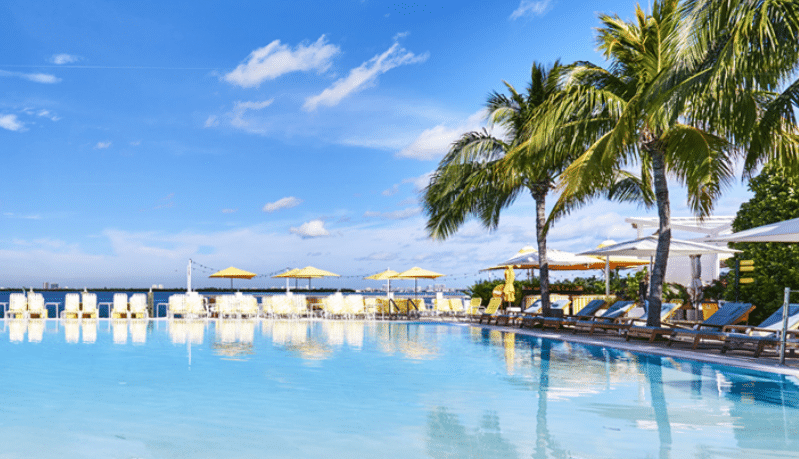 Credit: The Standard Miami
The Florida sun and clear waters of Miami are enough to alleviate the stress of work life. Combine Miami's location with a high-standard spa and boutique hotel and you'll be living the relaxation dream. The Standard Miami Hotel and Spa excels in all categories. Their rooms are well-kept, well-decorated, and offer little luxuries. The whole property welcomes you in with lush gardens and landscaping, and cozy couch corners. Opportunities for relaxing experiences are seemingly endless, and your days will be spent hopping between these activities: waking up with morning yoga, lounging by the pool, getting a massage, reading in the gardens, and dining by the bay. What's better than that? The Standard Miami may be your new go-to destination for a weekend getaway. It's a place where you'll feel refreshed, rejuvenated, and ready to tackle the world, if your vacation must end.
Related Article: ​The 10 Best Hotels in Miami​​​