Let Your Stay Be Epic At Kimpton EPIC Hotel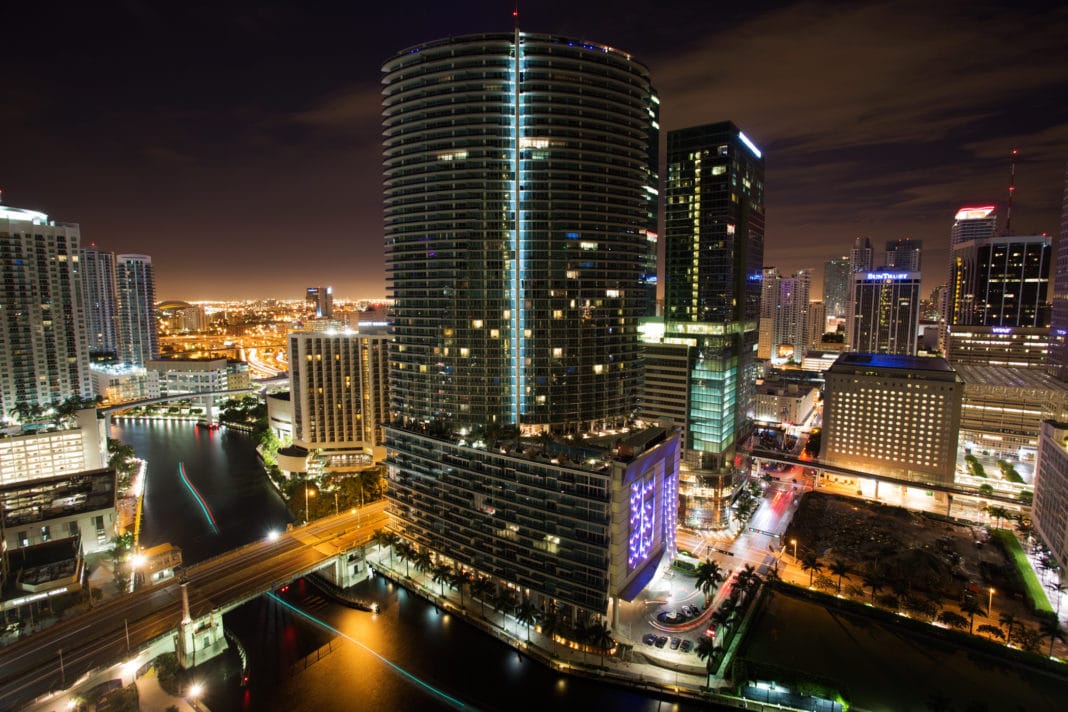 Credit: Flickr
If you're looking to stay somewhere epic on your trip to Miami, look no further than Kimpton EPIC Hotel. Winner of the Silver, Best Hotel in the USA 2018 list U.S. News & World Report, this massive luxurious hotel is as good as it gets! Pull up and have your car valet parked, and take a walk into luxury. You will be amazed! This massive place is pure luxury inside and out. From its enormous and open lobby area to the different extravagant room types, you will feel like you are in the best Miami has to offer, hence the name!
Location Location Location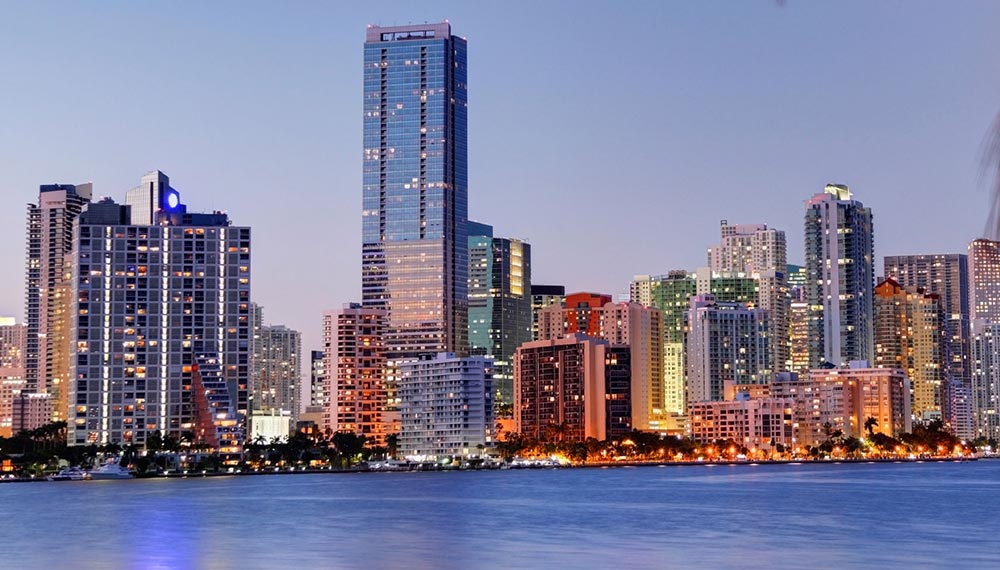 Credit: Kimpton EPIC Hotel
Located right near the downtown and Brickell Business area, EPIC Hotel has a location that really makes it special. It has the views and nearby areas like the Biscayne Bay to keep any visitor in awe the whole time!
Biscayne Bay
Biscayne Bay is a fun and lively district right across from the hotel. This area is busy with its multiple restaurants, shops, and bars. If the nightlife is something you seek, then Biscayne Bay is a fantastic option to keep you up all night long!
American Airline Arena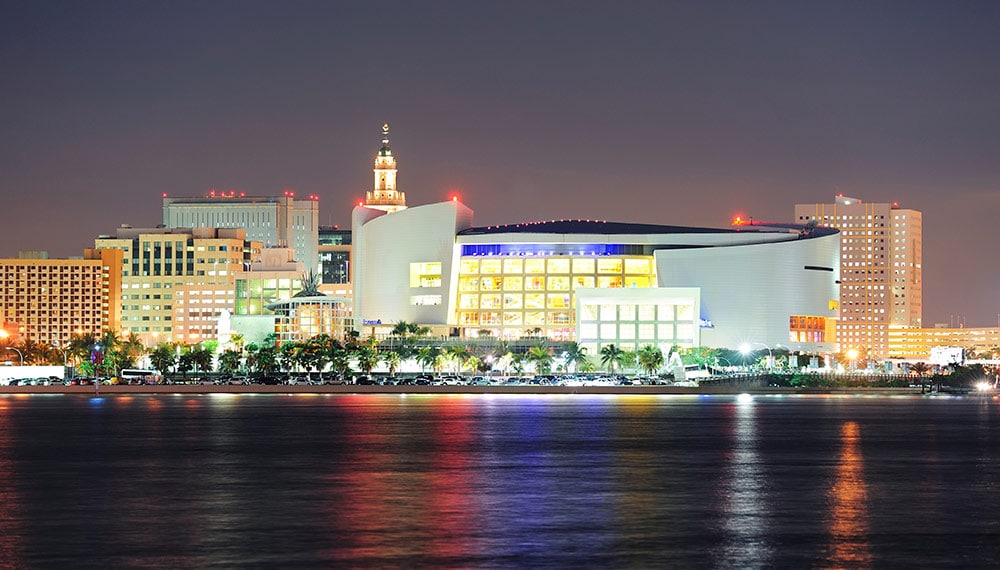 Credit: Kimpton EPIC Hotel
American Airlines Arena is very close to the Kimpton EPIC Hotel. If you weren't aware, the multi NBA Champion Miami Heat play there. If you are lucky enough to be in town during a game, go check this place out. Also, many musicians play here. Your trip to the Kimpton EPIC Hotel may be for this exact reason. The shows put on in the arena are world class and will make your trip that much more enjoyable.
The Museum Park
The Museum Park is another location near The Kimpton EPIC Hotel. The art scene is becoming a big thing in downtown Miami. Perez Art Museum and Frost Museum of Science are both located in this 4-acre area on the waterfront. With community events, education opportunities, and musical shows, The Museum Park is a great day trip for anyone. Wynwood is another huge art area that has over 70 restaurants, bars, galleries, and shops. The unique thing about the district is the buildings and sidewalks that are covered in art. This is a fun place to take some pictures while you are viewing these fun pieces.
Port Miami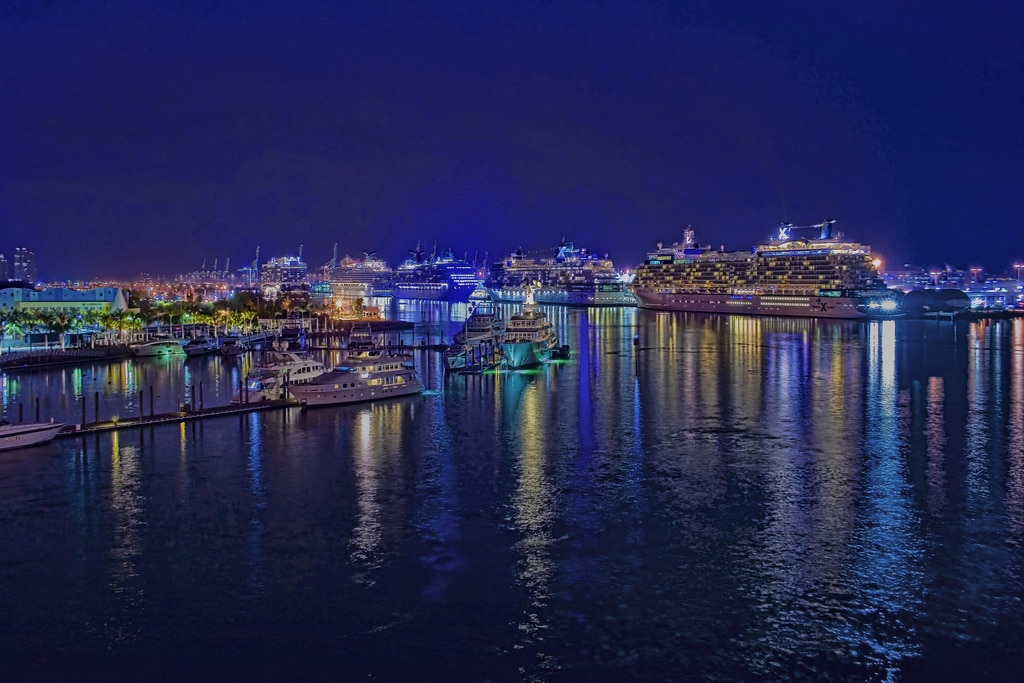 Credit: Flickr
The Kimpton EPIC Hotel is located right in the Port of Miami. This is a giant cruise port for cruises out to Mexico, Bahamas, and the Caribbean! With 18 cruise brands and over 30 ships that come into this port, you will have many options and dates to go. Also, this port allows for some water and nautical activities. Why not take an opportunity to try sailing while you're staying here!
Rooms Fit For Royalty
The Kimpton EPIC Hotel is amazing in so many different ways, but it is all about the rooms. One of the most exciting things about staying at a luxury hotel is seeing your room. This hotel has 411 different types of rooms. Many different room types are offered. These vary from Guest Rooms, Specialty Suites, and any special accommodations that fit your needs. The rooms have wonderful views that consist of water or the city skyline. Regardless of which room type you choose, you will be in awe as soon as you step foot in the door.
Guest Rooms
All the Guest Rooms come with a private balcony, gorgeous bathroom, and a 55 inch Samsung Smart TV. These rooms are 475 square feet of pure bliss. Talk about an opulent room.
King Premier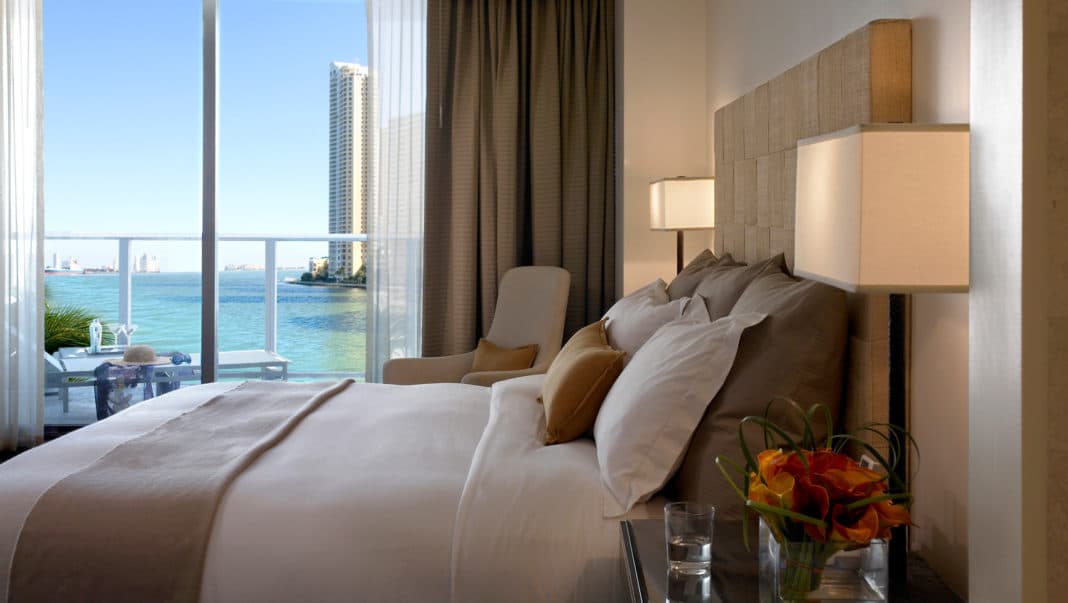 Credit: Kimpton EPIC Hotel
The Water View King Premier and King Premier rooms are practically identical. The only difference is the floor to ceiling windows for the water view rooms.
Double Bedrooms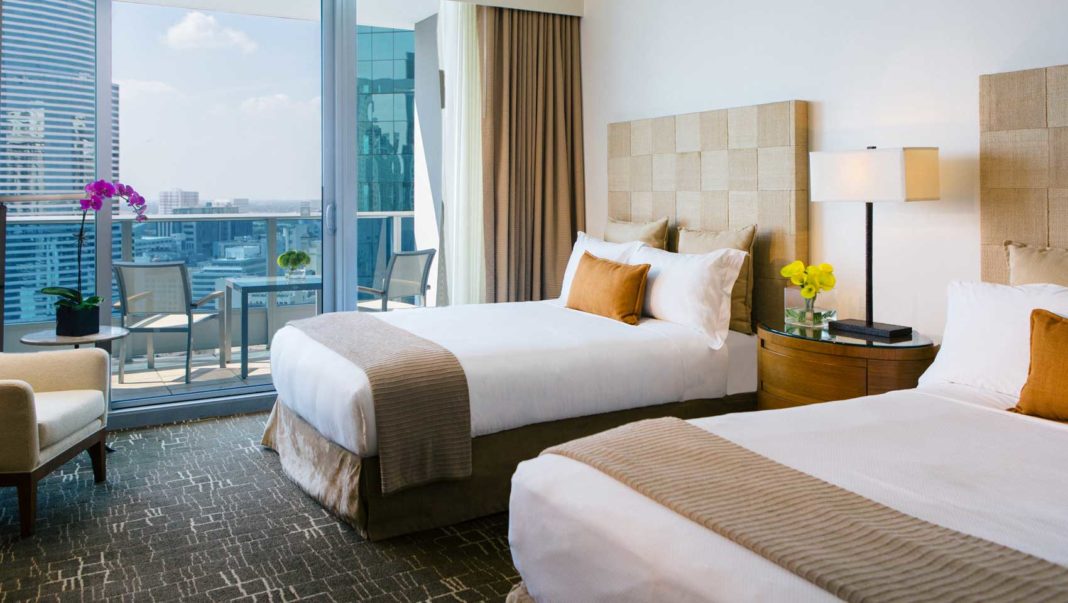 Credit: Kimpton EPIC Hotel
The Double Bedrooms have the same luxuries as the King room except these come with two double beds. A water view is optional as well.
Tall Rooms
There are 13 tall special rooms available. These rooms come with extra long beds at 96 inches long. The rooms are available in the Water View King category as well.
The Suites
If you are looking for the extravagant rooms at the Kimpton EPIC Hotel, then look into the suites. These are truly the best of the best.
Water View One Bedroom Suite
Credit: Kimpton EPIC Hotel
The Water View One Bedroom Suite is 950 square feet. It comes with a King size bed, floor to ceiling windows, 2 private balconies, and a separate parlor room for seating.
Junior Suite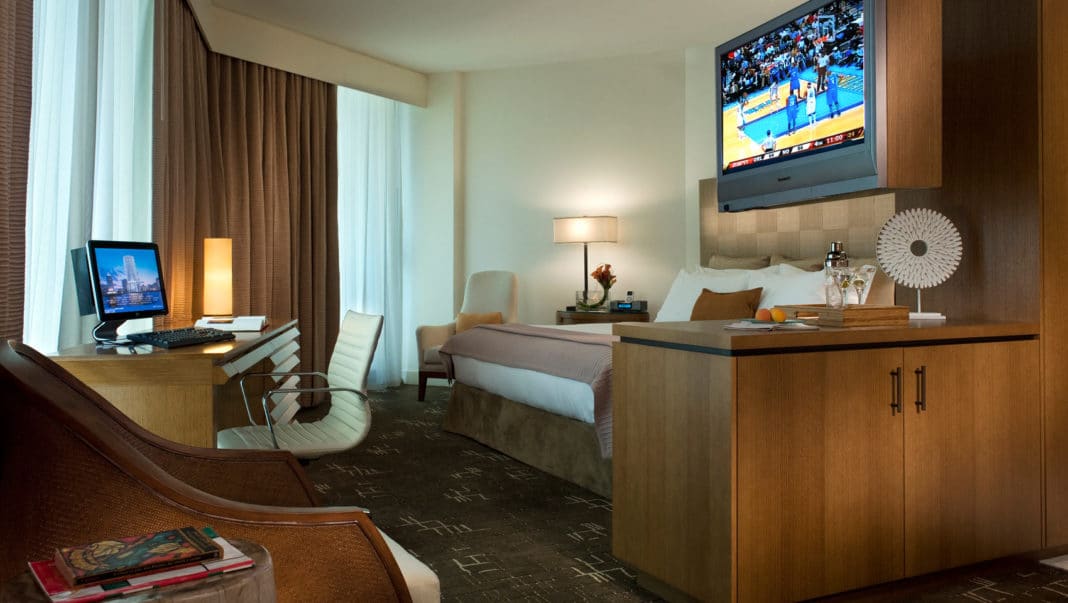 Credit: Kimpton EPIC Hotel
The Junior Suite is 700 square feet. It comes with a King size bed, a pull out queen sofa bed, a loft area with seating, 1 private balcony, and a separate rain head shower and soaking tub.
Presidential Suite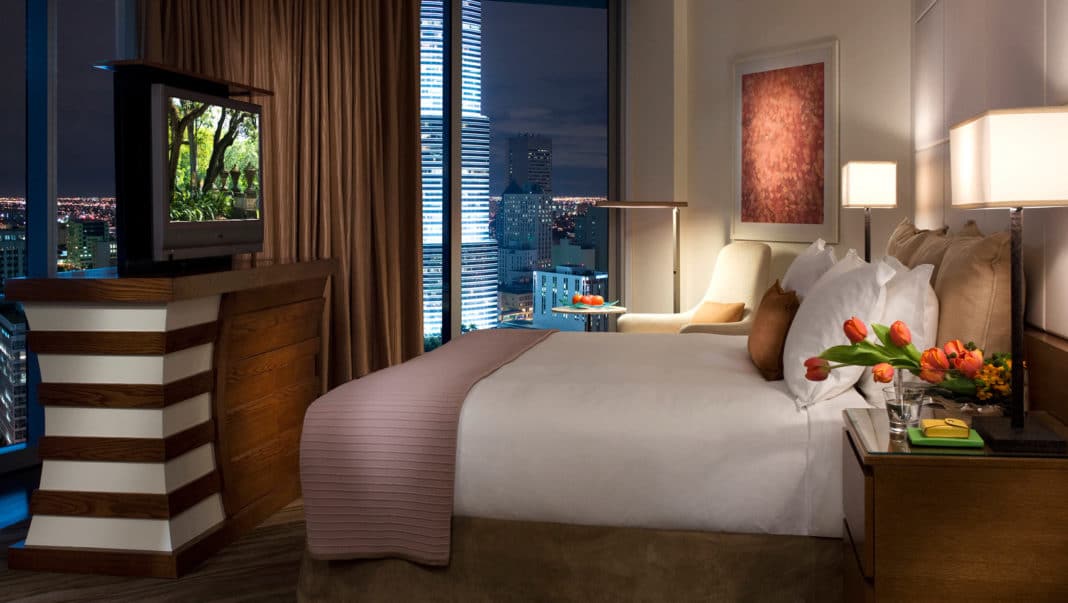 Credit: Kimpton EPIC Hotel
This massive room is 1100 square feet. It comes with a King size bed, 1.5 bathrooms, a nanny quarters with two double beds and private entrance, 2 private balconies, and a parlor area for extra seating.
EPIC.29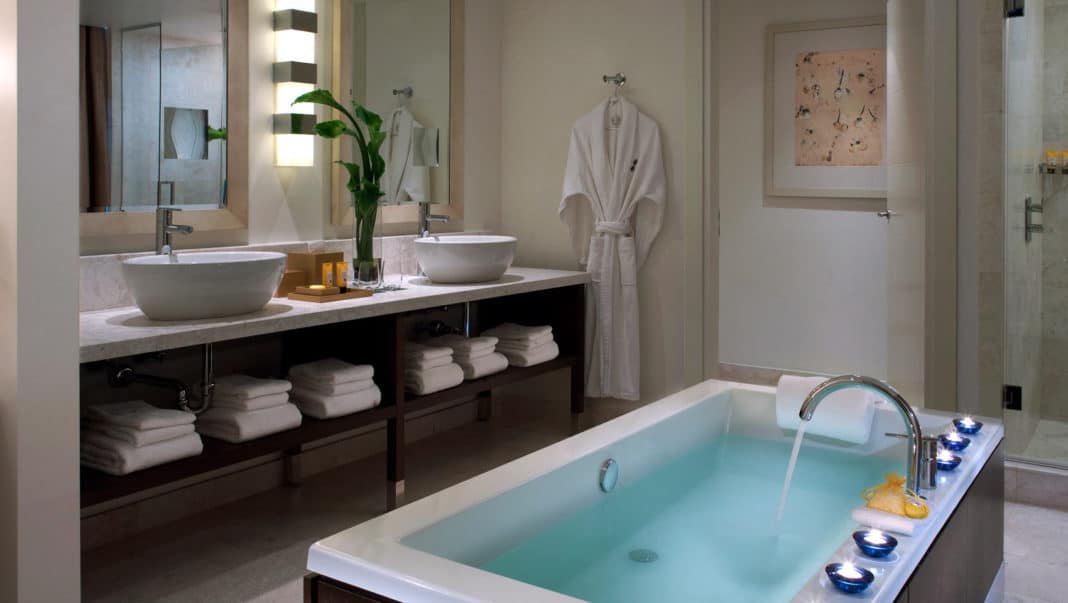 Credit: Kimpton EPIC Hotel
Located on the 29th floor are the EPIC.29 rooms. These rooms are the same as all of the other floors but with perks. Included in these are a private outer balcony with views of Miami, a housekeeping service in the morning and evening, complimentary WiFi for IHG Rewards Club members, and complimentary newspapers available! It's all about the epic view!
Amenities
At Kimpton EPIC Hotel you are steps away from premier amenities. There are beautiful balconies to enjoy gorgeous views on. Multiple sitting areas are all over with fun and comfortable chairs and couches. The Lobby is massive and a great place to relax, have a conversation, and read a book. This is only a glimpse of what the hotel has to offer. Since there is so much to do, you should definitely take advantage.
Pool Fun
Credit: Kimpton EPIC Hotel
The Hotel offers an open-air rooftop with two pools on the 16th floor. With this, you can relax or swim a few laps, while catching breathtaking views. Have a party and socialize with some drinks at the pool bar. Private poolside cabanas are available to rent. This is a perfect option for some romantic time while you stay. With extremely comfy chairs and some shade, you can lounge around all day long. Make sure to go take a dip, you won't find many better options in Miami!
The Spa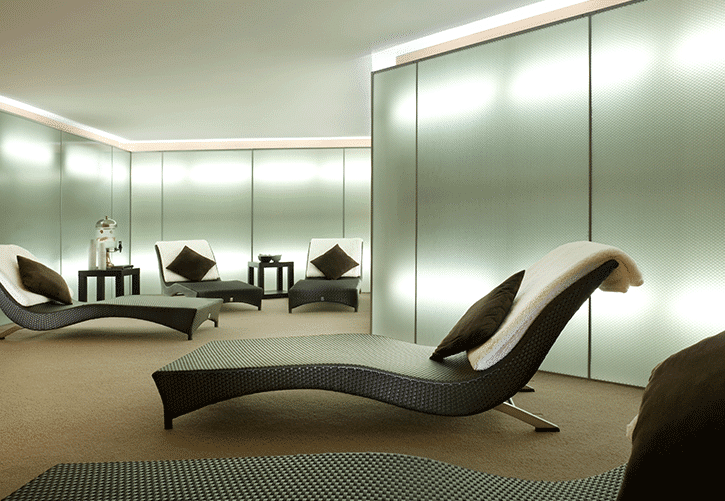 Credit: Kimpton EPIC Hotel
Everyone has fantasized about getting that life-changing massage treatment. Well, now you can! There is a beautiful spa on campus named the Exhale Spa. Here, you can treat yourself to the "mind and body" spa type that Exhale is known for throughout the world. There are tons of different types of spa treatments available. Anything from head to toe treatments, massages, saunas, Mani/Pedi bar, and fitness programs are on Exhales menu. If you are looking for an escape or a moment to just relax, the Exhale Spa will do just that for you. Make sure to check the spa for availability and specials. Try and start your stay at The Kimpton EPIC Hotel off right with this relaxing amenity.
Fitness
After chowing down on all the great food at the Kimpton EPIC Hotel, you might find yourself wanting to run on the treadmill. Located on the 16th floor by the pool is a fitness center. With multiple types gym equipment and a yoga class, you are sure to find what you are looking for.
Business And Social Events
Business and Social events are also available for planning. Special rooms are set aside for these events. With a few different floor plans, you have options that best suit your specific situation.
EPIC Wedding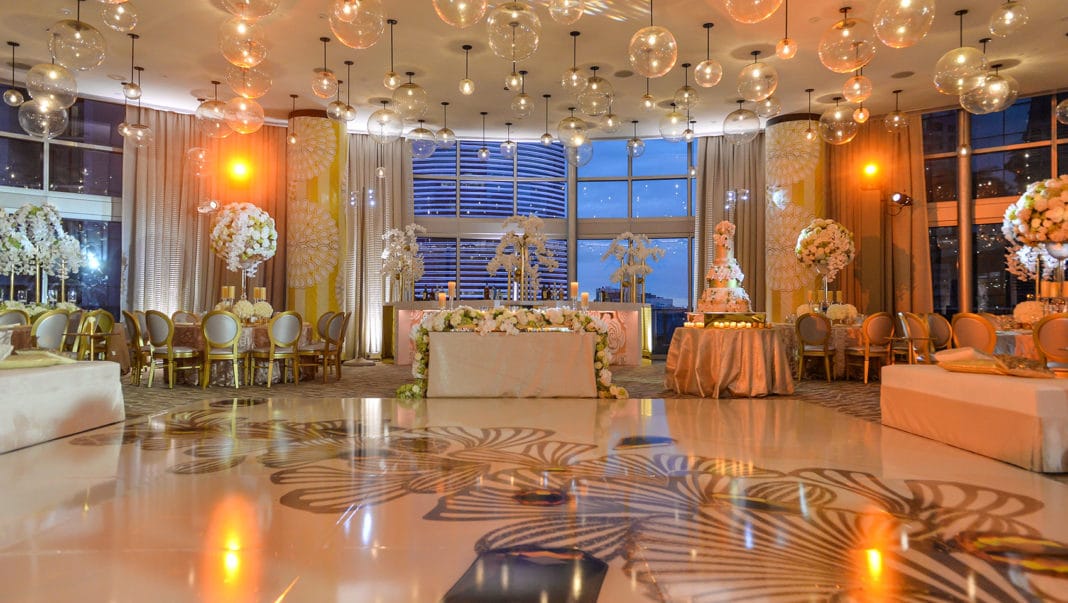 Credit: Kimpton EPIC Hotel
If you are looking for a fun and beautiful wedding, then have it at the Kimpton EPIC Hotel. The backdrop for the ceremony is gorgeous and blown glass globes are scattered throughout the area. Rooms can be designed to your liking. The wedding planning will be an easy process so you're able to relax. Food from the fantastic restaurants are options for catering. The restaurants also have specific menus laid out for your wedding day needs. Anything from food to the cocktail hour is up to your discretion. And remember, those views are second to none. This is your day, so why not make it epic?
The Restaurants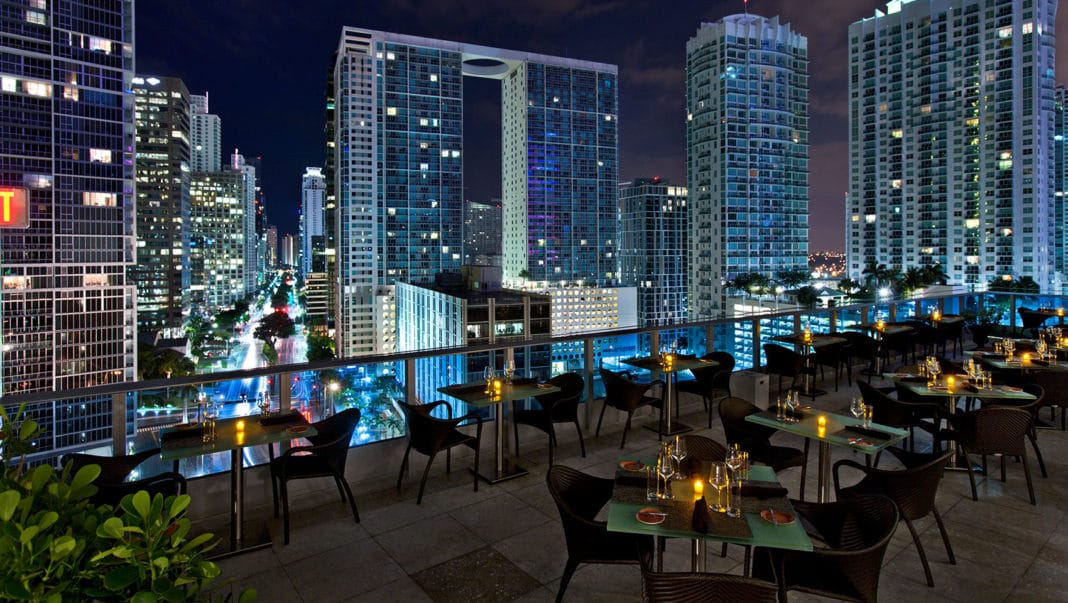 Credit: Kimpton EPIC Hotel
Area 31
This top-notch restaurant with local flare delivers exquisite meals. Located on the 16th floor, you not only get a great meal but a view as well. You will get panoramic views of the downtown as well as the ocean! Area 31 has a wonderful and romantic atmosphere. The chef takes pride in the fresh seafood that is delivered daily. You're in Miami, so why not have some decadent fish? There are many other options to make your elegant meal the best part of your stay. Breakfast, lunch, and dinner are available as well as Sunday brunch.
Zuma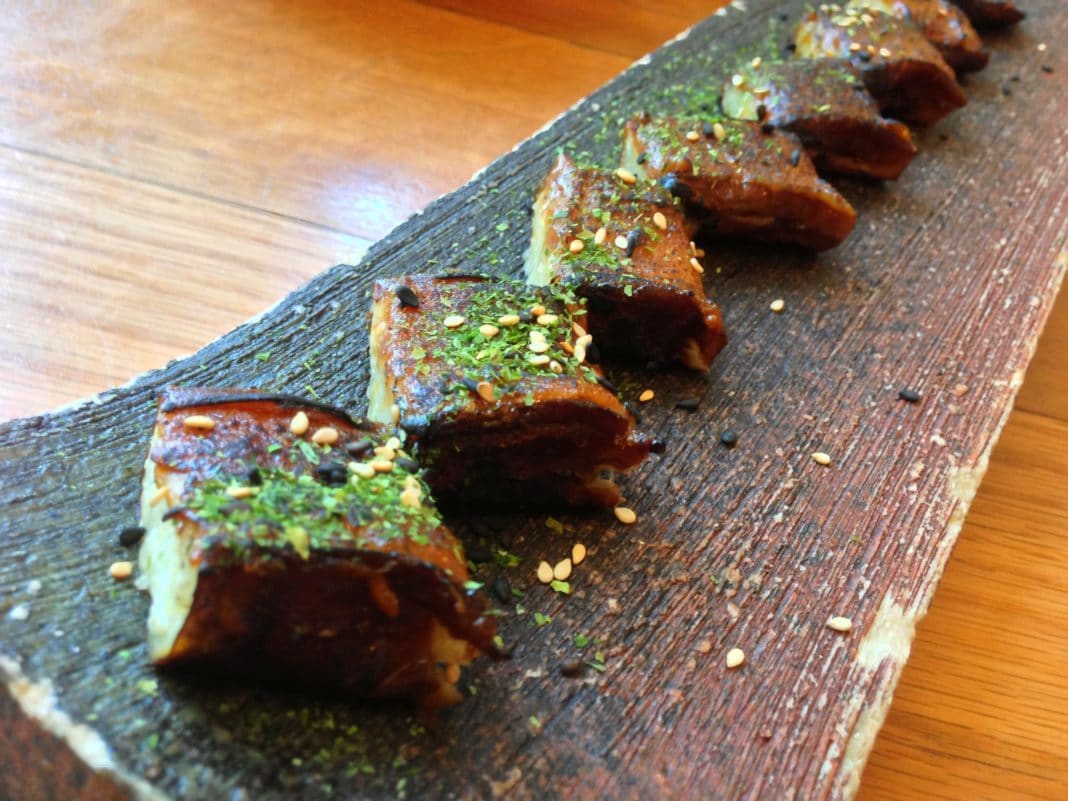 Credit: Zuma Restaurant
The Kimpton EPIC Hotel has another dining option called Zuma. Already known for its cuisine in other countries, Zuma has high quality modern Japanese food. Being that the meals are izakaya style, you will be sharing the food with your table company. The menu is complex and has a wide variety of options. Options range from soups, cold dishes, sushi, tempura, and warm meat dishes. There is also a Sake Bar you are welcome to. Zuma has so much to offer and you will not be disappointed.
Private Dining
Private Dining options are available for guests. If requested, you will be able to get the same experience in the hotel's restaurants, but with just you and your guests! Being able to get the family or friends together for a wonderful evening with some epic views and fun times couldn't be any better!
Visitor Remarks
Visitors absolutely love this hotel. With its showstopper exterior and elegant interior, you can't get enough. Most of all, people love the two pools that keep them busy for hours. The food is always raved about. Some complaints come from the two restaurants, but mainly on specific palate choice. Every room is always as clean as can be. The windows are even crystal clear for that around the clock view of the ocean. This hotel books up very fast in advance so it is recommended to book as much as 3 months out. Overall you are getting the best Miami has to offer!
Think EPIC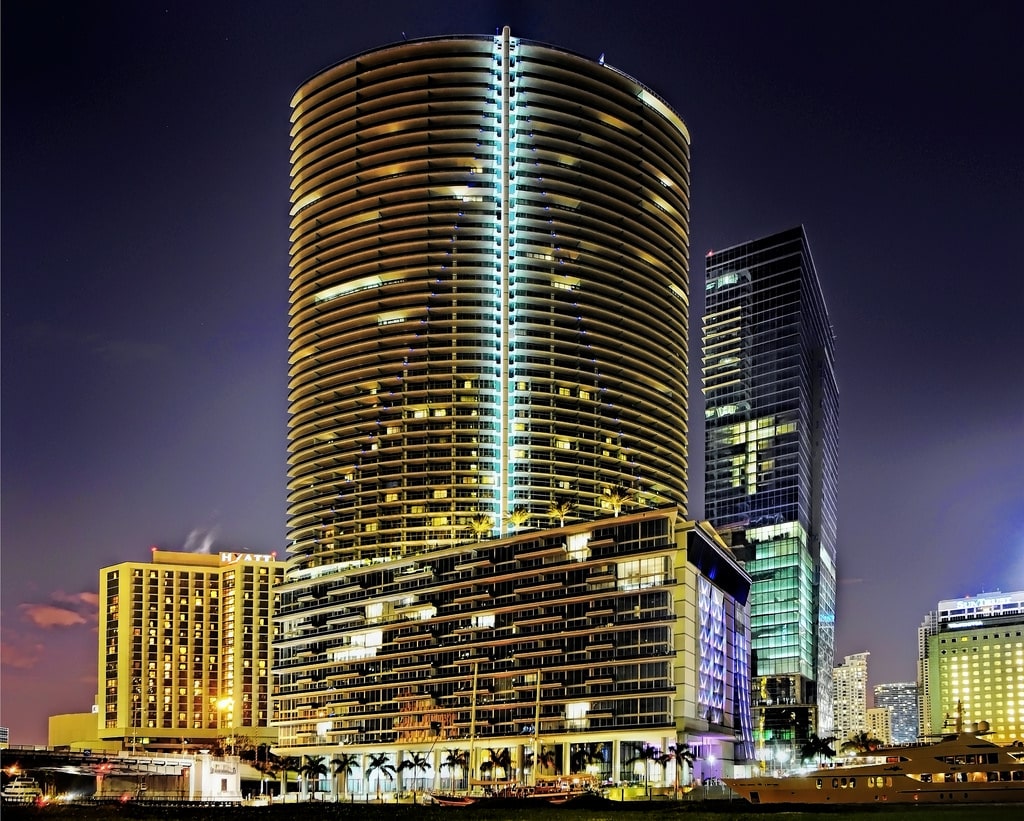 Credit: Flickr
When you think of staying at a hotel, convenience and being comfortable come to mind. So why not think Epic? The Kimpton EPIC Hotel possesses these qualities and loads more! It has the views, rooms, amenities, and atmosphere to make your vacation one to remember. Make sure if you take a trip to Miami, look nowhere other than this massive beauty!
Related Article: Best Hotels in New Orleans