Your Luxury Mediterranean Destination Refined
When the Greek isle of Santorini is mentioned, a beautiful white villa perched atop volcanic cliffs overlooking the Aegean Sea might come to mind. You're in luck because many such places exist in this Mediterranean island paradise. Despite its unmatched beauty and unique vibe, where you choose to stay in Santorini could be the life of death of your experience. You don't need to stress though, as Santorini offers a wide array of places to stay ranging from simple cottages to contemporary luxury suites. We've concluded that one of the best Santorini hotels that you can stay at right now is Astra Suites in the picturesque village of Imerovigli. Offering everything from heated outdoor pools to an elegant restaurant with a terrace overlooking the isles, Astra Suites Santorini has it. 
Let's Talk Accommodations
Standard Suites 
Studio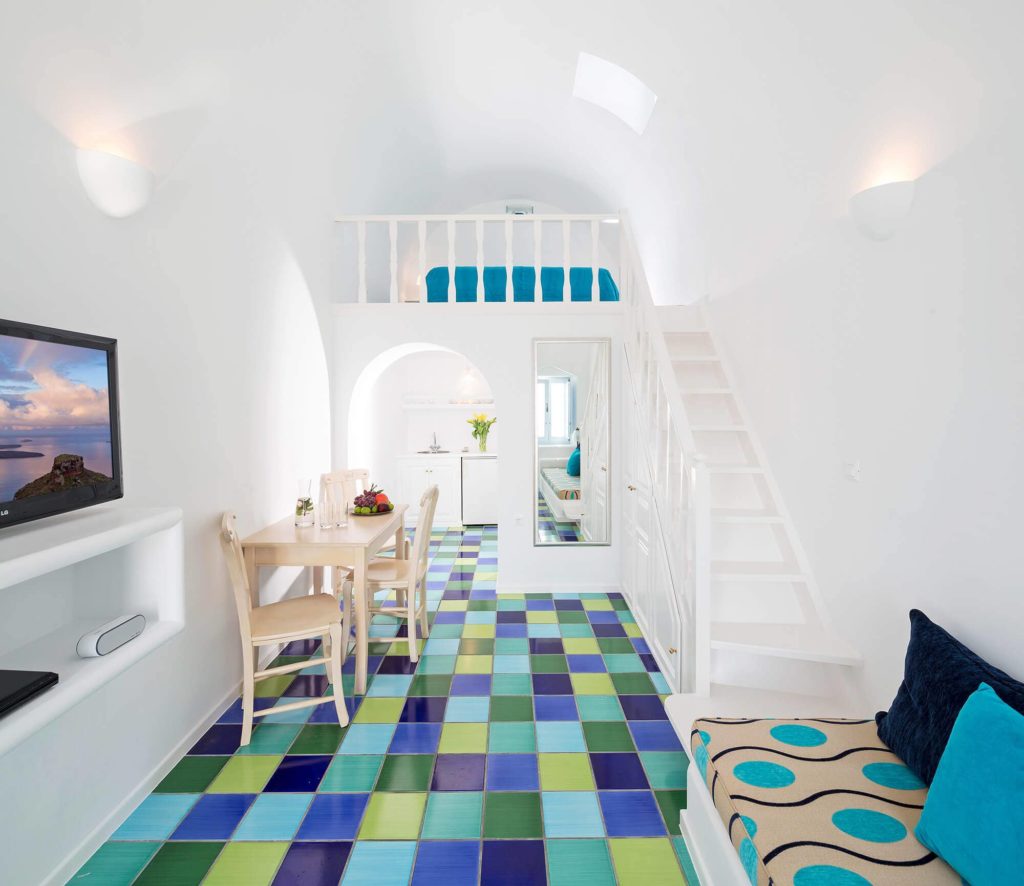 Credit: Astra Suites
If you're looking for the most basic or minimal accommodation that Astra Suites offers, look no further than their Studio suite. Showcasing an open plan living space, the Astra Suites' Studio brings the breezy and joyous vibe with its white-washed interior. Included are an upstairs sleeping area or loft, a bathroom with a shower. You'll also find a full kitchenette and a terrace overlooking the crystal blue Aegean Sea. 
Junior Suite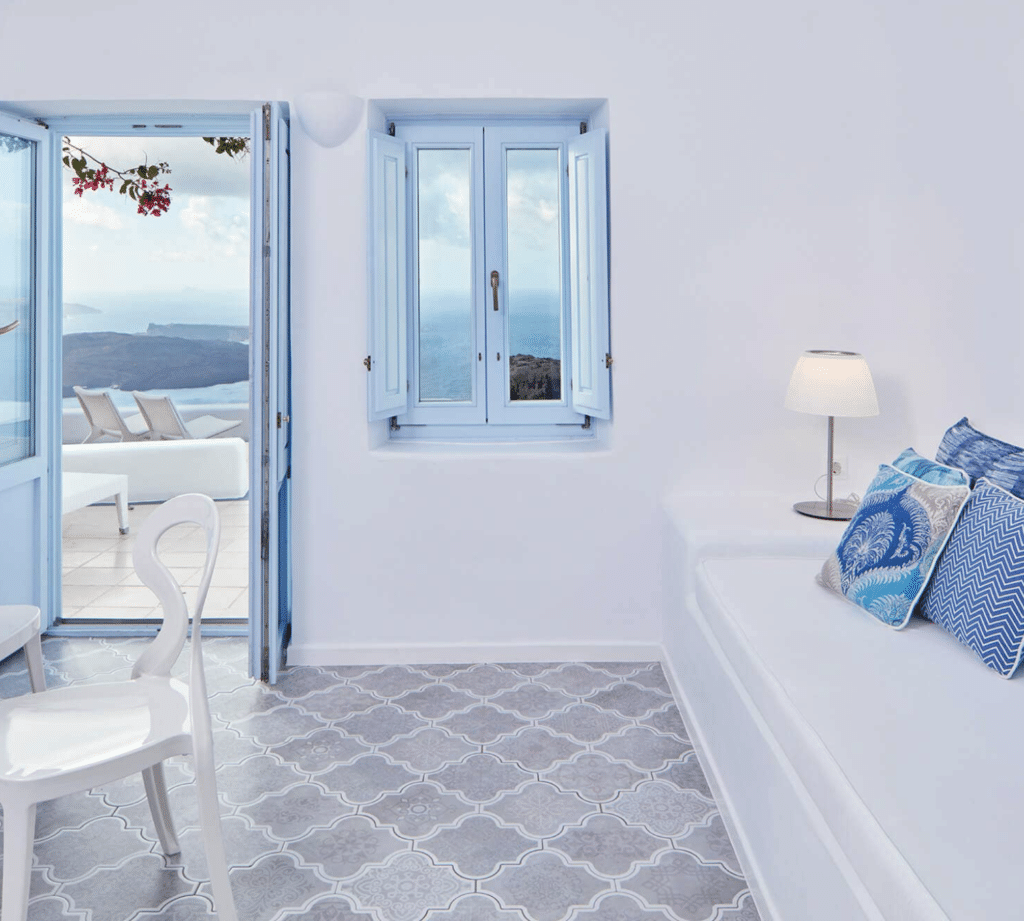 Credit: Astra Suites
A step up from the Studio Suite, Astra Suites' offers the Junior Suite for those wishing for a slightly larger space. The Junior Suite can accommodate up to 3 guests, with its sofa bed in the spacious living room. This suite offers the same amenities as the Studio such as the bathroom with shower and fully equipped kitchenette. However, its bedroom is more secluded with doors separating it from the living space. 
Senior Suite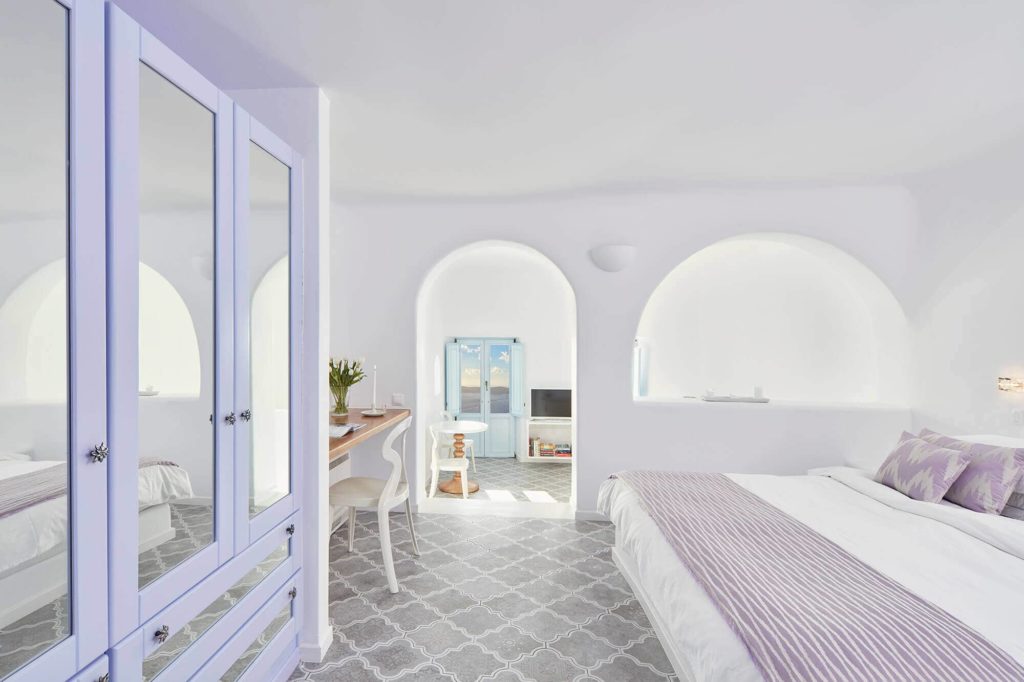 Credit: Astra Suites
Continuing to rise up Astra Suites' ladder of luxury, the Senior Suite expands its living space even more. One of the Senior Suite's most defining luxury features is its blue bathroom. The Senior Suite also includes the same amenities and can accommodate up to 3 guests.
Family Suite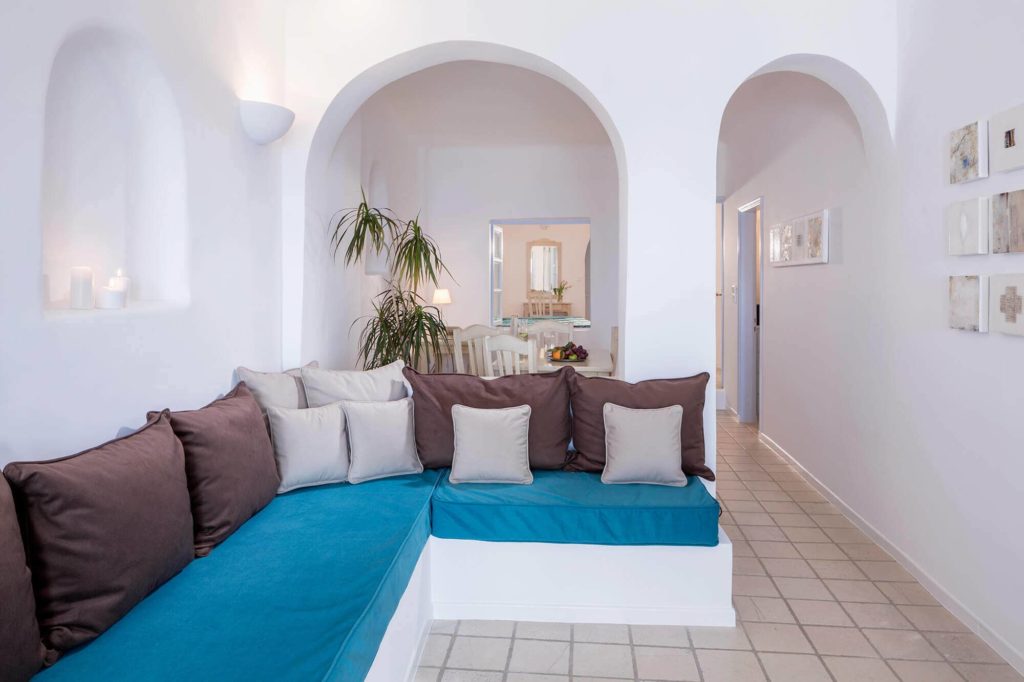 Credit: Astra Suites
Astra Suites Santorini certainly doesn't fall short of options for guests with families. The Family Suite boasts a more traditional, cave style architecture. This makes for a spacious interior better fit for a family. In the suite, you will find two bedrooms, two bathrooms, and a large shared family room. The smaller bedroom area offers a fully equipped kitchenette to ensure food is always available. The spacious living space doesn't stop there as the terrace overlooking the volcano is just as roomy.
Luxury Suites
Pool Suite
Credit: Astra Suites
Ever fantasized about staying in a luxury suite and relaxing in your own pool? Astra Suites Pool Suite just might be your dream come true. Even more spacious than the latter, the luxury is taken up a step with a King size bed and a private heated swimming pool. This suite is fitting for a family with one child because of its built-in sofa. As Astra Suites Imerovigli describes it as a once-in-a-lifetime experience, the proof is in the pudding. 
Honeymoon Jacuzzi Suite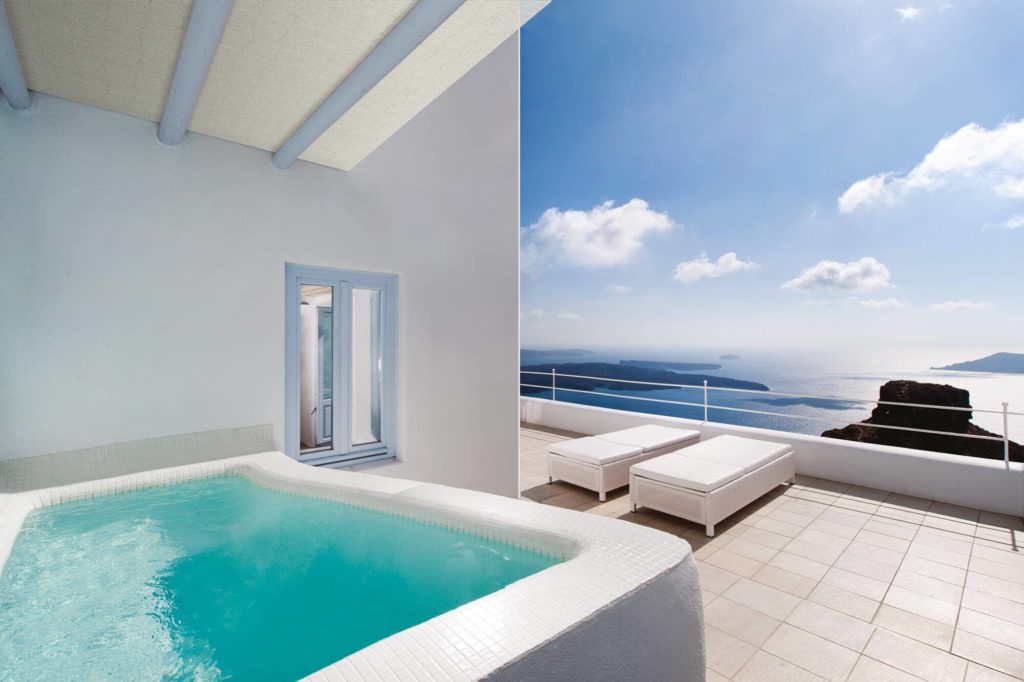 Credit: Astra Suites
The romantic Honeymoon Jacuzzi Suite offers insane views overlooking the volcano and the cobalt Aegean Sea. You couldn't ask for a more exquisite suite. With its spacious luxurious Mediterranean layout, the Honeymoon Jacuzzi Suite is perfect for nothing less than a  romantic honeymoon. Inside you will find popping splashes of color in all the right places. Aside from its flagship Jacuzzi feature, you'll find a unique blue tiled shower. Tucked away in the wall, the cave theme is continued. Don't overlook this suite if you're looking for the ultimate honeymoon retreat!
Superior Suite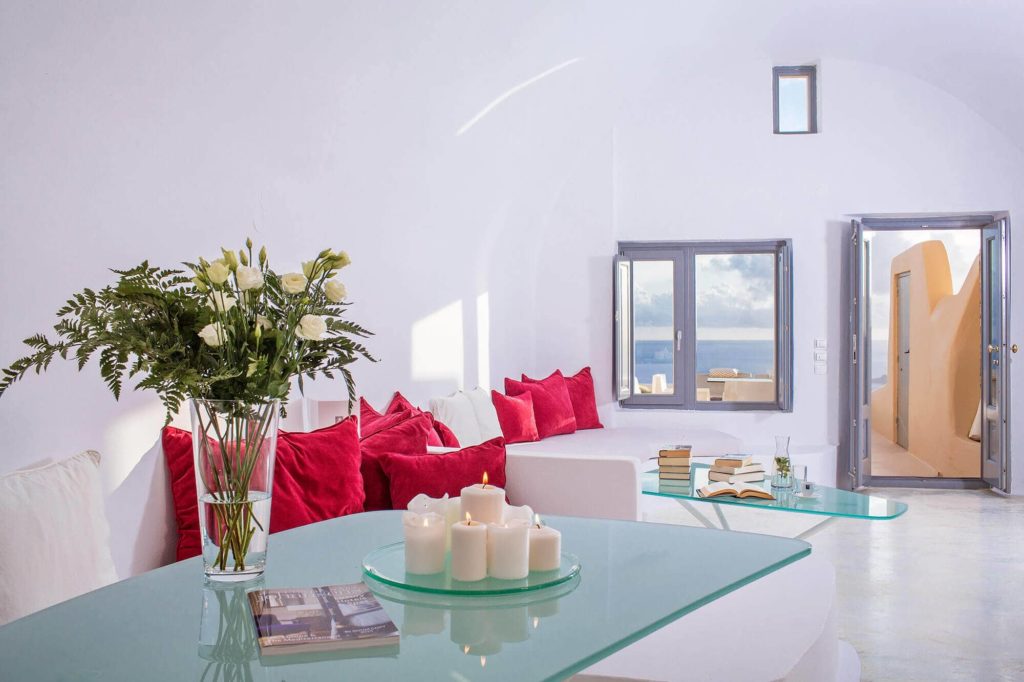 Credit: Astra Suites
While it may be smaller in size compared to the others, the Superior Suite offers maximum privacy along with superior features. The suite only has one king size bed, so the its exclusive to couples. A few of the Superior Suites offer in-bedroom showers that take the romantic vibe to the next level. In the Superior Suite, you can look forward to a private balcony directly facing the volcano and the pristine Aegean sea. 
Villas
The Astra Private Villa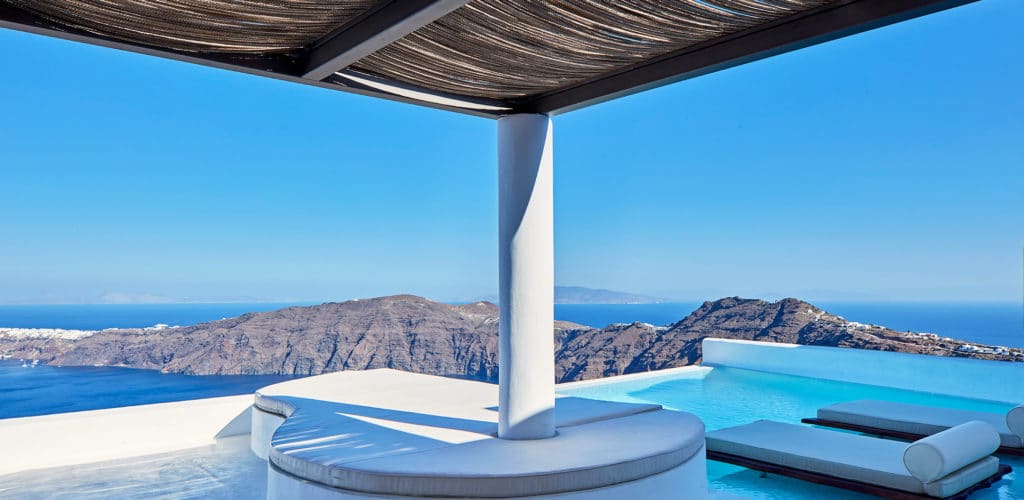 Credit: Astra Suites
The newest addition to the Astra Suite offerings, the Private Villa displays the pinnacle of exclusive luxury. Astra Suites describes it as "The ultimate private luxury villa experience for that unique discerning guest looking for something above & beyond expectations!" 
Taking privacy to a whole new level, The Astra Suites Private Villa is actually separated from the main hotel complex. Thanks to this suite, Astra Suites is now ranked as one of the Top 10 best hotels in Santorini. Whether you're looking for a suite fit for a party, family, group of friends, special occasion, or simply a secluded luxury getaway, the Private Villa is for you. The villa offers sleeping space for up to four guests in two large bedrooms with three bathrooms. Outside you'll find a private heated pool which offers an unobstructed panoramic view of the sea and its picture-perfect sunset. If you're looking to experience Santorini in all of its shining glory, the Astra Suites Private Villa won't let you down.
The Architect's House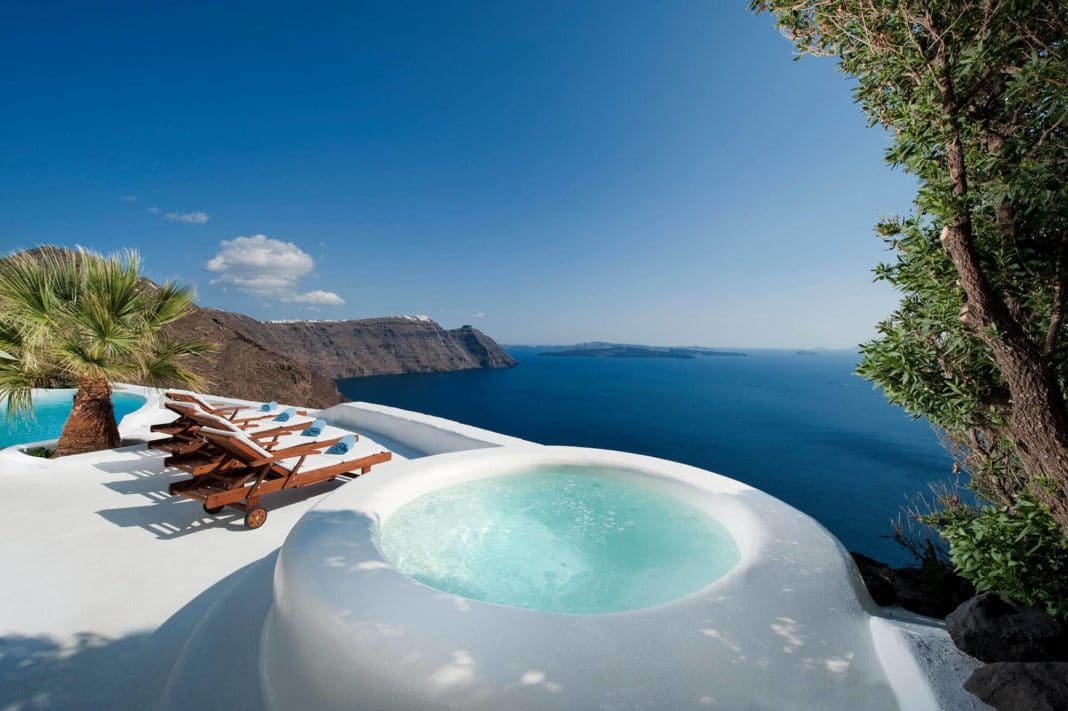 Credit: Astra Suites
Located even further away from the main hotel complex lies the Arhcitect's House. This villa is the perfect blend of a traditional Santorini villa lifestyle with island paradise. Comfortably accommodating up to six guests, the Architect's House Villa is an ideal option for any type of gathering. Sandwiched between the two small villages of Imerovigli and Oia, you'll likely rediscover the true meaning of "getaway".
Let's Talk Dining
Besides holding a high regard for its luxury accommodations, Astra Suites have proved themselves in the Santorini dining scene. "Astra means "stars" in Greek, and when you are dining high above the world on the terraces of Astra Restaurant in Santorini, you are literally amongst the stars, and surrounded by the twinkling lights of the islands reflected in the sparkling nighttime sea…"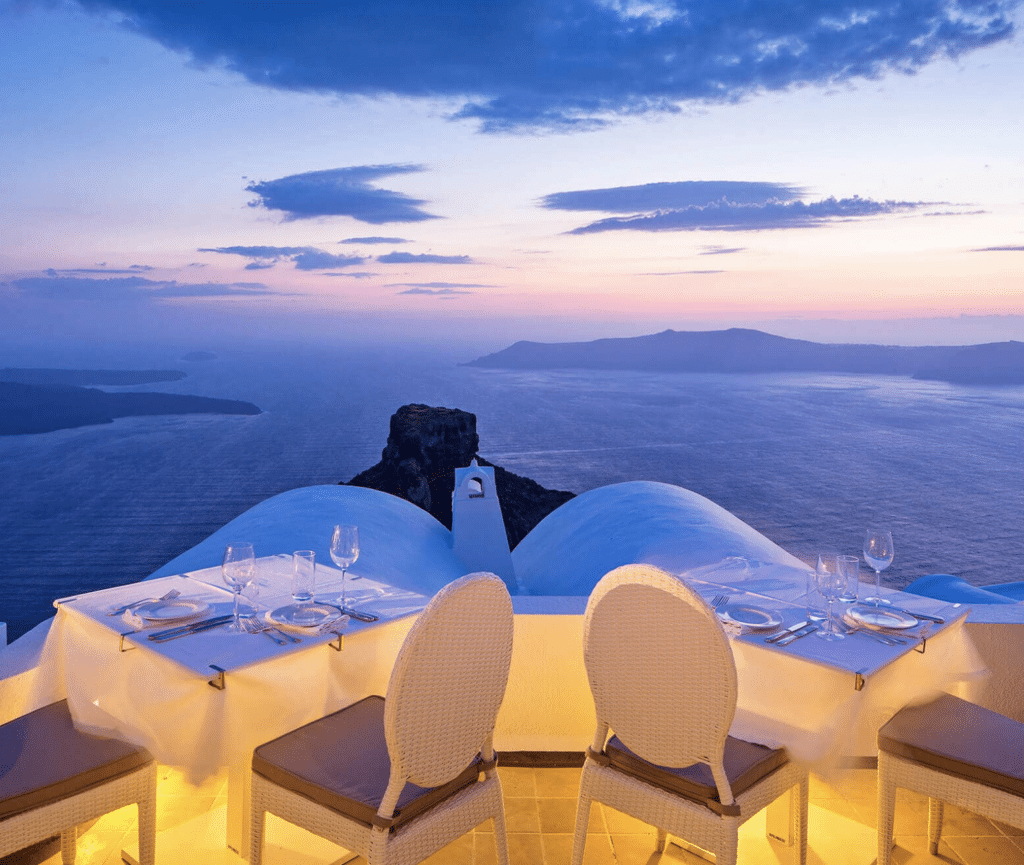 Credit: Astra Suites
Cuisine
Astra Suites offers a minimal yet elegant array of classic Greek & Mediterranean cuisine that will be sure to excite both travelers and locals alike. Astra Suites claims to add a creative touch to all the dishes to set themselves apart from the rest. A true Santorini experience at its best. For the wine lovers, you'll be happy to know that a list of fine Greek wines are available at your request. But it doesn't stop there, as the specialty coffee and wide range of sweets are offered to keep your sweet tooth satisfied.
Fine Dining
For an elevated experience (quite literally), you can even request a gourmet dinner brought to your very own private balcony. Day or night, Astra Suites' fine dining options make for the ultimate Greek experience.
Let's Talk Amenities and Activities
Pool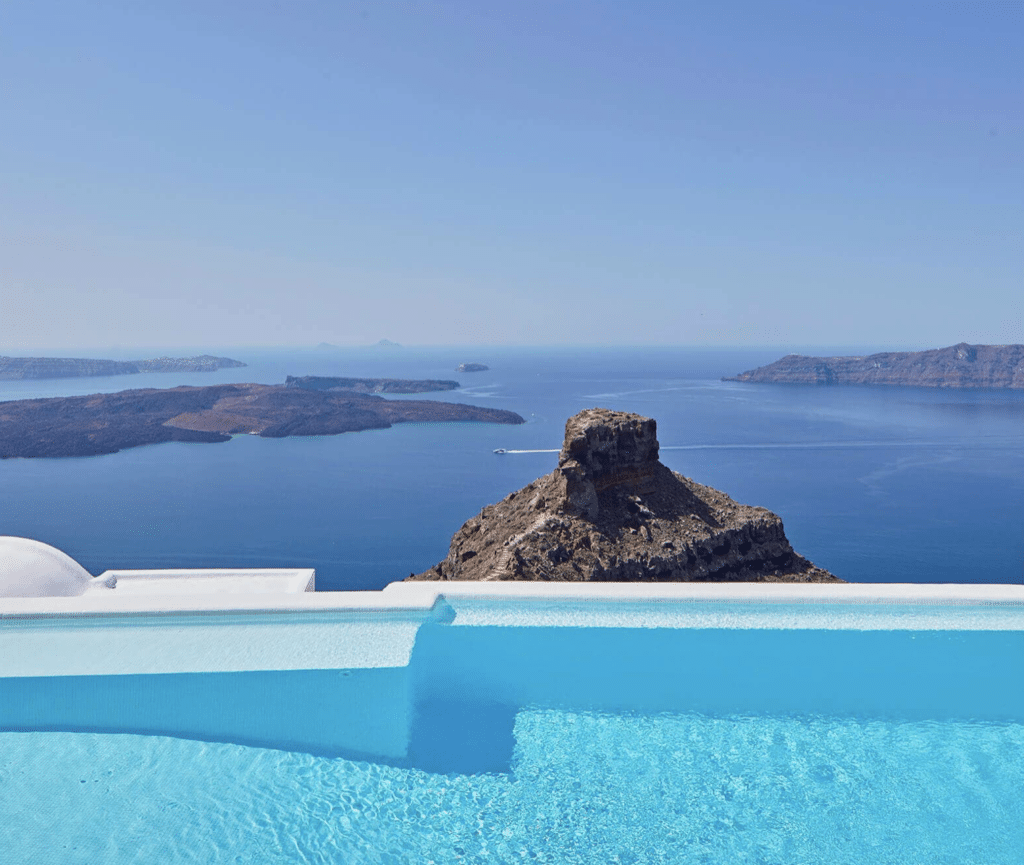 Credit: Astra Suites
Booked a suite without a pool but still wish to bask in the warm Mediterranean sun? The infinity pool at Astra Suites allows you to do just that. Heated in the low and middle seasons for optimal comfort, you can enjoy the pristine panoramic views as well. Wish for a drink? The pool bar has you covered no matter what time of the year. 
Bar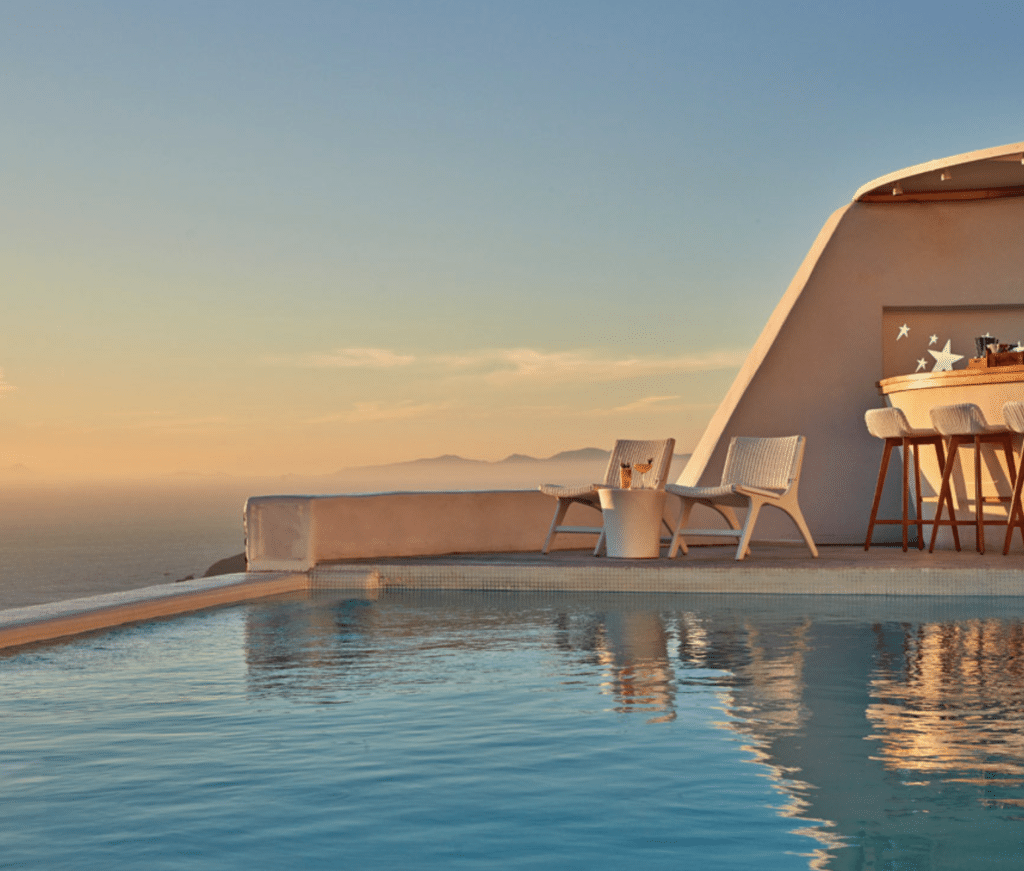 Credit: Astra Suites
Fit for any time of the day or any activity, the Astra Suites Bar makes for the perfect poolside relaxation. Astra Suites backs their drinks due to their renowned choice of wines and experienced bartender. "Our highly skilled and creative bartender has truly made a name for himself, leaving guests raving and coming back for more! A keen mixologist with a special gift for discovering your uniquely personal taste and preferences, he will whip up a specially tailored signature cocktail just for you. It's an experience you won't soon forget!"
Health Wellness Spa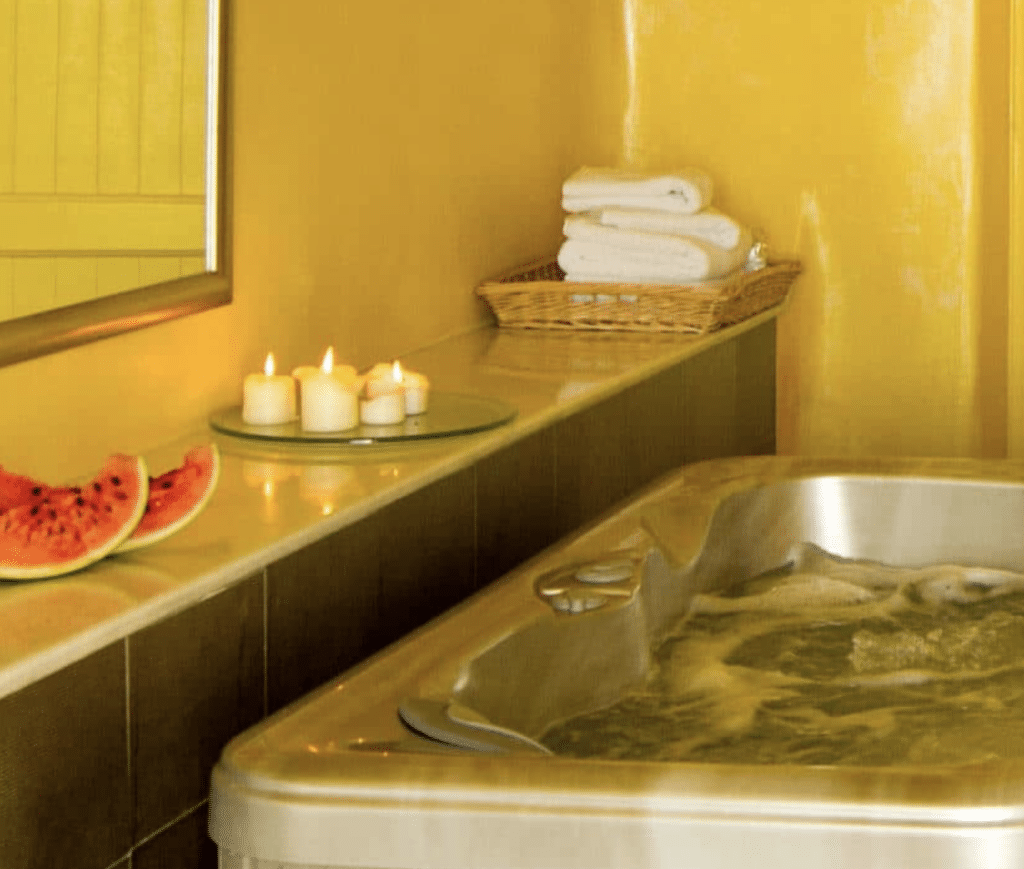 Credit: Astra Suites
When it comes to guest experience,, relaxation is Astra Suites' number one priority. At the Astra Suites' Health Wellness Spa, a plethora of services are available at your disposal. The team boasts over 20 years of experience and guarantee nothing but professional VIP treatments. The Spa offers aromatherapy facial, nail care, and a Jacuzzi and steam room. In terms of body care, you can treat yourself to a holistic, deep tissue, traditional Thai, shiatsu, prenatal, cranial sacral balancing, reiki, or Indian head massage.
Wedding Venue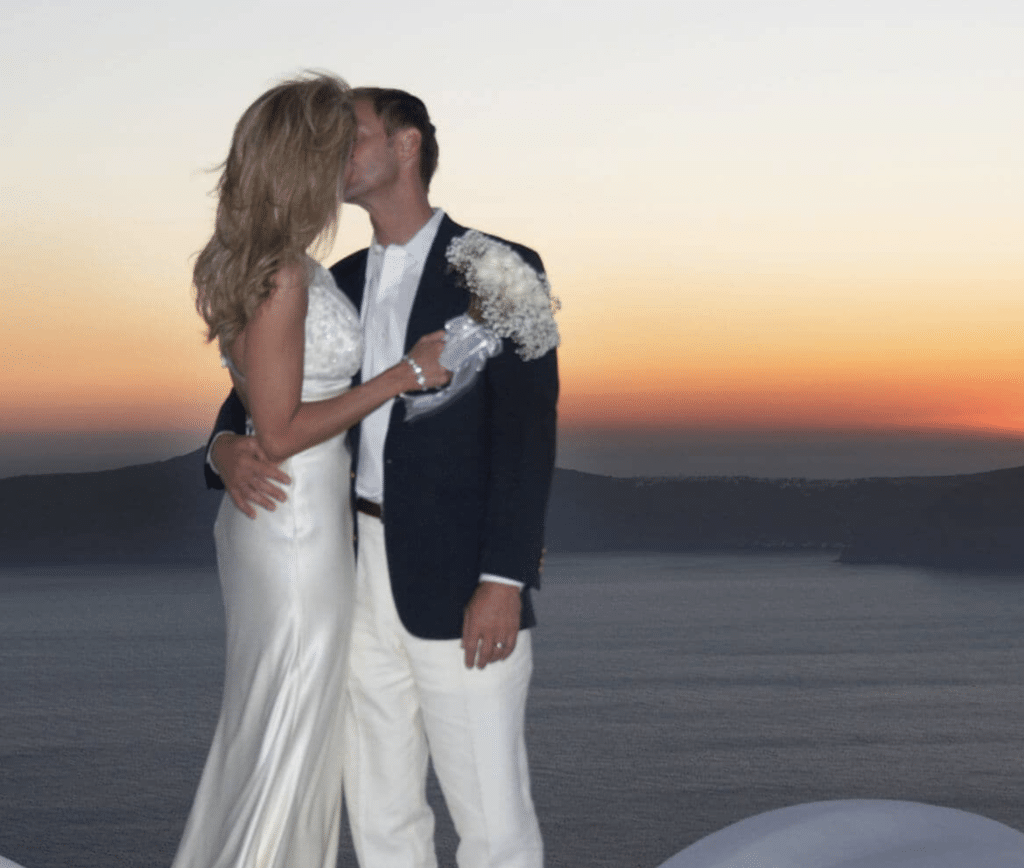 Credit: Astra Suites
Santorini has already made a name for itself among the top sought-after destinations for weddings. Astra Suites is one of many popular wedding venues among hotels in the Santorini Island. Due to its excellent unobstructed scenery, a wedding here would prove nothing but unforgettable and special on so many levels. According to the hotel, "Astra Suites specializes exclusively in small, intimate weddings, for just the two of you, or for a small gathering of family & friends. We feel by specializing in smaller weddings, we best utilize the uniquely intimate atmosphere of the hotel property, so you are guaranteed to have a truly romantic experience!" 
Claiming an extensive 25 years of wedding hosting in Santorini, the work is taken care of for you. Whether you're planning your wedding or simply looking to the future, keep in mind Astra Suites as they will be sure to deliver the ultimate wedding experience.
What Travelers Are Saying About Astra Suites
Thanks to its excellent customer service and top-notch facilities, Astra Suites holds an impressive 5 stars on TripAdvisor. Placed as number 10 of best hotels in Santorini, Astra Suites takes number 5 for best hotels in the village of Imerovigli. One extremely satisfied guest stated "The hotel is perched on the cliff overlooking the caldera – waking up to the beautiful bay each day and watching the sunset from our balcony each night bookends the days in Santorini. The hotel, like so many in Santorini is shoehorned onto the cliffs on the caldera. While appearing to be like so many others alongside it the Astra just seemed less crowded, quieter than the others." 
Another astounded guest among thousands said "This beautiful hotel is built into a mountain. Our suite overlooked Skouros Rock and was magnificent. Many tourists run to Oia to view the sunset, but the sunsets from the Astra Suites balconies are some of the best in all of Santorini. The staff is incredibly friendly, and their restaurant is superb. Just a great place to stay in Santorini."
Experience Santorini In the Pinnacle of Luxury
Until I personally get the opportunity to visit the stunning isle of Santorini and its very own Astra Suites, I'll have to take the countless of happy guests' word for it. But that shouldn't mean that you have to. Life is short! Not many places offer such an experience as Astra Suites, so get there and experience Santorini for all it's worth! 
Planning on visiting Santorini or Astra Suites? Let me know in the comments below! 
Related Article: ​8 of the Most Luxurious Hotels in Santorini