From Mykonos to Santorini
So you're thinking of traveling from Mykonos to Santorini this year. Well, you hope to, but you just can't seem to come across any trustworthy information. Lucky for you, you'll have to search no longer. To sum it all up, the best and easiest way is by ferry boat. However, as the old saying goes, "It's about the journey, not the destination." So consider one of these few ways that will give you the best experience traveling from Mykonos to Santorini.
Mykonos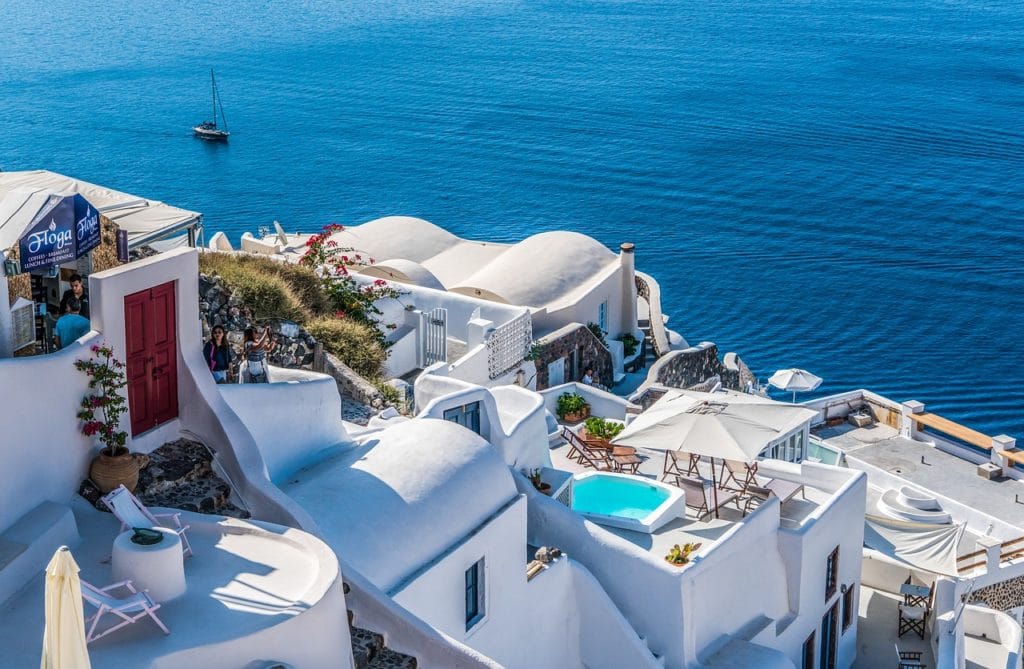 Mykonos is an island in Greece that gained its reputation from parties, glamor, and most iconically, its traditional white-washed structures.  You may have read about it and seen pictures before, but visiting never seemed a reality. If its white mixed with pastel-colored buildings positioned over the teal ocean don't yell "refreshing" then nothing will.
Mykonos is the one-stop-shop for those looking to experience the beach life for all its worth. Despite being the top destination for parties in Greece, Mykonos is completely family friendly. Elia Beach is the longest beach on the island, and seeing it dominated by families and children would be a common sight. For the full Mykonos experience, visit Hora, or Mykonos Town to get lost in a maze of picture-perfect restaurants, cafés, high-end boutiques, shops, and micro-churches. Despite being showered by the sun, you can be sure to enjoy the calm cerulean ocean breeze under the purple fauna of a cascading bougainvillea.
Santorini​​​​
However amazing your trip to the Mykonos was, a trip to Greece wouldn't be complete without a visit to the islands of Santorini. Although it may be famous for its blue-domed, picturesque white houses, Santorini has more to see and do than you might've imagined. The whole slew of the Santorini Islands is an active volcano and is the only discovered volcano (Kolúmbo) whose crater lies underwater. Therefore, the whole island acts as a volcanological museum which can be explored by anyone. It's quite impossible to describe the beauty and uniqueness of Santorini through words. Even pictures don't do it justice. Not many places in the world have a draw quite like that of Santorini, with its white-washed towns and volcanic beaches.
You'll certainly want to keep a budget in mind, as Greece isn't the cheapest place to take a vacation. While linking between the islands, saving money is certainly a factor to keep in mind, and sometimes taking the long way around could save you that extra cash. And hey, who wouldn't want extra cash? That means more gyros, and who wouldn't want more gyros? In no time, you'll be making your way from Mykonos to Santorini.
These three ways of travel all offer various options from Mykonos to Santorini
1. Take a Plane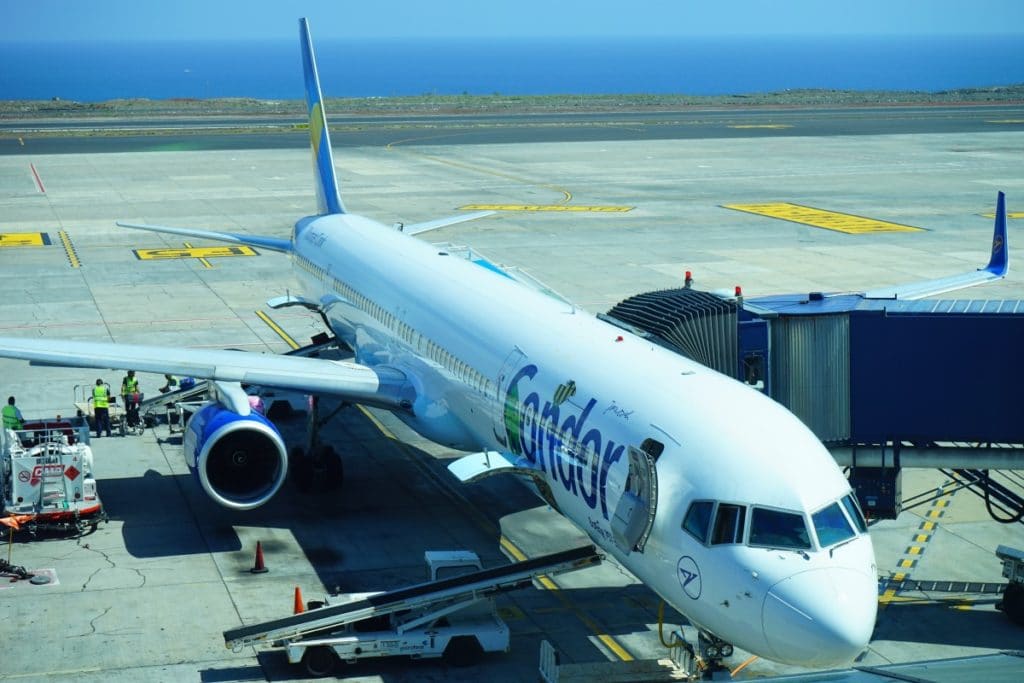 After conducting research on the ways to travel between the two islands, it seems many people knew only of flying via airplane. Although this is certainly one valid way, it's also not your only option. Truly, the only reason you would want to fly would be because of fear of traveling by water. If you do prefer air travel over sea travel, then by all means, take a plane. But just keep in mind that flying generally takes longer because direct flights are extremely rare. Most commonly, a flight from Mykonos will stop in Athens, then continue on to Santorini after. Be aware that an overnight layover in Athens is very common, so consider that aspect. Here are your best options when booking a flight.
Air travel certainly proves convenient, as the flights between Mykonos to Santorini generally occur 4-5 times a week. However, occasionally there is only one a week. Because of such high-density tourist traffic seeking to travel between the islands, the flights sell out like hotcakes. The average price of a plane trip from Mykonos to Santorini is 245 Euros ($300). If you're lucky enough to catch one of the rare direct flights, you can expect to pay around 50 Euros ($61) from Mykonos to Santorini. These flight schedules tend to come around either in December or January. So if you're looking to fly this year between Mykonos to Santorini, make sure to book your flight ASAP.
Things to Remember When Considering to Fly
Good if you fear sea-travel
More expensive
Rare direct flights
Book quickly when flight schedule is announced
Book with either Condor Air, TUI Fly, or Thomas Cook
2. Ride a Ferry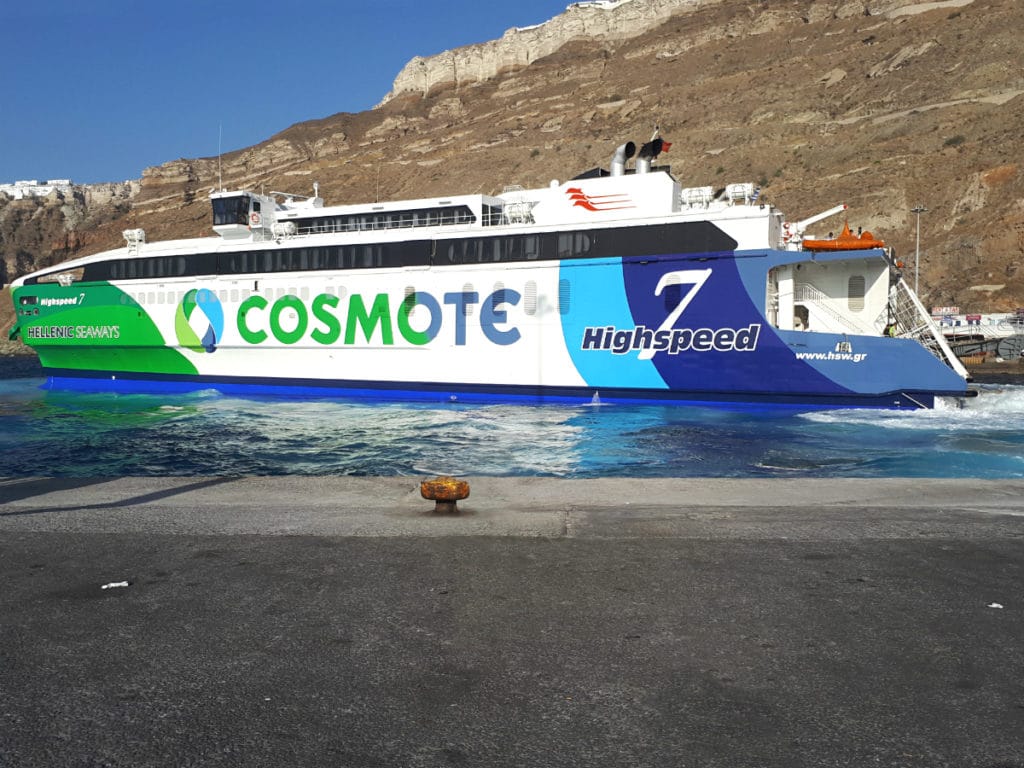 ​The most cost-effective, easy, and seemingly sensible way to travel between Mykonos and Santorini would be by sea ferry. To top that, visitors have said that the first impression of the island was always more impressive by ferry. As previously explained, many flight agencies (usually foreign) will trick you into thinking that ferries don't even exist and that flying is the only option. The ferry is the best all-around option and is way cheaper and faster than flying. All of the ferries sell light food and drinks, but you may want to pack your own as prices may be steep for such items.
More specifically, the most common ferry for sea travel is the Hellenic Seaways Highspeed 7. Due to its large size, the Highspeed 7 is the most stable of the various choices, making it the best for those who get seasick. The total time on the water is laround 2.5 hours (almost an hour faster than a flight from Athens to Santorini). The price of a ticket in economy class on the Highspeed 7 usually sits at 67€ ($83). If a few waves don't bother you, consider the Flying Cat 4 which is run by the same carrier, Hellenic Seaways. The Flying Cat 4 is much smaller and the rides can be a little rough depending on the weather.
If you don't mind riding an even smaller ferry, the SuperJet or Seajet2 offer the bumpiest ride out of the list. They have also been known to be cramped, offering limited space for luggage, and entering and exiting can be a hassle. The largest ferry, Blue Star, offers an immense amount of space and is the only of the latter that allows passengers to visit the open air deck. That being said, it won't take you from Mykonos to Santorini, but it will take you to each of these destinations from others such as Tinors or Ios. Why not explore other islands while you're at it? You can see their timetables for each week here. The Blue Star is also the most stable, meaning sea sickness will be less of a worry. In terms of arriving in Santorini, the Blue Star ferry offers the best views via the open air deck, which allows you to view the stunning landscape instead of from inside of one of the high-speed ferries.
Things to Remember When Booking a Ferry
*Note: Dates are prone to changes
3. Catch a Private Helicopter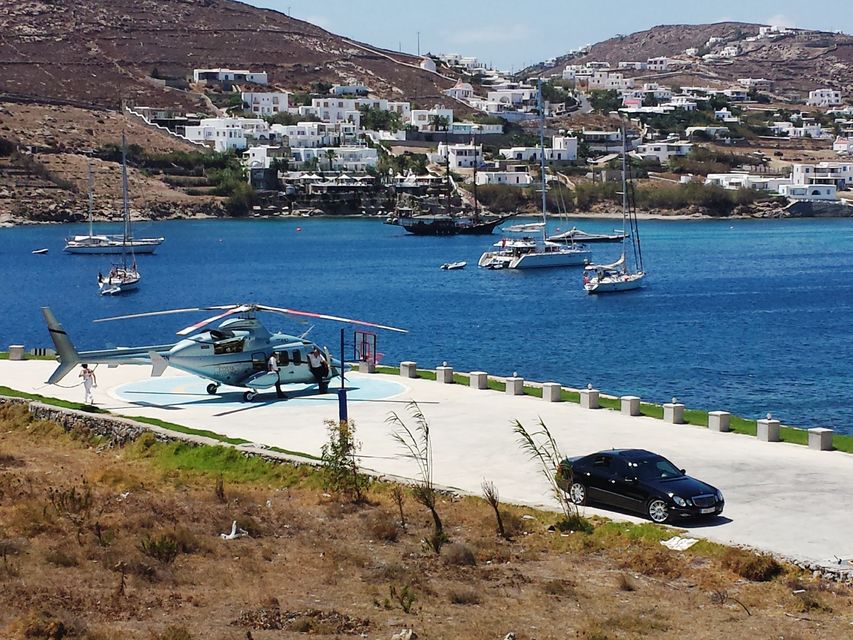 If you're traveling from the US, it's reasonable to think that you're probably already putting a down a hefty amount of money. Traveling to Greece is no cheap feat. Granted, this last means of travel is also no cheap option. However, if you've been saving for a vacation such as Greece for a long time and want to go all out, this one's for you: a private helicopter. No average person regularly, if ever, flies in a helicopter. It's usually the richest, most exclusive people that get the opportunity to ride in such vehicles. But if you're truly looking to travel from Mykonos to Santorini in style, a private helicopter flight might just make for that life-lasting memory. Better yet, these flights are available daily, all year round.
A private helicopter flight is unique in the sense that you will never get the opportunity to see the Aegean Sea from 360-degree views any other way. The flight lasts about 40 minutes and will leave people staring in awe as you land on the island of Santorini. A private flight will cost you about 3000 Euros ($3,679) but includes 4 seats. So after you split the cost between three of your friends, you'll only end up having to pay about 750 Euros ($919). Although it may not be the most ideal or cheap by any means, a private helicopter ride will certainly leave you with lasting memories.
Things to Remember When Considering a Private Helicopter
Costly
The quickest way to get to Santorini from Mykonos
Amazing 360-degree views
Essentially hassle free
Will leave you with life-long memories
Book Before It's Too Late!
While transportation between Mykonos and Santorini may seem limited and perplexing, rest assured that it's not as confusing as it may look. Make sure that you factor in your budget and most essentially, make sure that your dates line up. If you constantly check in to make sure that your booking is still leaving at the appropriate time, your peace of mind is right around the corner. Still confused, have questions, or would like to share your tips? Share them in the comments below!
Related Article: 8 of the Most Luxurious Hotels in Santorini