Are you ready to start your journey in digital photography? If you're like us, you obsessively scroll through Instagram, marveling at travel influencer's photos, envious of their journey, and wonder how in the world they get the photos they do. While their equipment certainly costs a pretty penny, the Canon Powershot S120 does not. It's a perfect little point and shoot to get you started on your journey to social media stardom.
This advanced, compact camera might not look like much but it certainly packs a punch. With a bigger than average sensor for a camera body its size, it does the job for newbies or those seeking to brush up on their photo skills. While it's definitely one of the smallest cameras of its type, there's a lot this sleek black beast can do. For those looking to move away from smartphone pictures, it's a pretty good option. Let's take a better look at what the Canon Powershot S120 has to offer.
Body and Handling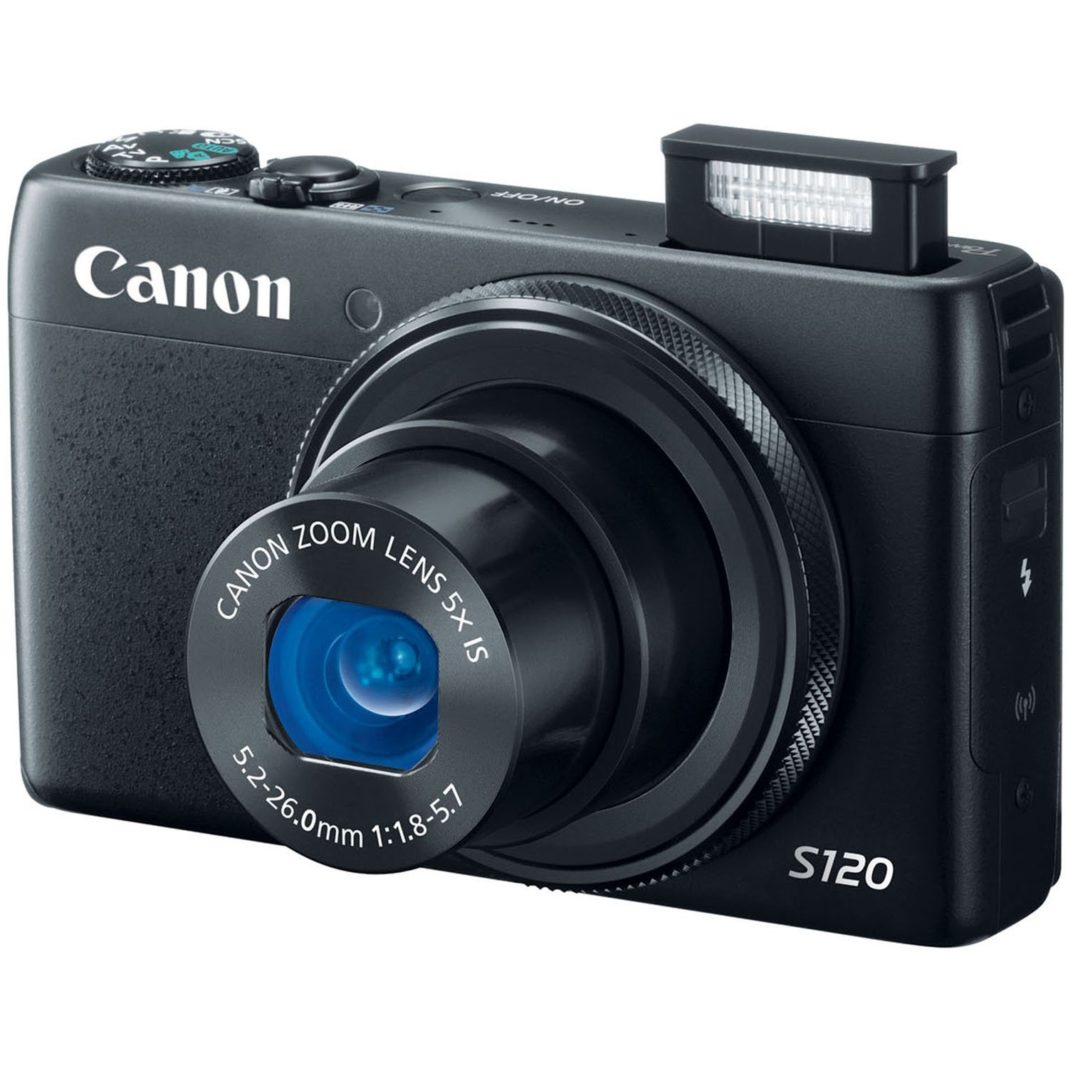 Credit: Amazon
The Canon Powershot S120 really sets the bar high for the body and handling of a compact camera. Instead of being made from a cheap plastic, the Canon manufacturers opted for a stronger substance that provides durability but doesn't sacrifice the lightweight structure – Magnesium alloy and aluminum.
From the moment you pick up the camera, you can feel the quality. It's something we're really pleased to see about a camera of this type. At the top right side of the camera, there is a small thumb rest made from faux leather and provides a great grip. All of the buttons and dials are well-made and don't get stuck easily like they do on most cheap cameras.
The Canon Powershot S120 has all these positive aspects of the camera body and still manages to weigh in at only 217 grams (with the battery inside the camera). That's less than one half of a pound. While the number of buttons and dials doesn't give us much to brag about, some users find its simplicity pleasant. All those that are available come with a touchscreen interface.
Let's Take A Closer Look
The front of the camera is kept clean and simple, showcasing only the focus assist light and lens barrel. Looking at the lens, we can see that it has a control ring. This ring can be used for many things, including adjusting the ISO or exposure compensation, acting as a manual focus ring, changing the aspect ratio, white balance, and so on.
By using the Ring Func button at the back of the camera, you can assign functions and switch back and forth with the navigation controller dial. While this type of functionality is certainly not new for a compact camera, we have to admit that Canon's implementation is superb. 
Moving on to the left side of the camera, we find a switch to raise the flash unit above the body. The right side contains all of the expansion ports. At the top of the camera, there is a flash unit, stereo microphones, the speaker, an on/off switch, a shutter button with a zoom dial, and the main mode dial. All in all, it's a very nice, practical layout.
Finally, let's move on to the back of the camera. A large portion is taken up by the 3-inch LCD screen. All of the controls are located to the far right. Among those include the Ring Func, Direct Record, Playback and Menu buttons as well as the main controller. The controller holds the MF/Macro, WiFi and exposure compensation button, and the Flash and Disp buttons.
Located in the center of the control dial, lies the logical position of the Func/Sec button. Overall, the Canon Powershot S120 sports an average number of controls for a small, compact camera. The screen is very responsive and easy to use. It doesn't feel a bit different from the one you use on your iPhone. 
Let's Take A Look At the Interface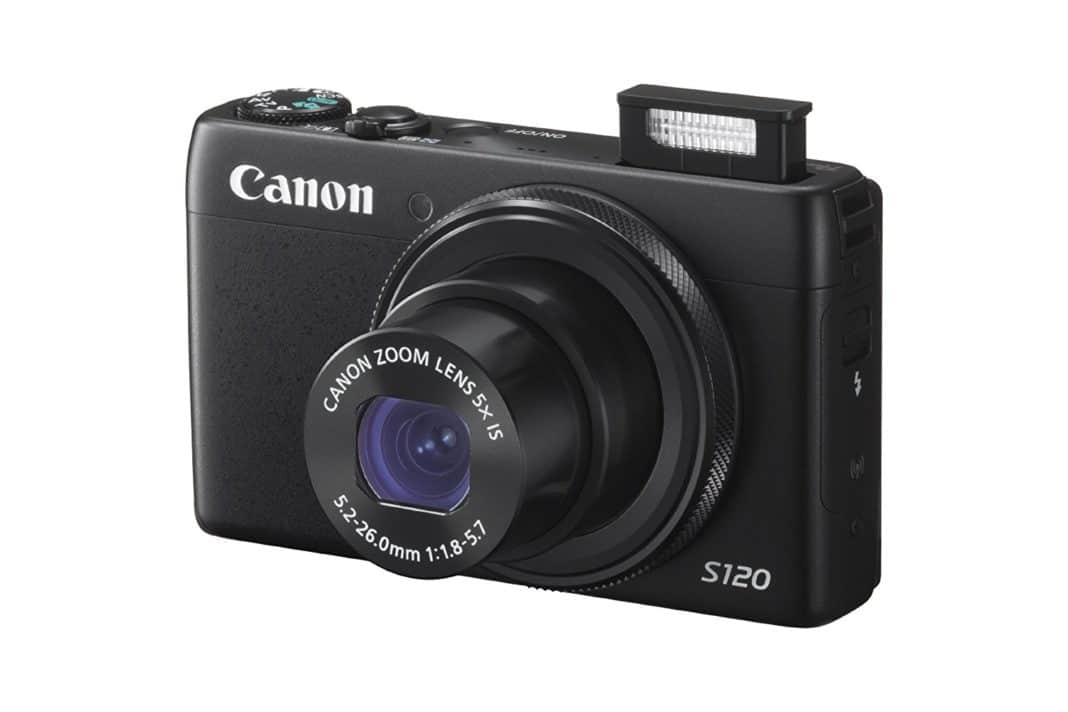 Credit: Amazon
The user interface is also easily navigable by the touchscreen. We love that it doesn't feel clunky or unintuitive. All of the elements that appear on the screen are just the right size so everyone can use it. While this camera won't work for those who want to use strictly physical buttons and dials while shooting, it works just right for its targeted audience. If you are looking for an easy to use camera with a good quality image and feature set, the Canon Powershot S120 is the travel tool for you.
You'll also appreciate the new and improved Auto shooting mode that Canon added. It has 58 different scenes programmed to it and will help immensely with getting better, sharper images. There is also a super helpful feature, aptly-titled Hint and Tips, that displays a short text description of some items on the screen. It's a really helpful way for you to pick up the camera quickly and learn to be unafraid of testing out features you're unfamiliar with. 
Built-in WiFi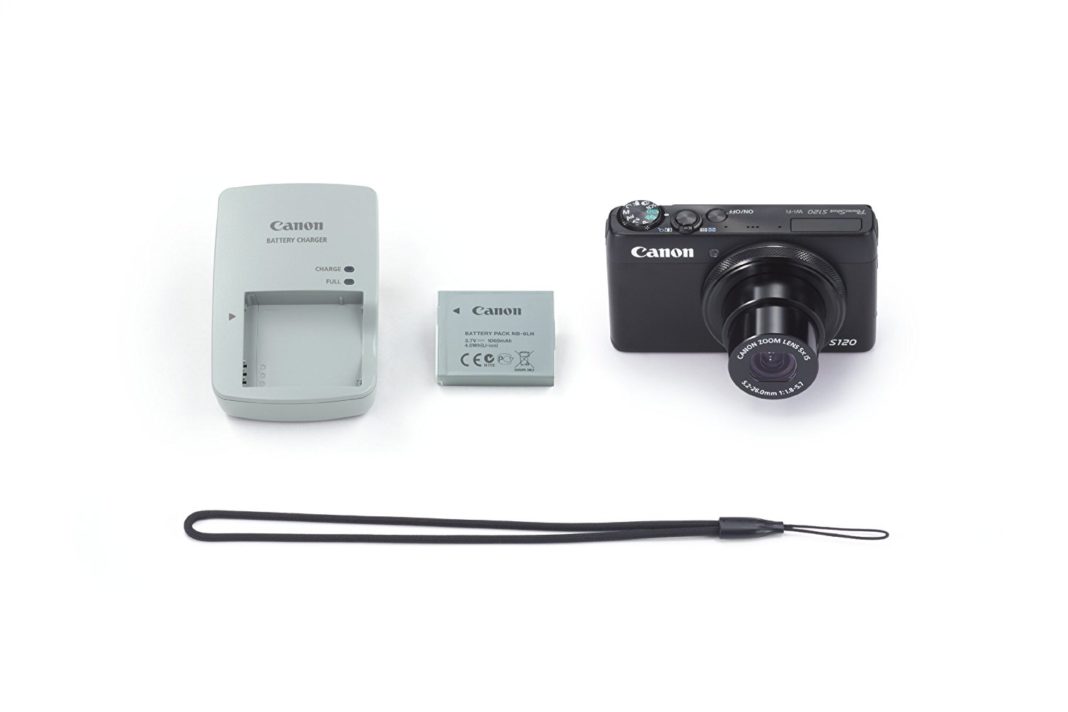 Credit: Amazon
The Canon Powershot S120 also offers built-in WiFi. This is something a lot of photographers will appreciate. To access the WiFi, simply press the button on the back that's assigned to it. When the setup procedure initiates, all you need to do is name your camera, choose from the available list of devices to connect to, and connect to yours. That's pretty much all there is to it.
If you want to connect your iOS or Android device, you will need to download the CameraWindow app. Once you do, you'll be given the option to directly share your photos to the social network of your choice, back them up to your phone, or even print them out on a WiFi-enabled printer if you'd like. Isn't technology a wonderful thing?
We'll give it to your straight. Here's the one downer. There is no option to remotely control the Canon Powershot S120. While this certainly isn't a deal breaker, it would have been a nice feature to have. Well, that's what self-timers and tripods are for, right?
Autofocus and Performance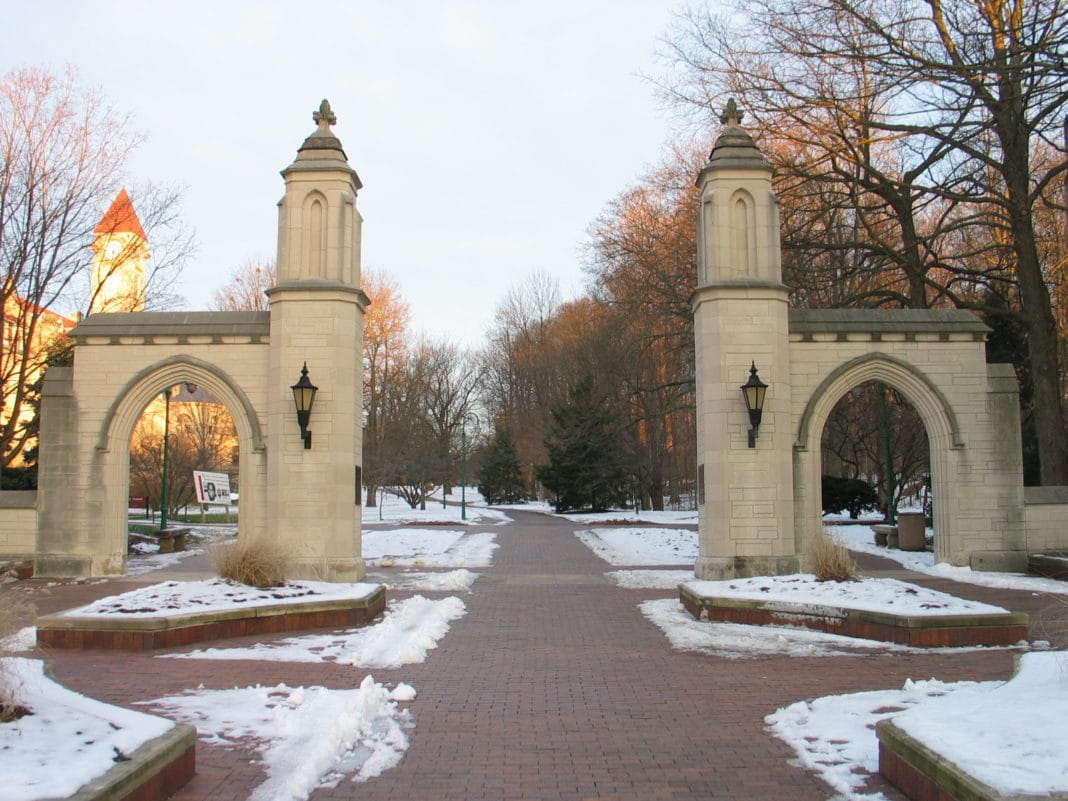 The Canon Powershot S120 has a pretty standard contrast detect system. Before we dive into its performance, let's take a look at the features that surround it. While there aren't as many features as you might expect from this type of compact camera, there are some pretty fascinating ones. Continuous AF (auto focus) is one of these. With it, you have the ability to focus on a subject before you shoot or enable Servo AF to make it continuously focus for you, as you snap photos.
While you won't get a DSLR-like performance, the one you get is surprisingly good for a small camera. There is also a face detection program called Face AiAF which searches the image frame and finds the face (or subject) to focus on. Overall, the autofocus on the Canon Powershot S120 is really good.
Video Features and Image Quality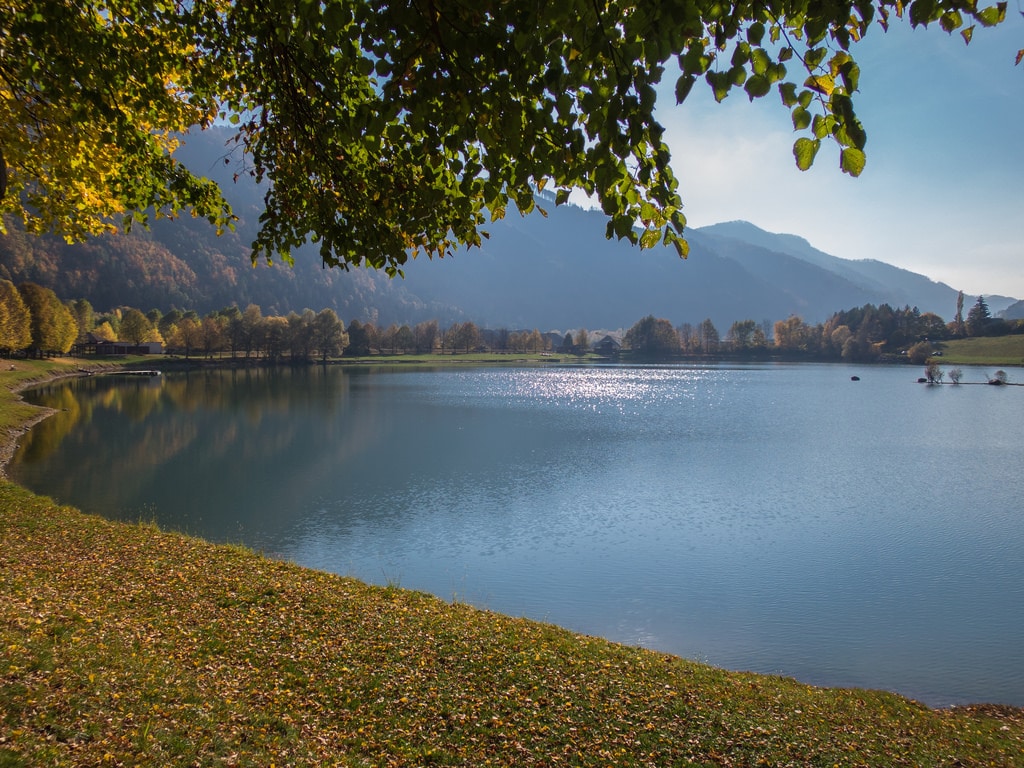 You're going to be pleasantly surprised here. While you won't have 4K video, you do get the option of recording 1080p videos at 60 or 30 fps and slow motion videos at the speed of 240 fps. If you want, you can also use focus peaking to focus manually, which is a really helpful feature. The Canon Powershot S120 records stereo sound in video qualities with pretty good quality.
You'll also find some of the Creative Effects available to use too. Examples include the Fisheye, Toy Camera, Miniature mode, Soft Focus, and so on. Overall, the quality of recorded videos is excellent for a point and shoot camera. 
Image Quality
Okay, here's the biggest reason you should buy this camera. In short, the Canon Powershot S120 offers some great looking shots. Whether you're shooting in RAW or JPEG mode, you're going to end up with some beautiful results. Even the noise performance is admirable for a camera of this price point. You can get good shots using ISO 6400 if you want to with fairly minimal grain.
We should also mention two other fascinating features. These are the Star and Star Trail presets. The first mode sets the focus to infinity, bumps up the ISO, and increases the exposure. The second mode takes a series of images and combines them all into one, for a sharper photo.
What Travelers Are Saying About the Canon Powershot S120
Here are the things travelers say make the Canon Powershot S120 a worthy investment:
1. High-Resolution screen: The S120 has a 922,000 dot 3 inch LCD screen, almost double the S90's. Colors are richer and details are sharper!
2. Built-In Wifi: The S120 allows you to import high-resolution photos into your iPhone with ease. Your Instagram uploads will never look better (no more grainy iPhone selfies).
3. Faster overall usage: The shutter speed is fast and the camera's burst feature is awesome (9.4 fps).
4. HDR mode: The HDR mode is very useful for scenic, high contrast scenes when you want all the details and shadow areas to come forth!
5. Wide Angle: The focal length is 5.2–26.0mm (or 35mm film equivalent: 24–120mm). This is slightly wider than the S90 and the Sony RX100. It may not seem like much but it makes a big difference when shooting various scenes.
Downsides
The battery life on the S120 is definitely shorter than the S90. Be sure to buy a couple of generic batteries for the S90/S120 and carry them with you.
How to Import Photos into Your Smartphone
Do not use Canon ImageGateway, you will waste your time with a registration system that doesn't even work (as of April 2014).
1. To start importing photos into your smartphone, you've first got to set it up. Do this at home on your wireless network. Connect your smartphone to your wireless network. Connect your camera to your wireless network. Take a few photos, go into playback mode on your S120, press up on the spin dial, select "Add a Device," and then follow the prompts to add your smartphone onto your S120.
2. Go to the Apple AppStore and download an app called "Canon CW."
3. Once your smartphone is set up and recognized by your S120 camera, you have two options to import photos. The first option (at home on your wireless network): Go to playback mode on your S120, press up on the spin dial, select the smartphone icon, and the camera will begin searching for the smartphone on your wireless network.
Turn your smartphone on (make sure it's connected to your wireless network) and open the "Canon CW" app (your camera will say "Start dedicated app on target device"). The app should recognize your camera and allow you to preview the photos. Select only the photos you want to import. If the app doesn't recognize the camera, try quitting the app and open it up again.
The second option (on the road with no wireless network): Go to playback mode on your S120, press up on the spin dial, select the smartphone icon, and the camera will create a wireless access point. Turn your smartphone on, go to your network settings, and then select the access point that your camera has created. Then open up the "Canon CW" app and it's the same as above.
Alternative Travel Cameras
If you want to shop around a little before you make your purchase, here are some other good travel cameras that fall within the same price point of the Canon Powershot S120.
Olympus TG5
Photographers who spend a good amount of time outdoors should consider the Olympus TG5. Since this camera is waterproof, you can take photos in all weather conditions without having to worry about your gear malfunctioning. Sporting a field sensor system, GPS, and compass, this device allows you to go off the grid without worrying about straying too far from the trail. Since it's only $400, it's relatively cheap compared to most digital cameras on the market.
Canon Powershot SX710 HS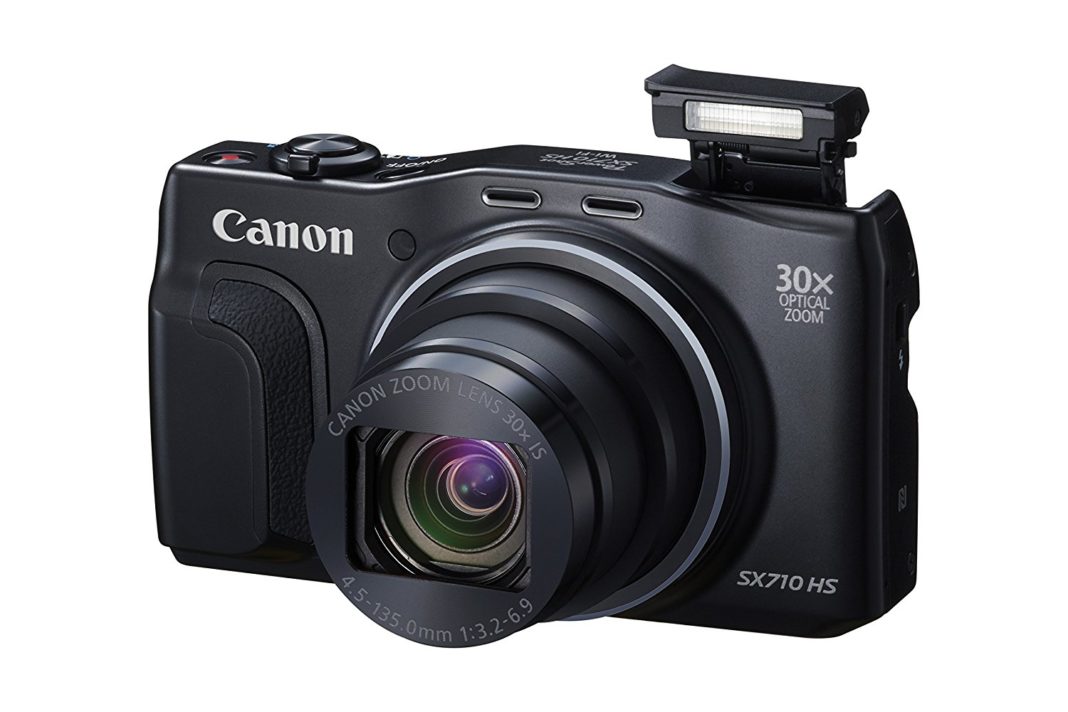 If you're interested in capturing some action shots, consider the Canon Powershot SX710 HS. This device's 3-inch LCD screen makes easy viewing at any angle. It also offers built-in WiFi for super easy social sharing, and good video capabilities as well.
Our Take on the Canon Powershot S120
All in all, we're extremely pleased with this little camera. The Canon Powershot S120 offers good photo and video quality for a compact point and shoot camera and simple social sharing. For beginning photographers and those looking to brush up on their skills, it is a great purchase.
Related Article: Travelers, Are You Looking For The Best Camera For Vlogging?