To be both waterproof and warm often requires two layers, but not anymore with the Columbia OutDry Jacket.
Whether you're trying to make it through a Wisconsin Winter or around the blustery streets of New York, often layers are your best friend. But, sometimes style is sacrificed with keeping yourself safe from the elements. Or, you simply don't have enough hands or desire to carry two extra jackets around do fulfill this feat. Thankfully, Columbia has risen to the challenge of making a quality jacket that is both warm and waterproof. With the Columbia OutDry EX Gold Down Hooded Jacket, they marry their brand new OutDry™ Extreme waterproof fabric with quality goose down to bring you a great cold or wet weather jacket.
The Columbia OutDry EX Gold Down Hooded Jacket Features & Benefits
OutDry™ Extreme Fabric Technology
Rain gear tends to get clammy inside, as it is made with a nonpermeable membrane. This means it doesn't let water in, which is exactly what you want in a good raincoat. However, Columbia has created a waterproof yet breathable fabric, completely changing the rain jacket game. So, with Columbia OutDry Extreme Fabric Technology, you have a waterproof outer layer with a soft, wicking fabric inside. This allows you to avoid the typical clamminess of a waterproof jacket with the Columbia OutDry.
Typical rain jackets tend to lose their waterproofing over time, as its just a layer that is stuck to the inside of the jacket. With the Columbia OutDry, the fabric itself is what is waterproof, giving you a lifetime of dryness to look forward to. Microscopic perforations allow excess water vapor and sweat to escape, keeping you happy inside the Columbia OutDry jacket. Lastly, the seams have been taped externally providing you with protection from the elements at the most crucial points of the jacket: the seams. These seams are only found at the zippers and shoulders, but we'll talk more about that in a minute.
700 Fill Power Goose Down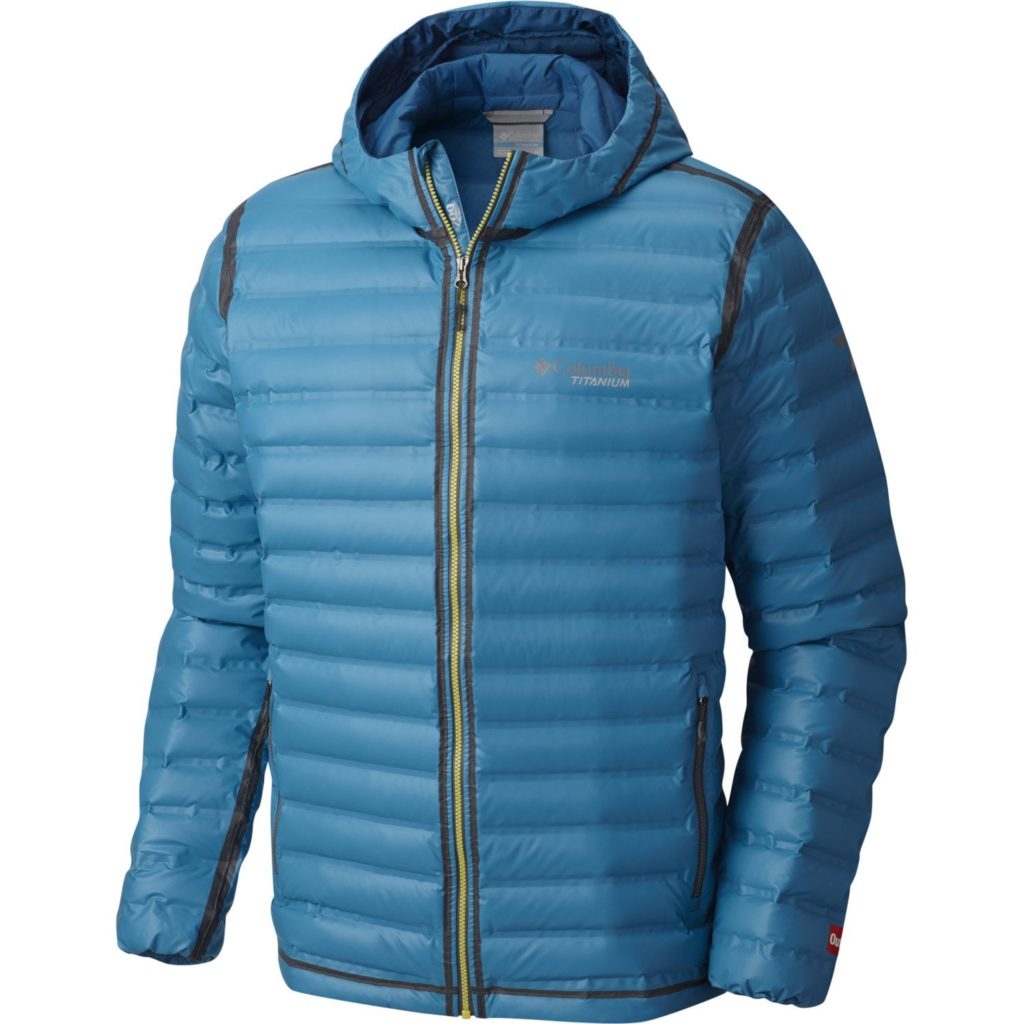 The 700 Fill Power Goose Down will keep you warm anywhere just above freezing. Remember, though, that down works by trapping heat in. There is no jacket that magically creates heat. So, to be warm in any down jacket, you will need to walk just a bit to generate heat for it to keep inside. That being said, many people find this jacket is plenty warm for freezing temperatures and above, but not much more than that.
In addition, the Columbia OutDry jacket has been made with sustainably sourced goose down. Certified by the Responsible Down Standard, the down has been traced from the raw material, all the way through to the retail counter. The ducklings are treated with respect and dignity from the time they hatch until the end of their life. With this, you can see that the Columbia OutDry jacket is committed to doing the right things and providing the consumer with a jacket and lifestyle they can be proud of.
PU Vislon® Zippers & Adjustable Hem
Two things we don't like: heat escaping when we are cold and things falling out of pockets. I hope you can agree with those. If you can, then you will appreciate the engineering that went into the Columbia OutDry EX Jacket. The pockets are zippered with PU Vislon, giving you a durable and waterproof seal. The center front zipper is also done with this technology, letting you have confidence it will zip easily every time. The zippered hand pockets allow you to keep the essentials, like your phone, keys, and wallet, safe and dry without worry. The two front hand pockets are the only pockets, however, so keep that in mind.
The adjustable hem is cinched with a drawstring bungee. This allows you to loosen it up when you need some airflow without sacrificing on the waterproof factors. If you're getting cold, go ahead and tighten the drawcord back up, and it will lock in the heat. We love the drawstring bungee versatility. It can also change the fit of the jacket if you like it to sit a little differently.
HeatSeal Baffles
Baffles keep goose down in place so you have all-over warmth. Without them, all your lovely goose feathers would fall to the bottom of the jacket, and just be obsolete. With the horizontal baffles on the Columbia OutDry EX Jacket, you will stay warm all over. In addition, Columbia has used HeatSeal technology to keep the down in place, rather than sewing the baffles. Traditionally, baffles are sewn in, but this creates small holes which let out the feathers as well as heat. Instead, the Columbia OutDry fabric has been bonded with heat to keep the feathers in place. So, you will enjoy knowing that every little bit of heat you produce stays happily inside your jacket.
Attached, Adjustable Hood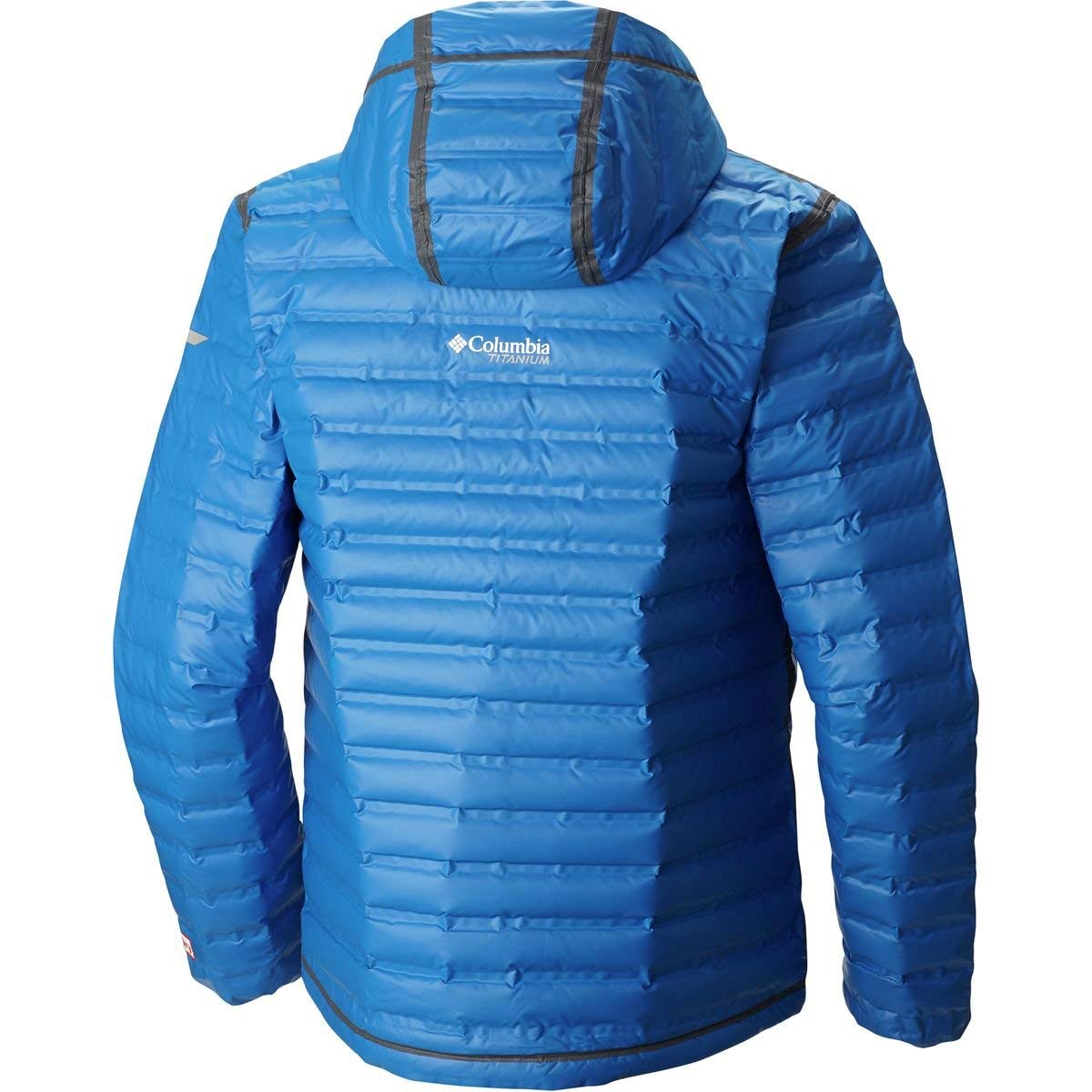 Lastly, no good winter or wet weather jacket is complete without a solid hood. The Columbia OutDry EX Gold Down Hooded Jacket has a hood that can cinch down around your face to keep you safe from anything that is thrown your way. With a chin guard in front to keep your neck warm, this jacket provides 360-degree warmth and wetness protection for your head.
What Travelers Are Saying About the Columbia OutDry EX Gold Down Hooded Jacket
Travelers, commuters, and adventurers who wear the Columbia OutDry EX Gold Down Hooded Jacket agree on a few things. First off, they affirm that it is a lightweight winter jacket and not meant for zero degrees Fahrenheit days. It will keep you warm and dry for cold weather, but not anything extreme. Secondly, the Columbia OutDry runs large and boxy. Many people who know their size already in Columbia gear had to size down in order to have the fit they like. On top of that, this jacket is made boxy so you can layer underneath. It does not taper in at the waist, so don't expect to be flattering your figure with this, gentlemen.
Lastly, travelers and trekkers have a bone to pick with the colors. While advertised as black on the website, the true color of the darkest Columbia OutDry Jacket is charcoal. This may upset some but look closely at the picture before purchasing if the color is a game changer for you. But, keep in mind it also comes in Peppercorn, Phoenix Blue, and Super Blue. So, you don't have to be stuck with Charcoal if you want something a little more spunky than that.
Alternative Men's Winter Jackets
The North Face Men's Gotham Jacket III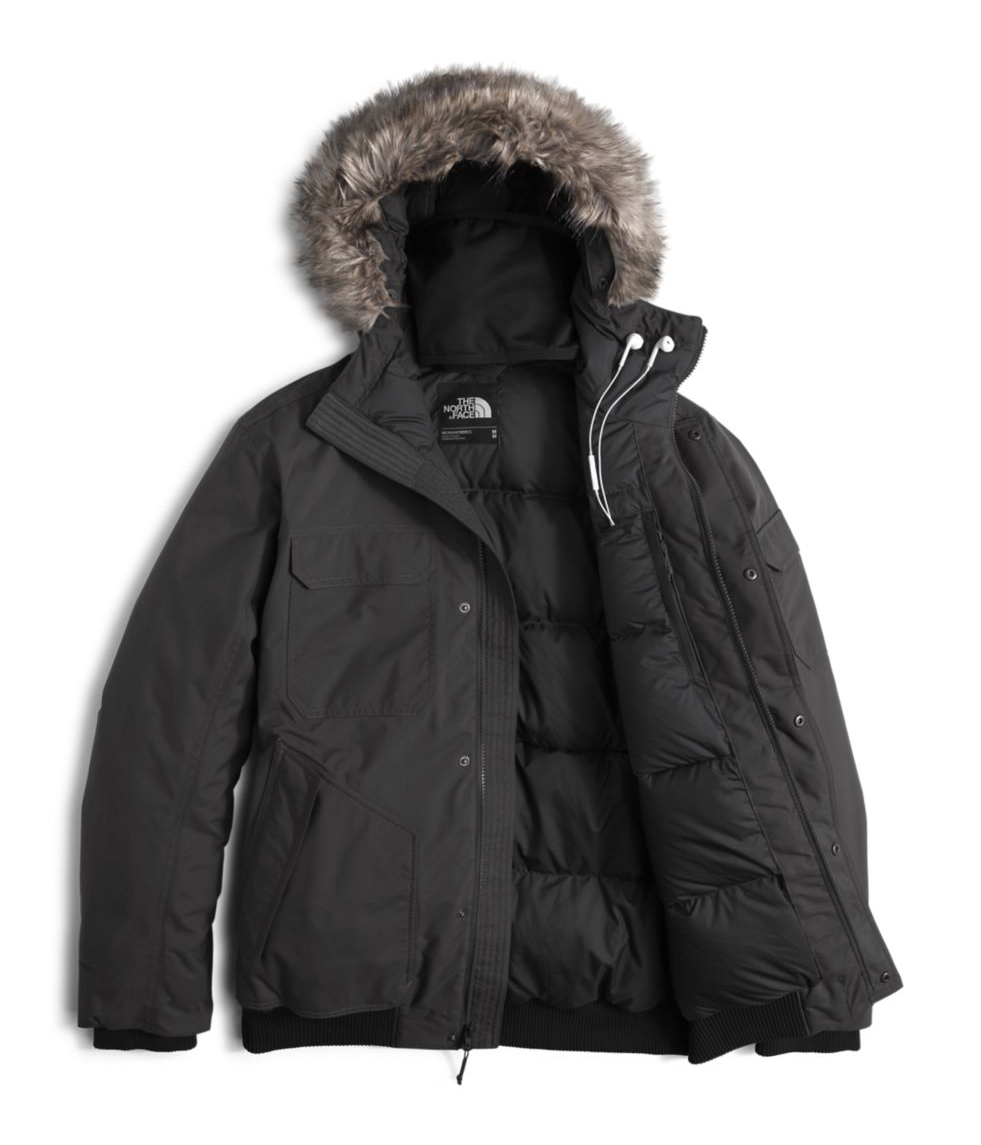 Credit: The North Face
For an alternative to the Columbia OutDry jacket that is waterproof and down filled but a different style, look to The North Face Men's Gotham Jacket III. It has an incredibly warm down filling that has also been certified with the Responsible Down Standard by Control Union. You can pair this with the DRYVENT waterproof, breathable technology to create a stellar jacket. The faux-fur hood on this jacket is removable if that's not your style. However, it can come in quite handy when the snow begins to blow. This jacket can keep you warm below zero degrees, so if you're looking for something warmer than the Columbia OutDry, this is it. Lastly, the plethora of pockets on this will keep you organized and happy all winter long. So, for a spectacular winter jacket that is a little more heavy duty, look to The North Face Men's Gotham Jacket III.
Patagonia Men's Topley Jacket
Patagonia always delivers the best of the best when it comes to outdoor gear. So, this Columbia OutDry Jacket alternative will be quite pricey, but if you're looking for a long-term investment, this is it. The Patagonia Men's Topley jacket has a recycled H2O outer shell that is both waterproof and breathable. It is insulated with 600 fill power Recycled Down, which is automatically sustainable as it is recycled!
The insulated, removable, two way adjustable hood with visor gives you warmth and protection from even sideways rain. If you're getting a little warm or don't enjoy hoods, you can take it off. That is a major perk of this jacket in comparison with the others. The center zipper has a storm flap to keep even the harshest conditions out. This compliments the chin guard, which is lined with a soft microfleece for utmost comfort. Overall, the Patagonia Men's Topley delivers a stellar performance for a warm, waterproof, and attractive jacket.
Kenneth Cole New York Men's Wool-Blend Coat
If you're looking for a more stylish peacoat option, check out the Kenneth Cole New York Men's Wool-Blend Coat. A blend of wool and polyester will keep you warm, even when wet. While wool is not waterproof, it does keep you warm even in the rain. So, as long as you're not caught in a downpour, you should be alright with this jacket. You will be ready for any trip with this coat, as its stylish and timeless design keeps you moving forward. There is plenty of storage in the Kenneth Cole New York Men's Wool-Blend Coat, with two snap-flap pockets at the hips and two side-entry leather-trim pockets at the chest. Overall, this is a spectacular stylish alternative to the Columbia OutDry if you need something a little classier.
The Columbia OutDry EX Gold Down Hooded Jacket will keep you warm and dry without weighing you down.
If you tend to like a more sporty, outdoorsy look but still look sleek, the Columbia OutDry is a great choice for you. With the muted colors and low-profile down, you will be happy just about anywhere with this. Remember, it is not a jacket for incredibly cold days or hurricanes, but it will get the job done in everyday wet and cold weather. So, if you're ready to invest in a lightweight three-season jacket, put a Columbia OutDry EX Gold Down Hooded Jacket in your cart today.
Related Article: Best Winter Jackets for Men Who Travel