In this day and age, smartphones have all but eliminated the need for small point and shoot cameras. Manufacturers have realized that, stepping up their game. The result? Pricey pocket cameras that can rival the image quality of SLRs. Once again, Canon is leading the way with the introduction of one of its finest pocket cameras – the Canon Powershot G7 X Mark II.
The  Canon Powershot G7 X Mark II breaks the mold for pocket-size cameras. Its one-inch image sensor works well even in dim light, offers f/1.8 at its widest angle, and a metal chassis. Even in a competitive market, this little camera still comes out as a top performer. Let's take a look at its features and see what it has to offer.
Features and Benefits of the Canon Powershot G7 X Mark II
Now, it's time to dive into some of the specifics. The  Canon Powershot G7 X Mark II has a lot to offer users. It's perfect for beginning photographers who aren't quite ready for a DSLR yet or simply travelers who want a lightweight camera to take with them on their adventures. Overall, this is a helpful tool to learn how to take better pictures. Not everyone has the energy or space to lug around equipment like the pros.
Design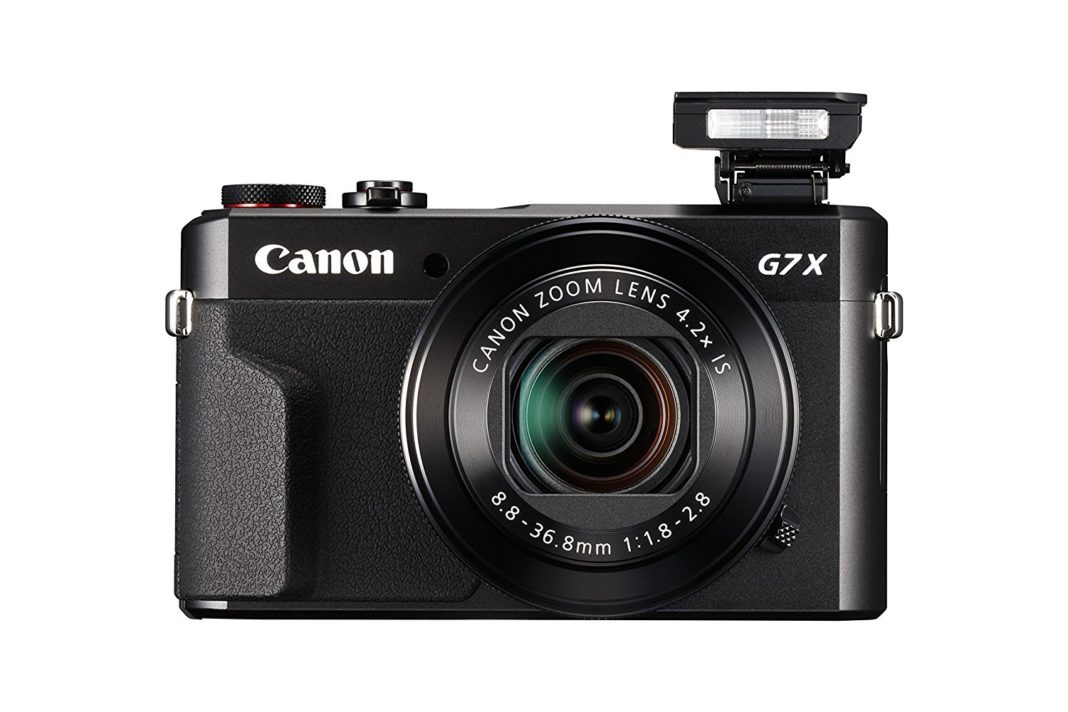 Credit: Amazon
While the Canon Powershot G7 X Mark II doesn't look much different from its predecessor at first glance, there are a couple of subtle changes to the body. For example, the EV compensation dial has been updated to act like most other popular models and the lens control ring can be set to function with or without click stops. The result is an overall smoother shooting experience.
The smelte shooter measures exactly 2.4 x 4.2 x 1.7 inches (height, width, depth) and weights a mere 11.3 ounces. While it's definitely not the smallest camera you can buy with a one-inch sensor, it's far less expensive and packs quite a punch. Unless you're looking to buy the absolute smallest pocket camera on the market, this one should do better than fine. In addition, its size is not out of line with its competitors, namely the Sony RX100 III.
We bet you didn't know that cameras with smaller sensors can still manage extreme zoom ups (think 30x ratio). The G7 X manages a 4.2x range (24-100mm, full-frame). Like most compact cameras in its class, the lens offers a bright f/1.8 aperture. When zoomed all the way in, it narrows to just f/2.8. This is very useful for a small camera. Even some older DSLRs increase their aperture to f/4 when zooming in all the way. This is a step up from the Sony Rx100 III.
Close Focus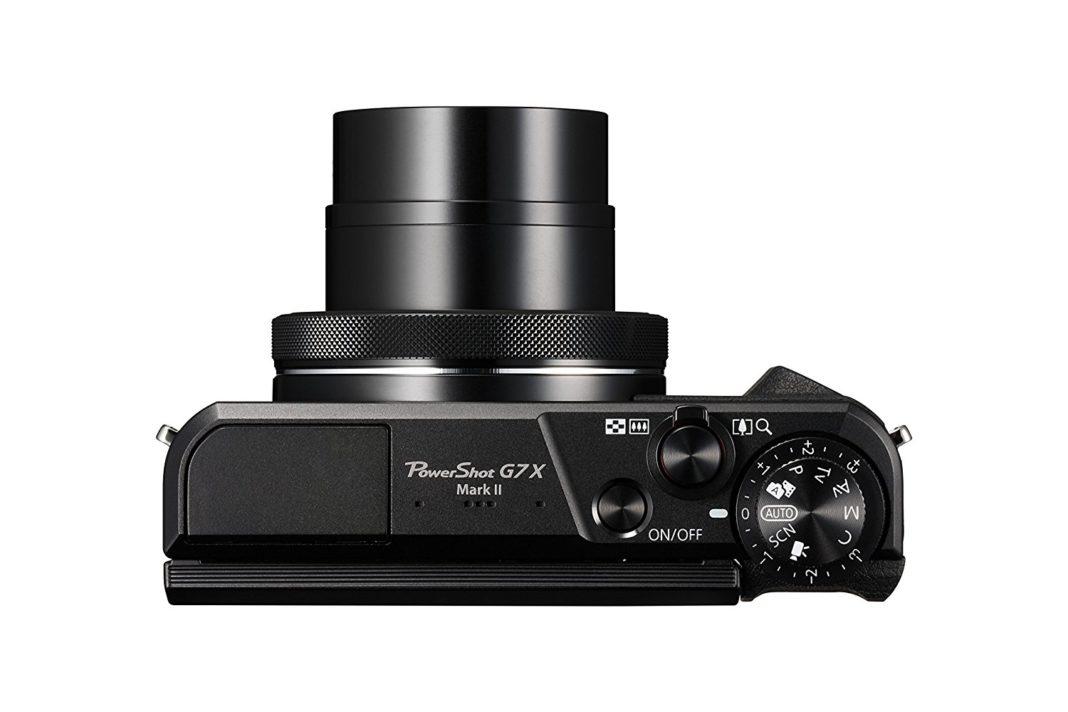 Credit: Amazon
A close focus is possible at 2 inches from the subject. This is unprecedented for pocket cameras. When coupled with the f/1.8 maximum aperture, you'll find it easier than ever to blur the background behind subjects, just like you would with a high-end DSLR camera. In addition, there is also a built-in lens neutral density filter that cuts incoming light. This is used primarily for shooting stills and videos at f/1.8 even under bright conditions. You can opt to either toggle it manually or set the  Canon Powershot G7 X Mark II to engage it automatically as needed.
Control Design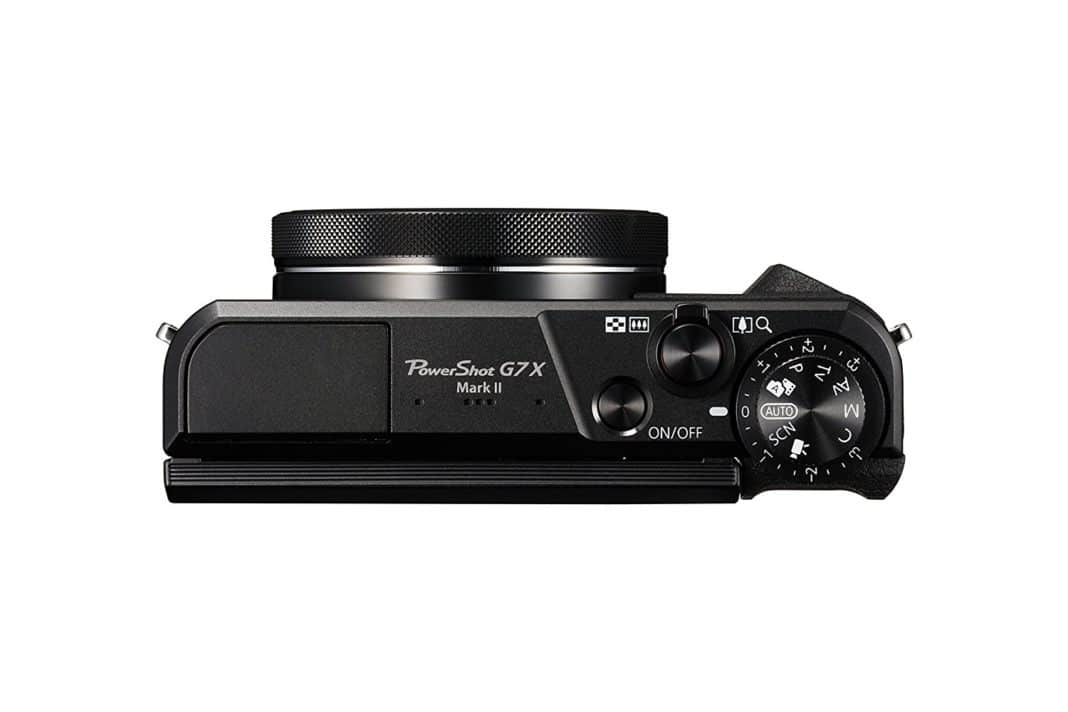 Credit: Amazon
Canon manufacturers have done their very best to squeeze as many controls in as possible on the G7's frame. A control ring surrounds the lens; you can adjust the function to your liking. Options include aperture control and zoom adjustment. The ring also includes a toggle switch to change it from one that clicks as you turn it (ideal for aperture or zoom adjustment) to one that turns freely. This is a big plus for video use.
On the right side of the camera, there is a WiFi button and a mechanical release for the pop-up flash on the left. The flash is mounted on a hinge and will go off when tilted back. An internal microphone, power button, shutter release, EV compensation dial, zoom rocker, and Mode dial sit atop the plate. Differing from its predecessor, the Canon Powershot G7 X Mark II has positive values positioned towards the front of the camera body and negative values toward the back. The exposure compensation can be altered from -3 to +3EV in third-stop increments.
On the side, rear controls run down the column, bordered to the left by the LCD and above by a thumb rest. The rear control panel has four buttons. The Ring Func. alters the lens ring, joined by a Record button to stop and start videos, and the standard Play and Menu buttons.
Rear Dial Control Design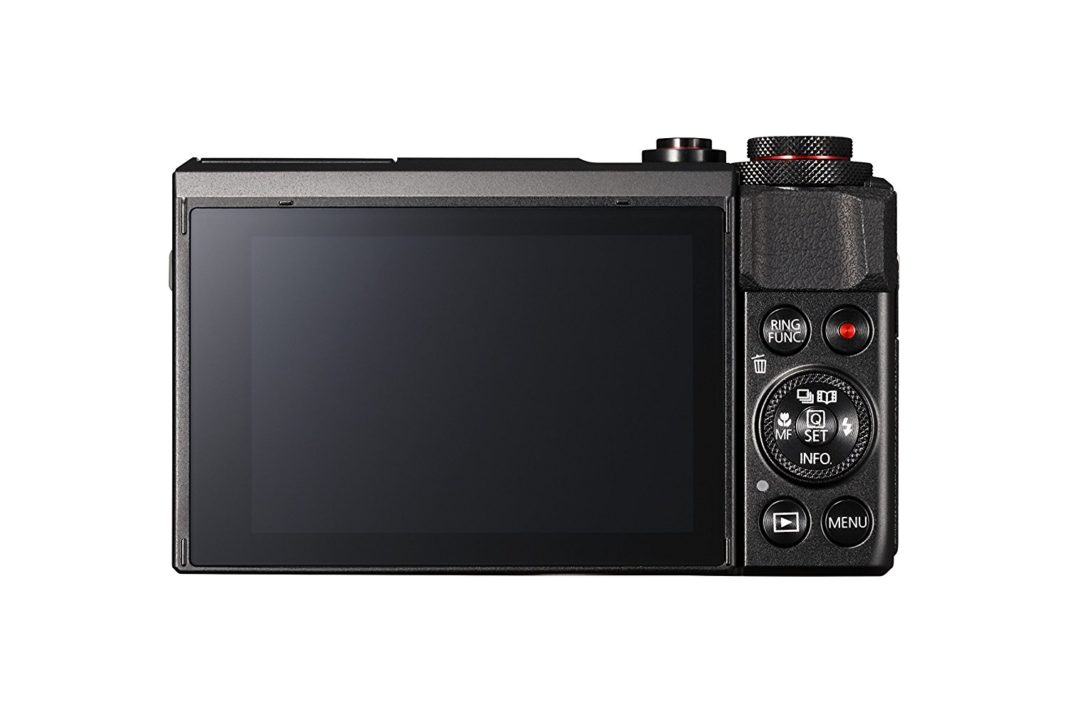 Credit: Amazon
In addition to the control panel, the rear dial also has four directional functions. Drive Mode enables burst shooting and also doubles as a photo album reviewing images. With it, comes a Flash output control, Info button, and a Focus mode button that can enable the macro switch or switch over to manual focus. At the center of the joypad, sits the Q/Set button. Use it to launch an on-screen menu to play with additional parameters (e.g. ISO, video quality, white balance, metering, self-timer, etc.). You can also use the touch screen if so desired.
The screen is 3 inches and sports a 1,040k-dot resolution for ultimate image clarity. It's mounted on a hinge and can tilt up, down, and face all the way forward for selfie taking. Solo travelers will appreciate this feature. It's way better than taking selfies with your smartphone.
For image exporting, there are two data ports – micro USB and micro HDMI located under a flap on the right side of the camera body. The removable battery and memory slot are accessible in a compartment underneath the bottom plate.
Built-in WiFi Capabilities
The Canon Powershot G7 X Mark II also has built-in WiFi along with NFC pairing support. This makes for super easy social sharing on your travels. You no longer have to worry about running out of space on your memory card and choosing which pictures to keep and delete. Losing your photos is no longer a worry either. Upload your photos as you go along, keeping friends and family updated on your latest adventure.
Using the free Canon Camera Connect app, you can copy images and videos to Android and iOS devices. The remote allows you to tap to set focus, change focal length, adjust drive, flash, and exposure settings, and turn on the shutter. Canon also added a new feature. A log function is now available, so you can add GPS metadata to your photos. Just make sure your camera clock matches that of your smartphone. Also, activate your log before shooting.
Performance and Image Quality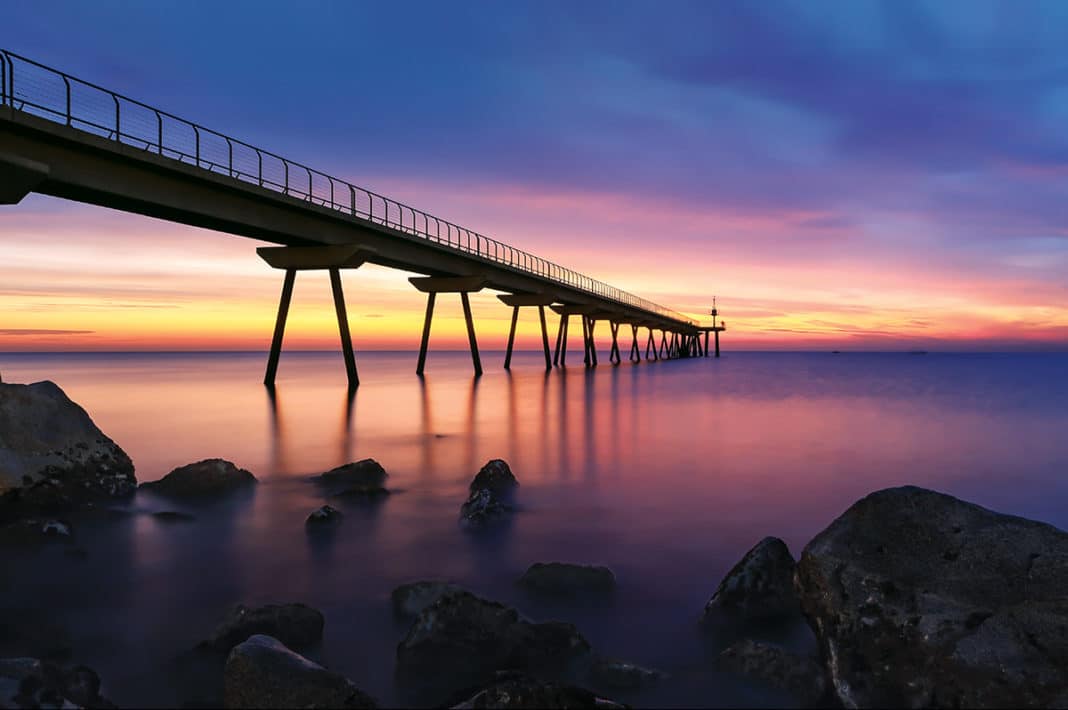 While the Canon Powershot G7 X Mark II uses the same sensor as its predecessor, it improves performance through the addition of an upgraded Digic image processor. The G7 X Mark II can start, focus, and shoot all in only 1.9 seconds. It locks in about 0.1-second and shoots off shots in burst mode at 8.1fps.
The buffer feature is also pretty solid for a pocket-size camera. It can manage 19+ JPEG, 22 RAW, or 32 JPEGs before slowing down. This isn't too far off from the comparable Sony line, which shoots 27 RAW or RAW + JPEG shots at 8.6fps or 44 JPEGS at 16.1 fps.
There are two focus modes available to users. One offers a wide area with face and subject recognition and a more narrow flexible spot. When photographing wide, you can choose which subject to track by tapping on the touch screen. The Canon Powershot G7 X Mark II does a great job of identifying both human and animal subjects. Just keep in mind that this camera is not designed to capture fast motion or action shots.
When working in burst mode, focus is locked even after the first shot. Hold the shutter down halfway to track your subject as it moves, waiting for the perfect shot to capture. While this feature is good for a point and shoot camera, you cannot expect every photo to be in perfect focus like you would with the Panasonic Lumix GH5.
Focus System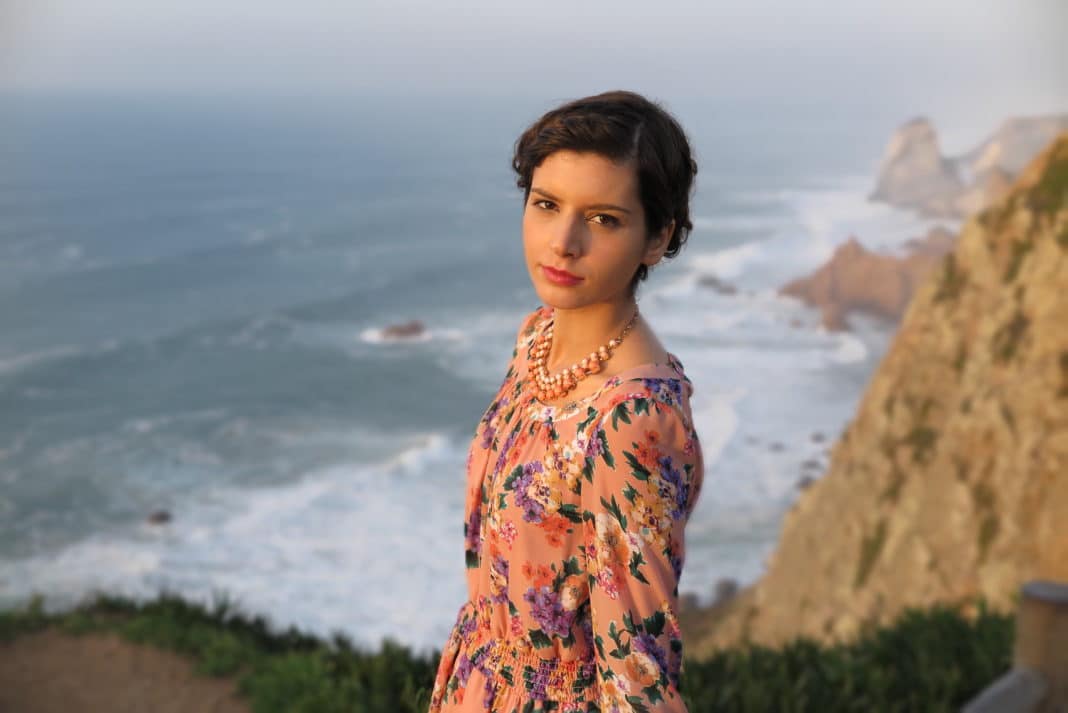 Generally speaking, the focus system is strong for a camera of this size and quality. The G7 X Mark II does a good job when when set to a larger subject size. However, if you want to focus on a smaller target, it should be reduced in size.
To check the sharpness of the zoom lens, you can use Imatest to check the sharpness of the Canon Powershot G7 X Mark II. Performance is pretty strong for most of the frame, giving a notably soft look. The Image quality stays steady through f/4 but diffraction is only an issue at more narrow apertures. In comparison, the Sony RX100 III delivers slightly sharper results at 24mm f/1.8.
The performance tends to even out a bit when zoomed back in. This is to be expected for a point and shoot camera of its caliber. At 55 mm f/2.8 the camera records 2,741 lines and the image quality is still strong at f/5 (2,736 lines). This is actually a bit better than the Sony RX100 III at 50 mm f/2.8 (2,678 lines).
Canon Powershot G7 X Mark II Lense and ISO Levels
All in all, the Canon Powershot G7 X Mark II has a great lens. It has a longer zoom length that its Sony competitor and performs better in image quality when zoomed a bit. The Sony is stronger at its widest angle and more consistent throughout the zoom range.
Imatest can also be used to test for noise in photos. When shooting in JPEGS, the Canon keeps noise levels under 1.5 percent up through ISO 1600. If the image is pushed that far, there is certainly a dip in image clarity. Our advice is to limit ISO use as much as possible and shoot underexposed. You can always brighten up the photos with Adobe Lightroom or Adobe Photoshop but reducing digital noise is not that easy.
Overall though, the Canon Powershot G7 X Mark II captures photos with a surprisingly crisp clarity. You can push the ISO up to 400 without evidence of image degradation. The photos definitely start to show a bit of grain and smudging around ISO 800. If you want to push the ISO levels from 1600 up to 3200, they are still usable. It's not until you push the G7 X Mark II up to 6400 and 12800 that they are very blurred. Again, we wouldn't recommend it.
Opt for shooting in RAW format. Not only can you eek more detail out of the photos, this makes the editing process a whole lot easier when working with high ISOs. As with JPEG, images hold strong through ISO 400, get a bit more grainy at ISO 800 and 1600. However, the biggest difference can be seen when comparing RAW and JPEG files both shot at ISO 6400. The first is not nearly as blurry.
Video Quality of the Canon Powershot G7 X Mark II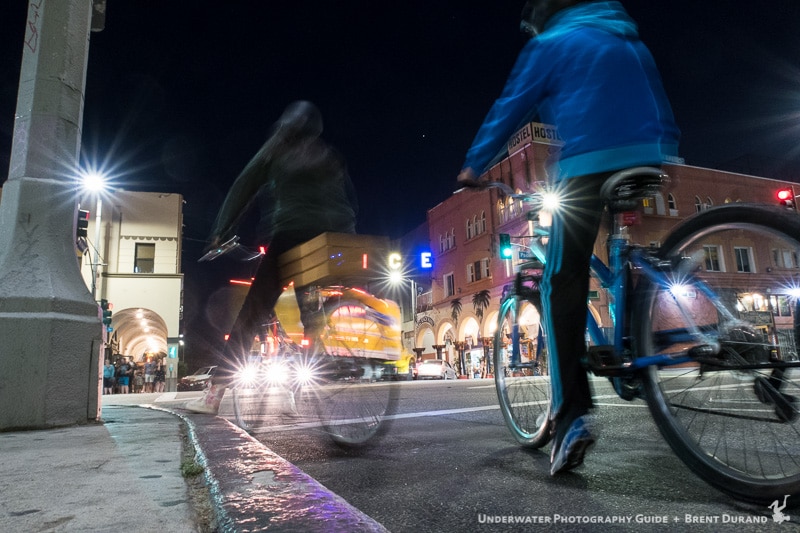 Video is recorded in MP4 format up to 1080p60 quality. The video quality is pretty strong and changes in the focus are smooth and gradual, whether you decide to tap for refocus or set up the video focus mode to Al Servo for automatic changes. An internal microphone picks up audio close to the camera but tends to catch a bit of background noise too.
If a mic input is critical to your video purposes, consider upgrading to the G5 X (although its video qualities don't match that of the G7 X Mark II). If you're looking for 4K, you have to upgrade to a pricier DSLR or mirrorless camera.
What Travelers Are Saying About the Canon Powershot G7 X Mark II
This camera is amazing. Even professional travel photographers are impressed with the image quality. All of the manual controls and the ease-of-use make it a great option for a second shooting camera.
It's also a great camera for hobby shooters or YouTube video vloggers. Travelers who have tried out other camcorders and point and shoots prefer the Canon Powershot G7 X Mark II. This is the closest thing to the total package. It's lightweight and ultra-portable — small enough to fit in your jeans pocket -but packs a tremendous punch, and is loaded with features.
The f1.8 aperture is very sharp at 24MM, though travelers found that the camera likes to default to f/2, and when shooting manual you need to make a slight adjustment if you want the 1.8. Autofocus is fantastic; it's virtually seamless in most settings. In low light it takes a second.
As far as the image quality goes on this guy, it's tremendous, and if you spend some time learning how to use it, it will replicate a Nikon 5xxx or Canon T series very well, without the bother of a bunch of different lenses. Night shooting is great, and it's very easy to do time-lapses and get quality images of the night sky.
The 24-100mm (35mm equivalent) zoom range is fantastic, and you really don't notice the camera stopping down from 1.8 to 2.8 across the zoom. The digital zoom (beyond the 4.2 optical) is also fairly usable for at least the first little bit, though at full digital zoom it is very grainy. Noise comes in around 1600 ISO, but you can adjust some other settings to deal with that; really you're probably good for most everything until around 2000 ISO.
Other pros:
check Fantastic touch screen that's very responsive. This camera is able to deal with most everything right on the screen.
check

The swivel screen is nice, and you'll  find yourself using the downward tilt for high shots more than you expected.

check

Though others have complained about hearing the autofocus sound during video recording, we have not heard it yet. Unless you're in dead silence and need the sound off the camera, we don't think it'd ever be a problem.

check

The weight. There is so much power in a small package you can bring with you just about anywhere.

check

Unlike the first edition, with the Mark II you can shoot in the "film quality" 24p, which travel photographers tend to enjoy.

check

An incredible amount of presets for multiple shooting situations make it so the novice will not need to fiddle with manual settings much (if ever).

check

Very simple wifi connection to your phone or computer makes getting shots on instagram (or wherever) a breeze.
Alternative Travel Cameras
If you want to shop around a little longer before you settle on the right travel camera, here are some other options from competitor brands within the same price range.
Canon Powershot S120
At only around $300, the Canon Powershot S120 offers some pretty good qualities. For example, built in Wi-Fi lets you seamlessly transfer captured video and upload to social sharing sites.
This camera captures video in 1080 full HD. Its built-in microphone records stereo sound and it has a 12.1 megapixel CMOs sensor. In combination, these features allow the camera to provide a pretty exceptional performance in low light settings. The included lens is an f/1.8 with a wide angle view and is good for vlogging and is a good portable travel camera too.
GoPro Hero6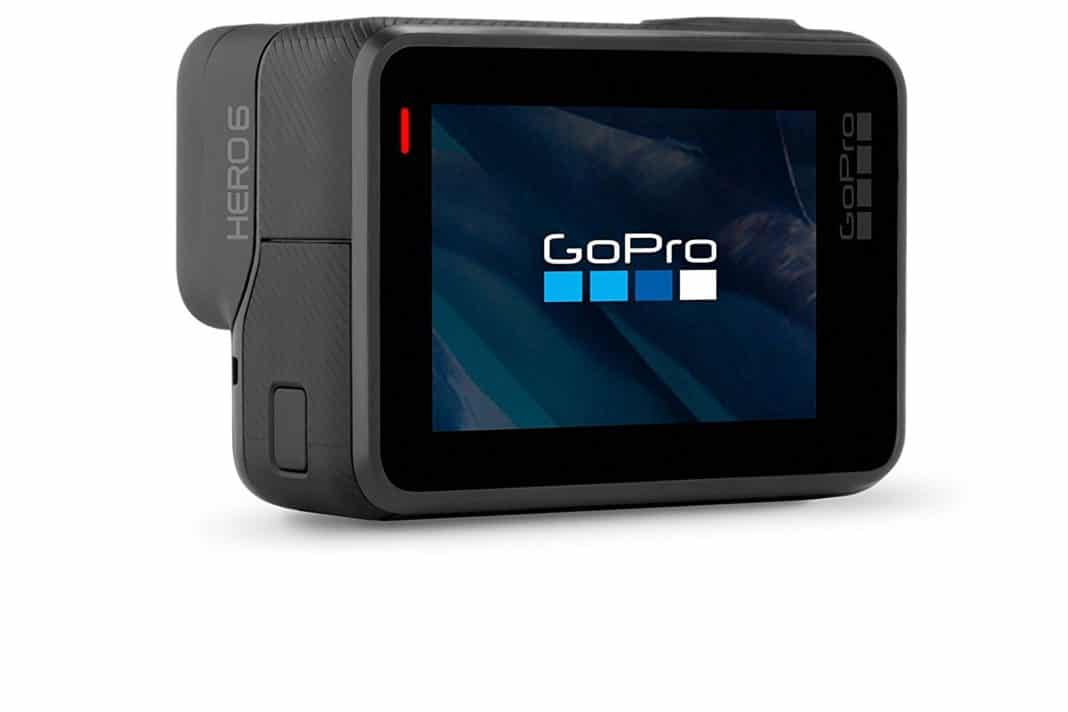 We all know GoPro as the best brand for action video cameras. That's not the only way you can use them. While you certainly wouldn't expect it, the GoPro Hero6 has also been rated a best camera for snapping photos (taking them out of the video). So why is the GoPro Hero6 a good travel camera?
First off, it's super portable. While other cameras take up way too much space in your carry on, you can fit a GoPro in your pocket. This is really useful if you're a frequent traveler. Sine it's so small, you can also get away with using it in public without drawing too much attention to yourself.
It also has quality sound. One of the biggest problems with most of the regular cameras on the market is they have poor audio. You almost always have to purchase an external microphone. Not only does that cost more but it's just another piece of equipment you have to lug around when you're shooting. GoPros handle audio much better than most inexpensive cameras.
Last but certainly not least, you can edit from your phone and enjoy stunning 4k video and image quality. For $400, this camera is a steal.
Our Take On the Canon Powershot G7 X Mark II
Overall, the Canon Powershot G7 X Mark II is a beast, and with just a few more tweaks could probably become a full DSLR replacement for everyone except professional photographers. If you're doing anything up to and including serious, routine videography, this thing has the tech to get the job done. We highly recommend this camera for new photographers and those looking to brush up on their skills.
Related Article: Travelers, Are You Looking For The Best Camera For Vlogging?