Durable, functional, and stylish — can one truly have all three in a piece of luggage? At times, it seems not. From a lack of storage to pricey luggage sets, cumbersome suitcases to carry-ons that cannot be carried on — the seasoned traveler has experienced all of these trekking tragedies. In fact, for those scouring the Internet for their newest luggage set, an affordable and lasting solution may seem hard to come by. However, Skyway Luggage Co. may just do the trick.
In light of the airline industry's emergence, Skyway luggage sets entered the market in 1910 to provide a practical solution with a hint of style. Although a tall order, Skyway Luggage Co. manages to combine the necessities into long-lasting carry-ons, checked bags, duffel bags, and totes. Need space for your laptop? No problem. Need expandable luggage? Also not a problem? Need a bag that you can easily carry or roll? Check. Want something bold that you can easily distinguish at baggage claim? You got it. Thus, if you're like me, and in need of a solution to your luggage woes, look no further than Skyway Luggage Company for your next Skyway luggage set.Skyway has something for every traveler. Here are a few of our favorites:
For the glam trend-setting trekkers: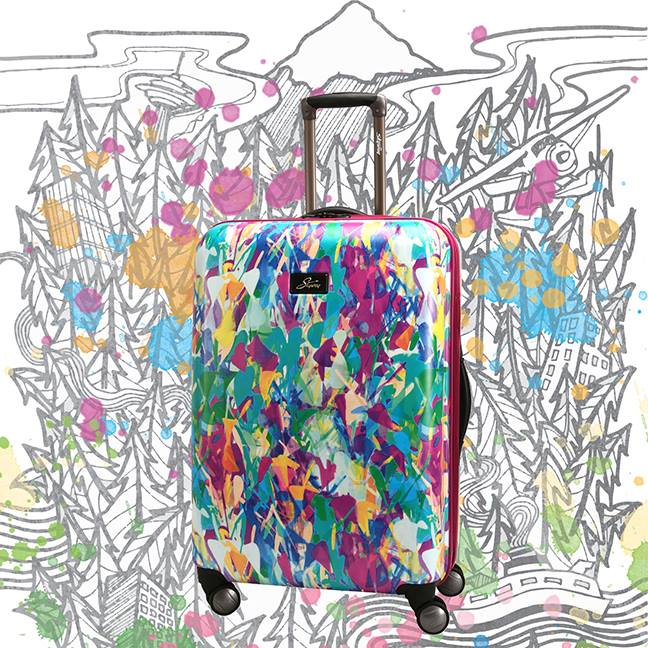 Credit: Skyway
Who doesn't love to make a statement while globe trotting? This festive style carry-on and checked luggage are sure to please those with a penchant for eye-popping patterns and whimsical flavor.
Carry On Details:
Size: 20 inches
Weight: 7.7 lbs
Price: $89.99
Checked Luggage Details:
Sizes: 24 inch or 28 inch
Weights: 9.2 and 10.8lbs
Price: $99.99 or $119.99
Perks of the Festive Set:
If anything, Skyway Luggage Co. is not short on options. The 20 inch carry-on can be paired with either a 24 inch or 28 inch checked bag in the "Festive" pattern. Either way, both the carry-on and checked bags of this set have some impressive qualities.First, a hard-side, polymer shell offers your belongings protection — a must as it passes through security, baggage handlers, and baggage claim. 360-degree spinner wheels and a retractable ergonomic handle make maneuvering through airports, train stations, and the likes easy. For this reason, this set is perfect for times when you have a connection to make, as the luggage's stability and comfort prevent the bag from bouncing aimlessly along. Comparatively, if terrain is rough and rolling the bags is not an option, padded handles are provided to accommodate such situations.
Credit: Skyway
The inside of both the carry on and checked bag are just as impressive. A testament to this is the expanded packing room, made complete with features such as mesh pockets and two separate packing components. Now packing for destination weddings or business trips is simple. The arrangements are perfect for allowing you to keep dress clothes on one side and party clothes on the other.You don't have to take our word for it though — Skyway Luggage reviews on Amazon from pioneering traveling trend-setters say that this luggage is, "Perfect." One reviewer notes, "It is so very pretty. I like the various interior compartments." With great reviews, this product is sure to be a traveler favorite.
For those who just want to "get there":
Credit: Skyway
What if you're a no-frills type of traveler? Maybe you don't need fancy designs or bells and whistles. Well, Skyway bags have a solution for that as well! The Mirage 2.0 and Mirage Superlight collection will have you on your way:
Tote – Mirage Superlight Details:
Size: 18 inches
Weight: 1.4lbs
Price: $39.99
Carry-on Mirage 2.0 Details:
Size: 16 inches
Weight: 4.8 lbs
Price: $79.99
Checked bag Mirage 2.0 Details:
Size: 24 or 28-inch spinner
Weight: 6.6 lbs or 7.7 lbs
Price: $99.99 or $109.99
Perks of the Mirage 2.0 set paired with the Mirage Superlight Tote:
The Mirage 2.0 collection provides the best of all worlds for trekkers. The tote, carry-on, and checked bag are all available in black, red, purple, and blue.Durability is no concern with Mirage 2.0, as the components are made with rugged rip-stop fabric and self-healing zippers. This is definitely a must have for my next luggage purchase, as any trekker will tell you that a great set needs to withstand the stresses of being on the road. Coupled with the lightweight and compact materials, gliding in-line wheels and a retractable handle ensure that getting from point A to B is a breeze.
The carry-on and checked bag also feature a padded front compartment, interior mesh door organizer, and a water-resistant pouch — all features that promise to keep your valuables in order and safe. I find this especially helpful on long journeys, particularly when I carry my laptop, tablet, phone, and many chargers to stay on top of work on the road.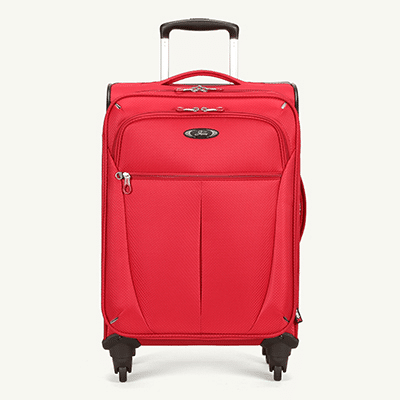 Credit: Skyway
The Mirage Superlight completes this set. The tote is wonderful for its many pockets. The top carry handle is reinforced for support, but the tote can also be carried by the piggy-back straps. Mirage Superlight tote is certainly a product I would consider carrying in lieu of a purse. Altogether, this collection offers a sporty alternative that is minimal on frills, but not quality.
The Mirage 2.0 and Superlight can be combined to create one of the ultimate Skyway luggage sets. A Skyway luggage review on ebags.com touts that the capacity of the bag is cavernous, however, each piece is extremely lightweight. As a matter of fact, several reviewers have managed to take this set overseas with no problems, even highlighting the ease of maneuverability on all surfaces, including the cobblestone streets of Liverpool, England. Amazon reviews for the Mirage Superlight tote call this their "go to bag" for its ease of access, particularly in accommodating electronics and documents.
For the suitcase haters:
Credit: Skyway
If Skyway suitcases aren't for you, do not fret! This is one area in which Skyway Luggage does not disappoint. I personally fall into this category. While I love the convenience of rolling my luggage around, I like to be able to pick it up and run if I need to make a connecting flight. Skyway provides duffel bags for similar scenarios.
Sigma 5.0 Tote Details:
Size: 16 inches
Weight: 0.9lbs
Price: $39.99
Sigma 5.0 Duffel Details:
Size: 22 inches
Weight: 1.9lbs
Price: $49.99
Sigma 5.0 Rolling Duffel Details:
Size: 30-inch rolling duffel
Weight: 4.9lbs
Price: $79.99
Perks of the Sigma 5.0 Set:
Not only does Skyway have a quick fix for the duffel lovers, it has a whole set for them! The Sigma 5.0 collection features a 16-inch tote, 22-inch duffel bag, and a 30-inch rolling duffel bag in forest green, black, or red.Both the 22-inch duffel and the 30-inch rolling duffel feature numerous pockets, a zip top seal, and a removable padded shoulder strap. The caveat of loving duffel bags is the duffel bag's trademark shoulder strap impression that worsens in direct correlation to the amount you pack. We wear it as a badge of honor, but recognize the necessity of a padded shoulder strap.
Skyway does too, and takes this understanding a step further with its rolling duffel option. Maneuverability, a feature often overlooked by other retailers, is made possible by two in-line wheels and a retractable handle that turn the Sigma 5.0 into a hybrid. This will definitely be a requisite for my next duffel bag purchase, as my un-wheeled duffel bag has been lugged to Peru and Costa Rica and everywhere in between (never again). Skyway acknowledges that wheels and a handle are equally important.
Credit: Skyway
As with other Skyway products, these bags resist rips, tears, and abrasions. The tote form of the Sigma 5.0 collection also offers up velcro grip straps, a piggy back strap option, stud feet, and many pockets – providing a great option for a toiletry bag or even carry-on.Amazon reviews for the Sigma 5.0 products state that the 22-inch duffel is a great overnight bag and can hold everything. Other reviews specifically cite the sturdiness of the bags, and the potential for both the tote version and 22-inch version to be carry-ons that can fit in under the seat in front of you when flying.
For those who spent all their money on the plane ticket but forgot to factor in the cost of luggage: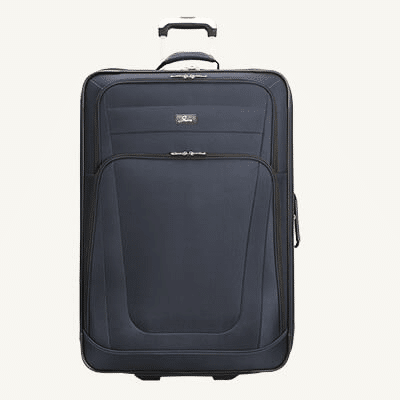 Credit: Skyway
While all of Skyway's luggage is moderately priced, great deals exist as well. The Epic collection provides the basics in an affordable and functional manner.
Epic Carry-on Details:
Size: 21 inches
Weight: 6.45lbs
Price: $49.99
Epic Checked Luggage Details:
Size: 25 or 28 inch
Weight: 6.9 or 9.1 lbs
Price: $59.99 or $69.99 ($79.99 if you get the spinner wheels option)
Perks of the Epic Set:
The Epic collection is a sleek, yet budget-friendly option for traveling. Available in surf blue or black, this Skyway bag has an option for in-line wheels or spinner wheels (for an added fee, of course) for both the carry on and checked bag.The large interior includes the luxury of expansion, mesh pockets, and tie down straps to keep belongings from adjusting themselves en route — we're looking at you, souvenir junkies. Of course, as with all Skyway products, the exterior fabric is tear resistant.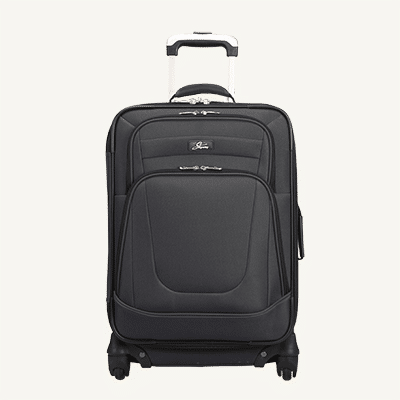 Credit: Skyway
Confession time – I have a soft spot in my heart for the Epic set, as it is similar to a set my parents bought as "starter luggage" when I was young. For example, this is perfect if you have the need to travel with children but cannot afford to break the bank on luggage. Although an unassuming luggage choice, the Epic collection is dependable and ready for adventure. One Skyway suitcase review on Amazon expressly gives kudos to Epic for its awesome price and quality. In support of this, another trekker says this suitcase has made it from Odessa, Ukraine to Alaska — a feat well worth the price.
So what do we find so awesome about Skyway Luggage Co.?
In addition to unique designs and quality craftsmanship, Skyway offers warranties for pieces purchased from authorized Skyway stores and dealers. Thereby, they will repair or replace any suitcase with defects from faulty materials and workmanship. The standard Skyway Luggage warranty is 3, 5, or 10 years depending on the piece.Skyway Luggage Co. — an already affordable option — also offers price matching. The site provides much information about warranties, but not so much regarding this perk. Consequently, you should contact Skyway with more questions about price matching.Products from Skyway Luggage Co. can be purchased from their site directly, on Amazon, ebags.com, and various other online retailers. Furthermore, these sets can be purchased from Skyway Luggage retailers such as Kohl's, JCPenney, Bed Bath & Beyond, and others.
Alternative Luggage Brands:
it Luggage
This luggage brand specializes in functional, attractive luggage. With options for "world's lightest luggage," hard-shell, frameless, and soft lightweight luggage, it Luggage is a viable alternative. If you have a quirky style and need something to match, this is your best bet (think skulls, stripes, and the works). All it Luggage comes with a standard ten-year warranty.
Travelpro
Similarly, Travelpro is another luggage company with great selection. Despite the variety It Luggage offers, Travelpro offers a range of products priced anywhere from $50 all the way up to $450+. Travelpro is a great choice if you simply need a quality product to send you on your way.
The verdict is in for Skyway Luggage Co.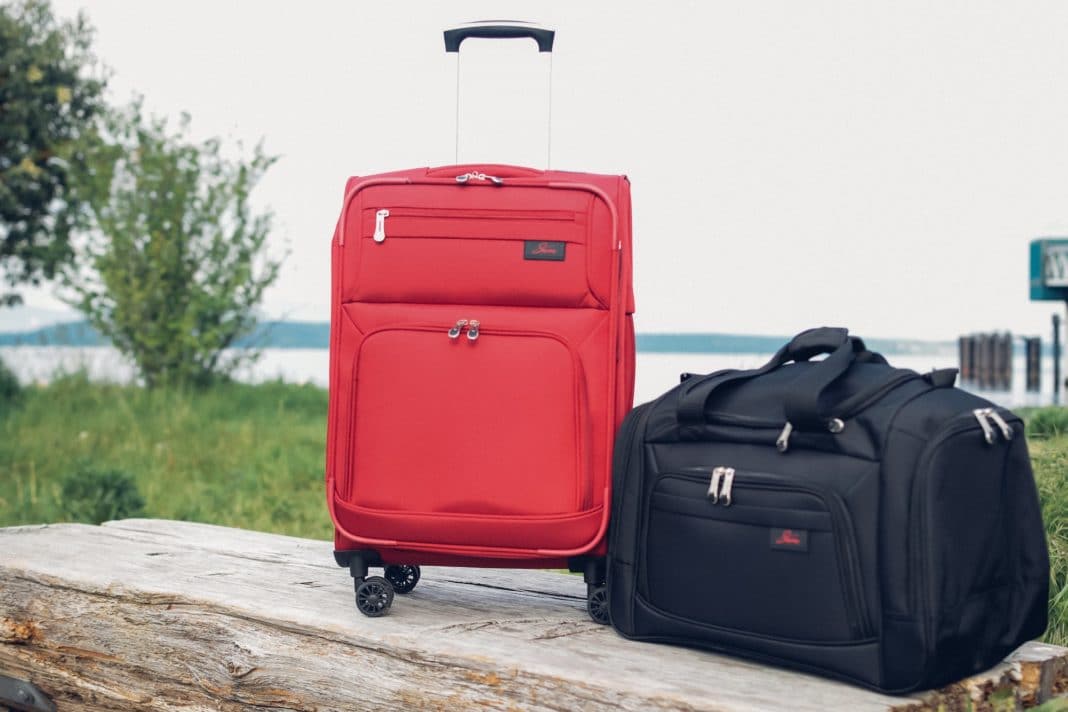 Credit: Skyway
Skyway Luggage offers something for everyone. Each piece rings in at a competitive price in comparison to luggage makers such as American Tourister, Delsey, Samsonite, and others. The best prices appear to be on Skyway's website. While sites like Amazon have a greater variety of design choices, they can however, be pricier due to mark-ups from middlemen and independent sellers. Furthermore, we recommend reading reviews for each piece. While overwhelmingly positive feedback is provided regarding the options mentioned above, other collections such as the Nimbus 2.0 do not fare as well. Do you own any Skyway luggage sets or individual Skyway bags? If so, leave us your thoughts in the comments!
Related Article: ​​Best Lightweight Luggage Reviewed (Plus How to Choose Yours)​​​