Affordable, stylish, and high-quality Victorinox luggage offers the solution for travelers seeking quality bags.
While the company's claim to fame is the Swiss army knife, Victorinox has made quite the name for themselves in the luggage scene too. Their gear is reliable and useful for a range of travels. What I love the most about their line is that they have something for every type of traveler and trip. Each collection offers unique highlights; it's important to know which one best matches your style and needs. I'm going to talk you through the best Victorinox luggage pieces. It's time to find your perfect fit.
Our Picks for the Best Victorinox Luggage Pieces
1. Werks Traveler 5.0 27-Inch Dual-Caster Spinner Suitcase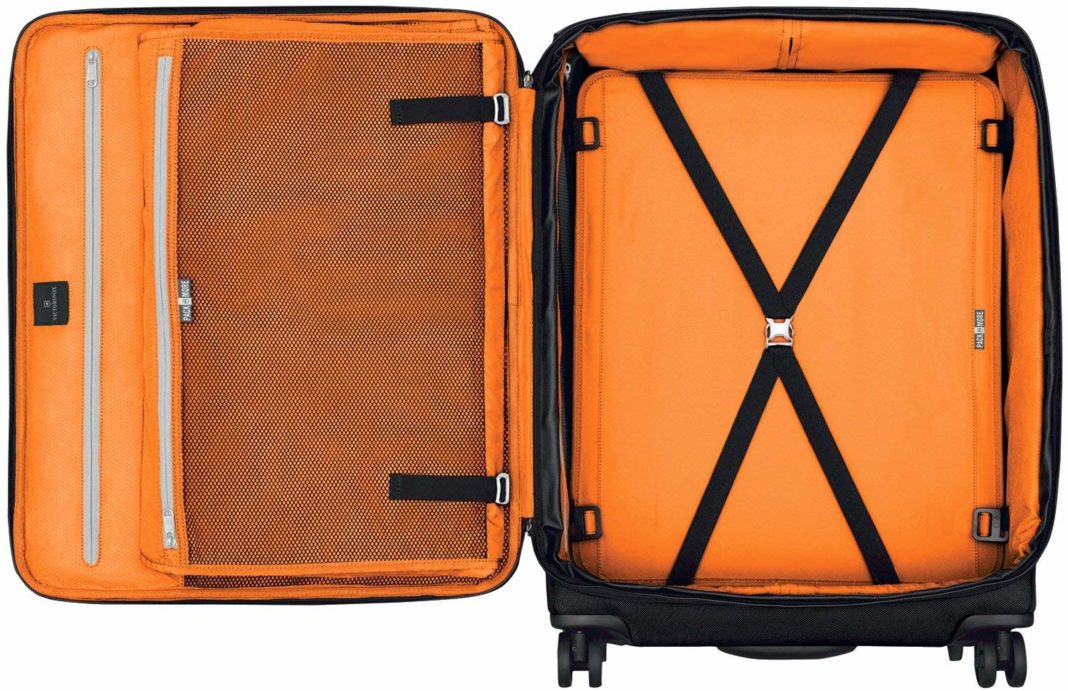 This bag is so much more than just a piece of luggage. It's a safe place to store the things you need. Thanks to the 5.0 collection, you can enjoy gear that is strategically designed to weigh less while offering a greater capacity. Did you know that you can pack this bag in five different ways? Choose how you want to do it and bring along the items that are most important to you.
For those of you about to go on an extended trip, this is a great fit. Great packing capacity and 360-degree movement come together for an overall easier and more comfortable travel process. One of our favorite features is the Pack More Divider. Paired with x-shape compression straps, and zippered expansion, you have room for an extra pair of shoes or two as well as some souvenirs to take home.
Out of all the Victorinox luggage pieces, the Werks Traveler is one of our favorites. It comes in black, navy blue, and olive green. Made from 100% ballistic nylon, it's strong enough to resist tears and snags that would happen more easily with other bags. A sturdy aluminum handle offers an easy way to pull the bag around. The handle has three different height settings and locks in with the push of a button.
Tech Specs:
Ballistic nylon fabric

Sturdy aluminum handle

Great interior space

check

Lightweight

check

Three different handle height settings

check

U-shape front pocket

check

Intelligent packing system (dividers, compression strap, zippered expansion, etc.)
2. Victorinox Lexicon Hardside Large Travel Case
Break resistant, scratch resistant and strong, the Lexicon delivers when you need it most. The 100% virgin polycarbonate structure offers the highest level of performance. When it comes to security, you can rest easy knowing your belongings are safe and sound. Double racquet YKK zippers are puncture proof and a TSA-approved combination lock allows airport security to open up your bag without destroying the lock. You can simply relock it after inspection.
When it comes to maneuverability, large 60-mm wheels allow you to move the bag 360-degrees with complete ease. In order to maximize your case space and packing capacity, they are very recessed. Looking at the bottom of the case, you will find two zippered mesh pockets that maximize available space between the trolley poles. X-shaped compression straps allow folded items to stay place during transit.
Moving on to the top of the bag, you will find a zippered dividing wall. You can use this handy feature to separate your dirty clothes from clean ones. In addition, there is also a removable full suiter where you can keep your hanging clothing with the hanger still on. When you remove it, you can use it as an additional organizational pocket.
Tech Specs:
100% virgin polycarbonate structure

60mm smooth-rolling dual caster wheels

TSA-approved combination lock

check

Puncture proof zippers

check

X-shaped compression straps

check

Two zippered mesh interior pockets

check

Zippered divider wall

check

Removable full suiter

check

Swiss Tracker Bag Tracking Program (find your bag if it is lost or stolen)

check

Aluminum handle with 3 different height settings
3. Victorinox Etherius Expandable Spinner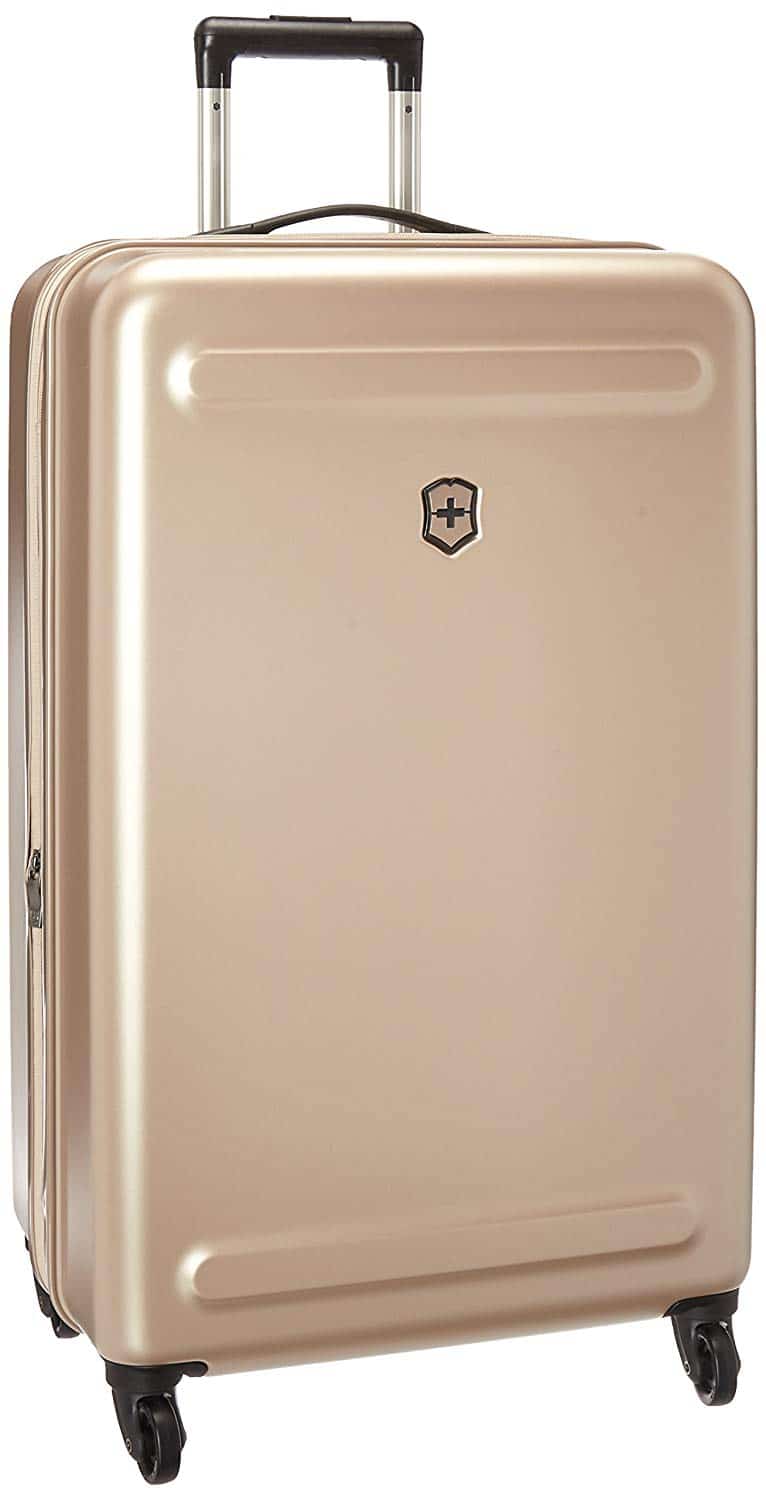 This lightweight polycarbonate carry-on is one of our favorite Victorinox luggage pieces. The interior offers two spacious compartments for your packing needs. In the event that you need some extra capacity, the expansion system is there. When you're wheeling it along in the airport, the grip handle provides comfort and ease of access. There are three handle locking positions in order to accommodate the height of different travelers. We all know there's nothing worse than hunching over to pull your bag along.
Another great feature is the integrated TSA-approved lock. While your items stay safe and sound, TSA can open the bag if they need to inspect it and simply reclose it after. In the event that you forget your lock combination, you can use the Access Lock Recovery Program on their website. Finally, if you aren't satisfied with the bag or need a replacement, Victorinox offers a Global 10-Year Limited Warranty.
Tech Specs:
100% pure polycarbonate structure

Two spacious interior packing compartments

Expansion system

check

Grip handle with 3 different height positions

check

Integrated TSA combination lock

check

Access Lock Recovery Program for combination lock

check

Global 10-Year Limited Warranty

check

Dimensions: 12.2 x 18.5 x 29.5 inches

check

Premium 55mm Hinomoto wheels for smooth rolling
4. Victorinox Spectra 2.0 Medium Expandable Spinner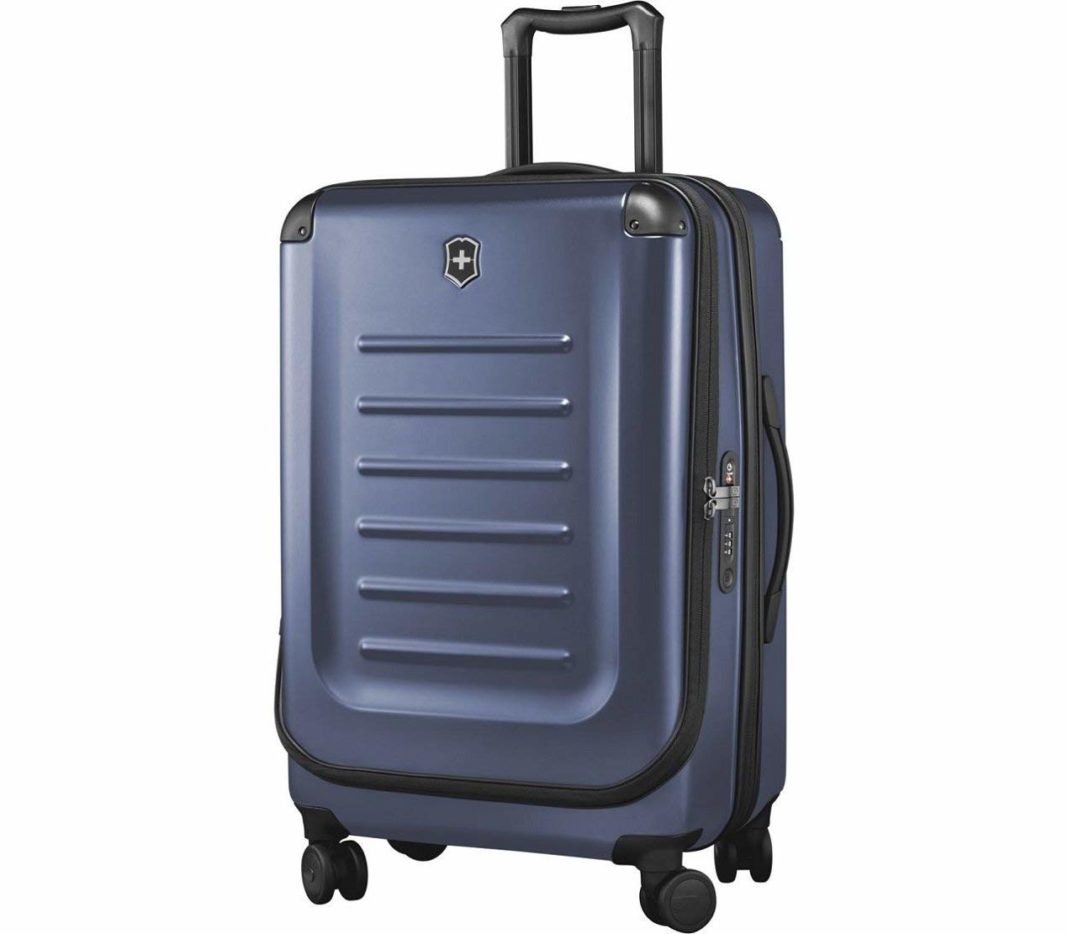 Do you prefer to travel with a checked bag than carry-on? While we're advocates of minimalistic travel, we get that sometimes you need a little more storage space. Well, we have good news for you. This piece of Victorinox luggage is the only checked bag you will ever need.
For starters, it can expand up to forty-seven percent. So, you don't have to worry about which sweaters to leave behind when you brave the cold for that east coast trip. Exterior compression bags allow you to customize your case size. Even if you pack this bag pretty full, it's still easy to wheel around. A comfortable, adjustable handle offers three different height positions for travelers.
We're convinced that this bag is virtually indestructible. Made from 100% Bayer polycarbonate, it is scratch and puncture resistant. Strategically-placed corner guards and zipper bumpers provide an extra layer of protection to areas that could otherwise be vulnerable to wear and tear.
When it comes to the interior, you'll have plenty of space. Similarly to the aforementioned style, the Spectra can also expand for more capacity – up to 47% (4.3 inches) in fact. This is what makes it one of the best Victorinox luggage pieces. Compression straps will help you ensure the bag does not look lumpy or overstuffed from the outside.
Zippered mesh divider walls help you to separate your items into a way that's easy to sort through and find what you need. Other similarities to the Etherius style (mentioned above) include the Swiss Tracker Bag Tracking Program, Access Lock Combination Recovery Program, TSA-approved combination lock, and Victorinox warranty program.
Tech Specs:
47% expansion capacity (4.3")

Exterior compression straps

Extra durable material

check

Water resistant

check

Break and scratch resistant polycarbonate shell

check

Dual caster wheels for easy rolling and maneuverability

check

Interior zippered mesh divider walls

check

Swiss Tracker Bag Tracking Program

check

Access Lock Combination Recovery Program

check

TSA-approved combination lock

check

Victorinox warranty program
5. Victorinox Avolve 3.0 Large Expandable Carry-on Spinner
Can't choose between the hardside and softside luggage? Enter the Victorinox luggage piece, Avolve 3.0. This expandable carry-on spinner meets somewhere in the middle, offering a resilient polycarbonate frame that protects the contents inside. Outside, flexible nylon offers all the practicality of a softside case. There are even easy access pockets and a zipper expansion system (because let's face it, we're not all good at minimalist packing).
This lightweight design is only 6.6 pounds. It's easy to take anywhere. Like the other Victorinox luggage styles, it too offers premium spinner 50mm wheels. Roll your bag smoothly across just about any surface and enjoy 360-degrees of movement. Other notable features include a retractable top and bottom handle for easy carrying, an integrated ID tag, TSA-approved combination locks, the Access Lock Recovery Program, and lockable coil zippers. Custom zipper pulls feature a thumb hold spot inspired by the Victorinox Swiss army knives.
Tech Specs:
Polycarbonate frame and nylon fabric

Expandable

Easy access pockets

check

Weight: 6.6 pounds

check

Premium 50mm spinner wheels (offers 360-degree movement)

check

10-year limited warranty

check

Padded front U-shaped compartment (can fit A 15.6" laptop)

check

Dimensions: 15.7" x 24" x 9.8
Invest In the Best Victorinox Luggage Pieces for Your Next Big Adventure
We hope you enjoyed reading our article on the best Victorinox luggage pieces. As you can see, this dynamic travel company offers plenty of durable options. Whether you're a solo traveler, bringing the family, or traveling with your significant other, there is something on this list to meet any need. To avoid any bumps in the road on your trip, make sure your packing items meet the TSA-approved criteria for a checked bag. Know what not to pack too. Last but not least, another helpful tip is to invest in some of the best luggage straps. Which one of the Eagle Creek luggage pieces on our list do you like the most?
Related Article: 5 Best Eagle Creek Luggage Pieces for the Smart Traveler