Abco Tech wants to be your all weather, all purpose sleeping bag.
It seems that all too often in life, we can't have it all. While compromise is at the core of any successful relationship, you shouldn't have to compromise when it comes to your most trusted outdoor gear. Abco Tech eliminates sacrifice by offering a sleeping bag that has it all. In fact, the brand's main aim with its Abco Tech Envelope Sleeping Bag is to balance weight, comfort, weather resistance, and durability. The result is a quality product that withstands the elements and the test of time.
When compared side by side with alternative sleeping bags, it quickly becomes clear that competitors are no match for the Abco Tech Envelope Sleeping Bag. Although other brands tout a 'mummy' design to keep trekkers warm, Abco Tech gifts claustrophobic travelers a gift in its spacious design. With a new take on outdoor sleeping, Abco Tech's product is one of our favorite sleeping bags. Read on for our review to learn about all of the great features this bag has to offer!
A Little About Abco Tech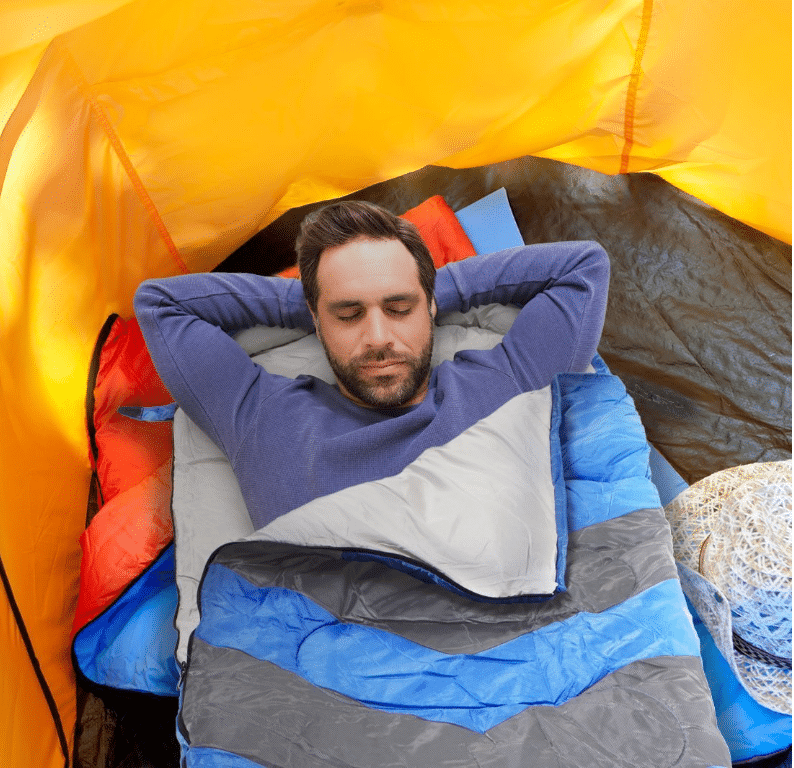 Credit: Amazon
The Abco brand is a conglomerate of three areas of expertise — niches which include sport, tech, and home. The Abco Tech Envelope Sleeping Bag illustrates one example of how Abco stands out. With a commitment to quality control and customer service, the company aims to simplify your life. Each product promises to 'optimize the ins and outs of life' all whilst travelers engage in adventures and excursions. Although your sleeping bag is an important component of your outdoor gear, it isn't something you want to be needlessly worried about during your trip. Abco Tech quells your worry by making products easy to use and an utilitarian travel companion regardless of if you are hiking, camping, or simply exercising. Not only does this assist in making lifestyle choices easy, it also keeps you moving when it matters most.
The Abco Tech Envelope Sleeping Bag is simply one example of how the company embodies the ideals which it espouses. By incorporating the features and benefits you have come to know and expect of sleeping bags, and also combining an innovative design, the Abco Tech Envelope Sleeping Bag is sure to impress trekkers, no matter where they plan to roll the bag out to sleep.
Additional Abco Tech Products for Travelers
Bluetooth speakers
Abco technology makes a variety of useful products for travelers with many interests. For music lovers who want to take their tunes outdoors, the company sells multiple innovative speakers. On their website, travelers can find a Bluetooth speaker for carrying on long trips through the mountains and other environments. The wireless Bluetooth speaker remains perfect for listening to music all day and all night. This device makes it easy to play songs without a connection to an electrical outlet or charging equipment. You can even connect the speaker to your phone, using the Bluetooth joining features. Additionally, the Bluetooth shower speaker lets you listen to music in wet and humid conditions. A rain shower or muggy afternoon won't affect your speaker's ability to blare your tunes as loud as you please.
Phone devices
Similarly, Abco Tech can make traveling to outdoors locations all the more fun. You can utilize your hands-free speakerphone in order to take calls or make notes while driving. A Smartphone car mount utilizes suction cup technology to keep the mount stuck against your windshield, at eye level. The Bluetooth media player also allows for high quality listening, wherever you're located. This means you can enjoy music or speak with friends while you travel outdoors, riding bikes or hiking the mountains. Connect with the iPhone Siri, and you can give the device demands without needing to press any buttons.
Athletic equipment
Sports fans might additionally appreciate the equipment sold by Abco Tech. You can purchase a ping pong paddle for table tennis games, or a foam roller to relax muscles after exercising. Knee pillows can help eliminate knee pain for athletes and people who work out often. The Garden Kneeler even provides support when you want to garden, but don't want to strain your back and knees. If you're looking for items that make your life easier and more enjoyable, Abco Tech has the products for you.
Abco Tech Envelope Sleeping Bag Features & Benefits
Of course Abco Tech is not your run-of-the-mill sleeping bag. Rather, it is a quality piece of outdoor gear that proves itself essential to camping and sleeping outside. Although we don't have to tell you how good the exterior of this bag looks, we've expanded on our favorite features and benefits below!
1. Travel Friendly
For hikers, bikers, climbers, campers, and other outdoor enthusiasts, a sleeping bag suitable for a slumber party is not going to cut it. However, this may also be the case for below average sleeping bags purported to be designed with trekkers in mind. From being too cumbersome to carry to being too heavy to bear, travel sleeping bags often miss the mark. The Abco Tech Envelope Sleeping Bag is different though. With countless innovative features, this product has everything you desire in the ideal sleeping bag.
Lightweight
Travelers unimpressed by bags with a 'mummy' design find Abco Tech's bag to be generously spacious in a different manner. Although roomy and comfortable, the sleeping bag does not add unnecessary weight to your pack. At 4.19 pounds total, Abco Tech created a portable and travel-friendly sleeping bag. Regardless of where your travels take you, Abco Tech is up for the trek and promises to help you travel smarter, not make your travels harder. When you're going on long expeditions, you don't want to feel weighed down by lots of gear. The lighter design of the sleeping bag thus eliminates extra pounds, letting you move with ease. As you go on adventurous activities, you can remain unburdened by heavy equipment and travel bags.
Easy Portability
In addition to being lightweight, this sleeping bag is also easy to manage. Whereas other bags roll down and yet are still cumbersome and difficult to handle, this is not the case with Abco Tech's product. Rather, when rolled up, the Envelope Sleeping Bag measures 7 x 13 x 8 inches. This conveniently fits within the included compression sack. The carry bag allows travelers to throw the sleeping bag inside and keep it contained during transportation. Comfortable straps on the bag let you wear the product on your back, instead of holding it in your hands. In turn, the sack can then be clipped to your pack, or if you've packed lightly, into the bag with the rest of your belongings. Travelers can fit things like an FM radio, or compasses and other gear alongside their sleeping bag.
2. Weather Resistant
Credit: Amazon
A top concern of outdoor adventurers when purchasing a new sleeping bag is whether the product can stand up to the elements. While a sleeping bag with a 0 degree rating may keep you toasty in snowy conditions, it may be lacking in water resistant materials. This disproportionate focus creates problems in that once the bag is wet, it no longer is useful. Abco Tech managed to consider both issues and pose solutions. Instead of failing to provide properly weather-resistant products, this company has created a completely waterproof item.
20 degree Fahrenheit Rating
Huddling for warmth with your fellow trekkers only keeps you but so warm. To prevent a freeze-out Abco Tech designed its Envelope Sleeping Bag to keep you snug as a bug in your bag. This is accomplished with several features that have married to rid the world of outdoor enthusiasts of their hypothermia fears. First, a zipper weather stripping design holds heat in when sealed. Next, a double-filled lining and polyester exterior protect from wind. Abco Tech's design is so successful that it keeps you warm at 20 degrees Fahrenheit easily. While that isn't to say cold-natured sleepers will be basking in warmth, it does ensure that your body retains enough heat to safely withstand the elements. The cozy filling lets you have the extra comfort you crave while trying to rest in frigid environments. This means the product represents the perfect winter season sleeping bag.
Water Resistant
As we mentioned above, the ideal sleeping bag cannot simply withstand the elements or only withstand water. The optimal product must do both. Abco Tech succeeded by ensuring their Envelope Sleeping Bag locks out moisture. While the aforementioned double-filled technology assists in keeping you warm, it also helps keep you dry. The 100% polyester outer lining made of 201T polyester is sure to keep water off your person. This feature only serves to enhance the warmth offered by Abco Tech. With these weather-resistant capabilities, the Abco Tech Envelope Sleeping Bag remains ideal for every type of climate. Even in the most extreme conditions, like downpours and snowy days, the sleeping bag will keep its users dry.
3. Thoughtful Design
Credit: Amazon
Most sleeping bags created for outdoor use feature what is known as a 'mummy' design. This feature is supposed to assist in keeping warmth next to your skin. However, this design is not for all trekkers, particularly those who do not enjoy the feeling of being entombed (yes, pun intended) like a mummy. Those looking for a more roomy bag will be pleased to find that Abco Tech has them covered.
Room to Toss and Turn
Don't worry — Abco Tech offers comfortable sleep comparable to that of a hibernating bear. However, for those of us who are unable to maintain one position throughout the night will find that the Envelope Sleeping Bag is willing to accommodate your frequent movements. With wide berth at the shoulders and a gradually narrowing design towards the leg, this bag gives optimal comfort to stretch out and move around. Rather than making you uncomfortable by encasing you in a tight bag, the Envelope rocks you to sleep. Additionally, in warmer weather, the roomy sleeping bag allows air to get inside where you need it. These features provide maximum comfort, so you can get your best sleep wherever you go on your travels.
Durable Materials
Abco Tech is great because its design and materials serve more than one purpose. Although the polyester of the bag insulates and keeps trekkers warm, it also has another job. Being that the sleeping bag is made of 210T Polyester, the lining is durable and able to withstand even the most challenging of treks. Moreover, it promises to be skin-friendly — a dream come true for trekkers with sensitive skin or allergies to certain materials and fabrics. The polyester lining will also remain intact after washing and constant usage. Furthermore, these materials are machine washable, a benefit that saves time, effort, and your sleeping bag. After a tiring day of trekking through the woods, you don't want to spend time hand-washing your gear.
What Travelers Are Saying About the Abco Tech Envelope Sleeping Bag
Trekkers have rave reviews for the Abco Tech Envelope Sleeping Bag. Between the functional design, protection from the elements, and durability, Abco Tech outdid itself. We scoured the Internet for travelers' reviews to identify the most commonly cited advantages and disadvantages. Here are the most prevalent:
Pros
plus

Keeps you warm, but not excessively

plus

Roomy and spacious

plus

Water resistant
Cons
close

Zippers catch the fabric of the bag

Compression bag does not do a great job of compressing
It is worth noting that some travelers disagreed with the 20 degree Fahrenheit rating. It is important to realize that all individuals are different and have a different idea of a comfortable sleeping temperature. Nonetheless, this bag retains enough heat to allow trekkers to safely sleep in cold conditions. By leveraging the benefits and disadvantages, we find this bag to be a functional and useful product.
Alternative Sleeping Bags
If the Abco Tech Envelope Sleeping Bag doesn't get you pumped up for your next outdoor adventures, there are plenty of alternatives available. Here are some of our favorite trekbible approved bags –
Coleman Silverton 0 Degree Adult Mummy Sleeping Bag
If you are in search of a bag that retains heat at temperatures lower than Abco Tech's 20 degree rating, the Coleman Silverton 0 Degree Adult Mummy Sleeping Bag is a great choice. The bag's double-lining and polyester exterior couple with insulated draft tubes to prevent heat from escaping the top of the bag. Between the quilted design, the fold over flap, and temperature rating, this sleeping bag is one of the best on the market for those with a passion for outdoor adventures.
Marmot Trestles 30 Mummy Sleeping Bag
The Marmot Trestles 30 Mummy Sleeping Bag is one of a kind. Marmot's commitment to people, product, and planet also extends to its gear. For those out and about in temperatures around 30 degrees and above, this is the perfect sleeping companion. The SpiraFil insulation traps heat to ensure you avoid hypothermia. Marmot also included a footbox in the design to allow for movement and comfort of your lower extremities. With a comfortable touch and great reviews, Marmot's bag is sure to please.
Hyke and Byke Goose Down Sleeping Bag
Despite being a newer company, Hyke and Byke is winning trekkers over with its Goose Down Sleeping Bag. The goose Down is one of the warmest options available, ensuring that you will not shiver in your sleeping bag. In addition, the appeal of choice goes a long way. Travelers may choose from the regular size bag or the long size. YKK zippers, a water repellent exterior, and a lifetime warranty combine to make this one of our favorite alternative sleeping bags.
Don't get caught out in the cold without the Abco Tech Envelope Sleeping Bag.
Abco Tech allows trekkers to get more bang for their buck. The affordable bag offers the same comforts, luxuries, and protections of top of the line sleeping bags with a smaller price tag. For those looking for a bag that does it all, the Abco Tech Envelope Sleeping Bag makes a perfect addition to your outdoor gear.
Related Article: Best Sleeping Bags For This Year's Adventures