Camping in the Cold? Backpacking in the Winter?
To be able to withstand the harsh temperatures that this frigid season brings about, you will need a high-quality sleeping bag. Particularly one designed for below freezing temperatures. Being uncomfortably cold while backpacking can put a damper on your trip. To avoid this, be prepared with a sleeping bag that is designed to keep you toasty warm. One option is the Hyke and Byke Eolus Goose Down Sleeping Bag. This sleeping bag comes in two versions including one fit for 0°F and one designed for 15°F. Could the Eolus 0F or Eolus 15F be the sleeping bag for you? By the end of this full product review, you will have a better sense of whether this product will meet your camping and backpacking needs. Without further ado, let's get started with the in-depth review of this Hyke and Byke sleeping bag.
A Little About Hyke and Byke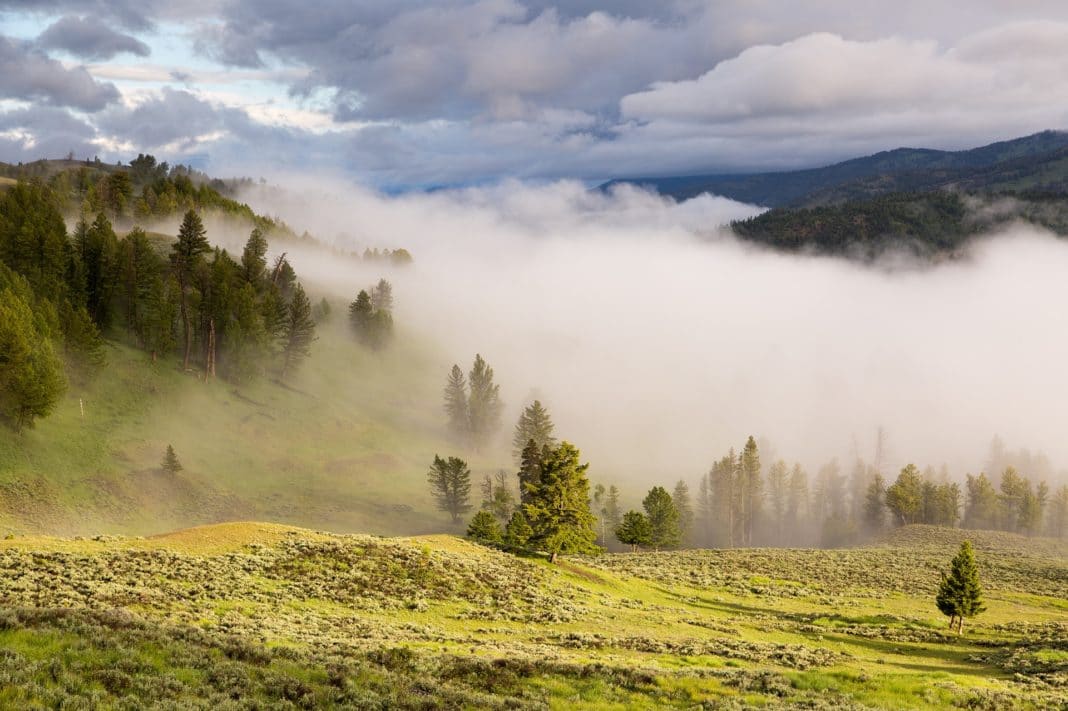 Hyke and Byke is an outdoor gear company that sells sleeping bags and backpacking tents. The company does not sell many products, choosing rather to focus on a few products and putting all of their expertise into those items. There are a handful of sleeping bags (0F, 15F, and 32F) sold by Hyke and Byke, as well as a number of two-person backpacking tents. While this outdoor gear company may be small, it is on the rise.
Hyke and Byke stand out amongst other outdoor gear companies for their honest prices. The company strives to keep the cost of their products as close as possible to the cost of the raw materials and manufacturing of the products. Hyke and Byke also provides a lifetime warranty on all their products. This lifetime warranty covers any manufacturing defects. However, you should note that the lifetime warranty does not cover damage caused by misuse, accidents, improper care, etc.
Hyke and Byke Goose Down Sleeping Bag Features & Benefits
Product Specifications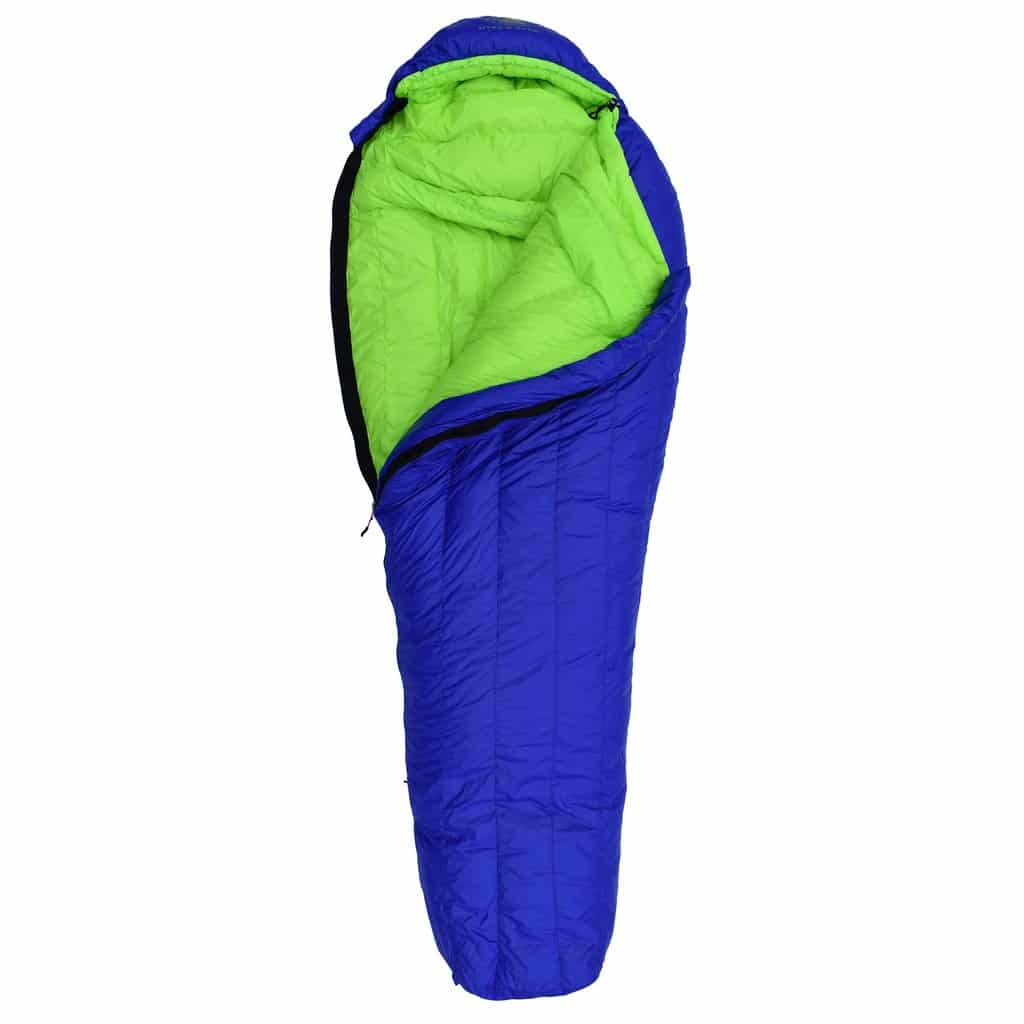 The Eolus 800 Fill Power 15F Ultralight Goose Down and the Eolus 800 Fill Power 0F Ultralight Goose Down sleeping bag have many of the same specifications. For the purpose of simplicity, we will from now on refer to each product as Eolus 15F and Eolus 0F, respectively.
The product dimensions for both are 78 inches long, 28 inches wide at the shoulder, 22 inches wide at the hips, and 11 inches wide at the bottom. The regular size will fit someone up to 6'1″ tall. The long size will fit someone up to 6'6″ tall. So, all you tall folks will be taken care of with these goose down sleeping bags. These easily compressible bags are also designed with heavy-duty zippers, heat retaining technology, and goose down insulation. The Eolus 15F compresses down to the compact size of 6.5 inches x 9.5 inches and the Eolus 0F compresses down to 7 inches x 10 inches. In terms of colors, the Hyke and Byke Eolus sleeping bags come in an orange/black combination and a lime green/blue combination.
Ultralight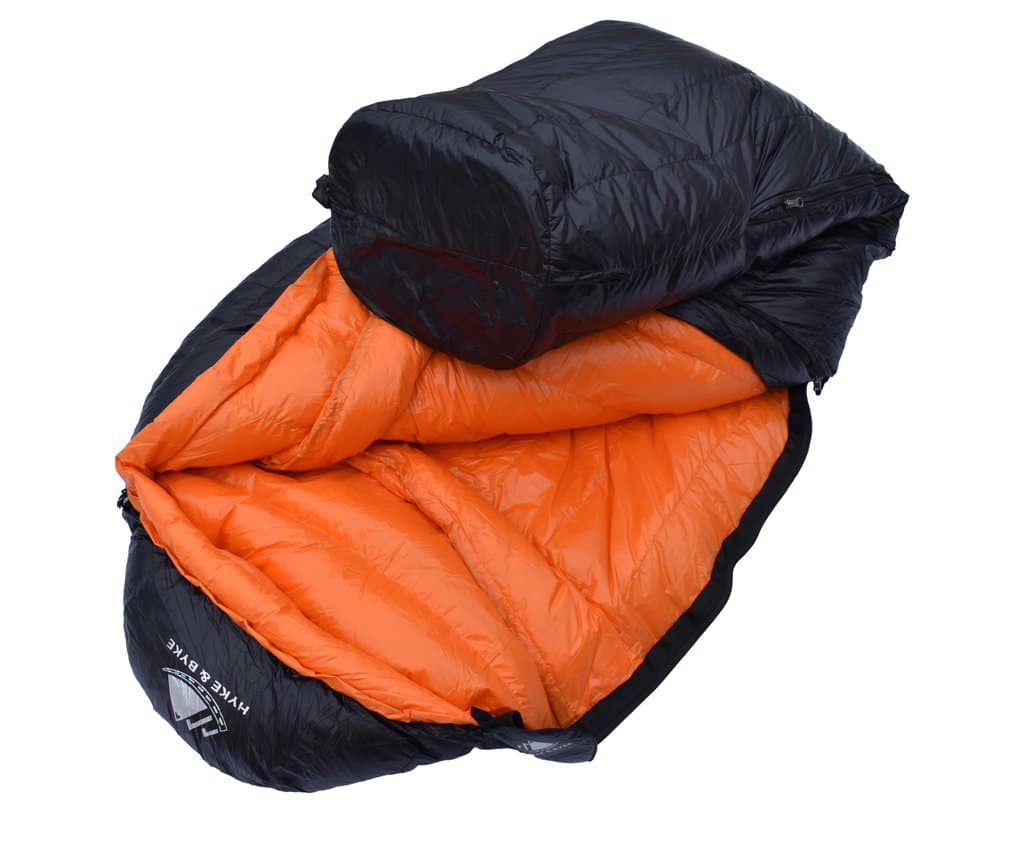 Many companies that sell sleeping bags claim that their products are lightweight or ultralightweight. Some of it can be a marketing scam, but not with Hyke and Byke. The product specifications speak for themselves. The Eolus 15F weighs in at 2.54/2.76 pounds. The Eolus 0F weighs in at 2.87/3.09 pounds. The two weights refer to the regular/long size options. If you want the lightest mummy sleeping bag on the market, then you don't have to look beyond the Eolus 0F and Eolus 15F. These bags are lightweight and tough. Weighing between 2 to 3 pounds, these high-quality sleeping bags will not significantly weigh down your pack like other sleeping bags will.
Goose Down Insulation
Goose down is one of the best insulators to keep warm. The Eolus 15F is filled with 550g of 90/10 Goose Down insulation. The Eolus 0F is filled with 700g of 90/10 Goose Down insulation. It is also important to note that the shell of these Hyke and Byke sleeping bags is made of ripstop nylon. This water-repellent fabric helps to keep the water out and the warmth inside. Just know that this bag is not designed to be waterproof. It is only water-resistant.
Guaranteed Warmth
These sleeping bags are designed to keep you warm in below freezing temperatures. However, pay attention to what the 0F and 15F mean. These bags will allow for survival at those temperatures, but they are not designed for optimum warmth and comfort at those temperatures. Even in these sleeping bags, you will certainly need additional blankets, layers of clothing, and a handful of socks on your feet to stay warm at 0F and 15F. Thankfully, Hyke and Byke is honest about this and has provided temperature ratings for both of these bags. While customers can survive within the Eolus 15F at 15°F, the sleeping bag is most comfortable at 50°F. With the Eolus 0F, though backpackers can survive at 0°F, the sleeping bag will be most comfortable at 30°F.
What Travelers Are Saying About This Backpacking Sleeping Bag
The Hyke and Byke Eolus mummy sleeping bags are comfortable. Hands down, the common praise among backpackers and campers is about the comfort of these goose down insulated sleeping bags. Also, they are plenty spacious, even for individuals who are tall (over 6′). The zippers are reported to be extra strong and durable, the bag is indeed water resistant as advertised (not waterproof), and the insulation keeps travelers warm in the cold of winter. Seriously, it is not just us at Trekbible that are praising this bag. Fellow campers and backpackers are highly recommending this sleeping bag for its high-quality and great cost.
Hardly any customers have been disappointed with the Eolus 15F or the Eolus 0F. The only minor complaint that has sprung up among a few customers is that the exterior of the bag is more glossy than advertised. Some customers have stated that the orange/black color option looks like you are sleeping in a trash bag (but a very warm looking trash bag).
Alternative Sleeping Bags
Marmot Trestles 30 Mummy Sleeping Bag
Selling at a lower price, the Marmot Trestles 30 Mummy Sleeping Bag is one alternative sleeping bag option. Though this is only a 30-degree sleeping bag (unlike the 15-degree and 0-degree sold by Hyke and Byke), it still is a comfortable and quality bag. One main difference between these two bags is the insulation. The Marmot Trestles 30 Mummy Sleeping Bag is filled with SpiraFil instead of goose down. However, in terms of similarities, both the Marmot Trestles 30 and the Hyke and Byke Eolus 15F/0F are water resistant, roughly the same weight, and roughly the same size.
If you are interested in the Eolus 15F or 0F, but don't foresee yourself camping or backpacking in such extreme temperatures, then you may want to consider the Marmot Trestles 30 Mummy Sleeping Bag. For one option that is cheaper and has many of the same features as the Hyke and Byke's mummy bags, then perhaps the Marmot Trestles 30 is the sleeping bag for you.
Coleman Silverton Zero Degree Mummy Sleeping Bag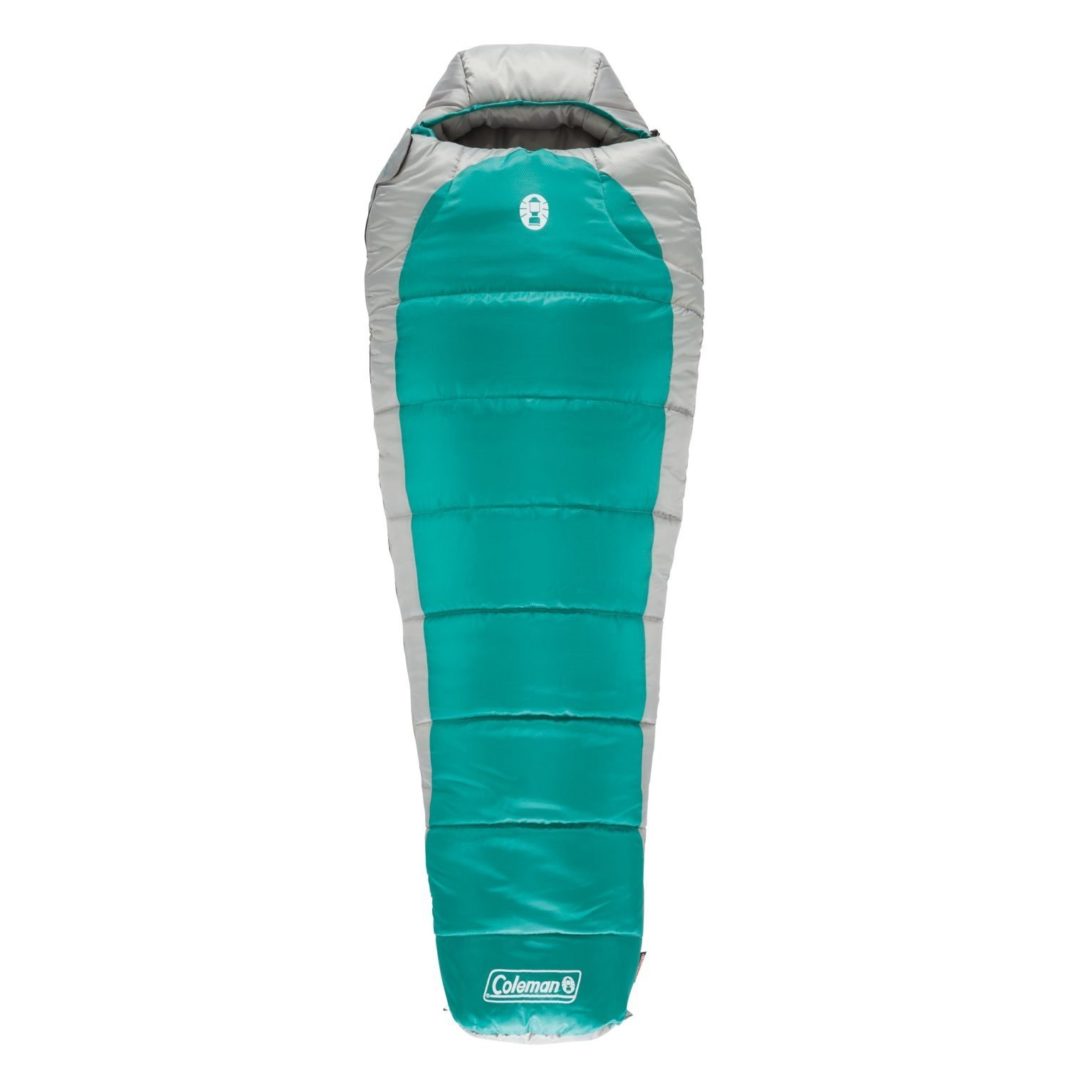 Interested in another 0-degree sleeping bag? The Coleman Silverton is one to consider. Though it isn't as lightweight as the Eolus 0F and may not be the best sleeping bag to take backpacking, it could be a good option for car camping. The mummy design is a favorite among campers because of how easy it retains heat. In comparison to the Hyke and Byke Eolus sleeping bags, the Coleman Silverton is significantly cheaper. You can find this product for as low as $60 USD. For the price, you may think that the Coleman Silverton sleeping bag doesn't live up to its claims of being a 0-degree bag. However, this sleeping bag is surprisingly effective.
Goodnight & Sweet Dreams in Your New Sleeping Bag
When you are camping in cold weather, not just any old sleeping bag will do. Investing in a heavy-duty, quality sleeping bag that is designed for below freezing temperatures is a must. If you are looking to purchase a new sleeping bag that is up for the task, then consider investing in the Hyke and Byke Eolus 15F or Eolus 0F Down Sleeping Bag. These bags compress to a compact size and are very lightweight, weighing just over 2 pounds. We appreciate how Hyke and Byke also keeps the cost as close as possible to the actual cost of their raw materials and manufacturing. Your wallet and your eyes will sleep well after you purchase one of these sleeping bags. Plus, your backpack won't be weighed down nearly as much as it would be with alternative sleeping bag options.
What features of the Eolus 15F and the Eolus 0F Down Sleeping Bag stand out to you? If you own one of these Hyke and Byke sleeping bags, let us know how you like the product in the comments section below! We would love to hear from you.
Related Article: ​Best Sleeping Bags For This Year's Adventures​​​