Calling all travelers: you need this incredible sleep mask.
Because unless you've got a trick up your sleeve that we've yet to catch up on, getting good sleep when traveling is hard. Just about everything seems to be against you getting some decent shut eye. From jet lag, to uncomfortable airplane seats, to new beds, you've got your work cut out for you. Many travelers turn to sleeping masks in hopes of defeating poor sleep, and they don't always do the job. Lucky for you (and us), we got our hands one that actually works, no matter what situation you're in. Enter the VIVRE Silk Sleep Mask: the eye mask that will give you the sleep of your dreams. Read on to see what makes this comfortable sleep mask such a winner.
VIVRE Silk Sleep Mask Features and Benefits
The Star of the Show: the Eye Mask Itself
Credit: VIVRE
If ever you thought to yourself, "Why wear a sleep mask?", this one will answer you in the best way. Made out of 100% Mulberry silk, the material of this sleep mask is enough to put it at the front of the line. Mulberry silk is the highest quality silk in the world, a result of the precise process with which it's made. This makes it ridiculously soft and easy on your skin, guaranteeing no itchiness in the night (or day!). It's also unbelievably lightweight, so you're likely to forget you were even wearing an eye mask in the first place. But hang tight, because these are certainly not the only VIVRE Silk Sleep Mask benefits to get excited about.
Lets Your Face Breathe
Sleep masks are made from all kinds of materials, from polyester, to cotton, and even to satin. They may sound comfortable at first—and they may even feel comfortable to the touch, but they just don't compare to the silk eye mask. These materials have a higher chance of irritating your skin, and they can also get pretty warm while you're sleeping. Who wants to wake up (potentially in the middle of the night) with a sweaty face? We assume that doesn't sound enjoyable to anyone, which is what makes the VIVRE Silk Eye Mask a top choice. Its pure Mulberry silk material contains tiny pores that are nearly invisible, so while your face will be covered, it'll still get some air. That's a clear win if you ask us.
Makes Anti-Aging a Breeze
For those who dream of staying young forever, there's yet another perk to this heavenly sleep mask (owing again to its composition). Silk happens to be moisture- and temperature-regulatory by nature, which means perfectly hydrated skin (and thus no wrinkles) all through the night! Who knew you freshen up your face while you're fast asleep? Say hello to anti-aging at its easiest (and comfiest)!
Credit: VIVRE
Naturally Protects Against Certain Allergens
If you're one of those people who are allergic to just about everything, a silk sleeping mask would be a wise choice. Why? Because silk is a natural allergen repellant, offering protection from a variety of culprits. Be it mildew or dust, consider yourself protected with the VIVRE Silk Eye Mask.
Adjustable Strap Makes for a Dreamy Fit
To add to the list of features that make this sleeping mask itself superior to others is its adjustable strap. Sounds like a small deal? Sure, it's certainly a small feature in regards to size, but it makes all the difference in your sleep. If you've ever had a sleeping mask whose strap was too loose, you know how annoying it can be. While you should be sleeping, you're actually half awake, constantly repositioning the night mask (or tossing it on the floor). On the flip side, a sleep mask that's too tight results in a minor headache in the morning. The conclusion is obvious: what you need is an adjustable strap, and that's what you get with the VIVRE Silk Sleep Mask. The strap lets you adjust it so that it fits your head just right. No headaches, and no lost sleep; it's a win-win situation.
Blocks Out All Sunlight
The last but not least benefit of this silk mask is that it literally blocks out all sunlight. That means no waking up too early from the sun, or not getting in a good nap during the day. It's large size and plump padding is so effective that it's like sleeping with a blindfold over your eyes.
Bonus Items that are Just as Exciting as the Sleep Mask
Hopefully you get the picture. Silk is good, and Mulberry silk is the best, making this 100% Mulberry silk mask the best of the best. But it's not just the silk that makes us rave about it. The mask comes as the main attraction of a whole package, and you're going to love what else is inside.
Invincible Earplugs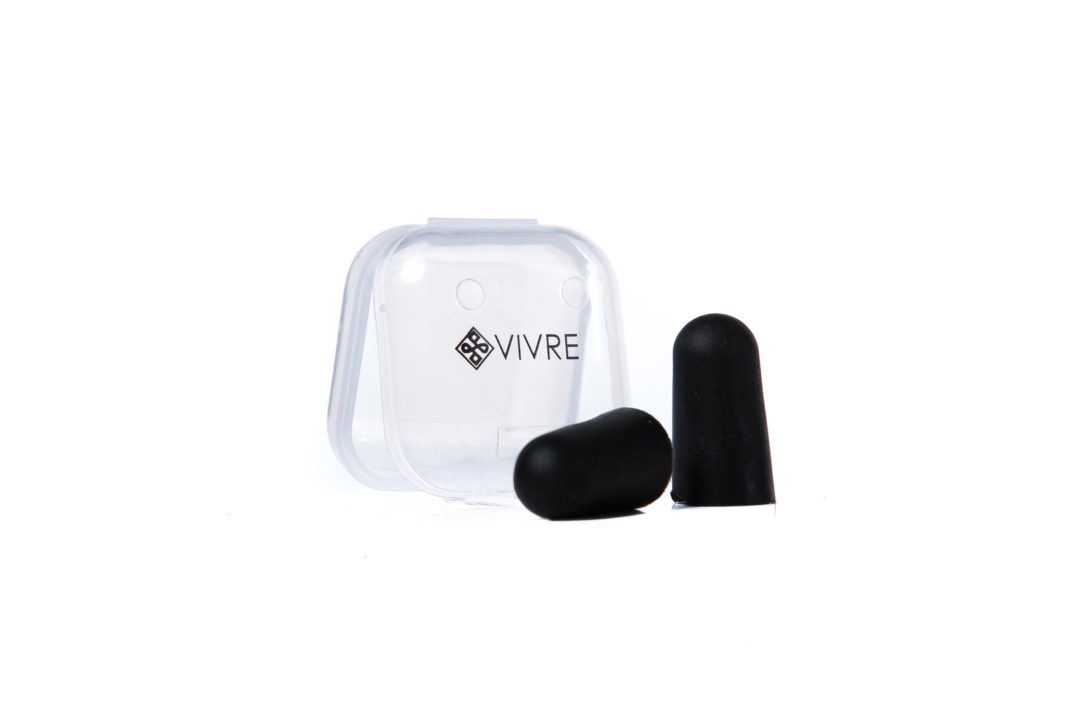 Credit: VIVRE
VIVRE is serious about enabling you to have the best rest possible, and they take all senses into account. The sleeping mask also comes with complimentary earplugs that are pure magic. These are made out of memory foam that is so high quality that they fit the shape of your ears tailor made. So on your next flight (or train ride), you'll be able to block out the light and the surrounding noise. They even come with a little clear case for safekeeping (or to avoid germs, if you're that kind of traveler).
A Complimentary Booklet for Better Sleep
Credit: VIVRE
To add the cherry on top, all of the above also comes with a booklet titled "Tips&tricks for a good sleep." Does it get any better than this? We think not.
How to Care for Your New Favorite Sleep Mask
This is certainly one of the best sleep masks out there, so you better treat it right. Here are the simple dos and don'ts to make sure it enjoys a long life:
DO
plus Wash it by hand in lukewarm water
plus Let it air dry
plusIron it on low heat
Don't
close Put it in the washing machine or dryer
Use any bleach on it whatsoever
What People Are Saying About the Vivre Silk Sleep Mask
This sleeping mask is extremely new so there aren't many reviews yet, but there's no doubt that it's a hit. The few reviews there are have given this silk eye cover five stars with flying colors, and we're not surprised.
Just about every reviewer has reported that when wearing the mask, everything is pitch black. You could say it's effective alright. They also all rave about how soft the fabric feels on their skin, and love the comfort provided by the adjustable strap.
Additionally, the earplugs are just as much of a hit as the sleep mask itself! They apparently succeed at blocking out noise in all kinds of environments. Whether it's the noise of other cars while on the road, babies crying on the plane, or your spouse's loud snoring, these earplugs do their job.
And of course, the majority of the reviews recommend the VIVRE Silk Sleep Mask set for travel. They share that the little pouch that comes along makes it easy to tote around, too. So if you weren't sure if you wanted to take our word from it, take theirs!
Alternative Sleep Masks
Therapia Plus Eye Mask for Airplane Travel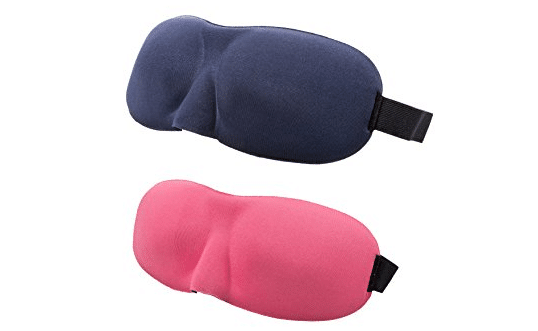 This cool sleep mask may not be made of silk, but it has proven to be a favorite among travelers and nappers alike. Instead of blocking the light with large width, its curved eye pad covers prevent light from getting in. This also provides the bonus of leaving your eyes untouched with room for them to breathe. And the best part? They come in twos! Two for $10? Yes, please.
Masters of Mayfair Sleeping Mask with Silk and Lavender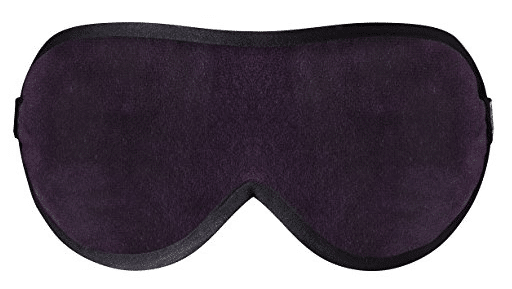 Going for luxury? Then this top rated sleep mask is perfect for you. Also made from high-quality silk, it also boasts a soft material and an easy-to-adjust strap. But what really sets this sleep mask apart? It's infused with a soothing lavender scent that will serenade your senses. Not only will you be smelling sweet smells, but (hopefully) you'll have a more peaceful sleep, too. Why? Because lavender is known to naturally ease headaches and calming effect. This travel sleep mask equals a night of pure bliss.
Alaska Bear Natural Silk Sleep Mask and Blindfold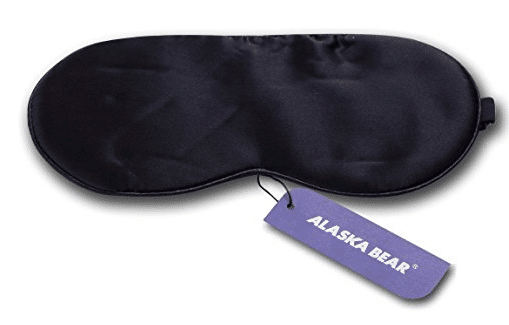 This choice is another good choice for those wanting all the benefits of an eye mask made out of Mulberry silk. The major difference? It's been around for a while, so there are plenty of reviews to check out for reference—and good ones, too! That being said, the VIVRE Silk Sleep Mask puts itself on par with this veteran for its complimentary earplugs and booklet. So if you want something similar from a name that's been around longer, one's the way to go. But if you want some extras to go along with the soothing sleep mask, we'd choose VIVRE's option.
The VIVRE Silk Sleep Mask is a Clear Winner in Our Book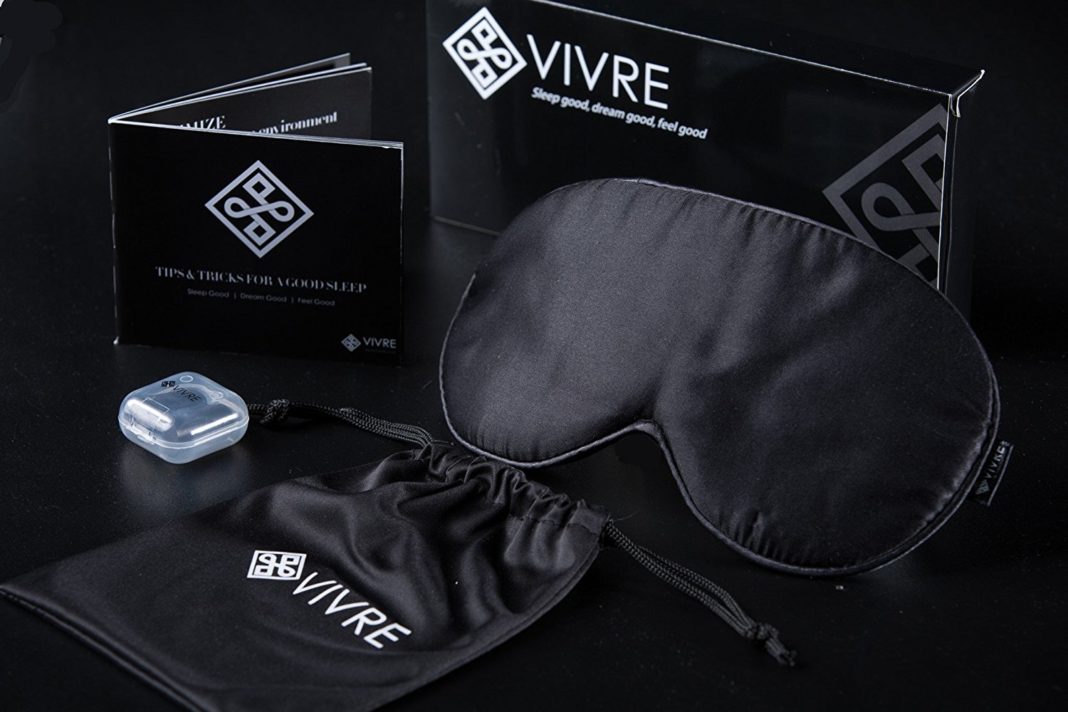 Credit: VIVRE
From the blackout vision it provides, to its silky-soft feel, to its health benefits, to its bonus earplugs and booklet, we're won over. The VIVRE Silk Sleep Mask is a baby in the market, but has already proven to be deliver on its promises. So, ready to secure blissful sleep no matter how you're traveling, where you're traveling, and where you're sleeping? It's time to meet your new best friend: the VIVRE Silk Sleep Mask.
Have you tried the VIVRE Silk Sleep Mask yet? Share how it felt in the comments below!
Related Article: ​Best 16 Sleep Masks for Travelers​​​