The Marmot Trestles 30 Mummy Sleeping Bag is the perfect sleeping companion!
Hikers, mountaineers, bikers, and other outdoor enthusiasts put on a brave front to face cold weather in the name of following their passion. Regardless of how warm-natured you are, it is inevitable that at some point whilst camping, you will awaken in the middle of the night, shivering and cursing yourself for being talked into this adventure. If only, you'd purchased that Marmot Trestles 30 Mummy Sleeping Bag before tagging along….
Even if you thought your sleeping bag did the trick in the past, Marmot's Trestles 30 Mummy Sleeping Bag wants to prove to trekkers that it's the ultimate camping companion. With comfort, warmth, and quality, this sleeping bag checks all the boxes. You'll never have to worry about a chilly temperature again. Read our review to see if this product is right for you.
A Little About Marmot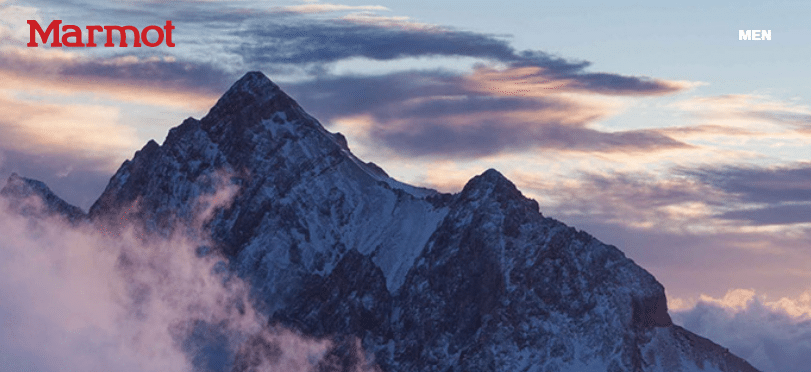 Credit: Marmot
One of the greatest things about Marmot's brand is that the company makes it easy to support. As the brainchild of University of California Santa Cruz students Eric Reynolds and Dave Huntley, Marmot positioned itself for success from the jump. Reynolds and Huntley based the company on their first products, including a down vest, a sweater, a parka, and three down sleeping bags. Today, the company remains a strong competitor in the market of quality clothing and gear for outdoor enthusiasts. No matter your interest, Marmot's products make a worthwhile investment sure to last for years to come.
It isn't simply about turning a profit though. To enumerate, Marmot is a socially conscious and environmentally responsible company. This is exemplified through their philosophy of responsibility to people, product, and planet. At the people level, Marmot ensures fair working conditions and a multi-cultural workplace. Similarly, with the product, the company aims to create the best outdoor equipment to measure up to the standards of mountain lovers. Not to be forgotten is planet, which Marmot preserves by producing eco-friendly products and supporting ecological campaigns.
Socially and environmentally conscious trekkers rejoice to learn of the good that Marmot does for the community and the world at large. For instance, Marmot's EnviroFree initiative reduces chemical applications in the production of products. The seek to design items of recycled and organic materials when possible. Even better, the company refuses to use Down from live pluck, Foie Gras geese, and/or ducks. The sustainable and cognizant philosophy of the brand only serves to enhance its superior products!
Marmot Trestles 30 Mummy Sleeping Bag Features & Benefits
You may be thinking that all sleeping bags are created equally. However, this couldn't be further from the truth. The features and benefits of the Marmot Trestles 30 bag assert that this sleeping accessory (read: necessity) is a cut above the rest.
1.  Portability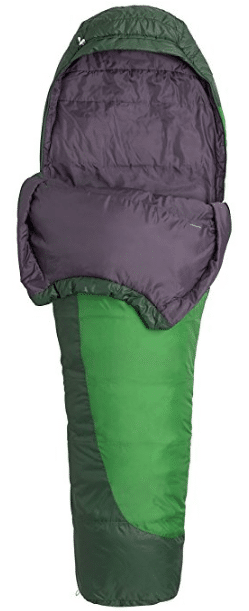 Credit: Amazon
We know what you're thinking…. "Duh! It's a sleeping bag, so of course it's portable!" As we mentioned earlier though, not all sleeping bags are created equally. Immediately the Marmot Trestles 30 Bag sets itself apart.
Yes, most, if not all, sleeping bags roll up to fit into their corresponding sack. However, this doesn't mean that all sleeping bags are compact or easy to carry. Marmot is though! At only 3 pounds, the heavily insulated bag surprisingly doesn't add much weight to your load. While it can be attached to your pack, it may also fit in a bag. The 10.5L pack volume condenses the bag into a manageable and portable sleeping companion.
For trekkers on the go with little space and weight distribution to spare, the Marmot Trestles 30 offers a solution. Reviewers note that when packed into its compression sack, the bag measures about 12″ long by 8″ in diameter. This allows the sleeping bag to easily be hanged from your pack or stuffed inside with everything else. Furthermore, competitors such as the North Face Aleutian sleeping bag didn't compact as much as Marmot's bag. Thus, it's clear why the Marmot Trestles 30 is a fan favorite.
2.  Warmth
Credit: Amazon
30 degrees sounds a bit chilly for outdoor sleeping. Marmot steps up to the plate and knocks this challenge out of the park; it's made to retain body heat. The Marmot Trestles 30 presents itself as a true outdoor necessity for nature lovers. Never again will you wake up shivering and wondering why you even brought a sleeping bag at all. Marmot Trestles 30 wants to snuggle you to sleep and keep you warm all night!
As you may have noticed, the name of the bag includes the word "mummy." This speaks to the well-thought out design of Marmot. With a hood and zippered closure (so you can still breathe of course), the sleeping bag definitely delivers in its attempts to wrap you up like a mummy. If you're looking for plenty of room, this might not be the sleeping bag for you.
Coupled with this design, Marmot's SpiraFil high-loft insulation ensures the retention of heat in temperatures as low as 30 degrees Fahrenheit. The unique blend of hollow and polyester fibers, as well as a European Norm rating back this up.
That's not all though! A combination wave construction gives sleepers warmth and space on top, while enveloping them in a soft blanket sensation on the bottom of the bag. The aforementioned SpiraFil insulation marries with the wave construction to ensure you don't shiver all night, without making you sweat bullets either.
The full-length locking YKK two-way zipper allows sleepers to cocoon themselves off from the outside world. However, should things get a bit too toasty in your Marmot Trestles 30 bag, there is a secondary fold-down zipper for ventilation.
No matter what conditions you plan to sleep in, Marmot Trestles 30 plans to keep you comfortable and tucked in all night!
Fahrenheit.
3.  Built to Withstand Everything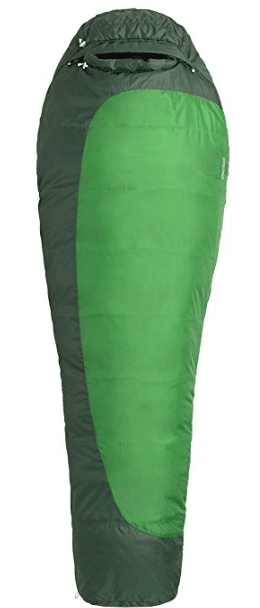 Credit: Amazon
By now you have probably begun to see how great the Marmot Trestles 30 Mummy Sleeping Bag is. If you aren't sold yet, it may help to know that this sleeping companion is built to withstand not only the elements, but also everything else.
Marmot designed this bag of 70D 100% embossed polyester. While synthetic in nature, this aspect allows for an added level of moisture resistance that other competitors do not have.
Quality stitching, zippers, and straps ensure that the sleeping bag maintains its integrity while also standing up to the wear and tear of trekking and camping. Although Marmot causes consumers to spend a bit more up front, the cost-benefit analysis supports the evidence — the Marmot Trestles 30 Mummy Sleeping Bag is built to last!
What Travelers Are Saying About this Sleeping Bag
We honestly had a difficult time finding disadvantages of the Marmot Trestles 30 bag. Reviewers left glowing comments and reviews, bolstering both the reputation of Marmot and the experiences of outdoor enthusiasts.
Pros
plus Mummy style, wave construction, and SpiraFil insulation make the bag suitable for sleeping in temperatures as low as 30 degrees Fahrenheit.
plus Keeps you warm without making you sweat
plusLightweight, compact, and portable
Cons
close Zippers snag at times, however they free themselves with ease.
The evidence suggests that the Marmot Trestles 30 bag is a cut above the rest. While there are some minor issues with zippers snagging, the overall design and function is neither impeded nor rendered a fatal flaw. From campers to hikers and even military members, this bag has provided warmth and comfort that is unmatched by other brands.
Great for Summer Backpacking
This is a long lightweight bag suitable for summer backpacking. The bag comes with a compression sack that when cinched up turns the bag into a neat package that measures about 12" long x 8" in diameter with a weight of 3 lbs 7 oz. The sack has cinch straps on 4 sides, a drawstring closure, and a handle strap on the end. The bag itself has a zipper opening on the left side that runs the length of the bag and a shorter one on the right just around the head area.
There is a hidden zippered pouch on the inside of the bag near the chest. The hood area is closed with a drawstring. There are elastic loops on the outside area near the feet for hanging to dry. The bag provides plenty of room around the middle for turning. Fabric on the lower side of the bag has a slight texture to it to help prevent sliding. The bag was made in Cambodia.
Lightweight and Long
It is light weight for carrying and long enough for tall individuals. The bag is a great choice for 3 season backpacking when you know it's not going to get too cold. We tried the bag and found that it was just warm enough for us at 60 degrees F. Overall, this is a nice lightweight bag, easy to carry, and plenty warm for men in warmer climates or for warm season backpacking.
Holds Up Throughout Dry Cycles
Throughout several wash and dry cycles, this sleeping bag has kept its form and the filling hasn't bunched up or shifted. The bag is comfortable and warm, as the rating is EN rated for the 30 degrees. We'll say that since it's so packable, it doesn't offer a ton of padding against hard ground – you'll obviously still want a mat underneath you.
Mummy Hood
The mummy hood wraps up tight around your head to the point where you could have just your nose and mouth exposed if you want. There's an internal "stuff" pocket for valuables, which is also nice. As for the stuff sack, it's good, but it's a bit hard to get the bag into it by rolling it. But, once it's in, the straps compress it in all directions, not just around it. We wish it had a full cover over the opening, but it only has a little flap. That said, between the flap and the straps you can get it so that the opening is very small.
Alternative Sleeping Bags
If Marmot isn't your cup of tea, there are plenty of similar alternatives available. We've collected a few of our honorable mentions for you to consider.
Kelty Tuck Sleeping Bag
Credit: Amazon
Kelty Tuck's Tuck 22 model is a great alternative for those unimpressed by Marmot. The Tuck 22 utilizes ThermaPro synthetic insulation to provide protection from the elements. The Thermapro insulation consists of a fiber blend created specifically for the retention of heat. This insulation is so effective that trekkers can withstand sleeping in temperatures as low as 22 degrees. The six foot regular size sleeping bag only weights three pounds and can easily be rolled into the included stuff sack. If you are traveling in extremely cold areas, Kelty Tuck's product may offer slightly more protection from the elements than the Marmot Trestles 30 Mummy Sleeping Bag.Tuck 22 perfect for camping in Spring, Summer, and Fall
22 Degree ThermaPro synthetic insulation – Thermapro is a fiber blend speciffically enginered to retain warmth and provide superior pacability
Thermal-comfort hood and natural fit footbox, Zipper draft tube with antisnag design
Weight – 3 lbs
Regular Size up to 6 Feet
Stuff Sack Included
Coleman North Rim Sleeping Bag
Credit: Amazon
In for a few long winter nights? Look no further than the Coleman North Rim Mummy Sleeping Bag. The 100% polyester sleeping companion accommodates trekkers up to 6'2″ comfortably. That isn't all though. A semi-sculpted hood pulls tight with a draw string to lock heat in the bag. The quilting construction and Thermolock draft tube retains heat as well as any competitor. In fact, this particular bag claims to rock you to sleep in temperatures as low as 0 degrees. Whereas the Marmot bag's zippers are prone to catching, Coleman designed this bag with ZipPlow zippers to prevent snagging. If you like sleep and frigid temperatures, this bag is sure to please!100% Polyester with fill 100% Polyester
Imported
Mummy-style adult sleeping bag for camping in temperatures as low as 0 degrees Fahrenheit
Can accommodate most people up to 6 feet 2 inches in height
Semi-sculpted hood tightens with a drawstring to seal in heat
Quilting construction, insulated footbox, and Thermolock draft tube for warmth and heat retention
ZipPlow system plows away fabric to prevent snagging during zipping
Hyke & Byke Quandary Sleeping Bag
Hyke & Byke Quandary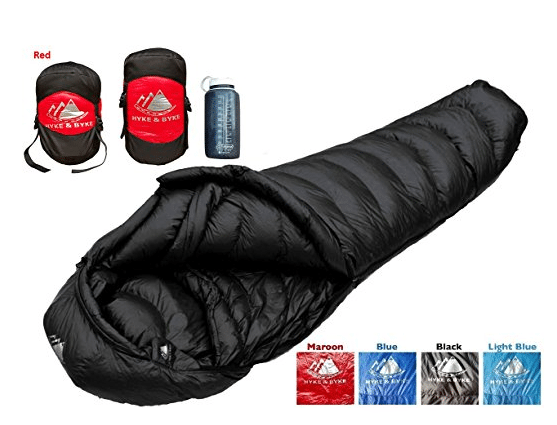 Credit: Amazon
Although a new company, Hyke & Byke has quickly gained traction with trekkers all over. Their Quandry sleeping bag is made of duck down to give the highest warmth-to-weight ratio in cold weather. The 400T 20 D ripstop nylon fabric also traps heat and allows for easy rest in temperatures as low as 15 degrees. At only 3.15 pounds and complete with two YKK zippers, wide shoulders, and a compression stuff sack, this bag promises to deliver on keeping you warm and cozy. For those undeterred by the use of duck down, this alternative sleeping bag insulates and offers peaceful sleep.LIFETIME WARRANTY – Hyke & Byke products have been tested and proved on countless epic adventures across the world by 20,000+ customers. If your product has a manufacturing defect simply let us know!
SAVE SPACE and SHAVE WEIGHT with ultralight premium quality duck down filling ( superior to synthetic ) – nature's best light insulator with the highest warmth-to-weight ratio to beat the cold outdoor winter weather.
STAY Warm as a result of duck down insulation capabilities and waterproof fabrics – the microscopic air clusters found in down feathers creates "loft" that traps heat and keeps you warm. Extreme Limit is 15 Degrees F, Lower Limit (men) is 30 Degrees F, and Comfort Limit (women) is 50 Degrees F.
HIKE FARTHER with the LIGHTEST MUMMY DOWN SLEEPING BAG available (weighs 3.15 lbs. for size Regular and 3.32 lbs. for size Long) for this quality at the price. Compare to other big brand names to see the price difference we achieve through direct-to-consumer sales. Summit any mountain or camp by the summer sea with these compact bags and have room for carrying your favorite fleece blanket or silk liner, goose filled pillow, and pad.
LONG LASTING DURABILITY from ultralight water repellent 400T 20 D ripstop nylon fabric liner with two YKK zippers, wide shoulders and large footbox, snag-free velcro, drawstring, horizontal baffles, and compression stuff sack case for storage included. Comes in size Regular or Long (Tall / XL).
Hyke & Byke is a new brand of outdoor gear that started small but has quickly made a big impression on outdoor enthusiasts across the country (men, women, and kids alike). Our cosmic vision of providing double the value for every person (youth or adult) looking to go outdoors is possible through beating the big brands at cutting costs and connecting with our customers
Marmot's Trestles 30 doesn't want you to shiver in your sleeping bag anymore.
There are no more excuses for cold nights. Marmot's Trestles 30 comes at an affordable price in the store and online. Ergonomically designed with its wave construction, SpriraFil insulation, and mummy design, Marmot's sleeping bag retains your heat and your morale. You won't even need a jacket.
Just make sure it doesn't get damp or wet in the rain. For campers, hikers, and outdoor enthusiasts, this product is one of the most competitive of its kind on the market.
Tell us about your favorite sleeping bag in the comments. Sweet dreams!
​
Related Article:Best Sleeping Bags For This Year's Adventures
Best Sleeping Bags For This Year's Adventures