Never miss a moment with the Manfrotto Mini Tripod. This universal smartphone clamp is a game changer in the iPhone photography game.
With the Pixi style Manfrotto Mini Tripod, small is beautiful. This versatile, lightweight, and portable tripod offers a gorgeous style. It's safe to say that it sets the standard for products of its kind. The support is every bit as beautiful as your pictures will be. While it's small, it definitely packs a punch. Flexible, creative, and compact, it is the perfect choice for sports enthusiasts, travel photographers, and videographers who want to capture life in action.
About the Brand
If you've dabbled in the photography game at all, chances are you've heard of Manfrotto. This Italian based company offers an extensive collection of camera tripods, heads, lighting stands, and accessories. Sold by its own distribution companies, you will find Manfrotto locations and products around the world.
They're in China, Hong Kong, France, Germany, the UK, US, Netherlands, Italy, and Japan to name a few. All in all, they can be found in over 65 countries. Manfrotto has a legacy of investing in the latest tech and leading in photography consumer trends. This policy means they maintain a high level of quality and standards for others to follow.
The Manfrotto Mini Tripod Features & Benefits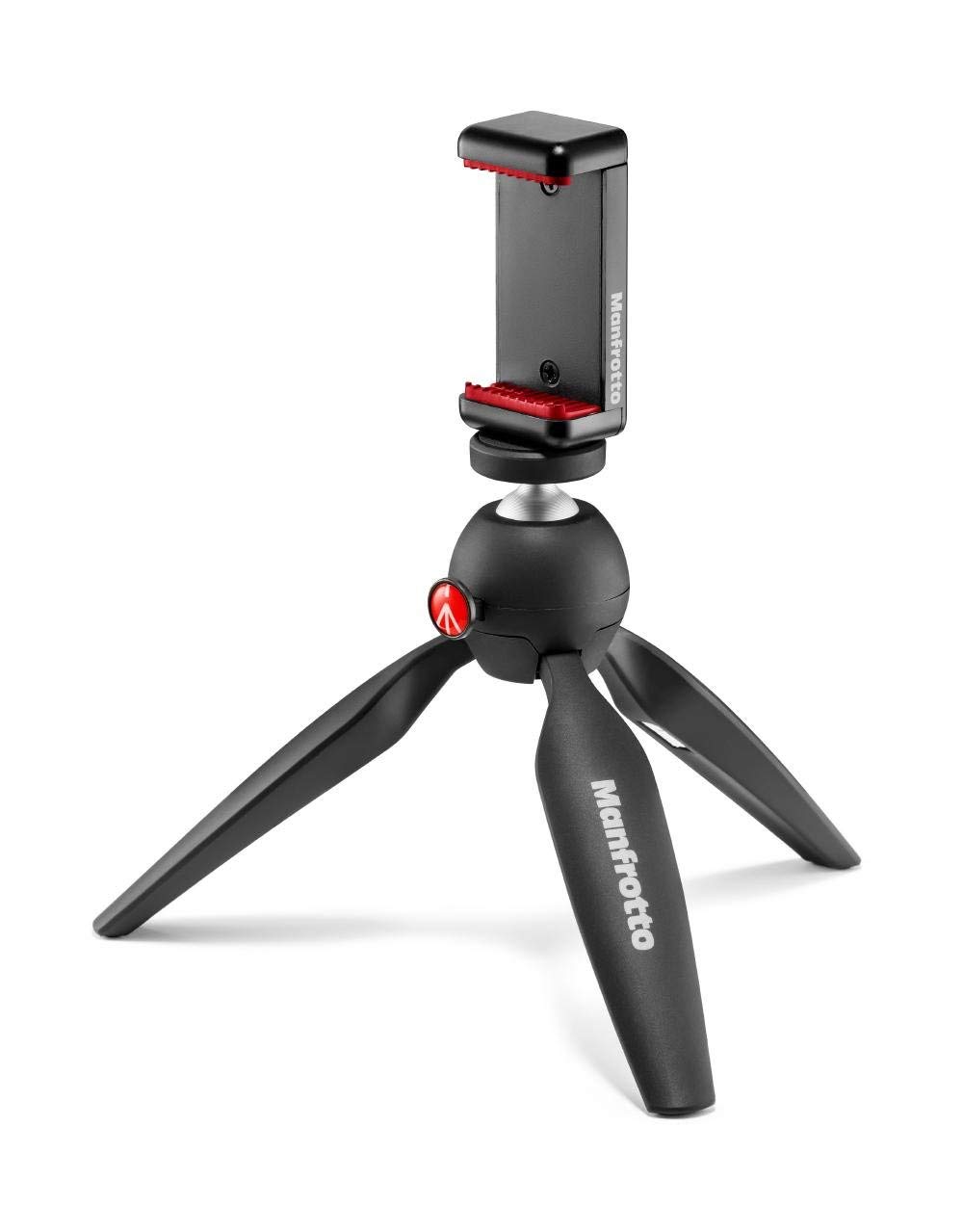 When you're looking for travel accessories, you want something that is adaptable, clever, and handy. All in all, the Manfrotto Mini Tripod is the perfect travel companion. Taking good iPhone pictures has never been easier. You don't have to awkwardly crop your extended right arm out of your photos anymore. As a solo traveler, you don't have to stop people and ask them to capture your good angles.
If you want to take awesome, spontaneous photos every day, this is a great investment. For $29, you'll be able to take much better photos and videos when you are on your trips. Just set up the tripod, turn your self timer on, and go. Now, let's take a look at the features and benefits.
Compatibility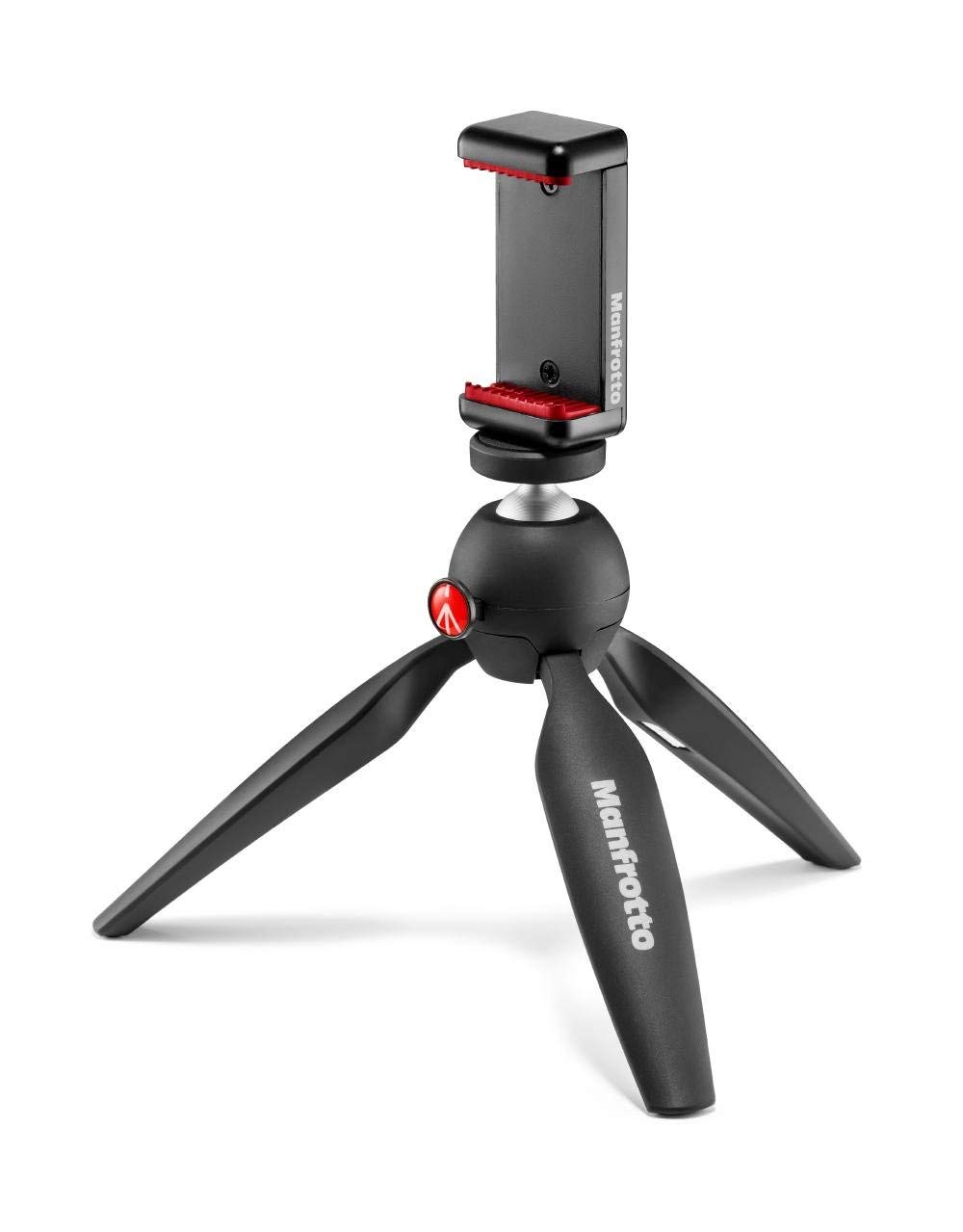 We've never seen a mini tripod more versatile. Thanks to its solid construction and universal attachment, the Manfrotto Mini Tripod is compatible with almost any device. You can count on support whenever you need it thanks to the universal clamp's double attachment. The self-standing bracket on the back acts as a great stabilization base. A ¼" screw thread means that you can easily adjust the device and even use it with entry-level DSLR cameras.
If you do decide to pair the Manfrotto Mini Tripod with a DSLR camera, there are a couple of things that you should keep in mind. First and foremost, the camera should have a maximum weight of 1.4 pounds. Second, the focal length of the lens should not exceed 85mm. Finally, the total equipment load should not exceed 2.2 pounds.
To give some context, this tripod is great to use with small DSLR cameras like the Olympus E-420. With a camera like this, you will enjoy perfect stability and find the Manfrotto Mini Tripod quite handy in these circumstances. It is a little easier to use with a smartphone though. We recognize that not everyone can afford a DSLR camera right off the bat these days. And they can take some time to figure out how to use them.
Besides, smartphone cameras have taken leaps and bounds in the last several years. Having a simple tripod as an add-on item is something everyone can benefit from. This style is easy to use and will result in overall crisper, cleaner images. You don't have to worry about shaky images from trying to take a selfie or video again. What we really love about using a tripod though is that your time-lapse videos will come out flawlessly. This is where nothing really beats having a tripod on hand.
The Overall Feel and Aesthetic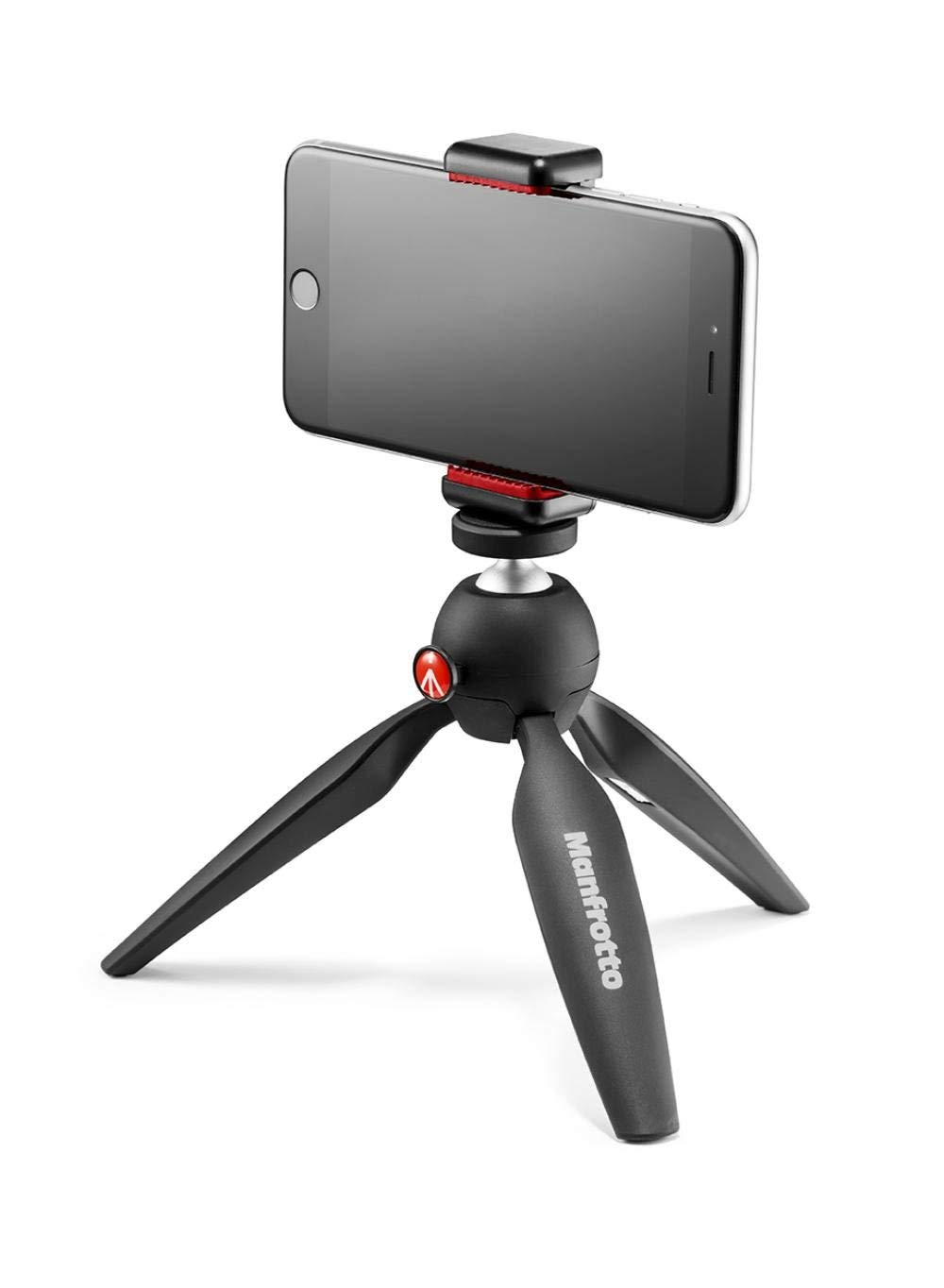 When you first take a look at this device, you will notice a hard, durable plastic exterior. At the top, is ¼" thread for the universal smartphone adapter. The space for the smartphone holder is able to stretch and fit any phone that you want to. There is also a small stand that you can detach and use on its own.
At the front of the Manfrotto Mini Tripod, you will see a little red dot. This button allows you to alter the rotation and tilt of the camera on the tripod. This device is pretty rigid and strong so you don't have to worry about it too much on your travels. When you close it, an ergonomic design is easy to see. We've said it once but we'll say it again. This device is great for videos and panoramic shots.
User Experience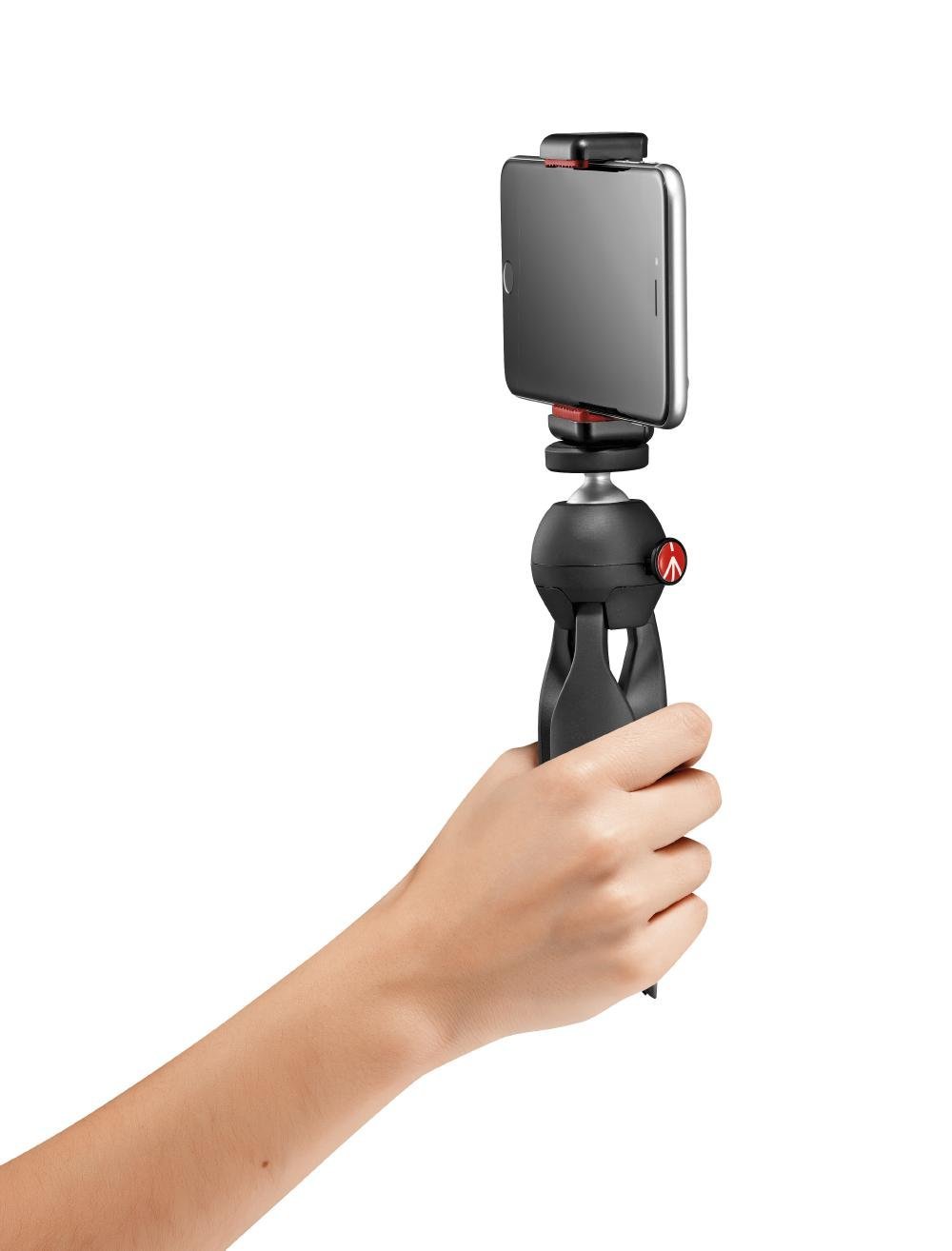 So how do you use the Manfrotto Mini Tripod? Well, we love that it's pretty straightforward. First things first though. The ball midway up the device works like a push-button. This means you can rotate your camera by 360 degrees and tilt it by 35 degrees. Once you have your camera in the desired position, you can quickly lock the head into place.
The button is a bit stiff and we have to admit the range of motion of the Manfrotto Mini Tripod is much more limited than that of its predecessor. While this does make it hard for pans and tilts in video use, it is great for consistency in making time lapse videos. Oddly enough though when you attach a heavier camera like the aforementioned 100D, the ball is able to swivel around with a greater ease. With a sticker price of $29, the Pixi style is within the same range as popular tripod styles like the Joby Gorilla Pod.
The Selfie Game
You don't need to have your selfie game strong here. The Manfrotto Mini Tripod is not a selfie stick. Get the tripod in position, set your self timer, and enjoy good, clear photos and videos.
Product Care
While we were asking around and gathering reviews, we found a few good tips, In the event that your Manfrotto Mini Tripod gets a few scratches and marks, most of them can come off by using a pencil eraser. In addition, make sure you keep the tripod clear of water and other liquids, as they can damage the finish.
Tech Specs:
Universal smartphone clamp

Use it as a tripod or a grip

Element

Made from aluminum and technopolymer

check

Weighs in at 215 grams

check

20 cm in height

check

Lateral tilt of 35 degrees

check

Swivels 360 degrees
What Travelers Are Saying About the Manfrotto Mini Tripod
What's better than a tripod that fits in your pant's pocket? Travelers love the Manfrotto Mini Tripod, praising it for being simple, sturdy, and convenient. In the reviews we gathered, many noted that they like the push button ball head release. Using the push button, you can hold the tripod and press the release with one hand, and hold and adjust the camera with the other. It's really that simple.
Here's another thing we found particularly interesting from users. They said that this little tripod can handle more weight than specified. Well, so long as you don't set it on a slanted surface or tilt the camera way over. If you do such a thing, it'll tip over. However, it most likely won't break under such circumstances unless you are hell-bent on abusing it. Anything will break if you try hard enough.
We recommend buying the combo version which includes the cell phone holder. It isn't that much of an extra cost, and we like having the extra flexibility. We like that this little tripod fits easily in a pants pocket. So, you can securely set your camera on a rock, thick post, or wherever. You don't have to lug around a full-size tripod. Sure, there are other small tripods that can wrap around tree branches. But for setting atop a relatively even surface, this sets up faster, so you can get the shot. And that's what counts, right? The Manfrotto Mini Tripod is a winner in our book.
Other iPhone Tripods You May Like
JOBY GripTight GorillaPod Stand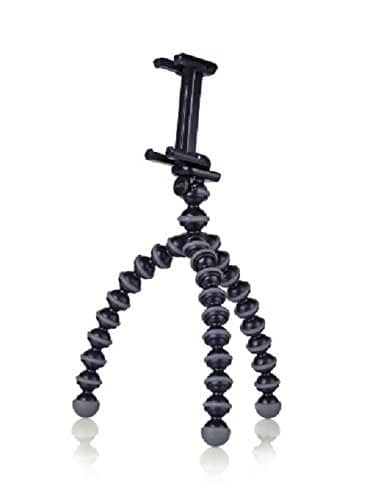 Kick your mobile photography game up a notch with the JOBY GripTight GorillaPod Stand. This flexible tripod help to secure your phone to objects and allow for adaptable camera positioning for precise control in photo or video composition. Enjoy stability on flat or uneven surfaces. The rubber foot grips stabilize smartphone for convenient media consumption and crisp photos. The rubber pads secure phone in place, even when turned sideways.
Hold your smartphone in any place thanks to a premium clamping mount. See the world from a different point of view. Take your phone anywhere and capture any angle with the GripTight GorillaPod Stand by JOBY. The lightweight, compact design is easy to travel with, while giving you a super-secure mount and grip.
Rotate it 90 degrees so you can shoot an image or video, and quickly review what you just captured. Unleash your creativity and get the best shot, at the best angle. The easy to maneuver and adjustable the TPE legs and rubberized foot grips onto almost surface, and the 150-degree tilt means you can get the shots you want.
It's designed to be compatible with any cell phone, with or without a case, including iPhone 6, iPhone 7, iPhone 8, Nokia Galaxies, and Nokia Lumia's. Whether you're creating, viewing, or sharing, you will get a better experience with GripTight. Enhance your proficiency with your favorite apps. It's one of the best iPhone tripods on the market.
Tech Specs:
Reliable grip

Adjustable locking screw

Wrap around poseable legs

check

Universal smartphone compatibility

check

Durable

check

A ¼"-20 thread standard tripod mount
Fotopro UFO2 Tripod
With the help of the ​Fotopro UFO2 Tripod, your photos will never look better. This little travel accessory offers the utmost versatility. Bend and pose the tripod legs however you want to attach it to an object. The result is better creativity shining through in your photos.
Designed with a high-quality material, it offers a waterproof and corrosion resistant exterior. Use it underwater or in wet conditions; this tripod maintains good performance and longevity. You also don't need to be afraid of breaking it. On the contrary, bend out the shape you want. The strong flexible legs can easily wrap around a tree branch, fence, bench, bicycle, allowing you to capture different angles on your trip.
There's also no need to download any annoying application for using the Bluetooth remote product. You can easily connect to it from your phone. You can start or stop recording videos as well as be taking pictures with ease.
Tech Specs:
Durable

High-density rubber coated legs

¼" screw

check

Compatible with DSLR cameras

check

Waterproof and flexible

check

360-degree shooting perspective

check

Light and easily portable

check

28 cm tall
Invest in the Best iPhone Tripods for Your Trip – aka the Manfrotto Mini Tripod with Universal Smartphone Clamp
Thanks to the Manfrotto Mini Tripod, taking better pictures has never been more simple. Now, you can get the effortless looking vacation photos you want. Skip out on the selfies or asking people to take your pic. Style your photos the way you want to. The best iPhone tripods make it easy.
Since this tripod is universal, there is so much you can do with it. You can even pair it with a small DSLR if you'd like. The result is clearer, sharper images and great time lapse videos. We highly recommend the Manfrotto Mini Tripod for anyone who is looking to step up their iPhone photography game.
Common Questions
Are you looking for some more travel accessories to make your life easier? Check out these favorites below:
Related Article: The 7 Best iPhone Tripods To Buy In 2018