I consider myself an Orange County local. Having lived here nearly five years, I was first drawn by the allure of year-round sunshine, beautiful beaches, and the proximity to the TV glamor of Los Angeles. As a then nineteen-year-old Seattle transplant, the grass was definitely greener on the other side. After all, there are plenty of things to do in Orange County, right?
At some point, I've had friends and family come to visit from Washington. In fact, next week, I have some family flying in from Florida. Most of them ask me to give them a tour of "The OC." While I laugh it off, true locals cringe. First things first. OC natives don't live like how you see people on TV – at least not entirely. Sure you have your ritzy sections but there are also a lot of really cool cultural enclaves and surfing scenes. My favorite things to do in Orange County are low key.
Second, Orange County people hate being lumped in with LA or San Diego. They consider themselves part of an entirely different scene. And to be honest, it's true. LA is a lot more hipster and urban with a dash of pretentiousness. San Diego is way more laid back than both LA and OC.
Third, let's get back to the TV concepts. Everything you've seen on TV is bogus. The OC wasn't even filmed in the OC. Don't even get me started on the real housewives. Not everyone surfs and not everyone lives at the beach – even though deep down we all wish we did.
Last but not least, north Orange County is way better than south. Hands down. I'm going to give you the inside scoop on the best things to do in Orange County. If it's your first time visiting, I'll throw in a few tourist hot spots you have to see. But if you've been a few times, you need to dig a little deeper.
The Best Things to Do In Orange County
I'm a road tripper by heart – meaning I get incredibly bored if I stay in one spot. I need my adventure fix. So what are the best things to do in Orange County? Well, it's a mix of everything. I'm going to give you the low down on hot spots, must-sees, and just some of my all-time favorite things to do and see. Here we go.
1. Get Coffee or Brunch at Alta Coffee In Newport Beach
Credit: Alta Coffee
When I moved to California, one of the first places my friends took me to was Alta Coffee on 31st street. This family-owned cafe has a cozy beach shack look and some of the best coffee, food, and pastries you'll find in Orange County. In the 1980s, it was actually an old bookstore before it was dismantled and turned into a coffee joint. Today, it still retains much of the same vibe. Step inside and take a look around. To the right, you'll find a book exchange. Bring a book and take a book. That's their motto.
Local artists come and play throughout the week. Photography and paintings are hung up for sale on the walls. When you're ready to order, make sure to get a vanilla chai and if the weather's nice, take it out on the patio outside. I swear it's the best drink I've ever had. Just be warned. It's so addictive you might just order three. It's happened.
2. Grab A Blanket and Book and Enjoy Newport Beach In the Early Morning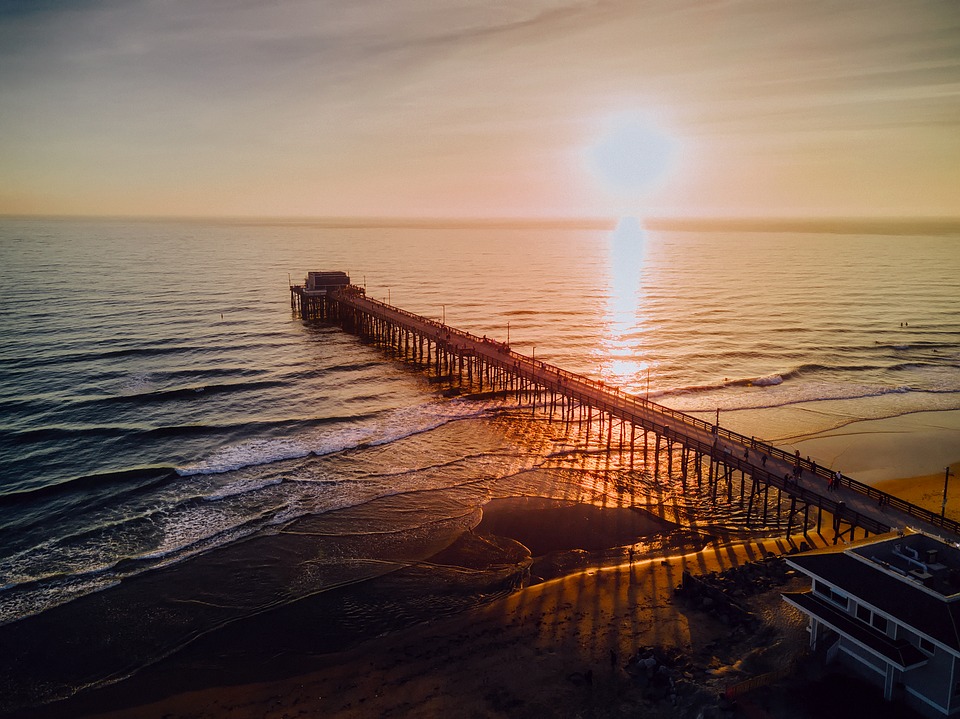 This is one of my favorite things to do in Orange County. If you're on vacation, head to Newport Beach in the morning on a weekday. Just make sure to bring a blanket and a sweater. Even if you think you'll be fine, it's cold. Take it from a former Seattle native who once thought California cold was nothing. You'll be surprised at how quickly you'll acclimate.
Enjoying Newport Beach in the morning is one of the most relaxing things to do. If you can make it out on a weekday, do it. The beach will be wonderfully uncrowded. The breeze is lovely, the sand is the perfect place to take a nap, and you'll feel such a sense of peace reading in paradise. I'm lucky to live here and I know it.
3. Go Shopping at The Lab and The Camp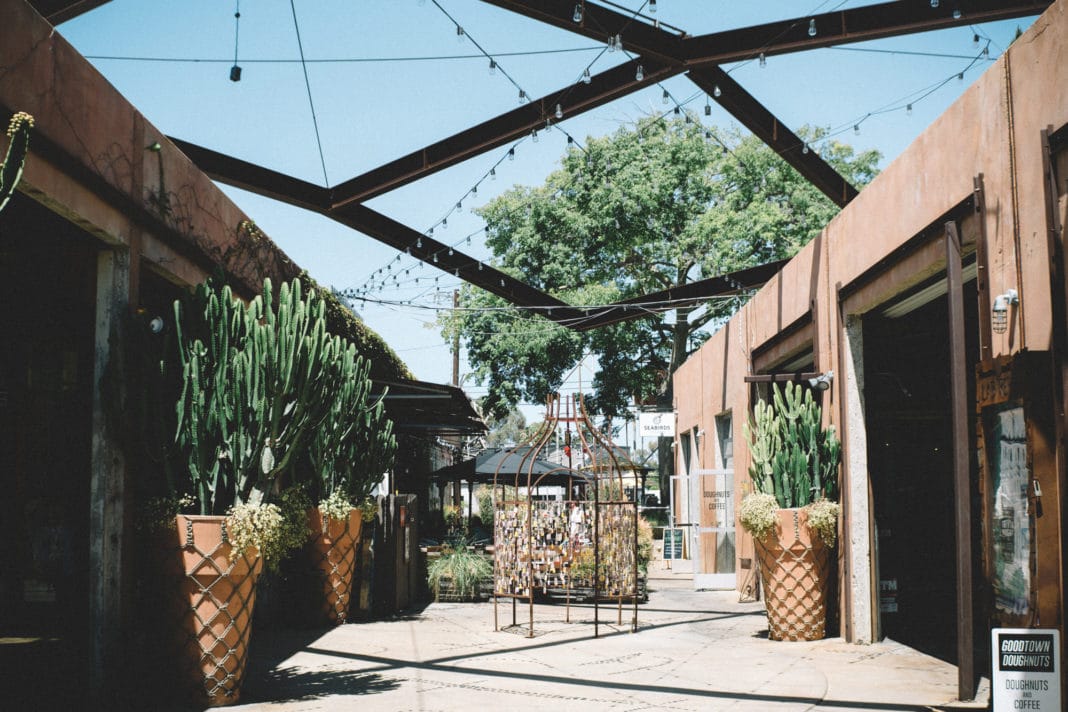 Credit: The Lab
What in the world are The Lab and The Camp, you ask. They're two trendy anti-malls in Costa Mesa. An anti-mall is basically a hipster, outdoors open-air mall. You'll find quirky second-hand shops (aka Buffalo Exchange), vegan eateries, gourmet donut shops, organic coffee roasters, and artisan product stands made from old camper vans.
While you're there, make sure to stop by Milk and Honey at the Camp. This cool little shop can fill up fast so try and grab a seat outside if you can. Sitting outside under the rusty chandelier by the ivy-covered wall makes a great photo op. Order a strawberry banana smoothie, pizza bagel made with real marinara sauce, or lavender latte. You really can't go wrong with anything on the menu though.
4. Get An Acai Bowl at Bonzai Bowls In Costa Mesa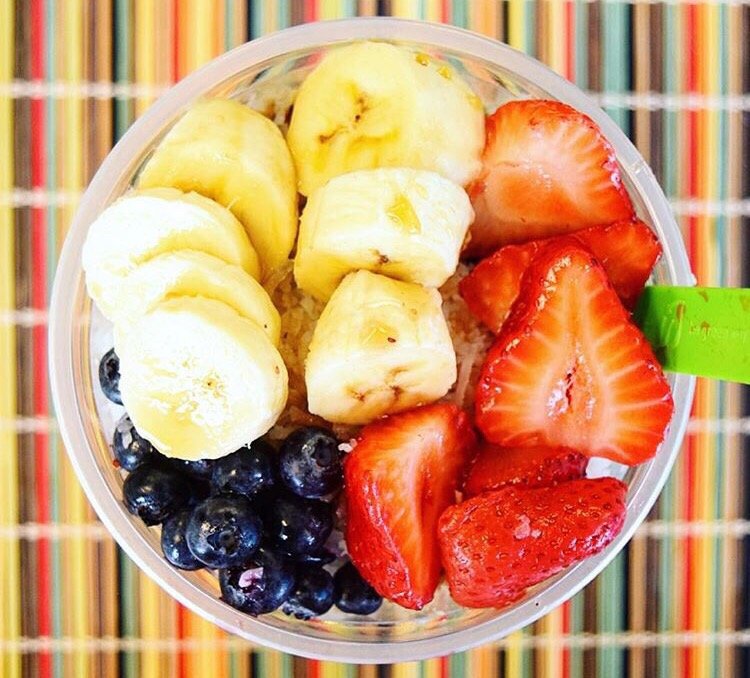 Credit: Yelp
This has got to be my favorite acai bowl spot. If you don't know what an acai bowl is, you're in for a special treat. It's a Brazilian dish made of frozen and smashed acai fruit served up in a bowl and topped with granola, bananas, honey, and any other fruits you want. The line is always long at this place and don't be surprised if the wait takes you 20 minutes or so. That's when you know the place is good.
5. Go to Disneyland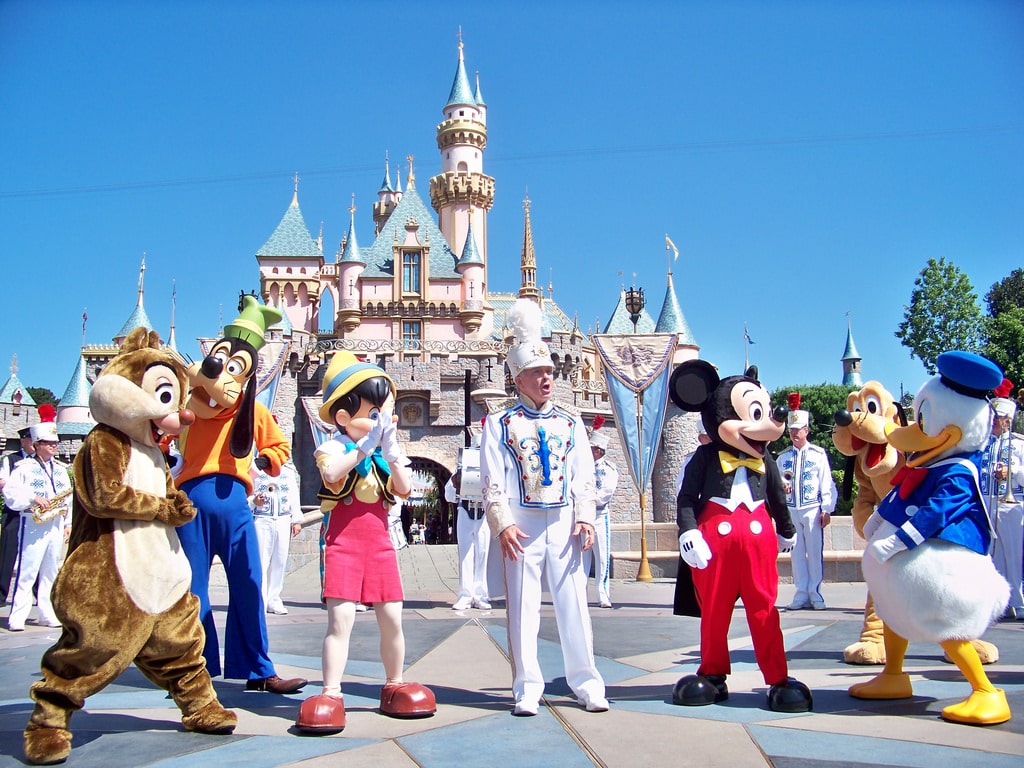 Credit: Disneyland
Going to Disneyland is one of the most popular things to do in Orange County. Buy the park hopper pass. It's more than worth it. While admittedly I don't have a year-long Disney pass anymore, the park hopper is great for visitors. Disneyland has crazy lines – all year long, rain or shine, and in the summer or winter. Even on weekdays, it's still crazy. When you're there, you seriously wonder if these people have jobs. Who can go to Disney on a Tuesday at 10 AM?
Moving on. This beloved Anaheim institution is world famous. Come enjoy icons like the Matterhorn Bobsleds, nightly World of Color shows, parades, Dole whip, and Space Mountain. Just a heads up. The classic and beloved Tower of Terror ride has been remodeled and is now the Guardians of the Galaxy ride. I can't say I'm happy about it.
Also, Star Wars land (aka Star Wars: Galaxy's Edge) is rumored to open in 2019. If you think the lines are long now (and they are), just wait. The two-hour wait for the Cars ride will quickly carry over into a three-hour line for whatever Disney has up their sleeve for Star Wars rides.
6. Spend the Day at Knott's Berry Farm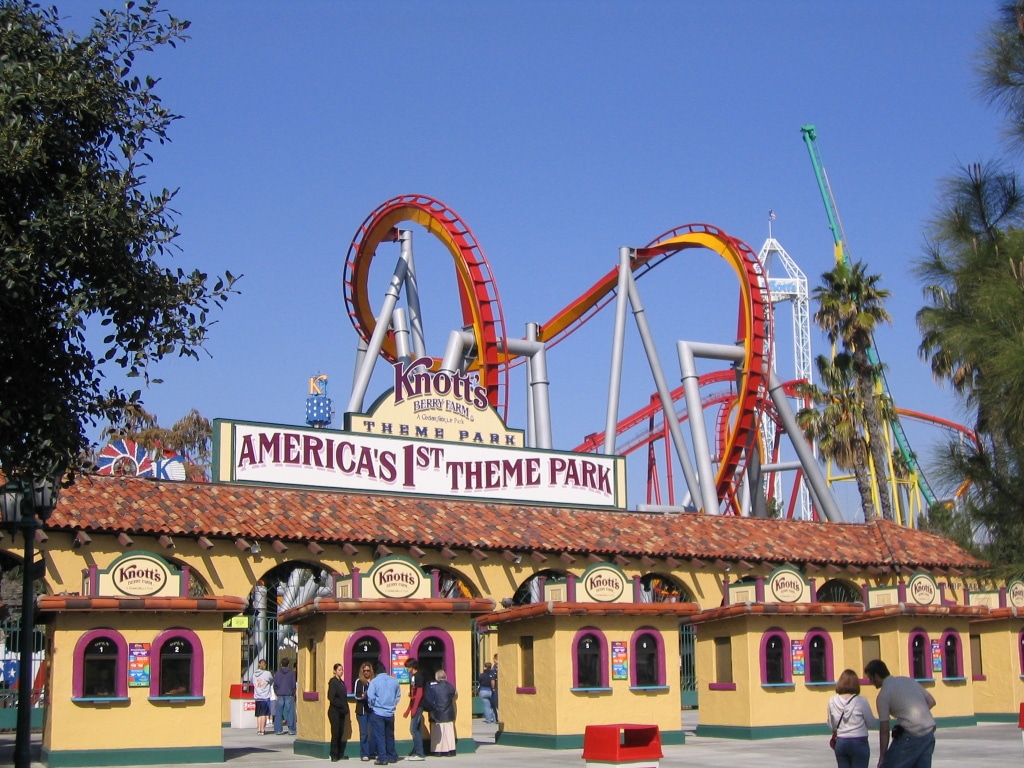 Okay, so some people think of Knott's like Disney's less attractive cousin. Who cares? This amusement park in Buena Park is a blast if you like adrenaline-pumping rides. And if you ask me, Six Flags has gone downhill plus it's too far away. Some of the best and most terrifying rides include Supreme Scream a 252-foot vertical drop and Xcelerator, a 0-82 mph ride that launches you hundreds of feet into the air in just 2.3 seconds. Don't ride on a full stomach.
7. Soak Up Some Sun in Laguna Beach
When it comes to Laguna, not all beaches are created equally. If you can, avoid Main Beach do it. It's crowded, touristy, and definitely not one of the best stretches of sand in southern California. Visiting Thousand Steps Beach and Victoria Beach are among the best things to do in Orange County.
Thousand Steps Beach is pretty tucked away and to be honest, a little hard to find for newbies. It's located on the right-hand side of the main highway on 9th street. There's no beach parking, so you're going to have to parallel park on the street and hoof it. Be careful, California drivers are crazy.
When you get your gear out of the car, prepare for a long walk down. While it's not actually a thousand steps to the sand, it definitely feels like it. Your quads will burn like fire – going back up is worse. But when you actually get down the 220-something stairs (yes, I counted), you'll be rewarded by tide pools, a beautiful stretch of sand, and bright turquoise blue water.
Oh yeah, and if you explore and climb the rocks to the right-hand side, you'll come across a hand-carved pool where the tide from the ocean floods in filled with tons of little fish. It's an epic spot to swim, relax, and take endless Instagram pics.
Victoria Beach is one of the less crowded beaches in the city. It's known for being one of the Instagrammable spots too. Why? There's plenty of tide pools to explore and a cool old lighthouse from the early 1920s on its shores.
If you're looking for some good restaurants in Laguna Beach, click here. For the best hotels, click here.
Top of the World, Laguna Beach
Oh yeah, and I'm just going to throw this out here. If you're already in Laguna Beach, drive or hike up to Top of the World. It's got the best views of OC for miles around. On a clear day, you can see Catalina Island, Long Beach, and even Los Angeles. Make sure to bring a good travel camera! You're going to want to take lots of pictures.
8. Catch An Indie Concert At The Wayfarer or The Observatory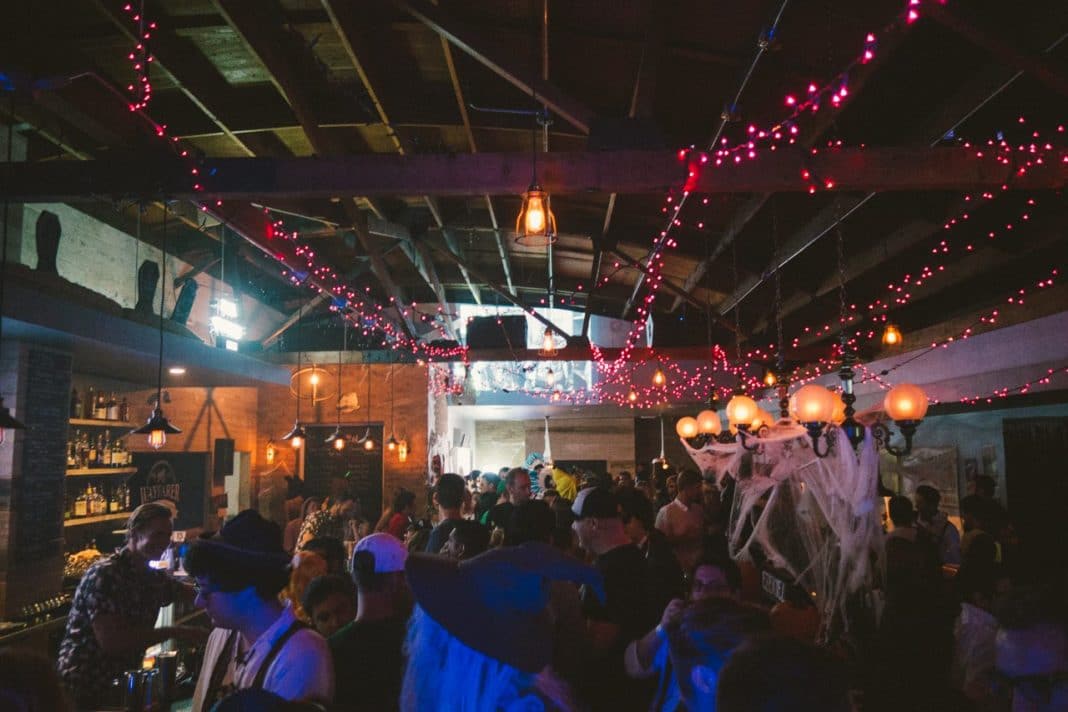 My friend Shay is always inviting me to these cool, obscure concerts here. These rundown yet chic locales offer up specialty cocktails and a regular line-up of local bands. I remember in October 2013, The 1975 were playing at The Observatory on Halloween for only $10. I tried my best to talk my friends into going but since they weren't popular yet, nobody went.
The moral of the story is a lot of really cool bands play here and you never know when some undiscovered local will later appear on Hollywood's radar. There are some really talented local artists in OC and the cover charges to get in usually don't top $10.
9. Explore Balboa Island
Rent some bikes (or drive) and explore Balboa Island. This coastal man-made treasure is the stuff California Instagrams are made of. First, check out the Balboa Fun Zone. There's nothing more iconic than riding the rickety ferris wheel, taking the one-car ferry over the water, or enjoying a frozen banana. There's also an awesome vintage arcade complete with skeeball, old games, and basketball hoops.
Besides the main tourist attractions, the best things to do on Balboa Island can be found in the water. Surfing, kayaking, and stand up paddle boarding are just a few. Getting out in the water is not only a great way to work on your tan but you'll also get some great exercise as well. Newport and Balboa Beach are communities of active walkers, runners, cyclists, and outdoor enthusiasts.
10. Go Stand Up Paddle Boarding (SUP) at Pirate Coast Paddle Company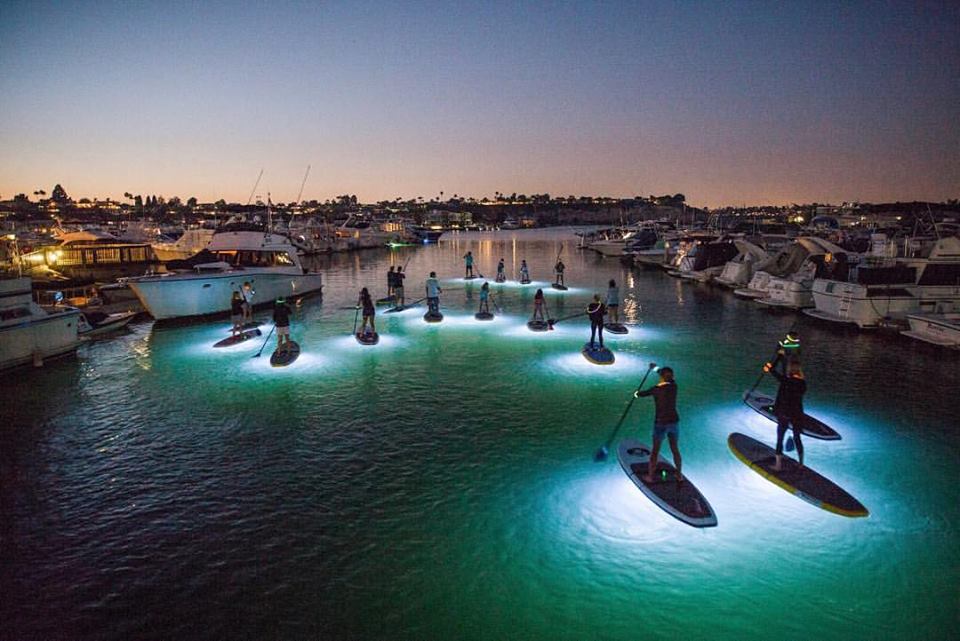 Credit: Pirate Coast Paddle Company / Facebook
In my opinion, going paddle boarding is one of the best things to do in Orange County. Pirate Coast Paddle Company in Newport Beach is one of my favorite places to go. It's especially great for beginners. They have rentals, lessons, a kids' camp, and SUP Glow (glow in the dark night paddle boarding). I still need to try SUP Glow.
I recommend renting a SUP board for an hour. You won't need any more than that. It's one of my favorite weekend activities. Renting a board costs $20 per person per hour. You can also rent a single kayak for the same price and a double kayak for $30 per hour. First-time paddlers get a free on-shore tutorial. They also allow dogs to paddle for an additional $5.
Make sure you bring a pet life jacket though. When you go, wear either a swimsuit or something light like a cotton tank and shorts too. You might fall in.
Lather up with waterproof sunscreen an hour before; try to buy one that's eco-friendly too. Regular brands of sunscreen can rinse off into the water and adversely affect local wildlife populations. Last but not least bring a tote bag with a change of dry clothes, water, and a towel. You can leave your stuff on a picnic bench near the Pirate Coast stand. Don't bring your iPhone with you on the water; it's a recipe for disaster. If it sinks, there's probably no coming back.
11. Catch a Sofar Sounds Show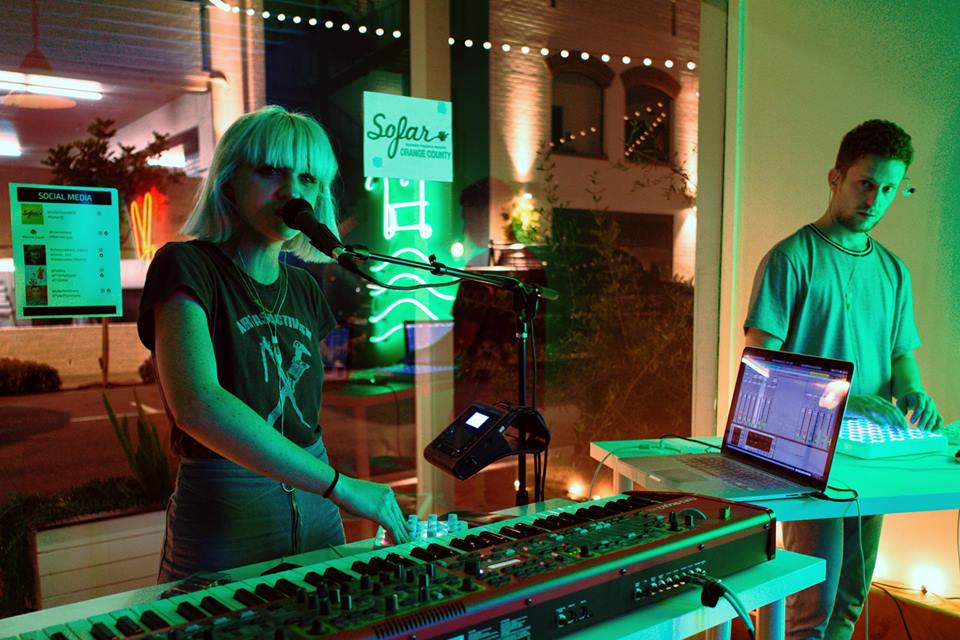 Credit: Sofar Sounds / Facebook
I just caught my first Sofar Sounds OC show last week with my sister. Funny enough, she found it when she was searching for the best date-night things to do in Orange County. It's different from a regular concert experience in the best way possible. So what is a Sofar show? In a nutshell, it's an intimate gig held in a unique venue like someone's living room or an antique shop. It typically features three to four artists, playing four songs each.
The venue we went to was off of Adams Avenue in Costa Mesa. Pulling in, I assumed it was going to be at a record shop but it was actually at a physical therapy location next door. We ended up sitting criss-cross applesauce on woven blankets on the floor in a cozy space with string lights and a bring your own bottle rule.
So how do you get tickets to this show? First, you apply. Applying is 100% free. You can apply up until the day before showtime or tickets sell out, whichever comes first. Second, get selected – hopefully. If selected, you'll receive an email invite to purchase your tickets. Third, buy the tickets for yourself and a few friends.
Then, they'll email you with the venue location and time a day before the show. There's something about the secrecy of it all that's so exciting. Be sure to check out Sofar Artists on their site and get a feel for the vibe. I have a feeling you're gonna love it. Taking in a Sofar Sounds show is one of the coolest things to do in Orange County.
12. Go Hiking At Red Rock Canyon In Lake Forest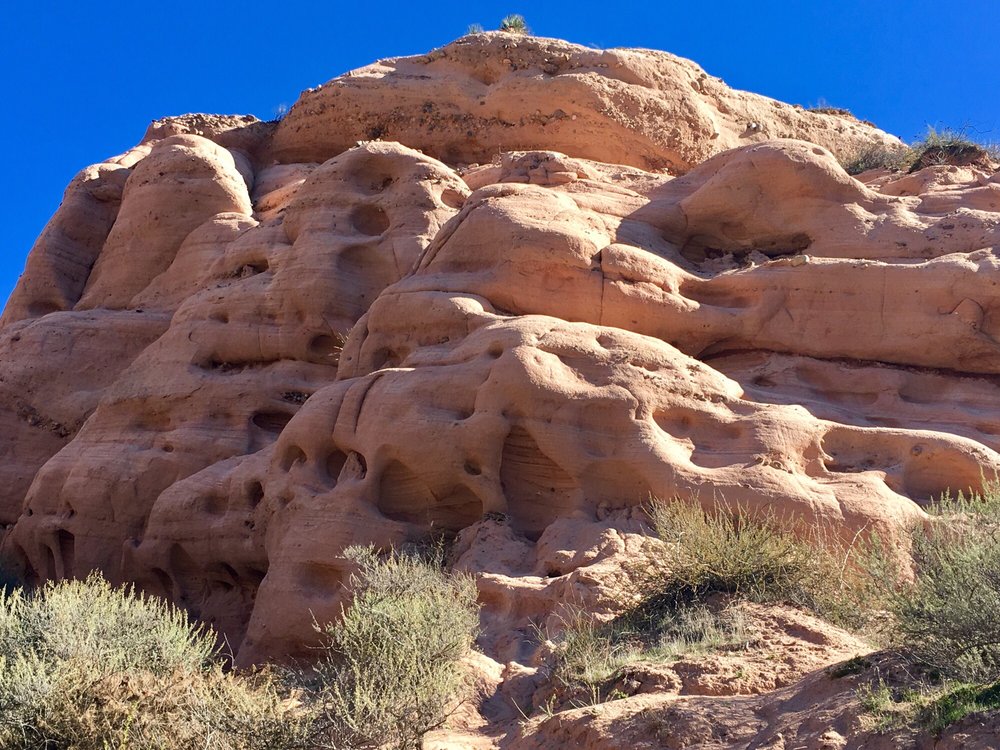 Credit: Yelp
Okay, this is one of the coolest hikes in southern California in one of the weirdest locations. While it's technically a part of Whiting Ranch Wilderness Park, the entrance to the park is just outside of a shopping center. You'll walk along a dusty sand trail for a mile or so until the trail begins to wind through the canyon. Walk another mile or two and you'll be in for a real treat.
The rocks turn a rusty red color from mineral deposits. I couldn't believe I had found this hike off of a Yelp review. It seriously looks like something out of Sedona or Car's Land. If you're already in the area, go and explore. Hiking Red Rock Canyon is one of the coolest things to do in Orange County.
13. Enjoy An Amazing Meal and Incredible Food At Orange Hill Restaurant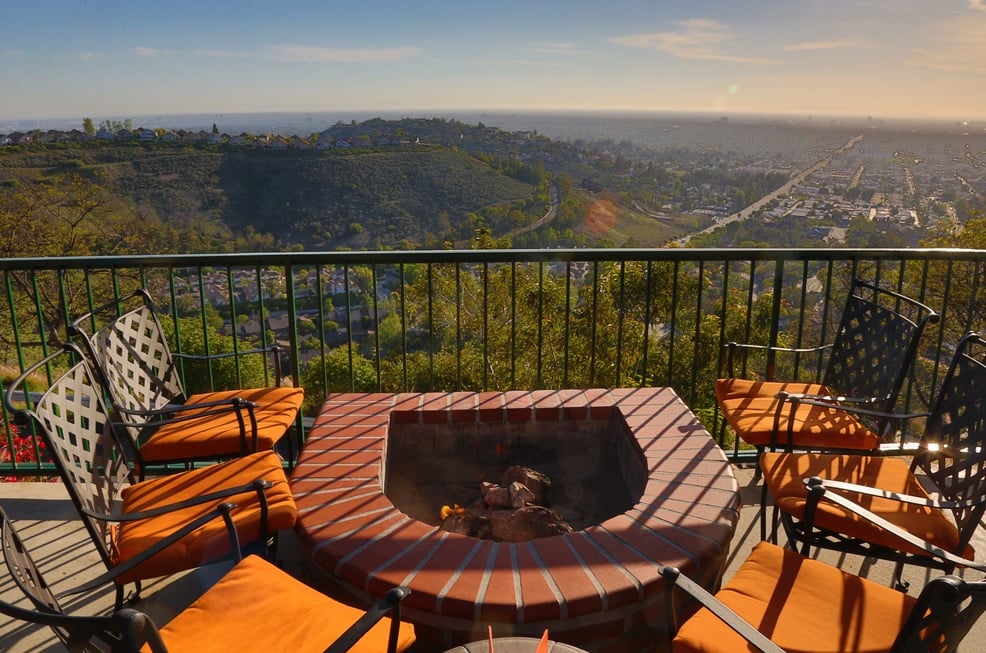 Credit: Orange Hill Restaurant
As surprising as it sounds, this restaurant hasn't become touristy – yet. As a hilltop hideaway, it's got some of the best views of Orange County. The scenery is perfect. Koi ponds are dotted across the property along with soothing man-made waterfalls. Ask for a table outside next to a heat lamp. While it's definitely one of the most romantic dinner spots, unless you're looking to spend some pretty serious cash, I'd opt for brunch there instead.
14. Go For A Run or Longboard Newport Back Bay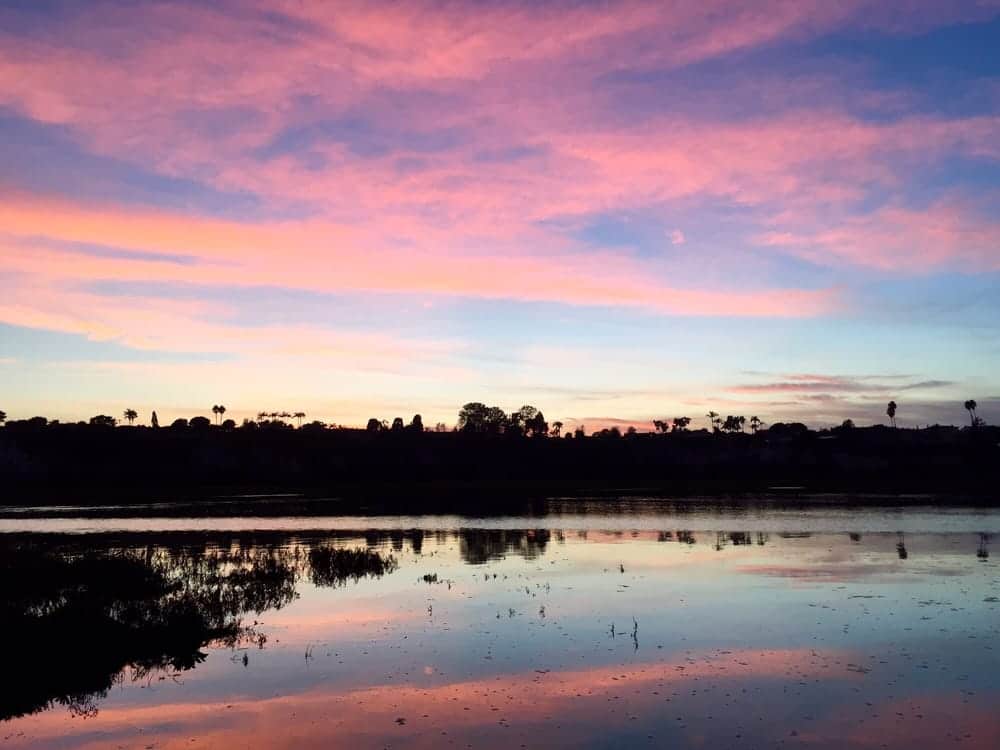 Known by the locals as Back Bay, the Upper Newport Bay Nature Preserve and Ecological Reserve – *whew that's a mouthful* draws in both scientists and travelers from around the globe. Why? Some 35,000 migratory birds and 200 endangered species call this stretch of land home. The winding pathway is a great place to see coastal wetlands. Great hiking spots, cycling trails, and aquatic activities can be found there as well. The hilly trails make for a challenging run or a fun place to take a longboard and cruise.
15. Try Surfing!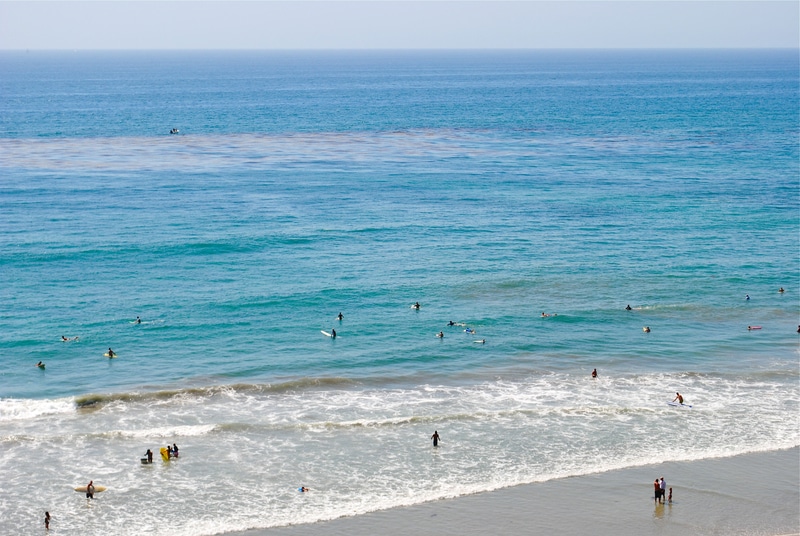 Come on, I know you want to. Surfing is one of the musts for things to do in Orange County. Not to be cheesy, but it's part of the quintessential OC experience. A good place to start is Newport Beach down by the pier or at Doheny Beach a bit further south. Board rentals are pretty cheap and the waves are foamy and fairly gentle. It's one of those experiences you just have to check off your bucket list at one point or another.
It's Time to Check Some Items Off That Bucket List
Okay, it's time to check some of the top things to do in Orange County off that bucket list of yours. I hope you enjoyed reading about some of my favorite places and things to do in the area. California is an amazing state and there are so many beautiful places to explore. If you want to see more of what the state has to offer in terms of the beach scene, click here. Should you have any questions or comments, don't hesitate to reach out! You know where to find me.
Related Article: 23 Things to do in Laguna Beach for the Whole Family