AND THE AWARD GOES TO…. The Best Restaurants in Laguna Beach You Have to Try.
Laguna Beach beckons you with its beautiful beach and a town offering luxury; upscale hotels, shopping, and dining. For your stay in Laguna Beach, you'll want to make each meal count. Don't take a chance on a restaurant that could offer you a less-than-phenomenal dining experience. Whatever your dining priority, whether it's a view, great Mexican, or great seafood, we're ready to help. Here are our top winners in each category for best restaurants in Laguna Beach.
Best American Cuisine: Nick's Laguna Beach
Credit: Nick's Laguna Beach
The average-looking outside of the downtown Nick's does not in any way prefigure what you'll taste on your plate. Despite the looks, there's nothing average about the food here. The fare is considered American comfort food, and my-oh-my will this be of great "comfort" to you. You'll find culinary delights piled artistically onto your plate. But don't worry. The food is arranged like a masterpiece, but this isn't one of those incredibly expensive, fancy, small-portioned restaurants.
Dinner is probably the best meal to eat at Nick's, but they also serve a scrumptious breakfast that you may want to return for. You'll find great burgers overflowing with an array of sauteed toppings. Their sandwiches are packed with layers of creative fillings and you can choose from some fancier renditions of vegetable sides or fries. Afterwards, grab one of their thoughtfully prepared cocktails or any other delights on their drink menu.
Best Service: Three Seventy Common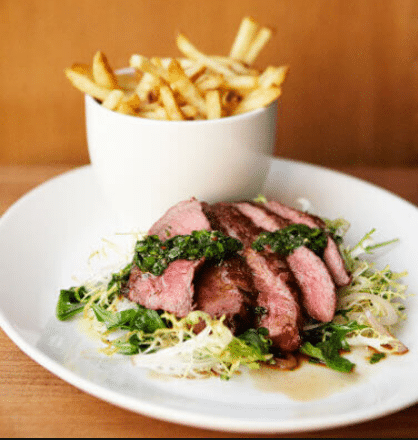 Credit: Three Seventy Common
You'll want to make reservations for Three Seventy Common, since it's one of the best restaurants in Laguna Beach. The corner, arched doorway welcomes you into a trendy, almost European-styled interior. You'll notice the black accents and the staircase to the balconied seating area on the top floor. The restaurant is pricey, especially for a restaurant without the expectation for fancy attire. However, the food is worth it. The bone marrow is a popular dish of choice.
Plan on going full-out for the dining experience, and order some of the fancy cocktails; you won't be let down. You'll find some interesting varieties of appetizers with veggies and meat. Try some "large plates" of short rib, duck, scallops or steak with well-paired sauces and your choice of sides. The menu even gives credit to the chef and kitchen crew by name, who have worked hard to make your dining experience fantastic!
Best View: The Cliff Restaurant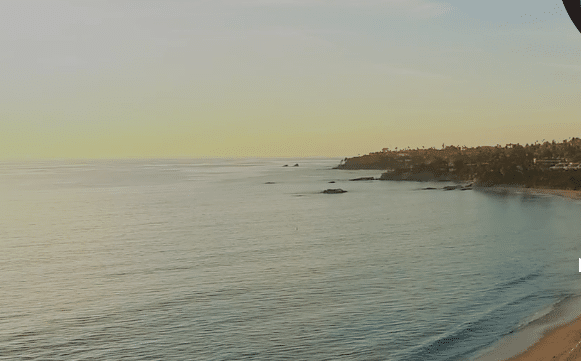 Situated, well, right on a cliff, this restaurant is one of the best Laguna Beach Restaurants because of its. The rounded balcony with glass railings means that all tables on the veranda promise that perfect sunset experience. Even in the colder months, the heated pods make eating outside worth it. During lunch time, blue umbrellas will shade you from the sun. From their perfect cliff-top location, this restaurant will serve you breakfast, lunch or dinner. We suggest going for happy hour, and sipping some drinks while taking in the great view. Or, the bar scene here at the Cliff Restaurant is pretty good, too. Enjoy the lights on the patio while you listen to some live music, or sip your drinks around their fire pits. The wait could take a while here, especially since it's one of the best restaurants in Laguna Beach. At this point, they don't take reservations, but you can provide your cell number, go window shop, and they'll call or text when your table is ready.
Best Seafood: Splashes Restaurant
Credit: Splashes at Surf and Sand Resort
The name of this restaurant says it all; just like you'd expect from "Splashes," they'll serve you some incredibly delicious seafood dishes (plus they have non-seafood options as well). In addition to winning our "seafood category," Splashes Restaurant could easily have topped the "best view" category, too. The sea is literally 25 feet below you. You can choose to sit near an open window, outside, or near any of the windows that frame the ocean view.
However, the view isn't the only thing that makes this one of the best restaurants in Laguna Beach. Aside from the beautiful atmosphere (both inside and out), you'll be treated like royalty. The incredible service reflects the incredible work done by the chef. You'll find short rib, lobster, octopus, fresh salads, and decadent desserts. Splashes Restaurant three course meal, enjoyed while gazing out at the sea, will have you in paradise! Splashes is part of the Surf and Sand Resort in Laguna Beach, but there's no need to be a guest to experience all they have to offer.
Best Seafood: Driftwood Kitchen
Okay, so we couldn't pick an ultimate winner for the seafood category of best restaurants in Laguna Beach. However, this is good news for you, since Laguna Beach just has too many options for fantastic seafood. (The seaside location would clue you in on this fact, too). Here, at one of the best restaurants in Laguna Beach for seafood, you'll find a relaxed atmosphere. Tall windows look out into the ocean, and the bar features leather armchairs and a fireplace! Driftwood Kitchen offers a scrumptious menu for all three meals, but you'll want to make sure to catch each time correctly; they close in between. You can find that information here. Start your morning with Driftwood Kitchen, since they have a great brunch in Laguna Beach.
They advertise "innovative dishes" and you'll have choices such as brussel sprouts with cranberries, Spanish octopus, Foie Gras with pear mostarda and huckleberry reduction. For entrees, try the Lobster Spaghetti Carbonara, the Grilled Swordfish, or the Wild King Salmon.
Best Steak: Selanne Steak Tavern
Choose from a fantastic assortment of well-prepared steak at one of the best restaurants in Laguna Beach! You'll find each entree to be expertly prepared, with the chef's truffle marrow butter and bordelaise accompaniment. You can also delight in the choices for wagyu, or pair your filet mignon with lobster for a scrumptious duo! Of course, if you didn't come for the steak, the menu still offers some poultry, grains, and vegetables. You to choose where to experience your steak entree, whether that's in the Loft, the Wine Library, or outside on the Sunset Terrace. Speaking of wine, you'll want to take their suggestions for a wine pairing with wines from some local vineyards or around the world.. Additionally, Selanne Steak Tavern features a sort of souvenir shop, so that you can take home some aged primed meats and some of the chef's favorite ingredients.
Best Italian: Romeo Cucina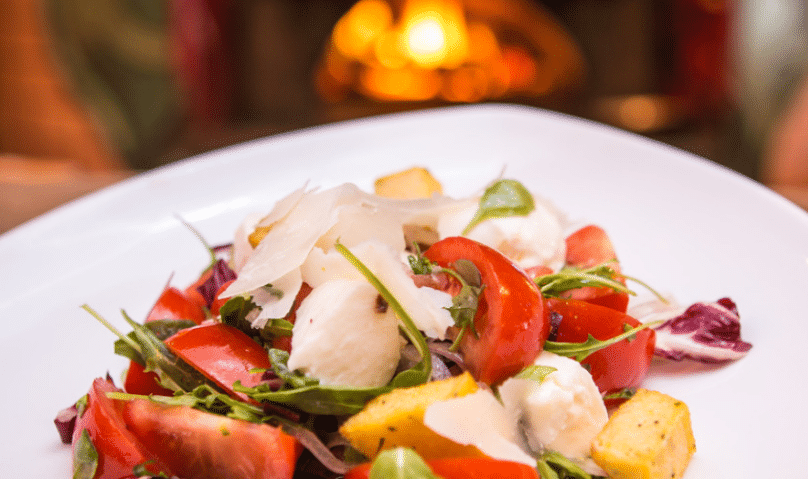 You'd better believe that a restaurant's authentic Italian name serves some fantastic Italian food! This is the place to go for excellent Italian food that you couldn't make at home! To begin, head over for cocktails and choose from an interesting array of drink options. Next, try some appetizers such as the Misto di Calamaretti (lightly fried calamari, shrimp, tuna, and swordfish, with a side of arrabbiata sauce). Enjoy some wood-fired pizzas, or try some authentic Italian pasta with various sauces. The Romeo brothers promise to bring you right into the warmth of an Italian mother's homemade cooking. Their modern flair offers a touch of artistry to each plate while remaining true to rich, Italian flavors. Additionally, their ingredients change seasonally, to deliver you fresh herbs, vegetables, and meats. The exposed brick walls give the restaurant a cozy vibe.
Best Mexican: Las Brisas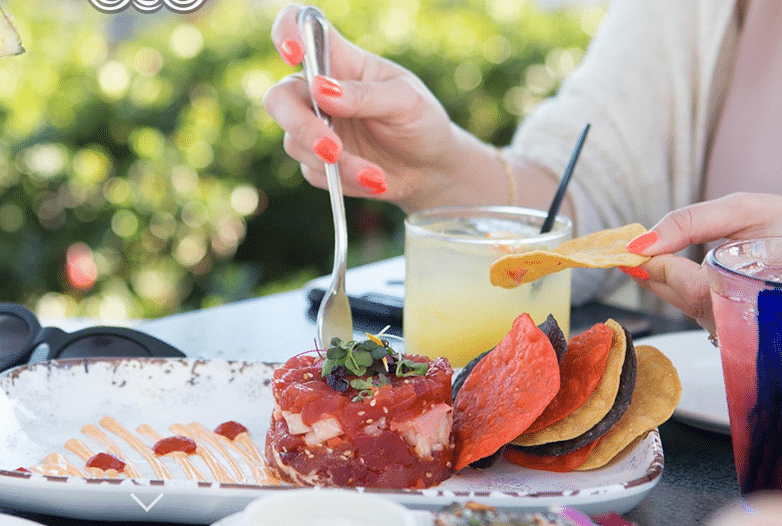 This upscale restaurant adds seafood to Mexican fare and it's clear why this is one of the best restaurants in Laguna Beach! Their fresh, homemade guacamole is out of this world. Add some variety to the classics by trying some charred octopus, or the King Crab Cocktail for a starter. Wednesdays and Saturdays Las Brisas hosts a happy hour at the Seaside Cantina. Enjoy the beautiful sunset with live music and a great drink menu! The modern interior, complete with exposed wood beams and turquoise accent reminds you that you're not in a typical Mexican-food chain at all. The bar and restaurant itself are sure to please you with their creations!
Best Mediterranean: K'ya Bistro Bar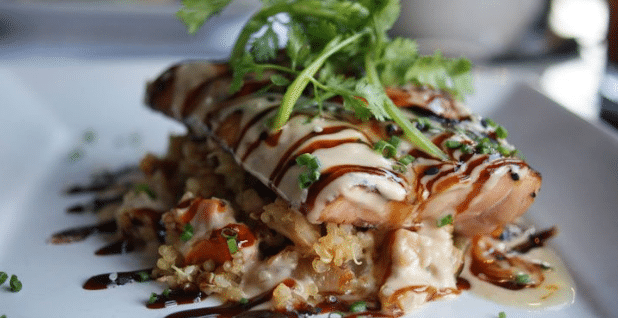 If you've been trying out all the best restaurants in Laguna Beach, you'll perhaps begin to feel the weight of your wallet crying out. Sure, it's Orange County, but your dining experiences will be memorable at these top restaurants. We're here to point you towards one that offers superbly delicious and fresh food at a price that will allow you to breathe a bit. K'Ya Bistro Bar is located in La Casa del Camino Hotel. Here, you'll to try various small plates, or share portions of others. Choose from small plates such as short rib tacos, grilled lamb chops, garlic ribs. The menu isn't extensive, but it allows them to ensure fresh ingredients, delicately prepared.
And the Award Goes to… These Restaurants in Laguna Beach
You're faced with many options; we understand. For your vacation to Laguna Beach, just stick to this list and you'll experience some culinary delights. Mix up the flavors, be bold with some seafood you've never tried, or just take in the sunset from your table. You'll have some great dining delights at these best restaurants in Laguna Beach!