Wondering where the best bars in LA are? Follow us. We've found all the best options.
Are you looking for some fun places to check out during your getaway? Lucky for you, we're here to help. Here, there's practically a bar on every corner. Bright lights, fun music, and laughter beckon travelers in. The best bars in LA offer a great atmosphere, attentive service, and a blend of both classic and exotic drinks on the menu. Although there's no shortage of places to grab a drink, not all bars offer the wonderful experience of a hidden gem. You're here to make memories.
Here's Where to Find the Best Bars in LA
No matter what your preference is, we've gathered up some of the best places for drinks in LA. Whether you're in the mood for a brew, whiskey, glass of Pinot, or the sweetest cocktail on the menu, you'll find them all here – and more.
1. Accomplice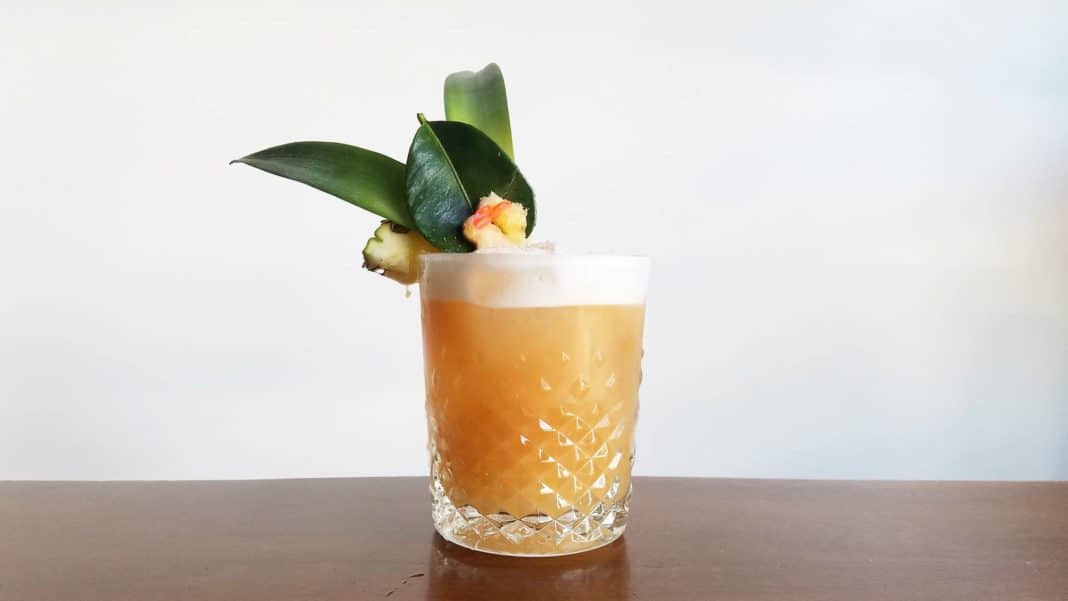 Credit: Accomplice
Take one look at this airy, white interior and you'd swear this is a brunch joint. You'd be wrong. Accomplice is one of the best bars in LA. While the interior is certainly elegant, it's far from stuffy and buttoned up. Here, a fanciful cocktail menu features lesser known Asian ingredients. No, we're not just talking about a Midori sour blend. Instead, you'll find sweet and sour whiskeys – infused with ginger, aquafaba, sesame, and amaretto.
Furthermore, if you're hungry, you can order from Little Fatty (an amazing Taiwanese spot) offers up great bites just next door. The food will be brought to your table so you can enjoy it with your drinks.
2. Broken Shaker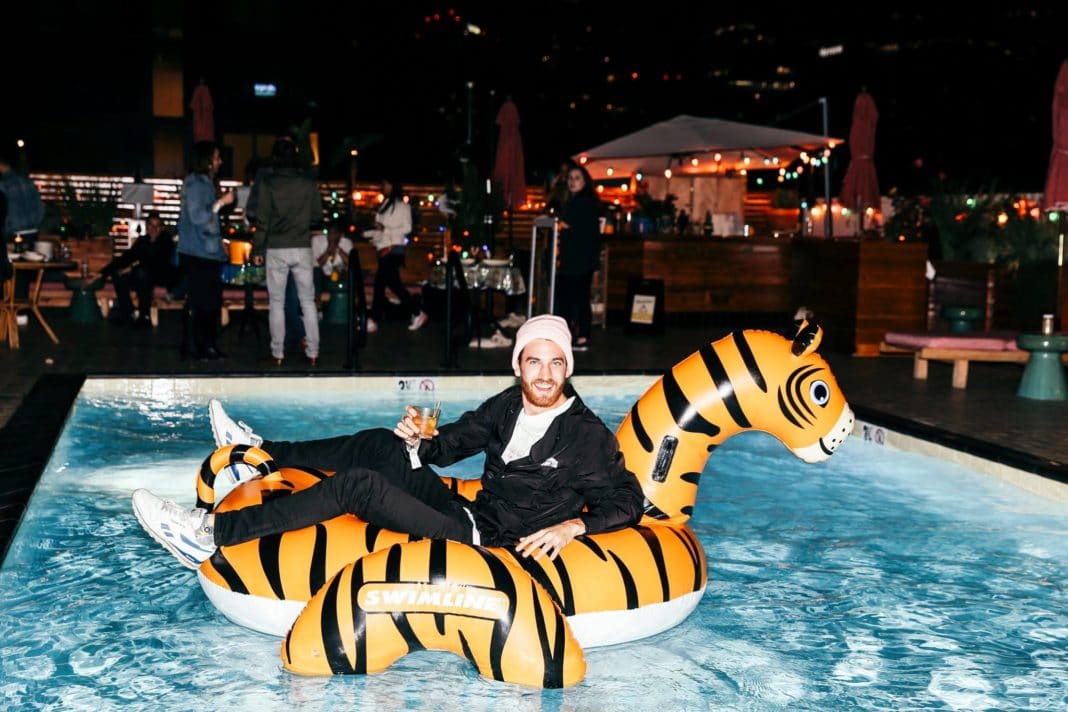 Credit: Broken Shaker
Yes, that's a rooftop pool. And yes, that's a man on an inflatable tiger. In a city obsessed with rooftop views, Broken Shaker offers nothing but the best of them. Think neon floaties, tropical-inspired drinks, weekend DJ sets, and stunning views of the night lights. The drinks offer twists on classic favorites. We highly recommend anything mixed with the mezcal or asking the bartender for their personal favorites. Why not surprise yourself?
3. The Pacific Seas
Credit: Pacific Seas
Here is yet another Tiki-themed masterpiece for your viewing (and drinking) pleasure. Come to Clifton's. You'll find The Pacific Seas hidden in a small upstairs space behind "the looking glass." As soon as you walk through the doors though, you will recognize its masterpiece.
Furthermore, not only does the decor showcase its originality (a 1930's Chris Craft wooden boat and dangling pufferfish) but its majestic drinks do too. All of them are balanced, amazing, and completely refreshing. We highly recommend ordering a Painkiller. Curious? Just take our word for it.
4. Sotto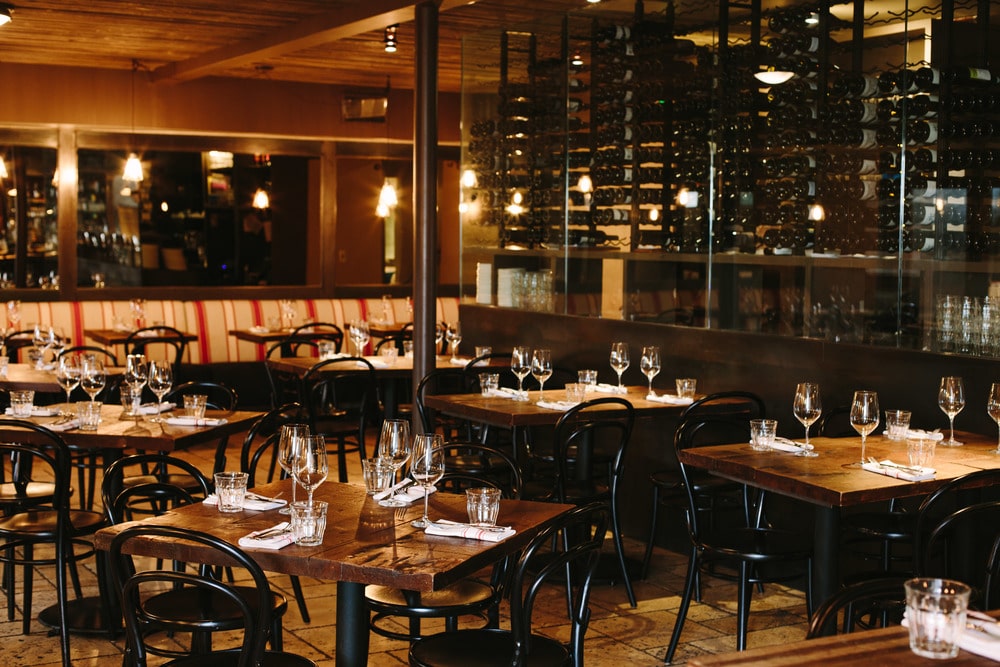 Credit: Sotto
Craving something Italian-style? We guarantee you'll have a great time at Sotto, one of the best bars in LA. You'll find at smack at the entrance of one of the city's most amazing southern Italian eateries. Go out on the town with your date or find a cozy spot to hang out with your friends. Sotto's has had one of the best bar programs in the city for years.
We have yet to find someone who hasn't loved their exclusive amaros and seasonal cocktails. While you're there, don't miss out on the house-made pizzas and pastas, all crafted from locally-sourced ingredients.
5. Frolic Room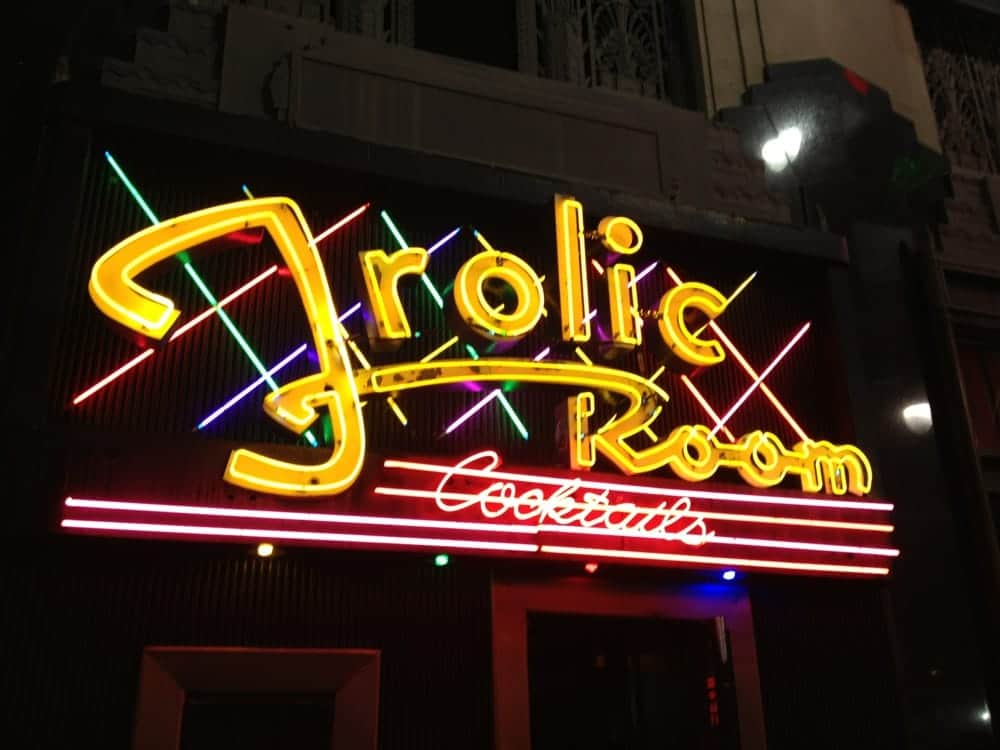 Credit: Yelp
This old-timey joint is one of the best bars in LA hands down. A Hollywood haunt, Frolic Room first opened to the public back in 1934. Here, neon Art Deco design is celebrated and vested bartenders welcome fans of cheap pours. Sit, enjoy a drink and enjoy an aura of an earlier time. We swear as you drink your whiskey (or okay gin and tonic), the crowds seem darker and more mysterious, the music more lively, and times more memorable.
6. Everson Royce Bar
Credit: Everson Royce
Check out this polished cocktail spot with a backlit bar, banquette seating, and bar bites from burgers to bao buns. Whether you're a city local or a traveler, this is the neighborhood bar you've always been searching for. Choose a seat at the long interior bar or wander outside to the bocce court on the well-lit patio.
As one of the best bars in LA, Everson Royce offers up a great selection of beer and wines. However, the focus is primarily on spirits. We highly recommend sampling some barrel-aged cocktails or a rare Japanese whiskey. If you'd rather wing it, ask the bartenders to whip up something of their choice. We guarantee you won't be disappointed.
7. Rosaline
Credit: Rosaline
Have you been seeking out the carefree, beachy California vibe? If so, be sure to check out one of the best bars in LA, Rosaline. This cute, welcoming, airy spice invites you in. Light floods the space, adding a warm touch to the birchwood and living elements throughout. Grab a seat and peruse the food and drink menu.
Delectable eats from Peruvian cuisine await you as well as delicious drinks. You'll be sure to notice a reverence of the classics. We highly recommend the vodka martini. You won't find a better one anywhere else in the city.
8. No Name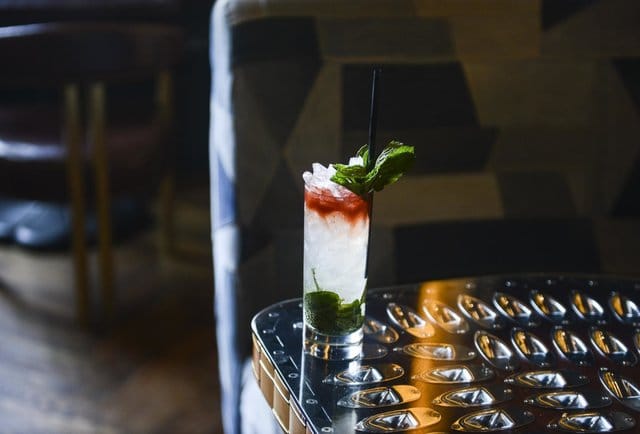 Credit: No Name
This bar is just about as exclusive as it gets. Driving around, it's easy to miss. There's no sign. Furthermore, if you drive by and miss it, you won't be able to find a website or a social media page either. If you're lucky enough to have scored an invitation, you'll find yourself in one of the best bars in LA – and no, that's not just due to its trendy Fairfax location.
No Name bar started off as a space for those in the creative industry to kick back and grab a cold one. Ever since it opened its doors, it's fostered a chill, 'house party' atmosphere. So how do people get in? Hold on. We're getting there. Originally, the only way to get in was if you knew someone in the bar's inner circle.
Since we can't all be that lucky, they've loosened their restrictions. Now, they simply require reservations, which are taken via email only. In addition to playing host to celebrities, they're famous for serving up some of the best American comfort food in the city. While fried chicken and mixed drinks might sound like an odd combination, trust us. It's amazing. Scintillating music fills the scene, a relaxing vibe flows throughout, and a no-picture policy makes it one of the most unique joints in the city.
9. Mama Shelter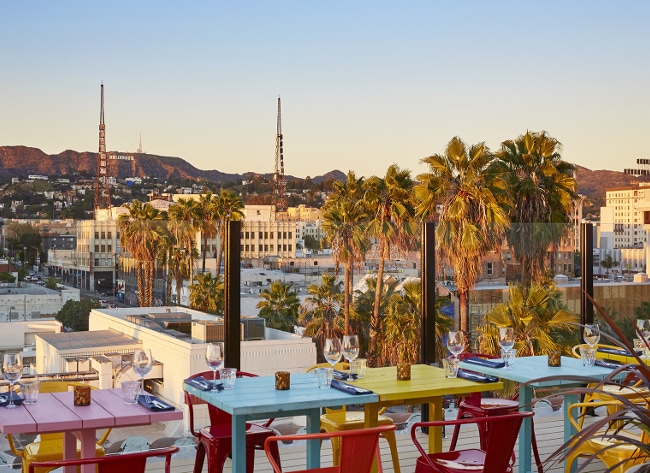 Credit: Mama Shelter
Enjoy all this radiant bar has to offer at the bohemian-chic Mama Shelter hotel. Here, you'll find cold drinks, panoramic city views, and a one of a kind vibe. Located atop one of the city's most trendy accommodations, the rooftop scene at Mama Shelter has soon become known as one of the best bars in LA.
Mama Shelter was born out of Paris, bringing a quirky sense of style to their brand. The bar is no different. Featuring million-dollar views, the first impressions are nothing short of fantastic. A splash of color highlights striped couches, pastel chairs. Mingles of palms and patio lights lend to the kitschy ambiance.
Furthermore like the decor, the drinks bring their own fun twist to the party. Bartenders sling up cold pours with a Mediterranean twist like the Basil Yoghurt Mojito and Mediterranean Mule. The rooftop is also a great spot for sharing pitchers of sangria or a couple of house cocktails. Our favorite is the Midnight Run, with premium vodka or gin, elderflower liqueur, cucumber, mint, and rose water. Last but certainly not least, you can see the Hollywood sign from the roof. There's no denying that Mama Shelter is a true A-lister.
10. Melrose Umbrella Co.
Credit: Melrose Umbrella Co.
Who doesn't love Melrose? In this lovely little bar, exposed stone and concrete walls create an open space. Mosaic tiled floors soften the warm glow of the cast-iron fireplace. Smiling bartenders refresh your glasses at the apothecary cupboard. The Melrose Umbrella Co. truly feels like something from another world.
Named after the Lord Mayor of York in the 19th century, this bar stays true to its founding. Here, you'll find a collection of old-fashioned and vintage umbrellas hanging on the walls. The cocktail list is short and sweet, offering four classics and five house specials. We love that the selection is constantly changing and innovating.
If you're wondering what to get, a long-time customer favorite is the Soda Jerk – a delightful blend of rum, aromatic bitters, almond-flavored syrup, and ginger beer. A seasonal special we've loved include the Croatian Vacation (aka vodka, French aperitif, lime, sweet, syrup, strawberries, and a cherry tomato.) Last but not least, the folks at the Melrose Umbrella Co. can also whip up a mean dirty martini.
11. Perch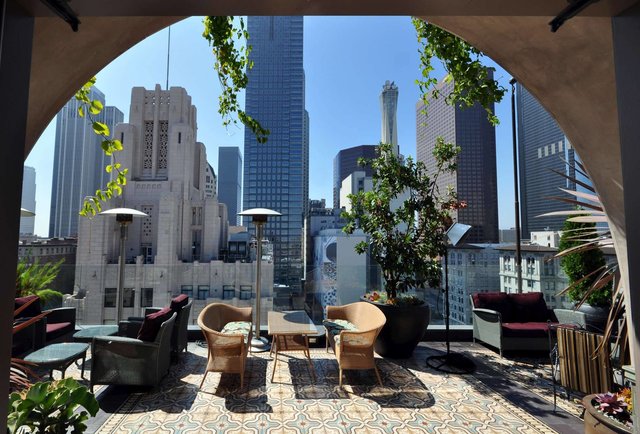 Credit: Perch
This downtown restaurant offers some of the most fantastic views of all the city. But did you know that just one floor above, the views at the bar are even better? The drinks are amazing and come at a surprisingly good price point. Try out a spicy Concombre with Greenall's gin. When, you're more in the mood for some brews, consider a Scrimshaw or IPA. Psstt. They've also got a killer late night menu with some of the best burgers we've had in a long time.
Go Explore the Best Bars In LA
What are you waiting for? Now that you know the best bars in LA, it's time to get going. There are so many places to explore and so little time to do it. After all, LA is one of the best vacation spots in the U.S. Which of the bars on our list do you want to visit most? Let us know in the comment section below.
Related Article: Best Bars In San Francisco: Hot Spots and Holes In the Wall