Satisfy your cravings with the best fast food burger in America.
As one of America's favorite foods, burgers remain a popular item to sample at different locations around the country. Those who love the burger will often attempt to discover where the most delicious burgers can be found. With such cheap prices, fast food chains entice many to taste their menu items. This means that lots of people have tried various restaurants in search of the number one burger. Read our list of the 10 best fast food burgers around the nation to locate your next go-to dining spot.
1. In-N-Out Double-Double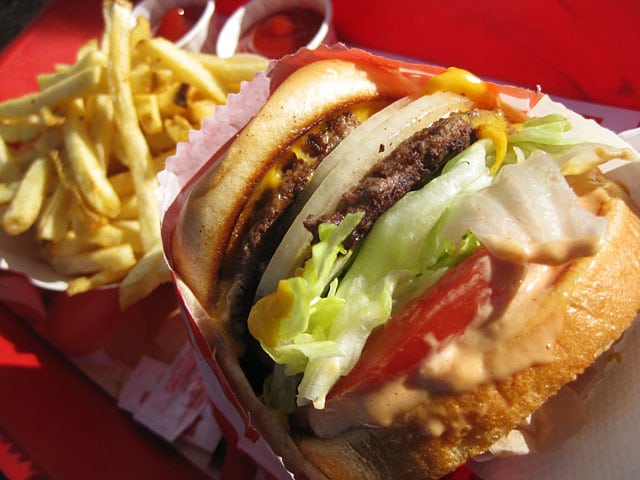 Credit: Jason Lam
With two, 100% Beef patties and two slices of cheese, the burger offers double the flavor in every bite. The toasted buns, made of slow-rising, sponge dough, make a soft base for the rest of the burger. Onions, lettuce, tomato, and the In-N-Out special sauce comprise the burger's delicious toppings. Choose to go Animal Style, and have your patties cooked in mustard and topped with caramelized onions and extra pickles.
As one of the best fast food burgers, the Double-Double provides great tastes for a decently low price. Costing around $3.45, the burger remains pretty inexpensive for the quality of the food you'll be receiving.
Unfortunately for those on the East Coast, In-N-Out only has chains out west. If you ever take a trip to California, be sure to try one of the restaurant's burgers. With a huge following from residents of the Sunshine State, it's clear that In-N-Out makes some of the best burgers.
2. Five Guys' Little Bacon Cheeseburger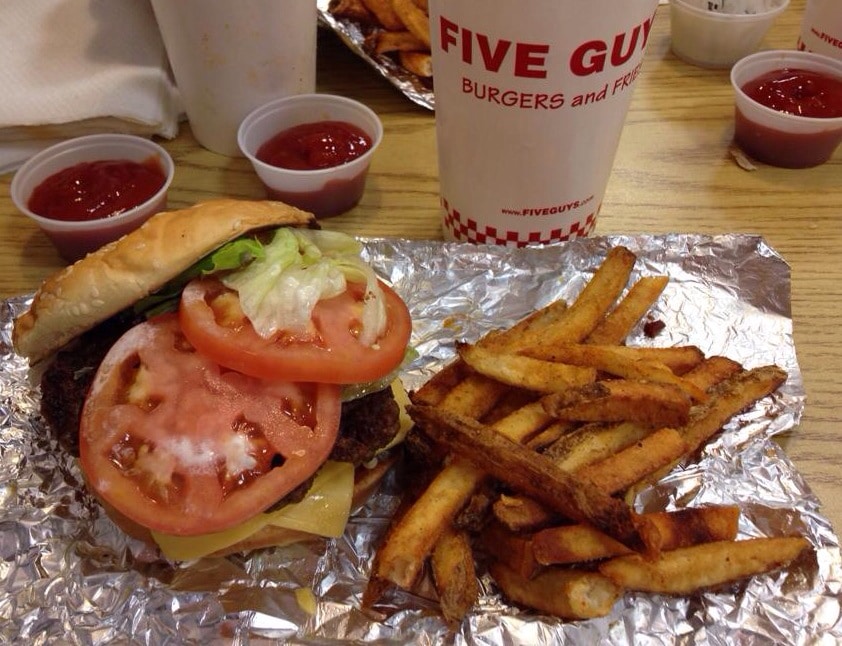 Credit: Distrito Medico Monterrey
Often compared to In-N-Out, this originally East Coast chain offers equivalent quality in the tastes of their burgers. Fans of Five Guys laud the restaurant for the variety of choices when picking out a burger. The typical manner to order the burger is to have it "All the Way." This means getting mayonnaise, ketchup, mustard, tomato, lettuce, pickles, grilled onions and mushrooms in addition to the meat.
When purchasing the Little Bacon Cheeseburger, you'll be receiving one patty, hence the "little," with bacon and cheese. You can also decide between extra toppings, such as jalapeños, relish, barbecue sauce, green peppers, and hot sauce.
Though the Little Bacon Cheeseburger has a higher price at $4.69, you get what you pay for. The burgers tend to be larger and taste fresher in comparison to other chains. Accordingly, many consider the Five Guys' cheeseburger to be the best fast food burger in the U.S.
3. McDonald's Big Mac
Credit: Evan-Amos
Found in pretty much every city in America, McDonald's remains one of the top locations to buy a burger. Arguably the fast food chain's most famous burger, the Big Mac still remains a favorite for many. With two beef patties placed between a sesame seed bun, the burger offers a huge bite for a small price. Lettuce, onions, pickles, American cheese and the special Big Mac sauce provide the burger's signature flavors.
McDonald's super low prices make some question the quality of the food they're receiving. At just $3.99, you shouldn't expect to receive luxury-standard burgers. However, considering the cheap cost of the burger, the Big Mac offers a great deal for such a delicious taste. Additionally, McDonald's also posts the ingredients of their menu items online, so you know exactly what you're eating. Despite tons of other choices, the Big Mac continues to be the best fast food burger for lots of Americans.
4. Fuddruckers Bourbon Burger
Credit: Fuddruckers
The Fuddruckers Bourbon Burger might be the best fast food burger out there. As an alternative to the traditional lettuce, tomato, and pickle toppings, this burger offers something new and tasty to try. The unique flavor comes from a special sweet Bourbon sauce that covers the patty. This burger comes with smoke house bacon, caramelized onions, which are also cooked in Bourbon, and bleu cheese crumbles.
When ordering the burger, you can choose from a ¼ pound, 1/3 pound, or ½ pound patty size. With these options, you won't fear having a small amount of meat like at other fast food restaurants.
As a specialty choice, the Fuddruckers Bourbon Burger offers almost gourmet value at a much smaller price. While the price starts at $7, making it more costly than other food chains, you'll notice the difference in quality. Those traditionalists who prefer the typical style of burger may want to avoid this choice. However, if you like to experiment with new tastes, consider trying the Bourbon Burger.
5. Shake Shack 'Shroom Burger
Credit: ardenstreet
Those who enjoy mushrooms on their burgers will love the Shake Shack 'Shroom Burger. A crisp-fried Portobello mushroom, stuffed with two muenster and cheddar cheese, makes a welcome addition to the typical beef patty. Along with the mushroom, the burger also has the usual toppings of lettuce and tomato, plus the special Shack Sauce.
For any vegetarians wanting to join the burger party, this remains a great option. The burger already comes without a patty, so you don't have to worry about any custom orders. Meat-lovers should be sure to ask for the addition of the beef. If you get the burger without the meat, you're looking at a price of $6.99. As a middle-ground in costs, the Shake Shack provides a pretty good deal with great quality food.
6. Burger King Bacon and Cheese Whopper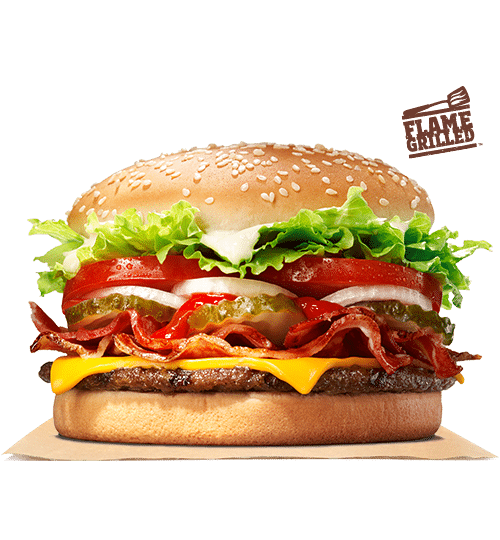 Credit: Burger King
Often considered a rival to McDonald's, Burger King serves up its own delicious rendition of the burger. A flame-grilled, ¼ pound beef patty acts as the foundation for the Bacon and Cheese whopper. Smoked bacon sliced in thick cuts, American cheese, and white onions give the sandwich tons of flavor and crunch. The common toppings of lettuce, tomato, ketchup, mayonnaise, and pickles also combine to produce yummy taste in every mouthful. A sesame seed bun additionally creates a nice alternative to plainer burger bread choices.
When purchasing the Bacon and Cheese Whopper meal, you'll have to pay about $7.49. This might seem high if you compare the costs to a location like McDonald's. At the same time, many conclude that Burger King's meat has much better flavor than similar fast food joints. Those who remain loyal to Burger King have deduced that the location makes the best fast food burger.
7. Smashburger Truffle Mushroom Swiss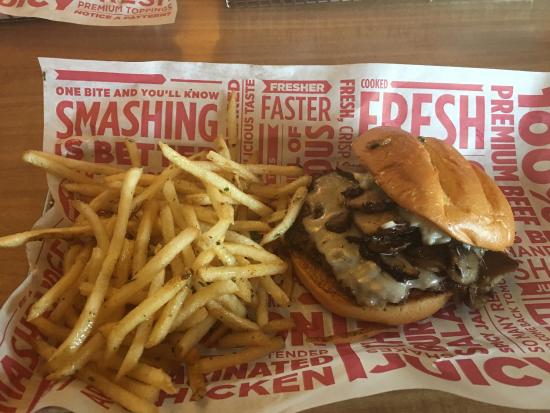 Credit: ​Trip Advisor
With Smashburger's Truffle Mushroom Swiss burger, customers experience the taste of extravagance at a reasonable price. As an item usually served in fancy dining locations, truffle provides an unusually luxurious flavor to the burger. With truffle in the mayonnaise, sautéed crimini mushrooms, and swiss cheese, the burger's toppings create a rich eating experience. The restaurant's Smashburger patty acts as the juicy centerpiece underneath so many enticing flavors. Sandwiched by a soft egg bun, the item's unique flavor combinations make it one of the best fast food burgers.
The Big version of the Truffle Mushroom Swiss burger comes with a $7.59 price tag. This makes it one of the most expensive burgers on this list. However, the quality of the item more than matches its cost. Since truffles tend to be pricey, you're getting to experience something rare at a low expense.
8. Steak 'N Shake Double 'N Cheese Steakburger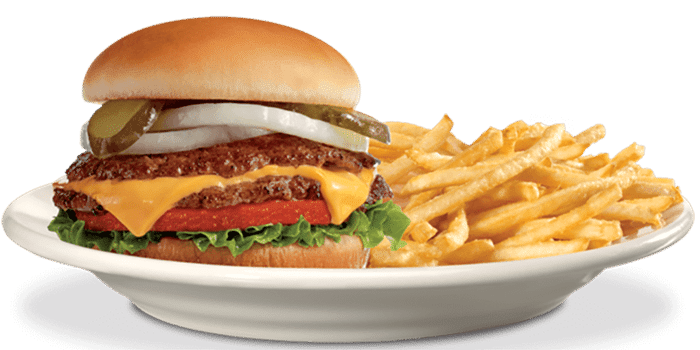 Credit: ​Steak 'N Shake
Burger-lovers who value the importance of good beef will appreciate the Steak 'N Shake Double 'N Cheese Steakburger. With two patties, the Double Steakburger offers tons of meat in every bite. The double amount of cheese give an additional dose of flavor. Options for toppings including typical choices, like lettuce, tomato, and pickles. You could try something different and add thousand island dressing, or Frisco Sauce, to produce a zestier flavor. The restaurant's diner aesthetic may also appeal to those who love the atmospheres of traditional burger joints.
A low cost of $3.99 for a burger and fries makes this option a steal compared to other choices. However, you might be sacrificing quality when deciding to eat for a cheap price. Overall, the great taste of this Steak 'N Shake item make it a contender as the best fast food burger.
9. Whataburger Avocado Bacon Burger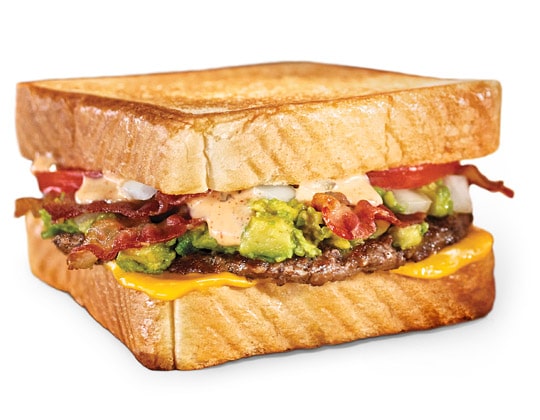 Credit: Whataburger
One of the lesser-known food chains, Whataburger has made a name as a creator of the best fast food burger. With the Avocado Bacon Burger, you're getting a unique take on an American classic. Using Texas Toast rather than a bun, the burger already appears different from the traditional burger. However, the toast gives a nice crunchy texture as you bite into the sandwich.
This burger contains a pure beef patty that is topped with bacon, onions, cheese, and a pepper sauce. The addition of avocado adds a creamy texture and smooth flavor, complementing the crispier bacon. Though it may appear like a BLT, the Avocado Bacon represents a top choice for the best fast food burger.
For a burger meal, Whataburger sets its price at around $7, with the addition of avocado. While this might seem pricey, the restaurant does have great quality food that you can rely on.
10. Wendy's Dave's Double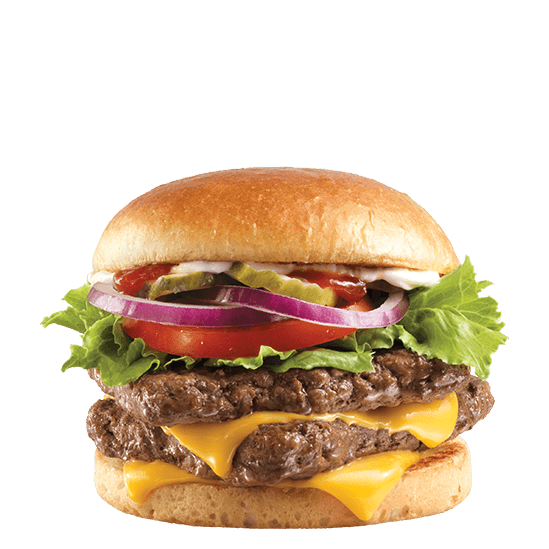 Credit: Wendy's
Maybe an underrated burger location, Wendy's has its own unique and flavorful take on the American food. The Dave's Double offers two, fresh beef patties instead of the usual single piece. If you choose all the toppings, you'll get lettuce, tomato, pickles, onions, cheese, ketchup, and mayonnaise. Providing the top and bottom for the burger, a warm toasted bun offers a soft handle for consuming your meal.
The combo meal, which includes fries and a drink, will cost about $7.19 for the Dave's Double. Even though locations like McDonald's offer lower prices, Wendy's promises higher quality. Since their patties remain fresh, not frozen, you can be assured you're eating something juicy and not dried-out.
Try the best fast food burgers in America.
When asked about their favorite foods, many people often claim the burger as their number one item to eat. As quintessentially American fare, the burger can be found in various restaurants around the nation. Though gourmet locations now offer fancier renditions, fast food chains remain the most popular places to buy a burger. Hopefully, by reading our list, you learned where your preferred version of the American food might be found. See for yourself and try to decide which location offers the best fast food burger in the U.S.
Related Article: Best Restaurants in New Orleans: A Foodie's Guide