Head to the best bars in Portland during your next weekend getaway.
The city of Portland has a unique atmosphere that attracts countless visitors to its location every day. Portland maintains a cool, causal vibe, making it appealing to those who like to spend time with friends while drinking. This site has some of the top bars around the U.S., from traditional brew-pubs to contemporary lounges. Whether you appreciate a cozy environment or like to taste new concoctions, Portland has something to offer every traveler. Check out our list below of the ten best bars in Portland to visit during your bar-hopping adventure.
1. Bit House Saloon
Credit: Facebook / Bit House Saloon
When you come to Portland, you might be looking for an exciting place to eat and drink with friends. Well, the Bit House Saloon remains an ideal place to engage in rowdy activity and have a blast while drinking. As one of the best bars in Portland, Bit House Saloon maintains enormous popularity amongst both tourists and residents alike. The atmosphere in this bar stands out from other casual locations, as the energy stays high and exhilarating. You won't want to skip out on visiting this bar when you travel to Portland.
On the drinks menu at Bit House Saloon, guests will get to choose from a huge number of unique cocktails. Signature drinks, such as the Dirty Bird, which includes tequila and Peach Pepper Jelly, will make your mouth water. Be sure to try one of the bar's whiskeys, as the location contains a vast variety of the spirit. The bar also has a recently revamped food menu, so you can eat delicious bites as you sip on drinks.
2. Belmont Station
Credit: Facebook / Belmont Station
Any traveler with a taste for beer should stop by Belmont Station, one of the best bars in Portland. At this location, you'll find an extensive number of brews to try. Inside, you can pick from over 1,500 beers, some coming from destinations around the world. Portland residents choose to visit Belmont Station for its beer selection, as they can't find the same brews anywhere else. Whether you like dark, hoppy, or wheat beers, you'll definitely discover a brew that appeals to your taste buds here.
Belmont Station additionally contains a casual outdoors extension for sitting and drinking brews in the sun. The all-weather biergarten provides seating on wooden benches, typical of bars in Germany. When you stop by this bar, you'll want to try something new, instead of an old favorite. Some of the beers on the menu include the Firestone Walker Lager, a Helles Lager, and the Stormbreaker, a Kölsch. You can also taste ciders and meads from the bar's cask if you're not interested in plain beer.
3. The Driftwood Room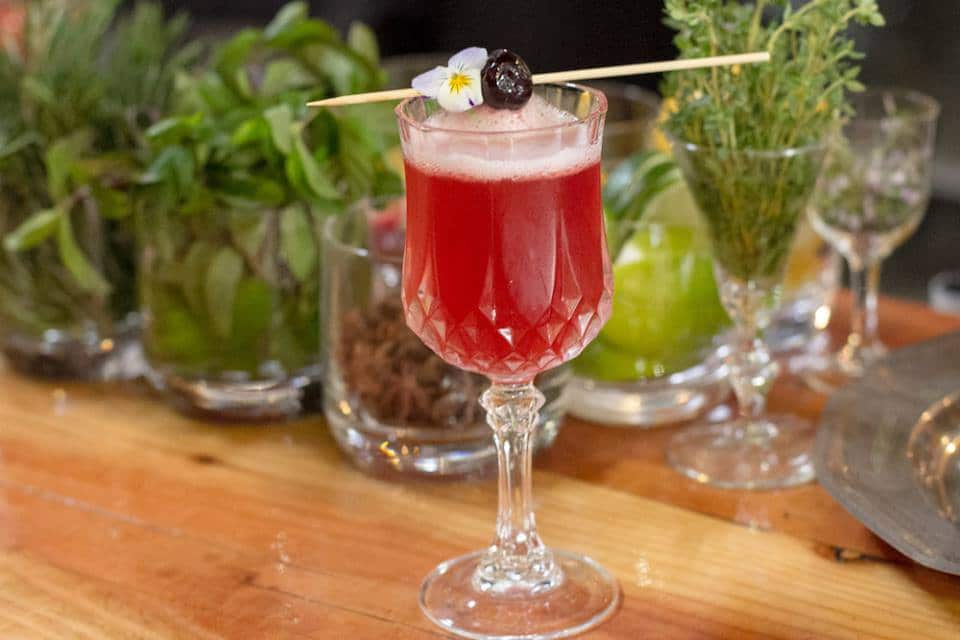 Credit: Facebook / The Driftwood Room
Located in the lobby of Hotel deLuxe, The Driftwood Room feels like a cozy getaway into the past. Since its opening in the 1950's, the bar has maintained most of its original décor, giving it an old-fashioned atmosphere. If you come to this bar, you'll get to cozy up in a corner and enjoy a beverage in peace. Candles that light up the space and deep wooden surfaces create a warm and heady environment for bar-goers. Travelers looking to relax while enjoying a cocktail should come here, as it's one of the best bars in Portland.
You can find people of all ages congregated in The Driftwood Room, each enjoying fancy cocktails and talking quietly. The old-world feel to the bar remains the main draw for visitors, though the drinks served here taste delicious. Tourists may want to sip on a traditional martini, the drink matching the sophisticated vibe that exists at this bar. Those with fancier tastes can try a glass of Champagne, the bubbly concoction providing a refreshing and glamorous taste.
4. Hale Pele
Credit: Facebook / Hale Pele
This bar remains a favorite amongst Portland residents. With its Hawaiian vibe and generally fun atmosphere, Hale Pele represents one of the best bars in Portland. The location's tiki bar construction causes it to stand out from other traditional spots. A thatched-roof and glowing lights make Hale Pele a wonder amidst the typical bars and pubs found throughout the area. As you step inside the space, you'll imagine that you've been transported to an island destination.
The interior of Hale Pele contains bright and colorful decorations, such as Polynesian masks, bamboo features, and neon lights. On the menu, tourists will find equally vibrant cocktails available for their choosing. Drinks served at Hale Pele maintain a tropical look and taste, with choices including Zombie Punch and the Volcano Bowl. If you don't like rum, you might run into a few problems, as most of the drinks feature this spirit.
5. La Moule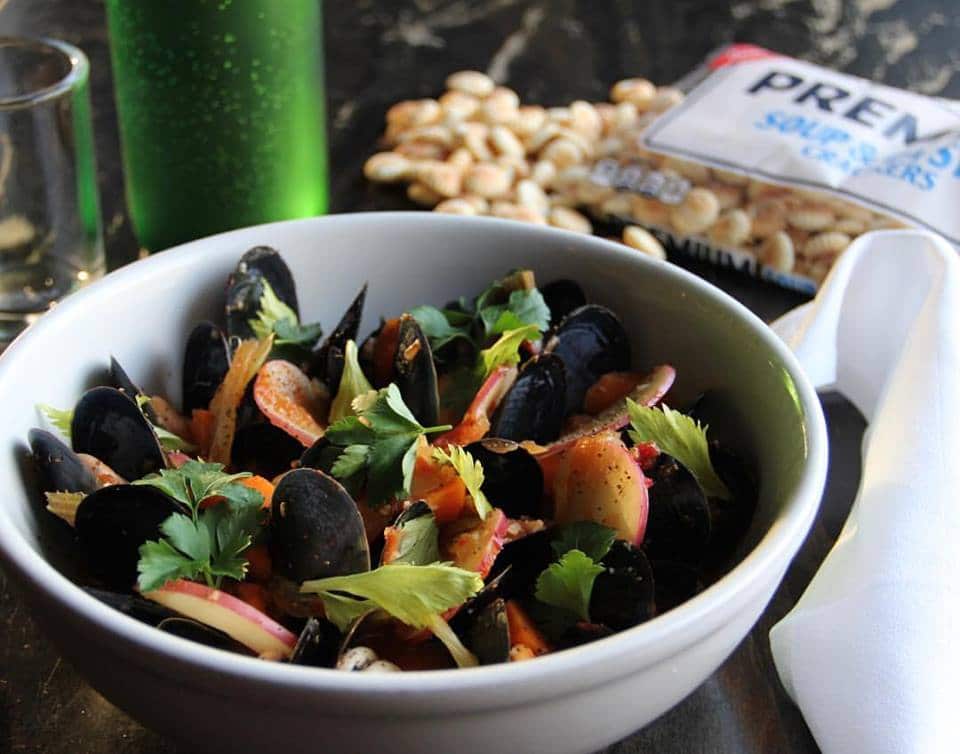 Credit: Facebook / La Moule
When you enter La Moule, you'll feel as if you've traveled to Europe in just a few steps. This location, one of the best bars in Portland, takes inspiration from French cocktails and dishes. Décor like leather seating and patterned walls produce an elegant and exclusive vibe. Spend a few hours here, and you might come out wanting to book a trip to Paris.
La Moule combines elements of French cocktail bars and bistros to create truly unique dining and drinking experiences. While the bar may sound like it's destined to be expensive, the prices here remain fairly reasonable. You can order a variety of tasty drinks without emptying your wallet, like the Gin Rickey, which includes gin and lime. If you want something sweet, try the Parisian Float, as it includes Krogstad aquavit, meringue, and root beer. After working up an appetite, order some delicious foods, such as the Flat Iron Steak Frites, or Puttanesca with mussels. As you drink, you'll get to try out some French-inspired cuisine that tastes like it's come straight from Europe.
6. Expatriate
Credit: Facebook / Expatriate
Any travelers with luxurious tastes may want to plan a visit to the Expatriate. As one of the best bars in Portland, this location maintains a reputation for seeming glamorous and exclusive. When you visit the Expatriate, the cocktails remain an enticing perk in comparison to the delicious foods served here. If you're looking for a bar that offers both refreshing drinks and delectable bites, make Expatriate your number one pick.
The menu at Expatriate includes a host of fascinating and delicious dishes that utilize fresh, savory ingredients. Order a Zombie Roll, which utilizes pastrami, sauerkraut, and emmental cheese, and enjoy bites of bold flavor. The Hot & Sour Spiced Indian Fries also remain a favorite amongst frequenters to the bar, combining salt and spice. However, don't let the menu fool you into thinking that you won't find reliably delicious cocktails here. The drinks menu includes a number of unique cocktails, like the White Puma, which uses gin, cocchi americano and mandarine napoléon.
7. The Sandy Hut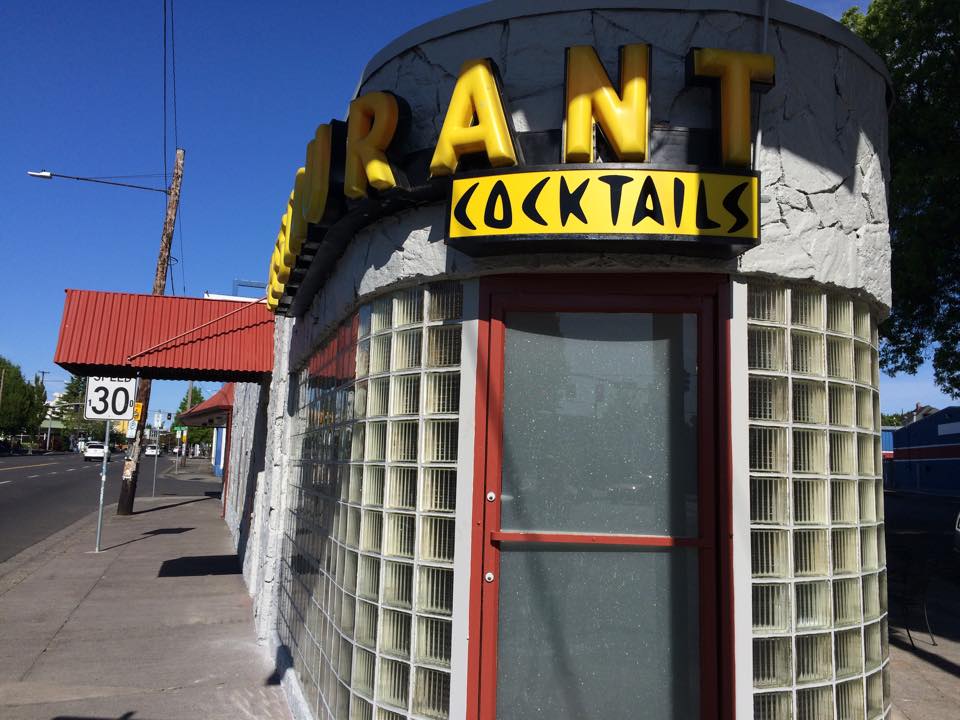 Credit: Facebook / The Sandy Hut
If you're drawn to more casual bars, The Sandy Hut might pique your interests. This bar, originally built in the 1920's, recently received a much-needed renovation. While the bar's exterior no longer has the same appearance, the inside has maintained most of the original bar's atmosphere. The décor here includes furniture reminiscent of the 1970's, making it feel exactly like a stereotypical dive bar. Those looking to spend a few hours in a no-frills bar, drinking simple, yet delicious drinks, should visit this location.
The Sandy Hut, one of the best bars in Portland, serves inexpensive beverages and uncomplicated dishes. Sip on an Old Fashioned Iced Tea, made from bourbon, peach tea, and bitters, while biting into a tasty burger. The Fat Man sandwich remains a favorite with Portland residents, combining ham, bacon, egg, beef, cheddar, and "million-island" sauce. Travelers will love enjoying their meals as they listen to golden oldies playing on the bar's jukebox.
8. Bar Casa Vale
Credit: Facebook / Bar Casa Vale
Another bar on this list with a European flair, Bar Casa Vale gets its inspiration from the flavors of Spain. Many tourists come to this spot, one of the best bars in Portland, to drink cocktails and share tapas. You'll find a long list of wines on the menu here, with sangria a main feature as well. Beyond the great drinks, the food served at Bar Casa Vale will taste delicious when paired with your beverage.
Travelers touring Portland in large groups will enjoy sharing plates of tasty tapas at Bar Casa Vale. Order a seafood plate, complete with cured, smoked, and raw seafood. Other savory dishes include beef tartare, salt cod fritters, sourdough flatbread, celery salad, and more. The dining spot even has Happy Hour Specials, offering cheaper prices on many of their regular dishes. Of course, travelers who love wine should definitely select a glass of red, white, rose, or even orange wine. Try sparkling sangria for a bubbly and sweet after-dinner drink.
9. Teardrop Lounge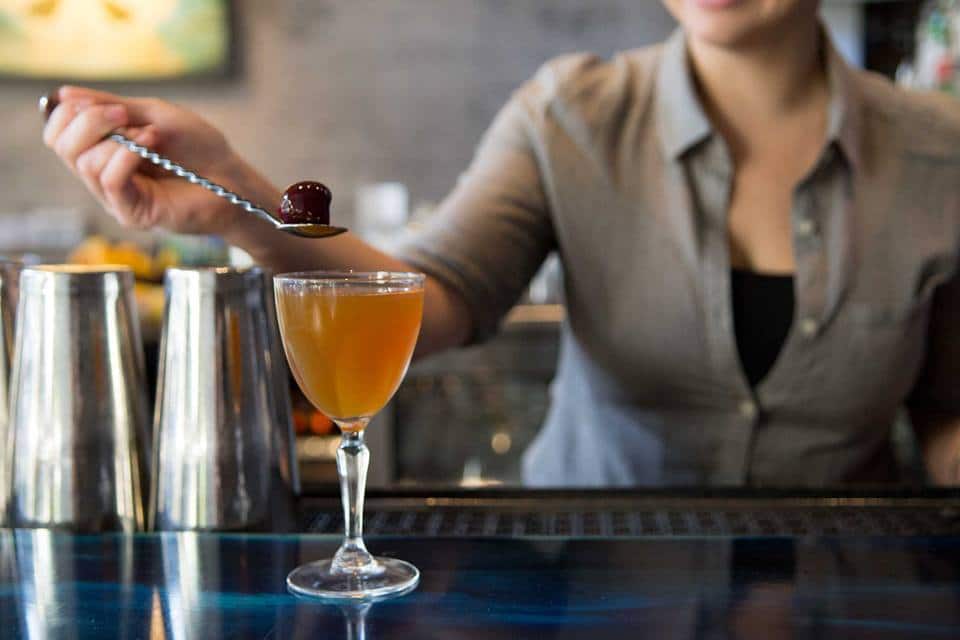 Credit: Facebook / Teardrop Lounge
Interested in visiting a tried-and-true Portland bar? The Teardrop Lounge has remained one of the best bars in Portland since its opening over ten years ago. Found in the center of the city's Pearl District, this bar once inspired countless other bars with its cocktail experimentation. Today, the bar continues to create unique drinks that have tourists lining up to try them. When you sit at the curved island bar here, you'll get to be involved in some serious cocktail-making conversation. Make a trip to this bar if you're looking for fun things to do in Portland.
The extensive menu found at Teardrop Lounge contains traditional drink recipes from the bar's inception, as well as newer beverages. Order a Misty Step, and you'll feel refreshed by the flavors of vodka, guava, Cappelletti, lime, and rose water. Or, try the classic Sky Rocket, which combines whiskey, Swedish punsch, lemon, vermouth, and whiskey bitters.
10. Rum Club
Credit: Facebook / Rum Club
This bar represents a top choice among bartenders, meaning that Portland residents know it's a good spot for tasty drinks. Rum Club serves a variety of cocktails that utilize rum – hence the bar's spirit-based name. Accordingly, steer clear of this location if the thought of drinking rum doesn't appeal to you. However, even if you don't normally drink rum, you should set aside your usual tastes and try a drink here. The Rum Club remains one of the best bars in Portland, for good reason.
The Rum Club Daquiri represents a top choice of drink at the Rum Club, utilizing rum, lime, maraschino, and absinthe. For another dessert-like drink, try the Cruel Summer, which combines banana, cinnamon, and two types of rum. Other concoctions on the Rum Club's menu include drinks that utilize whiskey, gin, and tequila. Those less-inclined to drink rum will thus get to taste something they would normally favor.
Visit the best bars in Portland and find your new favorite drink.
One of the most exciting things to do in a city involves visiting the area's various bars. When you come to Portland, you'll find a huge variety of bars and restaurants to explore with friends and family. If you enjoy the comforting tastes of your favorite beverages, you'll find a traditional bar to fit your needs. Those who like to experiment and test their palates can also discover contemporary and gourmet bars that serve unique drinks. Whatever their tastes, travelers will be sure to locate a bar that excites them. We hope our list of the best bars in Portland has helped you decide where to visit in the city.
Related Article: Best Bars In San Francisco: Hot Spots and Holes In the Wall