The windy city is chalk full of wonders. Welcome to Chicago. Steel skyscrapers piece through the clouds, festivals fill the grass on warm spring evenings, and a unique low-key culture pervades the streets. The culinary scene here is booming and needless to say, so is the nightlife. We're here to take you on a whirlwind trip to some of the best bars in Chicago. Are you ready?
Think quirky micro-breweries, lively sports bars, and chic rooftop escapes. Lucky for you, we've done some searching and come back with the best bars in Chicago for every type of drink. What do you fancy? This is one of the best cities to visit in the country. If you come during the shoulder season, you can score some amazing hotel deals.
Drink Your Way Through Chicago
No one can argue that Hubbard Street gets crazy on the weekends. For anyone who's ever been there past 9 PM, we bet you had quite the wild ride. Some of the most popular spots in the area include El Hefe, Howl At the Moon, and Three Dots and A Dash. This part of town near River North attracts all types of folks. From trendy young professionals to hipster artists, everyone flocks to celebrate their coming of age in Chicago's trendy nightlife district.
This drinking paradise runs the gamut from hole in the wall dives to swanky new cocktail scenes. No matter where you find yourself, we guarantee there is a bartender just around the corner waiting to pour you a drink. Consider this your ultimate guide to Chicago's ever-changing bar scene. There are also a few spots in here to find great food.
Here Are the Best Bars In Chicago
The Chicago drink scene is constantly evolving. In a city this size, figuring out which bars can go to can be quite the dilemma. Add that one indecisive friend in the mix and you'll be cursing Yelp in no time. So put your phone down, frustrations aside, and explore a bit. We know that choosing where to go is hard, especially when it's your first time in an unfamiliar city. But isn't wandering part of the adventure?
These days, the local bar scene thrives with newfound potential, fueled by a team of expert mixologists and entrepreneurs eager to try their hand at a new craft. Whether you're seeking out a private cocktail den, rowdy sports bar, or sleek romantic rooftop bar, the city has it all. Our list of the best bars in Chicago covers it all.
1. Revolution Brewing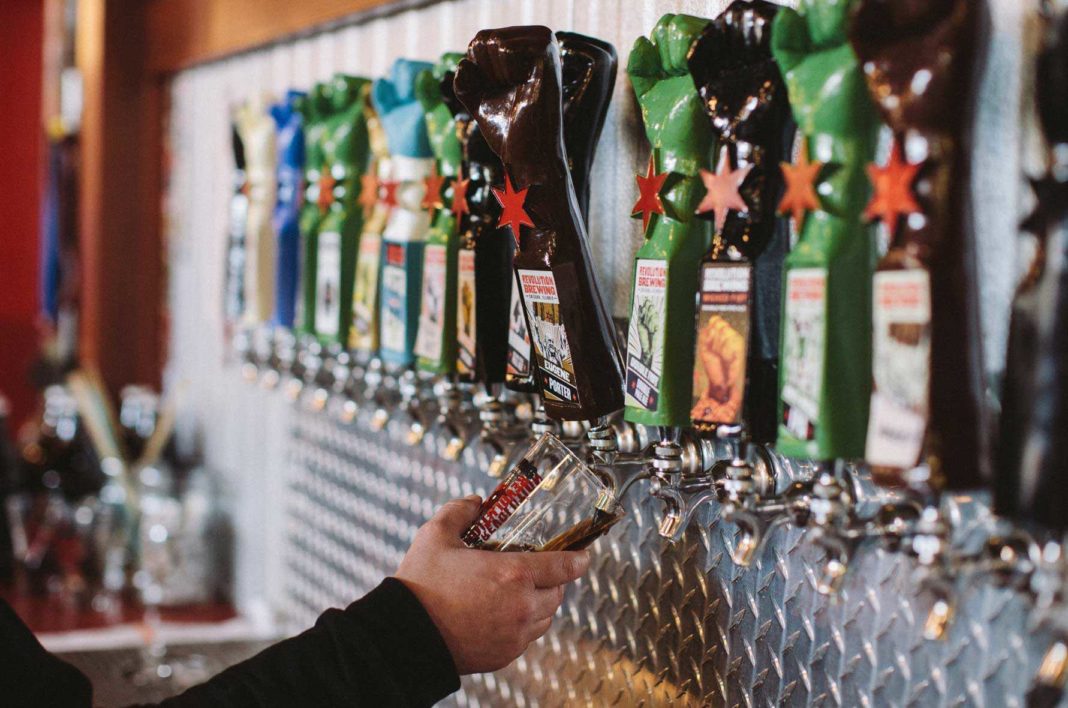 Credit: Revolution Brewing
Welcome to Illinois' largest independent craft brewery. This bar is always bustling with locals and tourists. Diners can get a great view of the brewery in the back while the front slings up frosty brews to eager beer-lovers.
Known for their craft brews, Revolution has nearly everything you could dream of available on tap. Among the most popular are the Fist City Pale Ale, Bottom Up Belgian-style Ale, and Eugene Porter and their flagship beer, the Anti-Hero. Make sure to ask about their rotating seasonal selection as well.
2. Three Dots and A Dash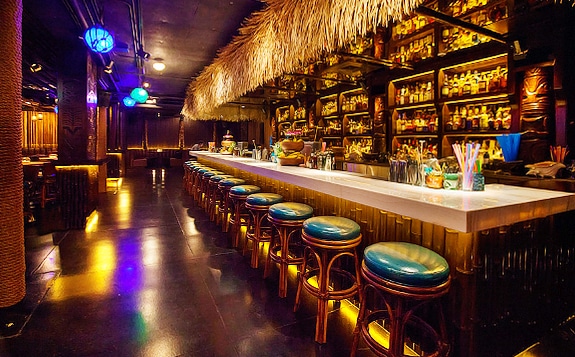 Credit: Three Dots and A Dash
There's a reason we included Three Dots and A Dash on our list of the best bars in Chicago. Hidden just below the streets of River North, is Chicago's premier tiki bar and craft cocktail destination. This secret cocktail headed by cocktail expert Kevin Beary, was recently named one of the World's 50 Best Bars by Drinks International.
Their staff have mastered the art of creating mouth-watering cocktails using only the most exotic fruits, spices, and spirits. Throw your cares away and come let Three Dots and A Dash take you away on a tropical taste excursion.
3. Emporium Wicker Park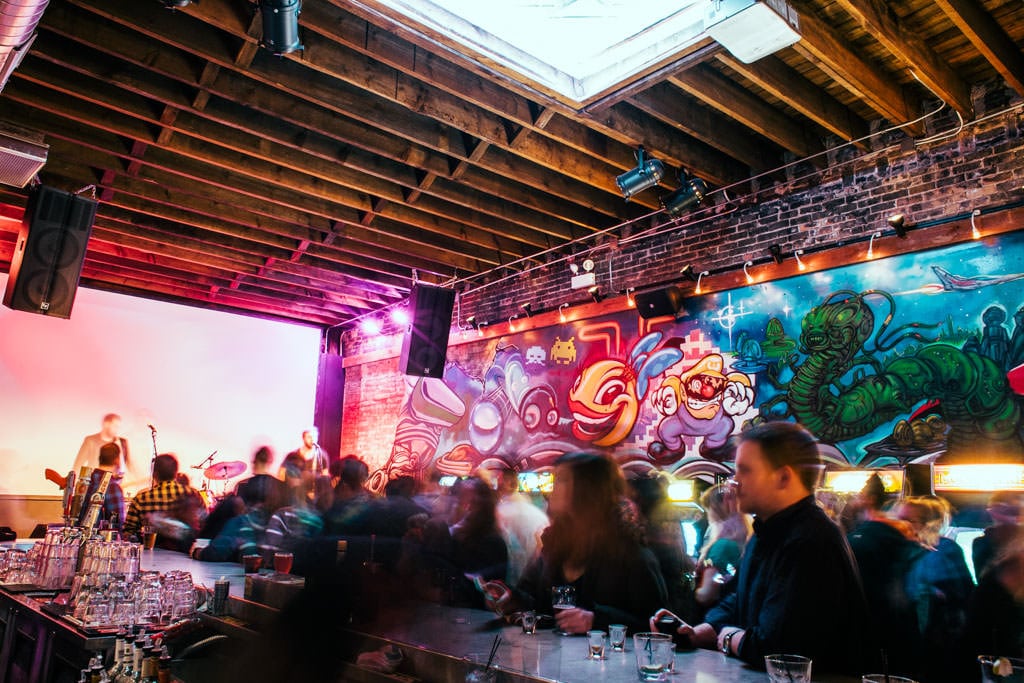 Credit: Emporium Wicker Park
Decades of games meet dozens of beers and sixty plus whiskeys in a tin-ceiling classic tavern. At Emporium Wicker Park, you'll find grilled cheese at its finest, a great staff, and killer drinks. As Chicago's original arcade bar and live events venue, activities include pool tables, pinball, foosball, air hockey, and more. The bar is passionately curated with only the best craft beer and innovative cocktails.
Wander in nearly any night of the week and you'll find live music or a DJ playing. Plus, their diverse programming includes concerts, farmer's markets, and birthday events. Emporium works directly with some of the city's best artists, movers, and shakers to bring guests a truly memorable experience. After all, it's one of the best bars in Chicago. There's always something going on at one of their rotating popups.
4. The J. Parker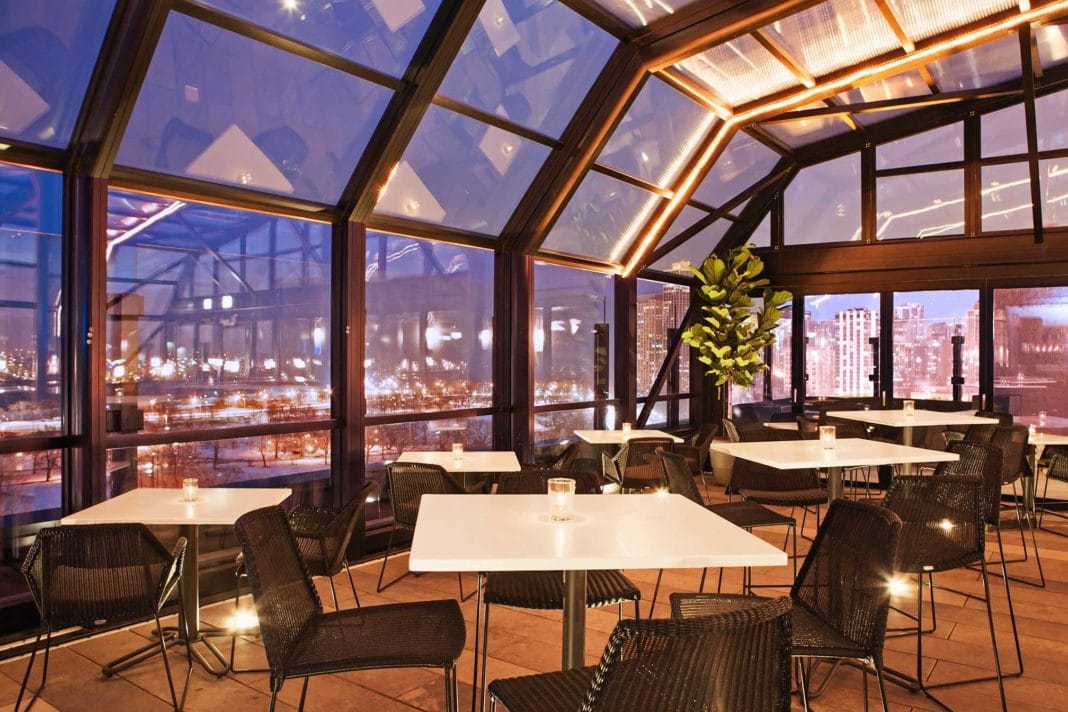 Credit: The J. Parker
You can find this stunning rooftop bar sitting just above the Hotel Lincoln. As you sip on your new favorite cocktail, enjoy unobstructed water views below and unparalleled views of the city skyline. The lounge offers 140 outside seats and 55 seats inside. This is a perfect place for a romantic date or for private, special events. The J. Parker is one of the best bars in Chicago.
5. London House Rooftop Bar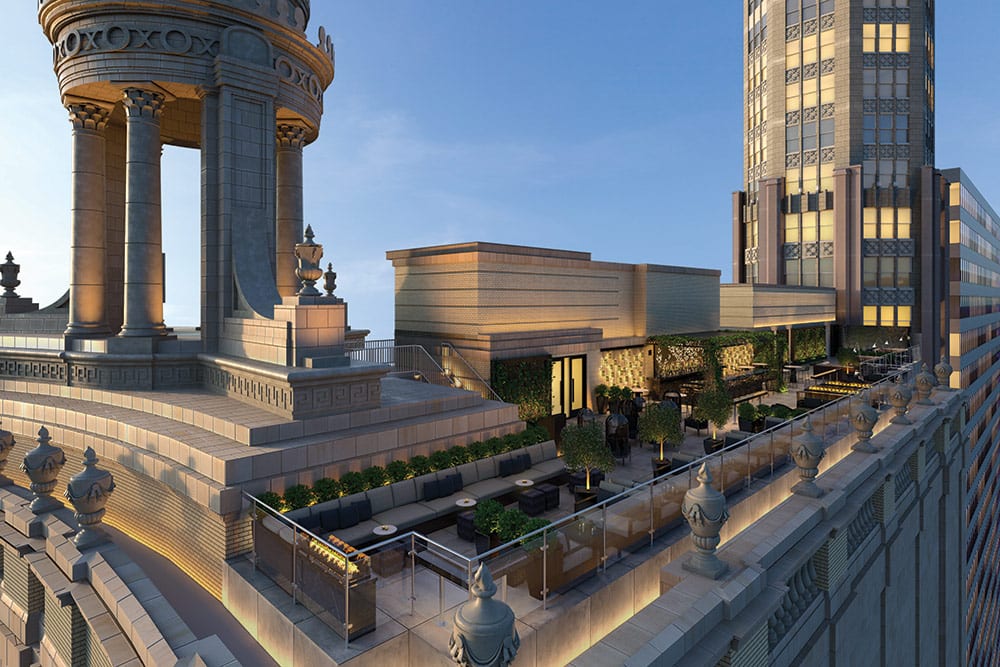 Credit: Yelp
It all starts here. In a city of such spectacular views, all the bars are fighting to offer the best. We're pretty sure we've found it; London House is one of the best bars in Chicago. Discover a truly one of a kind experience here at LH. What sets it apart? Whether you dine inside or outside, the views are spectacular.
Order from a menu of re-imagined American cuisine and the best cocktails for miles around. The entire space encourages an atmosphere of bustling social life, optimism, and a place to exchange ideas. Side note: Should you find yourself in the area in the afternoon, it's also a great place to get some tea.
6. Cindy's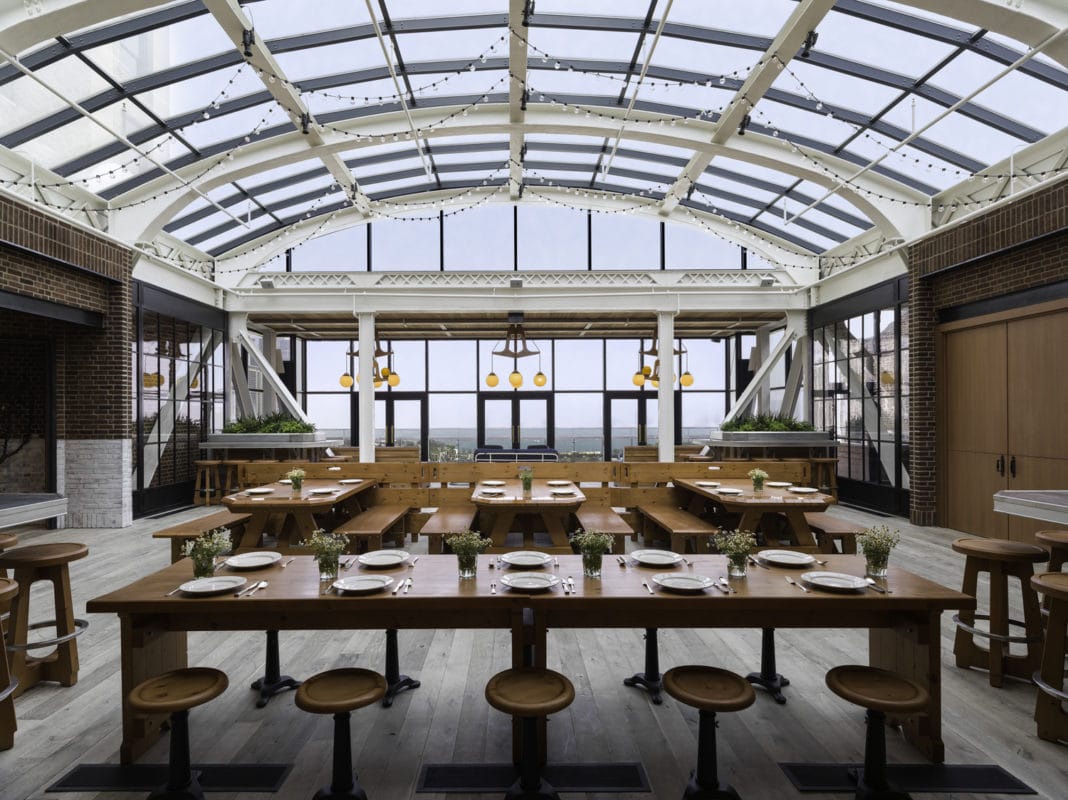 Credit: Cindy's
Enjoy the best rooftop eats and drinks that Chicago has to offer at Cindy's. This jewel in the crown of the Chicago Athletic Association Hotel offers an open-air terrace with panoramic views. The gorgeous Millennium Park, the Art Institute, and Lake Michigan are just beyond.
The breezy, cheerful atmosphere provides a stark contrast to the history of the Association as a men's-only club. With a wonderful seasonal freshness offered in both food and drinks, this Chicago restaurant serves up some of the best cuisine while donning a relaxed ambiance with prime lake views.
The Executive Chef Christian Ragano joined up with the talented Sterling Knight to bring classic comfort style food, dynamic wines, and award-winning cocktails to eager guests. Go enjoy drinks in the sky in the city. This is one of the best bars in Chicago.
7. The Whistler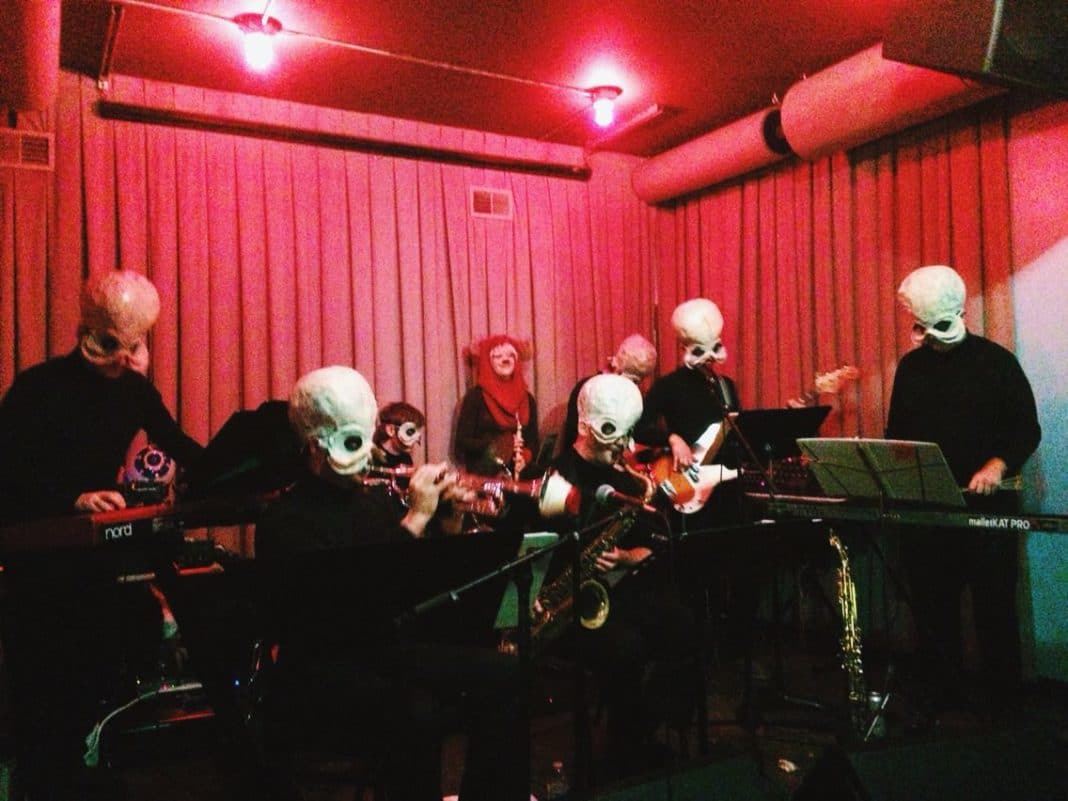 Credit: The Whistler
Yes, they're wearing masks from the Star Wars cantina. The Whistler is a thriving bar, art gallery, record label, and music venue all in one. Their award-winning cocktail program features a rotating menu of contemporary favorites alongside Whistler originals.
Sip your favorite mix or brew and enjoy an eclectic mix of tunes ranging from jazz, rock, country, and soul, along with Movieoke (yes, this is exactly what you think it is). Try to get there before seats fill up though. Whistler doesn't accept reservations.
8. Lost Lake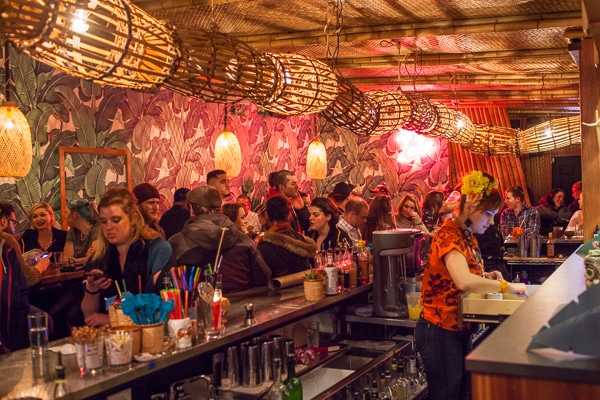 Credit: Lost Lake
There's always room for another tiki bar on our list of the best bars in Chicago. Lost Lake is a tropical oasis in the city evoking an island escape and a rugged nautical atmosphere. All in all, it's reminiscent of the world's first tiki bar – the original Don's Beachcomber Cafe.
Sip some tropical cocktails under a roof of lauhala by walls covered in banana-print wallpaper. Paul McGee and his team offer a menu that pays homage to 80-plus years of cocktails alongside original recipes and selections from the tiki canon.
Lima lima ohana. Decked out in tropical attire and well-versed in the world of rum, Lost Lake's talented team of mixologists are ready to take you on a tropical vacation by way of a wonderfully-garnished tiki cocktail.
9. Scofflaw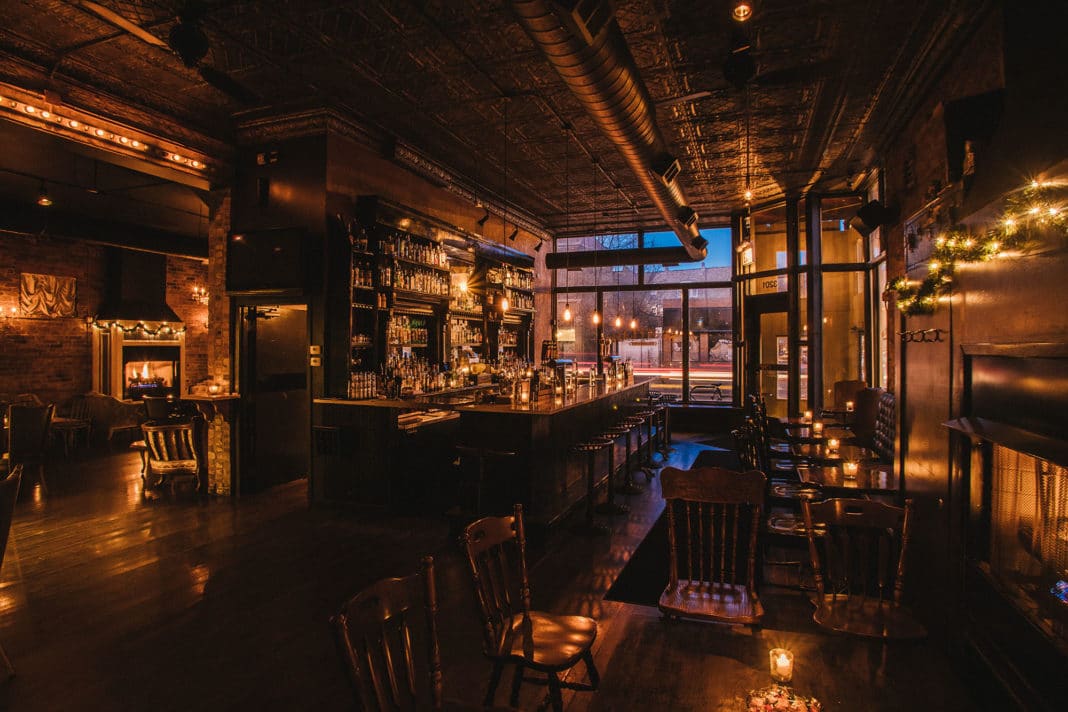 Credit: Scofflaw
Warm hospitality, cold drinks, friendly crowds. Pull up a stool at Scofflaw, a gin-focused bar in Chicago's Logan Square neighborhood. A well-blended mix of baroque and affordable, Scofflaw gathers a diverse crowd of beautifully-crafted cocktails, craft beer, and small plates that go well beyond typical bar food.
Whether you're enjoying dinner and cocktails in the Victorian-style salon or grabbing a beer while brunching on the patio, you'll enjoy great service and a fun vibe. Oh yeah and they serve up fresh cookies at midnight. Now, you've got to go. The cookies alone should make it one of the best bars in Chicago.
10. Old Town Ale House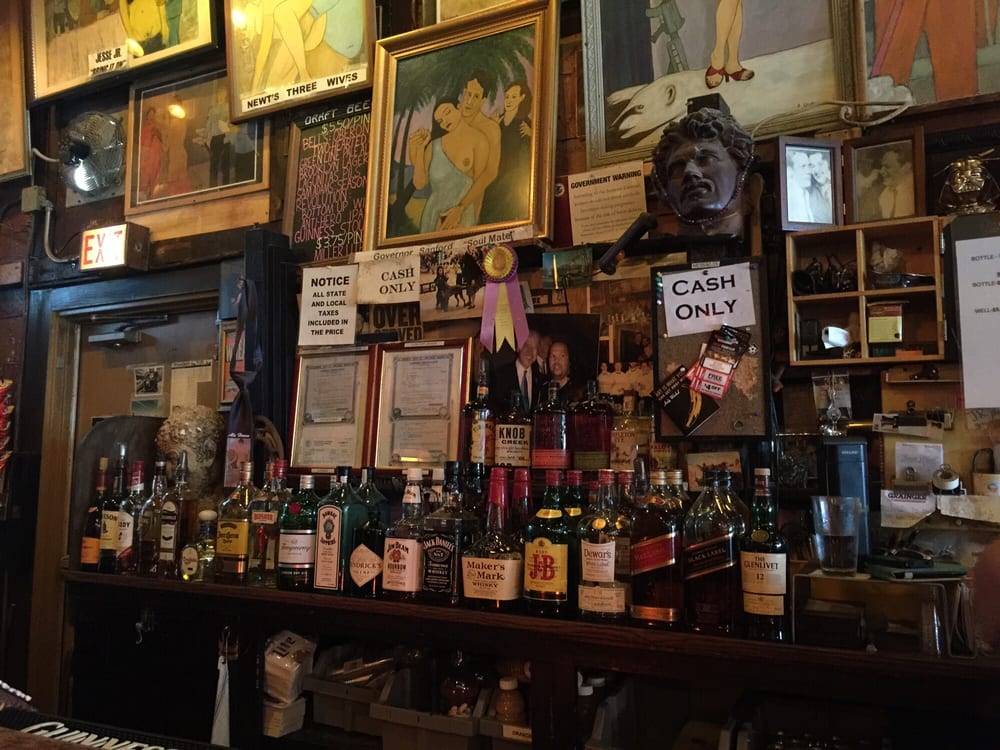 Credit: Old Town Ale House
Have you ever heard of a five star dive bar? It's as close to a trip back in time to the 60's as you're going to get, making it a classic neighborhood landmark, favorite local joint, and generally a bar you don't want to miss. While the other bars we listed are a little more ritzy, this one has character.
The Official Chicago Bar Guide once said of the Old Town Ale House: "Winners, losers, and everyone else in between. Some folks may not ever leave. Amiably, aimless conversations at the bar countered by delusional ramblings at the splendid tables in the front windows. Don't go in the daytime, real light isn't good to the interior that's best seen dim."
Plan Your Trip to Chicago and Drink Your Way Through the Windy City
There's nothing more fun than bar hopping in a new city. We hope you enjoyed reading our list of the best bars in Chicago. Order a cocktail for us and swipe some of those midnight-hour cookies while you're at it. Happy drinking!
Related Article: Chicago Ranks As the Best Big City for 2018