GoPro has always been famous for their top-notch action cameras. Needless to say, each new release has shattered the mold. If you're all about crisp video quality and stunning 4K then you're going to love the GoPro Hero6.
Not everyone needs a $1,500 drone and not everyone wants to take videos on a heavy DSLR or mediocre smartphone. Enter the GoPro Hero6, a top-tier action camera. It's easy to see that GoPro has taken the same core principles from the Hero 4 and driven them to new extremes with the GoPro Hero6.
How? This durable Hero pumps up its video and photo credit by adding a more sophisticated processing chip ("GP1") which allows for 4K video shooting at 60 frames per second (fps). This is insane; you'll only find this kind of clarity in a speed in a mirrorless or new DSLR camera.
While the average customer won't understand these specs, travel videographers are drooling. Thanks to GoPro, your dreams of creating silky smooth awe-inspiring travel videos are closer than ever. The processing chip also makes room for other neat tricks too. If you're into slow-mo shots, this lovely little camera can reach 240 frames per second (fps), you can see your friend's backflip in glorious slow-motion.
What Makes All the Difference – High-Efficiency Video Coding
High-efficiency video coding (HEVC) is a very practical and useful way of recording video. Since most of you aren't tech junkies, we'll break it down for you. In a nutshell, HEVC means files can be smaller than those recorded with the prior HEVC in older days. However, there's a catch. HEVC is new and many devices can't decode the advanced compression scheme. In addition, you're going to need a powerful PC to get its 4K video footage to play back smoothly.
GoPro Hero6 Features & Benefits
The GoPro Hero6 has some amazing internal upgrades that make it worth the higher price. If you're a professional photographer or videographer, this is a great tool to bring along on your travels. The video quality is pretty much unparalleled on the 4K market. On the other hand, if you're just getting into photography, you might be better off starting with an older model Hero.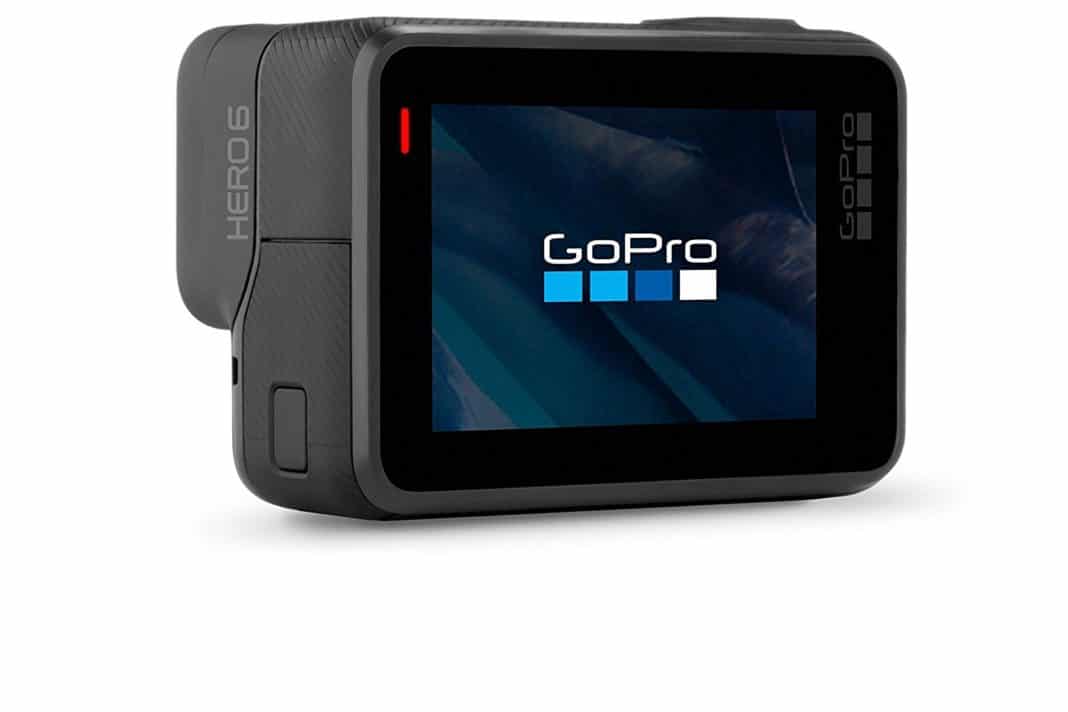 Credit: Amazon
Besides a sleeker appearance, GoPro didn't make any major changes to the body of the Hero6. Strictly looking at appearance, the style is reminiscent of the Hero5. Weighing in at only 4.6 ounces, it is super portable and easy to take around without weighing you down.
It also offers up to 33 feet of water resistance, so you go diving, snorkeling, or swimming with it and it will hold up fantastically. Take it to the Maldives and capture vivid proof of all your adventures. The camera case is super durable too, meaning it should survive a drop or two. It actually takes a bit of work to get the camera out of the case.
Easy to Use
Credit: Amazon
If you're already familiar with the older Hero models, you'll find it super easy to navigate your way around the GoPro Hero6. In the event that this is your first GoPro model, take a day or two to practice and play around with it before you go out on your adventures. Nothing is worse than scuba diving at one of the most beautiful places in Florida and finding out you didn't get any good footage. Make sure you know how to use the camera fully before taking it out on your adventures.
Again, if you're new to the action camera world, you'll be surprised to find that the GoPro Hero6 doesn't have a very intuitive touchscreen. Watch a tutorial video to get the basics down. Swiping down from the top will open up the menu for preferences and settings.
From there, you can turn on the WiFi, reformat the micro SD card, and change your settings. If you want to access your media, swipe left to right. For auto controls including auto light, wind reduction and more, swipe from right to left.
We found most of the controls to be pretty responsive. However, while scrolling through the media, a few tiny controls were a little hard to use. Once you familiarize yourself with the controls, it soon becomes second nature.
Processor and Video Quality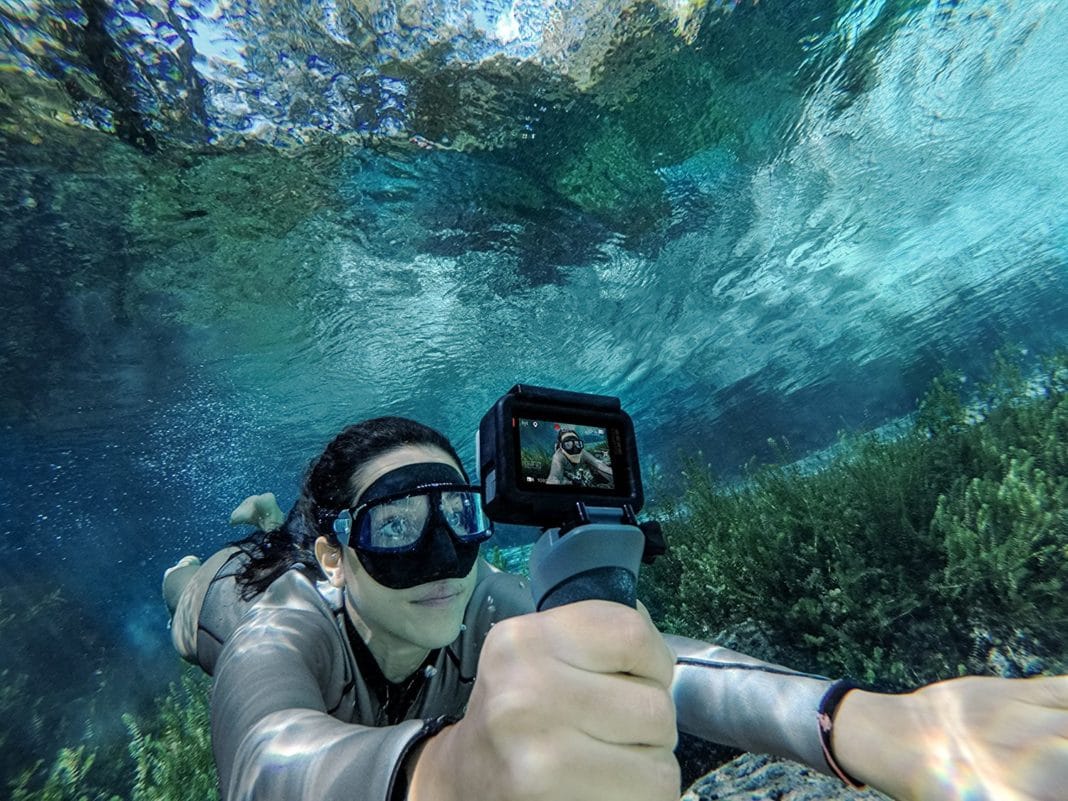 Credit: Amazon
Here's the big enchilada. We said it once and we'll say it again. It's the processor. The GoPro Hero6 includes a new GP1 processor, which is far faster and more capable of capturing 4K video at 60 frames per second (fps). This is a massive step up from its predecessor, the GoPro Hero5, which was limited to only 30fps. The result is a much smoother video. The slow-mo is also more impressive now that you can shoot with 1080p resolution at 240fps.
Digital Image Stabilization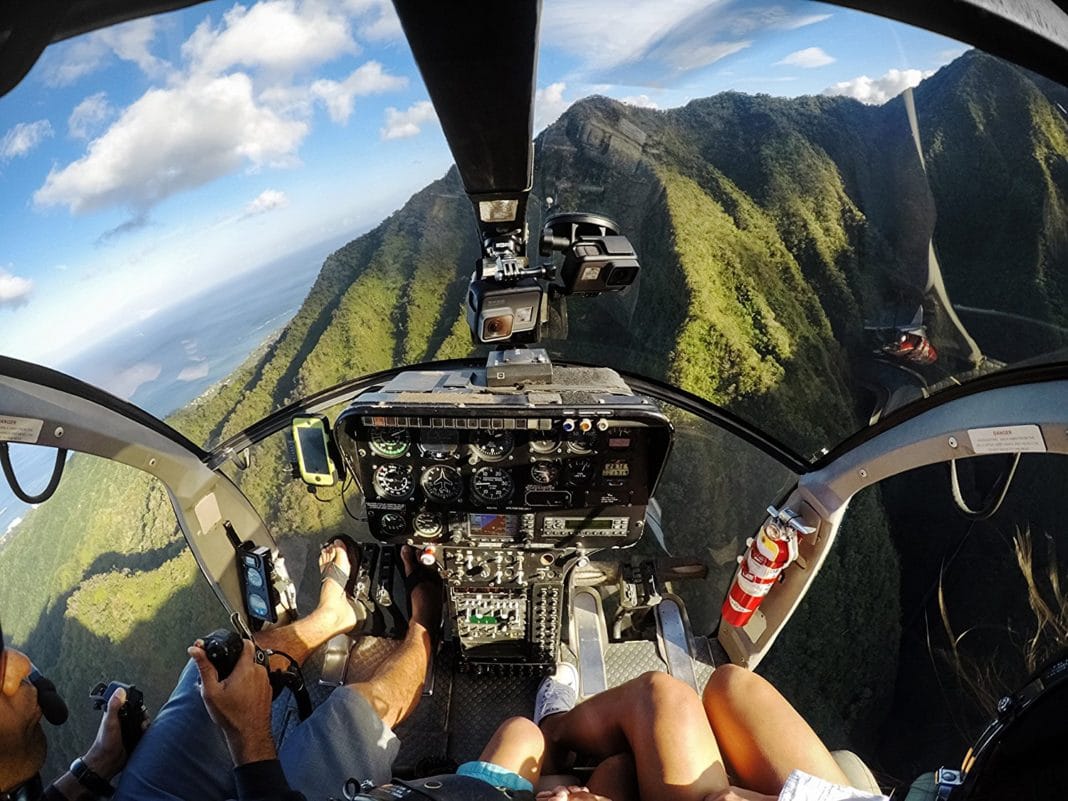 Credit: Amazon
Ah, the bread and butter of video recording. There's a reason why GoPro incorporated digital image stabilization into the GoPro Hero6. While it was an impressive feature on the Hero5, it is greatly improved with the Hero6. If there is a little bumpiness in your videos, we hate to say it but it's you, not the camera.
While holding the camera in your hand will result in a bumpier ride, if you attach it to a helmet, floating stick, or a stabilizing mount, you will see a difference. You could even shoot footage on a roller coaster and get good quality content. The camera responds well during a transition from bright to dim lighting.
Sound
While the video quality and digital image stabilization have seen huge improvements, the sound of the GoPro Hero6 seems to have only slightly improved from older generations. That doesn't bother us though. Background noises can still be suppressed, so the sound of wind and passing cars aren't very noticeable.
If you're making a travel video, chances are, you're going to want to overlay your content with music anyway. If you plan to use the sound recorded on your GoPro Hero6, you're probably going to want an external microphone.
GoPro App and GoPro Quik
Credit: Amazon
Call us crazy but we think controlling your GoPro Hero6 through the app on your smartphone is better than through the camera itself. Why? It just seems a whole lot easier.
Simply turn on your camera's WiFi, connect your phone to the WiFI using the GoPro app and then you'll have access to the same controls and settings you have on the actual camera. Viewing the content on a bigger screen is another added plus for previewing video.
Through GoPro Quik, you can create slow motion videos, edit video clips, and browse through a collection of soundtracks to add to your videos. This is a simple way to share your video directly from your GoPro Hero6 to your favorite social platforms.
If you want to zoom when shooting video, the Hero6 offers a slider for precision. You'll have to choose your field of view – wide, linear, etc. before recording. This feature works better for photos. Last but certainly not least, the camera's WiFi speed got a bit of a boost too. This is good news if you want to shoot in 4K, which inevitably means you'll have larger files.
Battery Life
The battery life of the GoPro Hero6 is about the same as previous generations. If you record video at 1440p at 60fps, the battery lasts just around an hour. This is pretty standard for most action cameras.
To be honest, this is one of the downsides of this camera. If you use voice commands, GPS, and WiFi, they suck up a lot of juice. We highly recommend bringing one to two extra fully-charged battery packs and a spare charger on hand. All in all, charging the battery took a lot less time than we anticipated. Less than 3 hours after you plug it in, it's ready to go.
What Travelers Are Saying About the GoPro Hero6
Travel videographers love how this camera offers big improvements in frame rates and offers a great leap in dynamic range. This is important to people that know a good deal about photography and want to make good travel videos.
For those who don't know tech details, here's a quick lesson. Dynamic range is the difference in many instances of either poor or mixed lighting. What happens with poor dynamic range is when you go to look at your video, it might be thought of as "too bright."
A good dynamic range allows the bright parts of the frame (say in the sun) to be exposed properly but you will also be able to see the shadows. In a nutshell, this means the entire frame (light and dark) will be exposed properly. Your videos will look a whole lot better.
Now in the dark, with good dynamic range, your dark areas will be exposed properly and less grainy (noisy), while the lights will also be exposed properly. With poor dynamic range, you won't be able to see anything but the brightest spots, with the rest in black, or the camera will pump up the ISO too much.
For the cost, you get a fantastic value. The GoPro Hero6 has a new proprietary processing chip which is vastly superior to the knock-offs in image quality. There is a huge improvement in photo and video quality. The image stabilization is perfect.
Alternative Travel Cameras
Before making a big purchase on a travel video camera, we encourage you to shop around. This is a big decision and you want to get the best quality possible. However, the best camera is subjective based on your needs. Here are a few of our other top picks for travel cameras.
Canon Powershot G7 X Mark II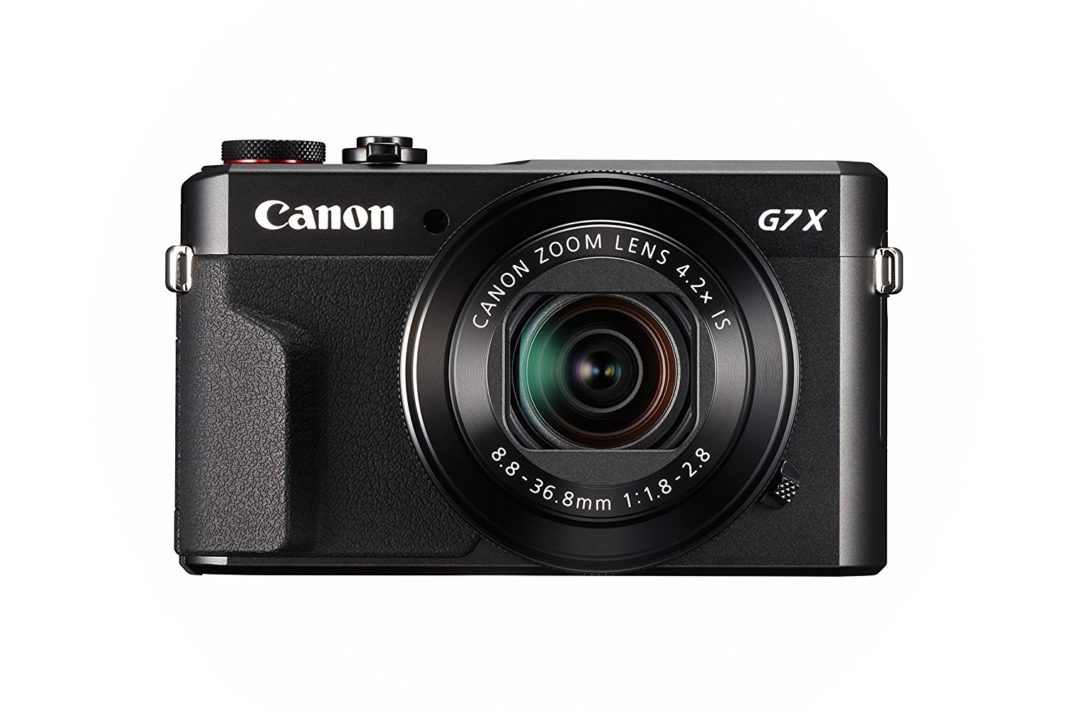 Considering the Canon Powershot G7 X Mark II is a point and shoot camera, it can take pretty amazing photos and videos. A combination of features make it a pretty solid little travel camera If you want to pack light, this is a great find. It's portable and super easy to carry around on long day trips. Its ability to record videos like a DSLR without the weight is the main reason to buy this camera.
Three additional features make this little camera a steal: the touchscreen, flip screen, and autofocus system. While each of these features is useful on their own, in combination, they make the G7 X a very vlogger friendly device. With the touchscreen, you can quickly navigate your way through the device. It also lets you set a focus point when recording your videos.
Sony A7R II
Okay, we know this is a huge jump up in price from the GoPro Hero6 but hear us out. If you're a pro photographer or videographer – or if you have the skills to be one – this is a top-notch travel camera. One of the main reasons travelers choose this camera is the stunning 4k video quality and offers 29 minutes of continuous filming.
We love that you can turn the ISO levels up without having to worry too much about getting digital noise. It also offers in-body image stabilization.
If you're taking photos while riding on the back of a speedboat in Bali or filming your friends climbing around the Napali Coast in Hawaii, this camera will get the best footage. It's also compatible with top-notch lenses on the market.
Our Take On the GoPro Hero6
Buy it. It's that simple. Where else are you going to find a top-notch 4K action camera for just under $400? GoPro has proven themselves to be a world-class brand and if you've seen any of the GoPro Hero6 sample videos, you know it will get the job done.
Related Article: Travelers, Are You Looking For The Best Camera For Vlogging?