Spend your winter outdoors with the Wantdo Women's Jacket.
Purchasing the right winter coat is often a difficult choice. Sometimes, jackets can look and feel warm when you try them on in the store, but turn out to be useless for maintaining heat when battling the cold. With the WantDo Women's Mountain Waterproof Windproof Jacket, you'll feel toasty even after spending hours in the snow.
While certain coats might claim all-weather protection and waterproof material, they don't always live up to their promises. Who wants a rain-soaked coat when it's below zero outside?The WantDo Women's jacket allows you to keep your body warm in cold weather and extreme winter climates. This high-quality coat eliminates those worries, making the WantDo Jacket the only piece of outerwear you need this winter.
A Little About WantDo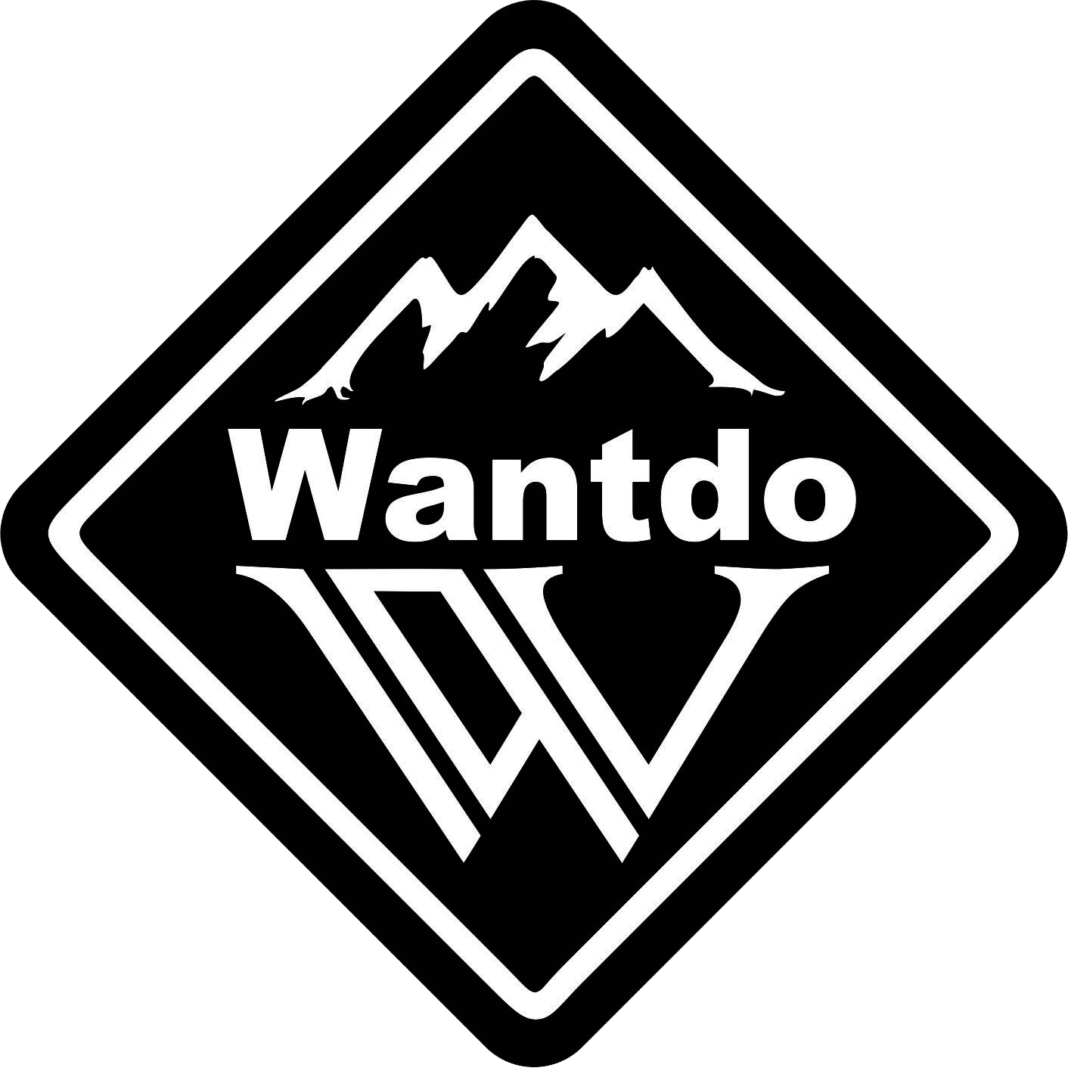 Credit: WantDo
A Division of Anzhi Corporation, WantDo® is a leading seller of superior outdoors gear. Having spent years in the Outdoor industry, the company excels in producing products that fit the needs of their user base. Selling authentic and innovative apparel, equipment, accessories, and footwear, WantDo strives to create amazing products that they would wear themselves. Everything sold by this company remains superior in quality and maintains optimum functionality, so customers only receive premium items.
Only providing the best for their customers, WantDo has created affordable products of the highest quality. While creating outdoors gear, the company always keeps the user's viewpoint in mind. WantDo produces both women's and men's jackets, in addition to a variety of other products. With a 100% user satisfaction and lifetime guarantee, any customer will feel gratified to know that WantDo has their best interests at heart. Those who prefer the most high-quality products will want to purchase items from WantDo.
Now a global company, shipping to over 190 countries across the world, WantDo inspires millions of customers to explore the outdoors in comfort and style. Representing all adventurers and go-getters, the company says, "If you want to do it, do it now." Just make sure you do it while wearing some WantDo gear.
WantDo Women's Mountain Waterproof Windproof Jacket Features & Benefits
1. Cozy fabric provides lasting warmth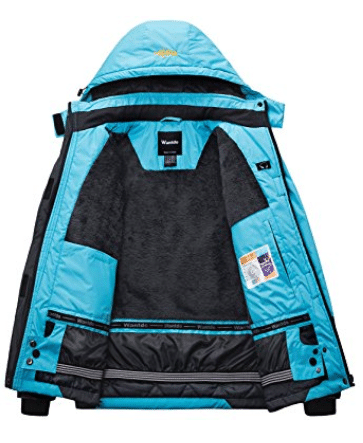 Credit: Amazon
Venturing into the freezing cold can either be an exhilarating or unpleasant experience. Wearing the right coat means the difference between enjoying the brisk winter chill or feeling miserable as your body shivers and grows numb. Thus, a thick and comfortable interior is a must for every winter coat. The WantDo Women's Jacket possesses the perfect inner fabric for ultimate coziness. The warm, soft, fleece lining provides enduring heat retention, so spending a day skiing down the slopes won't be an issue.
Other coats don't seem to have enough filling for sufficient warmth. Or, certain down jackets might shed throughout the day, leaving you to wonder whether you'll have enough filling left to keep you toasty. The WantDo jacket provides 1200g cotton padding inside the fabric to sustain optimum heat levels. Typical fleece ski jackets don't have the kind of filling found in this product for maintaining extra warmth. The teddy fleece material feels soft and cozy, making you feel wrapped up in a blanket while wearing the jacket. A superior, innovative material on the outer shell ensures the cold won't reach you, no matter what.
2. Water-repellent material to keep you dry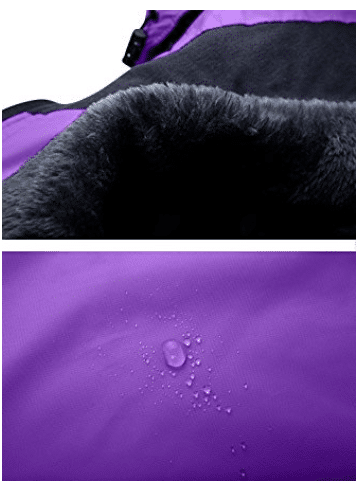 Credit: Amazon
How many times have you purchased a jacket that said it was waterproof, only to find that after a day in the rain, you've become completely soaked? Too many coats claim they're capable of keeping you dry, but fail to deliver. Ski trips or camping expeditions can be cut short if your outerwear doesn't function properly. Returning indoors to wait for your jacket to dry is frustrating and a waste of time. These frustrations can then lead to bad moods, as users spent hard-earned money on ineffective products, making traveling more difficult.
With the WantDo Waterproof Jacket, you won't be wishing you had brought an umbrella. This jacket is especially designed for repelling water, so rain will glide right off you. Excess water won't leak inside the jacket as you wear it, letting you stay dry in any condition. The quick-dry material ensures you won't be drenched after falling into a pile of snow. Early morning hikes through the mist will also be a breeze, as you won't be cloaked in humidity. If the water temperature is cold, wearers will stay unaffected by chilly rain as it skates off the jacket's exterior. Instead of hesitating before venturing out in the rain, you'll be running to grab this coat and start your next adventure.
Since you want your jacket to stay durable after many uses, you should follow the cleaning instructions accurately. This means you will want to utilize a neutral detergent when washing mud and rain off the jacket's exterior. WantDo recommends scrubbing the fabric with a banister brush gently, so as not to ruin the material. If you're in a hurry, you can throw the jacket in the washing machine and go. However, those who have the time will want to hand wash the coat if they can.
3. Windproof capabilities seal out the elements
Credit: Amazon
We all know that a brisk day can easily become freezing once the wind starts blowing. Hiking up to the top of a mountain might seem fun until the wind picks up and the temperature seems to drop 10 degrees. Even if you're wearing the proper amount of clothing, the wind can cut right through previously warm outwear. At the same time, you want apparel that feels super light and won't weigh you down. You need a warm jacket that can keep out the cold while maintaining a lightweight structure.
The WantDo Jacket provides the wearer with protection from the freezing wind with its sealing capabilities. Cuffs on the sleeves adjust to tighten around your wrist, while a flexible glove with a thumb hole can be stretched around hands for extra warmth. The adjustable cuffs also ensure swift breezes don't blow inside your sleeve, making you chilly. A windproof snap skirt on the inside and an interior drawcord hem mean you can tighten the coat against your body to keep out gusts of air. Additionally, an adjustable storm hood, which can be detached if desired, will also keep your head and face protected from the frigid wind.
4. Multiple pockets provide maximum storage
Credit: Amazon
When you're going on a camping trip or venturing for a hike into the mountains, there a lot of items you might want to bring with you, such as sunglasses, safety equipment, compasses, and communication devices. However, since you must be active, you don't want to have to carry a lot of extra bags on your back. This means relying on the pockets sewn into your coat or pants to hold your belongings.
While some coats might only offer two side pockets, the WantDo Jacket provides multiple locations for putting hands and other items. These slant pockets produce a more comfortable fit for your hands, letting your fingers and wrist stay covered. Two zippered hand pockets will keep your extremities covered and warm. You can place credit cards or passports inside the zippered chest pocket, and a pair of glasses within the internal pocket. Another inside media pocket is perfect for holding phones. The chest pocket ensure you can keep your valuable items close to your heart as you go about your journeys. Multi-tasking is also an option, as an earphone wire fixture allows you to listen to music or talk to a friend while you trek up a mountain.
5. Various color options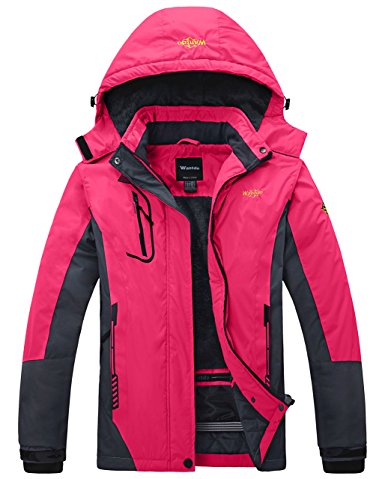 Credit: Amazon
Many super warm and functional winter coats don't have the most stylish designs. Large and bulky jackets often sacrifice on fashion for the sake of warmth and waterproof features. This means users have to decide between looking their best and feeling comfortable in cold and misty weather. Similarly, high-quality rain jackets may not have a lot of different colors or design options. People who love expressing themselves through their wardrobe might have difficulty locating a jacket that feels exciting and unique. You don't want to feel like you can't be true to yourself while spending time in the cold.
Thanks to WantDo, winter sports fans can find the ski jacket of their dreams with the brand's various color choices. Blue, red, yellow, rose red, and purple include just some of the colors wearers can purchase. Anyone can find their favorite shade when picking a WantDo Women's jacket in preparation for the winter weather. Customers will be able to stand out in a crowd and feel super fashionable wherever they go. You can be confident in knowing when you buy this jacket, you won't look like anyone else. Instead of buying a plain trench coat, think about choosing an exciting, colorful WantDo Women's winter jacket. No matter what you want in a winter coat, you can find the perfect option for you.
What Travelers Are Saying About The WantDo Women's Mountain Waterproof Windproof Jacket
Women who purchased the WantDo Waterproof Jacket laud the product's ability to keep them warm even in the most frigid temperatures. Some were shocked that they didn't have to wear so many layers underneath the coat, as the product already kept them toasty. Those who did choose to don thicker clothing underneath did not feel constricted while wearing the jacket on top. In fact, many wearers thought that the jacket offered the perfect fit, no matter what they wore underneath. Regardless of difficult weather conditions, people who bought the jacket stayed comfortable and content while wearing their apparel. However, since this item has been made for women, you should look elsewhere for a men's jacket.
Many customers love the coat's vibrant colors, including red, blue, pink, and purple, as they make the jacket stand out from other outer wear. Others say the hood is a big plus, as it is very roomy and can snap close if needed. Those who've worn the jacket to go skiing or snowboarding claim the coat was perfect for protecting them from the elements, letting the customer play their sport for hours at a time. Users wore this jacket in locations around the world, from Colorado to Iceland. Additionally, the reviewers recommended purchasing the matching ski pants with the jacket to create the ultimate cold weather outfit. No matter the destination, the WantDo Jacket remained the perfect outerwear for protecting from the cold.
Alternative Women's Winter Coats
1. Eddie Bauer Women's Sun Valley Down Parka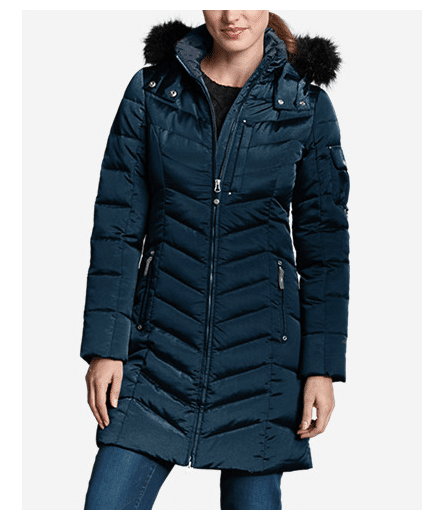 Extra weather protection will keep you outdoors for longer with the Eddie Bauer Women's Sun Valley Down Parka. The StormRepel® durable water-repellent coating ensures protection from the elements in any climate. Fleece lining along the bodice and inside the pockets offers unbeatable warmth for the cold. A snap-off hood with an additional faux fur ruff is perfect for protecting your head on those particularly blistering days. The jacket is additionally designed for wearing with multiple pieces of clothing, so you can layer up and not feel uncomfortably bulky. This coat would be an ideal hiking jacket for treks up snowy mountainsides and through chilly forests. The longer length provides even greater warmth for below the chest, so you will stay toasty for hours outdoors.
​The North Face Women's Metropolis Parka
This quilted down jacket will provide the warmth you need during those long winter months. The polyester and 550-fill down coat is high-quality, meaning it will last through multiple seasons. A narrow upper body produces a less bulky and more flattering fit. With an adjustable, removable hood, you have the option to wear your coat as you choose. Color options for this coat seem endless – Teal, Eggplant Purple, Metallic Silver, and Taupe Green are just some of the various choices.
​​​​​Orolay Women's Down Jacket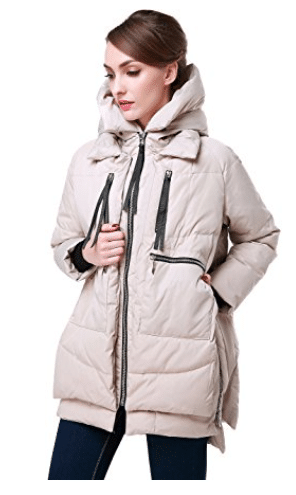 The cute layered, or "crumple," effect on the hem of this jacket is sure to excite customers searching for a unique-looking coat. But this jacket doesn't just look great. Polyester material with a density that is 60% higher than most other coats provides a weather-resistant shield. Duck down and feather filling ensure long-lasting heat retention. The coat's extra length also helps maintain warmth and makes for a more figure-hugging fit on all body types. This coat remains ideal for casual wear out and about on a rainy or windy day.
Don't cancel your plans because of the weather. Wearing the right jacket means you won't be confined indoors if it rains or snows.
Whether you're an avid skier who spends all their time in the snowy mountains, or a student walking to class in the freezing wind, you need a coat that will keep you toasty and dry. With the WantDo Women's Waterproof Jacket, you can be assured of maintaining optimum warmth while participating in any outdoors activity. Instead of wasting time and money on other coats that don't prevent heat loss or leave you soaked by the rain, invest in the WantDo Jacket. You'll wonder how you ever survived the cold without it.
Related Article: Best Winter Coats For Women (Plus How To Choose Yours)