Power through your travels with the RavPower Ace 22000mAh Portable Charger.
There's nothing worse than being in the airport or a new city and realizing you're at 5%. Stay charged up with the RavPower Ace 22000mAh Portable Charger. If you didn't already know, good power banks are hard to come across. More often than not, they don't provide an adequate amount of charge or if they do, they're way too heavy and bulky to want to take around. But we're happy to say that this portable charger changes that.
RavPower's latest design offers the greatest output of any portable phone charger on the market. With high-capacity internal batteries, it offers almost double the amount of charge. With the amount of technology out there, it can be hard to know what to choose. But we've done our research and have gotten a bit selective. If there's no noteworthy design or feature you need, move on. Fortunately, the RavPower Ace 22000mAh Portable Charger has managed to raise the bar when it comes to tech and travel needs.
A Little About RavPower
RavPower stands for reliable, affordable, and value. This company specializes in external batteries, portable chargers, power banks, USB chargers, wall chargers, car chargers, and the like. Throughout the years, RavPower has become a leading brand in the world of charging accessories. Travelers in need can take advantage of a line of innovative products that offer convenience, usability, and value to their customers.
The RavPower Ace 22000mAh Portable Charger Features & Benefits
Design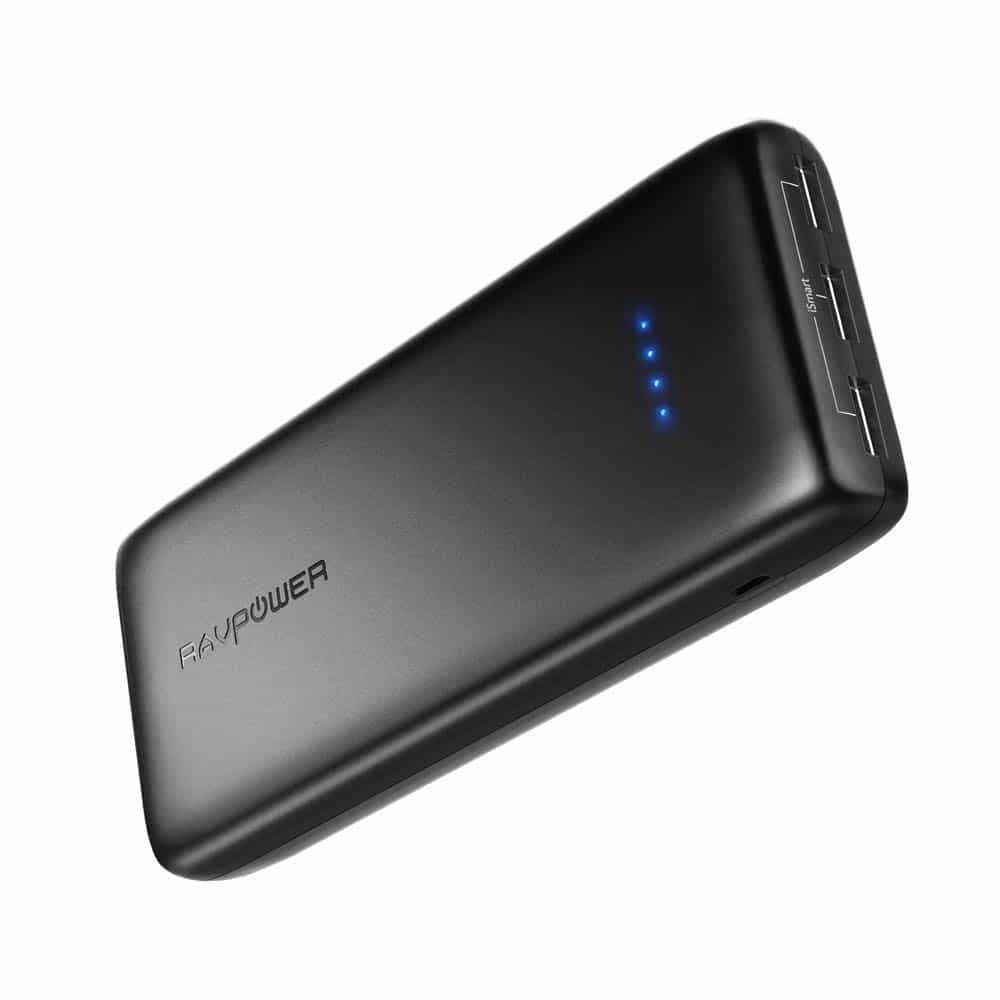 Credit: Amazon
Take a look and you can see that this charger packs a punch. With a massive 22000mAh capacity, this power bank is capable of charging your iPhone 8 seven times over and your Galaxy S8 4.4 times. Thanks to RavPower, you have a mobile charging solution trusted by millions of travelers just like yourself. And with NTC protection, you won't have to worry about your phone or the device overheating. The RavPower both monitors and self-regulates its battery temperature. Extend your battery life when you're on the go. There are also apps to help you save your phone's battery power.
You won't have to worry about replacing the RavPower for a long time. The MCU safeguard protects it from overcharge, high temperature, and short circuiting. A safer battery is made to last for over 1,000 charging cycles. Rest easy on your travels knowing that your phone will never run out of juice when you need it most. Surge protection adjusts the input voltage accordingly and provides circuit protection.
With a li-polymer battery, the device retains 70-80% of its full capacity even after going through more than 500 charging cycles. It's clear to see that this device was made to last. A fire-resistant shell is composed of the same alloy used in a Mercedes-Benz and other luxury vehicles. You can count on this quality. It comes with the same battery and controls as your iPhone.
Size and Weight
Credit: Amazon
We appreciate that in terms of size and weight, the RavPower Ace 22000mAh Portable Charger is on the lower end of the scale. As convenient as it is to have a power bank on hand, you don't want to feel weighed down by it. Backpackers have enough of a struggle keeping their bags light. We can chalk the lightweight body up to its material construction. The shell of the charger is made from the same fire-resistant thermoplastic as the Mercedes Benz and BMW.
Connections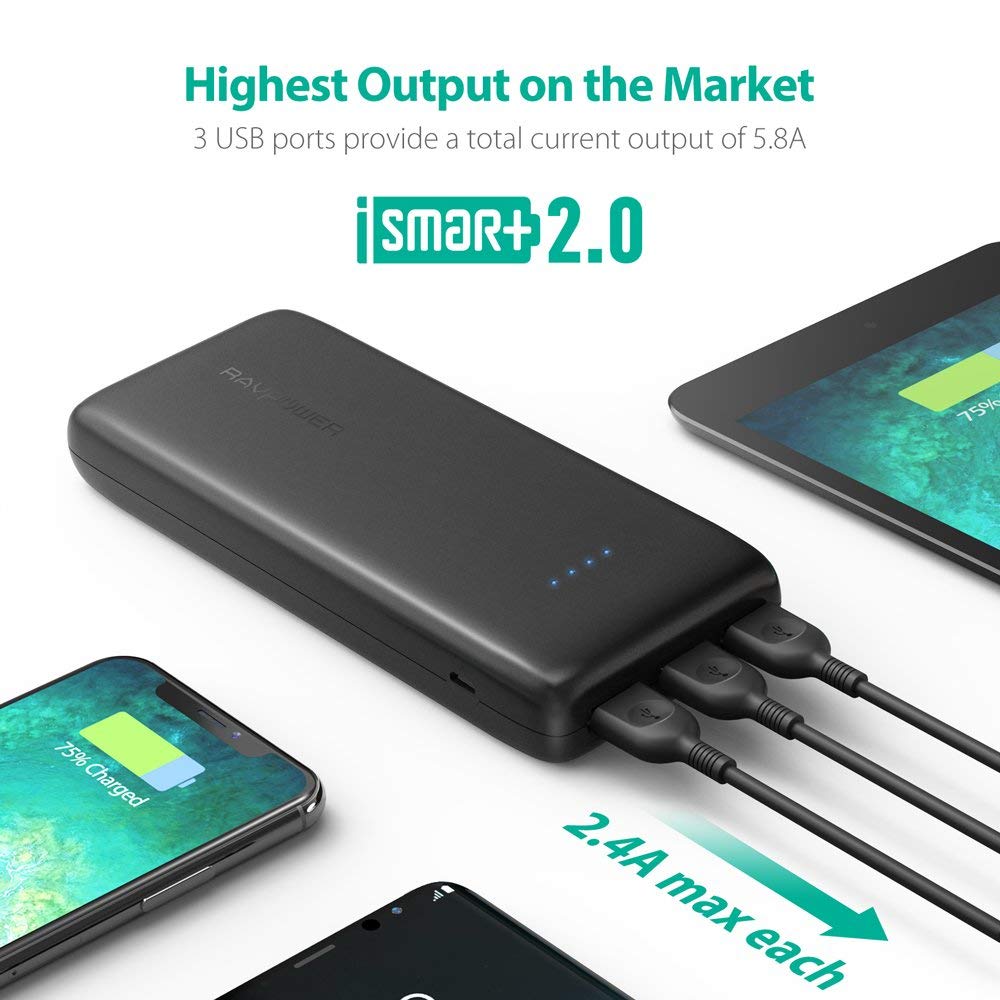 Credit: Amazon
You will find three evenly-spaced 2.0 USB ports on the top edge of the device. The micro USB port is on the side. At the front, you will find four LED battery indicator lights; on the left there is a small power button. The RavPower Ace 22000mAh Portable Charger also comes with two anti-tangle USB cords and a soft carry pouch.
If we haven't told you before, RavPower makes some of the best travel pouches on the market. Even if we tried to find something to nitpick here, we can't. The quality construction is great. Last but certainly not least, RavPower offers a lifetime warranty.
Features and Technology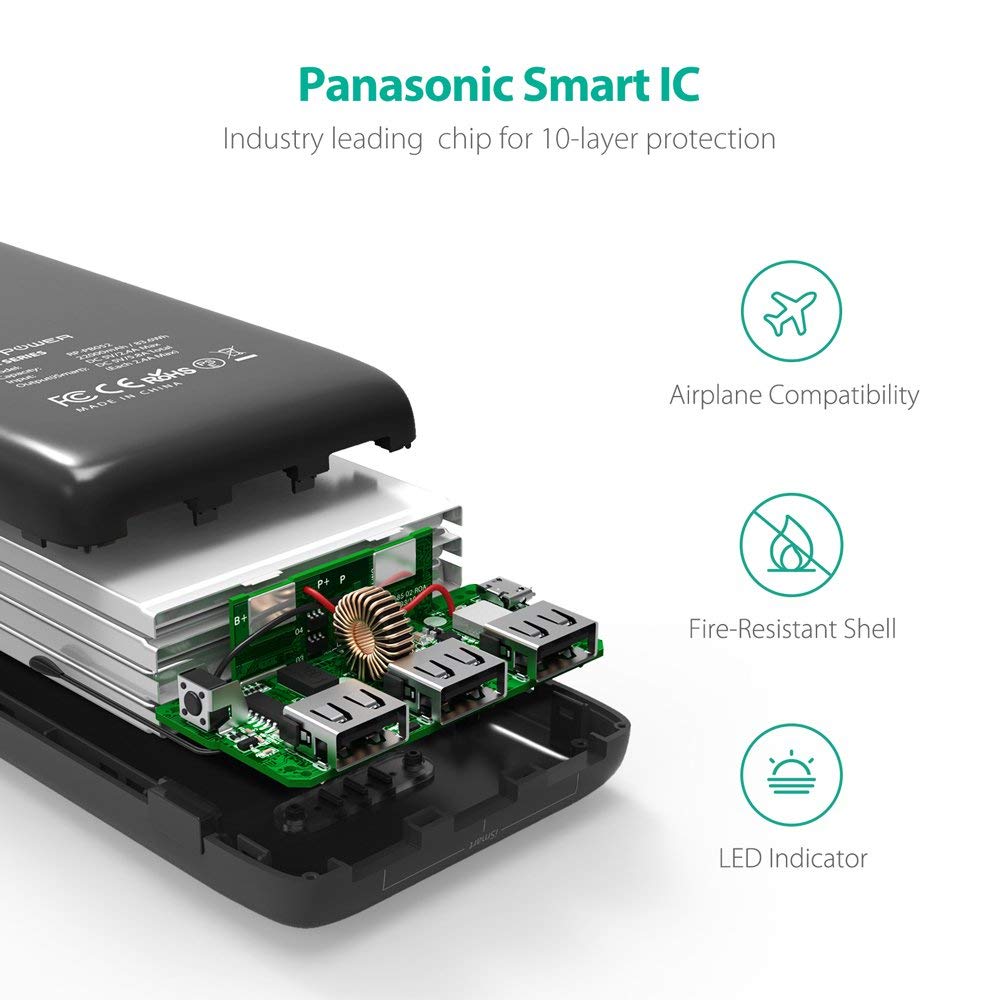 Credit: Amazon
We mentioned that the RavPower Ace 22000mAh Portable Charger has high-capacity batteries. But what you probably didn't know is that they're the same kind used by Microsoft, Motorola. Lenovo, and Huawei. Needless to say, they provide great efficiency rates (up to 80%) and a lifespan of around 500 charges. For example, if you were to recharge this power bank once every two weeks, it would last you for twenty years.
Did you know that the type of phone you have affects your battery power?With a 22000mAh capacity, a full battery charge carries enough to roughly provide nine iPhone charges (e.g. for an iPhone 6). Putting this in context, you could get by for two weeks without access to an electrical power source. So how exactly does the RavPower Ace 22000mAh Portable Charger work?
Well, the iSmart 2.0 operates by adjusting its voltage while charging. The technology balances out the charge to each mobile device in order to ensure good speed from each of the USB ports. These ports are in turn, backed up by safety measures. There is protection against high temperatures, power surges, short circuiting, and over charging. All in all though, the standout feature for us has to be its max output.
Tech Specs:
Used in over 60 countries

Triple device charging

220000 mAh capacity

check

Li-Polymer battery retains 70-80% of charging capacity after 500 + uses

check

Lifetime warranty
What Travelers Are Saying About the RavPower Ace 22000mAh Portable Charger
With over 6,000 satisfied Amazon customers, we're amazed at how well the RavPower Ace 22000mAh Portable Charger performs. Travelers, know that this device will get you places. There's a reason why it has a 4.3 out of 5 star rating. Much of this is due to the portable size, weight, and speed at which it charges your devices.
And while the quality and design are easy to see, it's also reassuring to know that your investment is protected by a lifetime warranty. When an issue has arisen with their products, reviewers noted thank RavPower was quick to issue a replacement or repair.
Compared to other power banks, the RavPower Ace 22000mAh Portable Charger breezes past competitors in terms of capacity, design, style, and portability. We can't recommend this little travel device highly enough.
Alternative Portable Phone Chargers You May Like
Anker Powercore 20100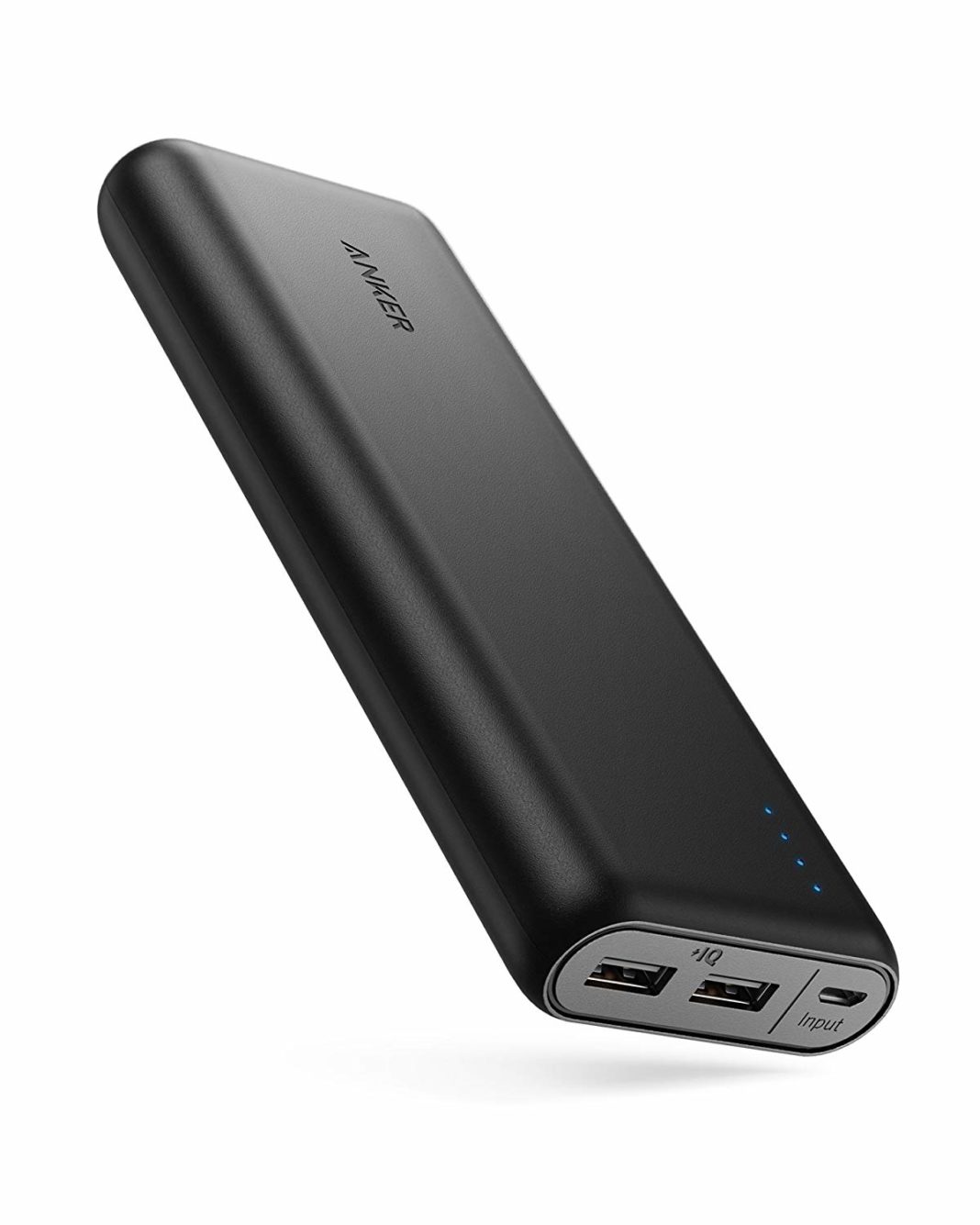 Anker is another great brand that we know and love. This ​Anker Powercore 20100 from Anker delivers not only a great size to capacity ratio but also the best in charging speeds. Thanks to advanced charging techniques, you will wonder why you ever wasted time plugged in to the wall. If you're looking for the best portable phone charger, you found it here.
We love that it is perfectly portable and can easily slip inside of your backpack, computer, purse, or wherever you want to store it. This world-renowned PowerIQ and VoltageBoost come together to deliver a high-speed charge to a diverse range of devices. Highly durable, it is constructed with strong materials so you can enjoy a charge again and again. Here's the best part. It has universal compatibility. It's designed for pretty much any device that can charge from a USB port. Travelers, you know how convenient this is.
Tech Specs:
10 million + users worldwide

Ultra high capacity; charges an iPhone 7 nearly seven times

High-speed charging

check

Recharges in just 10 hours

check

MultiProtect safety system ensures protection for your devices

check

18 month warranty

check

Lightning cable sold separately
Uni-Yeap 11000 mAh External Battery Charger Power Bank
When it comes to the Uni-Yeap 11000, less is more. No one likes using things that are complicated and it's easy to use design makes this device a top contender for the best portable phone charger. They know what you want and have got what you need. With excellent construction and a solid quality hifi battery, your phone will stay charged all the time.
Here's something amazing. This smart charger automatically identifies the type of device you are using and delivers the type of electronic current suitable for it. Built with two USB ports, you and a friend can juice up simultaneously when you need to There are tips and tricks to charge your phone faster.
A MultiProtect Safety System ensures that short circuiting won't happen. Last but certainly not least, it is outfitted with an LED indicator screen. This means that you can see the remaining power and status of your device while it's being charged.
Tech Specs:
High-capacity charging; it's powerful; enough to charge your iPhone 7 about five times

Built-in LCD screen display

Universal compatibility

check

Extremely light and thin

check

Comes with a Micro USB cable and instruction manual

check

12 months warranty
The RavPower Ace 22000mAh Portable Charger is a Smart Travel Accessory
As you can see, the RavPower Ace 22000mAh Portable Charger is a smart travel accessory. For travelers constantly on the move, it provides a reliable way to keep your electronics juiced up. Out of all the styles on the market, it's easily one of the best. Where else can you find this power capacity coupled with portability and a solid design? We really can't recommend it enough.
Related Article: Best Portable Phone Charger: A Travel Accessory For Your On The Go Lifestyle