We've found the best hotels in Denver with all the amenities you could dream about.
These options are sure to suit the taste of any traveler. While the range of options in a big city can feel overwhelming, we've taken the guesswork out of it for you. Home to a growing art scene, plenty of brewpubs, and some of the country's best restaurants, this is the place to be. Not to mention, the scenery is absolutely breathtaking. The best hotels in Denver offer a little bit of luxury, prime views, and all the comforts of home. Follow along with us as we show your our top picks.
Here Are Our Picks for the Best Hotels in Denver, Colorado
1. Warwick Denver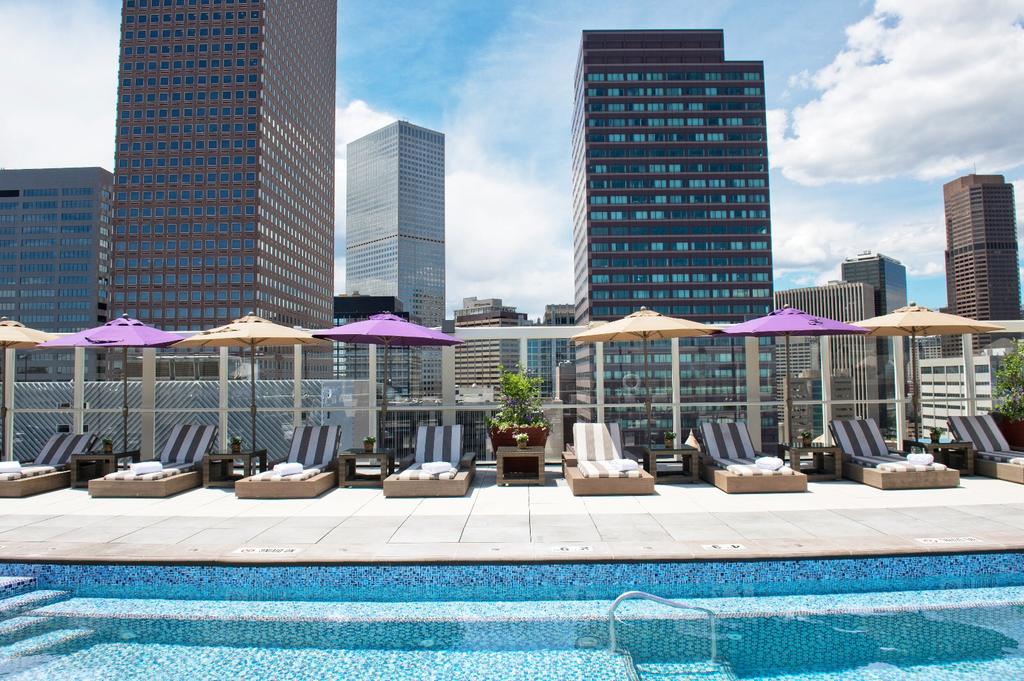 Credit: Warwick Denver
Enjoy an urban retreat in the mile high city. The Warwick Hotel Denver is set in an ideal location among the city's vibrant downtown area. If you're looking for a little luxury, you will love their fully renovated guest rooms. Enjoy beautiful views of the city skyline from your private balcony, blending local charm with a little touch of the finer things. From fresh and honest cuisine at the on-site dining to state of the art amenities and facilities like the fitness center, heated rooftop pool, and spa, every touch lends to a fantastic guest experience. There's no doubt about it. The Warwick is one of the best hotels in Denver.
2. Castle Marne Bed & Breakfast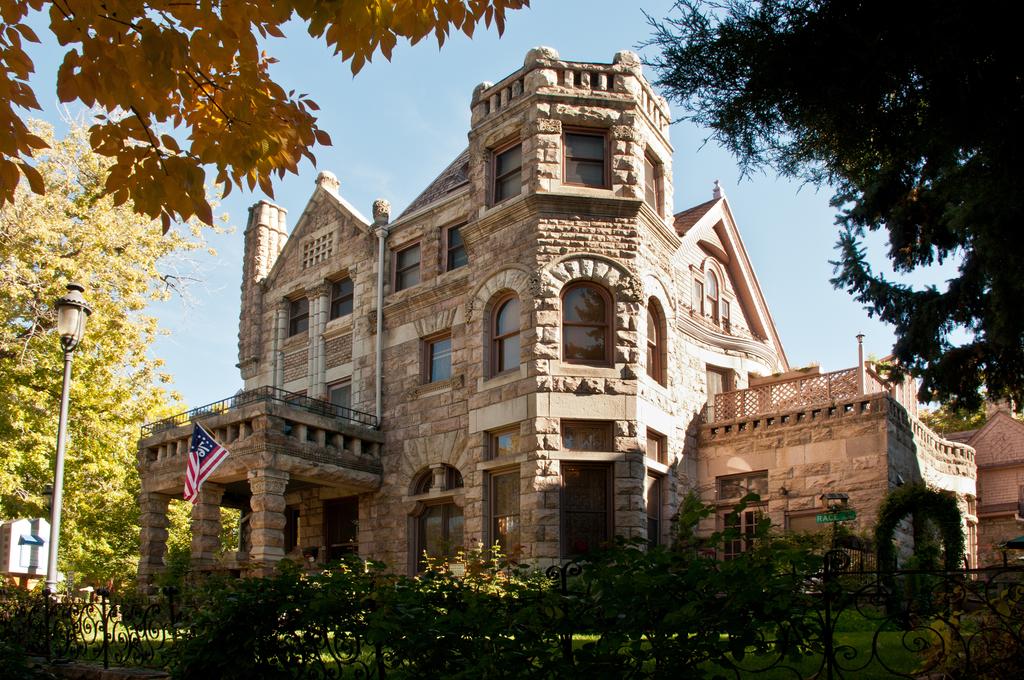 Credit: Castle Marne Bed & Breakfast
Are you looking for a romantic vacation? Look no further than Castle Marne Bed & Breakfast. Did you know that this is the city's top-rated B&B in Capitol Hill as well as a 19th century castle? You will find this gem located in the heart of the City Park. Best of all, it's conveniently located next to the most exciting things to do in Denver.
Here, you will find nine Victorian-style rooms full of modern amenities like private hot tubs and thoughtful touches like smartphone chargers. If you're looking for a spacious place to bring the whole family, check out The Lodge. This premium vacation rental has space for six people, offering two stories of space, lovely rustic furniture, and a full kitchen. Whatever room you choose, you will wake up to a gourmet breakfast. Afternoon tea is a fun time to unwind and enjoy some special treats.
As if that wasn't enough, you can enhance your stay even more courtesy of the hotel's specials and packages. This historic landmark building is the perfect place to tie the knot, hold special receptions, or celebrate your upcoming anniversary. It's no wonder that it has been rated one of the most welcoming B&B Inns by TripAdvisor, BedandBreakfast.com, and Conde Nast Johansens. Don't settle for ordinary. Castle Marne is one of the best hotels in Denver.
3. Lumber Baron Inn & Gardens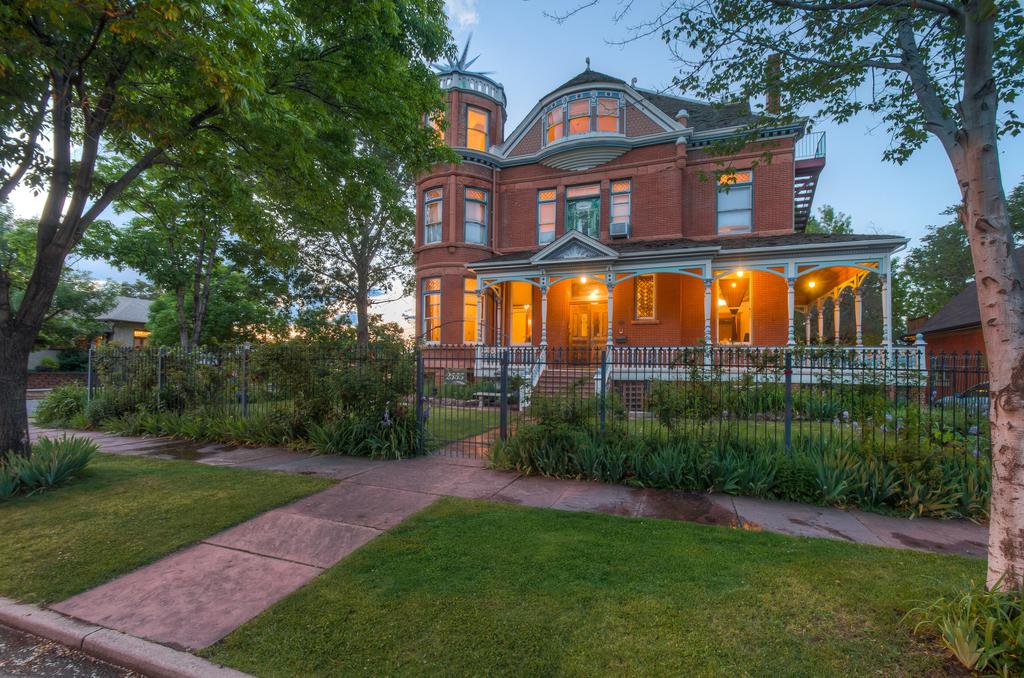 Credit: Lumber Baron Inn & Gardens
Located in the Potter-Highlands neighborhood in the north part of the city, the Lumber Baron Inn & Gardens presents a unique stay. A variety of amenities and experiences are available during your visit. Each room features upscale antiques, private jacuzzi baths, high speed WiFi, and more. One of our favorite things about this hotel is its old timey feel. Due to the age of the mansion, they do not have an elevator. All of the guest rooms can be found on the second floor and the grand ballroom is located on the third floor.
4. The Brown Palace Hotel and Spa, Autograph Collection
Credit: The Brown Palace Hotel and Spa, Autograph Collection
Welcome to one of the best hotels in Denver. Enjoy an entirely new kind of prestige at the Brown Palace Hotel and Spa, Autograph Collection. With 241 rooms, this sweeping space offers plenty of space for you to unwind on your vacation. While it is designed in a contemporary French provincial manner, the hotel has been in operation ever since 1892. Inside, you will find not one but three restaurants, a spa, salon, and flower shop.
5. Patterson Inn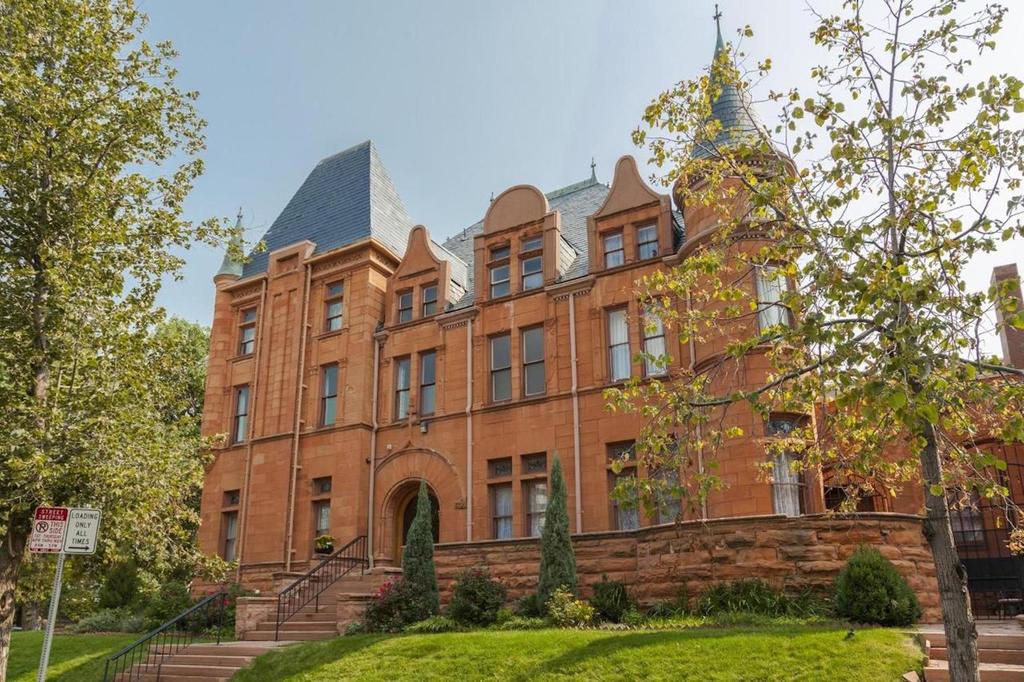 Credit: Patterson Inn
Besides being a unique hotel, Patterson Inn is also a historic landmark. Located on a private quarter acre of land, it is tucked away in one of the city's most prestigious neighborhoods. Choose to stay in one of the hotel's nine themed bedrooms. After you unwind for a bit, you can make your way down to the pub and enjoy a cozy night in. Where better to read than in front of the original stained glass window? This city is known for its pleasant weather. So, if it's warm enough, you can pack a picnic and enjoy sitting out on the wrap around porch outside.
6. Four Seasons Hotel Denver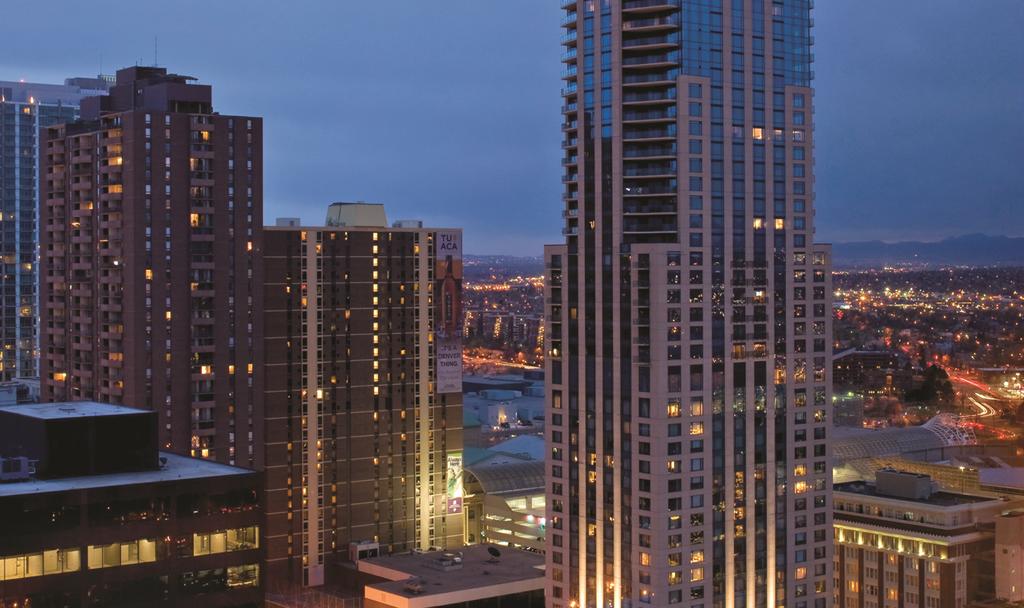 Credit: Four Seasons Denver
Start your morning off with a delicious breakfast in bed. From there, the historic boutiques of Larimer Square are just a few minutes walk away from the hotel. Spacious guest rooms are equipped with waterfall bathtubs, floor to ceiling windows, and many have Rocky Mountain views. Taking a look at the decor, you will find urban-chic elements with hues of gray and beige throughout.
Travelers come from all around to enjoy the Four Seasons' many extra amenities. There is a year-round heated saltwater pool outdoors, recently renovated workout room, and a world-class spa. Last but certainly not least, there is the Edge restaurant and bar. You know you've found a good spot when the locals come here to enjoy a drink after work. This is a great choice for travelers seeking a little extra luxury and R&R. This is one of the best hotels in Denver.
7. Halcyon, a Hotel in Cherry Creek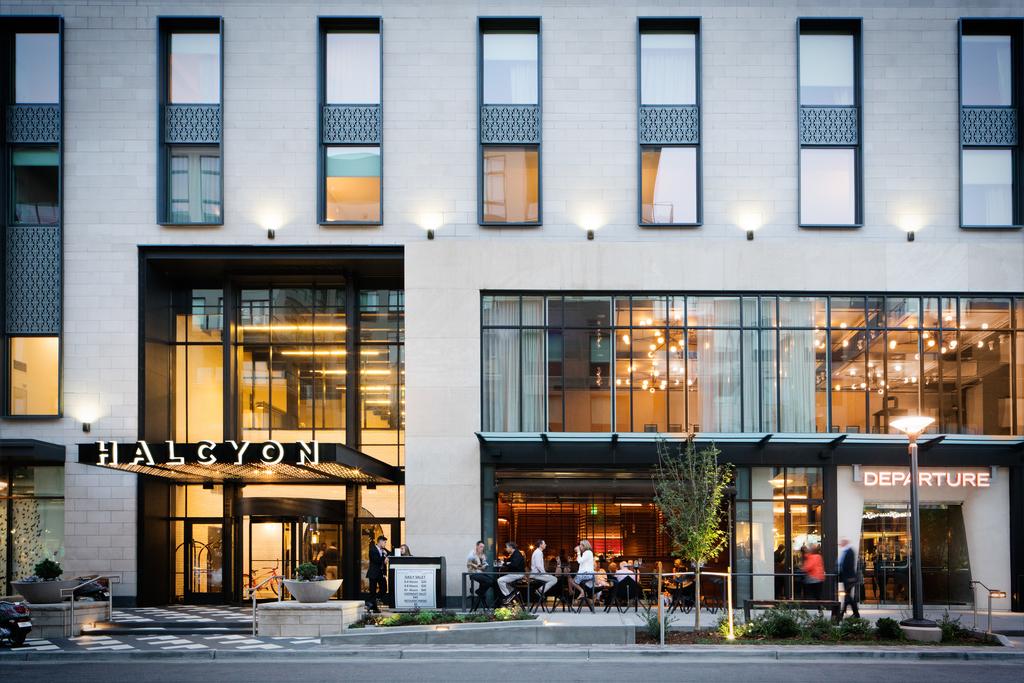 Credit: Halcyon
Just ten minutes north of downtown, you'll find Halcyon, a Hotel in Cherry Creek. This hotel combines the effortlessness of Colorado lifestyle with upscale elements and playful touches. The result is a memorable stay all about the traveler's experience. When you enter, make sure to try out one of the complimentary cappuccinos or glasses of wine.
One hundred and fifty four guest rooms offer game changing destination amenities. Just outside, you will find a gear garage free to guests and full of vespas, electric bikes, and even night vision goggles that you can use. It's up to you. Choose your own adventure. If you're looking to enjoy the full Colorado experience, explore Cherry Creek North on a Piaggio scooter or take a joy ride on one of the many New Belgium signature cruiser bikes. Longboards and GoPros are also at your disposal.
After a day of adventure, your suite offers the perfect place to unwind. A neutral color palette, mid-modern styling, and record players are inside. At night, the stunning rooftop pool is a beautiful place to come and relax. And the good news is it's open all year-round.
8. Hotel Teatro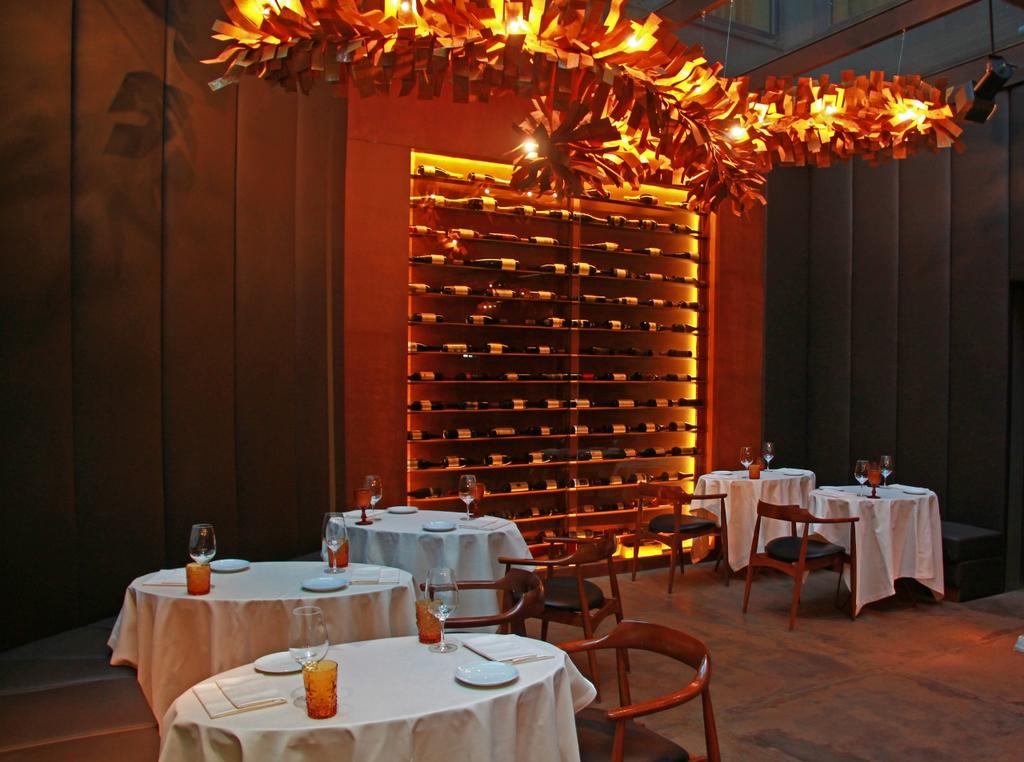 Credit: Hotel Teatro
Experience nothing but the best in downtown Denver. This fancy boutique offer guests 110 comfy rooms with signature amenities. From the color palette to the pet-friendly policy and cruiser bike rentals, we appreciate all of the little touches that Hotel Teatro provides. Its proximity to major attractions in the city makes it a top pick for travelers seeking the most that Denver has to offer.
You can choose to stay on-site and enjoy lunch or dinner at the on-site restaurant or head out to the city just outside of your door. As one of the best hotels in Denver, Teatro is set against a Rocky Mountain backdrop just nearby the Denver Center for Performing Arts, the Colorado Convention Center, Union Station, and more. It's easy to see why it snagged the Conde Nast Traveler Readers' Choice Awards for 2018.
9. The Art, a Hotel
Credit: The Art, a Hotel
Take one step inside The Art and you'll see it's different. As soon as you enter the lobby, you are welcomed by Leo Villareal's 22,000-light art installation. Contemporary design, high-class amenities, and expressionist art flood the lobby space. Look around and see if you can spot works from the abstract-impressionist artist, Sam Francis. There are even small touches from the famous architect Frank Gehry.
As you head upstairs, you'll find wall to wall windows offering sweeping views of the city, the Fire restaurant and patio, and a huge outdoor fire pit to sit around with friends. Every guestroom has unique artistic prints inside, gracing the contemporary birchwood walls. If you're looking for the best views, consider booking the museum-view suite. Take in the sights and then explore them all. After all, you're just steps away from the Denver Art Museum, History Colorado Center, and the Clyfford Still Museum.
10. The Crawford Hotel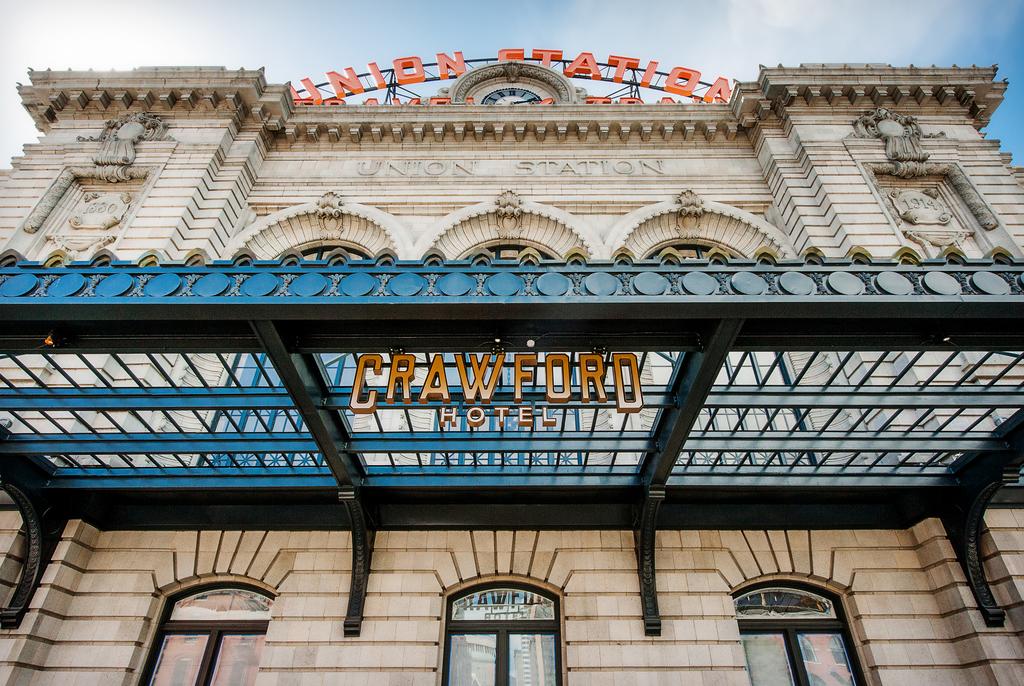 Credit: The Crawford Hotel
The Crawford Hotel opened in 2014 as part of the massive renovation of Denver's Union Station. Located in the heart of downtown, you are just steps away from the best that the city has to offer. Why not treat yourself? This stay is unlike any other Colorado hotel. Why? It's historic location coupled with luxury create quite a unique atmosphere.
Whether you are traveling for a while or just saying the night, we highly recommend Crawford. When you enter, you are greeted by the lively vibes of Union Station. With stunning panoramic views of the Rocky Mountains and Denver's skyline, this hotel will instantly make you feel at home. It's the perfect place to call home base for all of your adventures.
Also just outside your door, you will find the University of Colorado commuter rail. This transportation system makes it super easy to get from the Denver International Airport to the Denver Rail Station. Union Station is full of award-winning restaurants, trendy shops, and charming cafes. Two blocks away, you'll find Coors Field, the home of the Colorado Rockies.
After a day of exploration, unwind in your beautiful guest room and relax in the spa. Did we mention it's dog friendly? Choose from a wide collection of rooms or lofts among the finest of urban living. The coolest part about this hotel is that the architecture from the original train station has been preserved, so no two rooms are the same. Art Deco styles flourish in large Pullman rooms, Victorian styles in Classic rooms, and exposed brick in Loft rooms. Signature amenities like queen size beds, flat screen tvs, a large vanity, and work desk are all nice touches.
Did we mention it's dog friendly? The fine folks at The Crawford Hotel know that dogs are a part of the family. So, they provide plenty of amenities for you to bring your four-legged friend. The clean-up fee for bringing a pet is an additional $50 a night. Unfortunately, other furry friends will need to stay at home. Only dogs under 60 pounds are permitted in the hotel. Restrictions do not apply to service animals.
We guarantee they will love their stay just as much as you do yours. Pet amenities include a dog bed, matching bowls, a complimentary bottle of doggie water, treats, a toy, waste bags, and a Green Spaces card. If you want to bring your pet, simply let the hotel know in advance and the staff will furnish your room with the necessary items.
Book Your Stay At One of the Best Hotels In Denver
We hope you enjoyed reading our feature on the best hotels in Denver. This city truly has so much to offer travelers. Whether you're seeking adventure, urban exploration coffee shop hopping, or simply some R&R, this city offers it all and more. Who doesn't love waking up to amazing views of the Rocky Mountains and the city skyline? Denver is one of our favorite places to explore both the metropolis feel and get back to good old nature.
Do you have any favorite hotels in Denver that were not featured on our list? Perhaps, you have some questions or comments for us. Whatever's on your mind, we'd like to hear it. Let us know your thoughts in the comment section below.
Related Article: 9 Best Hotels in Chicago