Gear up for big sends and reach for the stars with the Metolius Climbing Galaxy Competition Chalk Bag.
So you might be thinking 'a chalk bag is a chalk bag, right?' After all, it only seems to have one job. However, this is a common misconception. In fact, some of the chalk bags we've used before were so bad that we stopped using them entirely. The difference is in the small details and we're happy to say that the Metolius Climbing Galaxy Competition Chalk Bag checks the boxes. Could this bag fit your style and needs? Read on to find out.
Metolius Climbing Galaxy Competition Chalk Bag Features & Benefits
While it might look like an ordinary chalk bag, the Metolius Climbing Galaxy Competition Chalk Bag has a few extra quirks. Overall, the design shows that the bag is well-constructed and durable. In fact, we would go as far to say that the material quality is excellent. Inside, the chalk sticks well to the fleece lining.
For those of you wondering how to rock climb, know that every climber uses chalk at one point. We're here to show you how to pick out the right product and company for you. Before identifying the best climbing chalk brands, we must first talk about the types of chalk. Choose between loose chalk, a chalk block, and a chalk ball. So what's the difference between all of these? Don't worry. It might be a little confusing at first, but we'll show you the ropes (all pun intended).
For those who like to go bouldering almost exclusively, choose a chalk block. They are made from magnesium carbonate without additives. Typically using a chalk block is the most cost-effective way to go about rock climbing. The chalk you are most used to seeing is probably the loose chalk from magnesium. Loose chalk also contains the best drying agents. Last but certainly not least, if you are the type of person who likes keeping the mess to a minimum, the chalk ball is for you. Know how to use rock climbing chalk.
Design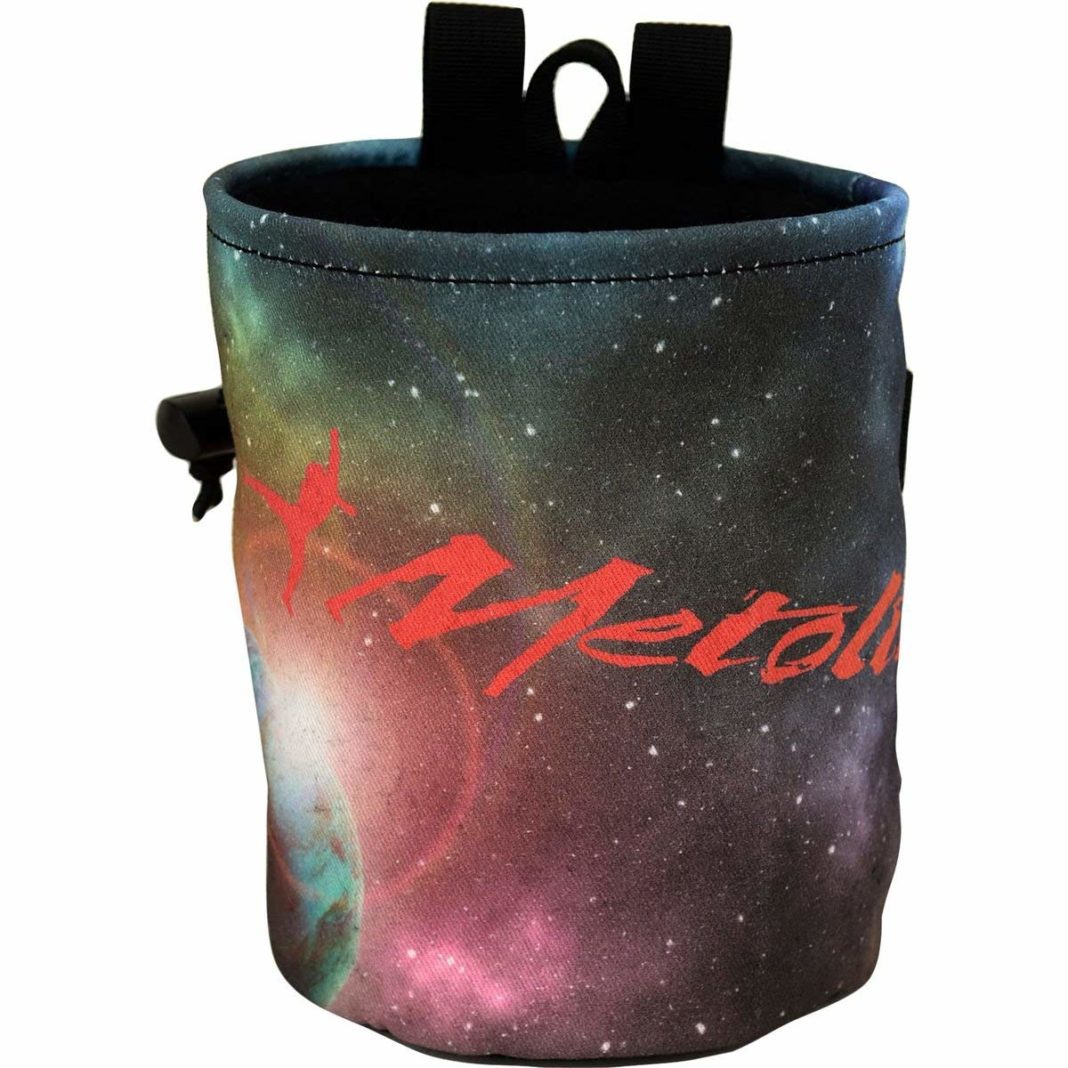 Credit: Amazon
As we previously mentioned, the Metolius Climbing Galaxy Competition Chalk Bag is well made. Since the main fabric is made from nylon, we know it is good quality. High capacity and ergonomic, the classic cylinder shape holds well and is made for easy access. When you reach your hand inside to grab some chalk, the full-length pile lining is soft against your tired hands. This bag is ideal for bouldering, rock climbing, and indoor climbing. It comes with a chalk bag belt with a side release buckle.
Use and Classic Cylinder Shape
Before you go on a climb, one of the things you should consider is the chalk application method. Some climbers prefer to use a chalk ball while others prefer to have a bag on hand. Chalk bags like the Climbing Galaxy Competition Chalk Bag from Metolius are made to hold a loose reservoir of chalk. To get a thorough coating, plunge your hands in. This will help you to keep your grip steady, even if your hands were previously sweaty.
Taking a look at the bag size, we can see that this one falls into the standard category. The dimensions measure 7 x 7 x 4 inches and it weighs in at 4 ounces. Standard bags are the most popular option. Larger bags work well for those times when you need to coat your hands and forearms in chalk (typically for routes with wide cracks). The cylindrical shape of the Metolius Climbing Galaxy Competition Chalk Bag is ideal for longer climbs, since it is capable of holding a high reservoir of chalk.
Bag Features
One of the best features about the bag is the stiffened rim. This holds it open for easy dipping. Inside, the fleece lining holds the chalk dust down and helps to distribute it evenly on your hands. After you use it, simply pull on the cord and toggle closure to tighten it. This will keep the chalk from spilling out between dips and when you stuff the chalk bag inside of your gym bag or gear bag. Other helpful features include the bag belt, zippered pocket, and brush loop.
The bag belt lets you slide the bag in front or behind for easy access. Or if you would like, you could also leave the belt and simply clip the bag to your harness. Taking a look at the zippered pocket, this can be particularly useful on multi-pitch climbs. If you need to store small items like a cell phone, keys, or lip balm, this is the place to do it. Last but certainly not least, you can use the brush loop to store a brush to clean off old chalk holds.
Here's a Tip
Do you leave behind chalk smears when you climb? This is considered bad form. Do you make clouds of chalk dust each time you chalk up? This is how you know you are overdoing it. Use your chalk wisely, make sure you have a brush on hand, and clean up after yourself. When you are climbing outdoors, make sure to check on the chalk ethic beforehand. You might not have known this but some outdoor areas forbid the use of chalk entirely.
What Travelers Are Saying About the Metolius Climbing Galaxy Competition Chalk Bag
The Metolius Climbing Galaxy Competition Chalk Bag really gets the job done. You will get compliments on the fun graphic design whether you're in the gym or outdoors. In person, the print is a little more washed out than it appears in the photo. However, this is to be expected and the bag looks great nonetheless. In terms of size, this is slightly larger than your average chalk bag.
When it comes to size, we found that this is a reasonable size to fit two hands in. If you like to use loose chalk, you can rest easy knowing that it won't get all over the gym. The only complaints that users seemed to have about this bag is that the interior lining is black. So, it can become discolored due to the chalk, especially around the opening. All in all, this bag not only looks great but works well too. Reviewers highly recommend it.
Alternative Chalk Bags You May Like
Arc'teryx C80 Chalk Bag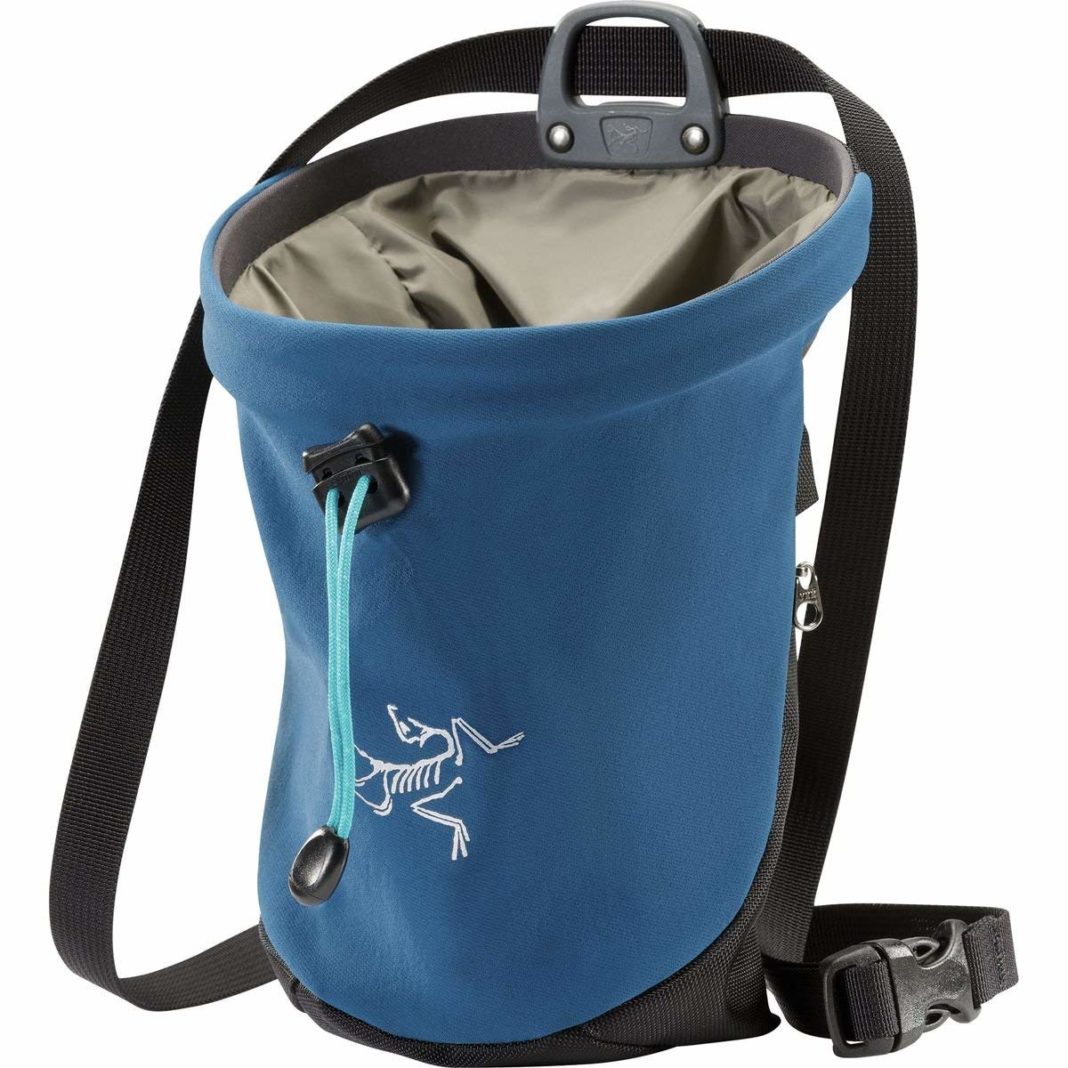 Designed with a burly weave four-way stretch fabric, this chalk bag is both supple and durable. Travelers use it the most for alpinism and climbing. You can enjoy both efficient movement and protection out in the elements. This bag was the only one in our book to earn a perfect score for closure. While it is unusual, the twist closure method is highly effective. The opening is wide and the rigid brim allows for you to get your hands in without the bag losing its shape. Arc'tertyx is a brand we know and love.
Tech Specs:
4-weave stretch fabric

Supple and durable

Used for alpinism and climbing

check

Twist closure

check

Wide opening

check

Rigid brim

check

Synthetic fibre construction
Koda Chalk Bag by Petzl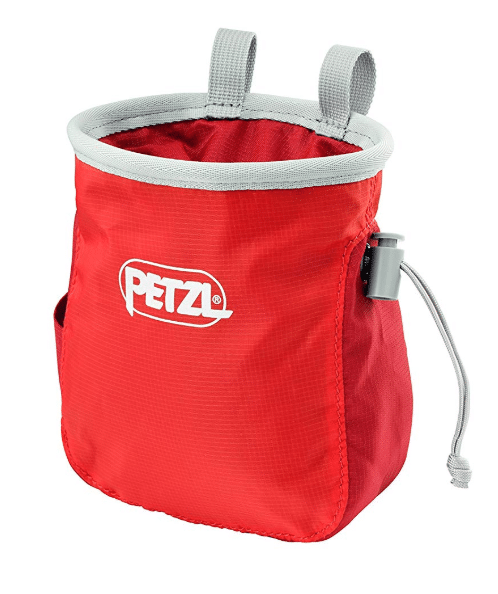 This chalk bag offers an ergonomic shape and easy access to the chalk. Even if you're wearing a pack or your back is against the wall, it won't cause discomfort. When you're ready to chalk up again, the one-handed open feature is pretty handy. The combination of a drawstring and cord lock system makes it easy to open the bag when you're climbing. Finally, the Koda bag by Petzl features rigid brush holders and an inner liner sewn to the bottom of the bag.
Tech Specs:
Ergonomic shape

Rigid rim

Comfortable to wear

check

One-handed opening

check

Drawstring and cord lock closing

check

Rigid brush holders

check

Inner liner sewn to bottom of bag
Prana Chalk Bag with Belt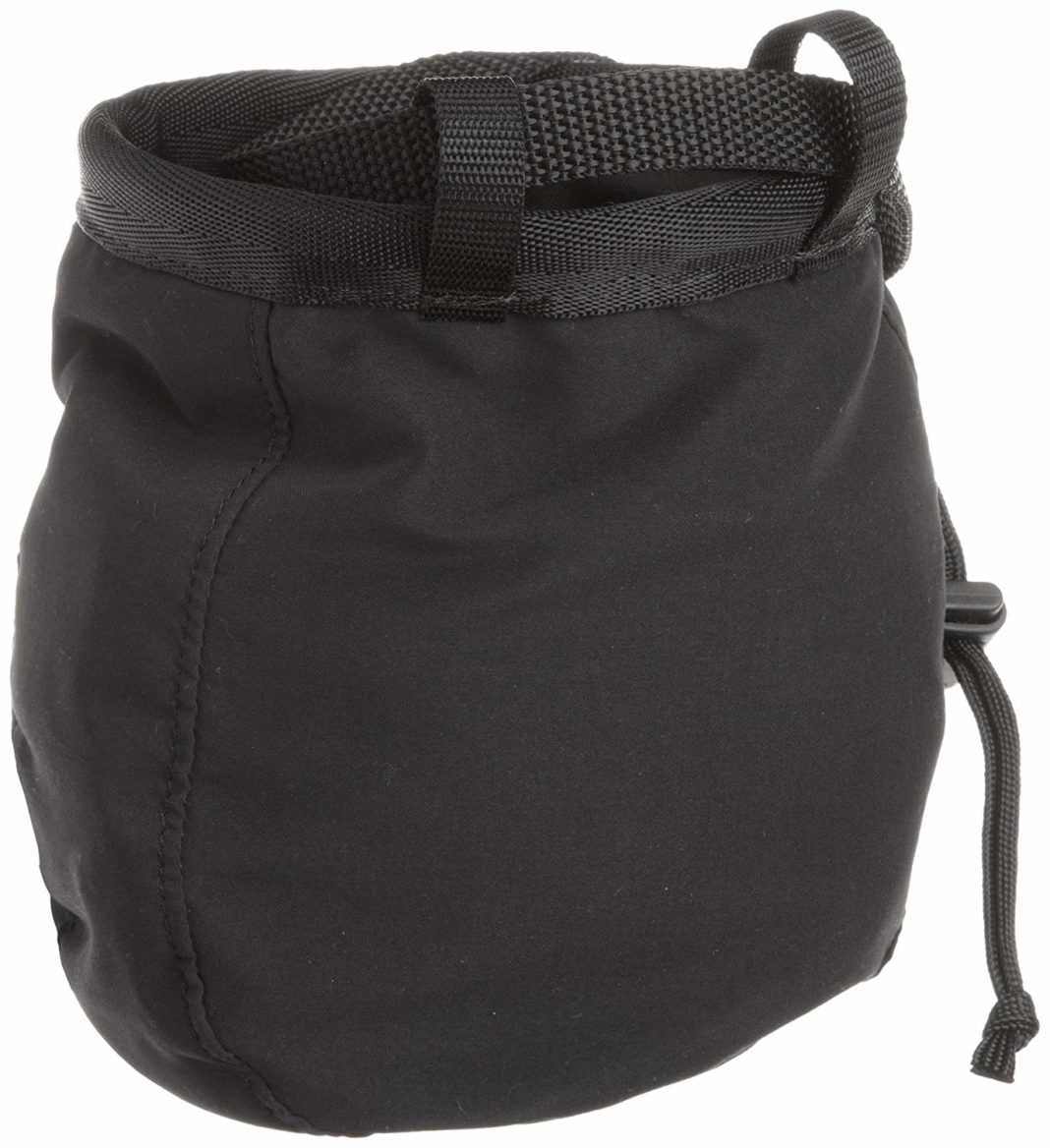 Made from a durable and lightweight polypropylene, this chalk bag from Prana offers quick release buckle and can be adjusted to fit most sizes. Double belt loops offer more stability than most bags. If you are looking for a smaller chalk bag to use when climbing, this one can come in handy. Drawcord closure, a fleece chalk compartment, and an elastic brush holder are all good features.
Tech Specs:
Durable and lightweight polypropylene

Quick release buckle

Double belt loops for stability

check

Small size

check

Drawcord closure

check

Fleece chalk compartment

check

Elastic brush holder
Mammut Multipitch Chalk Bag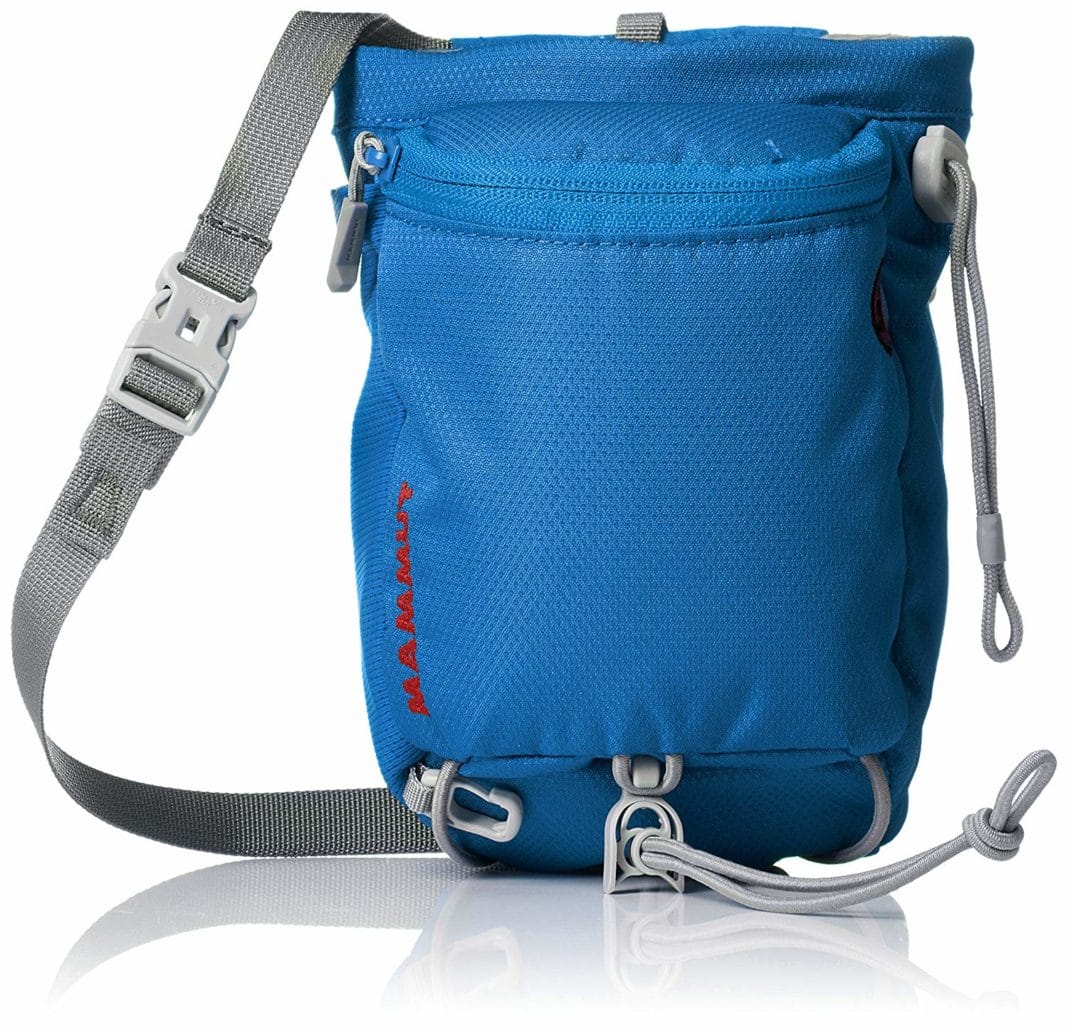 Do you enjoy a multi-purpose bag? This style from Mammut offers many useful features. Looking for a place to store your phone, keys, and a snack? Check. But wait. That's not all. There is also a toothbrush carrier and jacket attachment. This is very useful if you're planning on spending the day climbing outdoors. Two suspension points include a large waist belt.
Tech Specs:
Storage space for accessories

Attachment for jacket and toothbrush carrier

Two suspension points including a large waist belt

check

Multi-purpose bag

check

Thick fleece lining
Invest in the Metolius Climbing Galaxy Competition Chalk Bag for Your Climbing Adventures
Are you an avid climber? If so, you know the importance of investing in quality products from the best climbing chalk brands like Metolius. The Metolius Climbing Galaxy Competition Chalk Bag offers top-notch quality you can count on when you're working on your athletic performance. Say goodbye to sweaty palms.
Related Article: The 5 Best Chalk Bags Of 2018: Your Shopping Guide